ADA Bathroom Layout: Public Restrooms Requirements & Plans
Persons with disabilities face a lot of problems when it comes to architectural design elements. Whether it be building premises, stairs, or bathrooms, disabled people mostly have difficulty in using these places. Let's see ADA bathroom layout.
That's why the Americans with Disabilities Act (ADA) has established minimum requirements and guidelines for public restrooms and commercial bathrooms with proper ADA bathroom layouts. These guidelines apply to all government, state, local, parks, institutes, and commercial businesses for new and renovated construction sites.
Today in this blog, we will tell you about all the regulations and guidelines that come under the ADA regarding bathrooms. They are specifically designed to ease out the experiences of people with disabilities in public places. They make sure that every public restroom has appropriate and comfortable space for the disabled. 
Whether you're constructing public restrooms or private bathrooms, you have to follow a set of rules and standards. The latest ADA law was passed in 2010 which is applicable to a variety of public places such as restaurants, shopping malls, city councils, schools, universities, stations, and business facilities, or any commercial place that has restrooms. 
What are ADA Regulations & Guidelines?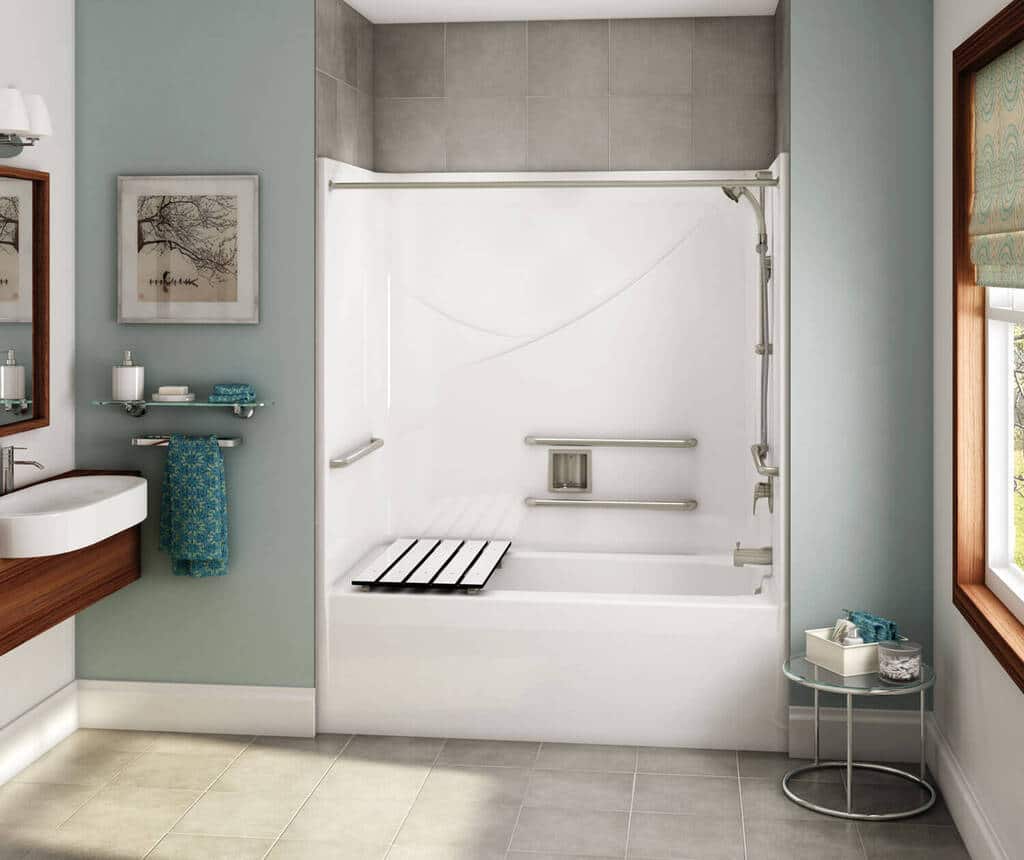 Source: pinterest.com
ADA is a civil rights law established at the federal level that deals with discrimination against people with disabilities in public areas. 
First appeared in 1990, this law is followed by the entire country now. The best thing is that these regulations and standards are making the lives of people with disabilities a bit more comfortable and practical.
Though ADA is a Federal law yet it is always good for you to check with the local government for any further specificity. Sometimes there are added details and regulations to it, such as regarding the dimensions and required equipment for ADA bathrooms.
To fulfill all the required ADA criteria, you need to follow all types of rules regarding all the accessories inside the ADA bathroom as well as the entrance. You may have already seen these types of public bathrooms in hotels, motels, and dormitories. 
If you are the owner of one of these facilities or planning to build, it is essential to know about each and every law and regulation regarding ADA bathrooms.
We will tell you in-depth about everything section by section : 
ADA Bathroom Layouts & Regulations Regarding Area

ADA Bathroom Door Requirements

Toilet Seat Requirements

ADA Bathroom Sink Requirements

ADA Bathroom Faucet Requirements

Mirror Requirements

ADA Bathroom Bars Requirements
First, let's start with the minimum clear area requirements. 
ADA Bathroom Layout & Regulations Regarding Area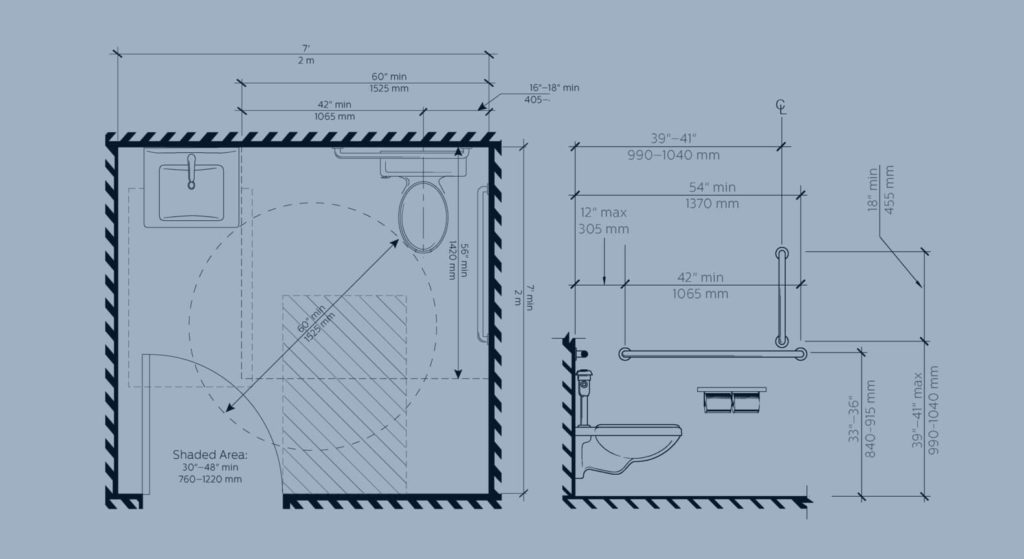 Source: Pinterest.com
The first thing that you should always keep in mind is to build an ADA bathroom in a place that is easily accessible to people with disabilities, including people in wheelchairs. 
After this, there should be enough space inside so that they can use the toilets easily. Also, this space should be smartly designed so that wheelchairs can be moved freely inside the bathrooms. 
You have to carefully design the ADA bathroom layout, including toilet seats, showers, and sinks. There should be sufficient space near these things to grab the handles and bars so it can facilitate maneuvering or transfer movements.
Center of the Bathroom
According to ADA, you can mount the toilet and the sink on both the rear or opposite wall. However, there should be a minimum area of 60 inches (1.5 m) in diameter for maneuvering the wheelchair. 
If the door opens inside, it should have 12 inches (30 cm) for the swing area. Also, the opposite wall should be empty so that there will be enough free space in the center and no obstacles while rotating the wheelchair.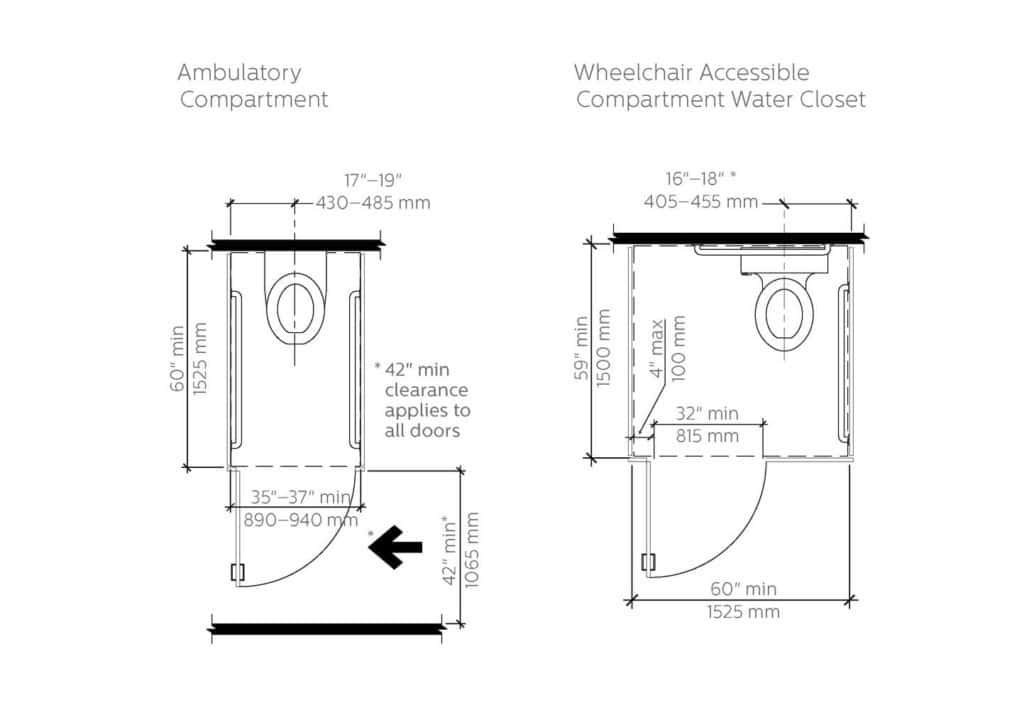 Source: Pinterest.com
Toilet Area
When it comes to the toilet area, there should be a minimum clear area around the toilet which is about 56 by 56 inches (1.4 m x 1.4 m). In addition to that, the space between the sidewall and the toilet needs to be 18 inches (46 cm). To move the wheelchair freely, the toilet should fit 60 inches (1.5 m) in diameter.  
Sink Area
Another vital part of the bathroom is the sink. So make sure that there is enough room around that, about 30 by 48 inches (76 cm x 1.2 m). It should be at least 48 inches (1.2 m) of distance from the center of the sink to the clear space, without any obstacles.
Place a sink that is 30 inches (76 cm) wide so that the user can freely use that with an ample amount of space around. Also, leave a free space of 18 inches (46 cm) between the center of the sink and the sidewall.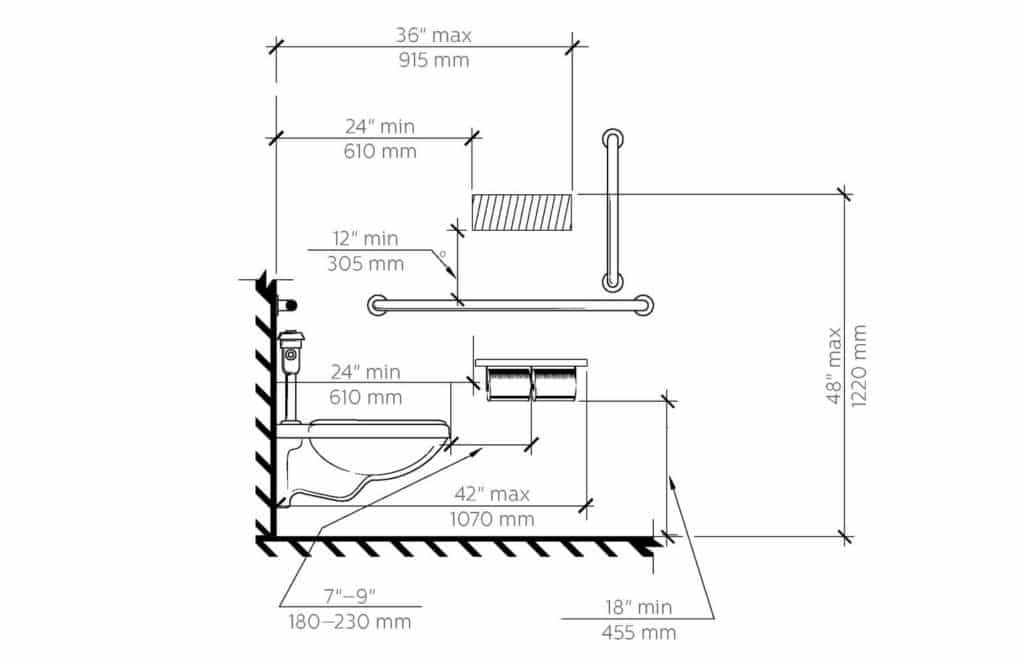 Source: pinterest.com
Bathtub & Shower Area
If you're planning to put a bathtub in the restroom or public bathrooms, make sure to have a minimum clear area of 60 by 30 inches (1.5 m x 76 cm). Additionally, you have to install a seat inside in such a way that the user still gets at least 75 by 30 inches (1.9 m x 76 cm) of free area.
According to ADA bathroom Layout, there are two rules for minimum shower clear area. 
If the shower size is 36 by 36 inches (91 x 91 cm), you have to provide at least 46 by 36 inches (1.2 m x 91 cm) as a clear area.

If the shower size is 30 by 60 inches (76 cm x 1.5 m), you need to provide at least 36 by 60 inches (91 cm x 1.5 m) as a maneuvering area.
ADA Bathroom Door Requirements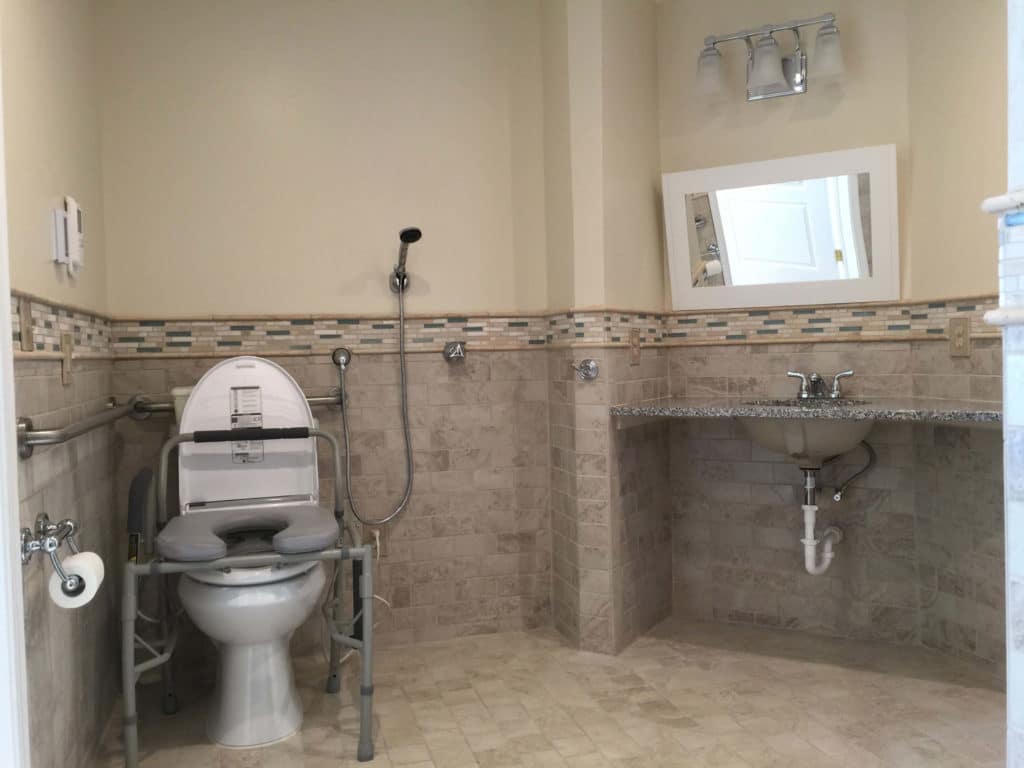 Source: pinterest.com
Like the standard bathroom doors, the ADA bathroom doors can also be opened both to the outside or inside. 

As per the ADA 2010 law,

bathroom doors

should be at least 32 inches (81 cm) wide with a clear maneuvering area of about 12 inches (30 cm) max.

There is no regulation about the height; however, the depth of the door shouldn't exceed 24 inches (61 cm). 
ADA Bathroom Toilet Seat Requirements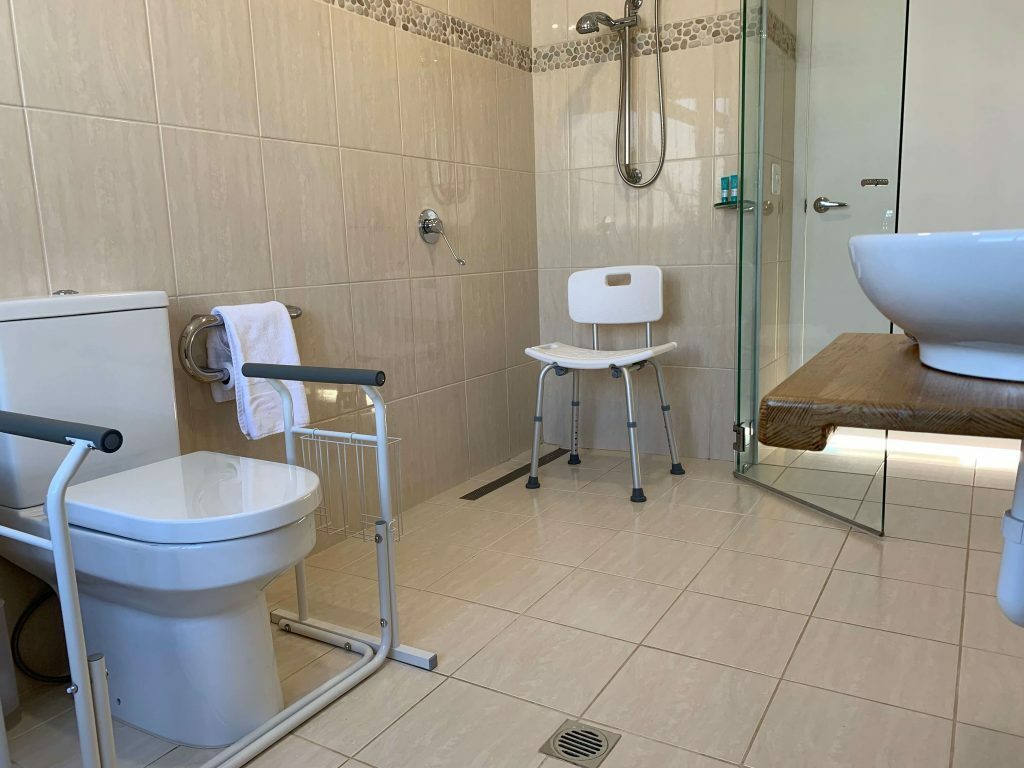 Source: pinterest.com
The toilet should have proper dimensions from 17 to 19 inches (43 – 48 cm).

The flushing mechanism should also be easy to use or automated, if possible. 

The position of the flush handle should be on the broader side of the toilet space and that too on the maximum height of up to 44 inches (1.1 m).        
ADA Bathroom Sink Requirements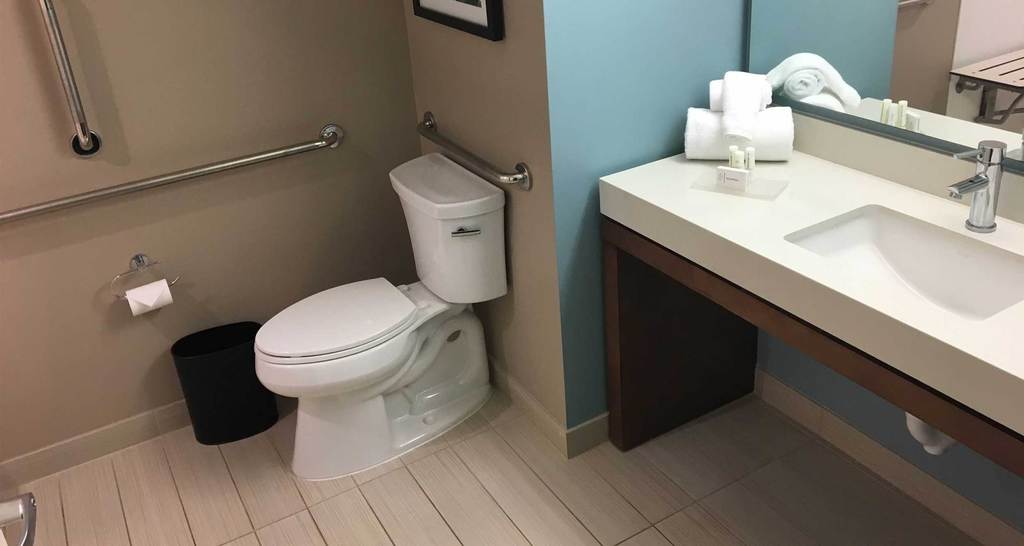 Source: wheelchairtravel.org
Whether the sink in the bath is built-in, on a pedestal, or a classic one, ensure that its height shouldn't exceed 34 inches (86 cm) when measured from the floor.

If you want to install a built-in sink, the cabinet also needs to be 34 inches (86 cm) from the ground.

Whenever you plan to build an entirely new bathroom, always calculate the thickness of the tiles and floors before installing. After this, accordingly, you can measure the height of the sink from that floor surface.

There should be a clearance of at least 27 inches (69 cm) away from the floor underneath the sink.

You should also provide adequate insulation for the piping under the sink.

Make sure that there are no sharp parts and objects under the sink area. 
ADA Bathroom Faucets Requirements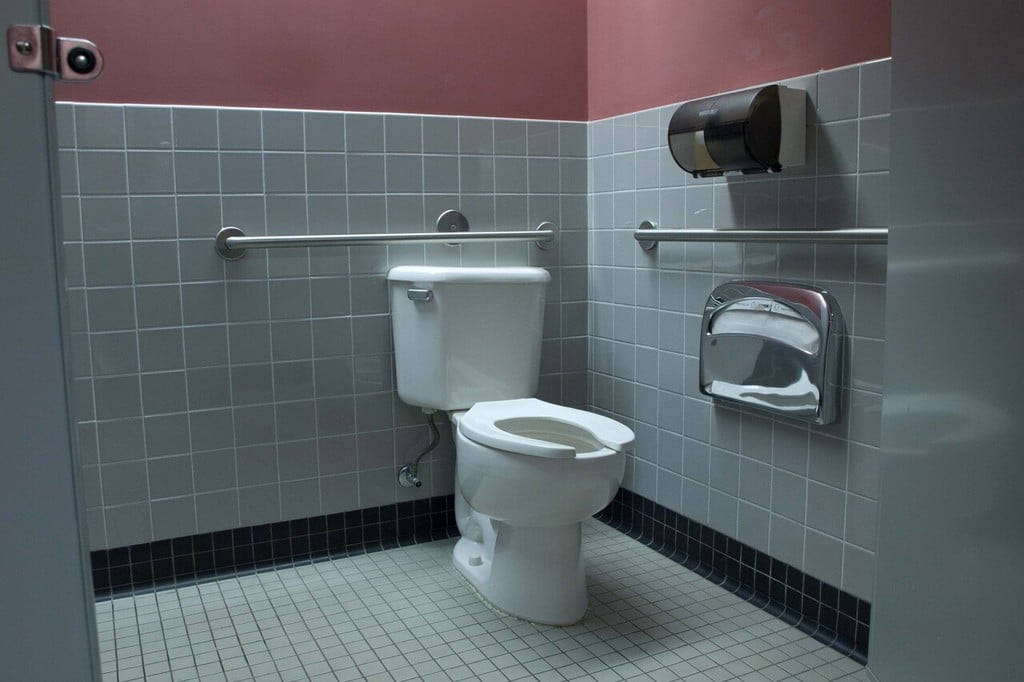 Source: adobecqms.net
When you read the ADA guidelines, you'll know it is clearly written that the faucets should be designed and installed in a way that any person with disabilities will be easily able to use them without applying strong force or wrist moves.

You can install any kind of lever, push-up, or electronic faucet with at least ten seconds of opening and closing time.
ADA Bathroom Mirror Requirements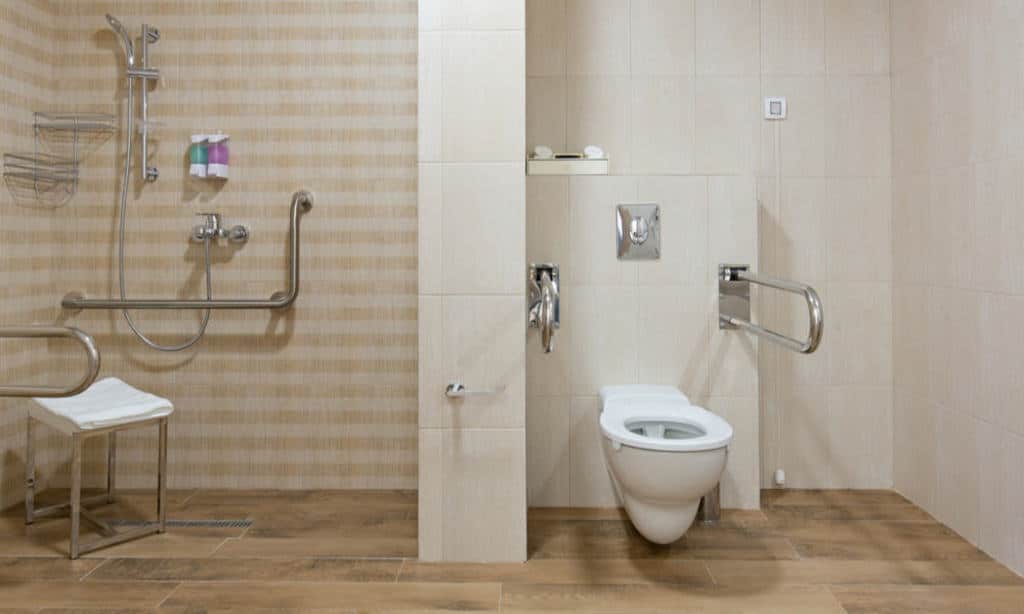 Source: sunrisespecialty.com
No bathroom setup gets completed without having at least one mirror. Whenever you're mounting a mirror, instead of measuring the frame height, always calculate the visual height. 

As per ADA guidelines, a mirror should be positioned at 40 inches (1 m) above the ground.     

Not only people with disabilities in wheelchairs use the mirrors, but also people with other limitations use them as well. So, it is necessary to put another mirror at least 74 inches (1.9 m) away from the floor so that people who can stand straight can use the mirror comfortably.
ADA Bathroom Bars Requirements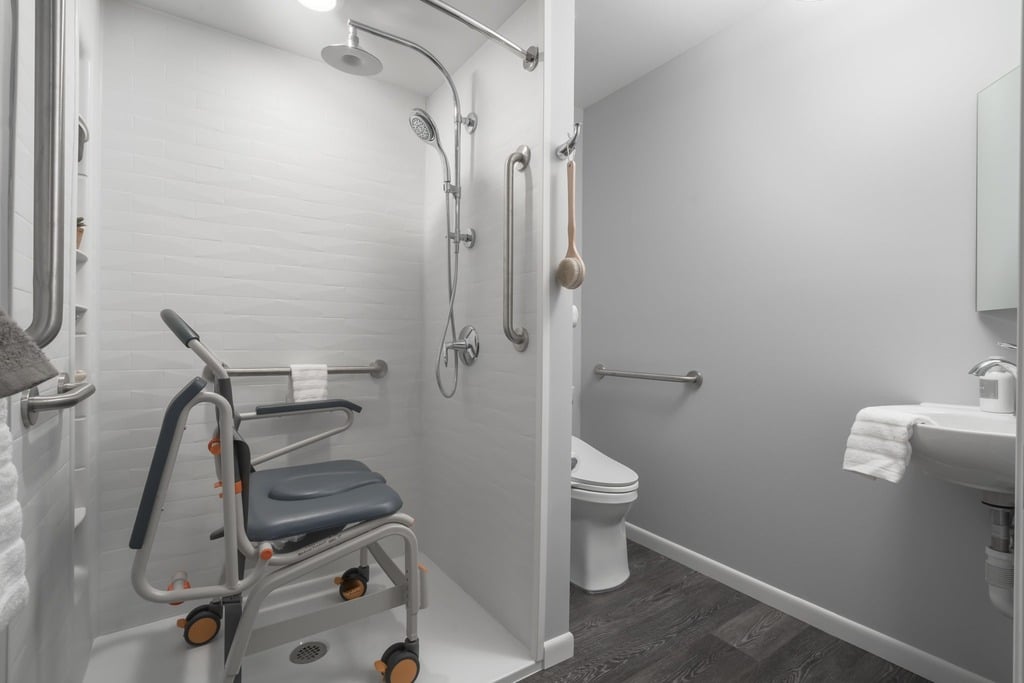 Source: clearycompany.com
Handles and Grab Bars
The grab bars and handles are a significant part of ADA bathrooms, and the regulations regarding them are strict. You have to install multiple bars near the toilet, sink, and bathing areas. These handles and bars should be made from suitable materials that can bear heavy loads and sudden agitations.
Toilet Bars
The toilet bars should be  33 to 36 inches (84 – 91 cm) from the floor or according to the ADA toilet height. Put at least two grab bars so that person in a wheelchair can easily use them.
Use the wall grab bars of at least 36 inches (91 cm) long and sidewall grab bars of 54 inches (1.4 m) long. They will help people with disabilities while transferring and positioning.  
Bath Area Bars
Like the toilet and sink grab bars, shower area bars are also vital. They are generally placed on the back or control wall and mounted 33 to 36 inches (84 – 91 cm) from the bottom of the bath. If you want to install them on the sidewall, place them at least 42 inches (1 m) long.
The basic guidelines regarding the grab bars height are 33 to 36 inches (84 – 91 cm). However, this is highly dependent on the size of the bathtub and shower area. 
Make sure to use grab bars with a diameter around 1.25 to 1.5 inches (3.2 – 3.8 cm), and also, don't forget to leave a sufficient space of about 1.5 inches (3.8 cm) between the grab bar and the wall. 
Also Read: Bathroom Design Ideas with Separate Bath & Shower
Other Requirements Of ADA Restrooms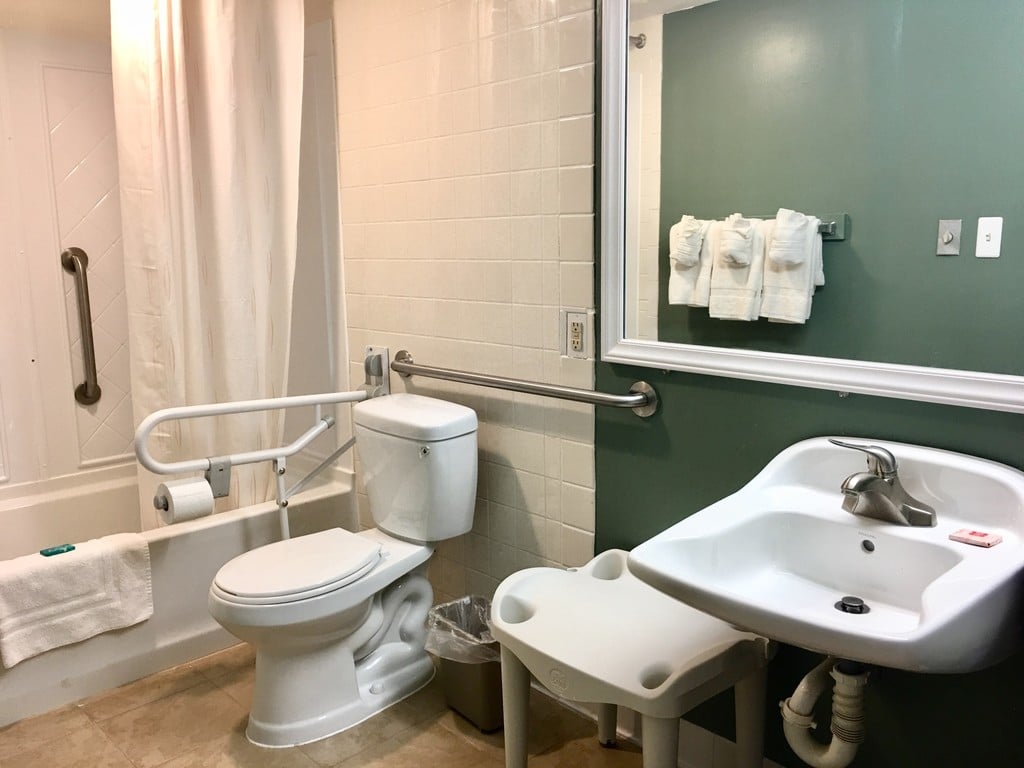 Source: stayhihotels.com
Apart from the clear area, toilet, and shower area requirements, there are many other things that you should keep in mind while building an ADA bathroom. Here are some of them:
Floors
Bathroom floors usually get slippery due to moisture and water. However, there is no specific regulation regarding floors; still, try to select less slippery tiles or types of floors to avoid any possible hazards.
Curbs
Curbs are used to stop the water from spreading into the rest of the bathroom. So if your shower area is 36 by 36 inches (91 x 91 cm), the curb needs to be less than 0.5 inches (1.3 cm) high, and if the size of the shower area is 30 by 60 inches (76 cm x 1.5 m), there is no need to build a curb at all. 
Toilet Paper Dispensers
The position of the toilet paper dispensers should be 15 to 48 inches (38 cm – 1.2 m) from the floor. You can mount them on the sidewall under the rail. Ensure that they're well placed at 7 to 9 inches (18 – 23 cm) from the top of the toilet.                        
Soap Dispensers
Counter soaps and Wall soaps should be on a height of 44 inches (1.1 m) and at least 15 inches (38 cm) from the floor, respectively. 
Also, mount them in such a way that they don't protrude more than 4 inches (10 cm) from the wall. In short, soap dispensers should be in reach so that people can use them with one hand, and that too without using any type of complex wrist moves.                                                                                         
Paper Towel Dispensers
Similar to soap dispensers, paper towel dispensers should also be user-friendly and one-hand operable. Mount them at least 48 inches (1.2 m) from the floor. So that they should never become any type of obstacle during transfer and maneuvering in the bathroom. 
The Bottom Line
So these are all the ADA bathroom layout, guidelines, and regulations. Now as you know about all the laws and rules,  create a safe and user-friendly bathroom space. 
When you plan carefully and put all your efforts and time into the design. You will be able to create a space for disabled people which is not only easily accessible but also modern looking. 
Apart from the ADA bathroom 2010 federal regulation, it is advised to check the local guidelines too. With that,  you won't miss any additional rules prescribed by the local government. You can also take advice and guidance from professionals to implement these safety measures safely and accurately. 
I hope you found this blog on ADA bathroom layout helpful and interesting, please share it with your friends or family or anyone who wants to know about the ADA bathroom guidelines. 
For more interior decorations, home improvement ideas, and architectural guidance, keep visiting Architecturesideas.
For daily updates, follow us on our Instagram page @architectures_idea.