Your Guide to Restaurant Tables
The food business has always been profitable. This is because restaurants provide people with a place where they can fulfill two primary needs. You can go to a restaurant to enjoy good food and also socialize with friends and family. Thanks to this, restaurants are always in fashion. If you're thinking of entering the food business yourself, having your own restaurant can be a great idea. If your restaurant is situated in a good area, has good food, and is well-designed, you're bound to enjoy success.
Most people know that in order to have a successful restaurant, you need good food and a good location. But a lot of people overlook the third factor, which is design. There is a lot that goes into designing a restaurant. What do we mean by "designing" a restaurant? We're talking about its atmosphere, theme, and its ambiance. All of these things need careful thought as they have a direct impact on factors that determine your restaurant's success.
A crucial element in restaurant design is the furniture. Your furniture affects your restaurant's theme and setting. It can give your restaurant an attractive or repulsive personality. The two most important elements of your restaurant furniture are your restaurant tables and chairs. What makes this important? These two are the two elements of your business that your customers will interact with the most. From the moment your customer sits down and starts going through the menu to when they finally pay the bill and leave, your customers are going to be interacting with your dining tables and chairs. 
Today, we're going to focus on restaurant tables. We're going to go through the different options that are available and what should you go for.
Why Are Tables So Important?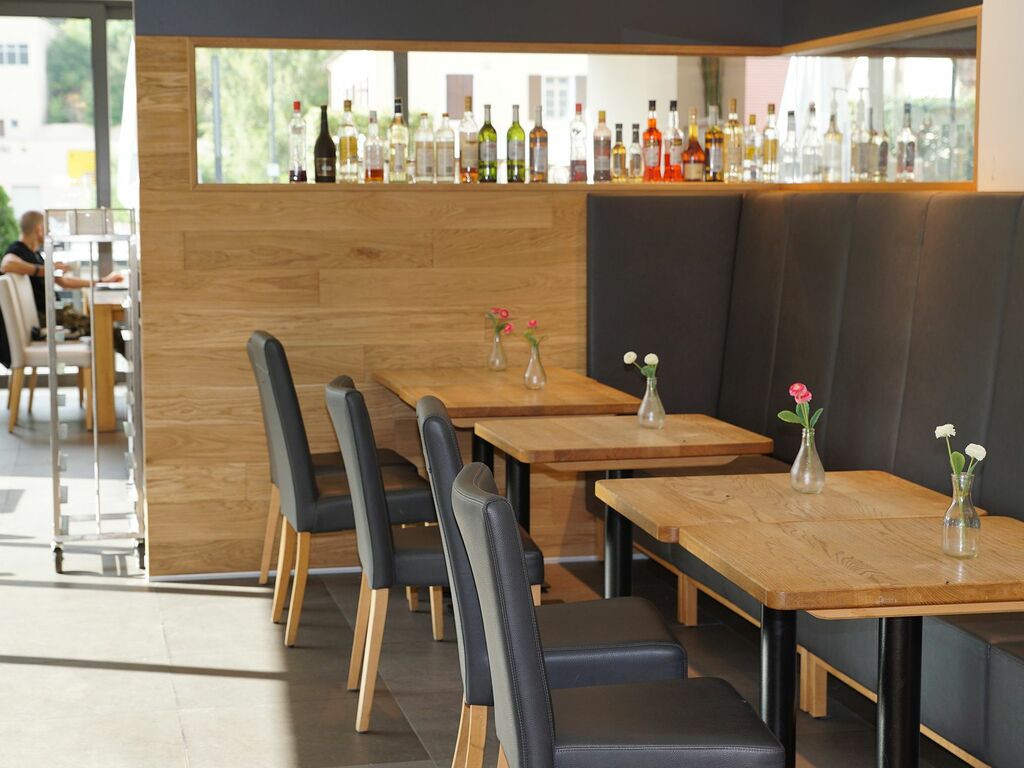 Source: thebalancesmb.com
Like we mentioned before, your customers are going to be interacting with your tables a lot. The quality and state of the table at which you seat your customer can actually have an impact on their perception of your restaurant idea. This is why you need to have good quality tables in your seating area. 
Ideally, your tables should be durable, good-looking, and should also complement your restaurant's atmosphere. Restaurant tables are made according to certain standards and design choices. These standards ensure that tables are capable of being used in a commercial environment. There's a huge variety of tables that you can look for in the market. This is good since you have a better chance of finding something that will suit your seating area. You can even have customized tables made but at a higher cost.
Types of Tables
When it comes to restaurant tables, you can expect to see a handful of types. The difference between most of these types can be seen in the tabletops.
Wood Tabletops
Source: rcsuppliesonline.com
Wood tabletops come in many styles and colors. They provide a wooden surface that consists of either multiple pieces of wood glued together or one single slab of wood. These are great for indoor use since they look nice. Tables that are made with quality wood are even scratch-resistant. Scratch resistance is important since these tables are going to see a lot of wear and tear.
Laminate Tabletops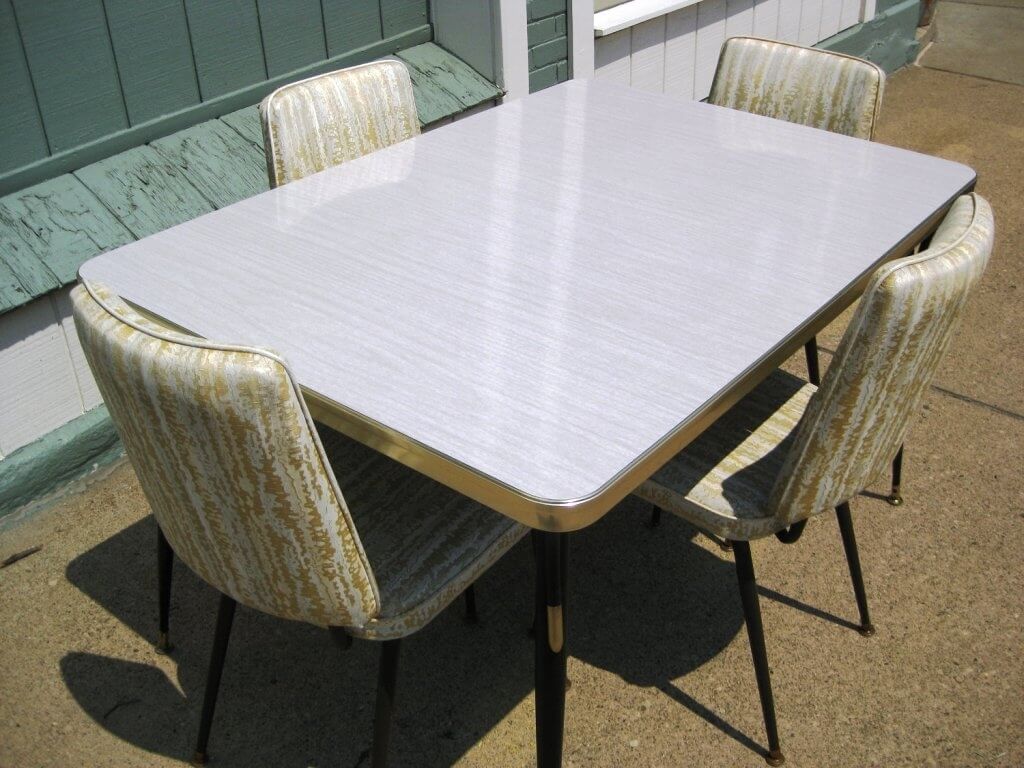 Source: oscarsplacenyc.com
Laminate tops are more cost-effective than regular wood tables. You can find these kinds of tables in fast-food restaurants and diners. Places that require robust tables at a low-cost.
Granite Tabletops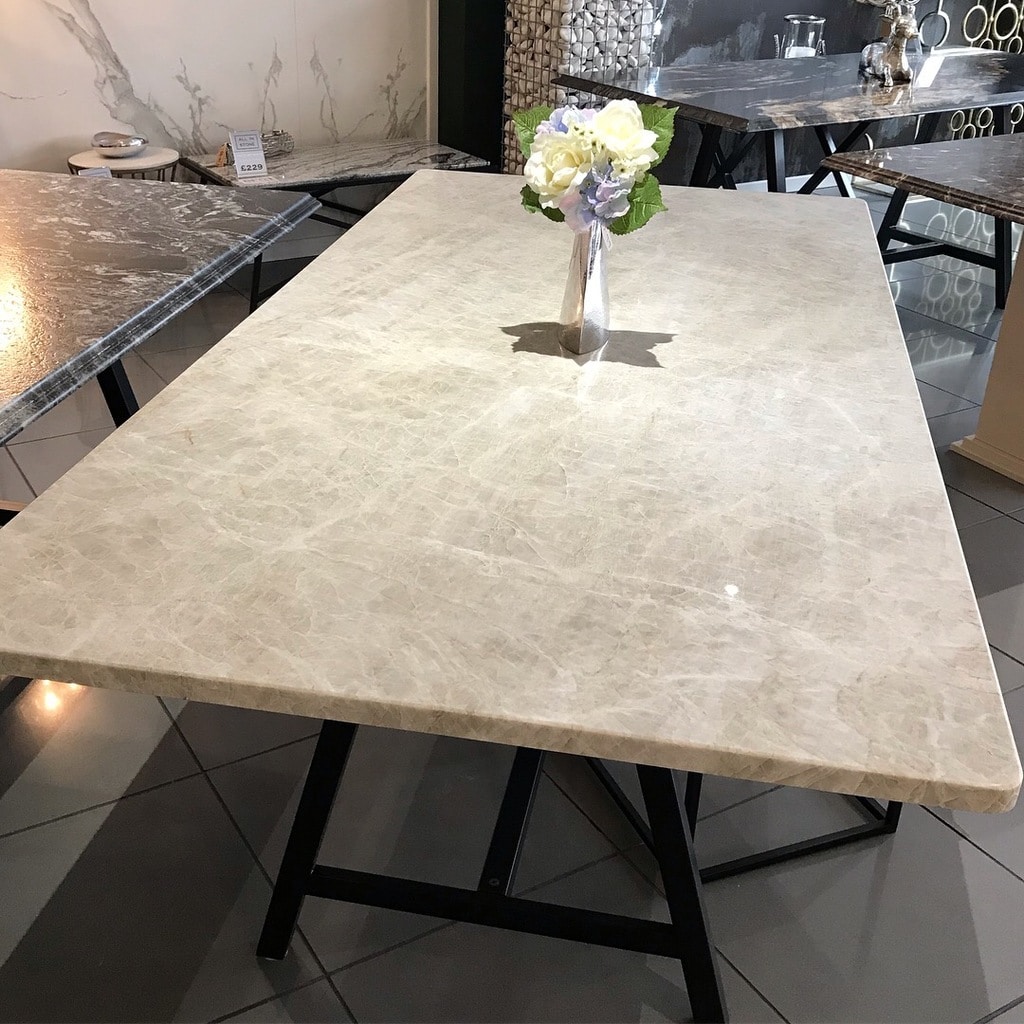 Source: allinstone.co.uk
Granite tabletops have been increasing in popularity ever since contemporary interior design became popular. Depending on how you use them, they can look quite elegant. And since they are quite durable as well, they can be used indoors and outdoors as well.
Also Read: Give Different Look To Your Restaurant With Stylish Restaurant Tables
Picking The Right Table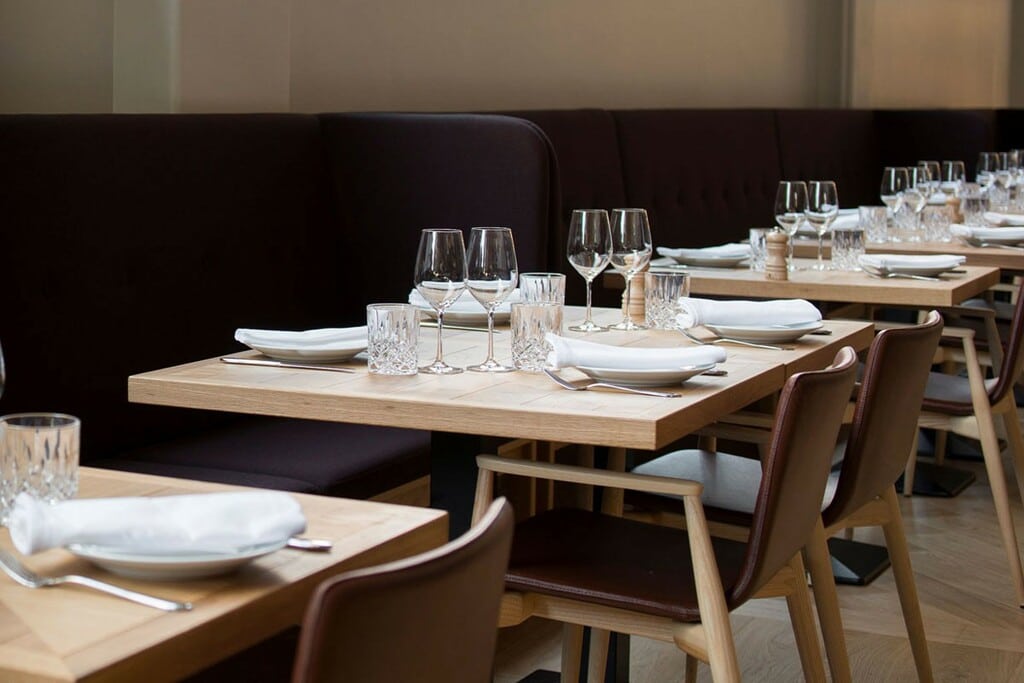 Source: barazzi.com
The type of tabletop that you need depends on a few things. You need to consider these things to make sure that you get tables that are worth the money and also do justice to your restaurant. Start off by determining your restaurant's atmosphere. Is your seating area supposed to look classy and relaxing? Or are you going for a contemporary or industrial look? Is your seating area indoors or outdoors? The ambiance of your seating area will help you figure out the aesthetics you want from your tabletops.
The location of your seating area will determine what material will suit you the most. If your seating is indoors, you won't have to worry about your furniture being exposed to the elements. However, if your seating area is outdoors then you will have to be more careful about the tables that you get. The weather can cause all sorts of damage to your furniture and shorten its lifespan.
Another thing that you should keep in mind is the standards. Commercial furniture needs to be robust so that it can take the stress and also be safe to use. following restaurant furniture standards will help you obtain furniture that meets your requirements better. It will last for longer, require less maintenance, and will also be safe to use. 
Conclusion
Restaurants need to focus on their ambiance in order to truly become successful. Restaurant furniture plays a huge role in determining what kind of ambiance your establishment will have. This is why so much thought goes into selecting tables and chairs for your seating area.
You need to think about more than just whether your table and chairs will look good. You need to consider then durability, functionality, and how well can they compliment the rest of your set up. Commercial tables and chairs come in many shapes and sizes. There are loads of design and material choices for you to consider.
Taking all factors into account before buying tables for your restaurant will help you make a worthwhile investment. You'll be able to buy furniture that is built to standard and is capable of withstanding daily use without causing trouble. 
The right kind of tables will allow you to provide your customers with a welcoming and comfortable place to enjoy their meals. This can help you elevate your business.