We are living in violent times, and we daily hear many kinds of shocking news like robberies. There are many instances where police or government are unable to protect the people from such things. So it is our responsibility to protect ourselves and our family from the unwanted antisocial psychopaths, who are roaming around us like bees. Therefore it is extremely important to place these things in secret gun storage or gun concealment furniture.
When you own a gun or any kind of weapon, then it is your responsibility to store your licensed weapon in a safe place. After all, not everyone can afford a security guard, right? It should not be in the reach of pets and children because little carelessness can put you and your family in trouble.
From far away these concealment furniture pieces look like any regular furniture, but they have special hidden compartments where you can put your valuable things and guns. So, whether you want to hide your guns from kids or from thieves, there is nothing better than a gun concealment furniture.
So whenever there is an emergency, you can access them easily. They provide complete safety because only you know where they are stored. But some of us don't know much about concealment furniture, so we will first tell you what it is and what are the benefits of concealment furniture at home.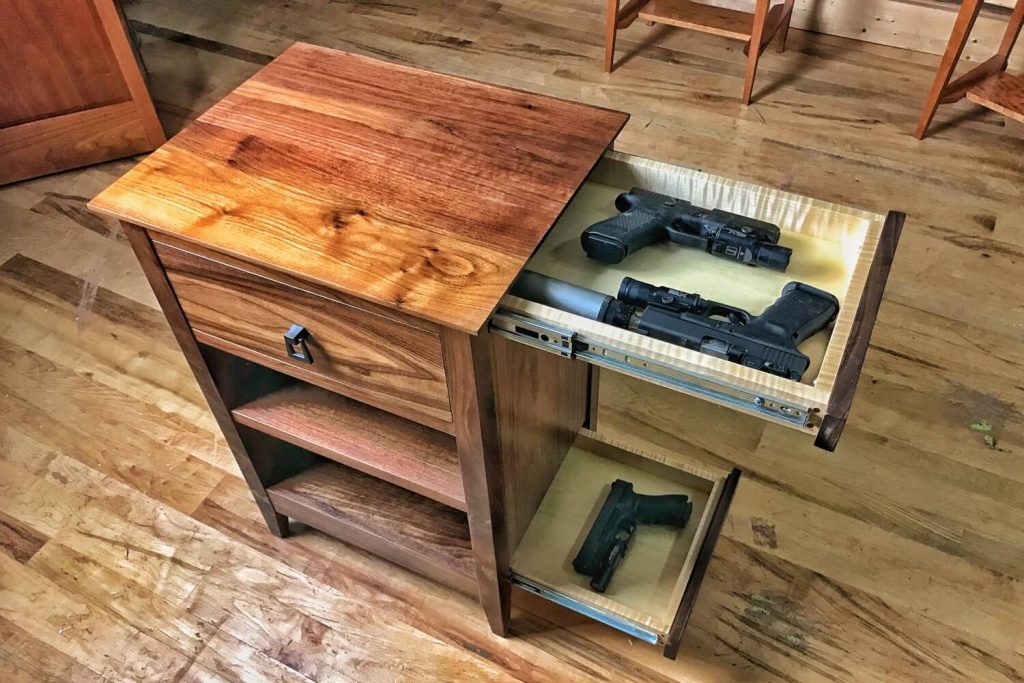 source: thefirearmblog.com
What is Gun Concealment Furniture?
It can be any piece of regular furniture but with some additional hidden compartments. It can be a sofa, table, drawer, or even decorative pieces with sliding shelves where you can store firearms safely.
"In short, it is dual-purpose furniture which can be used as a piece of normal furniture and also for gun storage. You can securely place a weapon inside the easy-to-access chambers, and nobody will reach out to it without your permission and guidance."
Benefits of Gun Concealment Furniture
There are many benefits of having a hidden gun storage furniture in your office or home, such as:
1. Quick Access and Safe
They are specially designed to keep a weapon safe, and this type of furniture also ensures ease of access. For example, some furniture comes with a magnetic locking system or RFID locks that provide instant access to the gun. At the same time, they keep it safe and hidden from the public eye.
source: homecrux.com
2. Contemporary Look
They are designed with the latest trends in minds. From small lamps to the big bookshelves, they come in various shapes, colors, and designs. You can purchase the one according to your home interior so that they'll go well with the rest of your home furnishings.
3. More Secure than Any Locker
Anybody can easily recognize a gun safer, but this gun concealing furniture is never noticed by anyone so easily. For example, nobody will ever guess that your working table or a table clock could be where you have hidden the weapon.
Concealment Furniture Types
So it's time to understand what are the different types of concealment furniture that comes in the market. Here is the list of 9 unique gun concealment furniture.
1. RFID Concealment Shelf
source: pinterest.com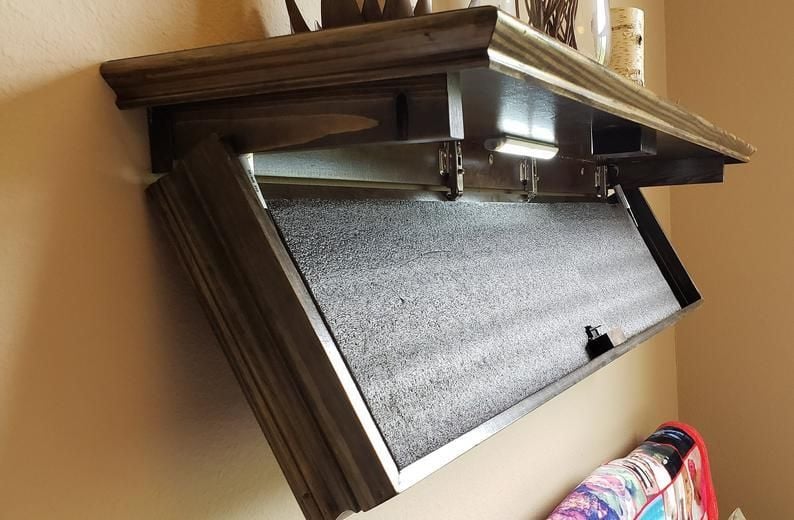 source: etsy.com
Normally when anyone sees this, they think that it is a beautiful wall shelf, but they don't know that it is also a concealment shelf. It is made with solid pine wood and has a vibrant and finished look. It is specially designed with an RFID locking compartment. Inside of this, there is a motion light and foam where you can insert your gun. It's overall dimensions are 48″×12″×4″ in which you'll also get an Interior usable space of 41″×9″.
2. Gun Concealment Clock
source: budk.com
This is a cute clock with a concealment compartment. There is no appliance better than a clock to keep your gun safe. It is made of wood and is both functional and decorative. It has a secret compartment hidden behind the face of the clock, where you can easily conceal a pistol. Also, it has a magnetic clasp lock for easy operation. You can place this clock on the table, nightstand, or almost anywhere. So, if you're looking for small gun concealment furniture, this is best for you.
3. Coffee Table with Lift Top
source: flatfair.com
Source: flatfair.com
This is a beautiful, walnut rectangular coffee table. Don't think it is regular furniture; it comes with a Lift-Top with two storage compartments. So you can easily put your safety things and weapons inside of the compartment. The overall dimension of the table is 53.0 x 29.0 x 9.0 inches.
4. Curio Slider Cabinet Combination
source: volynua.com
This is something unexpected, right? For others, this is a curio display or just a bookshelf. But for you, it is a gun concealment furniture. It has a lighted curio display area with glass shelves, and behind the tempered glass, there is a sliding cabinet. Where you can put your collection of rifles and shotguns. The dimensions of this furniture are 56.0 x 21.0 x 10.0 inches. It will look great in the dining room or living room.
5. Gun Concealment Drawer
source: thingsidesire.com
Another great way to keep your gun hidden and safe at the same time is to put them in a drawer like this. You can easily pullout inside of the drawer without the fear of getting noticed. Believe us, this drawer will work like magic for you.
6. Gun Concealment Book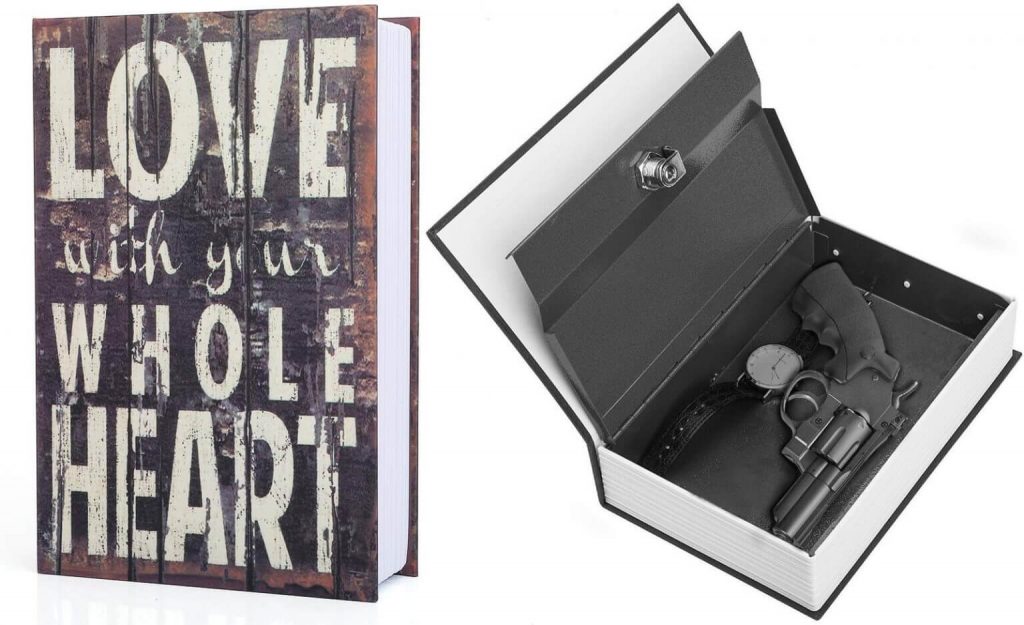 source: thingsidesire.com
Totally unexpected and surprising for your enemy. Yes, you read it absolutely right. It is a gun concealment book, which can take a bullet for you! It is the best-hidden gun storage furniture in the market. This looks like an ordinary book, but in reality, it is a safety box that can hold a pistol. Isn't it amazing?
7. Weapon Concealing Coat Rack
source: pinterest.com
It is a gun concealing furniture which is the best of both worlds. It keeps your coat and guns safe at the same time. The best thing about this is that it looks more like a coat/hat rack than a gun storage furniture. It can easily be blended with the other home furnishings, and almost nobody could ever think that it could be the place of gun storage.
8. Gun Concealing Lamp
source: thingsidesire.com
Who can ever think that a normal night lamp could be a place of gun storing? Nobody, right? But when you have this advanced Gun Concealing Lamp, you can sleep peacefully. This amazing furniture will get easily camouflaged with your other bedroom essentials.
9. Romantic Gun Concealer Furniture
source: thingsidesire.com
Another interesting place for hiding a gun is the artwork. Look at this quote artwork, it is hanging on the bedroom wall like typical wall decor, but in reality, it is a gun concealment furniture. This furniture looks adorable, and also it is a perfect place to store a big rifle.
10. CouchBunker Gun Safe
source: homecrux.com
This is a gun concealment furniture that looks like a typical sofa. No one would imagine that the sofa they are sitting on, hides a gun safe. It functions just like a regular couch. With a dimension of 96″H x 39″W x 14″D, it also comes with a two-hour firewall and optional bulletproof cushions. You can easily access the guns by simply removing the seat cushions. Another amazing thing is that it comes in many colors and fabric coverings. So, you can buy the one which looks great in your family room.
11. Secret Compartment Mirror
source: homecrux.com
A mirror can be your gun concealment furniture. I know it is hard to believe, but take a look at this mirror. This rectangular mirror has a secret compartment. Which is a safe place to keep weapons out of public sight? To store ammunition, there are also mini shelves. Mirrors are fragile and delicate, so nobody touches them intentionally. You can also place a similar kind of mirror in your home.
12. Executive Desk Gun Safe
source: homecrux.com
If you're looking for concealing furniture for your office or workplace, check this out. It is a computer desk with a hidden compartment. Made from solid oak and maple wood, this furniture has four drawers, two file drawers, and much more additional storage space to keep your office essentials.
source: homecrux.com
Aside from serving as a desk, it can also hold a gun that is not visible to anybody. In the case of an emergency, you just need to pull out the extended keyboard drawer to access your weapon.
13. Mantle Gun Concealer
source: thingsidesire.com
This is a wall mantle which also has a hidden shelf. Here you can store your weapons safe. It is wall mounted so nobody can easily reach out to it. This mantle also has a magnetic lock system, which is easy and convenient to open when in need.
14. Picture Frame Gun Concealer
source: thingsidesire.com
There is absolutely no place better than a family picture frame to hide your safety weapon, right? This is probably is the smallest and safest Gun concealment furniture that can house an entire pistol with ease without giving a hint.
15. Gun Concealment Storage Bench
source: homecrux.com
When anyone sees this at first, they think it is just a comfortable bench, but only you know that it is also a place where you are storing your weapons. When you feel any kind of situation, you can just take your gun out by lifting the top part of the bench. It is a huge storage place; it can hold up to five rifles at a time.
The dimensions of this bench are 51 x 17 x 20 inches. Normally you can use this as a regular sitting bench. It has attractive & durable plastic feet and also comes in various colors. You can place it either in your living area or in the bedroom.
So, if you own a gun, rifle, or any kind of licensed weapon, these tactical gun furniture is a must for you. people can't determine whether this gun concealment furniture is a piece of normal furniture or something else. This simply means your guns are safe and hidden from the naked eye and only you know about it. You can place them anywhere in the room and also use them multi purposely.
I hope you like all these wonderful secret concealment furniture. For more interesting blogs on architecture and interior designing & decoration, visit Architecturesideas.