A home with a spectacular view of a forest, beach, or city skyline, is a dream place for living for many people. Floor to ceiling windows will make this whole living experience more breathtaking and magical. Imagine living in a house without windows; it will be just like living in a boxed home with no air or light. Would you live in these types of homes? For sure, your answer would be a big NO! That's why it is important to add high-quality UPVC windows to a house.
Do you have large bare walls in your home, and you're not sure what to do with them? The best solution to this problem is floor-to-ceiling windows! Installing the large windows not only allows you to see the outstanding views of your neighborhood, but also they'll instantly transform any room. They make the cozy and fresh ambiance from boring and dull.
Today in this blog, we're going to tell you all about floor-to-ceiling windows. From the benefits of having them to their drawbacks, we've also included the latest floor to ceiling windows ideas for you.
You may have windows in your kitchen, bathroom, and other places, but here we're talking about those windows that are many feet tall. These tall windows will make any house a luxurious and lavishing place of living that is filled with natural light and incredible views. You can also put these tall windows anywhere in your house, such as in the living area, bedroom, kitchen, etc. let's start with the advantages of having these massive windows in your home.
Floor to Ceiling Windows Pros and Cons
Benefits of Floor to Ceiling Windows
These high ceiling windows not only make the room brighter and airy but also make a connection between outdoor and indoors. When an ample amount of natural light comes into any space, it will make spaces seem bigger than they are. These are only a few advantages of floor-to-ceiling windows; there are a ton of other advantages.
Here are some pros of having the floor to ceiling windows in your home:
More Natural Light:-
Everyone loves a room that is bright and airy, right. Floor-to-ceiling windows allow plenty of natural light and open up the room. This also helps in reducing the energy bills as the more natural light is available throughout the home; you'll use fewer light fixtures during the day. This ultimately reduces money on utility bills and also results in valuable savings over time.
Also, natural light is important for our health. It will boost Vitamin D, ward off seasonal depression, improve sleep, and also reduce the health risks of fluorescent lighting.
Create an Indoor-Outdoor Connection
Windows are a way to get into the outer world without actually going. If you live in a neighborhood with amazing views, floor-to-ceiling windows are the best way to enjoy the spectacular sights of the surroundings and the landscape.
Whether your home is built in the countryside or an urban environment, you can enjoy the fantastic views of lakes and rivers, mountain ranges, green fields, or city skylights through the large windows, and that too whenever you want.
Make a Small Room Appear Big
Another benefit of having large or tall windows at home is that it creates the illusion of a bigger space. When the natural light is reflected back on the reflective surfaces like mirrors, it creates an "enlarging effect" and makes the room appear more spacious than it actually is.
Improve Curb Appeal
A well-designed floor to ceiling windows can easily make any space look more attractive and appealing. If you're planning to renovate your home or just want to remodel some parts, consider installing floor to ceiling glass wall. It will immediately increase the curb appeal of the place.
Imagine how stunning your space looks when the natural light comes through these glass panels or at night when light fixtures shine through these glass windows or walls. This will also increase the value of the property.
Drawbacks to Ceiling Windows
Floor to ceilings can be show stoppers of your home; still, they have some disadvantages. Let's see what's the drawbacks of having the floor to ceiling windows:
Cost of Installation:-
These amazing large windows look remarkable in the architecture, but they come with a high price tag. Apart from the initial floor to ceiling windows cost, there are many other factors that you have to consider, such as the design and extra cost of engineering and structural components like steel girders and parallel-strand laminated beams.
Lack of Privacy and Security:-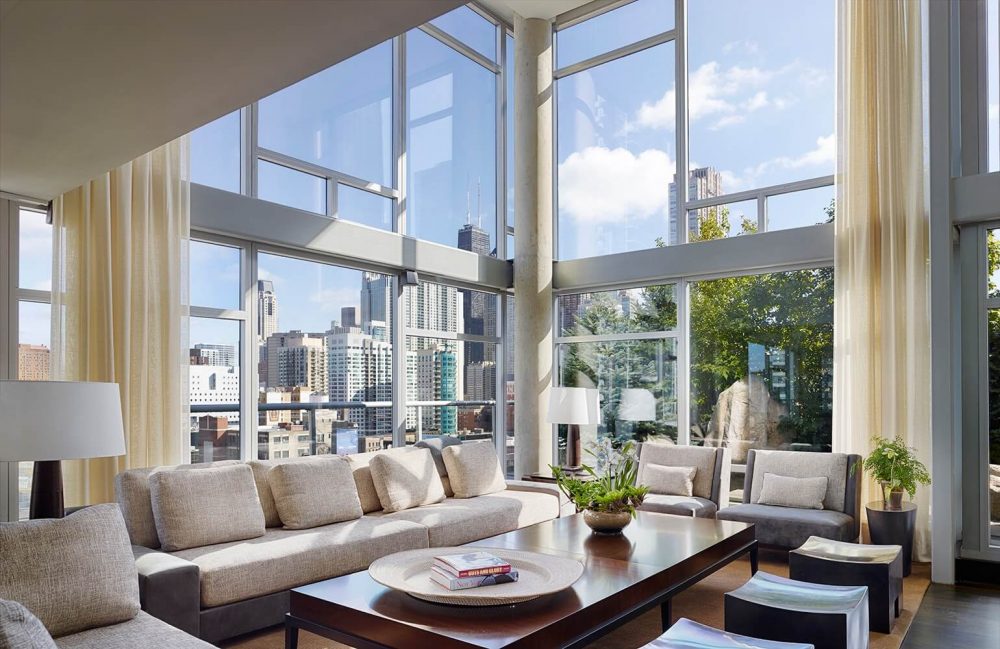 If you live in a private, secluded, fenced property, you won't face some privacy problems in a home that has floor-to-ceiling windows. No doubt that you can be able to see neighborhood views, but your neighbors and passers-by can also be able to see inside of your property. You have to use blinds or curtains to avoid this issue. In some dense areas, there is also the threat of vandalism and rock-throwing.
Maintenance:-
Large windows look really pretty and give a perfect background for your Insta perfect pictures; however, you have to be extra careful with them. Small things like your fingerprints and small dust particles can easily stick to the glass surface and make them look dirty.
You have to wash and clean them regularly, which may be challenging for some people.
Too Much Light
Floor-to-ceiling windows will provide extreme natural light, which can be both beneficial and drawback. Many people don't like too much light in their living areas. In colder months, this sunlight will be welcomed and good for health; however, this will become an issue on hotter days. Extreme sunlight can also damage furniture, fabrics, and rugs.
7 Stylish and Trendy Floor to Ceiling Windows Ideas in 2023
Whether it is traditional ranch homes or modern villas, floor to ceilings windows will never go out of fashion. After all, they look gorgeous and also provide an energy-saving alternative as green housing options.
Are you looking for some mind-blowing floor to ceiling windows inspirations? Here are seven various types of floor to ceiling window design ideas for you.
1. Glass Window Wall
Want to create a modern minimalistic look? Go with this style in your living space. This wall has large glass panels which look absolutely stunning and also provide access to the garden.
Add a fireplace, a big screen, and several seating areas to complete the look, and your modern-looking entertainment space is ready! This will be a perfect spot for a social event, hangout, or birthday party.
2. Floor to Ceiling Windows in Kitchen
Create some depth and character in your kitchen by installing some tall windows. It will not only transform the whole look but also provide ample natural light to space. This house has cathedral ceilings which make the overall look of the windows more prominent and lovely.
The exposed beams, sliding barn doors, and other small detailings are providing this space a serious edge. These types of floor to ceiling windows apartments look extremely pleasing and functional.
3. Luxurious Villa with Exotic Views
Imagine drinking coffee and seeing the ocean dissipating into the sky from behind a glass wall; wouldn't that be super relaxing and fascinating? Fougeron Architecture has designed the above house.
It features a cantilevered master bedroom with floor-to-ceiling windows exploring views of the Pacific ocean over a 250-foot drop. If your home is located in such a beautiful landscape, you should always consider installing some windows to enjoy the spectacular and wild views.
4. Round Floor to Ceiling Window Design
This St. Andrews Beach project is designed by Austin Maynard Architects. Homeowners wanted to enjoy the ocean views; that's why designers have created this seaside-facing bedroom.
It is also known because of its unique circular wooden beam structure. The warm timber is used, which provides warmth in the bedroom, while the panoramic views of the sea set the whole cozy ambiance. Furnishings were kept minimum so that it looks simple yet functional.
5. Solid Floor to Ceiling Windows
Is your home built near a forest or is it surrounded by forest? If yes, it is a must for you to install some high ceiling windows. As not everyone wants to go into the woods to enjoy nature, that's when these glass windows come to work. You can easily enjoy the sight without even going outside.
Look at the above example, here a simple single glass window is installed so that the residents can enjoy the unobstructed views. Additionally, the wooden floor and stairs pair nicely to the window.
6. French Window "Walls" for Dining Room
French windows are one of those styles which never goes out of style. So if your dining area looks a little dull and boring, revamp the look by placing these pretty french windows.
They also allow enough natural light and warmth, perfect for a nice meal or social event. Here the black metal frame is used, which looks absolutely stunning with the other decorations such as the white rug, farmhouse furniture, and open shelves with ceramic collections.
7. Glass Walls in Mountain House
Look at the above house, would you like to spend your vacations there? The major thing that makes this residence remarkable are the plain glass walls. This looks fabulous and offers lovely water and mountain views.
Here are some more floor to ceiling windows ideas and inspirations for you: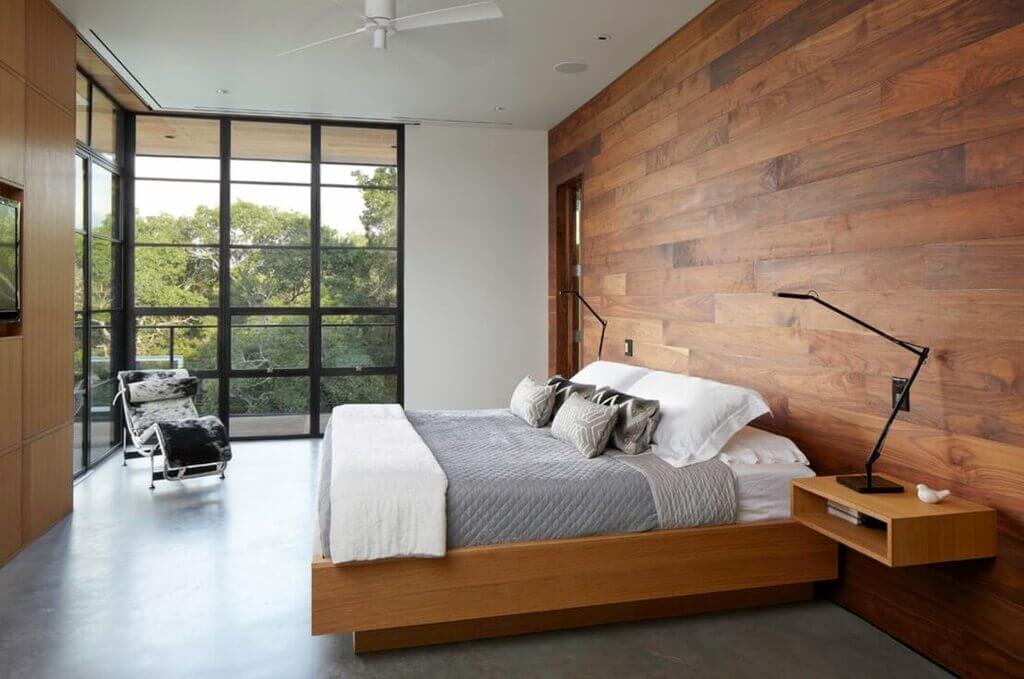 The Bottom Line
So, this is all about the Floor to ceiling windows. Everything has its own benefits and drawbacks, and so do these tall glass windows. They're not easy to install, and also the initial cost is expensive. That's why it's vital for you to consider all the factors like price range, sizes, dimensions, and materials before the floor to ceiling windows installation process.
After reading this blog, now you very well know all the advantages, disadvantages, and some of the stylish windows designs. I hope you liked this blog about Floor to ceiling windows ideas. Also, don't forget to share this blog with your family and friends.
If you want to know more about windows or unique and unusual buildings and constructions, read our previous blogs on Healdsburg House, which has garage size windows and the River Connected Villa Of Queensland: V House
Read more: