10 DIY Tricks & Tips on How to Build an Aesthetic & Functional Treehouse
A treehouse is probably every child's dream home. The excitement and wonder of living in a tiny wooden shed on top of a tree is an experience everyone would like to have. A treehouse can be used for recreation, living, observation, hangout, and workspace. The best part about a treehouse is that you can build one yourself! To build a treehouse that is not only structurally stable but is safe and aesthetic to the eye, the necessary tools, materials, work ethic, and enthusiasm will yield some great results. With these 10 DIY tips, you will not only know exactly how to build a treehouse but also learn some tips and tricks that will ensure that your treehouse is a great one.
10 Tips On How to Build a Treehouse
1. Selecting The Perfect Tree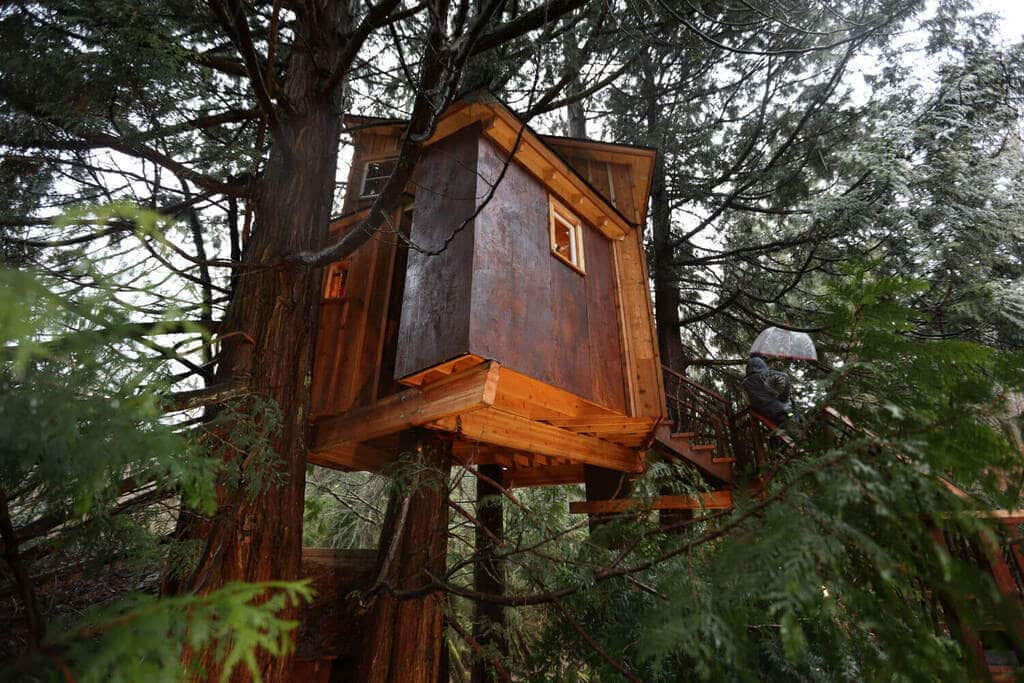 Source: nelsontreehouse.com
The choice of tree is extremely important as this will hold up the house. If the tree is unstable or weak, there's a high chance that the treehouse will fall. Using a tree that has a minimum trunk diameter of 12 inches and that has 2-3 main branches that will be able to hold the weight of the house. The tree must also be at least 6-10 feet tall. 
Hardwood trees like oak and maple are good choices for a treehouse. Before building, check for any type of damage on the branches or trunk of the trees and one which has deep roots. During storms, hurricanes or windy conditions, the tree must not sway around too much or be capable of getting uprooted. 
2. Designing The Layouts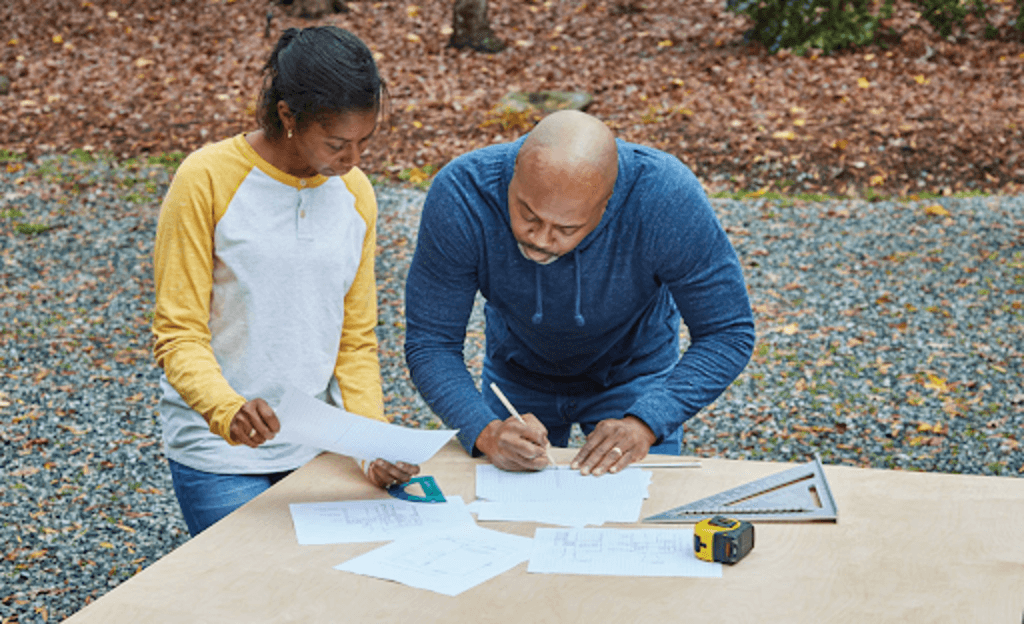 Source: googleusercontent.com
After surveying the tree, draw up plans and sketches of how you want the treehouse to look. Decide the total length, width and height from the base and of the house itself. After that decide where you'd want to locate the entrance and windows. One interesting design idea would be to add a balcony that would be open to the sky right next to the enclosed treehouse with railings of course! 
It is important to get the correct measurements for all the elements and draw them out. Being clear on this will ensure a smooth sailing construction process. 
3. Choosing The Right Material and Equipment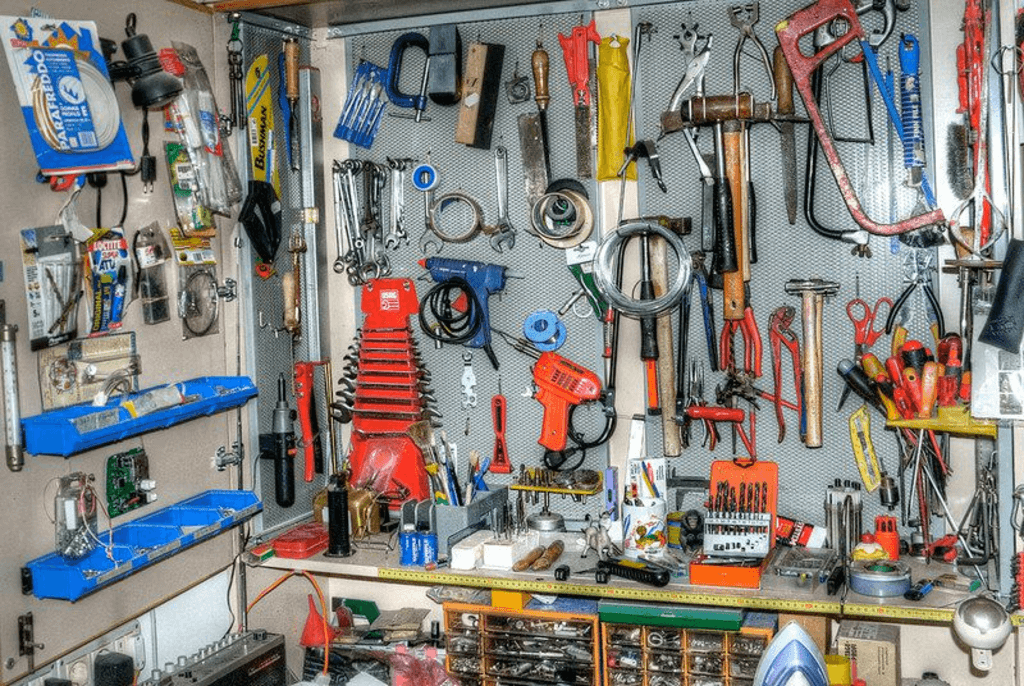 Source: googleusercontent.com
The best part of when you build a treehouse is the fact that all the materials and tools required for it are available a short drive away from your home. 
Here is the list of tools you  will need while building a treehouse: 
Timber or Wood

Decking Material

Screws, nails, washers and hangers

Rafter Ties
Ensure that the materials you are using are waterproof and insectproof. The wood should not be susceptible to termite and ant infestations, and must not decay, deform under water absorption from rains. Using engineered wood is a good option when it comes to this.
Along with this, you'll also need tools like Tape Measures, Markers, hammers, saws, level, wrenches and drills. Additionally, install a stable ladder next to the tree for easy access to upper areas.
4. Building the Platform To Build A Treehouse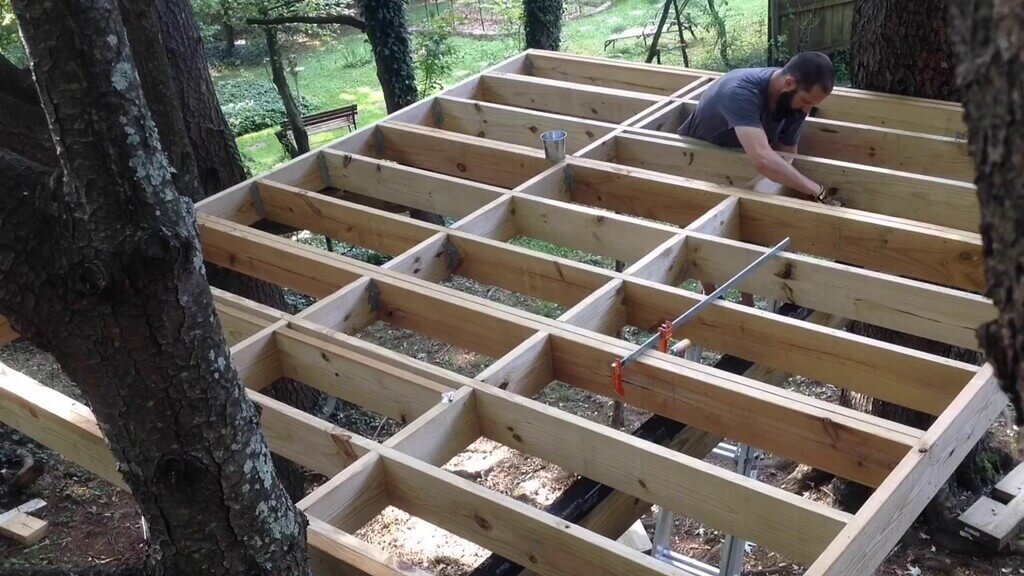 Source: ytimg.com
The next step to build a treehouse is to get started on the actual construction. First, the main supports need to be erected with a good foundation underneath. Without this, your treehouse will not be able to stand stably.
After the main supports are up, it's time to build the main platform. The main platform is the base for the house and so it must be very strong. You can build this platform directly onto the main supports or build it separately and then lift it onto the supports. To do this you need to make a floor joist structure with intersecting planks placed vertically. 
When built like this, the structure will have maximum stability and will prevent bending when weight is put onto it. Make sure you fix the joists tightly with nails and drills.
5. Working On The Horizontals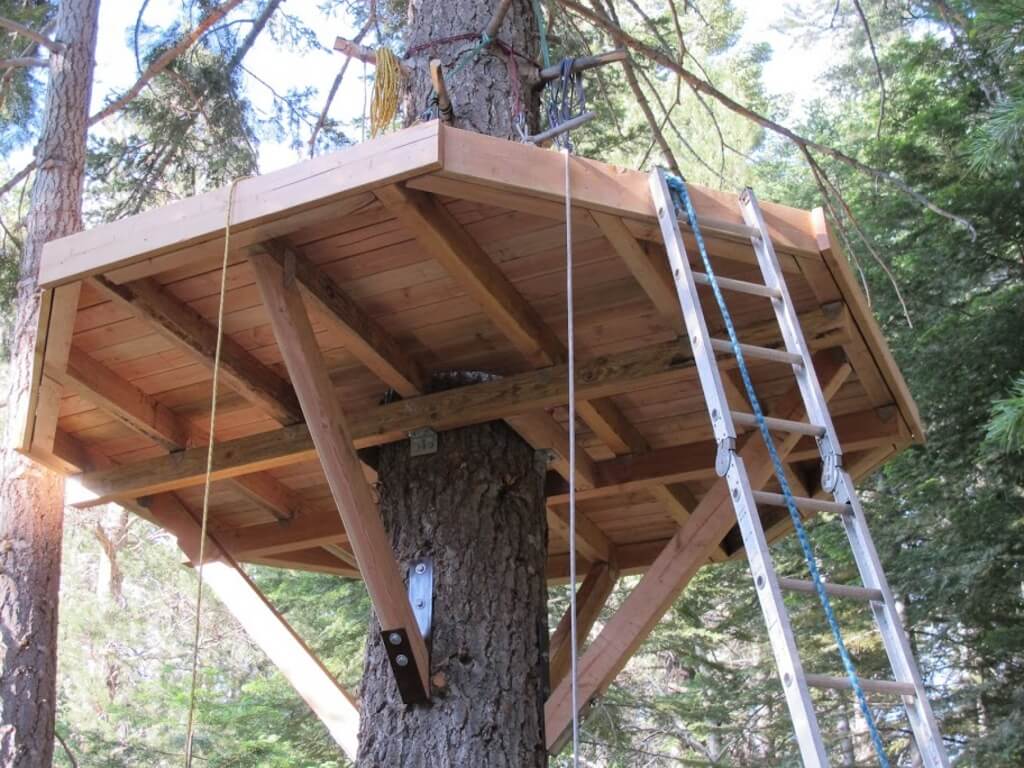 Source: googleusercontent.com
The next step is to look after the flooring and bracing works. Top the joists with thin planks to form a good base. When mounting the platform onto the supports, you can add diagonal braces underneath that will prevent it from wobbling. 
When you lay the deck make sure you cut out a hole in the shape of the tree in the planks before arranging them neatly on the joists. The planks must be drilled well into the joist structure so none will come out.
6. Building The Enclosure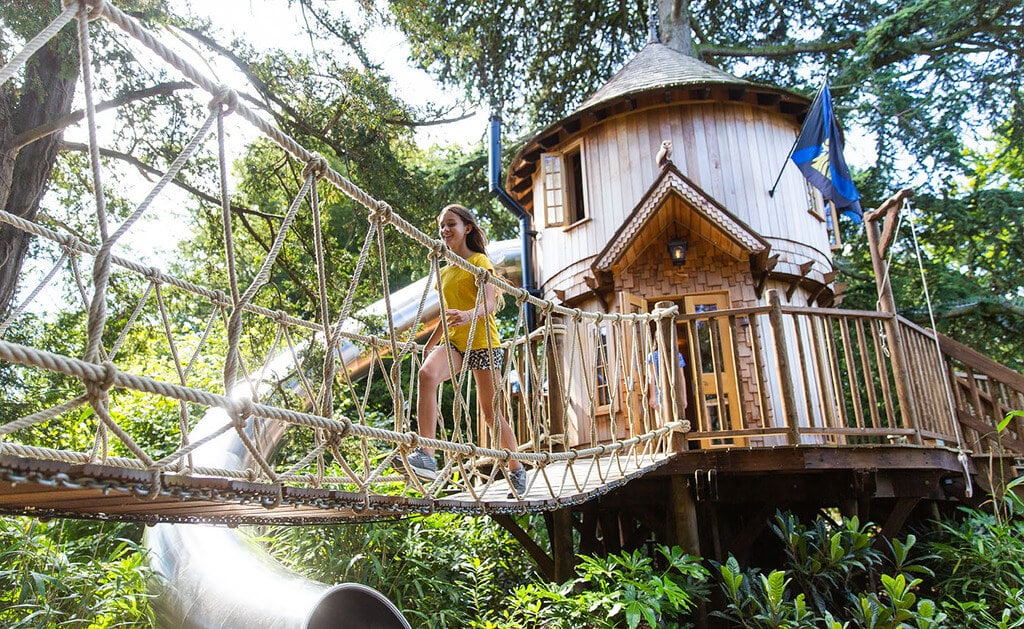 Source: blueforest.com
When you build a treehouse, the most important part is the actual enclosed structure. This outer frame must be able to withstand heavy winds and should be able to hold up the roof as well. First, build the frame of the wall using wooden columns and beams attached. 
Once you have a stable frame you can fix planks onto it. Preferably, horizontally fixing them would provide much higher dimensional stability as opposed to vertically. 
Also Read: DIY Your Dwelling: 7 Tiny House Kits that You Can Buy On Amazon!
7. Ensure Privacy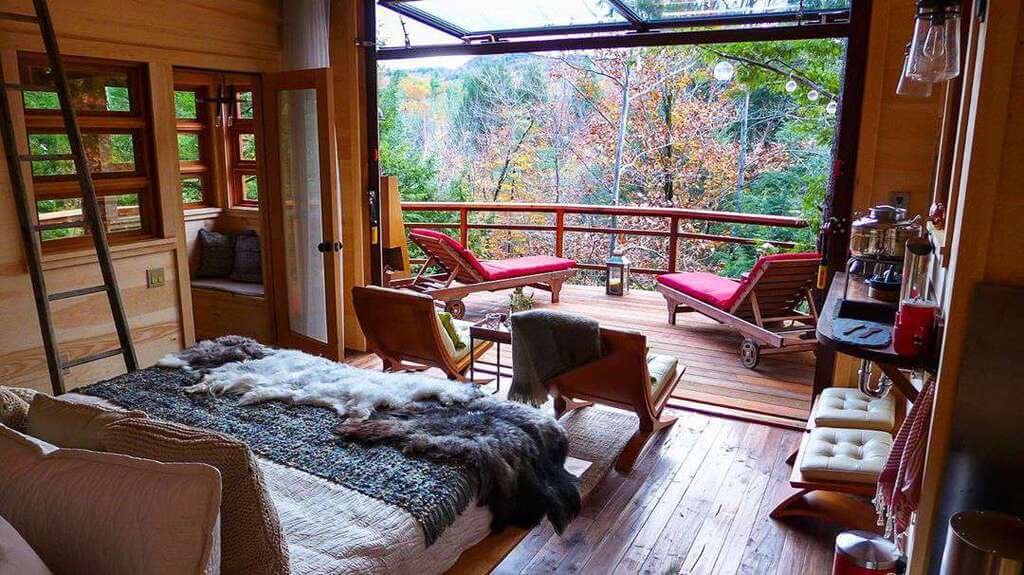 Source: thespruce.com
A well-constructed treehouse must have an entrance. Instead of creating a regular door, you can also opt for a hatch opened from below. This type of door would be located on the floor of the treehouse you built and would open up into the room from below. 
If you want to go for a traditional door, make sure you make it tall enough for people to enter and exit. In a traditional door, however, you don't have to stick to the regular 2m height and can go as low as 1m.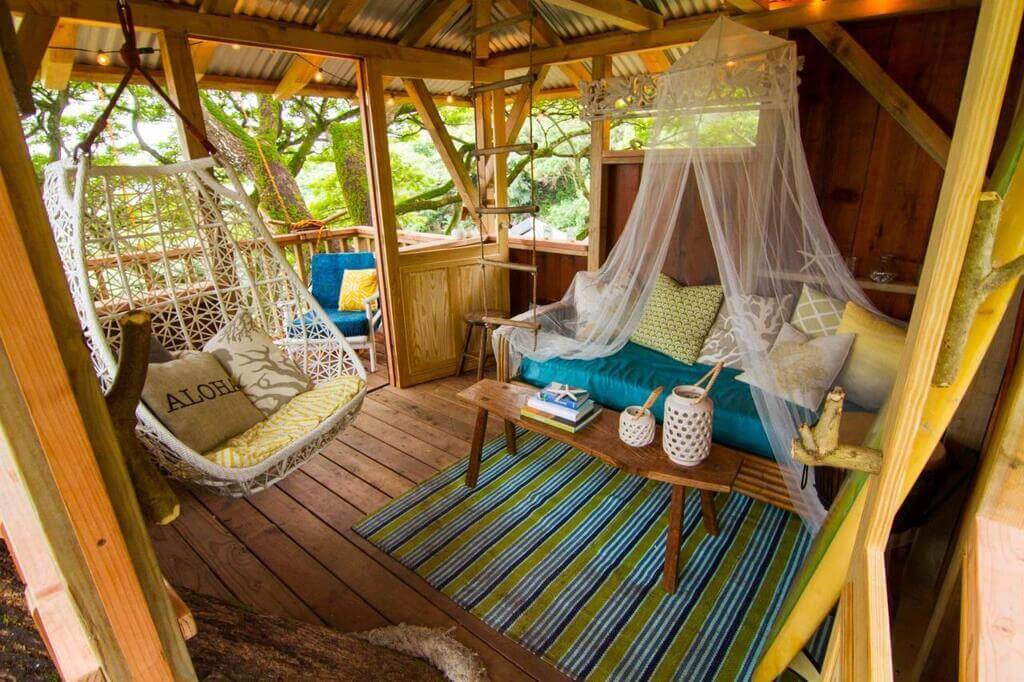 Source: decoratorist.com
For windows, make sure you have good quality shutters and one that can bring a lot of natural light into space. Depending on the tree, the amount of light coming into the house may get blocked. A window would give a great view of the surrounding branches and leaves.
8. Safety And Access First!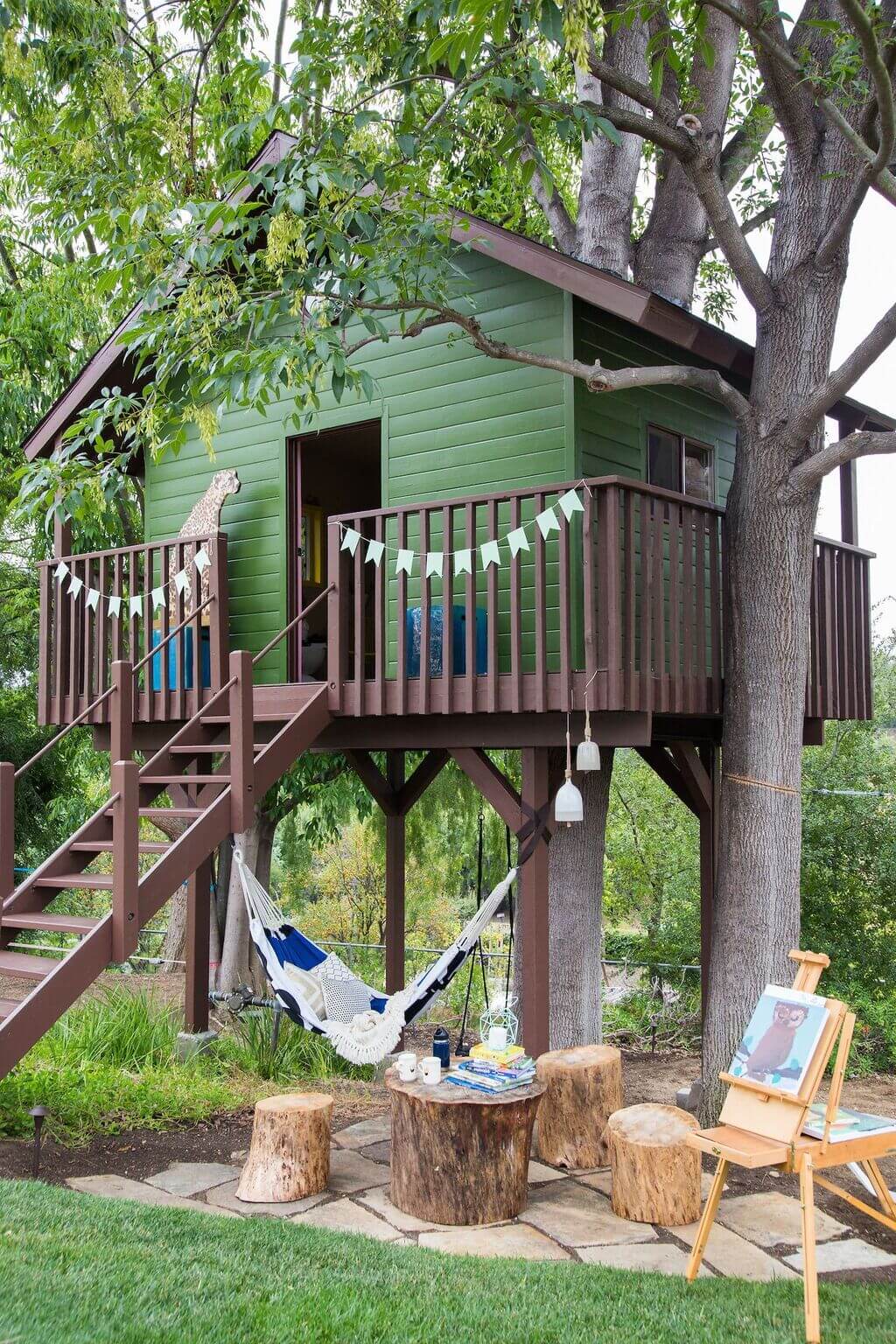 Source: pinimg.com
When you build a treehouse, the biggest danger is falling off of it. Install appropriate railings along the perimeter of the deck. If you have a large window in the treehouse, install grills or a safety ledge to prevent anyone from falling. Additionally, lay mulch on the ground right below the footprint of the treehouse as a precautionary measure to break anyone's fall in case that were to happen.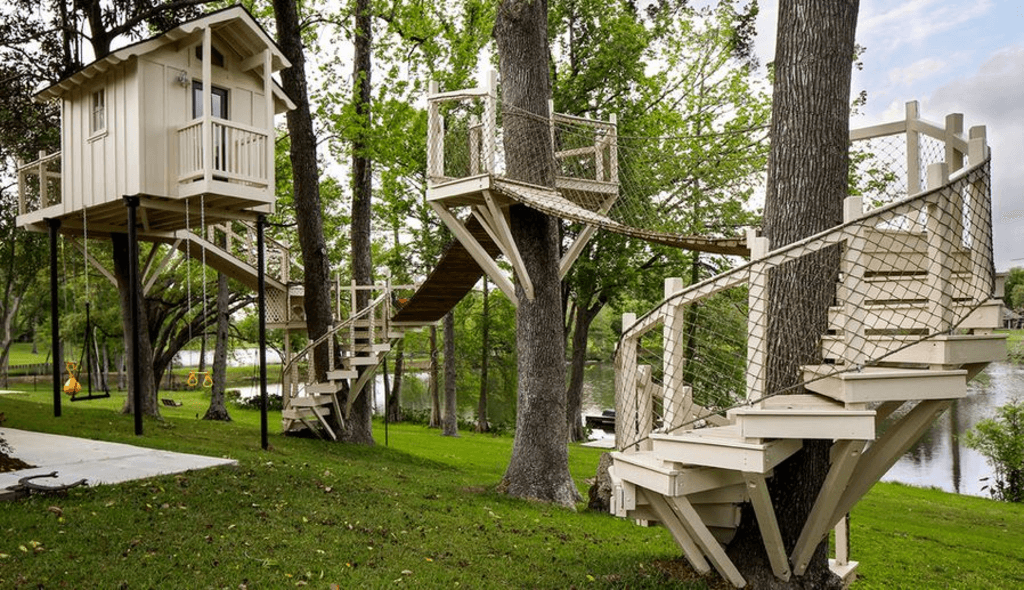 Source: pinimg.com
Build or install a permanent ladder leading up to the treehouse since using a temporary ladder is inconvenient. Make sure the ladder is stable and fixed correctly to the top platform. Making a ladder with flat steps instead of thin plans is a much safer option.
9. The Roof To Build A Treehouse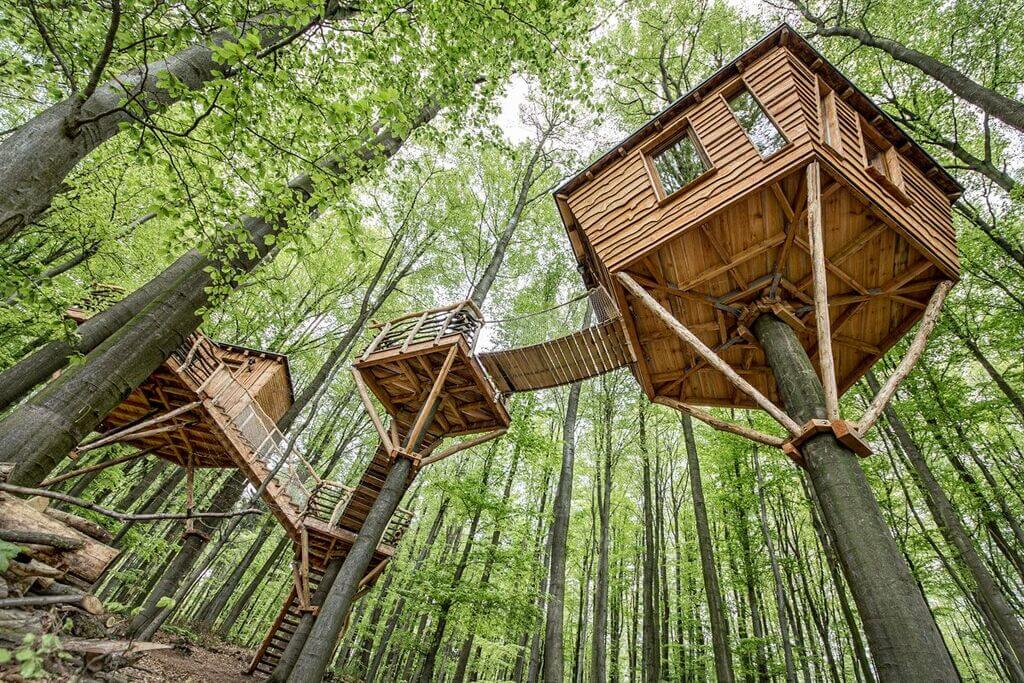 Source: pinimg.com
Finally, top off the treehouse with a beautiful roof. When it rains or snows, a sloping roof is a perfect way to ensure no water leaks into the house. Flat roofs would also be great depending on one's preference. An interesting feature to add to a roof would be a skylight! Adding a skylight would not only bring a lot of direct sunlight into the treehouse but also provide some fantastic views of the day and night sky above. You can use wood, tarpaulin or even a metal sheet for the roofing. This will complete the construction of the treehouse.
10. Jazz it Up!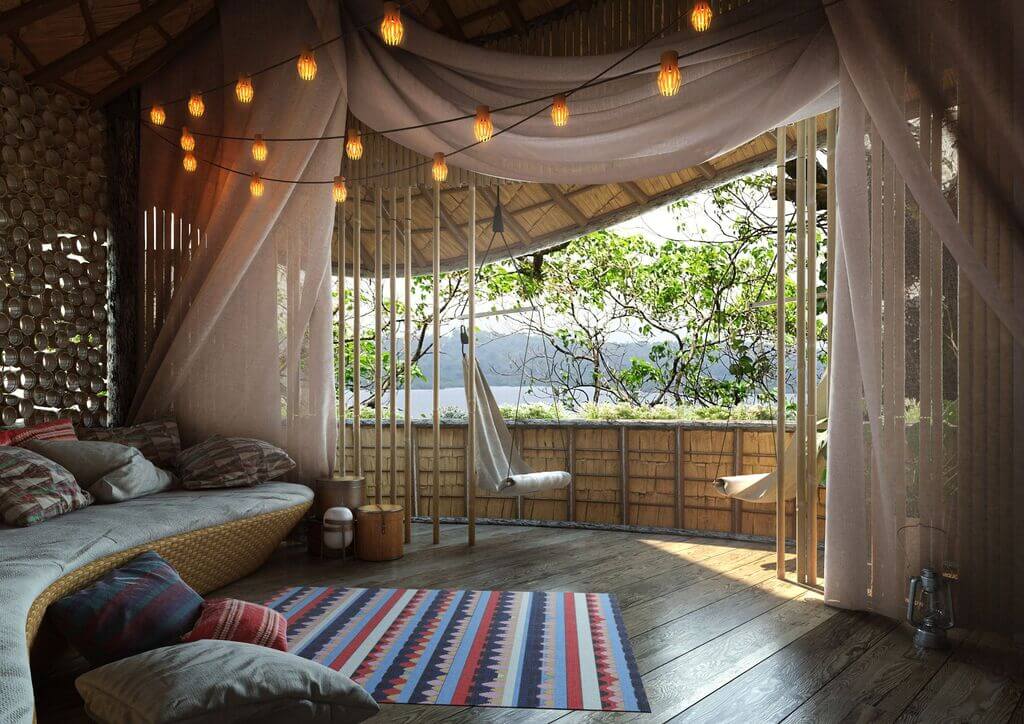 Source: pinimg.com
After completing the construction, the treehouse will still be slightly incomplete. Make the interiors and exteriors interesting to truly make it a special place!
Here are a few of our tips to help you in deciding the ideal decor for your Treehouse
Paint: Painting your treehouse is a great way of brightening it. Painting it together with family would promote bonding, and it's also a lot of fun.
If you want the treehouse to stand out, use bright colors like red and blue or you could paint it grey, brown, or white to keep it plain and simple.
Lighting Design: It is very possible to install lighting fixtures when you build a tree treehouse! 
As long as you have outlets and a power box to connect it to, you are good to go. Install hanging lights and bulbs on the inside and outside of the house so you can use them during nighttimes. You can also get sockets installed to connect phones, laptops, or even a TV!
Decor Elements: Don't leave the walls plain, spice them up by hanging photo frames, potted plants, wall hangings, and other fun decor items. 
Multi-Use Furniture Pieces: In a treehouse, since the floor is completely wood, it may get uncomfortable. Introduce some cushions, pillows, bean bags, and small couches into the space to make it more homely. You can also add a cot or bed and make it a bedroom!
Make-shift is a regularly seen concept for Treehouse, and this can be achieved by using multi-utility furniture pieces. 
Why Build A Treehouse?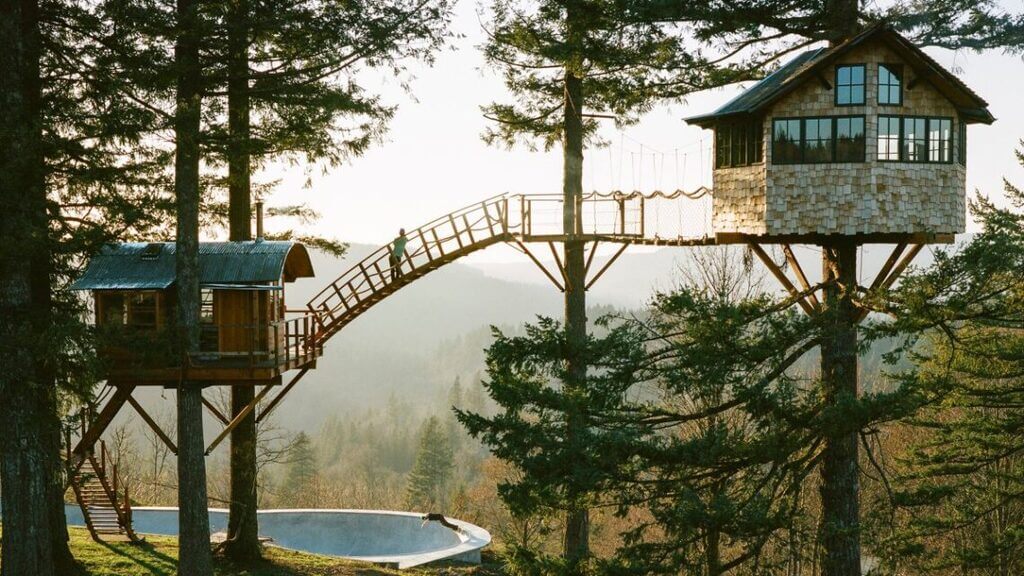 Source: curiousexpeditions.org
Now that we have learned a step-by-step guide on building a treehouse, the question might arise as to why even build a treehouse in the first place?
Treehouses for ages have been a part of human civilization, from keeping them safe from predators to the classic backyard treehouses seen from the early 19th century. The impact and a sense of affinity towards these architectural styles have been seen as relevant over the years. They not only help you by providing a different architectural spatial experience but they also help in nurturing family time and bonding. To build a treehouse, a collective effort from the family encourages a participatory process with each member doing their bit.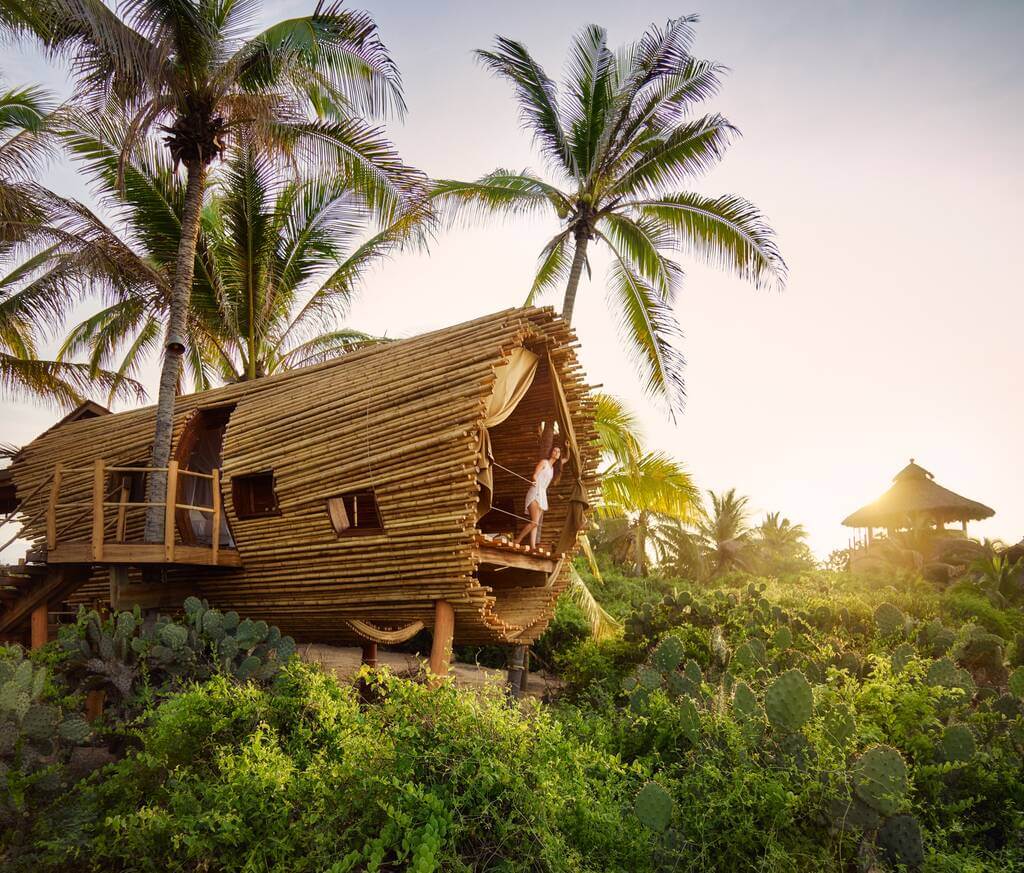 Source: architecturaldigest.com
So the question on how to build a treehouse has been answered, the next step is to literally build a treehouse. If you have a sturdy enough tree in your backyard, you've already got the most important element ready. To build a treehouse, one must need passion and excitement. Building the treehouse with family or as a group project will make the entire process so much more fun. 
While the work and effort put into it may seem like a lot, it's relatively an easy process and not to mention an economic one! 
Anyone with tools and access to the internet can build a perfectly stable and functional treehouse. We have given you all the tips on how to build a treehouse, so go build it today itself!
To know more about cleaning tips, home improvement tips visit Architecturesideas.
For daily updates, follow us on our Instagram page @architectures_idea.