Flooring Trends for 2023: What's In & What's Out? (A Complete Styling Guide!)
Start your new year with a brand new floor! Floors are an important part of any home, and some people even considered them as the foundation of their house. Every year the floor trends change and bring some new choices and styles. So are you wondering what's new this year? What is the Flooring Design Trend for 2023?  
Today in this blog, we're going to reveal all the Flooring Trends that will be seen the whole year. So whether you're planning to remodel your home or just want to renovate your floors, this flooring guide will help you to get stylish and trendy floors. Also, you should take care of them as they'll reflect your aesthetic and lifestyle to your visitors.
So, whether wood flooring is still in trend, or will it not be on the list? Worry not and keep on reading and find the latest top 10 flooring trends for 2023.
Trend Report: 10 New Flooring Design For 2023!  
So here is the list of the top ten flooring designs for 2023. They're full of freshness and realism and surely will make your home a stylish and comfortable place to live in. So are you excited to see ten designer-approved trends? Let's start.
Trend #1. Wood Flooring In Pretty Patterns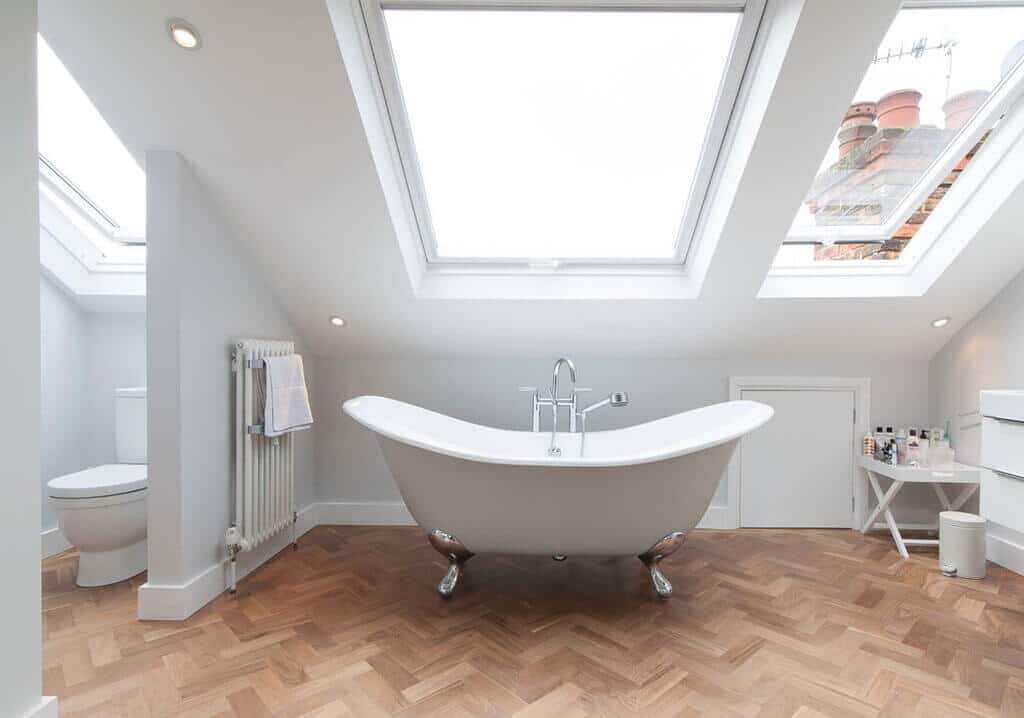 Source: sebringdesignbuild.com
So, the first trend will be wood floorings. Now you might be thinking, what's new in that? I know every year this is always on-trend, but in 2023, the new thing is that these wooden floorings have a twist. You may have these flooring in your home, or you may have already seen a basic side-by-side format of wood pieces laid on a floor, but have you ever seen a patterned wood layout? 
Yes, these really stylish-looking flooring has patterns that totally change the whole look of any room. This year, specifically, patterns like Chevron or Herringbone will be seen in homeowners' kitchens, bathrooms, and more. So, we're sure that patterned floors are officially here, and you should not miss out.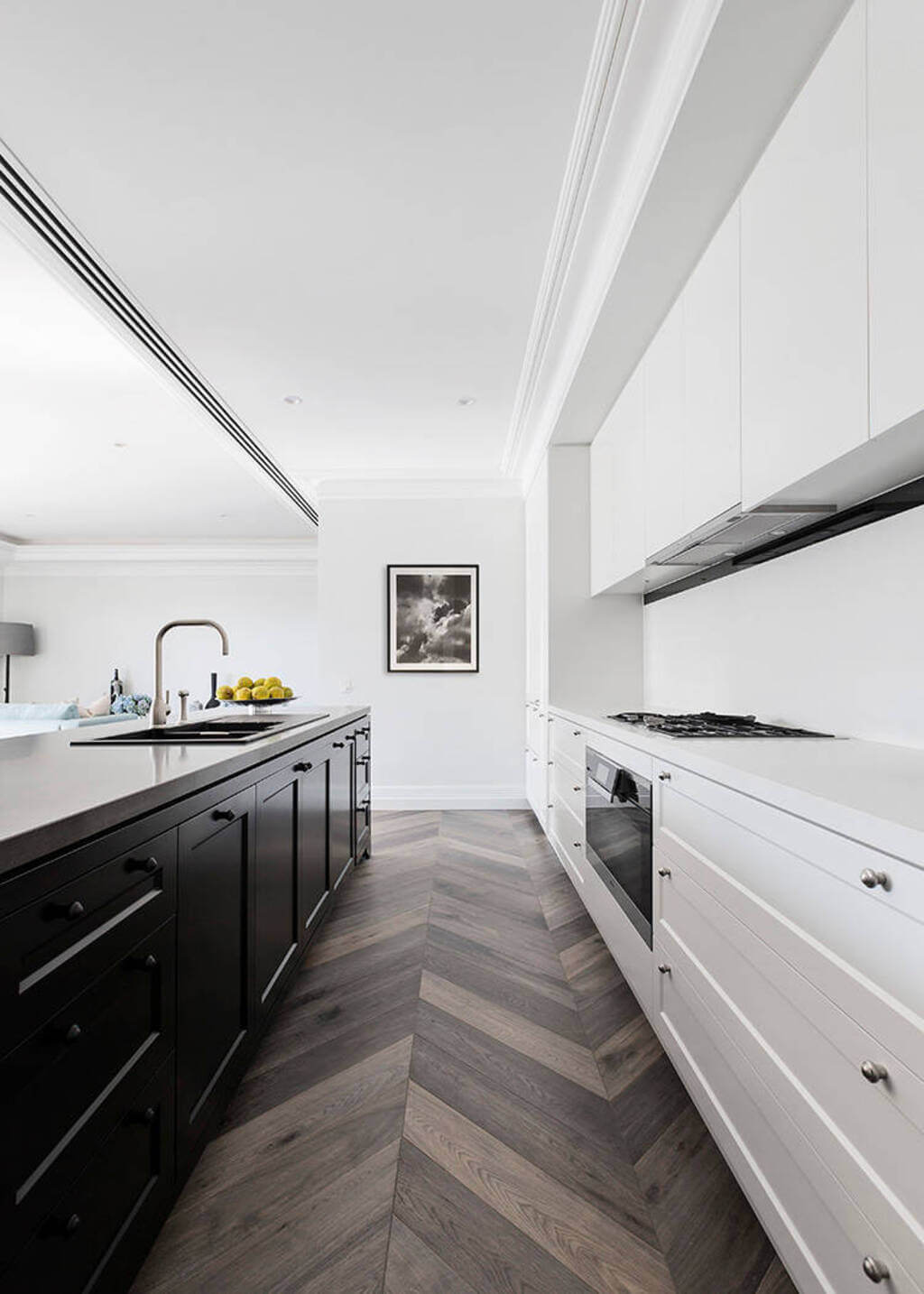 Source: hzcdn.com
So, why design your home's floor to look the same as everyone else's when you can actually choose from fun and unique patterns? They're a simple and effective way to add an accent to your kitchen or dining hall. They also look great in bathrooms! (just make sure to use wood flooring with a waterproof coating)
Trend #2. Vintage Black & White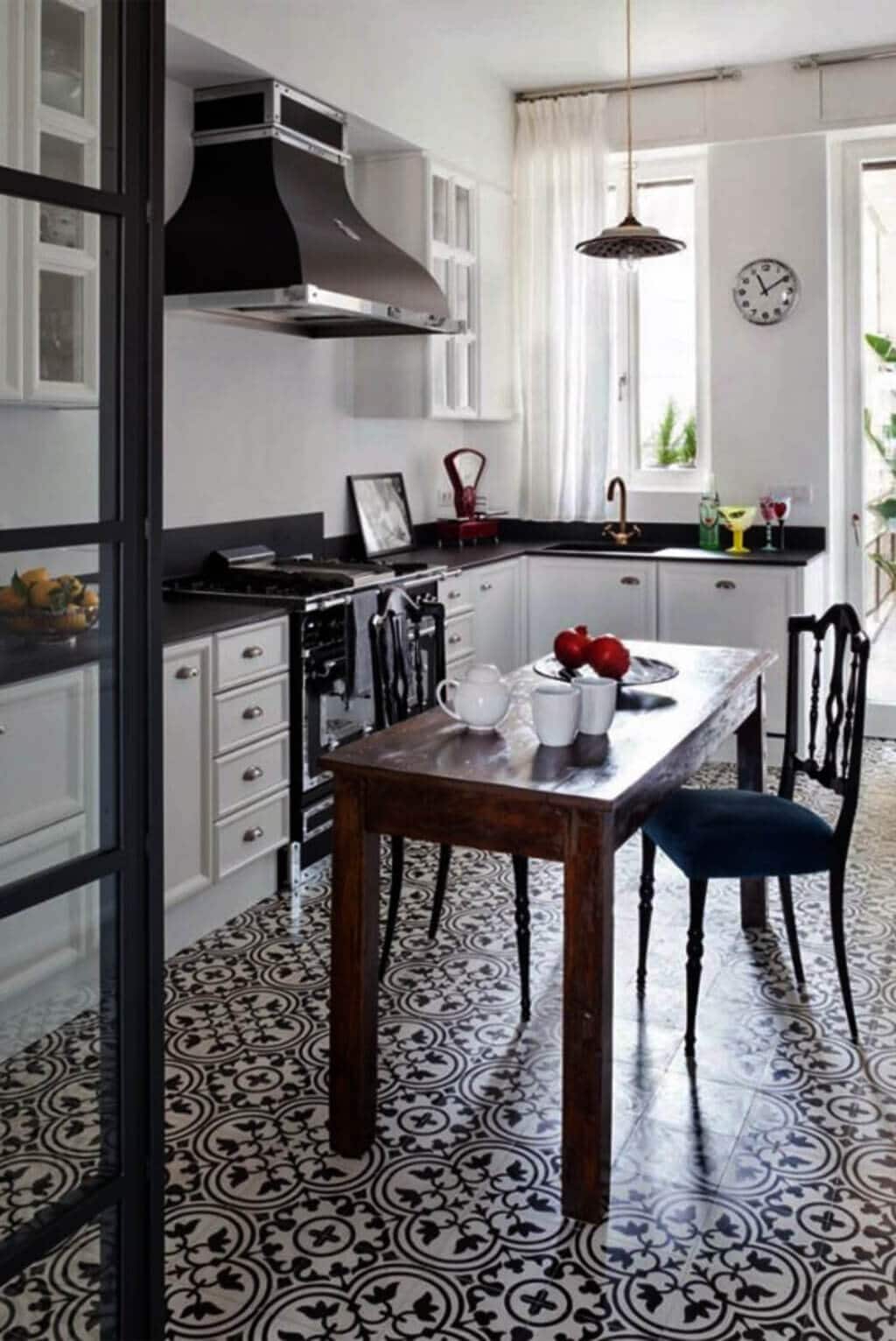 Source: sebringdesignbuild.com
Create a nostalgic ambiance and bring back the warmth and memories of decades past with these black and white flooring. This year, the classic combination of black and white tiles is making a strong comeback. No, we're not talking about the same old black and white checkered tiles that present in historic homes. This year this evergreen combo comes with a twist: it's bold, graphic, and more luxurious. 
Believe me; this is one of the trends that more and more homeowners want to get this vintage-style flooring with a unique twist. The designs include smaller tiles with bolder graphic patterns, monochrome floors, and contemporary styles include brash graphics and patterns.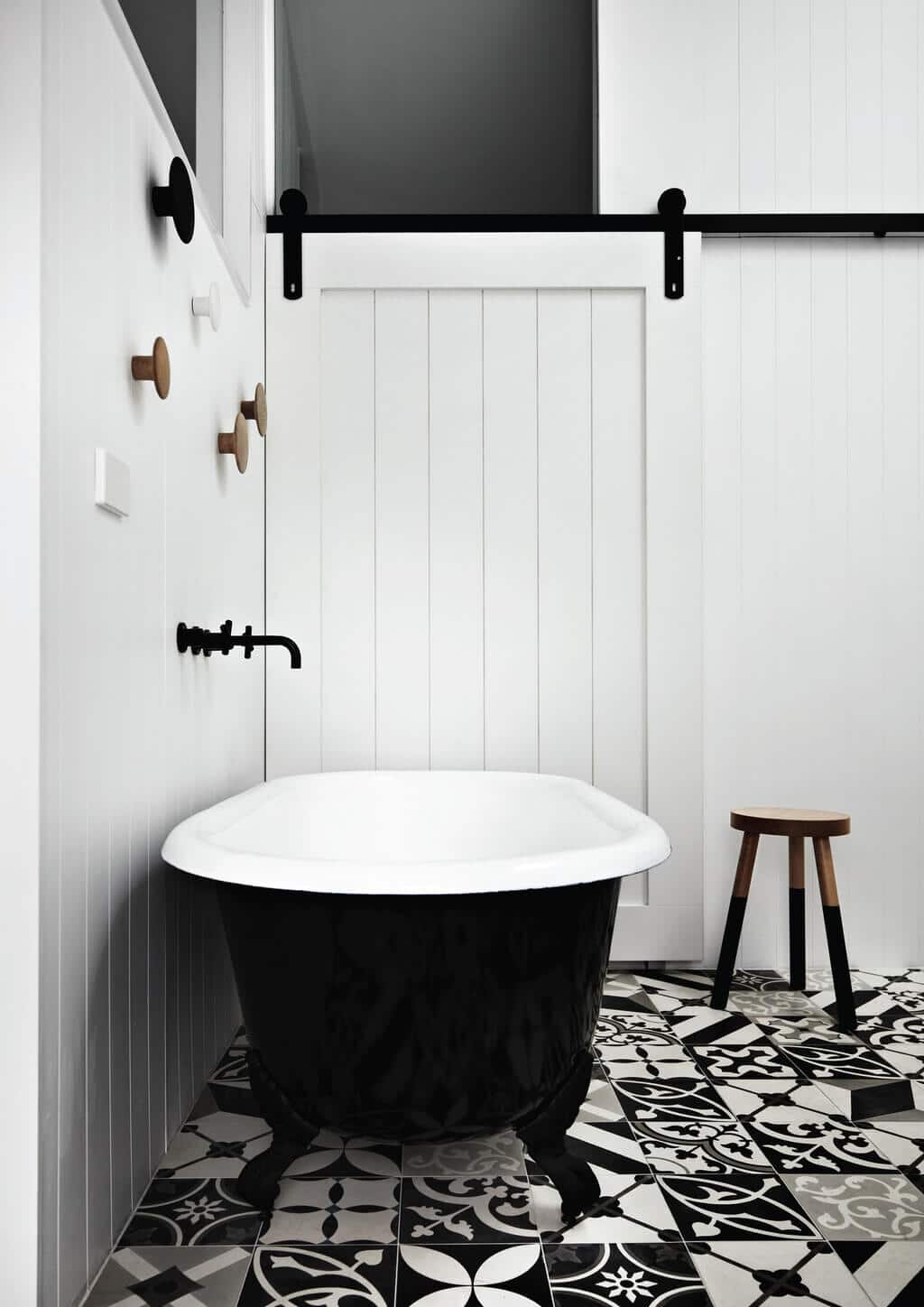 Source: adsttc.com
Look at the above picture; here, a sophisticated atmosphere is created with a floral black and white tiles. You can also include these types of designs to create a classic evergreen look or if you want a traditional look, search for tiles with intricate patterns. These tiles perfectly blend vintage with contemporary styles and create an eye-catching effect and feel. 
Trend #3. Stained Concrete Flooring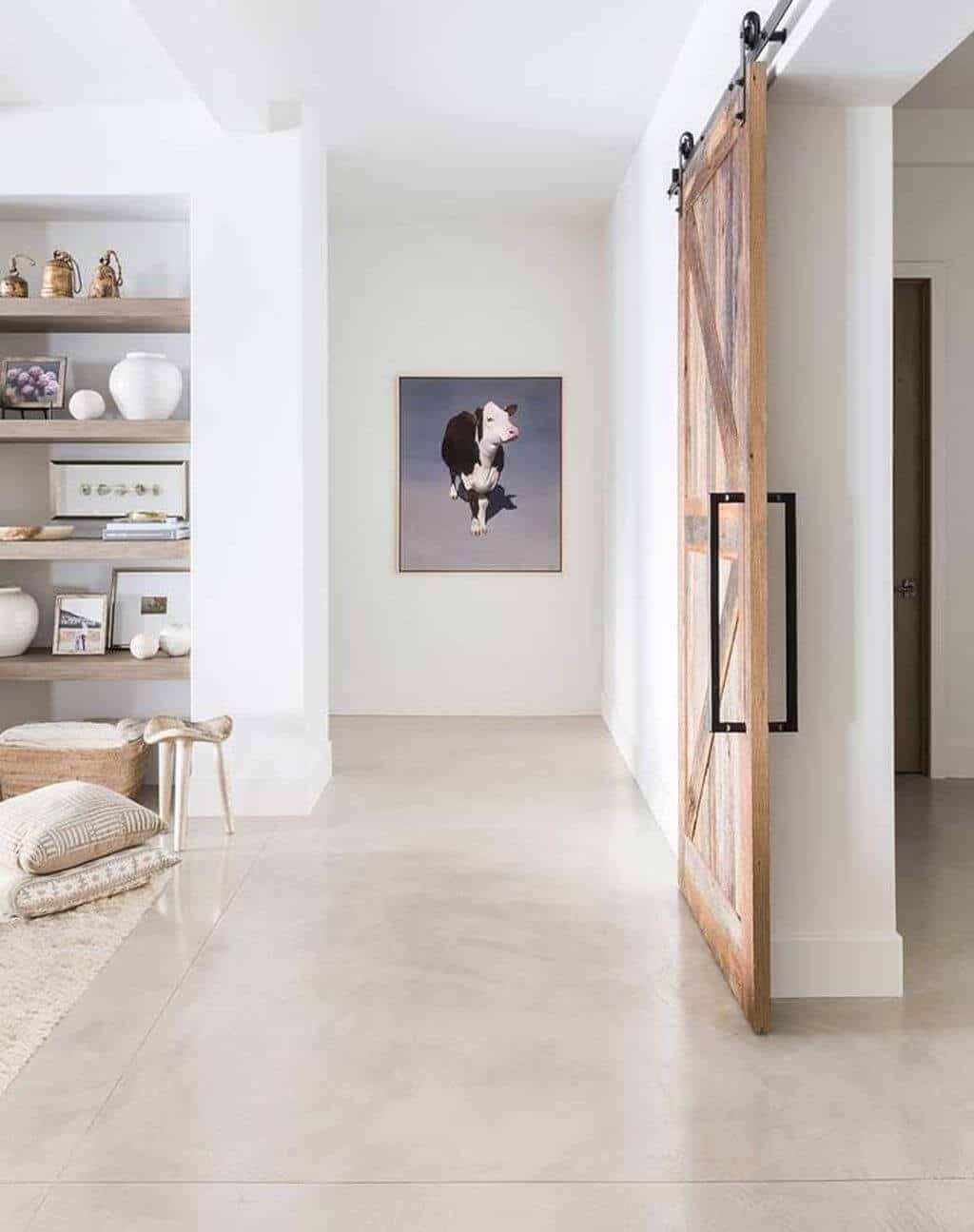 Source: decorkeun.com
Yes, concrete is great flooring material, and it's true that they've always been in demand. But in 2023, they also have a modern twist. We all know that they're tough and strong and perfect for creating an industrial style. 
But if you want to create a modern look with an industrial twist, instead of just concrete, go for stained concrete.
Believe me, no material can beat concrete strength because it hardly gets any scratch or dent. From the kitchen, living areas to the bathroom, concrete has made its mark as the best flooring. 
Depending upon what style you want, you can select the stains for your concrete floor. There are basically two types: Acid-based stain & Water-based stain. They have also come in various colors, such as brown and grey shades, blue and black.
But let me tell you that they're a little on the expensive side but definitely worth every penny. So if your budget allows you, go for stained concrete floors.
Trend #4. Classic Vinyl Flooring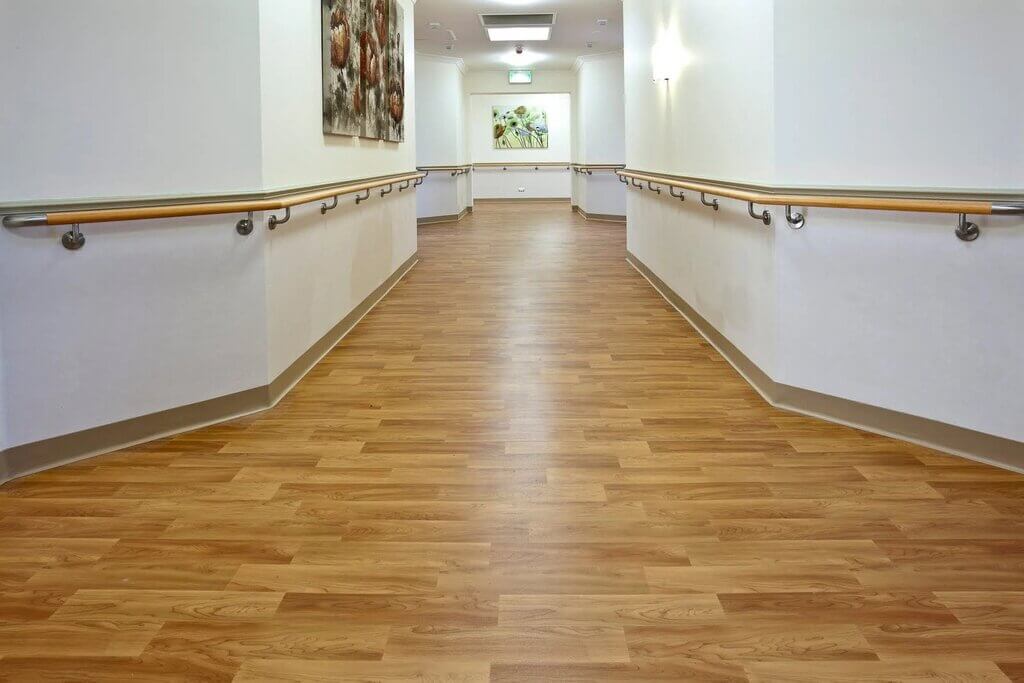 Source: homeadvisor.com
Vinyl Flooring was on-trend, is on-trend, and will be on-trend! 
Yes, factors like good to walk on, completely water-resistant, and easy installation are making them one of the all-time in-demand flooring materials. So, if you also want good-looking and practical flooring in your home, go for vinyl floorings! 
You can purchase vinyl flooring in sheets, planks, and tiles. Usually, they come in 6- or perhaps 12-foot-wide rolls, but you can also buy them in planks. Available in a wide range of designs and colors, you can select the one that mimics wood and tile. 
If you're tight on budget, go for Vinyl Composition Tile (VCT) as it is mainly produced from limestone and costs less. Engineered hardwood floors are also expensive, so you can go for vinyl ones as they're designed to strongly resemble hardwood and are available in similar sizes as timber planks. They look realistic and give attributes like texturing & beveled edges.
Highly waterproof and susceptible to moisture, vinyl floorings are also easy to replace and can be installed over existing flooring. So, get ready to follow the 2023 flooring trends and give your home a stunning makeover. 
Trend #5. Porcelain or Ceramic Flooring Design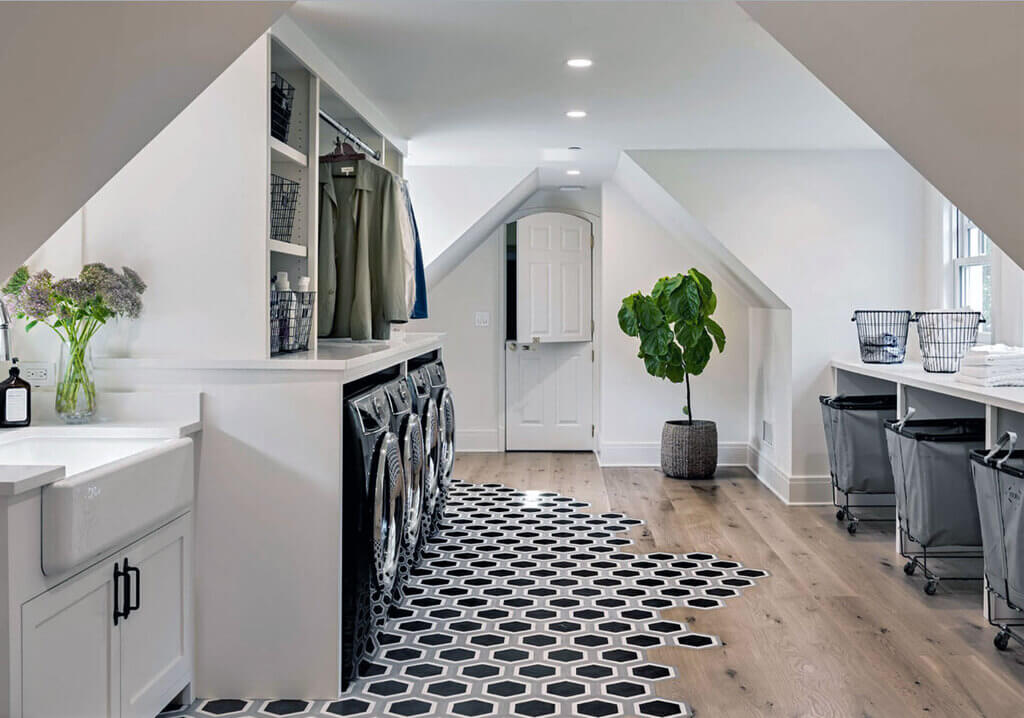 Source: jubileehb.com.au
The next flooring design trend that will be seen everywhere is porcelain and ceramic floors. They are extremely good-looking and are ideal for kitchens, bathrooms, and entryways. I know porcelain floors were also in high demand in the last year, and the same thing will be this year too. There are many reasons behind this, such as they're extremely durable, non-porous, and beautiful.
Once you installed these tiles in your home, you don't have to worry about the staining and any kind of water damage. They're made from a special clay material made at remarkably high temperatures; that's why it resists water, bacteria, staining, and any odors. 
When it comes to maintenance, that too is quite easy and low. Another incredible thing about ceramic or porcelain flooring is that they're quite affordable. Also, you can easily replace the chip or broken piece and come in several colors and styles. So you will surely find the one that will fit your color scheme. So get the luxurious flooring in your budget with this flooring idea. 
Trend #6: Earthy Terracotta Tiles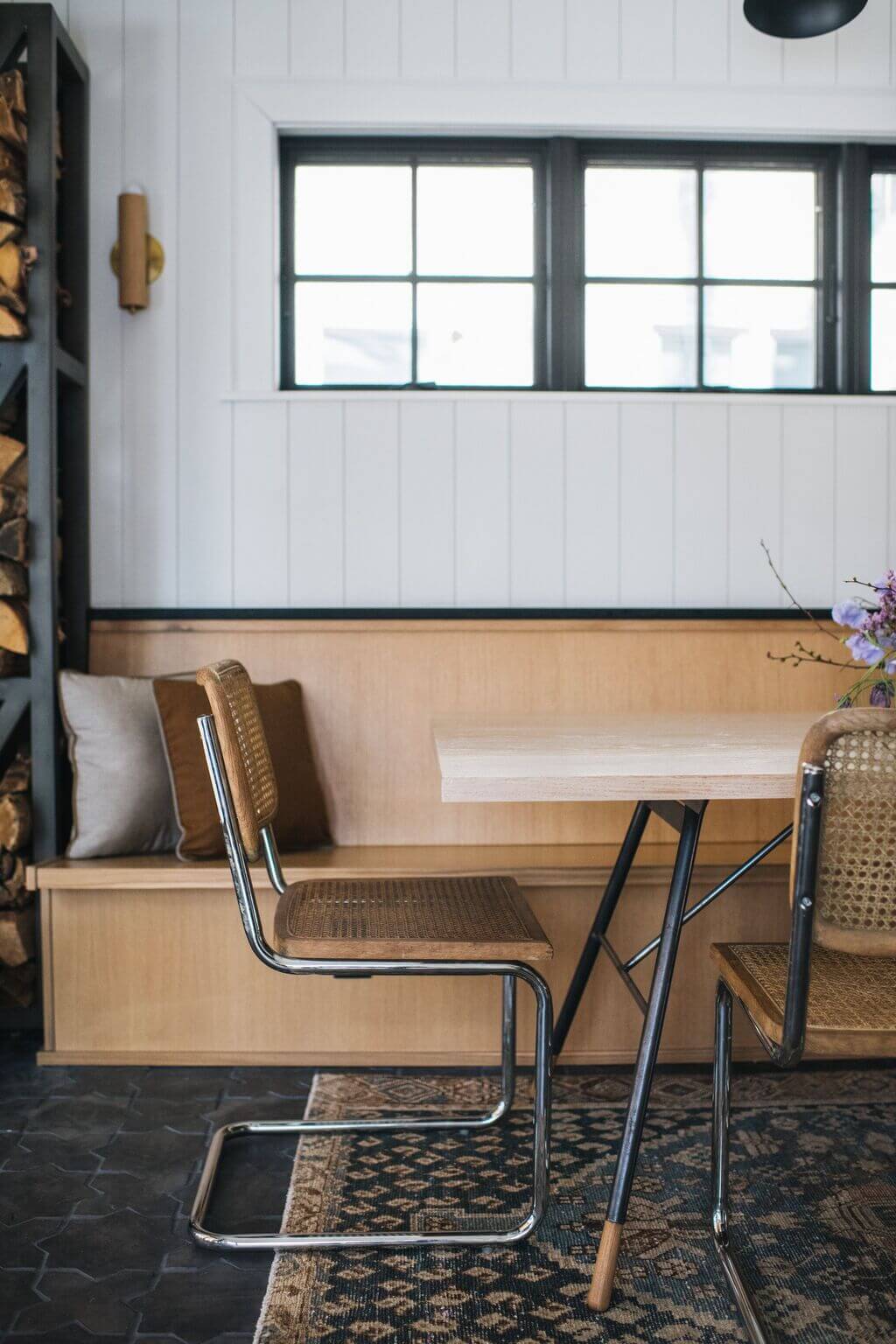 Source: pinimg.com
Since the beginning of 2023, all the Instagram pages and hashtags are swooning over terracotta tile flooring. What's the reason? The reason is simple: it's so eye-catching and pretty. 
They come in thousands of color variations with a decent price range. So why not this year go for earthy, warm floorings with terracotta tiles. They look extremely great at well-loved spaces like entryways, mudrooms, and even kitchens. In the upcoming months, expect to see a lot more of them. 
These floorings are made from unglazed terracotta, and they naturally bring such a European flair to any space. So in 2023, be ready to give some modern farmhouse aesthetic to your home. 
Trend #7: Terrazzo Is Back!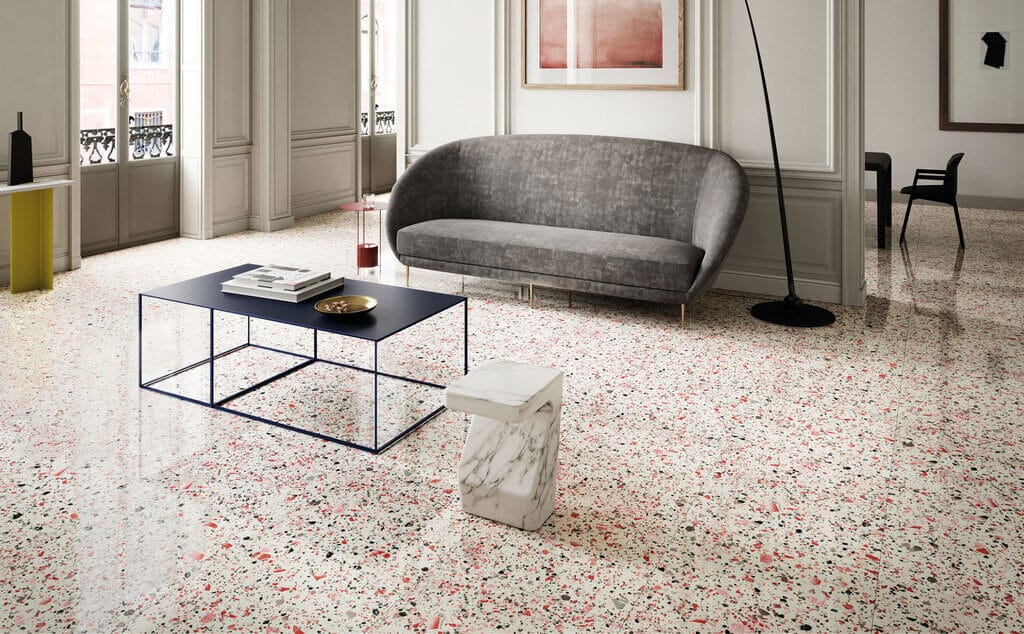 Source: floornature.com
Yes, you've read it right! Our favorite flooring, Terrazzo, is back on the list of flooring design trends 2023! The best option for contemporary and mid-century homes alike is one of the speckled decorative styles that will skyrocket in popularity this year. 
The terrazzo tiles are made of stone fragments and crushed glass, and they look really attractive and eye-pleasing. So whether you want to create some drama in your room or just want a minimal space, we highly recommend using terrazzo tiles. 
It will not only look great, but it is way cheaper than the granite or more costly marble floorings. So, select your favorite one from the wide-ranging palette of tones and fragmented textures. 
Trend #8: Natural Stone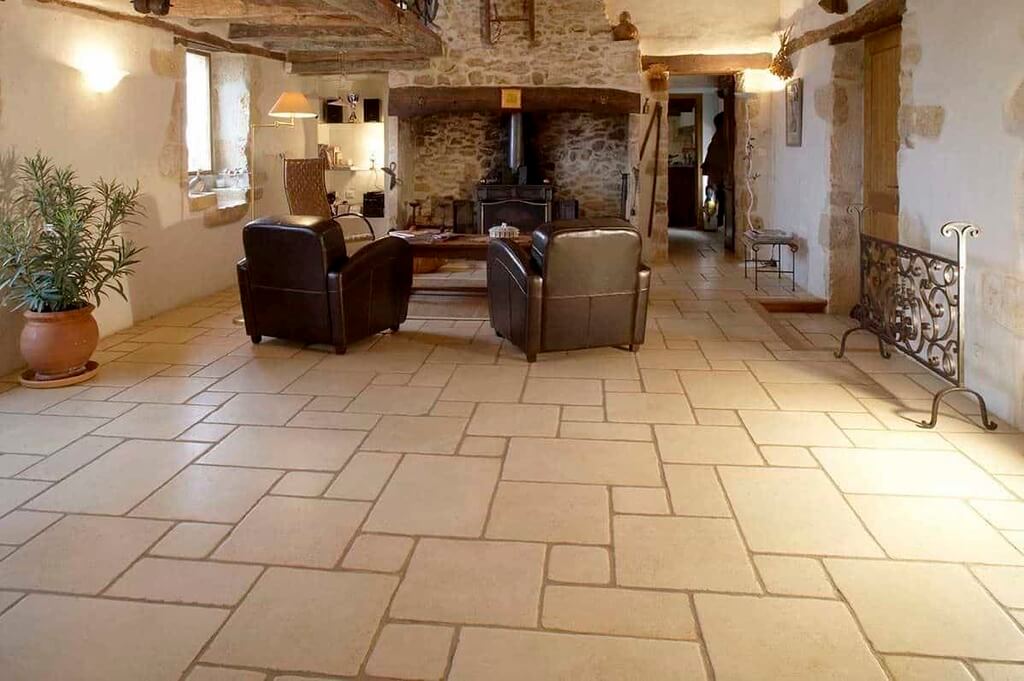 Source: treschicdesigns.com
On number 8, the flooring design trend is Stone! We all know that no other material can provide luxury in such a sophisticated way, right?  
Apart from looking amazing, if you maintain them carefully, believe me, they'll last for many years. They'll make an excellent resale value to your home. They're heavy, and you'll need professionals to install them. You can select any stone tiles as they come in a variety of textures and materials such as marble, limestone, granite, and many more.  
But this luxury comes with a price tag! Yes, make sure you have a big budget before going to install stone floorings. Other than this, there is nothing to keep in mind; enjoy your aesthetic home with luxurious stone floorings.
Trend #9: Big Tiles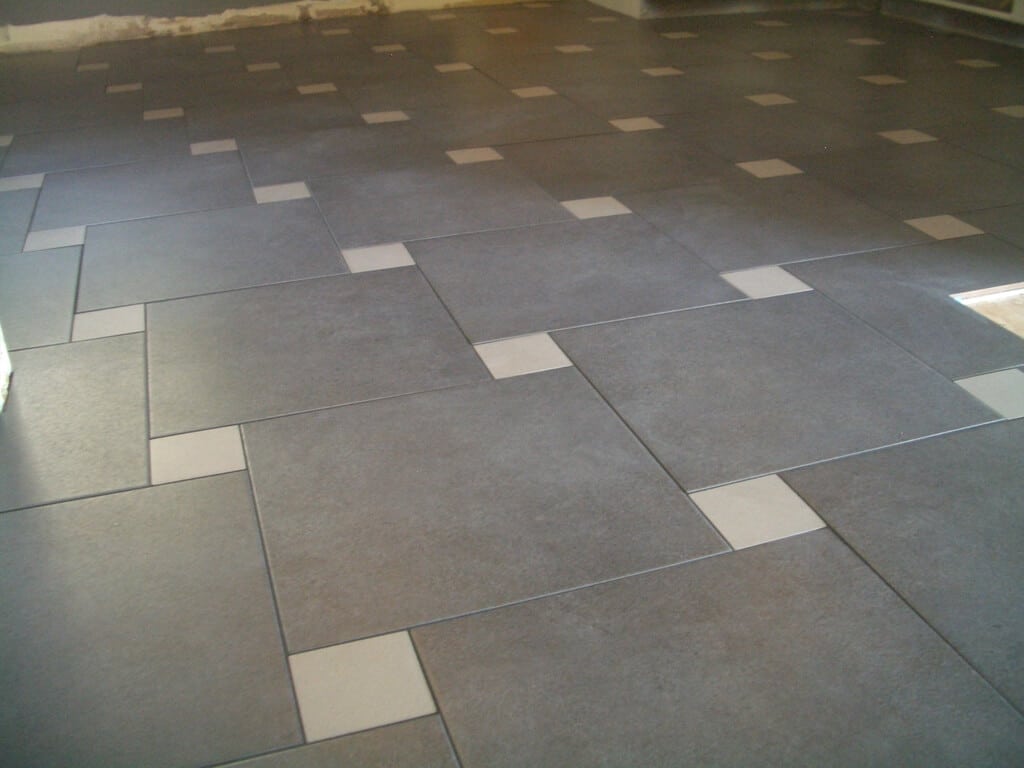 Source: lerablog.org
You may have seen these types of big tiles in commercial places, but this year they have made a grand entry into residential properties. These large format tiles look really simple, but they're so effective in making any space feel larger. 
The general materials used for these types of tiles are cement, marble, and ceramic, and they all look good. So select the one according to your style and the size of the room. Now, it's finally the time to create high-end spaces with these big tiles and also be on the top of the trend list. 
Also Read: Our Predictions for Flooring Trends in 2020
Trend #10. Graphic Tiles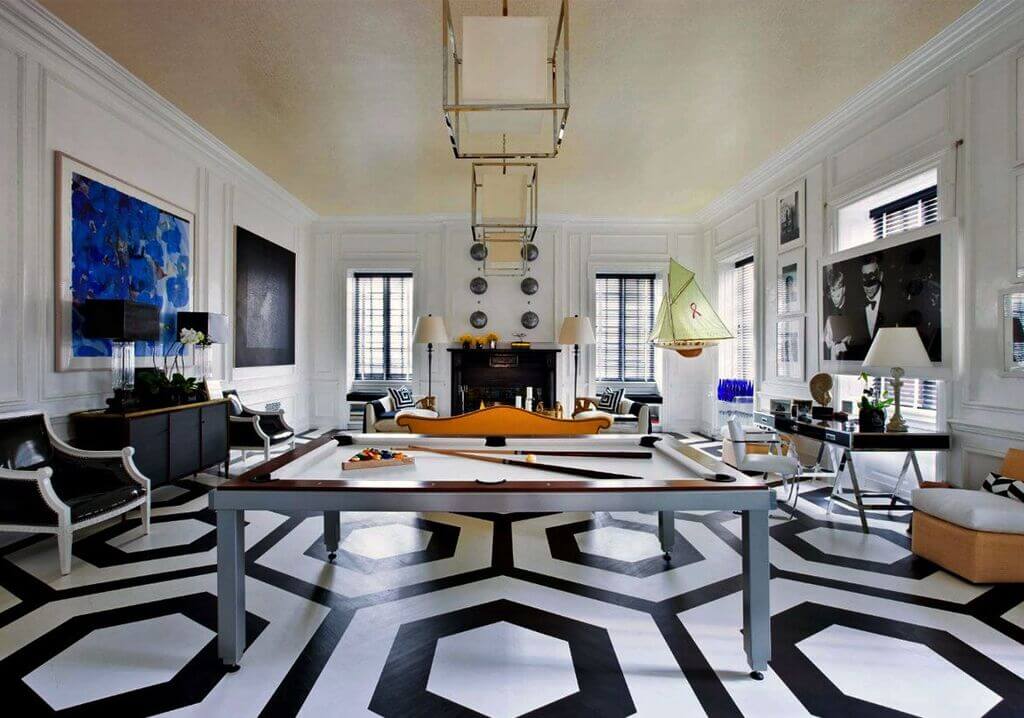 Source: pinimg.com
Last but not least, the trend that you can see in the entire year of 2023 is the Graphic Tiles. Designing a floor is art, and floors are considered as a blank canvas. So, fill them up with unique and artful pattern tiles and make your home a brilliant piece of artwork. 
Whether you want luxurious vibes in your living area or want to add some drama to bathrooms, graphic tiles are the best option. From soft subtle hues, bold contrasting colors to the intricate patterns, everything is available. And, if you're not satisfied with the design, you can also custom make them. Yes, by using advanced technology, manufacturers can print your favorite images or pattern on tiles. So, create a wild, subtle look or eclectic vibes in your home with these trending graphic tiles. 
Want to know more about the interior designing trends of 2023? Check out our previous blog on Stylish Dining Room Trends 2023.  
Final Thoughts!
So how are you feeling after knowing the latest 2023 flooring trends? This year some new trends come, and some floor materials from the last year will be on-trend. Honestly, when it comes to floor designing, there are a ton of options available in the market. So, always go with the one that suits your space and your pocket.
This year change your old floorings with the new trendy ones and give a stunning transformation to your property. So, these are all the unmissable flooring trends for 2023. Just follow these ideas and predictions, you'll automatically right on-trend, and your guests will be surprised by this gorgeous makeover.
So, stay tuned with Architecturesideas, as we'll tell you more about other amazing and latest interior design trends on the upcoming blogs.