12 Ways to Deal with a Sloping Lawn
If your property's been built on uneven land, there's a good chance that you'll have a sloping lawn or garden. While contractors will have leveled the ground directly under your home, the surrounding land may still have an uneven pitch. However, a sloping lawn garden needn't be a drawback. In fact, you can use natural features to create a stunning and functional space. For inspiration, take a look at these twelve ways to deal with a sloping lawn:
1. Level It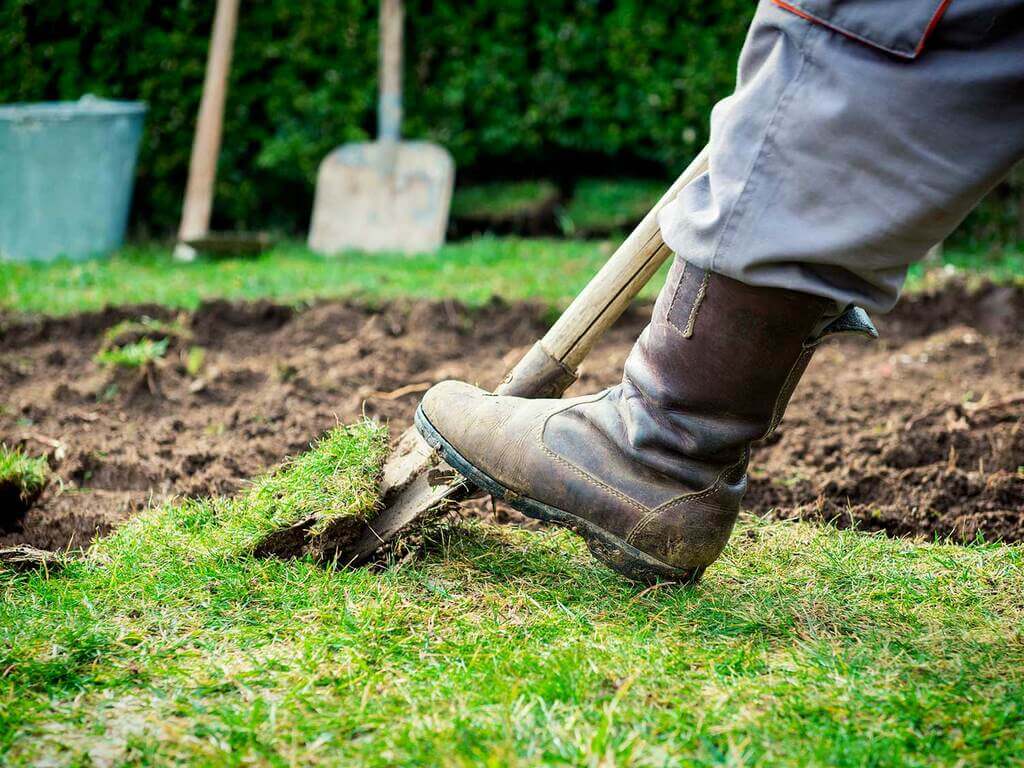 Source: lovethegarden.com
For many homeowners, leveling the area seems like the most effective way to deal with a sloping lawn. However, it can be costly and time-consuming. In addition to this, leveling the area could impact the foundations of your property, so it's important to get professional advice before you move forward with your plans. 
Keep in mind that leveling a slope might seem safe but it can lead to really dangerous situations. If the slope is particularly steep, a landslide can appear.  
2. Build a Retaining Wall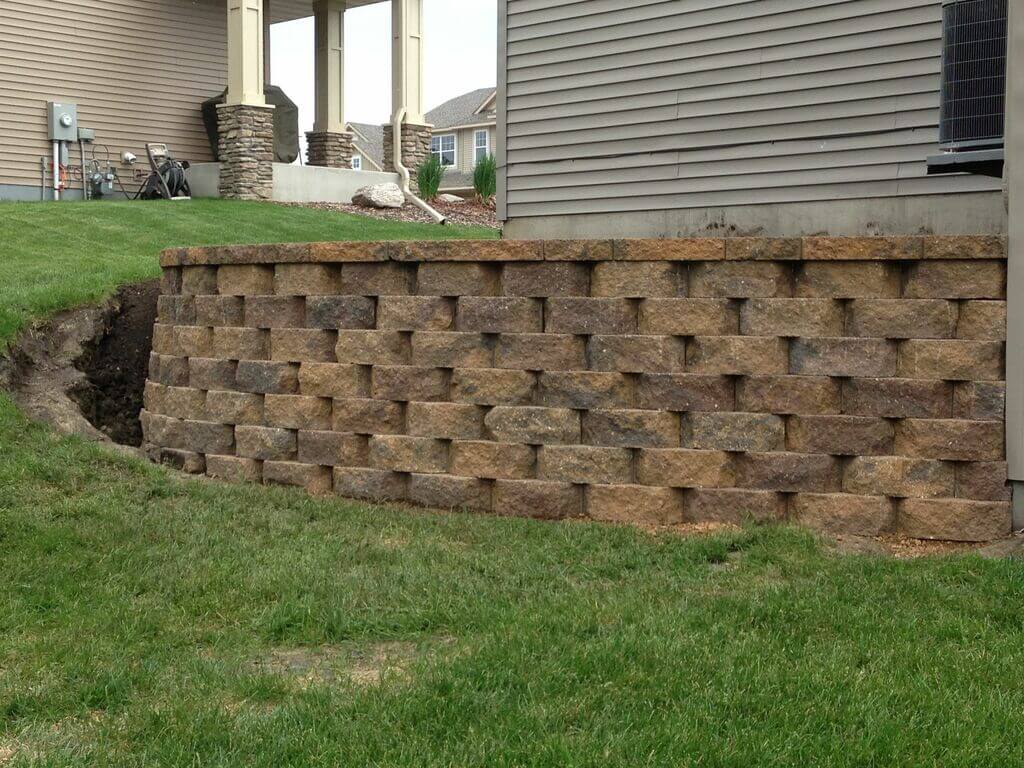 Source: pinimg.com
A retaining wall allows you to retain some or all of the slope but makes the space more functional. What's more – a retaining wall can be a fabulous feature in itself. When you use sawn cut drywall hardscapes, for example, you can create a wall that complements the exterior of your property and add a new dimension to your garden. With matching top steps and flagstones, you can even continue your design throughout the garden to create a spectacular focal point. 
As the retaining wall is built, it is very important to guarantee your safety during the process. You might end up removing a lot of soil and this can lead to landslides. Professionals often use temporal structural constructions while the retaining wall is built. In order to do this, you need advanced structural engineering knowledge, which most people do not have. 
3. Create a Terrace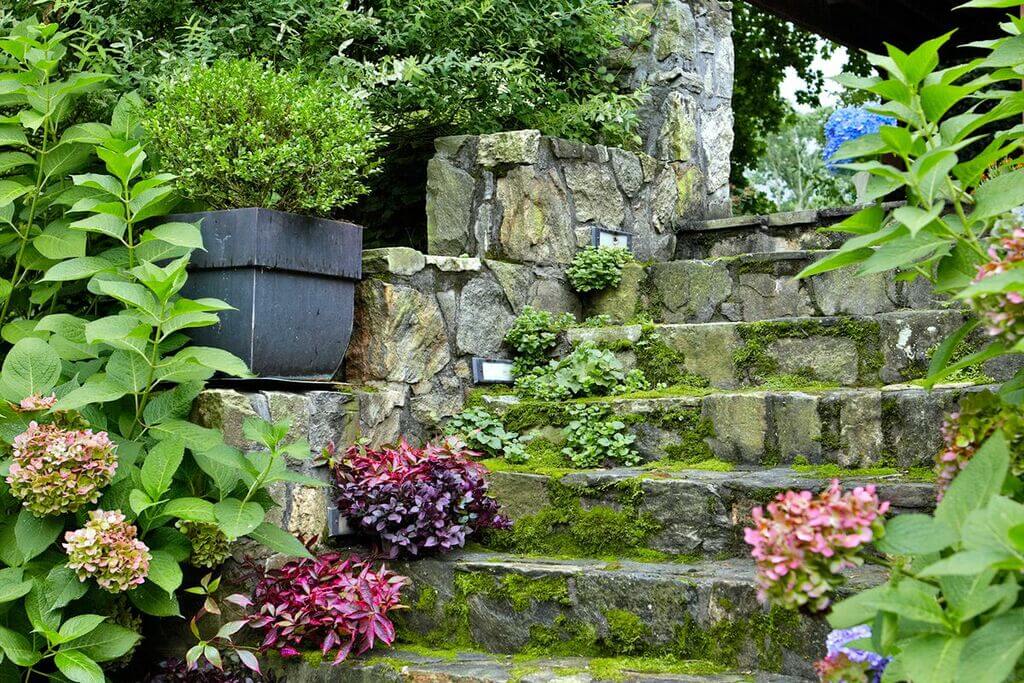 Source: cdn.vox-cdn.com
If you've always wanted the opportunity to create an outdoor seating area, a sloping lawn could provide the ideal landscape to work with. By leveling just a small portion of the slope, you can create a functional terraced area, without impacting the structure of your property. With stone or decking, you can turn a sloping lawn into a versatile seating area and use it for al fresco dining, drinks with friends, or relaxing in the sun. 
This solution is perfect for slopes that are not too inclined. You can easily turn the building process into a weekend DIY project. However, you will surely need some help from your neighbors, friends, or family members. 
4. Plant Trees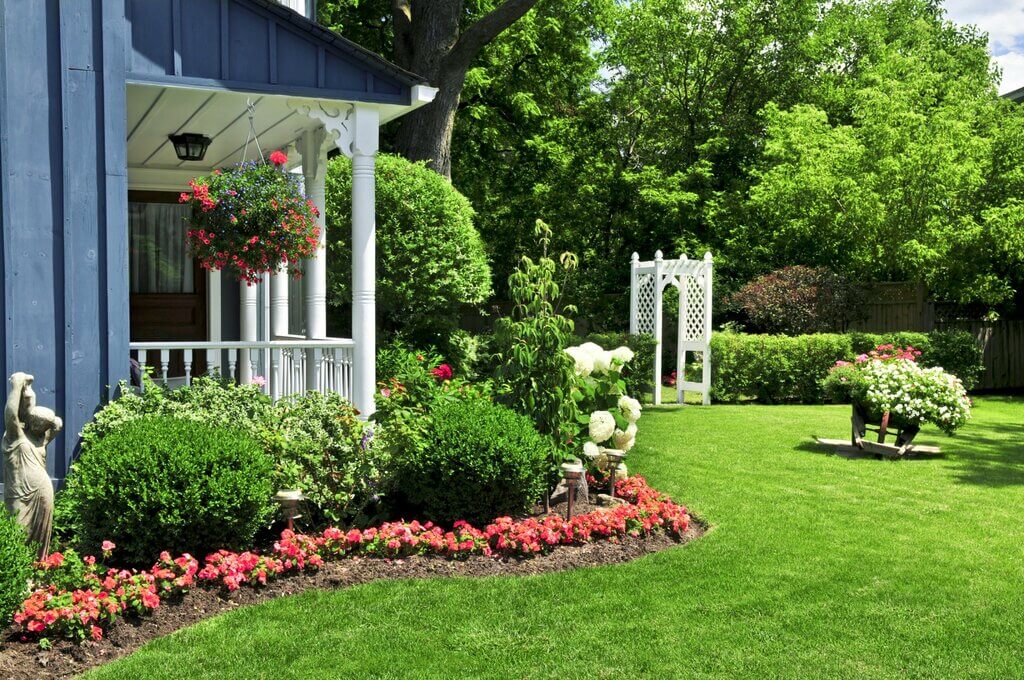 Source: irp-cdn.multiscreensite.com
In a sloping garden, there is always a risk that soil can become destabilized, particularly due to storms or bad weather. However, trees with strong roots can help to keep soil in place and prevent this from happening. As it can take quite some time for saplings to mature, you may want to consider planting partially grown trees to make your lawn more stable. 
Landscapers can help you increase soil stability. They use several techniques, including planting trees, to stabilize slopes. Also, their knowledge is high and they can quickly tell you if the soil is in need of stabilization or not. 
5. Design a Layered Garden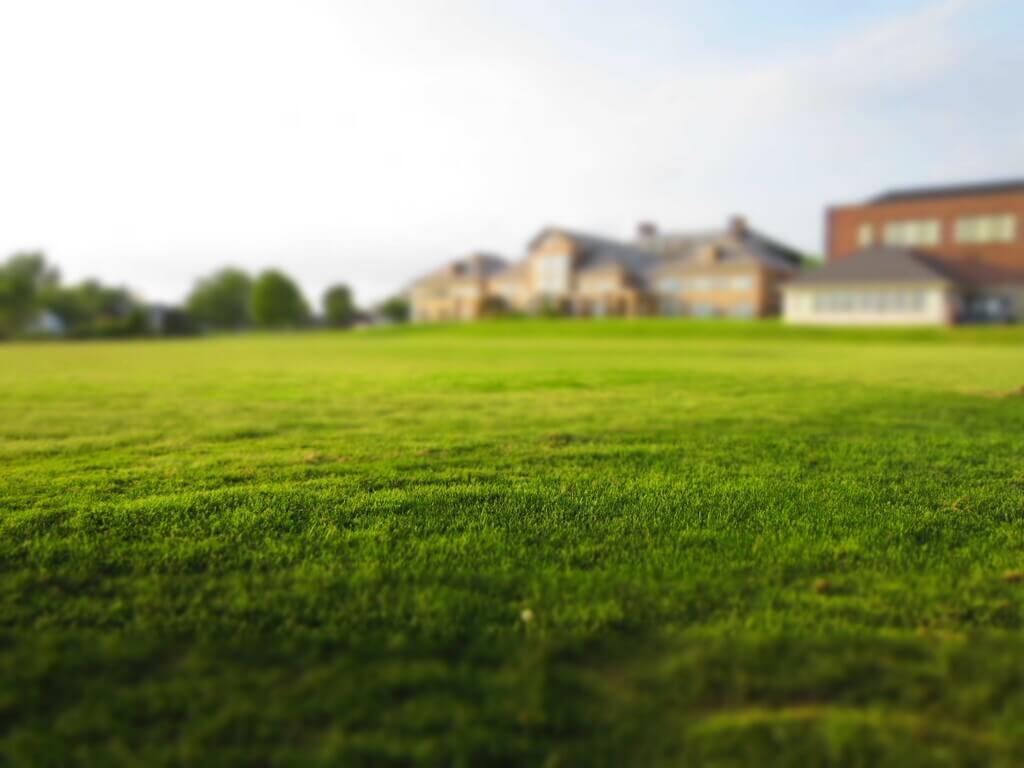 Source: teletype.in
If your lawn is sloped, you can install a series of small retaining walls to create a layered garden. With shallow steps, you can segment your garden into different zones and increase its functionality. One zone could be used as a kid's play area, another as a patio, and another for a stunning display of plants, for example. 
Just as with creating a terrace, you do not have to remove a lot of soil. And you can choose the design of the area you create with the help of a landscaper. 
6. Build Your Dream Garden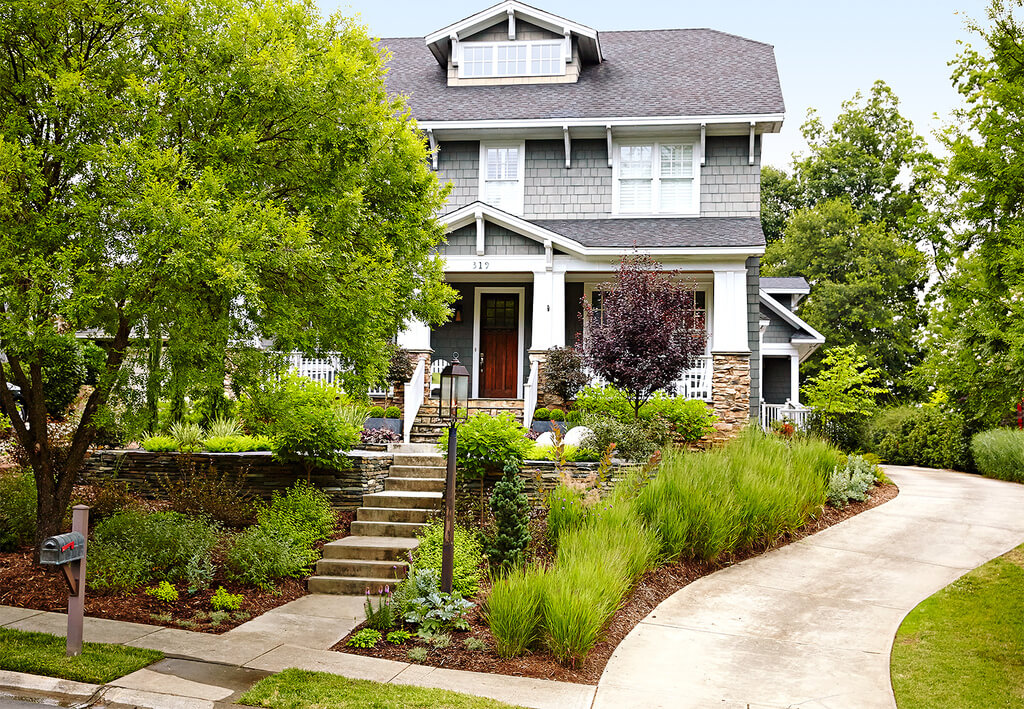 Source: meredithcorp.io
Although most homeowners view a sloping garden as problematic, it doesn't have to be. In fact, a sloping lawn can force you to think outside the box and embrace innovative design ideas. As a result, you're likely to stumble across new designs that you hadn't previously considered. By doing so, you'll be able to enhance your outdoor space, maximize its functionality, and create your dream garden. 
7. Build Stairs
Source: pinimg.com
If you have no problems with having vegetation cover slopes, build stairs to create some order. Basically, you build stairs that lead up to the flatter ground area. You can choose concrete steps or wooden staircases. Regardless of your choice, such a feature in your garden will perfectly fit into the landscape when both sides feature plantings. 
8. Create A Natural Staircase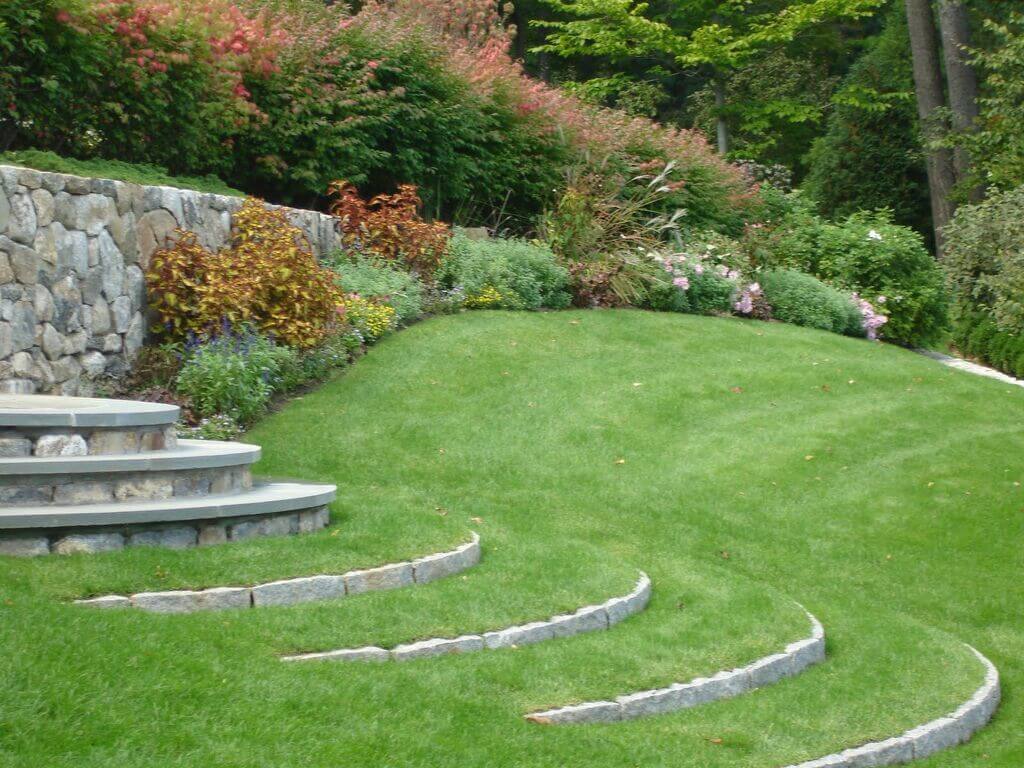 Source: pinimg.com
Natural materials are perfect to create stepped pathways on slopped properties. Stone is usually preferred for this since a stone stairway is going to complement plantings while helping to anchor landscaping design. 
9. Create A Waterfall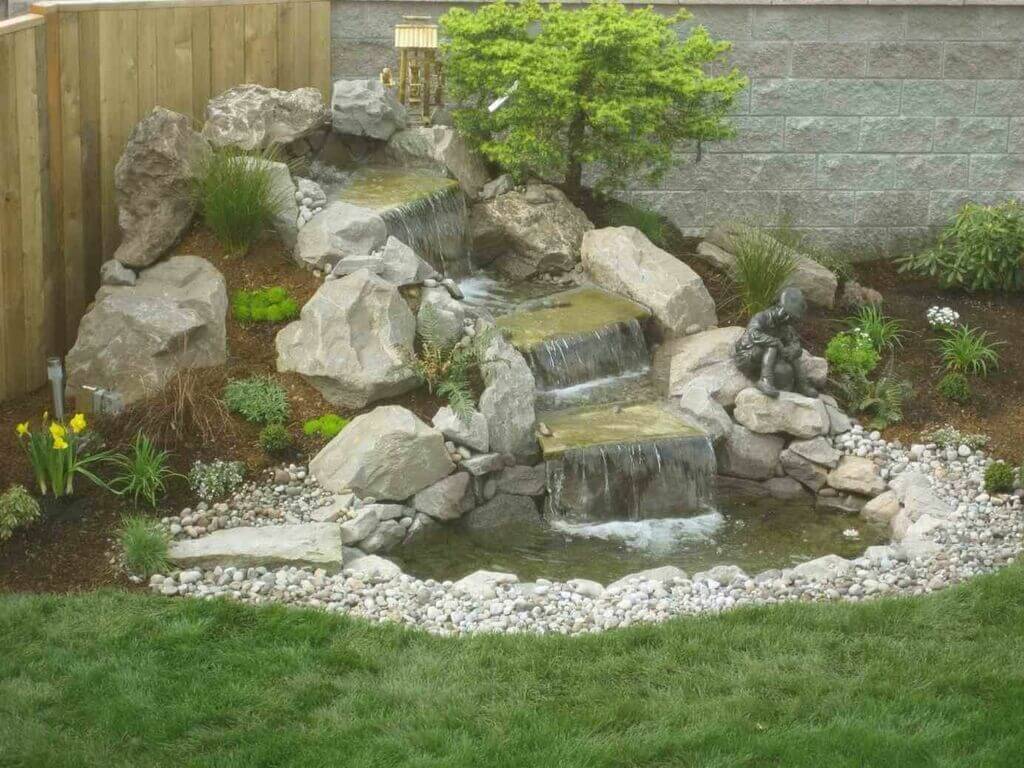 Source: pinimg.com
When you are ambitious, the height of the slope can be used as an advantage since you can easily create a beautiful water feature. This offers you soothing sounds while you relax in the area and drastically improves the overall appearance of a garden. 
10. Lay Switchback Paths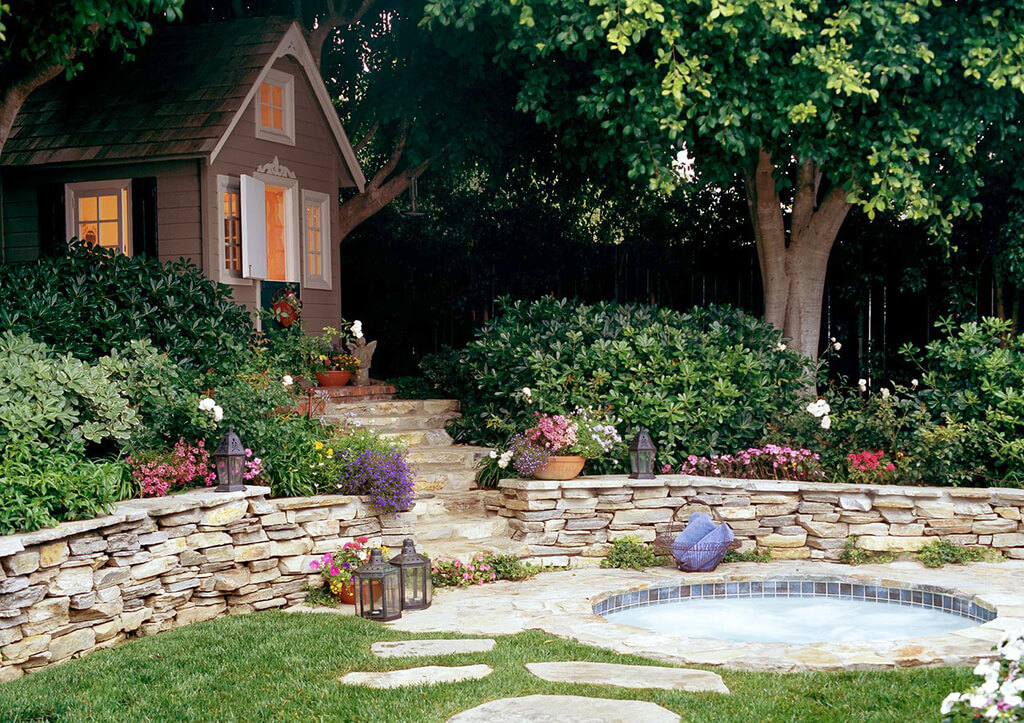 Source: meredithcorp.io
Switchback or winding paths make it safer and easier to explore sloped areas. Meandering pathways will also give you a focal point in the design of your garden. 
11. Create A Rock Garden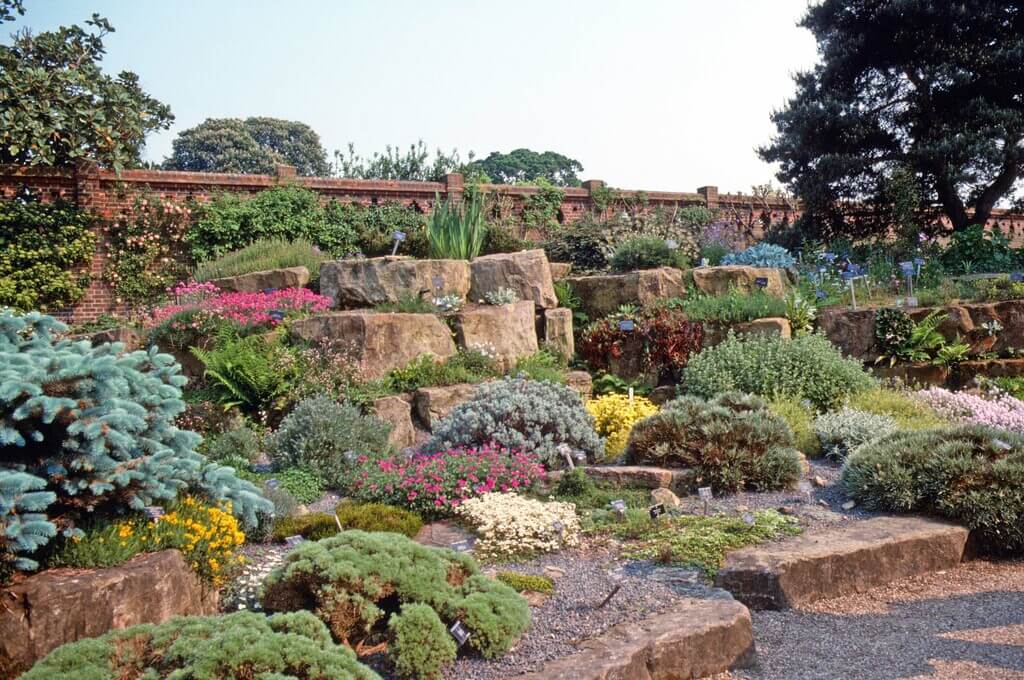 Source: blackgold.bz
Slopes are a landscaping challenge. Plants can suffer because of poor drainage and soil erosion. This is why a rock garden can help. You arrange rocks of different sizes and shapes right on the slope. As a result, you have a more stable base for different plants that grow well in such an environment, like creeping ground covers, ornamental grasses, and stonecrop. Rock gardens make the area look great and even reduce the overall yard maintenance load. 
12. Create A Fire Pit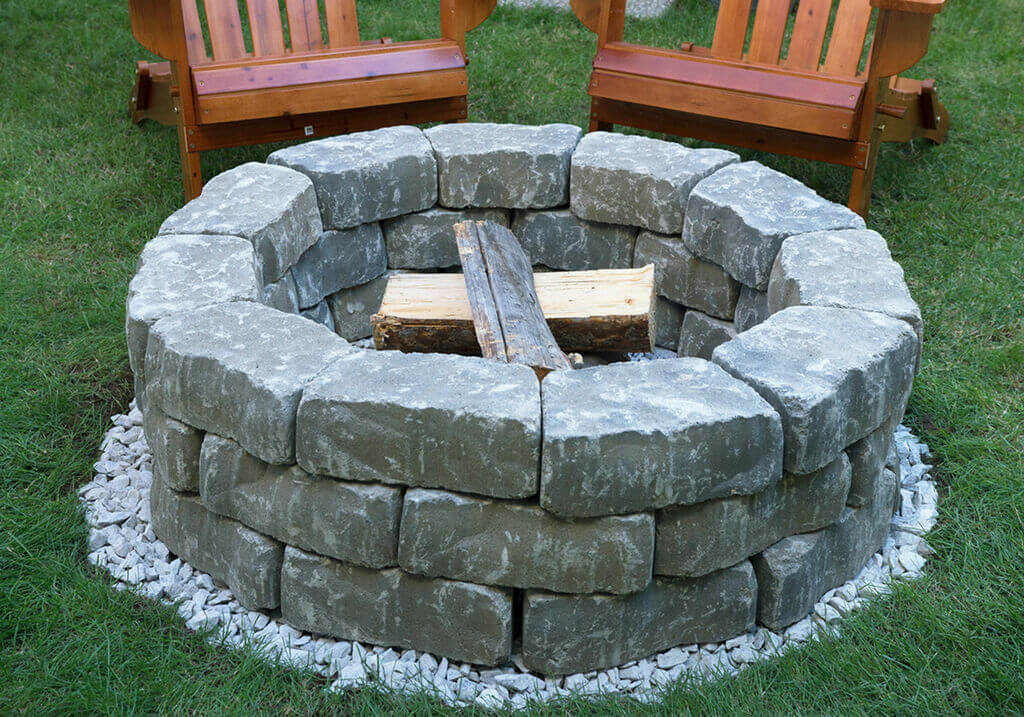 Source: media.placester.com
Last but not least, a very rewarding and common landscaping practice is to create hardscapes on slopes. This can lead to the creation of a really alluring destination. The fire pit is a perfect example of such a practice. Visitors will be drawn through the yard and the neglected space is transformed into an area where you really want to spend time with your friends.