Bathroom Trends 2022: Top 7 Modern Design Ideas for Your Space
As we're stepping in the new year, here we're with new trend predictions. This time we've come up with bathroom trends 2022. Not only for architects and designers but also for many homeowners, the bathroom is one of the important parts of their home.
Gone are the days when bathrooms and toilets were considered just as utilitarian, and that's why they were designed while keeping functionality in mind. Nowadays, you can be stunned by the great and luxurious interiors of the bathrooms. Not only do they all have amazing layouts and basic necessities, but they are constructed with modern materials. They have uplifting interiors with mood-boosting lighting that help create a luxurious and relaxing spot. So, if you're looking for some of the trendy and latest ways to transform your bathroom, you've landed on the right page. 
Natural, exotic, industrial, or marine style, which interior theme and styles will be in for bathroom trends 2022?  
Today in this post, with the help of our in-house expert team, we've gathered up some of the best bathroom design trends 2022 that will be prominent this year. From stylish large tiles to advanced showers, there are so many new things that will be in for the year 2022. So, keep reading to know Bathroom Design Ideas 2022. 
Top 7 Latest Modern Bathroom Trends 2022
So if the bathroom isn't on your priority list till now, make it on the top for the year 2022. As they're no less important than any of your rooms. So, if you want to give a complete makeover to your home or just your bathrooms, keep on reading.
Below are the top 7 notable and best bathroom trends for 2022. From colors to technology and bath designs, we've included everything. So, whether you like the modern, contemporary, or traditional, here you can find various bathroom design ideas for your space. 
So, are you ready to remodel and renovate your bathroom with these trendy decor ideas? Let's start. 
Bathroom Trend #1: Oversized Colorful Tiles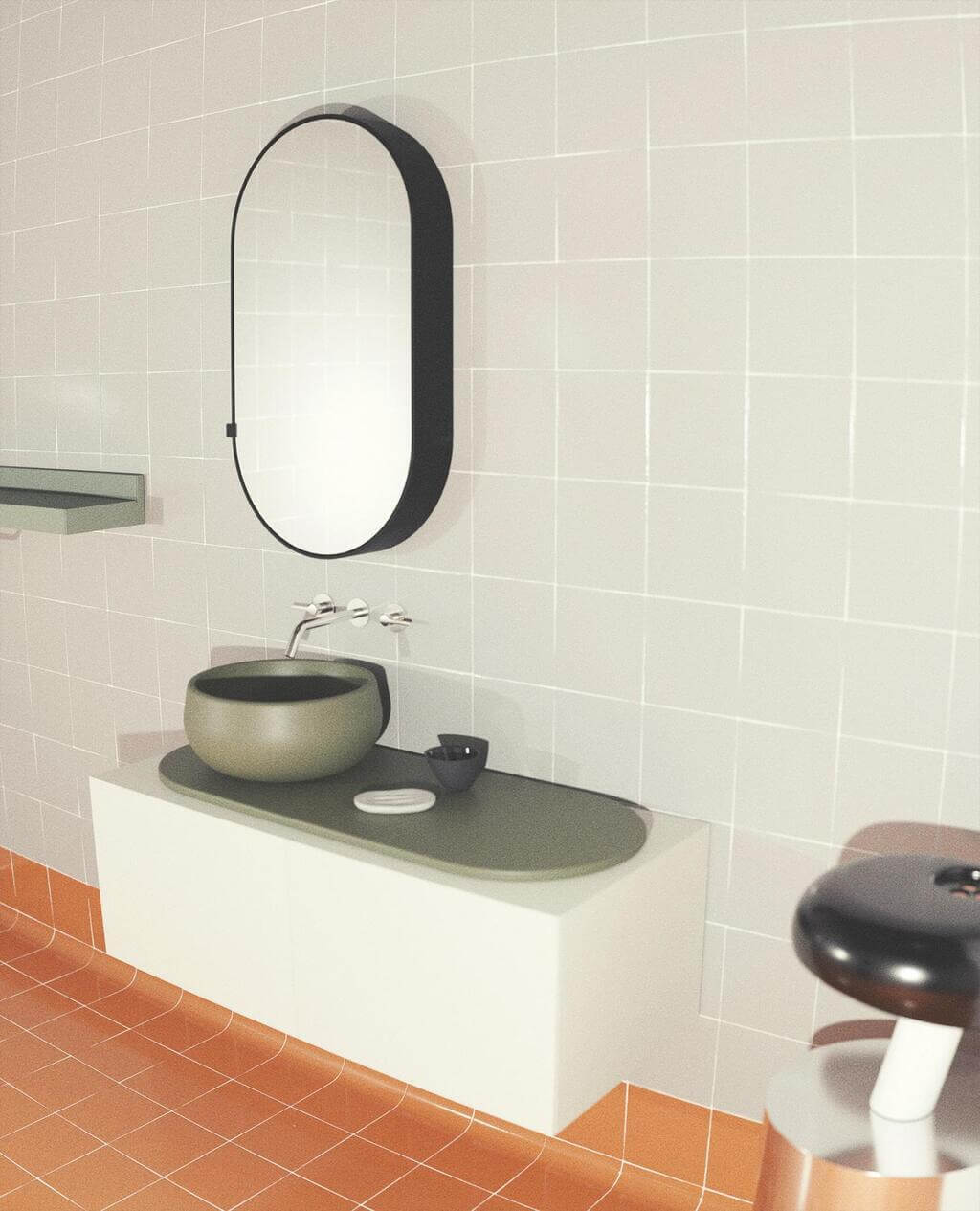 Source: wallpaper.com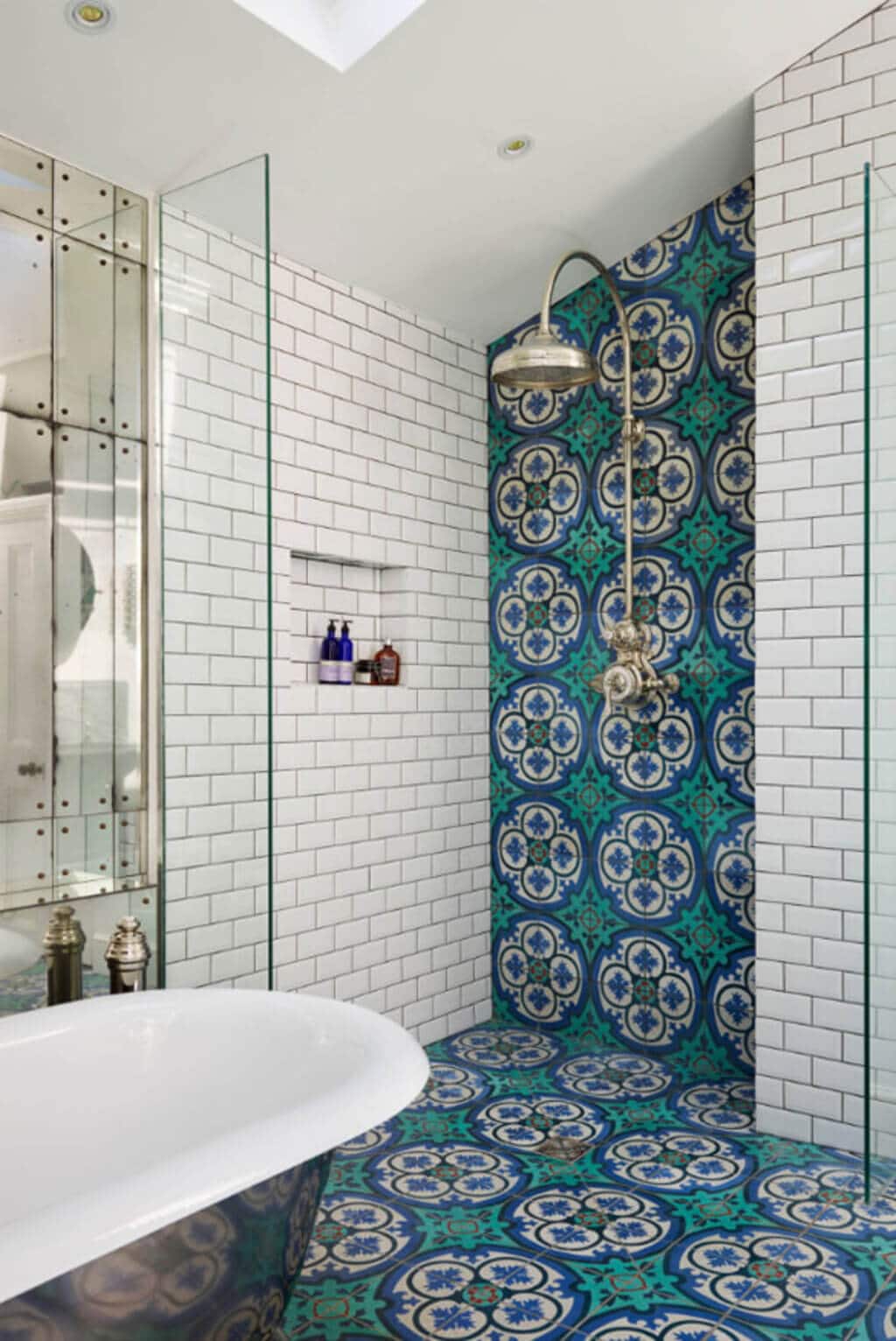 Source: sebringdesignbuild.com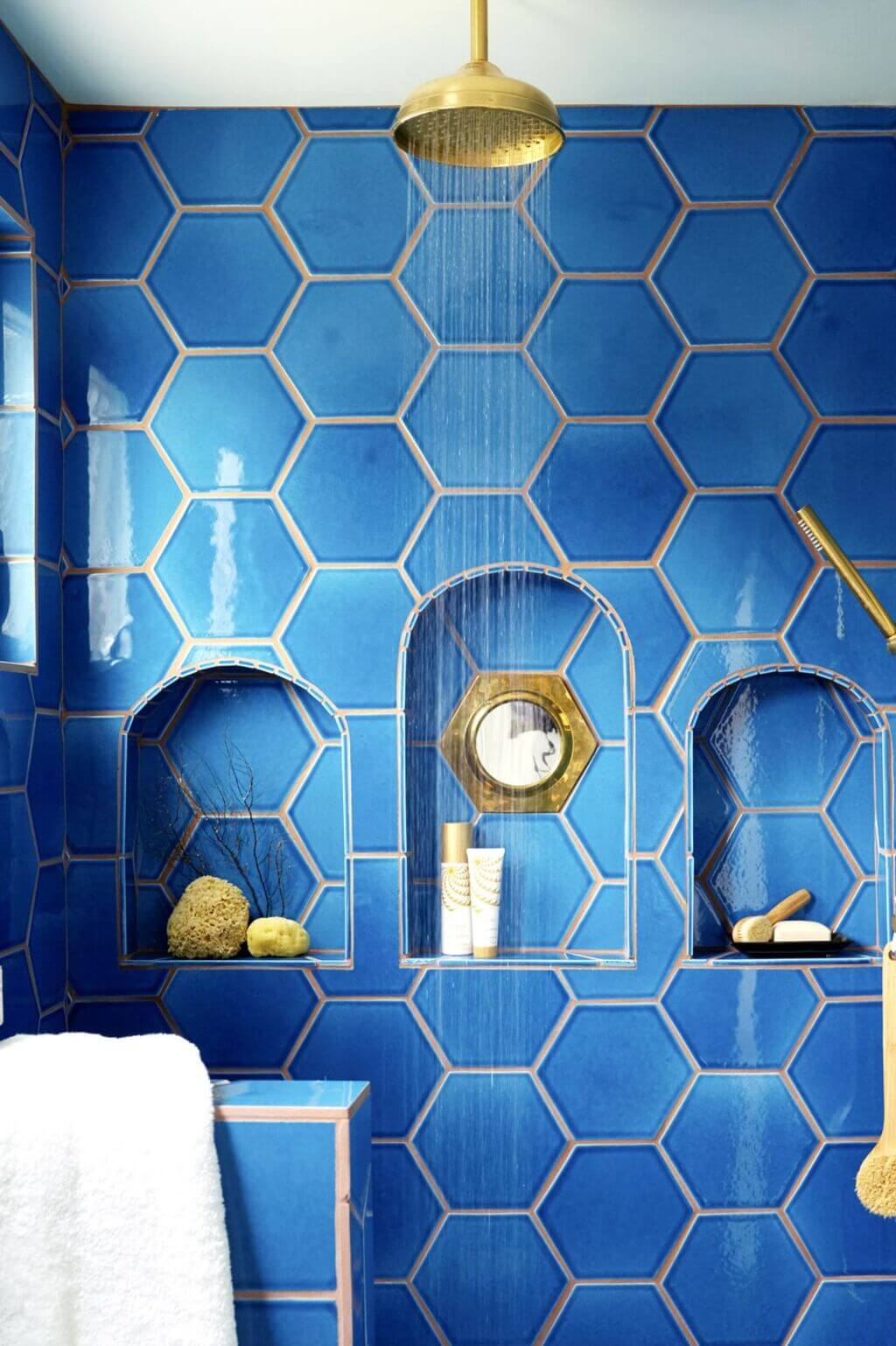 Source: hearstapps.com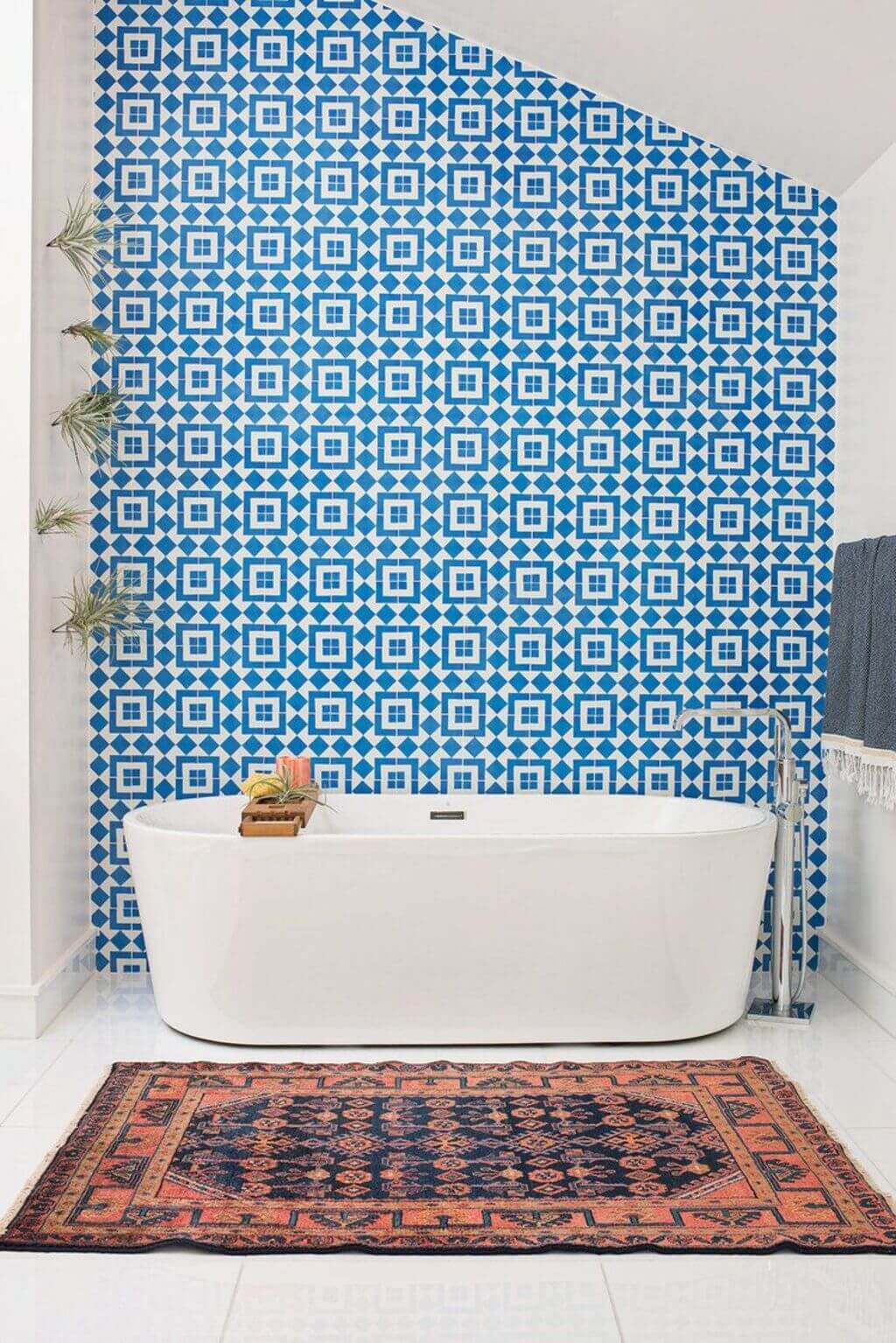 Source: hearstapps.com
2020 and 2021 are all about neutral color palettes and tones; however, 2022 brings some color to the bathroom interiors. This year you'll see a lot of big colorful tiles and wall designs. This first bathroom trend, 2022, is about changing the previously neutral and subtle theme to more bold and bright. 
So, this year, you can add a pop of color to your bathroom with the help of some tiles with unique patterns and designs. This will immediately add visual interest to your plain bathrooms. These types of tiles are rich in both color and pattern and are available in the market in numerous sizes, shapes, and colors. You can get the ones according to your bathroom architecture. 
From monochromatic looks to fun and bold tiles, you can create any theme of your liking. Experts also predict that shiny and metallic tiles also may have been in this year. So try an accent wall or fill all the walls of your bathroom with these oversized colorful tiles.  
Bathroom Trend #2: Plants, Plants & a Lot of Plants!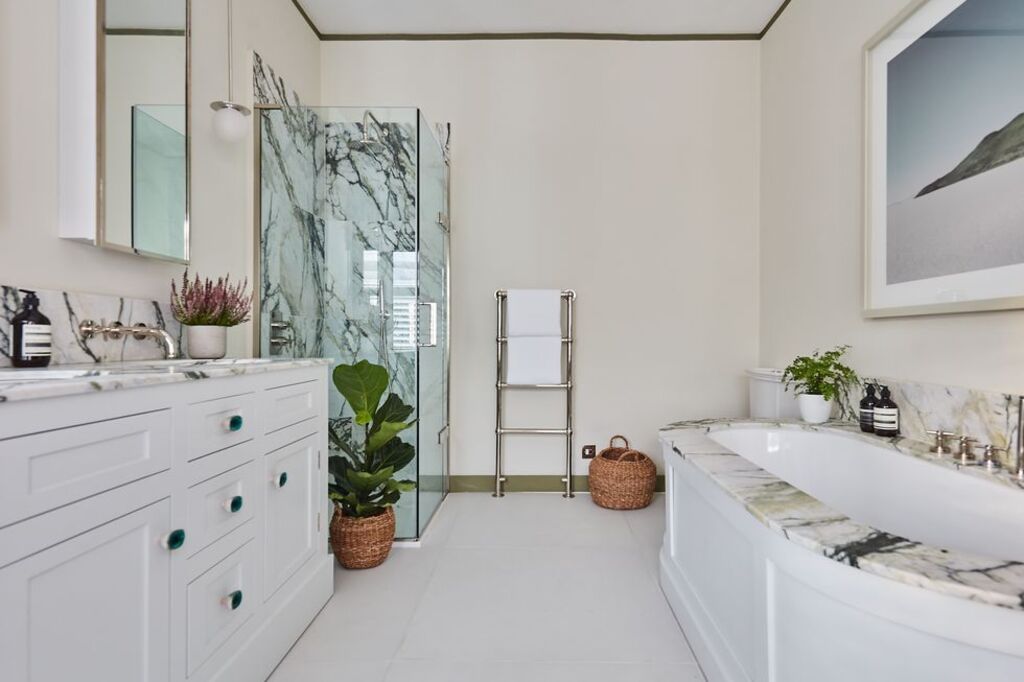 Source: hearstapps.com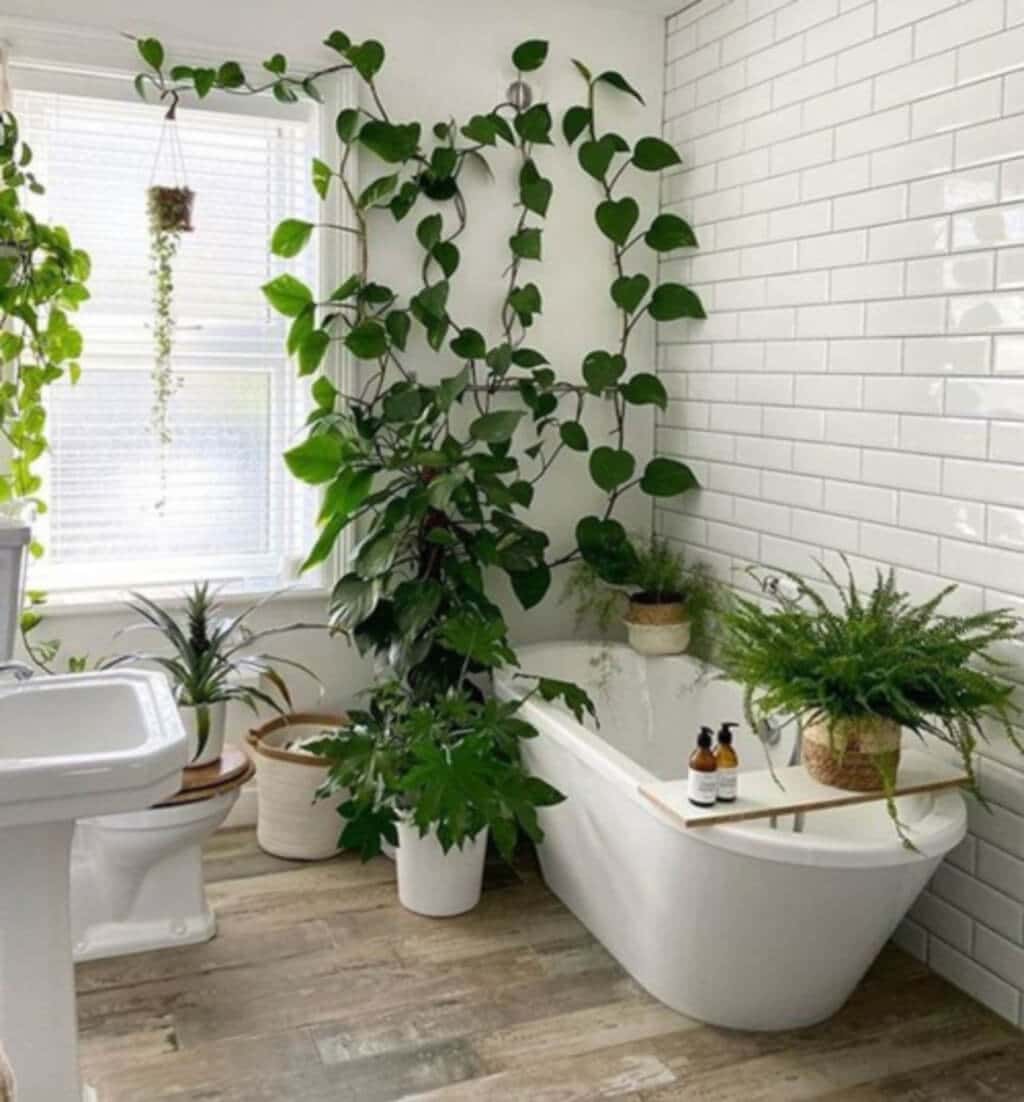 Source: roperrhodes.co.uk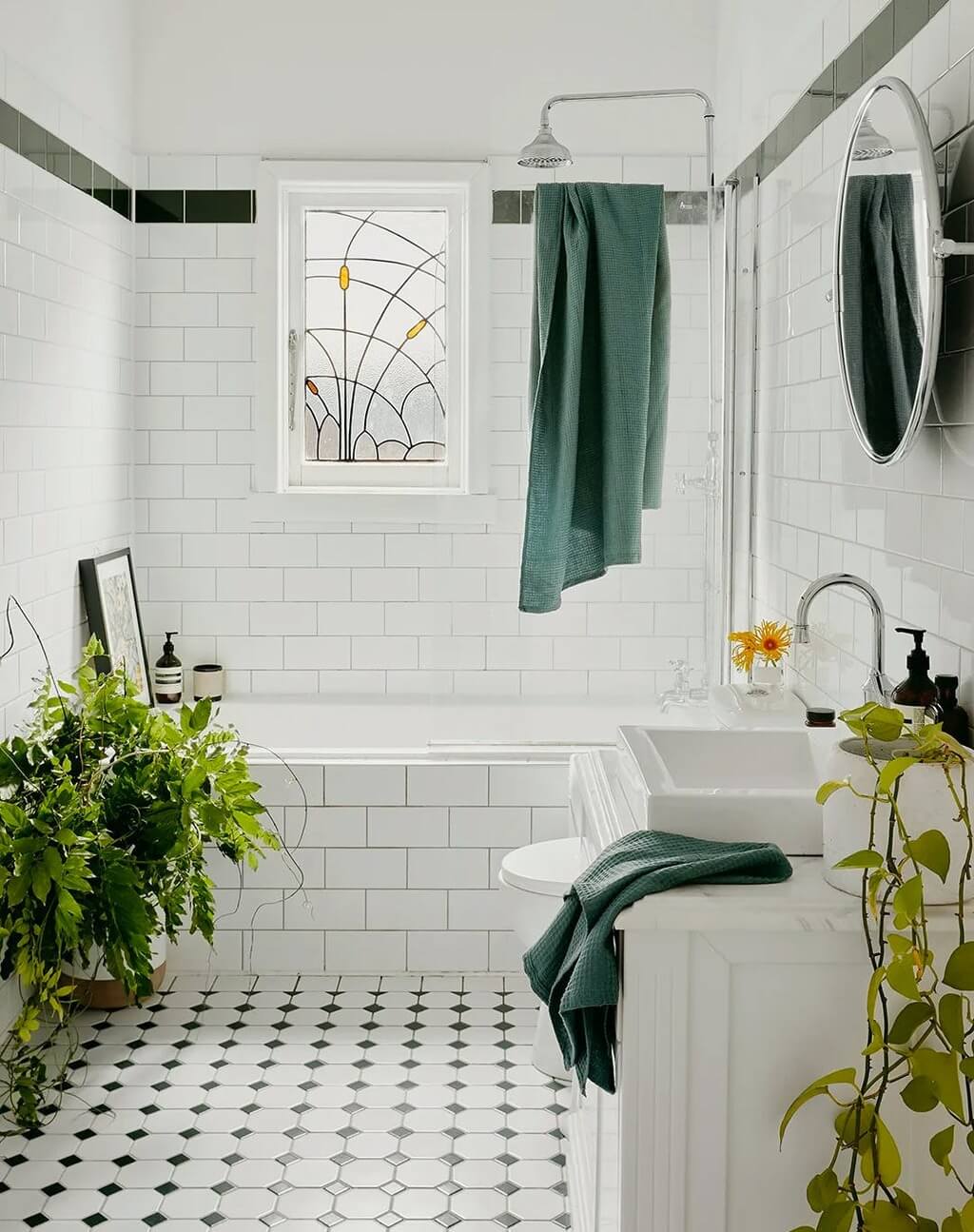 Source: purewows3.imgix.net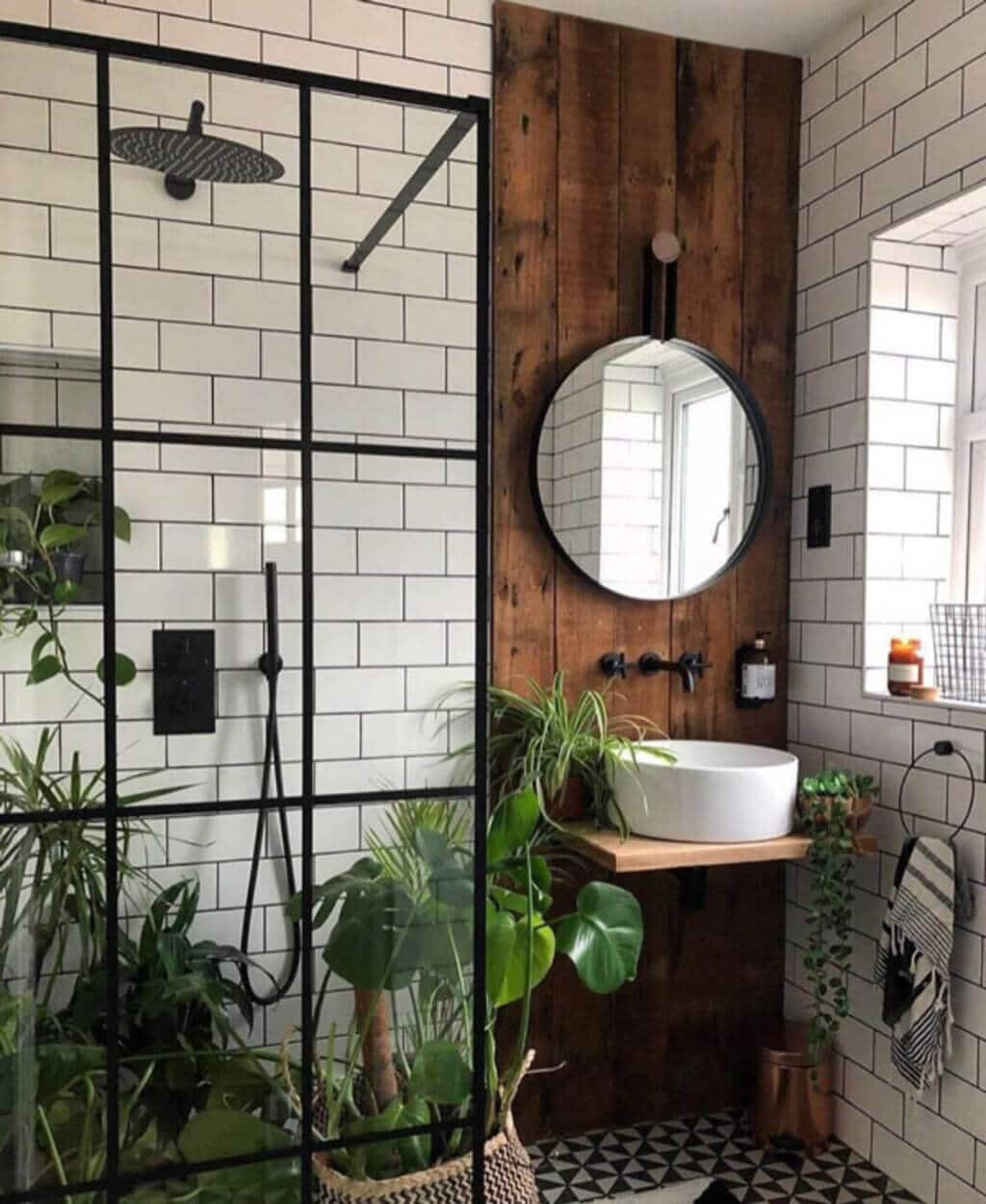 Source: spacecoastdaily.com
This is one of those trends that will surely never go out of trend. Yes, it's no secret anymore that plants have become one of the essential parts of home design and interior designing, including bathrooms. After all, plants create an aesthetically pleasing and calming environment and also purify the air with their odor-fighting and antibacterial properties.
So our experts predict (including Instagram and Pinterest) that biophilic design" will dominate in 2022. A lot of indoor plants and plants and plants are the trick to follow this trend. You can include various kinds of houseplants and pampas grass to create a calming spa-like sanctuary. 
After all, plants are a wonderful way to create and show the beautiful connection between humans and nature. So, in 2022 try 'bringing the outdoors in with lots of greenery.   
Bathroom Trend #3: Twin Shower Heads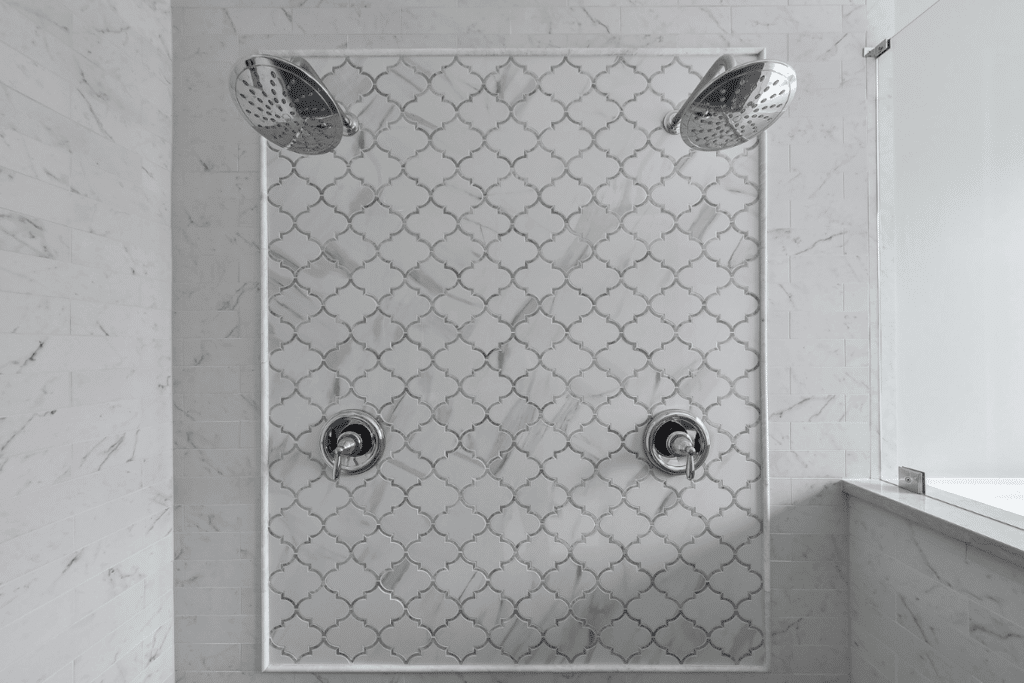 Source: sebringdesignbuild.com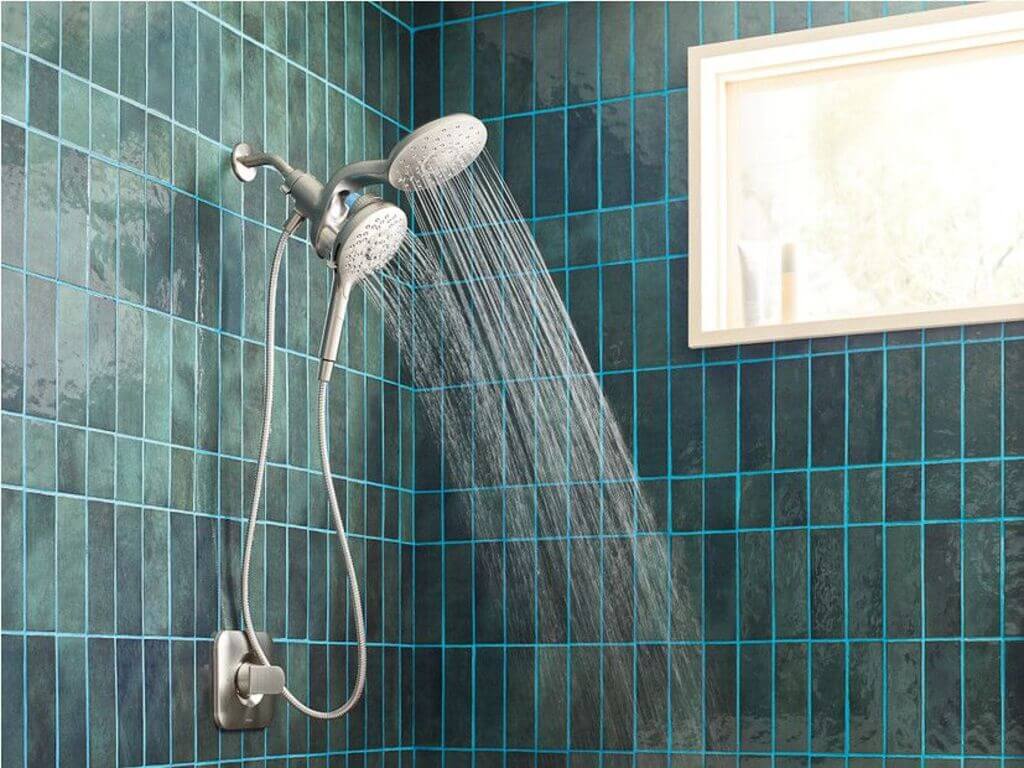 Source: pinimg.com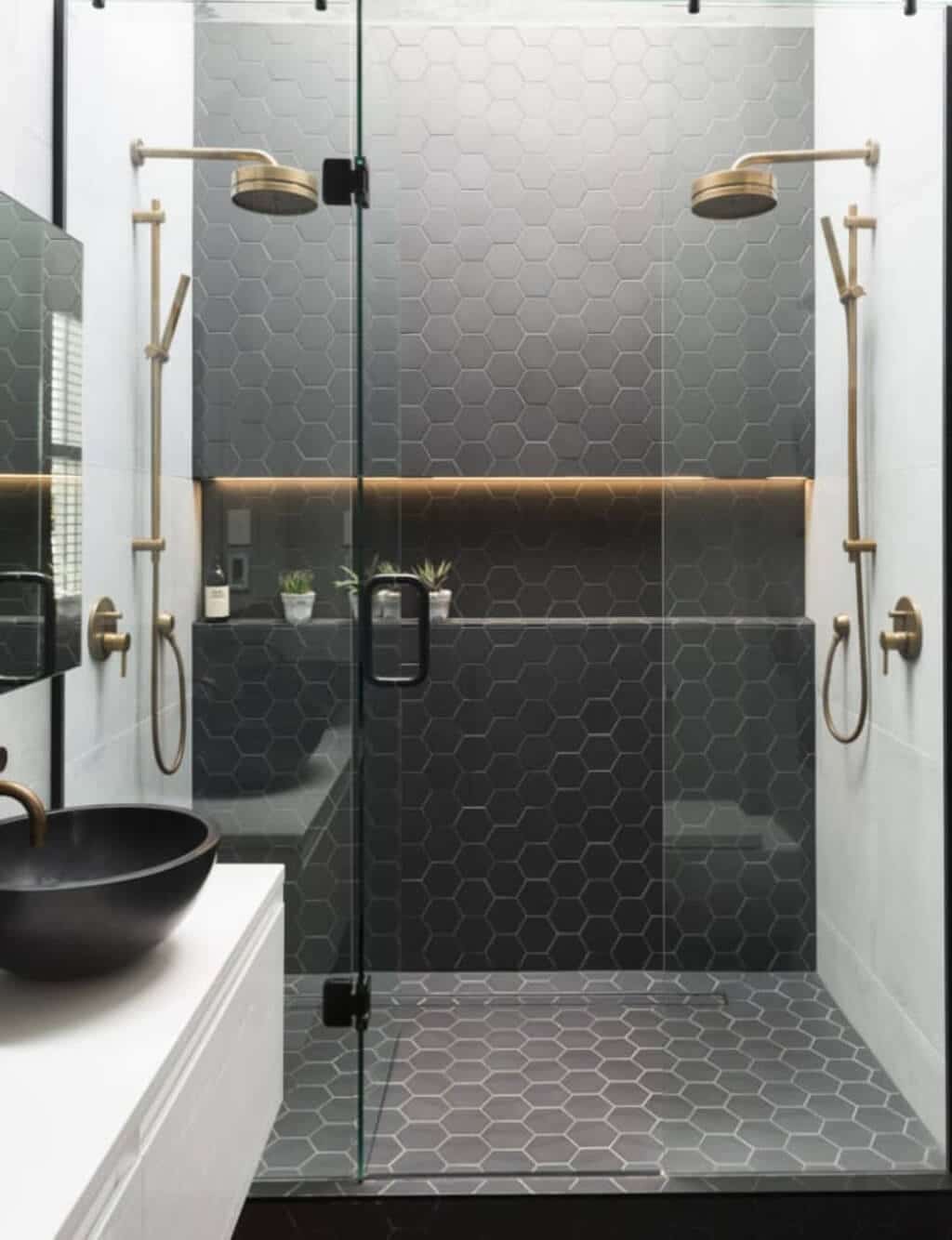 Source: apartmenttherapy.info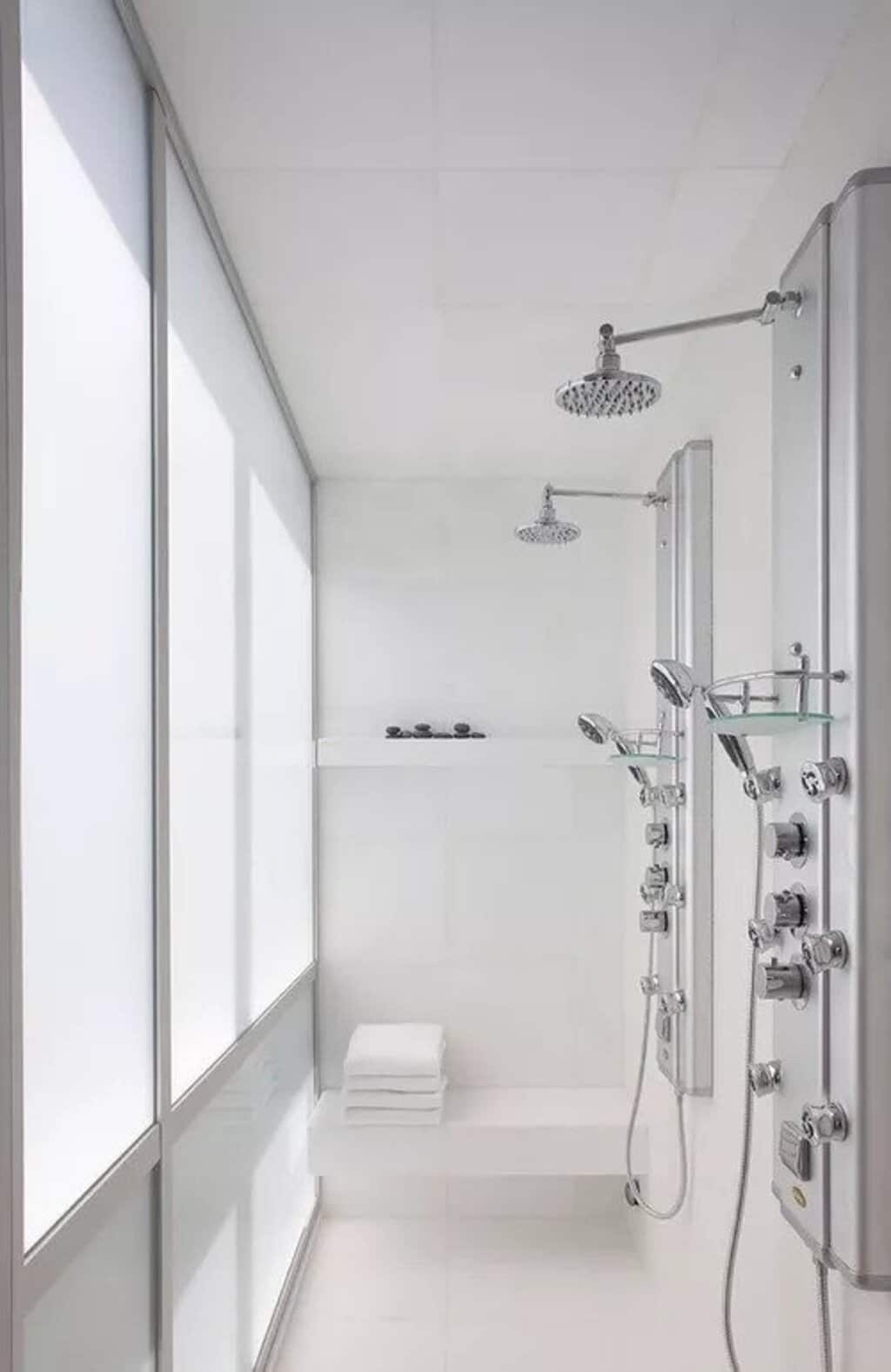 Source: thespruce.com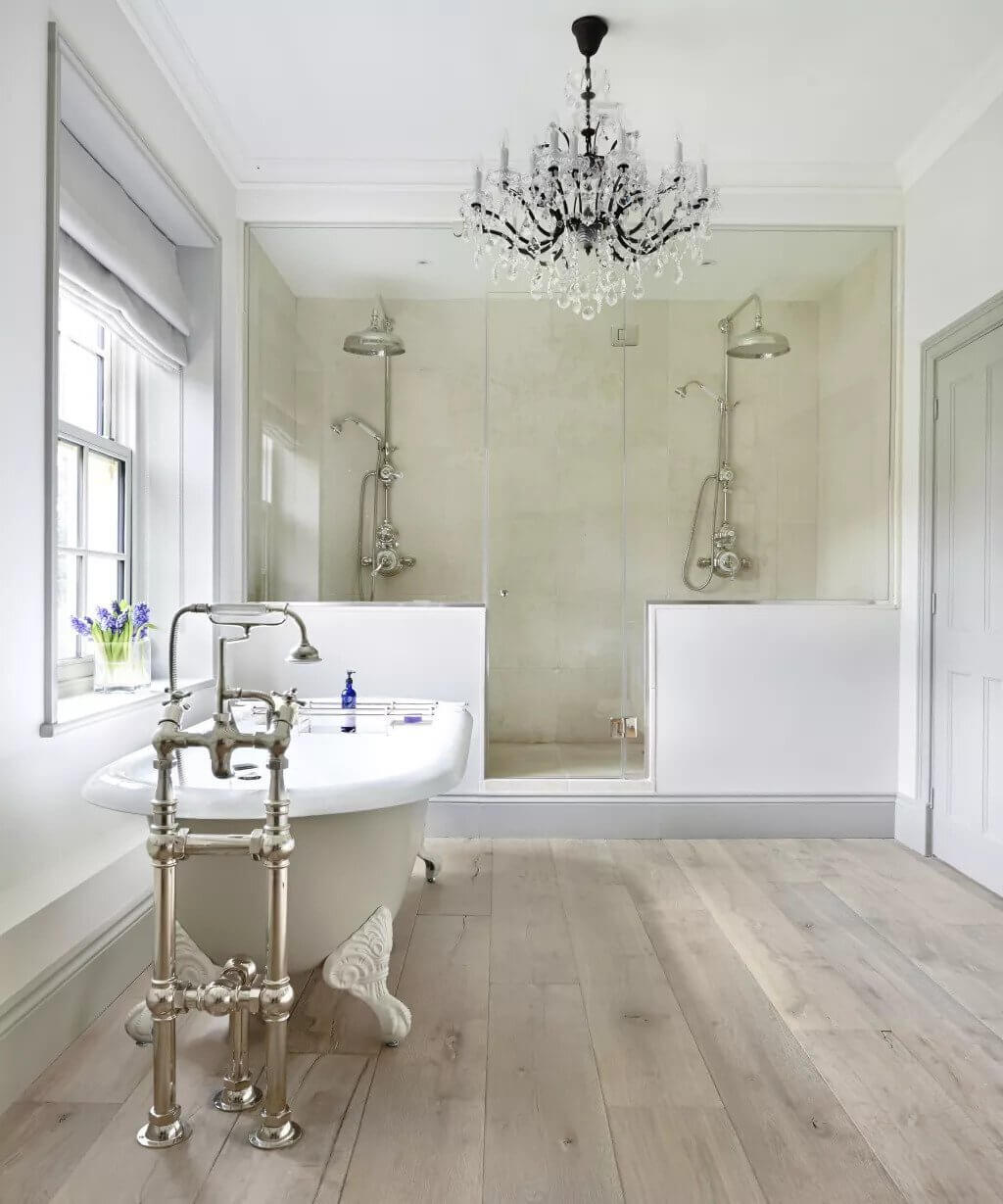 Source: futurecdn.net
This year instead of one shower head, go with twin shower heads because Two heads are better than one! This thing will be well understood by those couples who always wait for their significant other to finish showering. But not anymore because now this new year brings the new trend of two shower heads! Yes, the past two years have been about increasing the size of the showerheads; however, in 2022, you'll see twin shower heads everywhere.   
There are two types of showerheads: Dual Shower Heads & Two Separate Shower Heads! Other than these, a showerhead and one handheld showerhead are also available. You can get the ones according to your bathroom size and design. The most common benefit of it is that two people can refresh simultaneously. They're durable and add a luxury touch to your regular-looking bathrooms. There are some amazing products available from Martec for your bathroom that give it a luxurious look.
Bathroom Trend #4: Statement Marble Surfaces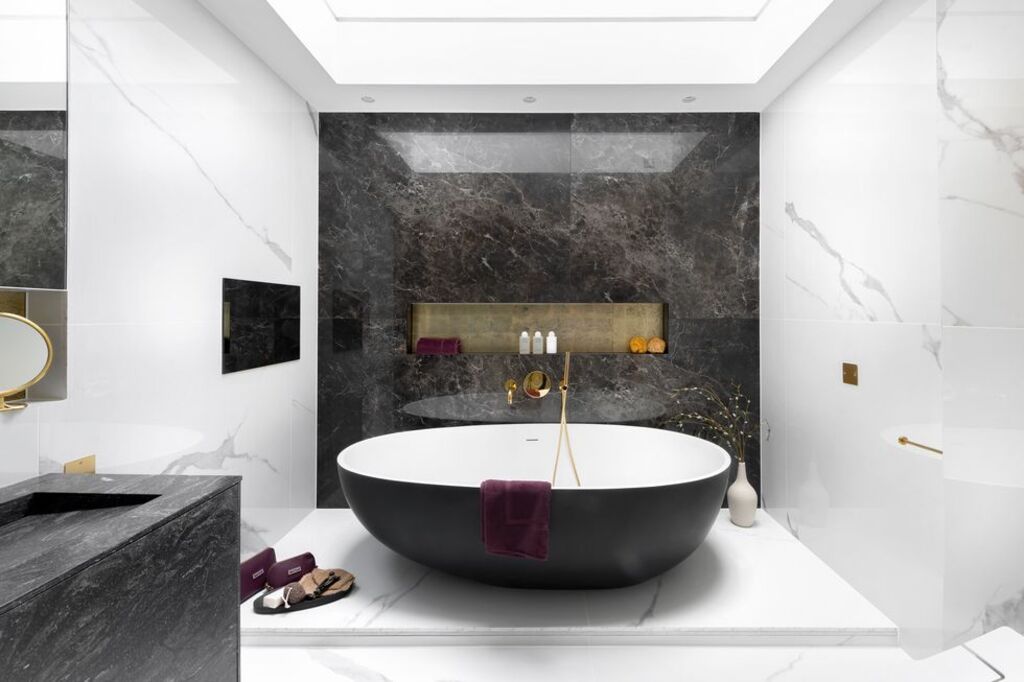 Source: hearstapps.com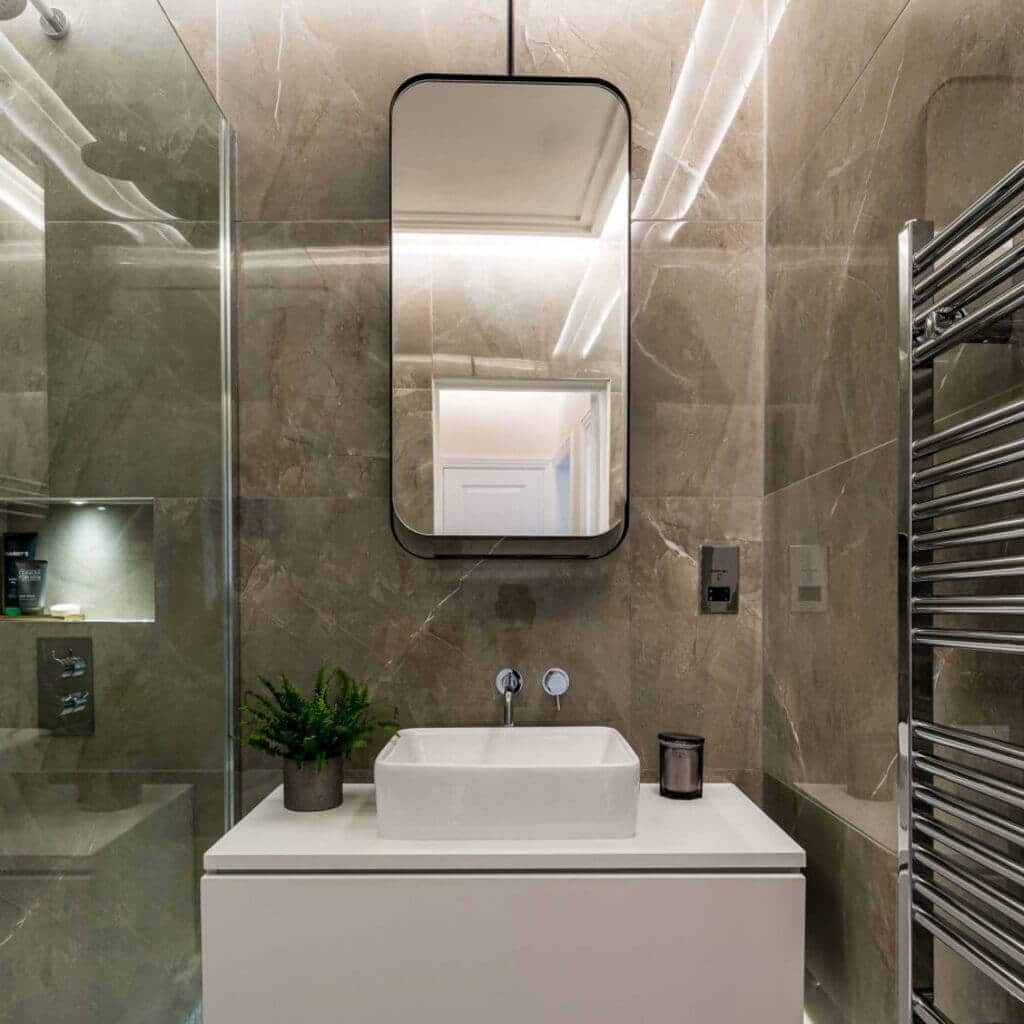 Source: timeincuk.net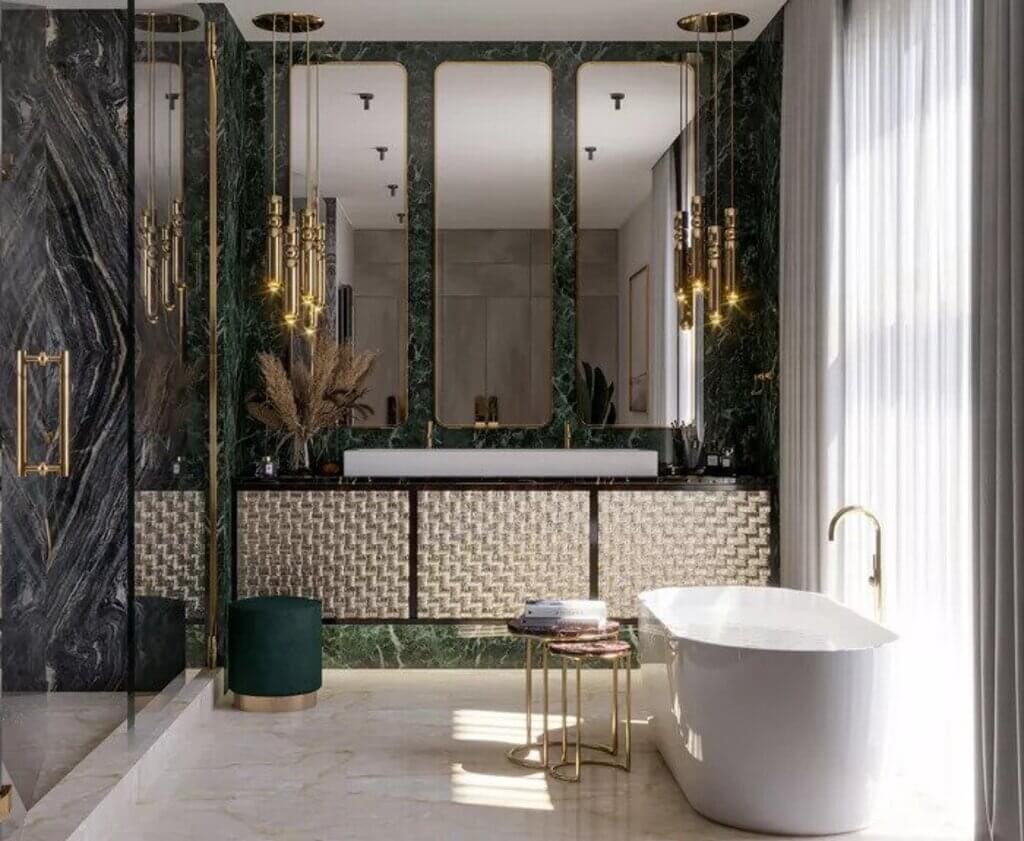 Source: thespruce.com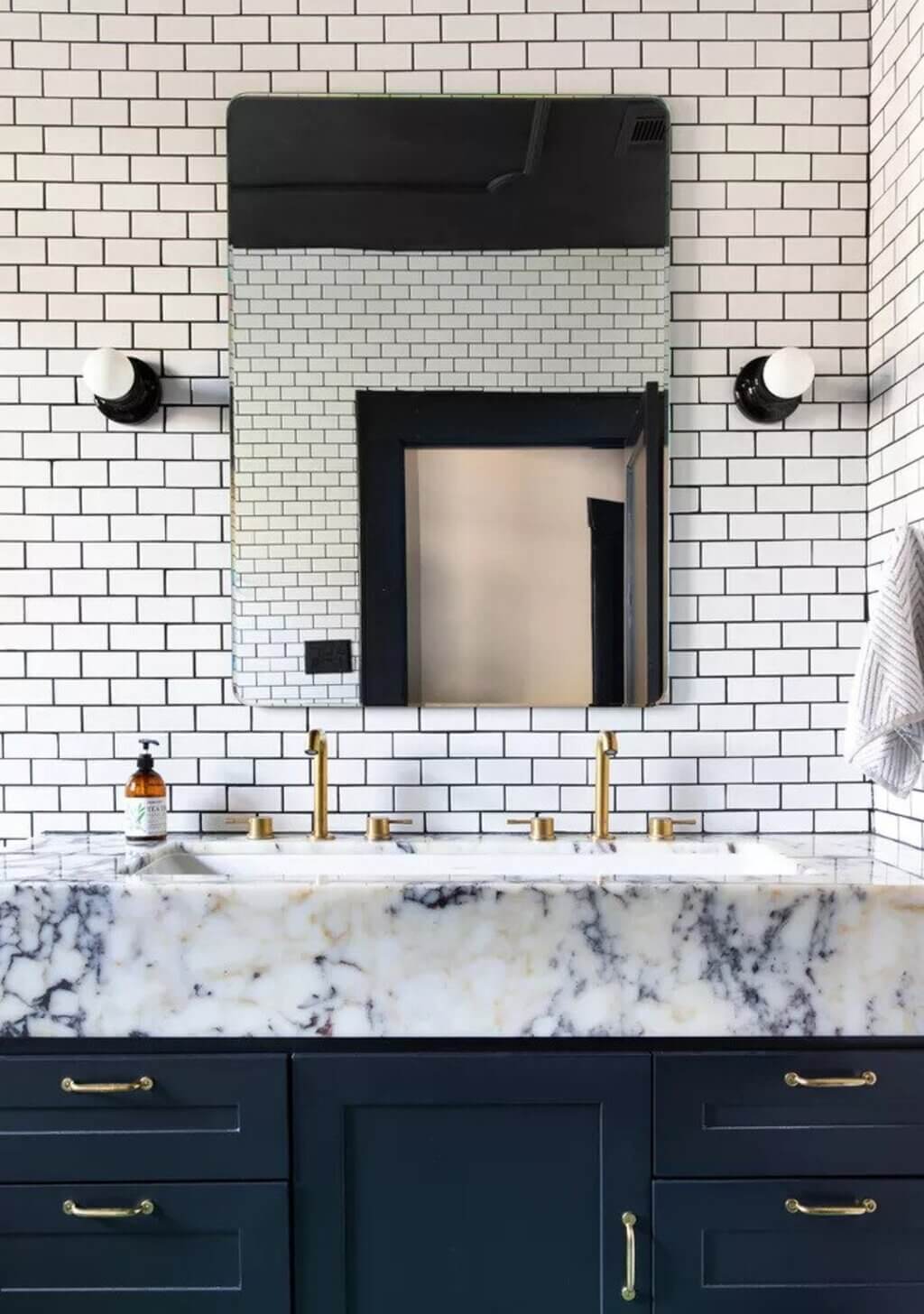 Source: thespruce.com
Let's talk about the bathroom materials that will be prominent this year. Marble is always considered one of the best ways to elevate the ambiance of any space. Whether you use this precious stone on your bathroom floor, walls, shower, sink, or any other small accessories, your space surely will look great. 
This stone is available in two forms: marble tiles & marble slabs. If you like a minimalist theme, you can go with the black, white, and grey marble tiles and if you want something bold, go with the colored ones. 
You can easily create a feeling of opulence by using materials that contrast with each other. This will help to build visual and tactile texture in the room. For that, you can have door hardware and electrical accessories that contrast against the marble tones. Or the other way is to use everything in the same color to get a coordinated look.
Bathroom Trend #5: Scenic Murals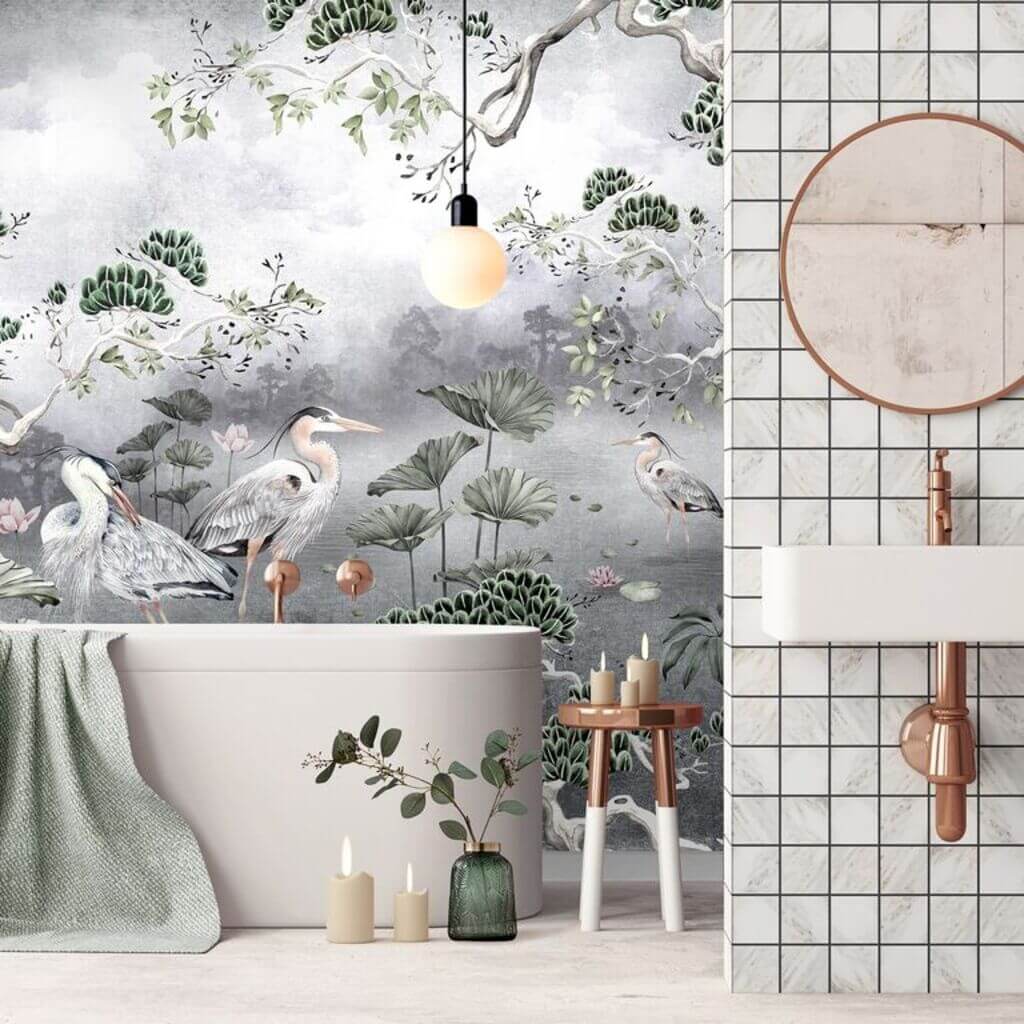 Source: hearstapps.com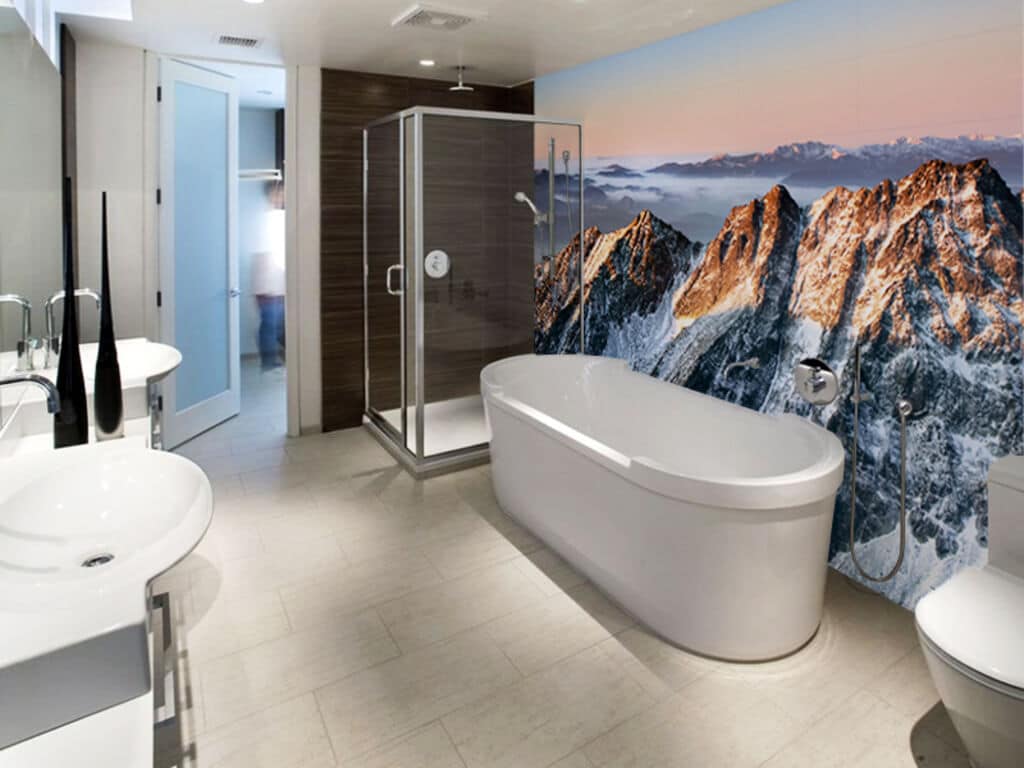 Source: home-designing.com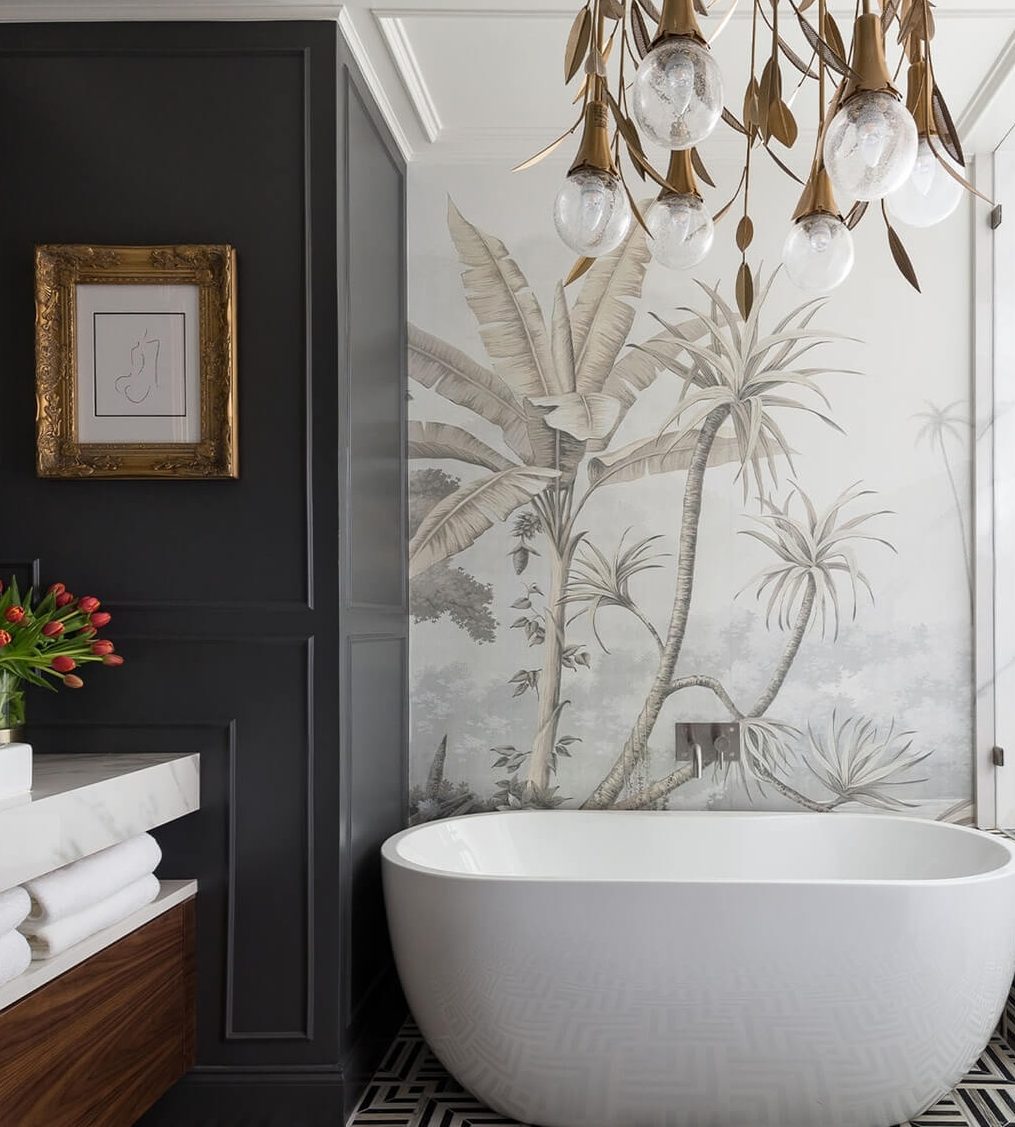 Source: themuralsource.com
Previously bathrooms were confined with all white walls, and overall they have a contemporary feel to them. Nowadays, you can find a bathroom with almost any type of theme and interior. 
People who like clean lines and minimal interior design are going with modern bathroom designs. So the next best bathroom trends 2022 is also about making the bathroom a serene and relaxing spot.        
Even though most of the room walls are either white or painted in a single color, you can create a statement element with the help of murals. Yes, these days, murals are not just limited to living rooms, bedrooms, or entryways; they can also be used in bathrooms. Look at the above images; here, various types of murals have been used to create different atmospheres. For a spa-like ambiance, use murals with hand-drawn scenes. However, if murals are a little too much for your space, you can use marble for a more subtle statement.
Bathroom Trend #6: Mixing Textures & Elements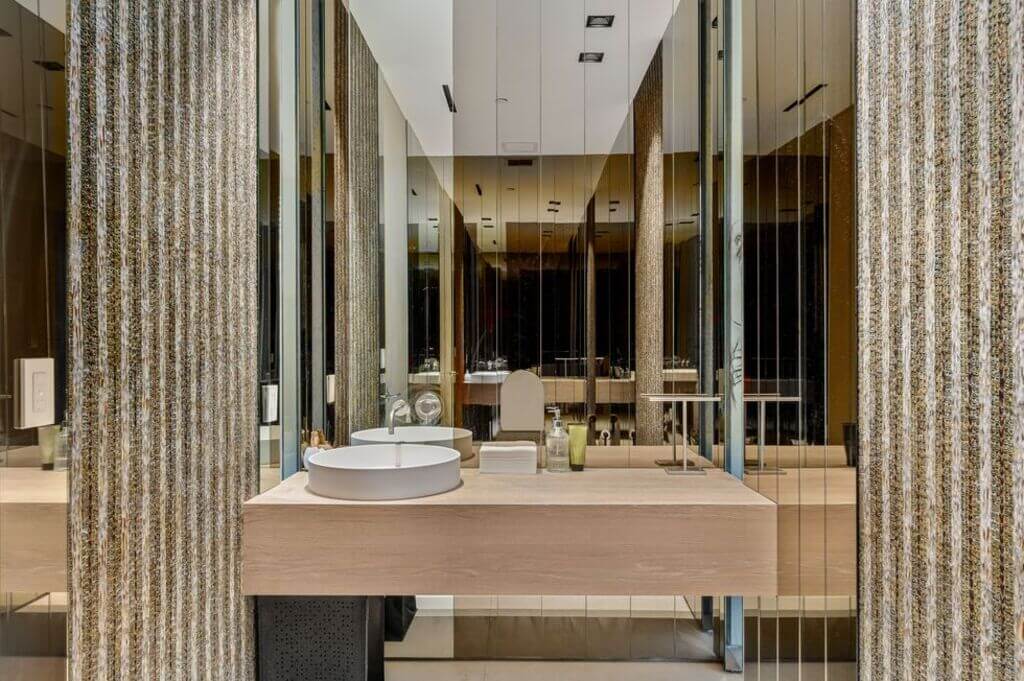 Source: hearstapps.com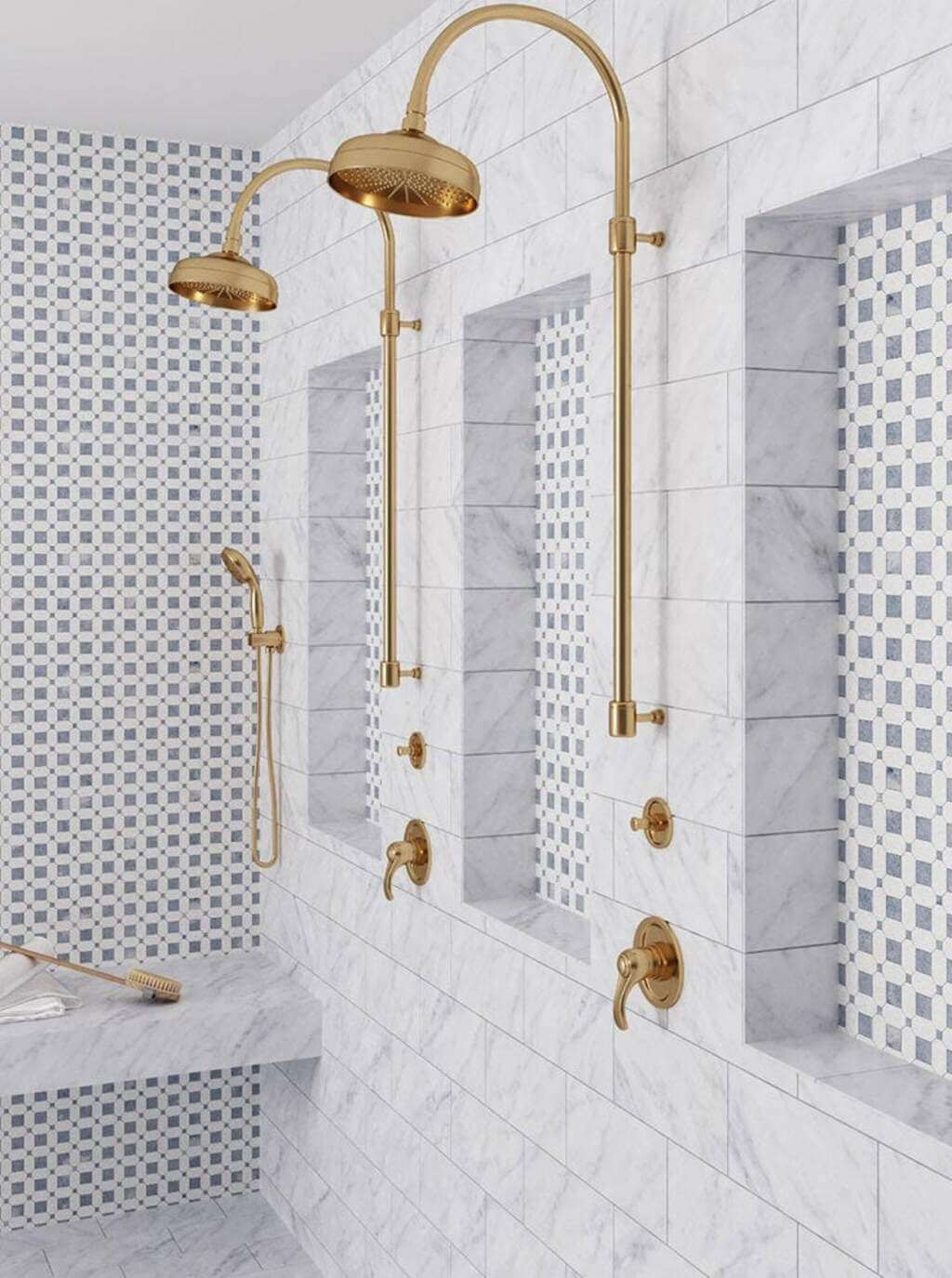 Source: shopify.com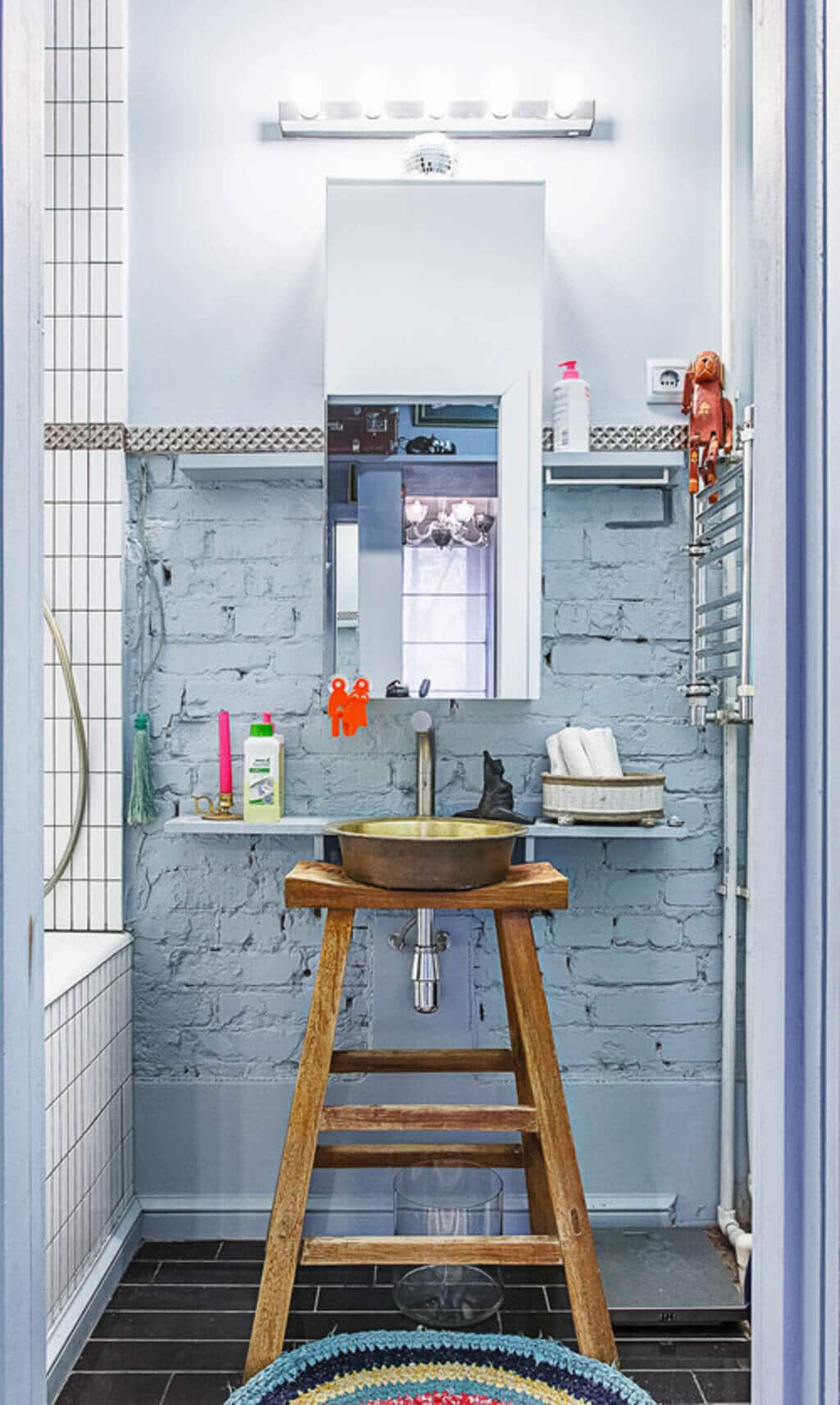 Source: hzcdn.com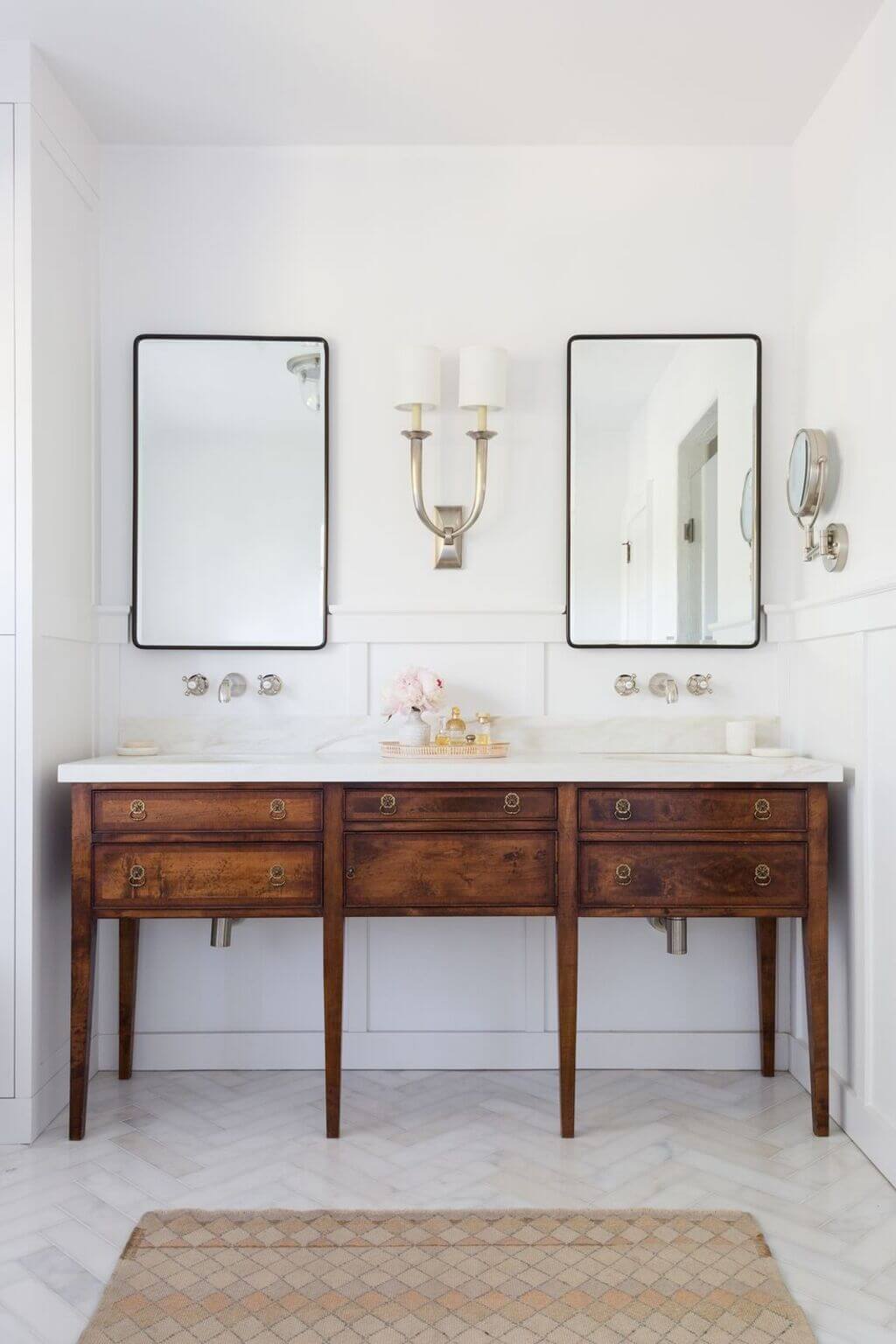 Source: hearstapps.com
The next trend alert for the bathrooms 2022 is the textures. This year experts predicted that "combining colors, textures, and materials will be seen everywhere including toilets, bathrooms and powder rooms.
We've seen minimalist and monolithic tones from the past two years, but for 2022, you can expect to see a lot of colors and texture in home designing. From glass meshed with sandwich mirrors to textured wall coverings and colorful wall colors, there are a lot of changes that can be seen this year. 
Bathroom Trend #7: Wet Rooms and Walk-in Showers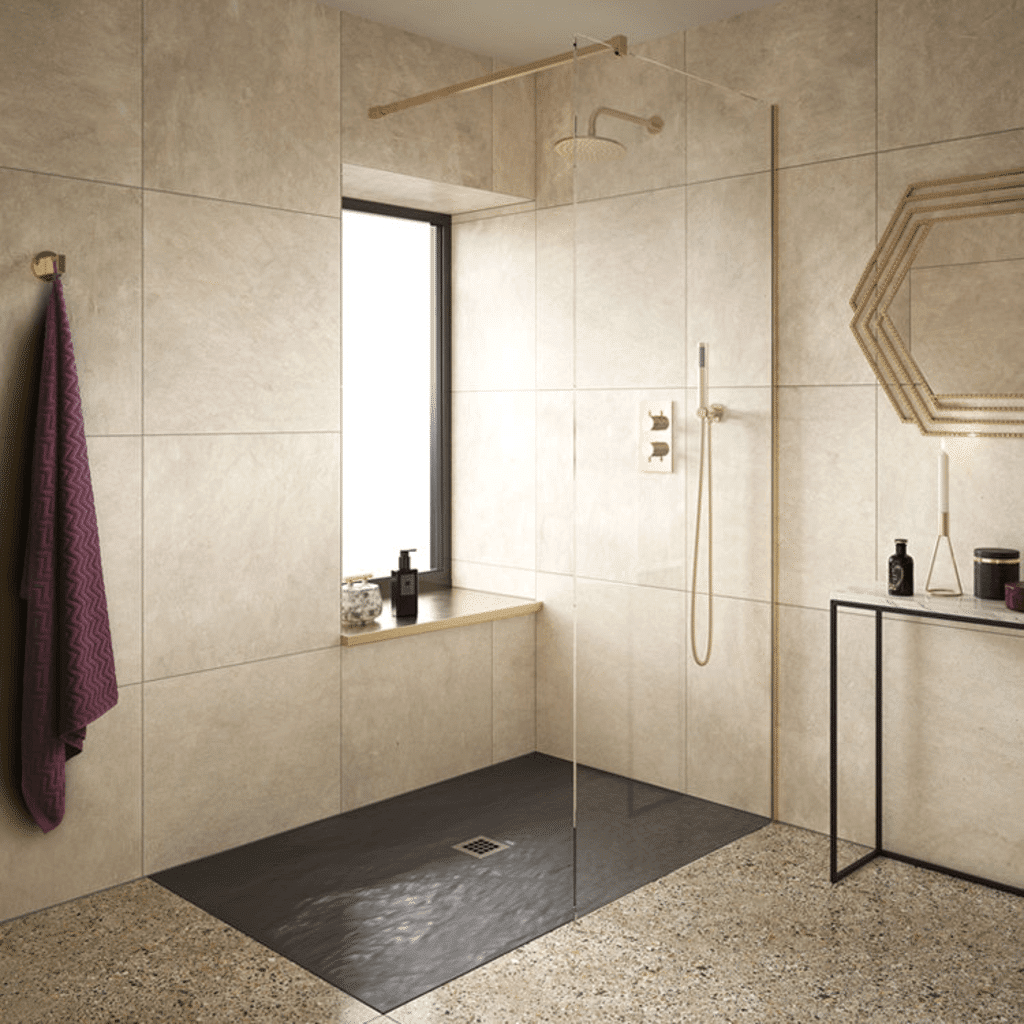 Source: hearstapps.com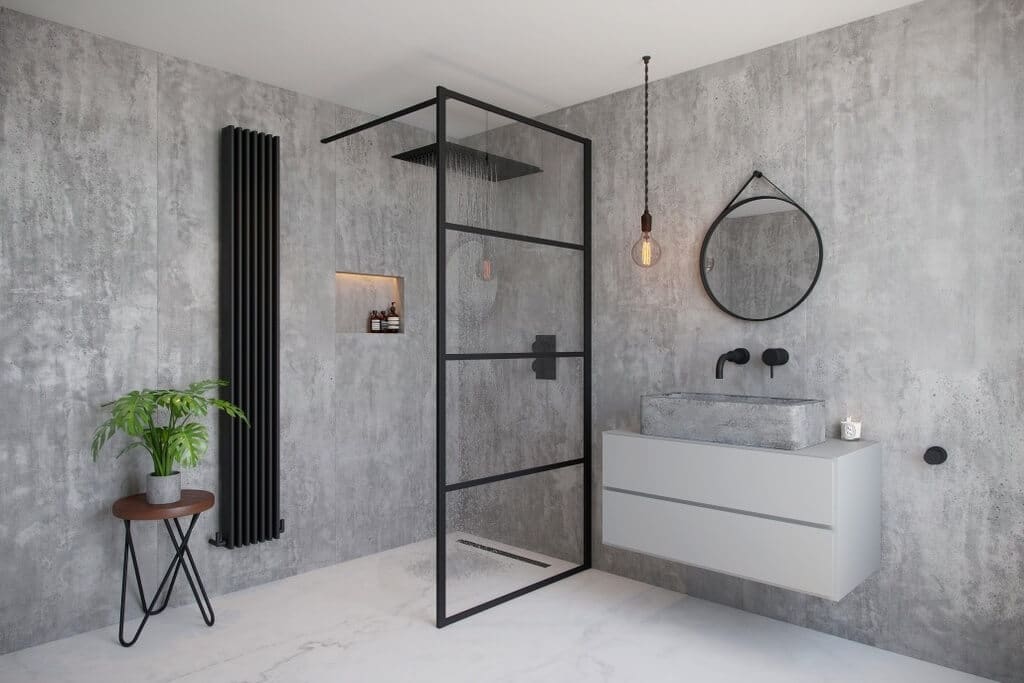 Source: aquaneed.co.uk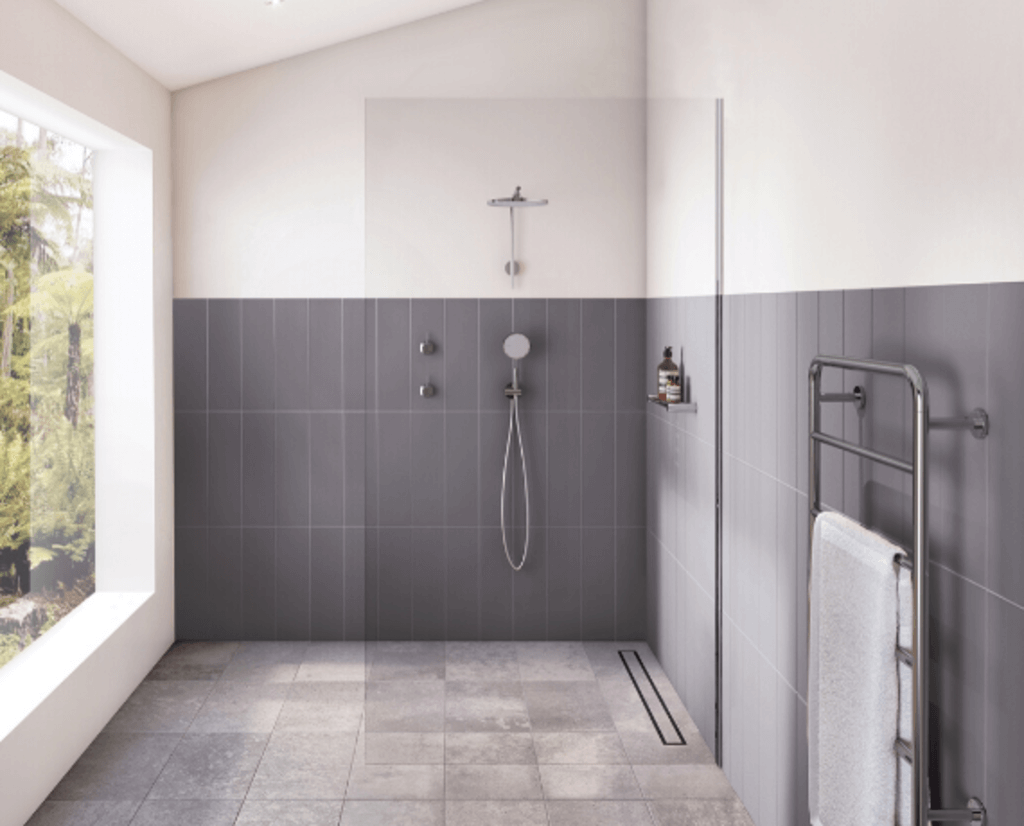 Source: stackpathcdn.com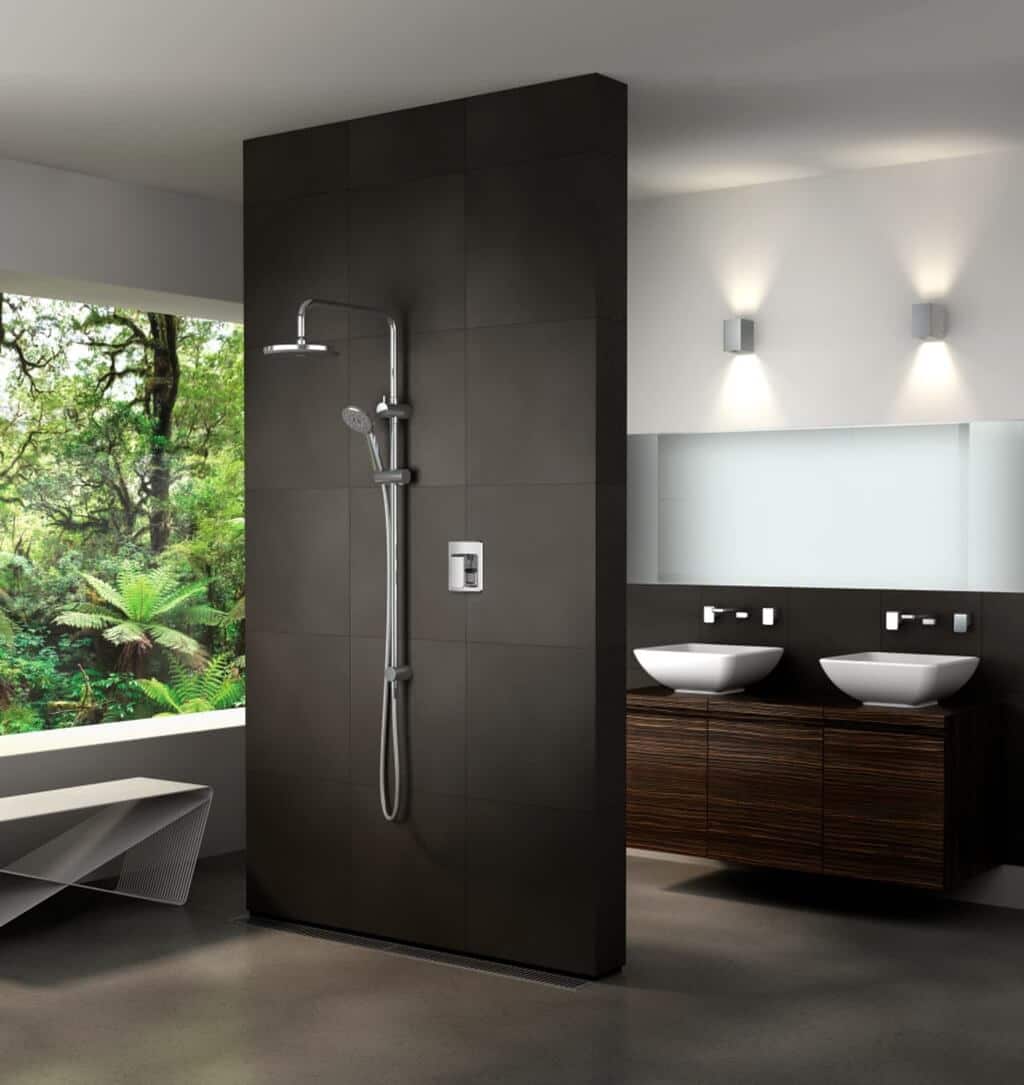 Source: cloudinary.com
Another thing that will be one of the top trends of the bathroom in 2022 is in design and architecture, instead of the separate bathroom, toilet, or bathtub areas. All these three parts will combine in a single open space. This year people will be more inclined towards walk-in showers and wet rooms over baths. 
And they'll also move away from smaller cubicles to larger enclosures. To decorate these types of walk-in bathrooms, you can either go with the solid tiles or colorful and patterned tiles to create a stunning feature wall or backdrop.
Also Read: 9 Designer Bathroom Wallpaper Ideas to Recreate Beautiful Walls
Top 5 Color Trends For Bathrooms in 2022
After reading up to here, you know well about the bathroom trends 2022 about design, elements, materials, and other elements, but what about colors. When it comes to interior design 2022, colors are important to know to follow the trend right! 
Don't worry, keep reading. Here we've also gathered up some of the top colors for 2022. Take a look at them: 
1. Babouche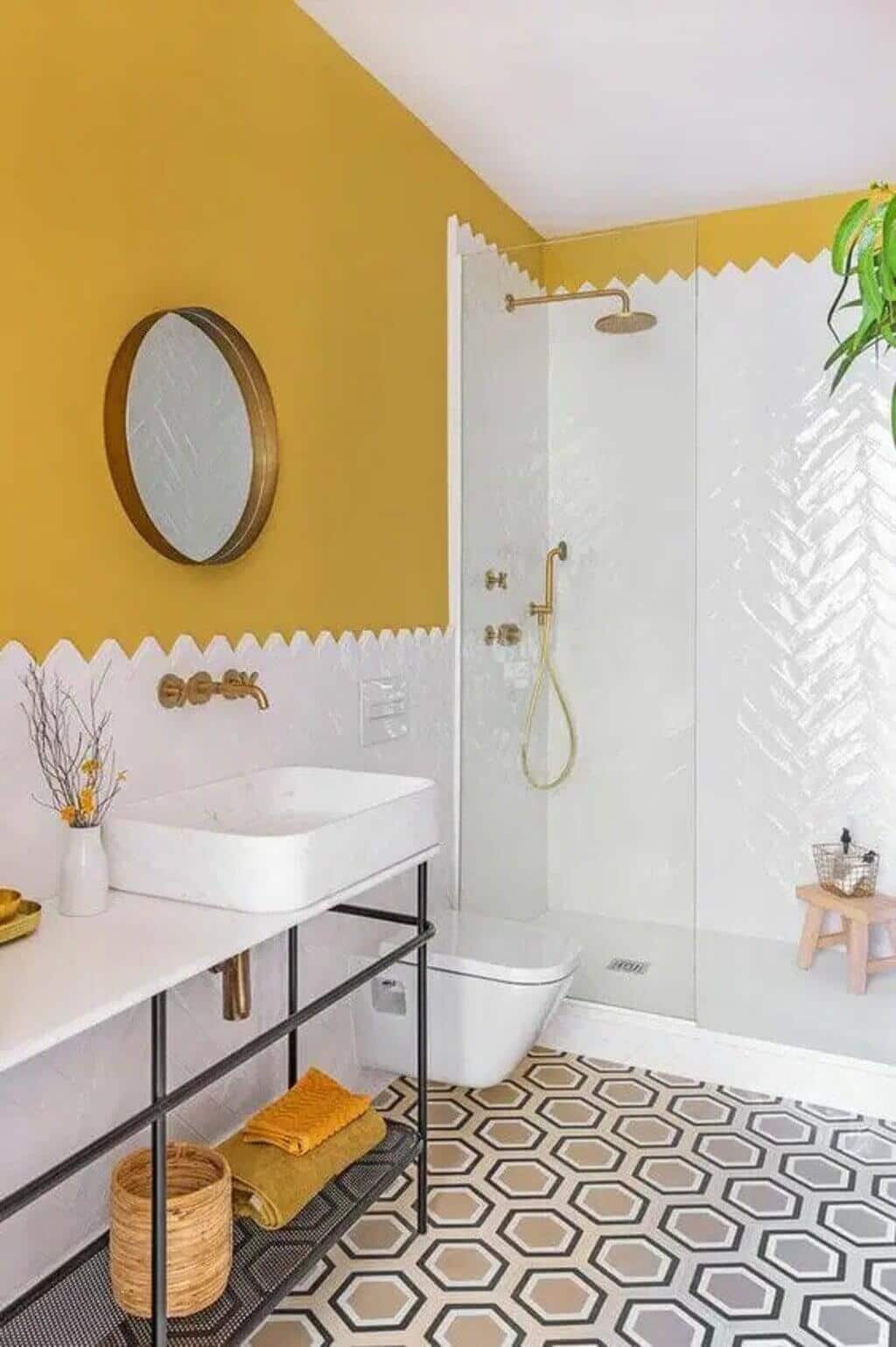 Source: bigbathroomshop.co.uk
2. Breakfast Room Green
Source: bigbathroomshop.co.uk
3. Ash Gray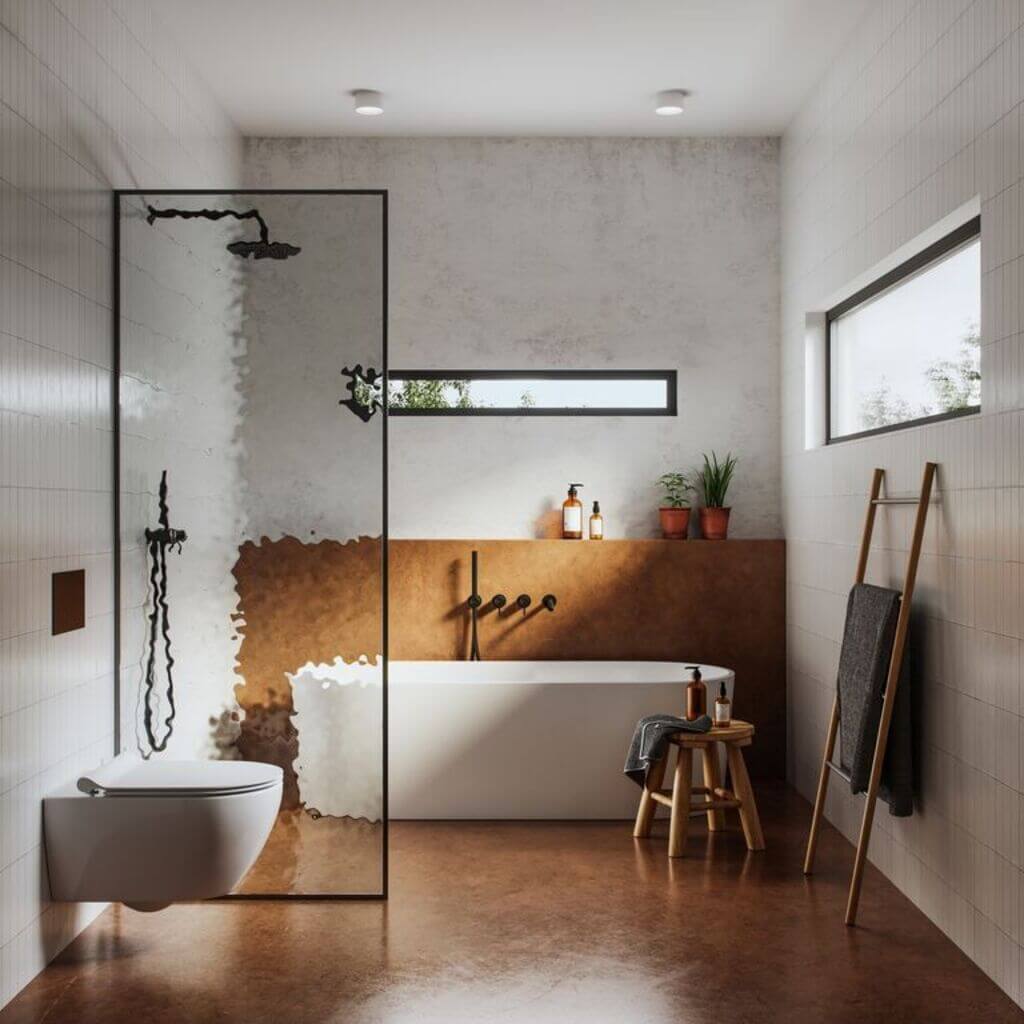 Source: hearstapps.com
4. Moody Charcoal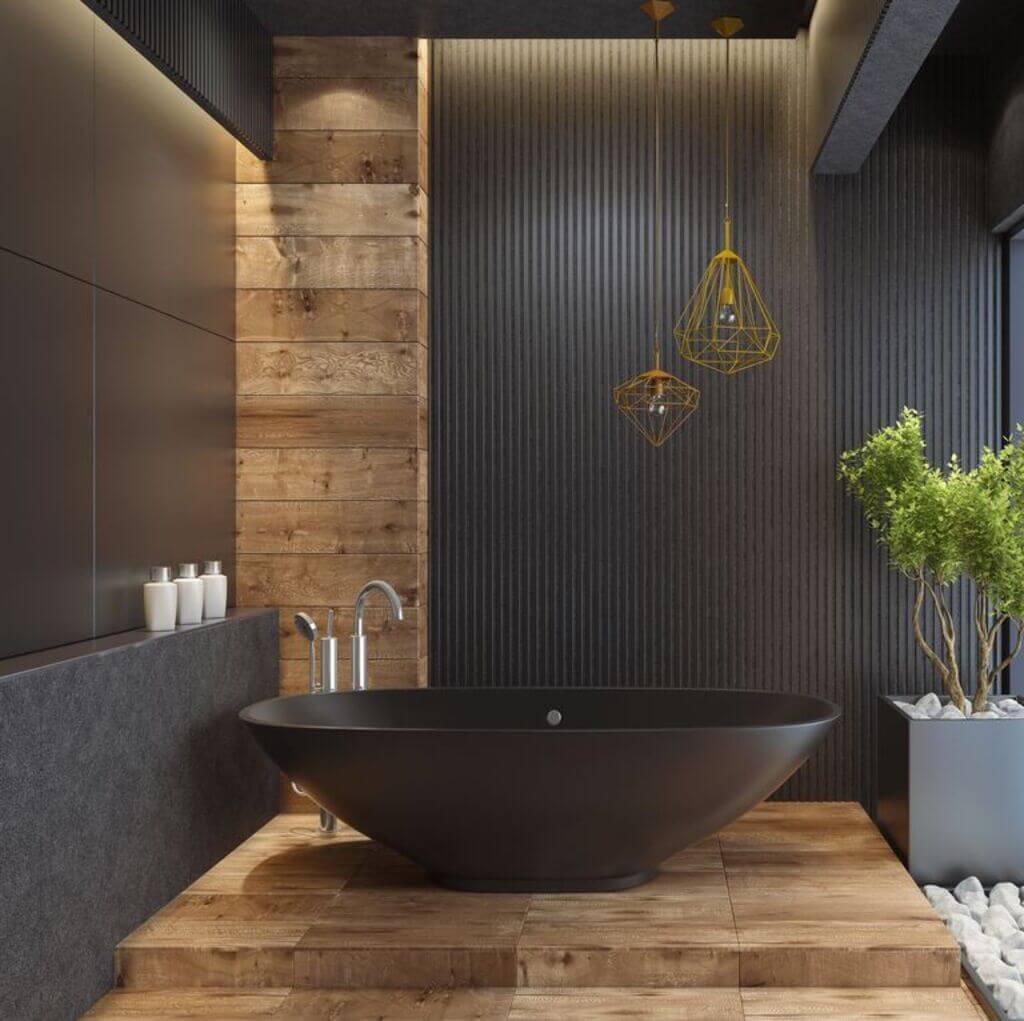 Source: hearstapps.com
5. Navy blue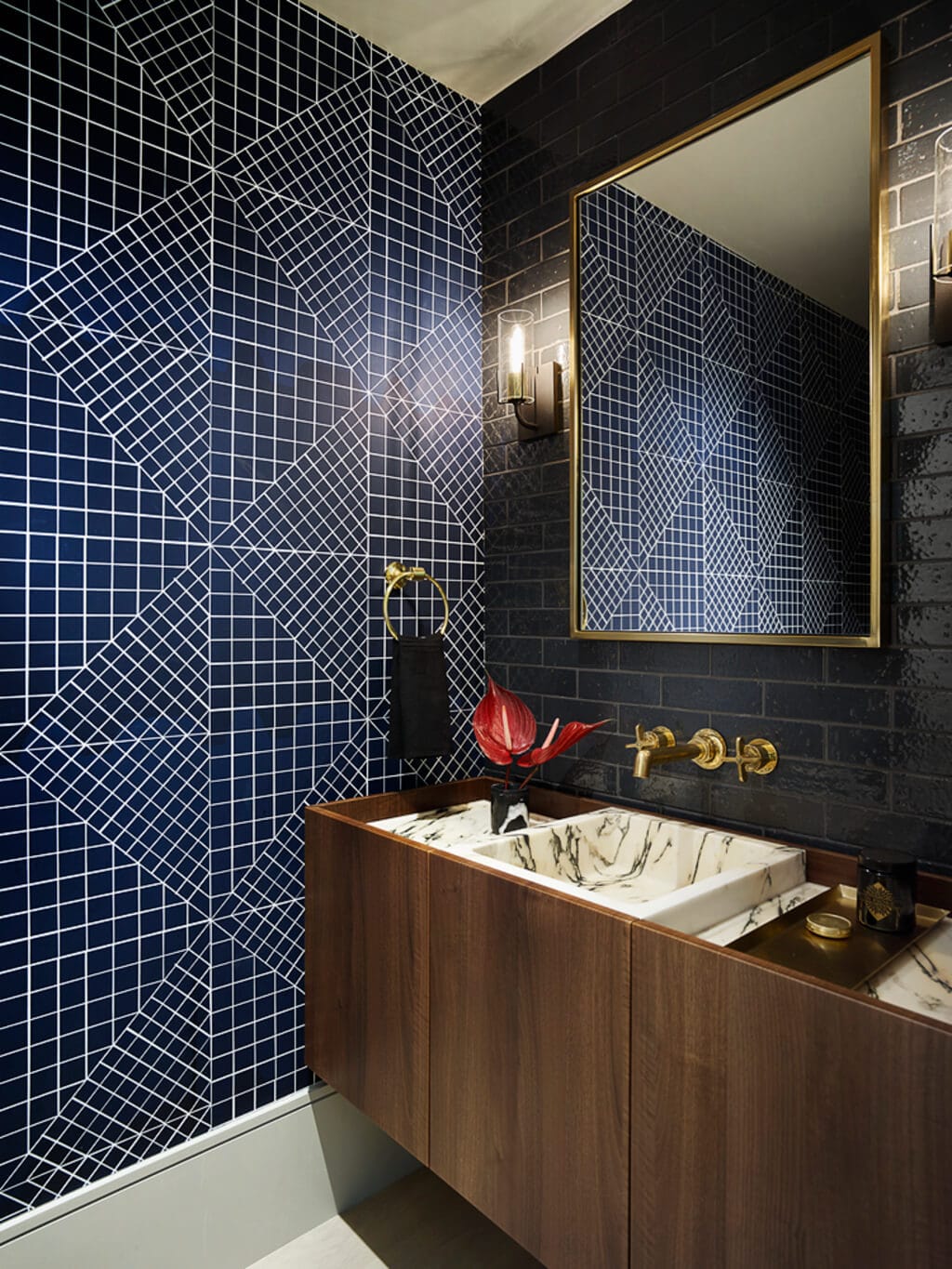 Source: luxesource.com
Here are some more best bathroom trends 2022 ideas that you'll be seeing this year: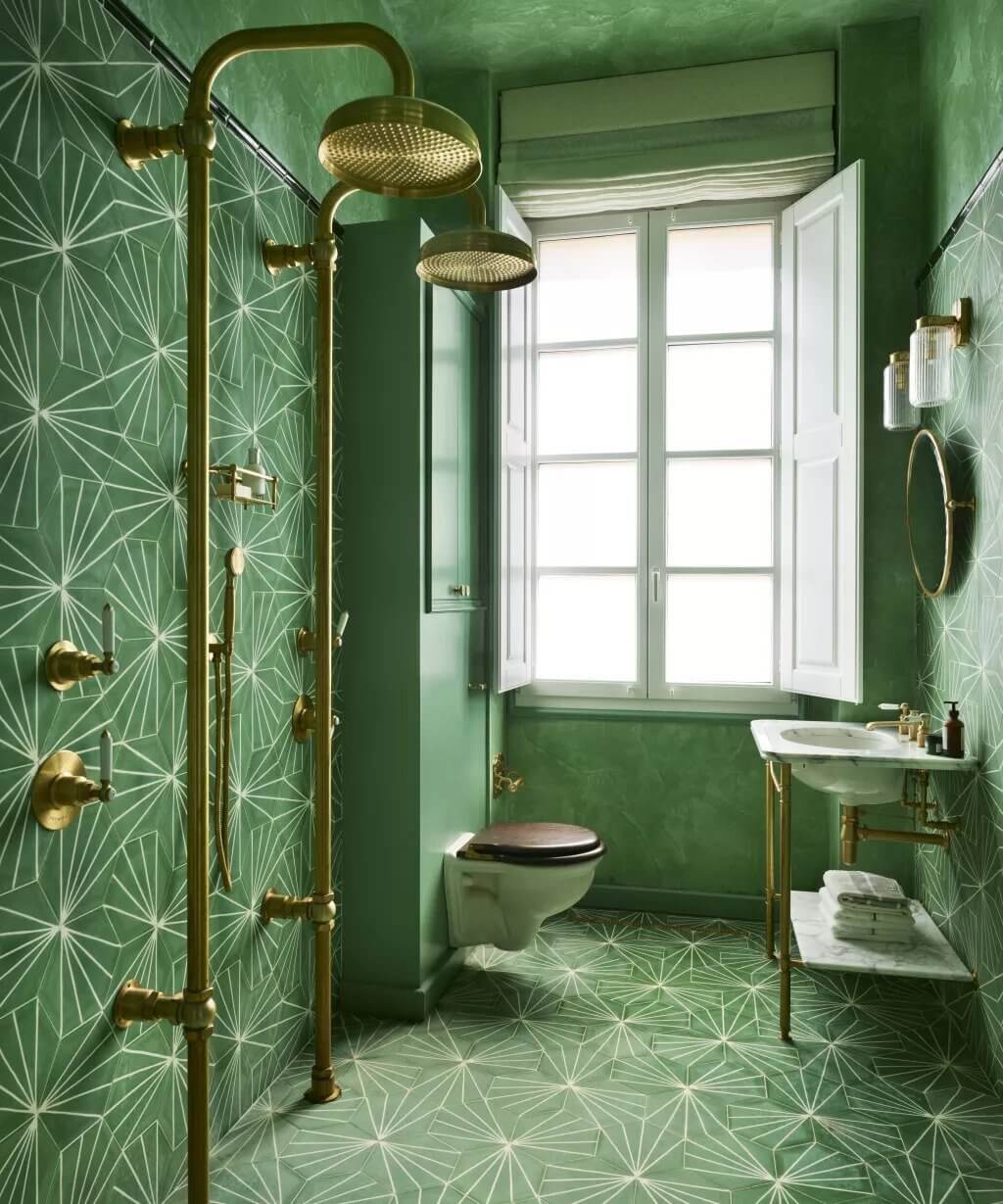 Source: futurecdn.net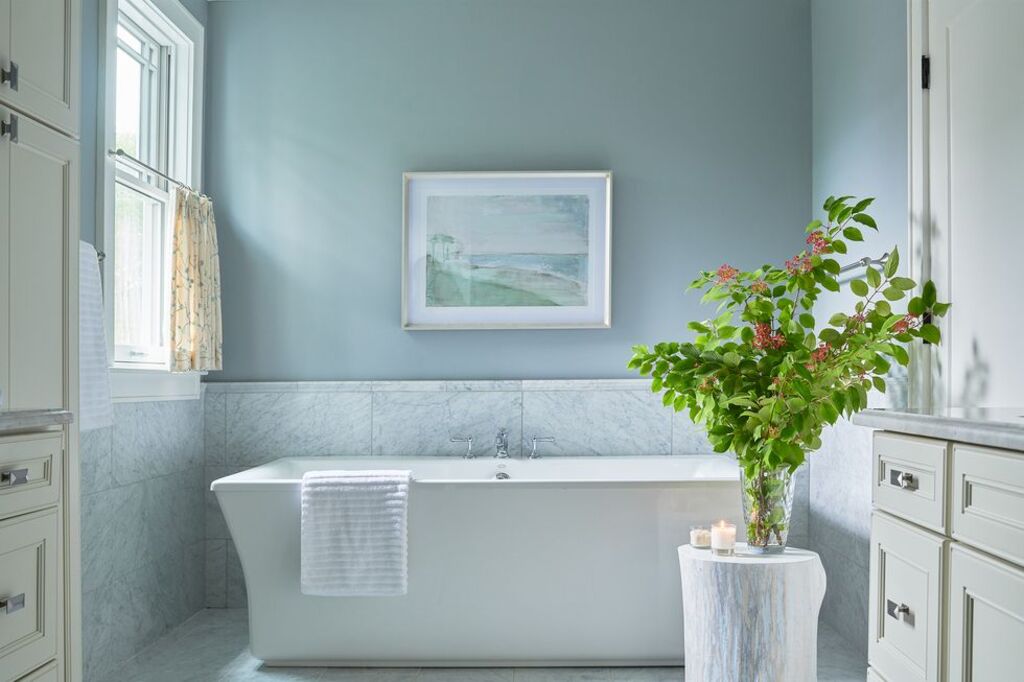 Source: hearstapps.com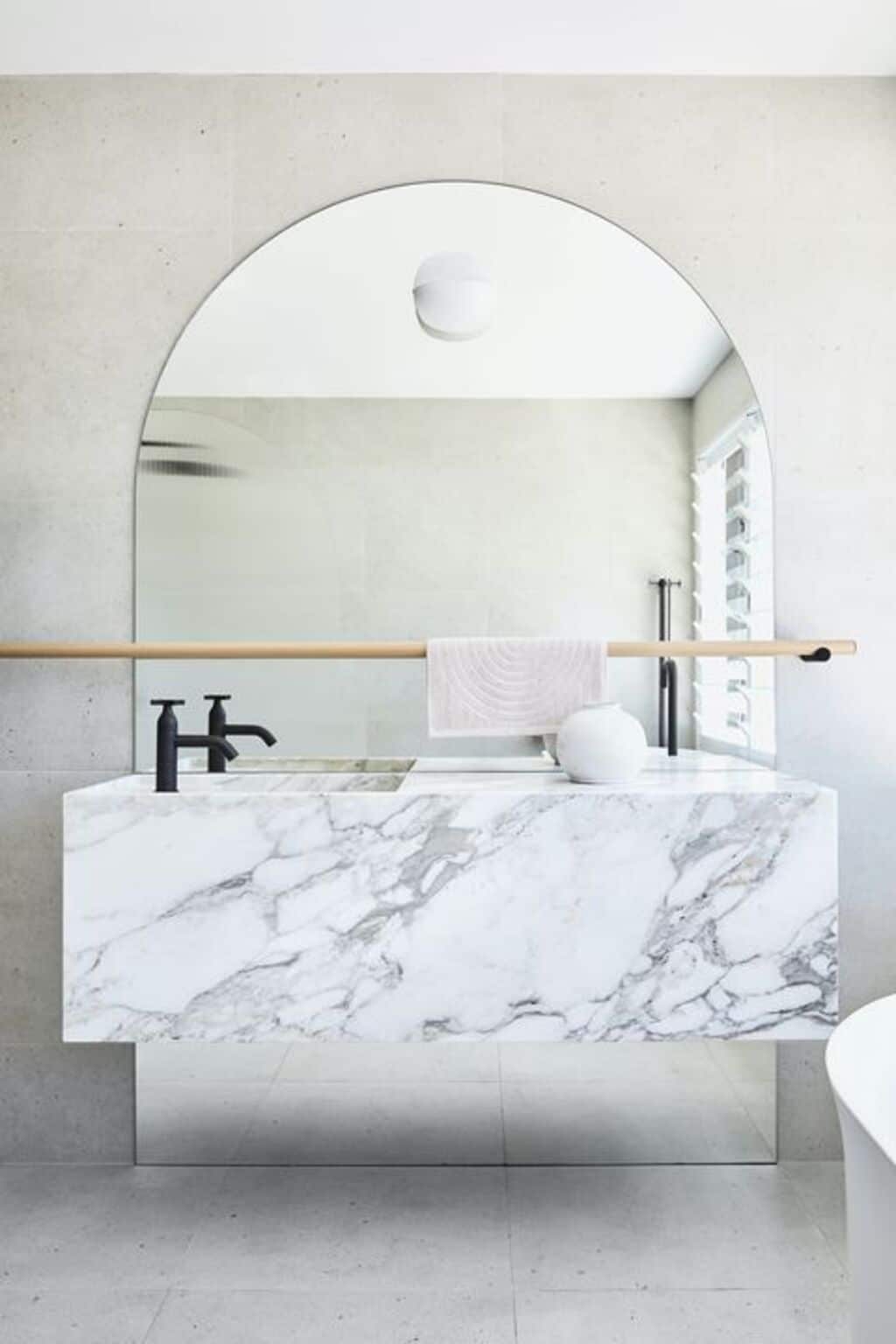 Source: hearstapps.com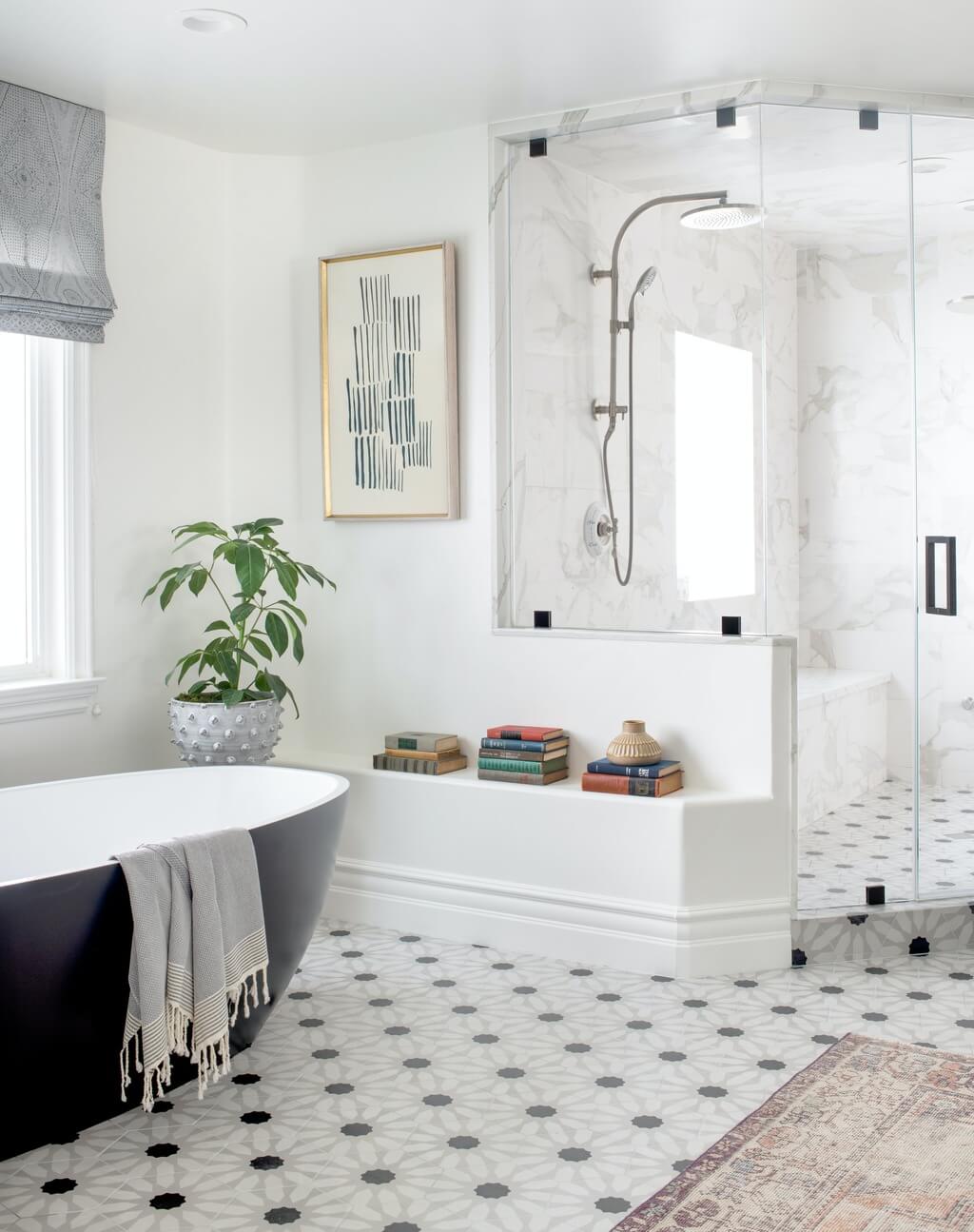 Source: imgix.net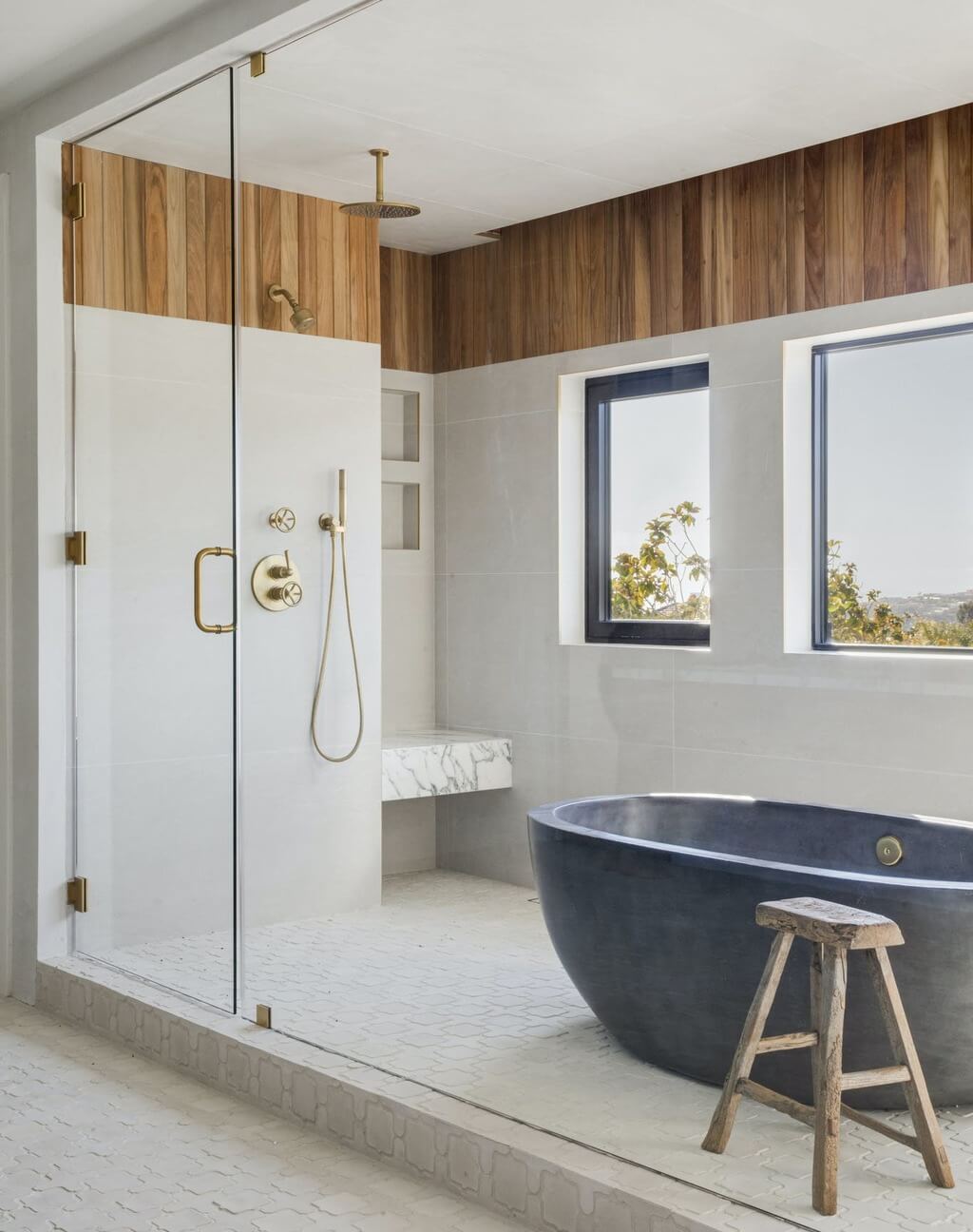 Source: imgix.net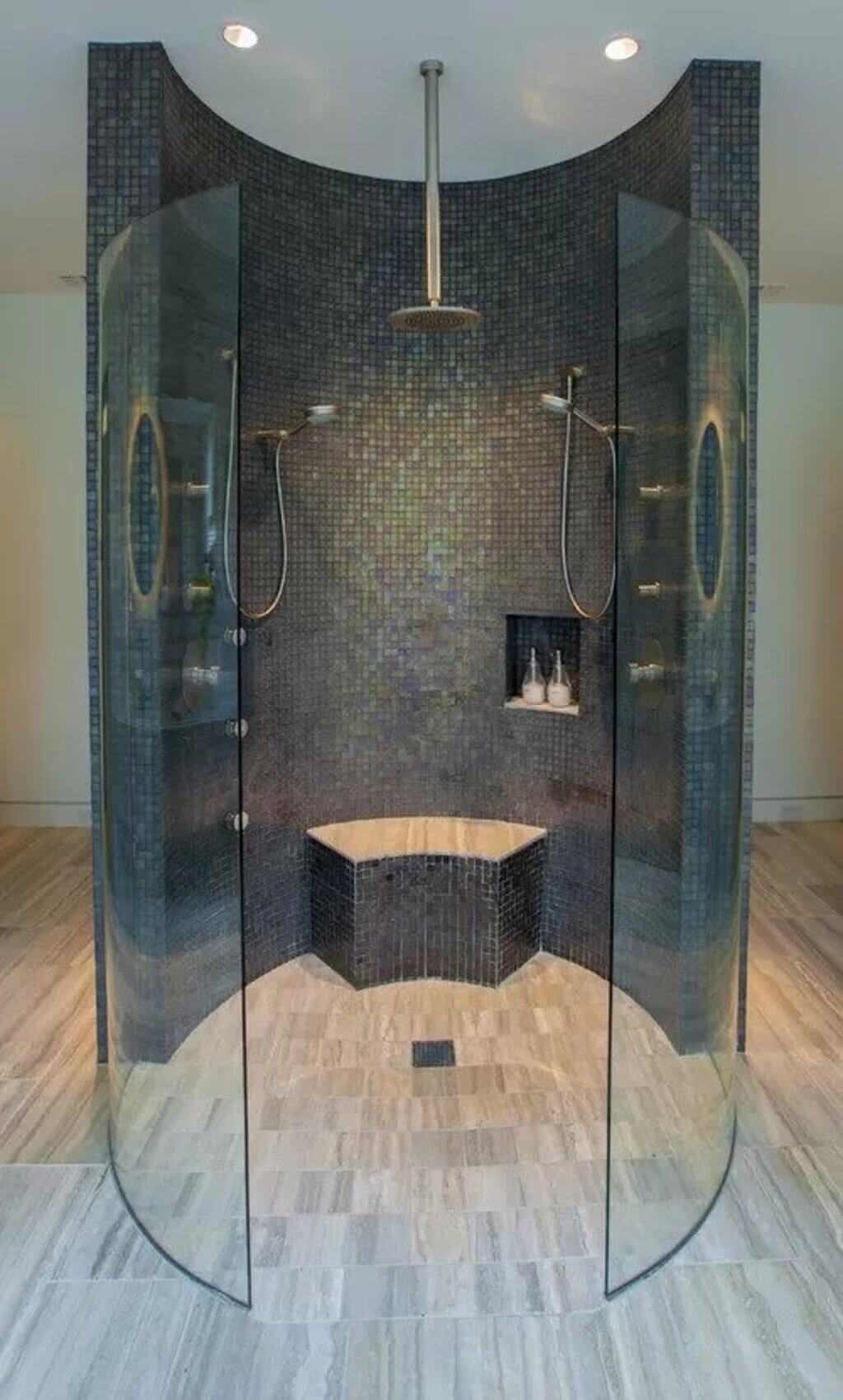 Source: thespruce.com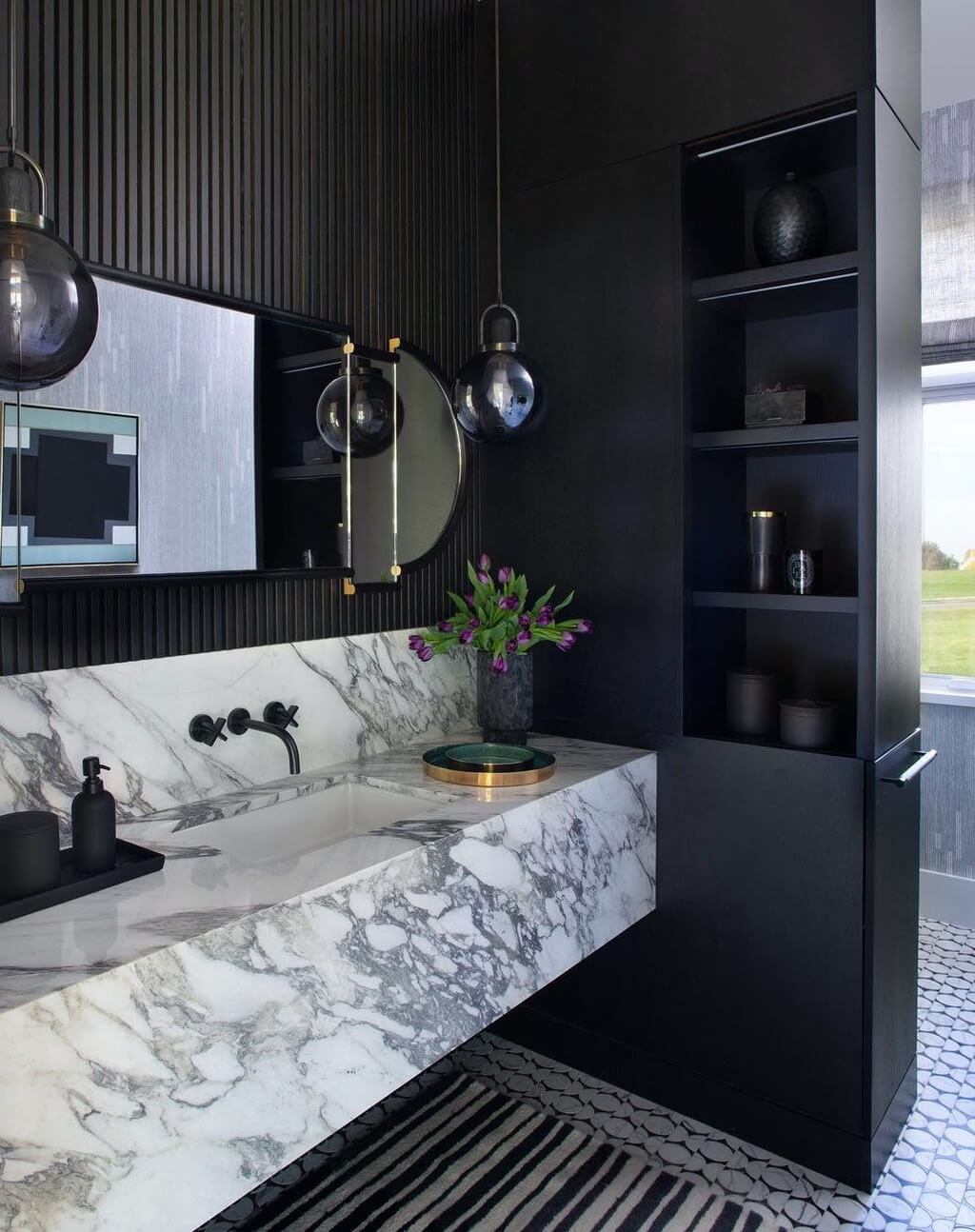 Source: imgix.net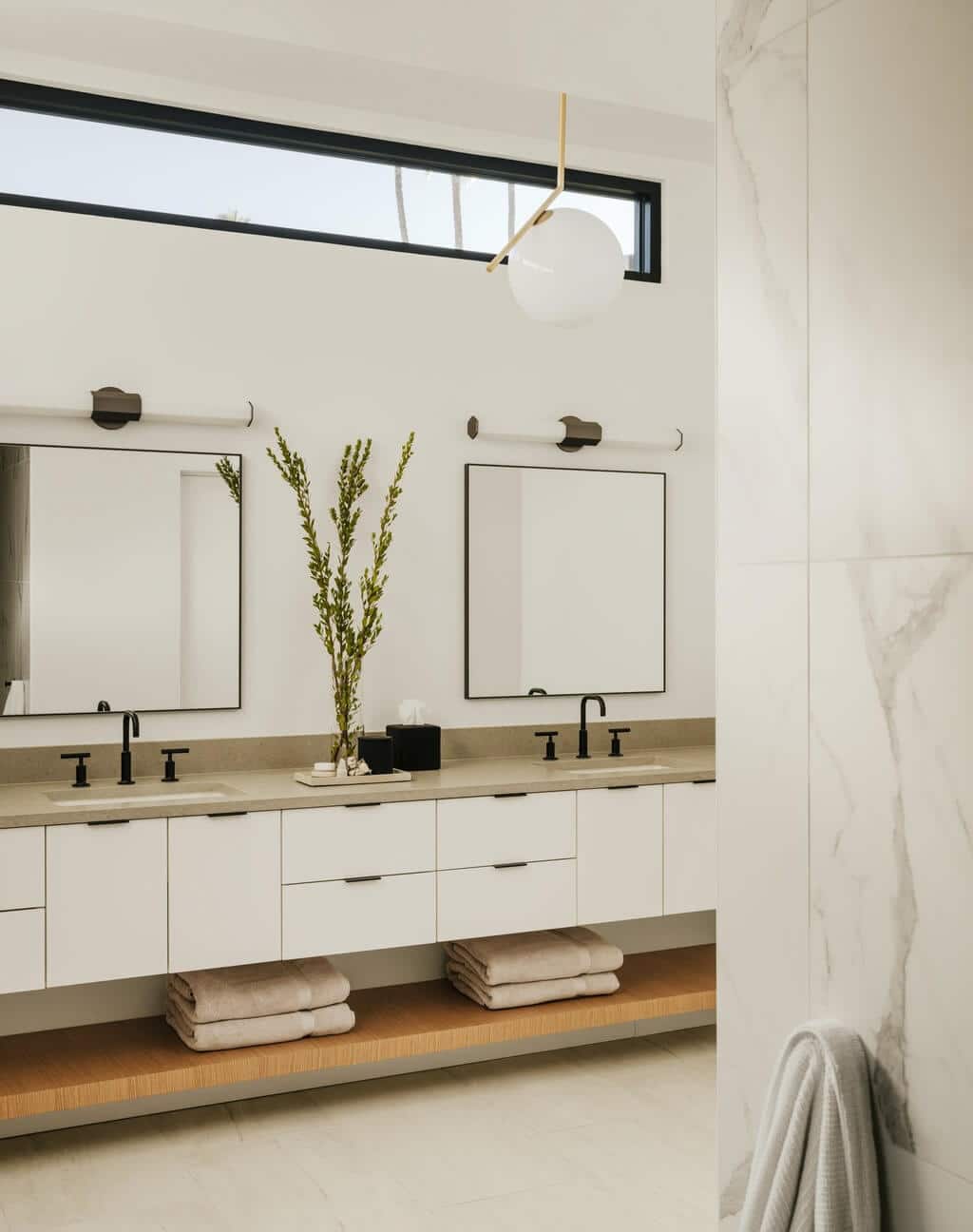 Source: purewows3.imgix.net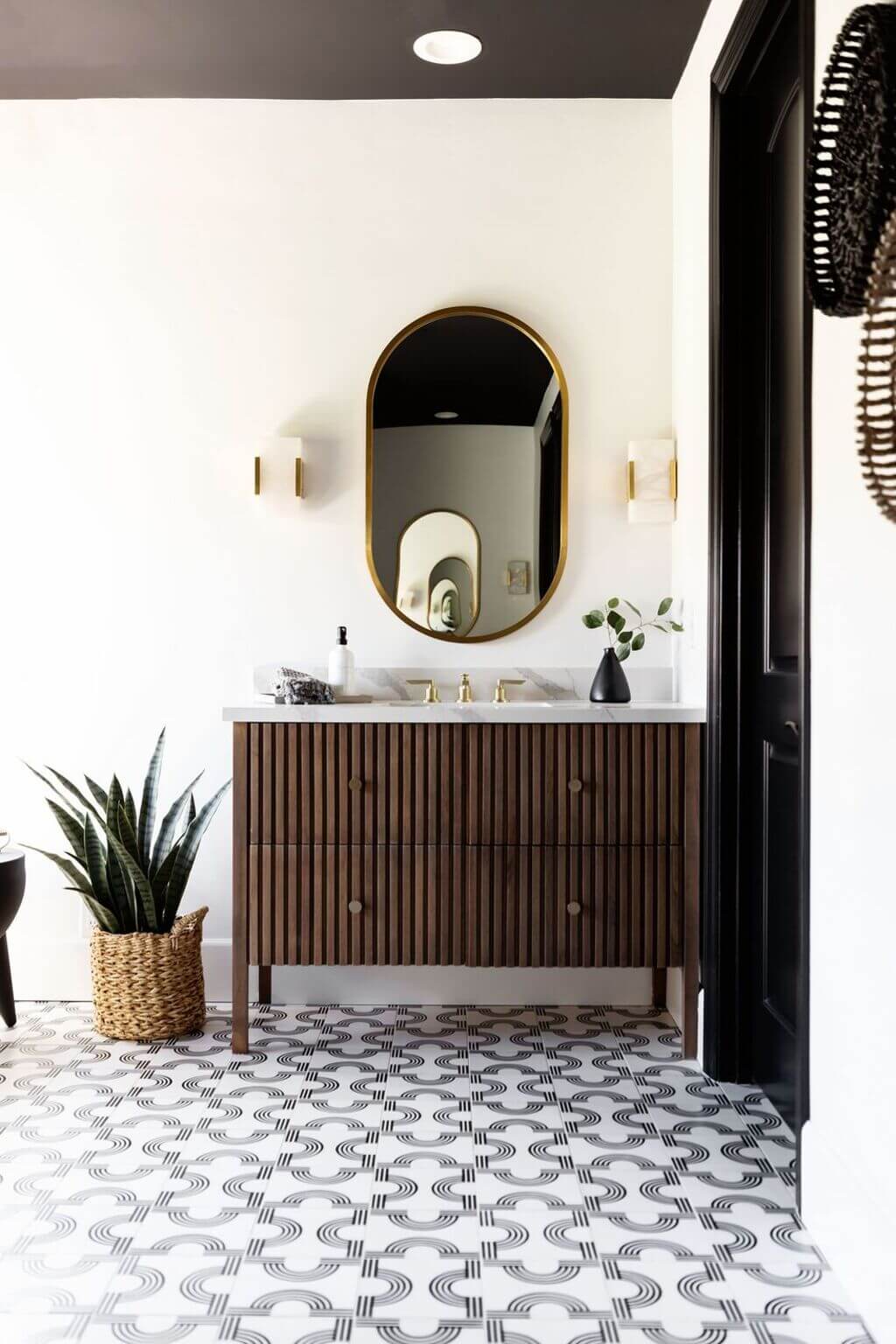 Source: hearstapps.com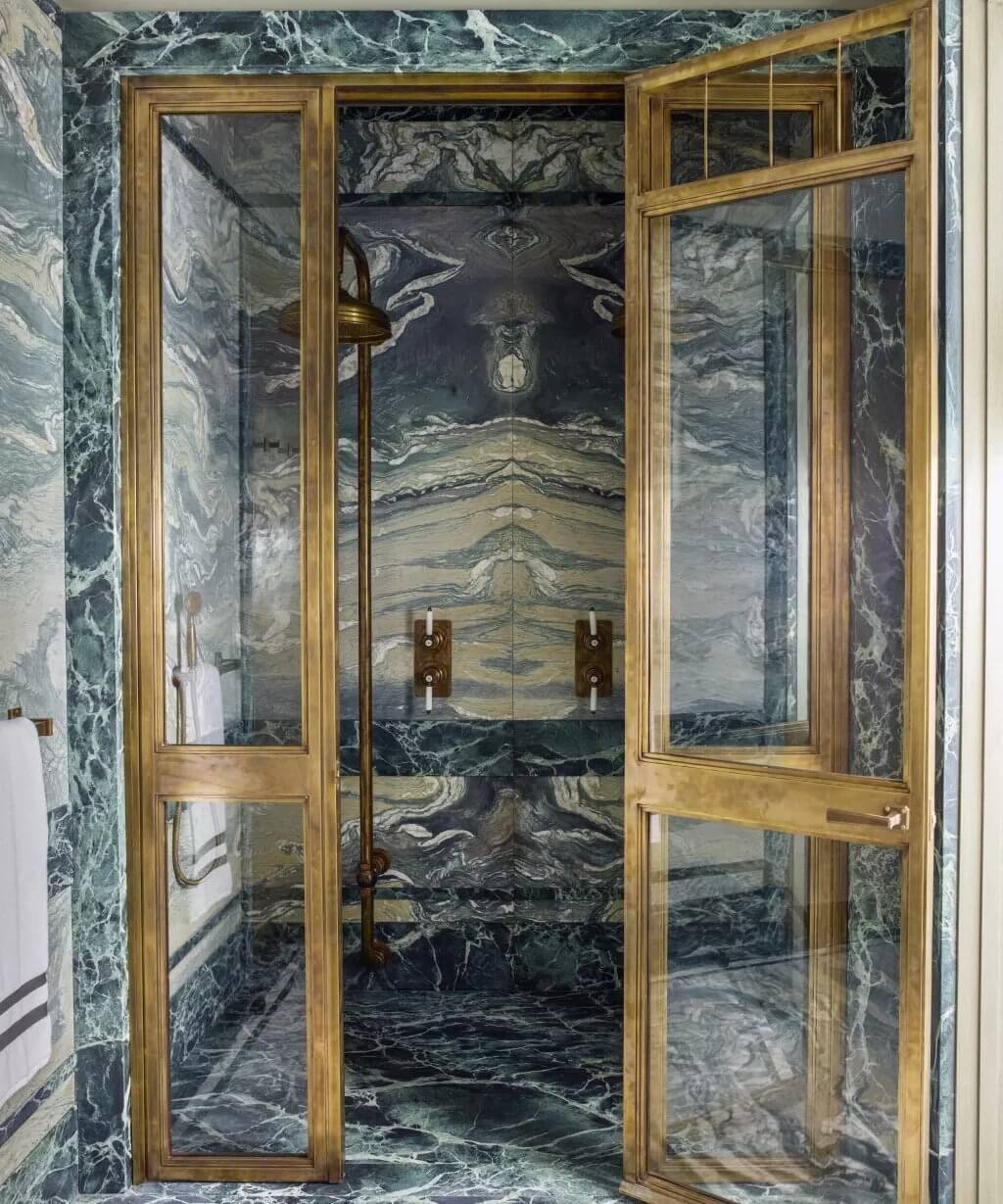 Source: futurecdn.net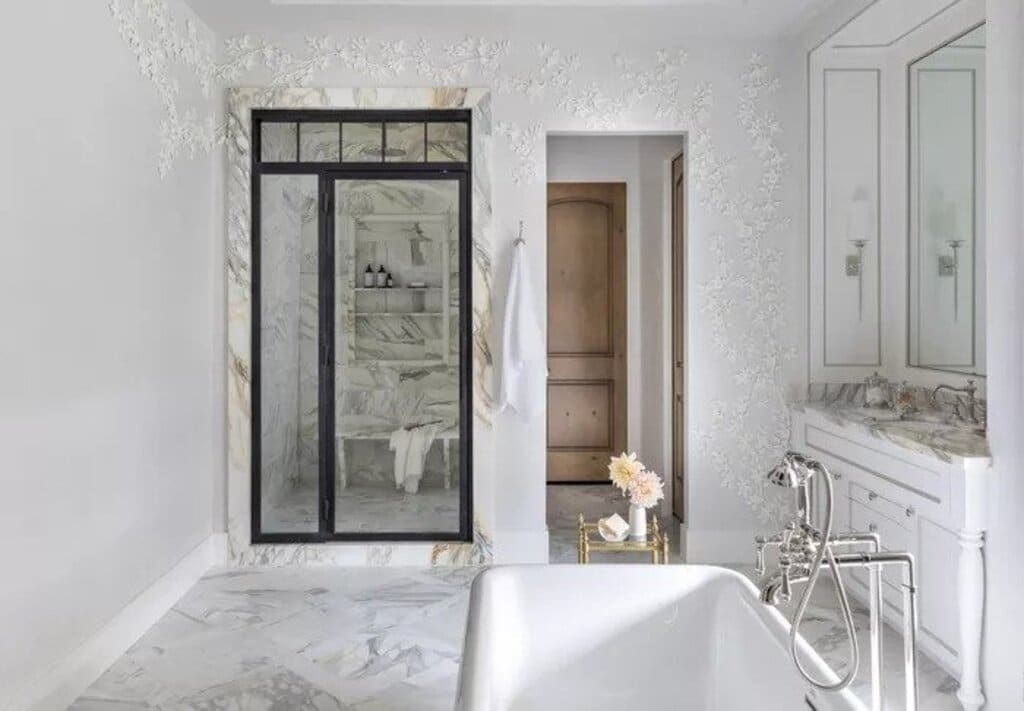 Source: thespruce.com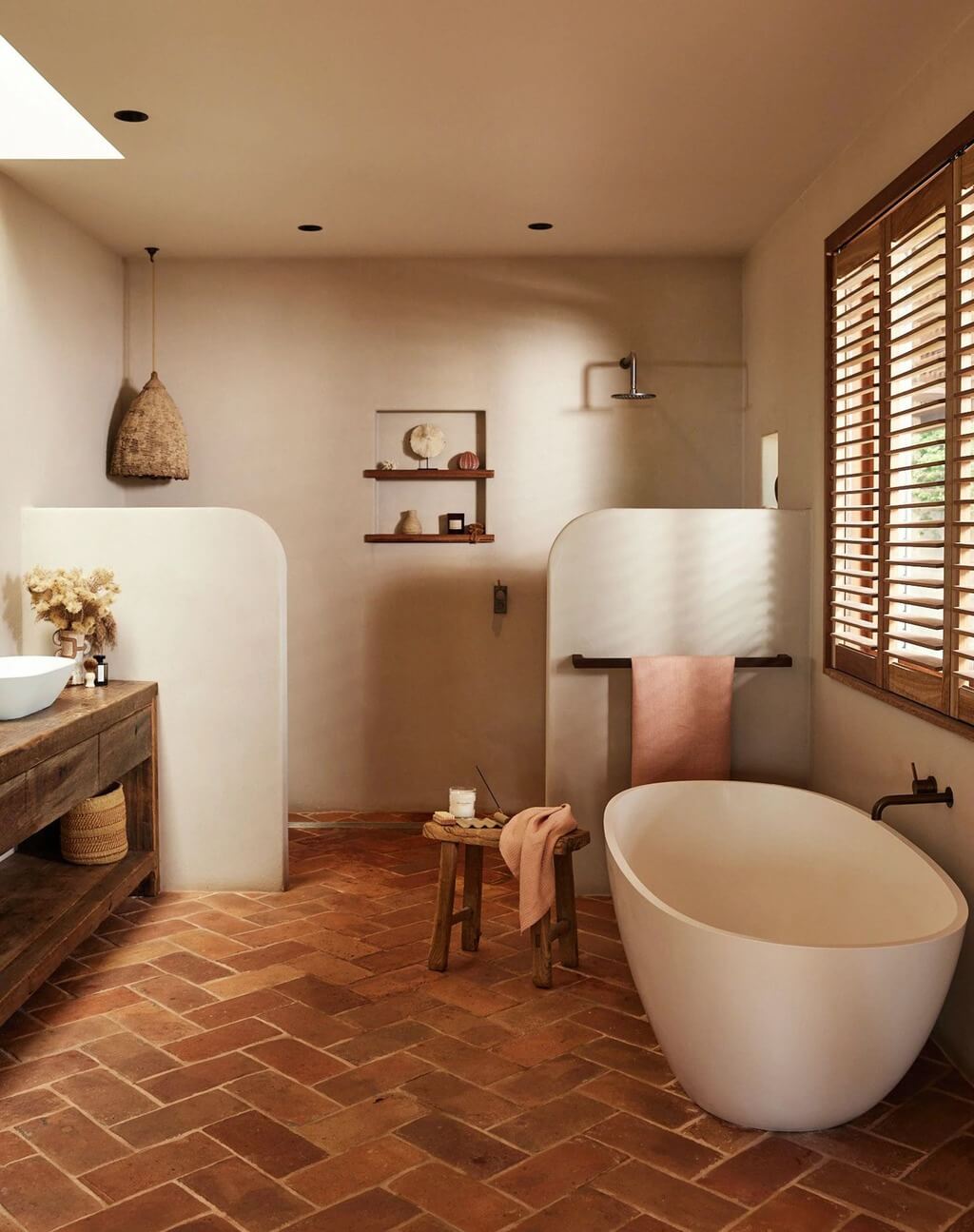 Source: purewows3.imgix.net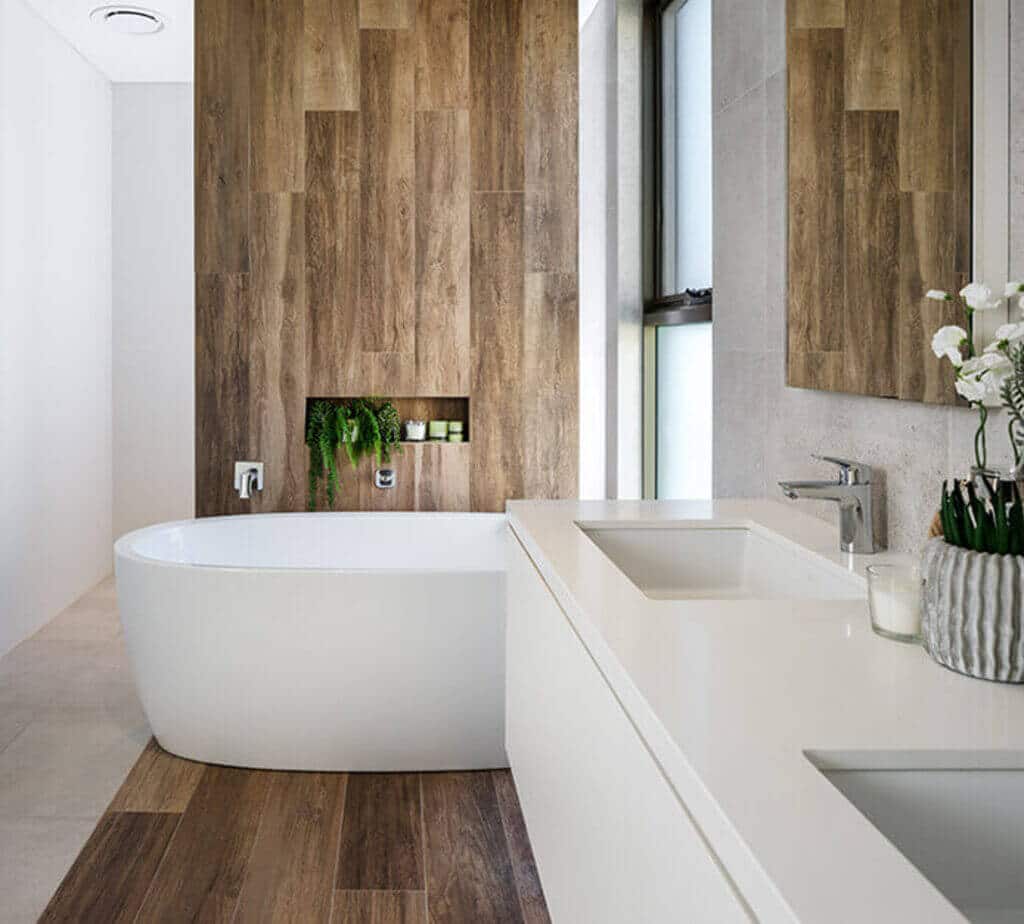 Source: brindabella.net.au
The Bottom Line
So, which bathroom trend of 2022 are you the most excited about? Whether you're just upgrading a small part of your bathroom or renovating it entirely, you can apply these modern bathroom design ideas and follow the latest trends. You'll surely have a lot of fun while designing your bathroom, so take your time and research well before finalizing the design.  
This is all about the upcoming bathroom trends 2022. I hope this guide has helped you to get to know deeply about the new interior design trends for the bathrooms. So, if you find this blog informative, share it with your family and friends.  
To know more about interior design and architecture trends, read our previous blogs on Living Room Trends 2022 and Interior Design Trends 2022. 
For more interesting home and workplace improvement and styling ideas, explore Architecturessideas.
Follow us on our Instagram page architectures_idea for daily architectural information and updates.