People aim to maintain a clutter-free, sparkly clean house. Well, who doesn't? The place one goes to after a long and tiring day must be a mellow and comfortable place. Or the place where one invites friends over to hang out and relax should be accommodating and decent. how to deep clean house in detail.

How Do You Clean Your House?
There are several ways on how to clean one's home and on how to maintain its cleanliness. From the methods of cleaning, the tools used and the frequency of cleaning varies and matters.
Cleaning a house depends on how much the extent of cleaning is needed. But it is best that when cleaning a home, it should be free from distractions, that is, wiping countertops, mopping the floor, cleaning the bathroom, dusting off door frames and window panes should be the main focus.
Professionals suggest that it is better to do simple tasks like sweeping the floor, washing the dishes, cleaning the sink and countertops every day, and the complex tasks like changing the curtains and linens, vacuuming, and cleaning the kitchen appliances are done weekly or so.
People have different sets of responsibilities and times of availability. The time to clean and do household chores would depend on these aspects. Some people prefer to do cleaning on a daily basis while some prefer to do it weekly or monthly.
There Are Two Types of House Cleaning: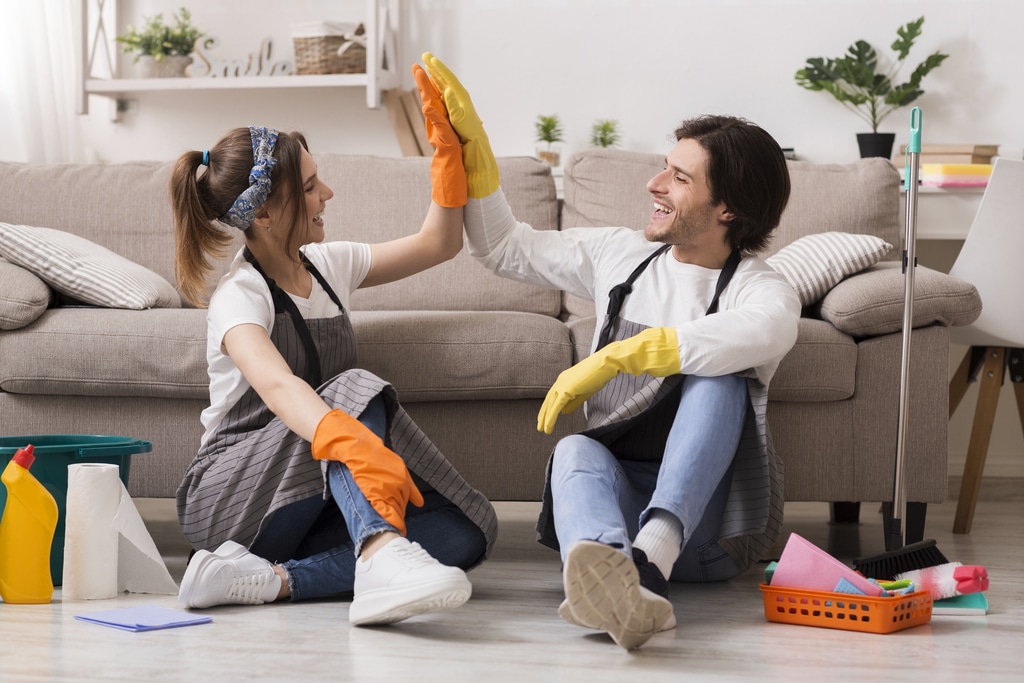 1. Regular Cleaning
In regular cleaning, it is maintaining the set cleanliness. These tasks do not require much time investment and much effort to be completed, but these tasks play an essential role in maintaining a dust-free home.
Regular cleaning is done on a daily basis. With regular cleaning, tasks are done -little by little – starting with making one's bed after waking up every morning, cleaning the mess as it happened, putting away everything after it has been used, and so on, which will help maintain a clean house.
2. Deep Cleaning
With the name itself, deep cleaning removes deep build-ups of dirt and soils that can't be cleaned or removed in regular cleaning. It is a detailed and systematic cleaning process, like cleaning the window panes, cutting through grimes that build up in between floor tiles, and many more. It tends from the exterior to the interior parts of the house.
Deep cleaning the house is usually done monthly, every six months, or even yearly. It is an extensive type of cleaning; thus, it is done whenever ample time can be afforded and needed. An example is when hosting an event on one's abode or inviting or expecting a guest.
With all the errands and work responsibilities, it is almost impossible to maintain the house's cleanliness. It is a tough challenge. The good thing is that there are these types of cleaning. People can somehow manage how to clean their house despite their loaded schedules.
Especially with busy people, they only have time to clean up the things useful in their day-to-day routines and not caring much about the other parts of the house. Thus, it is one way or another, expected that dirt may pile up, laundry stack up, and linens and curtains soiled and covered with dust.
However, deep cleaning a house is a must when hosting an event or inviting friends or guests over. Who would want to have guests over a poorly cleaned, dusty home, right?
Deep cleaning, as described, goes a long way. It is from tidying one's bed, arranging the receiving and living rooms, cleaning the kitchen and the dining room to changing the bed linens and curtains perhaps, vacuuming the carpets, scrubbing the floor tiles, cleaning the windows, and a lot more.
How Is Deep Cleaning Done?
Bedrooms are one of the most used parts of a house. It is where people relax and spend most of their leisure time. Although you can keep bedrooms clean daily with regular cleaning, there are parts of the bedroom that still need detailed cleaning. In deep cleaning the bedrooms, one must consider changing the linens and the pillowcases. Also, rearranging display figurines and other kinds of stuff to be more presentable and dusting off the side tables and cabinets is necessary.
Comfort rooms and bathrooms are also a very used part of a house. Most people hate cleaning bathrooms because of the amount of effort and time it would take to clean and sanitize one. With cleaning comfort rooms or bathrooms, one should consider that for a bathroom to be presentable, it must be odorless, and, as much as possible, toilets and tile grouts be stained-free.
Kitchens should be tidied up and organized. You must clean the countertops well. One should also consider cleaning the kitchen appliances that are commonly used and are likely to be used by guests and visitors, like the refrigerator, coffee maker, microwave, and others. The host should also ensure that the dishes and other kitchen utensils are ready to use.
You should thoroughly clean the living room and receiving room with vacuums and furniture polishers to make them appealing, accommodating, and comfortable for guests. Hosts should see to it also that the curtains are freshly changed, the windows are clean and clear, and window panes and door frames should be free from cobwebs or dust and dirt.
Of course, with lots of changing of linens, pillowcases, mats, and curtains, come to a pile of laundry. One should ensure that these laundries are done before the guests would arrive. Others consider availing of laundry pick up and delivery service for ease and convenience.
Final Thoughts
With a cleaning routine this detailed and complex, it is evident that one should have enough spare time for all these tasks. Others who cannot afford to maintain a clean house would hire a maid service to deep clean their homes.
Yes, cleaning a house is a challenge, but the results pay off with how less stressful it is to live in a comfortable house. Thus, having a clean home is an outstanding daily achievement.