Trending Mid – Century Bar Stools Concepts That Will Never Be Out of Style!
An endured popularity is seen in the Mid-Century Modern Style that just never seems to be dim, generation to generation. And why would it dim, this exquisite style gave us clean lines. Organic curves and a love for different materials that designers even adapt to today. Considered a timeless design style, it is as relevant to any decade as it was yesterday. From Mid Century Bar Stools, Wall art, Artefacts, Decor pieces, Product designs as well as color palette, this style has made its presence in almost every designer's masterpiece at least once. 
So, What Exactly Is Mid-Century Modern Style?
As a result of many economic changes in Germany post the second world war, many Bauhaus architects and designers migrated towards American and started their design movement known as the Mid-century modern. The basic characteristics were clear, it was simple and functional in every aspect.There is some disagreement on when exactly it all started but it lasted roughly around 30 years from mid -1930s to mid -1960s. What stayed was its timeless quality which still appeals to a millennium audience. 
In a decade where trends come and fade in time, mid-century modern has made a rather long-lasting impact on the way we perceive our interior spaces as well as architecture. 
How Does One Distinguish a Mid – Century Modern Piece?
The core features of this style are its understated appeal with a minimal look and clean lines. 
Here are some of the pointers you can keep in mind while guessing a mid-century modern style space or products. 
As form follows function, the functionality of the product overpowers its aesthetics.

Sleek lines that are both organic as well as geometric in form

They have minimal ornamentation

They explore traditional as well as non-traditional materials in their design

There could be a juxtaposition of contrasting materials.
Color and the Materials to Create a Mid-Century Modern Look
The period during the mid – 1930s also had seen an influx of new materials in the market. This gave rise to new colors and a wide range of materials innovation in the field of home decor as well. There was liberal use of wood and non-traditional materials like glass, plywood, metals, lucite, etc. A vast range of color schemes had also entered home decor with neutral tones along with bold tones. Graphic use of black and white color was also seen, making it a staple. 
Mid- Century Modern Designers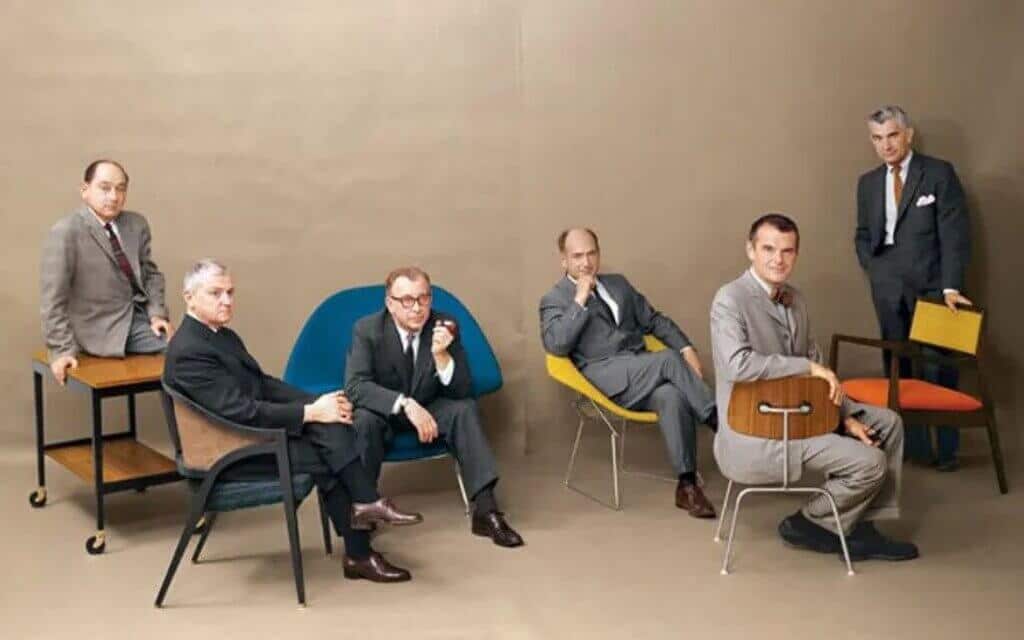 Source: rebelmouse.io
The period also created some of the groundbreaking furniture and product designs that are still used in modern architectural spaces. Furniture pieces were inspired by entire structures and vice versa, this gave rise to an influx of explorations. Herman Miller created modern furniture along with George Nelson and Charles and Ray Eames. Knoll was another brand that created classic furniture of mid-century modern pieces. Chair, tables, mid-century modern bar stools, etc were creed due to their large demand. 
Furnishing Ideas in a Mid Century Modern Home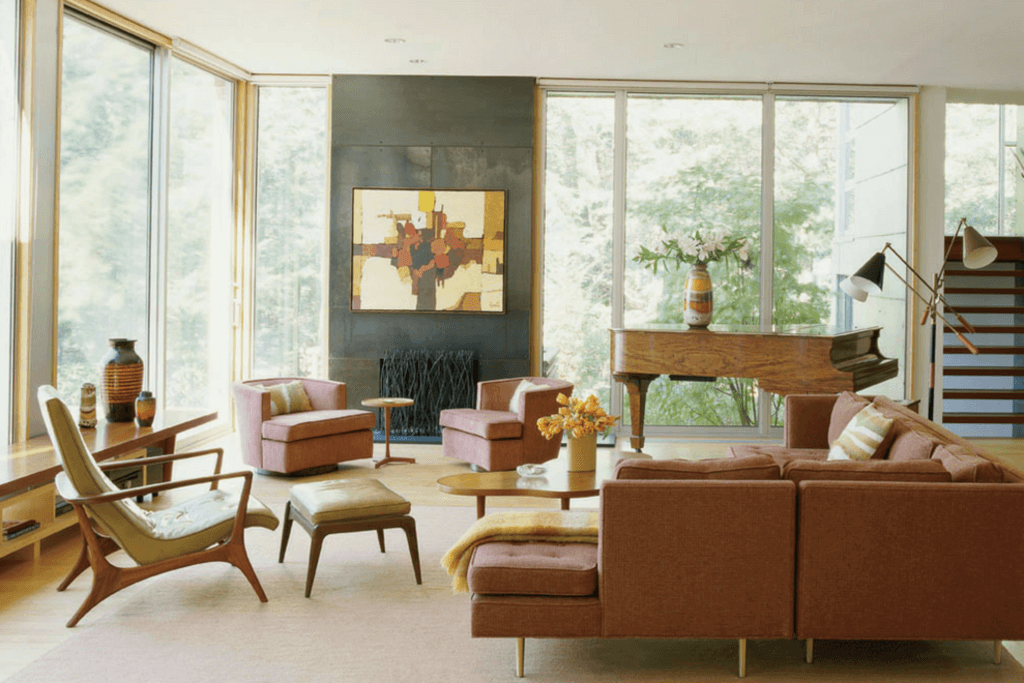 Source: pinimg.com
Replicating the period to make your home relevant to their design is nowhere the right way to do it. The key here is to rethink the mid-century modern style in a contemporary way, thus blending both to form a new age space. 
Understanding the core features that make a mid-century modern space is important in picking the right pieces for your home. Buying vintage furniture can be a new way to do the same. The main idea here can be to stick to a staple color palette without adding too many colors to authenticate the design more.  
Retailers like Herman Miller, Vitra, Knoll, DWR, Room, and Board, Crate and Barrel, Restoration Hardware, Reclaimed Wood, etc can be good brands to go for while choosing elements for your Mid-Century Modern style inspired home. 
Elements to Curate Your Mid – Century Home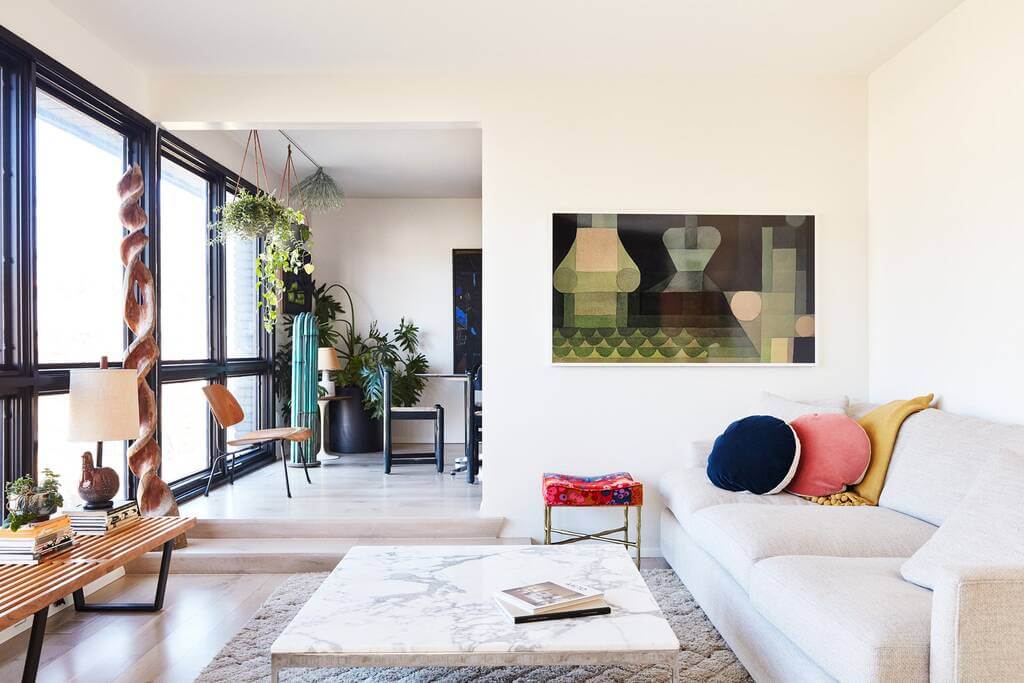 Source: architecturaldigest.com
Summer is a great start to give your homes a new makeover. If you wish to do the same, then you can target by choosing what all existing elements fit your Mid-Century Modern ideas and what does not. 
From artifacts, fixtures, wall art, furniture sets, artifacts, etc, there is a diverse range of materials available to buy from. 
Your living spaces are one of the core spaces to go for a mid-century modern look. From the TV area to the lounge spaces, the requirement for products within this confined space is more than one. Your lounge area consists of a bar cabinet, bar stools along with some lighting fixtures to complete the space. For this, there is a wide range of mid-century modern bar stools available in the market you can explore from. And not just for the bar space, these mid-century modern bar stools can be used all over your house for multiple spaces. 
To complete your kitchen island to use it for your outdoor bar areas or even in your living room while watching television. Plus, this being summer, it's an ideal time to laze around and have some cocktails, which makes these mid-century modern bar stools and assets to have. And that's the very reason why we are obsessed with it! 
Taking inspiration from the Mid-Century Modern style, here are some of our favorite picks of Mid century Modern Bar Stools that will never go out of style:-
Source: amazon.com

Inspired by a Hollywood story, the Open Back Swivel Chair is an ideal mid century modern bar stool to go with your decor. The mustard upholstery with the combination of its sturdy arms makes this chair a charming asset to every house's needs. 
Features:-
Comfortable and stylish design with the versatility of the mid-century modern style. 

Durable polyester fabric with swivel mechanism and hardwood base

Foam padding to keep the seat firm

Dimensions: 22″W x 21″D x 37″H | Seat height is 26″.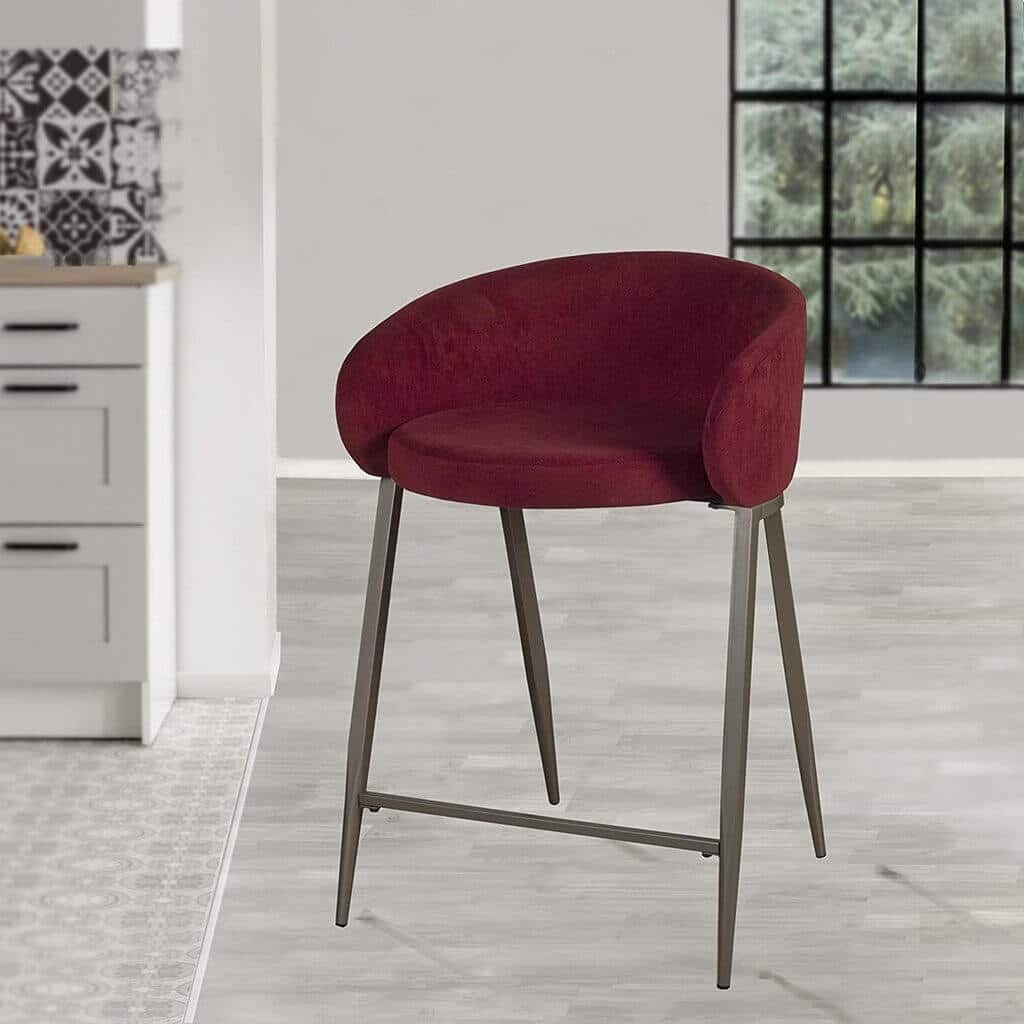 Source: amazon.com

It features a low back along with a foot rail to make the chair more comfortable as well as elegant. The fabric of the seat accentuates the exquisiteness of the chair even more. A mid-century modern aesthetic that will glamour your home decoration most astoundingly. The contemporary round tufted back counter height stool has a plush velvet color which makes it exquisite to the product. 
Features:-
A mid century modern bar stools with durable metal frame 

A front stretcher as a footrest to make it more comfortable

Backrest to make the seating more comfortable
Low Back Kitchen Bar Stool – Sleek and Subtle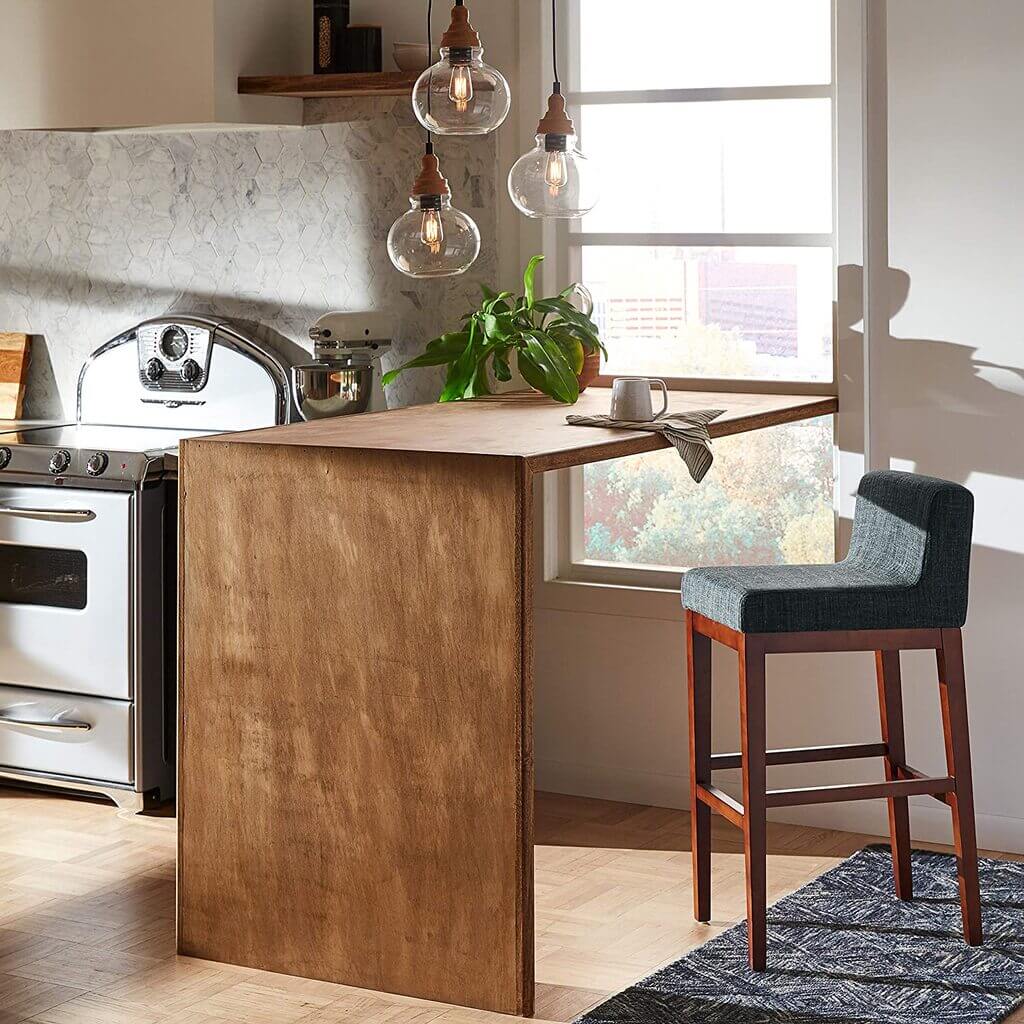 Source: amazon.com
These mid century modern bar stools are known for their sleek and subtle designs. The chair has glamorous yet subtle legs that are polished as well as accented which add a mid-century modern touch to the designs.  
This bar chair due to its enhanced aesthetics along with its ease of functionality makes your bar space look appealing. Furniture like these also helps in curating a calm and soothing space that pronounces its sleek yet grand visibility. 
Features:-
A fun bar stool with an upholstered low-back seat. 

It has tall and straight wooden legs. 

Firm padding and a solid wood frame. 

Sturdy and durable design with a pop of color

Foam padding and elastic suspension to keep the seat firm.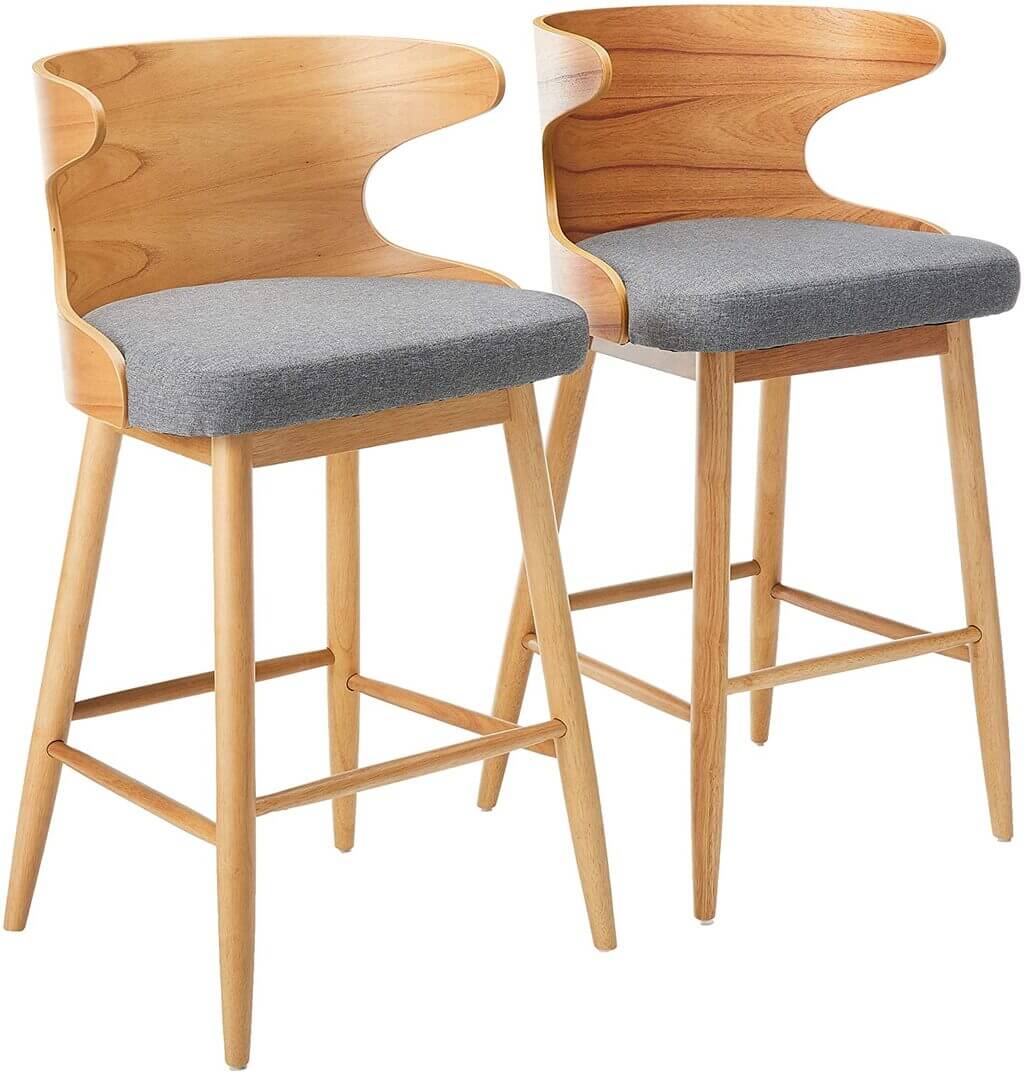 Source: amazon.com

It is a sleek and modern take on looking at mid-century modern bar stools. It has a brimming simplistic charm and is available in a wide range of colors from orange, taupe to a simplistic back and white. If you wish to have an eclectic home with minimalist tones, this chair can be an ideal buy for you.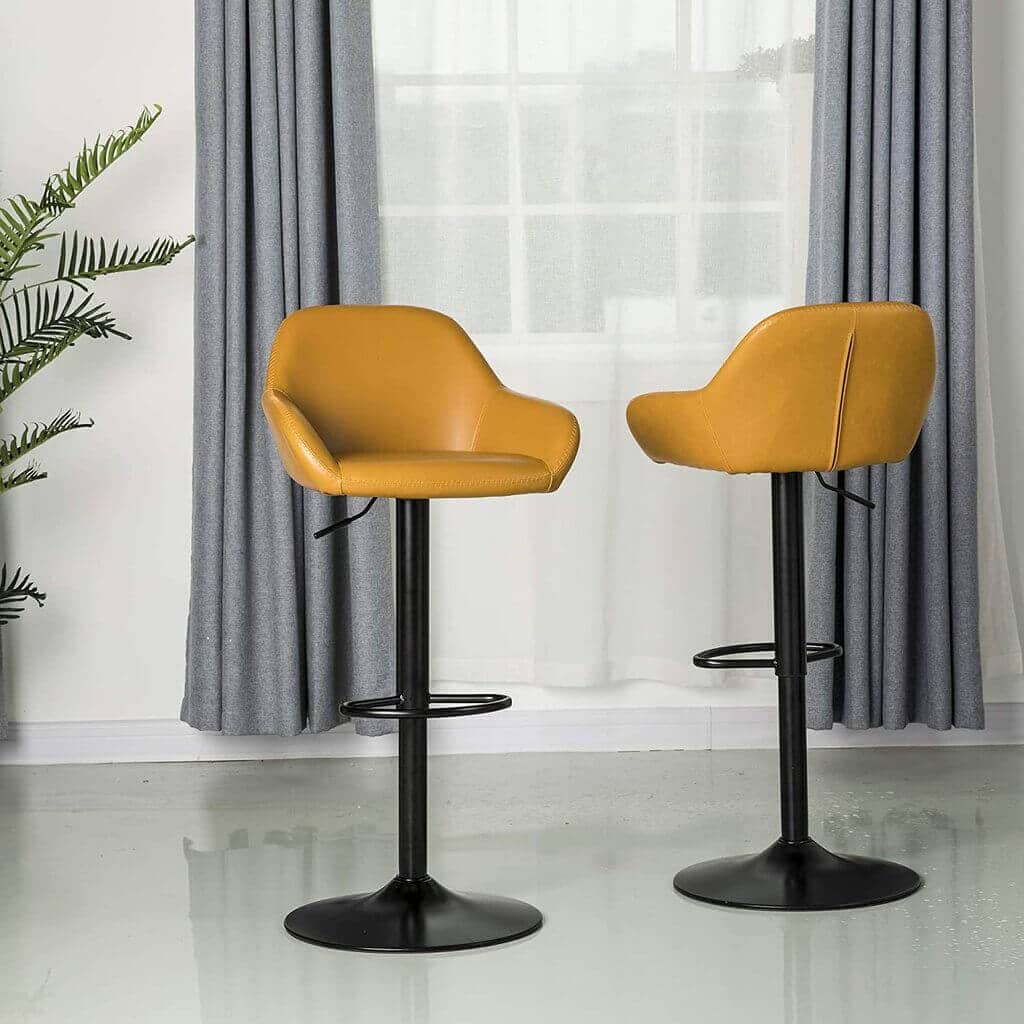 Source: amazon.com

These mid century bar stools bring a retro and rustic vibe to your homes with an innovative yet modern design that is both accented yet sturdy. The edges are clean and sleek with powder-coated metal legs with a slender silhouette. These chairs are perfect for a cozy hangout with your close friends and family members.
Features:-
The product is very easy to assemble. 

It is a lightweight structure so it can be easily moved from one pace to another making it diverse in your home decor. 

The foot rails provide a comfortable space for your legs.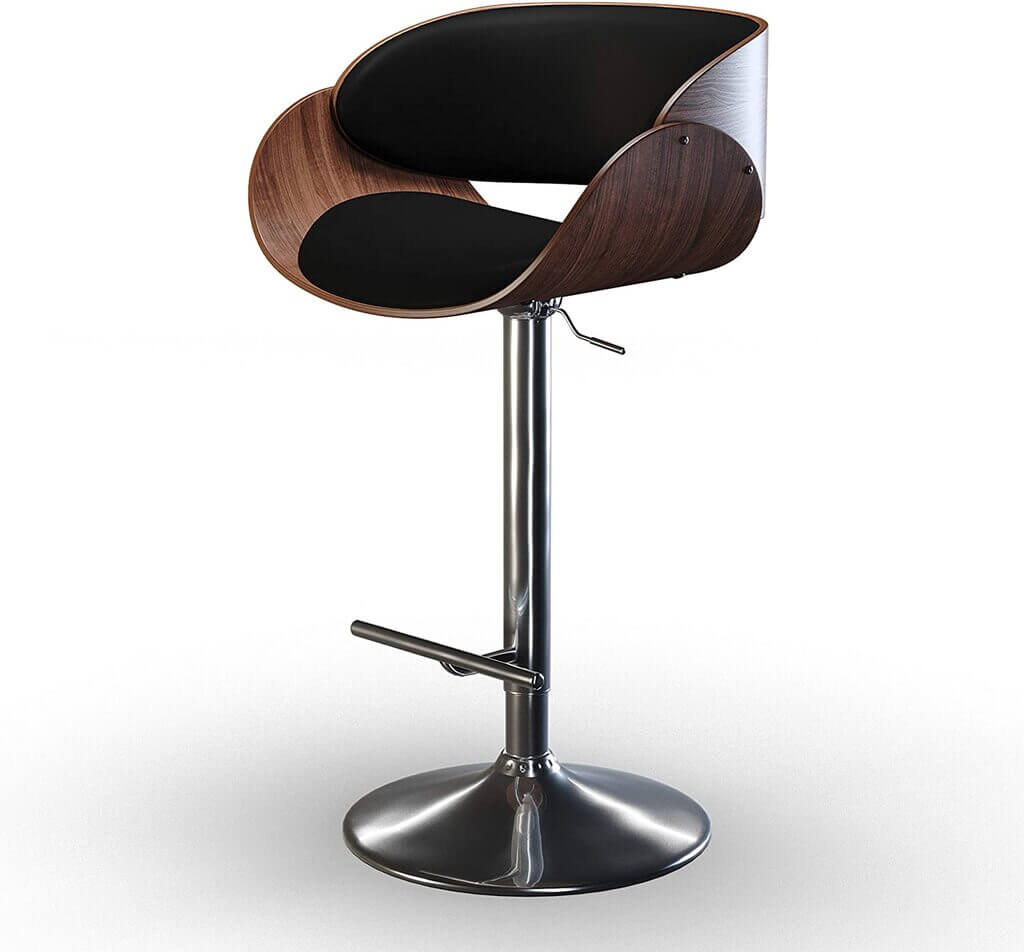 Source: amazon.com

These mid century modern stools have a swivel mechanism with the use of plywood and walnut veneer to create a timeless yet elegant design. The balk faux leather complements the chair perfectly to fit in your bar spaces making it an exquisite choice. It has a multi-functional design which makes it relevant even in the family room, balconies, kitchen spaces, etc.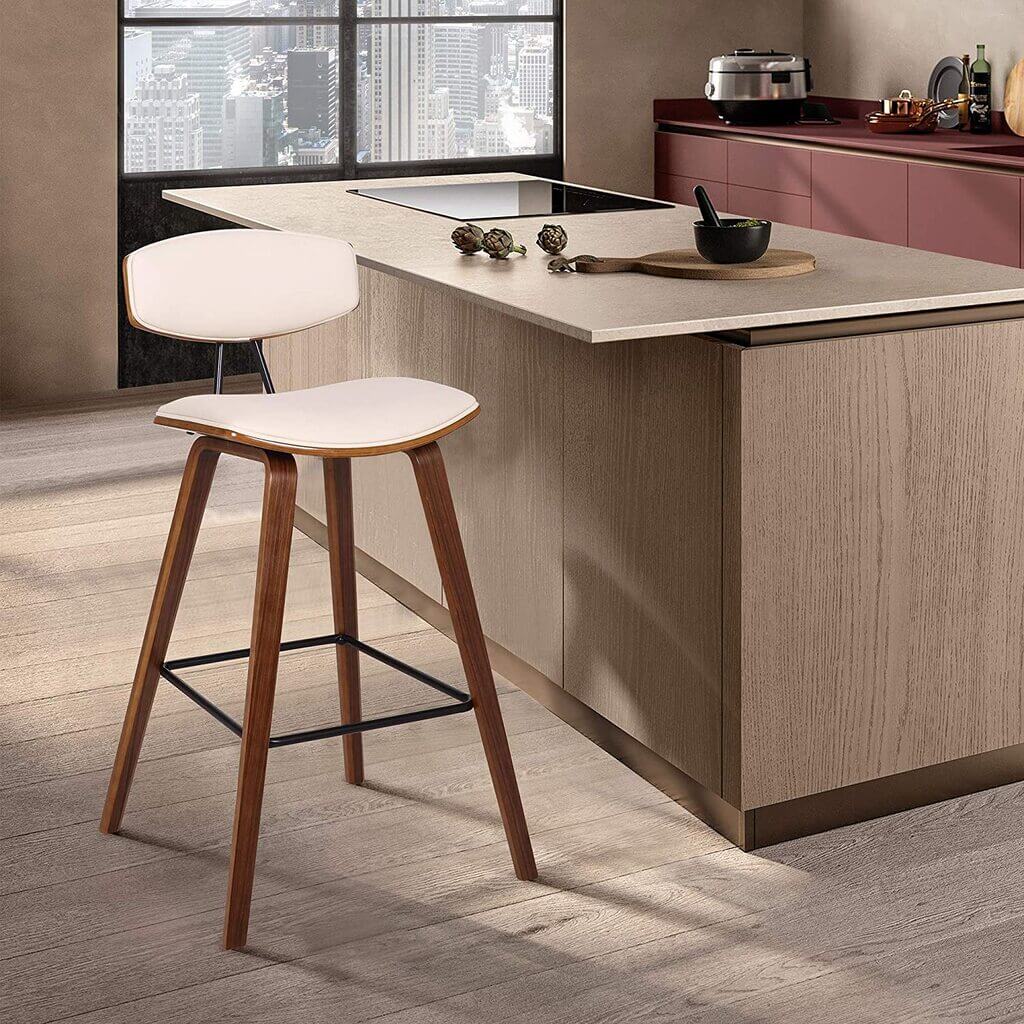 Source: amazon.com

The sturdy design of these wooden finished mid century bar stools is brilliantly accented with clean and sleek features. These features make it a must-buy for your home decor. It is ideal for kitchen, dining, commercial as well as living spaces. The metal and wooden framework provide longevity and durability to the design making it an ideal buy. 
The custom design of

mid century bar stools

that fits anywhere

Grey Faux Leather adds a sense of exclusivity.

A high-density cushion adds comfort and finesse.

Sleek upholstery and clean lines
Also Read: Creating a Bar at Home: 7 Essential Appliances You Must Have
How to Choose the perfect Mid Century Modern Bar Stools to go for?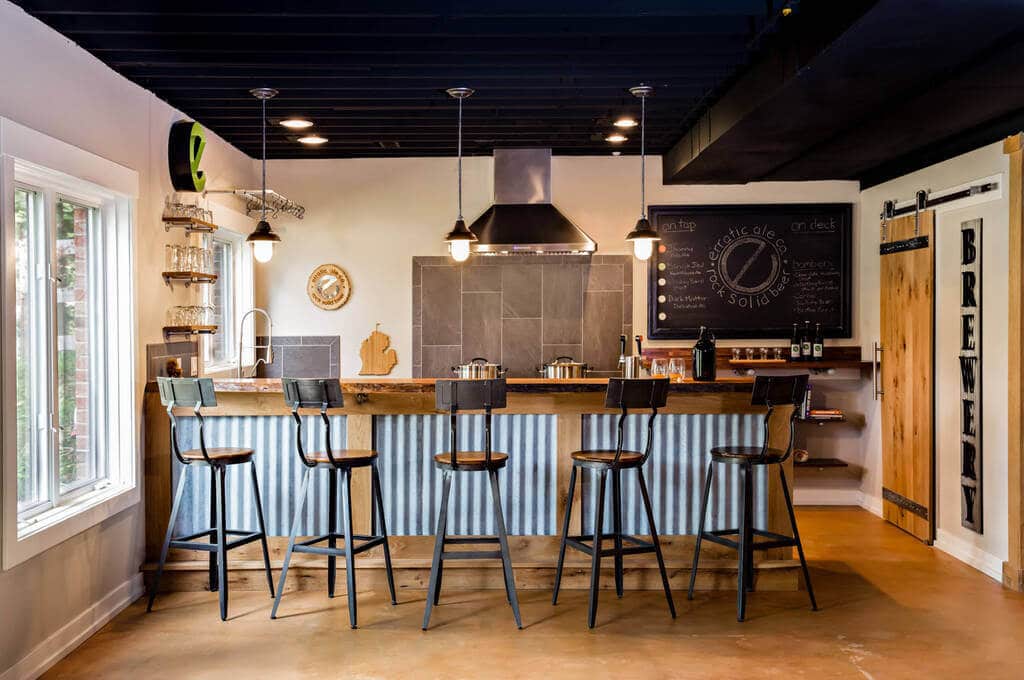 Source: hzcdn.com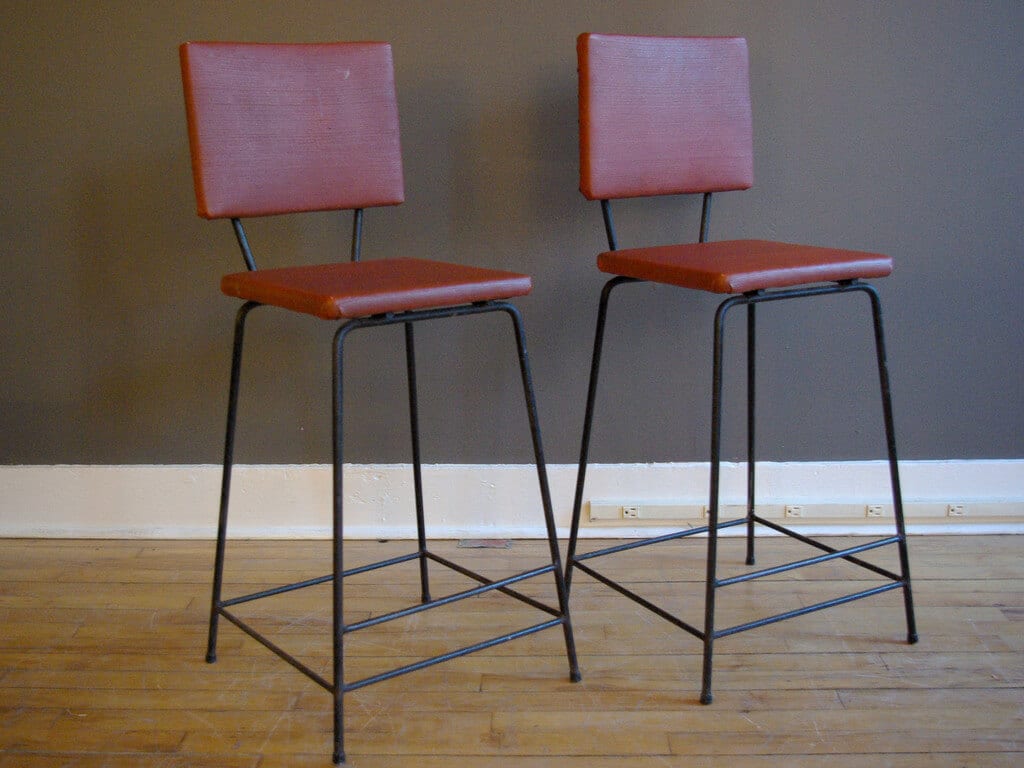 Source: hotelgabrieleroma.com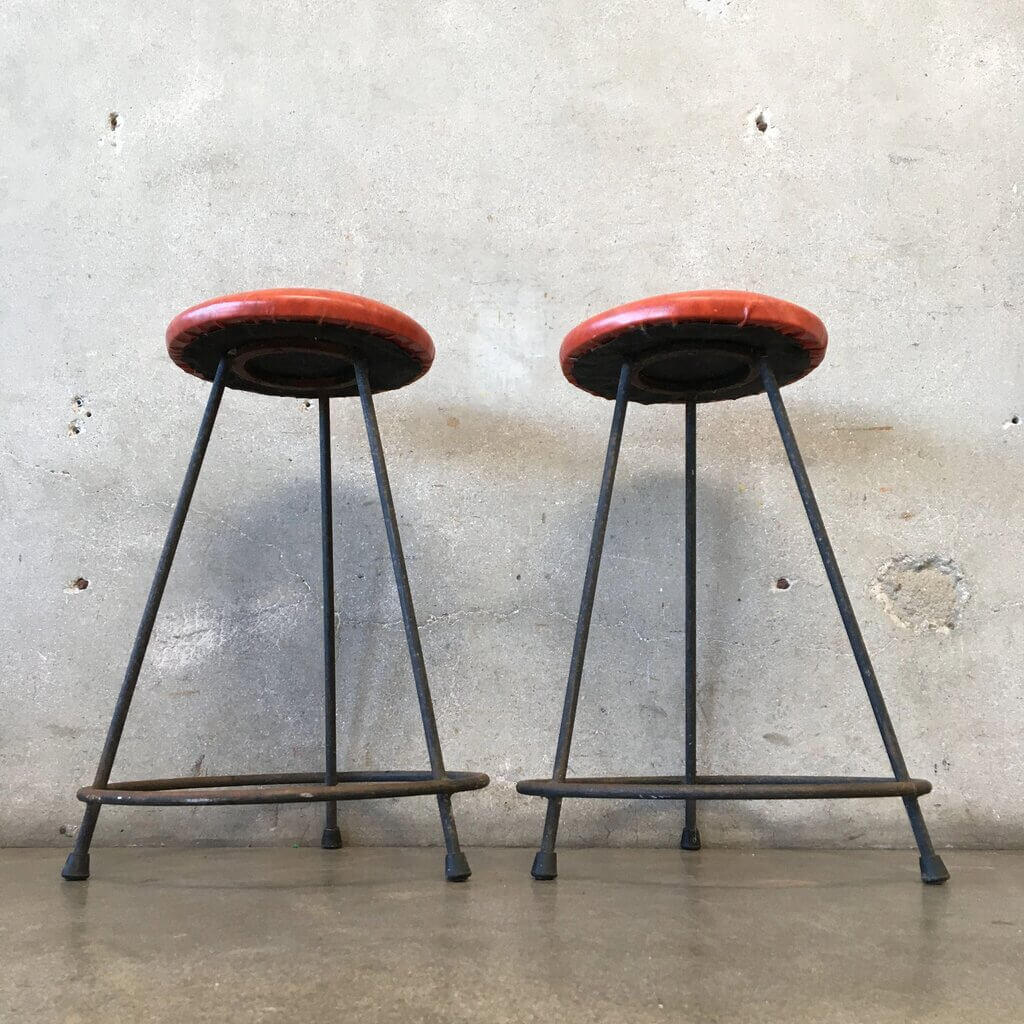 Source: shopify.com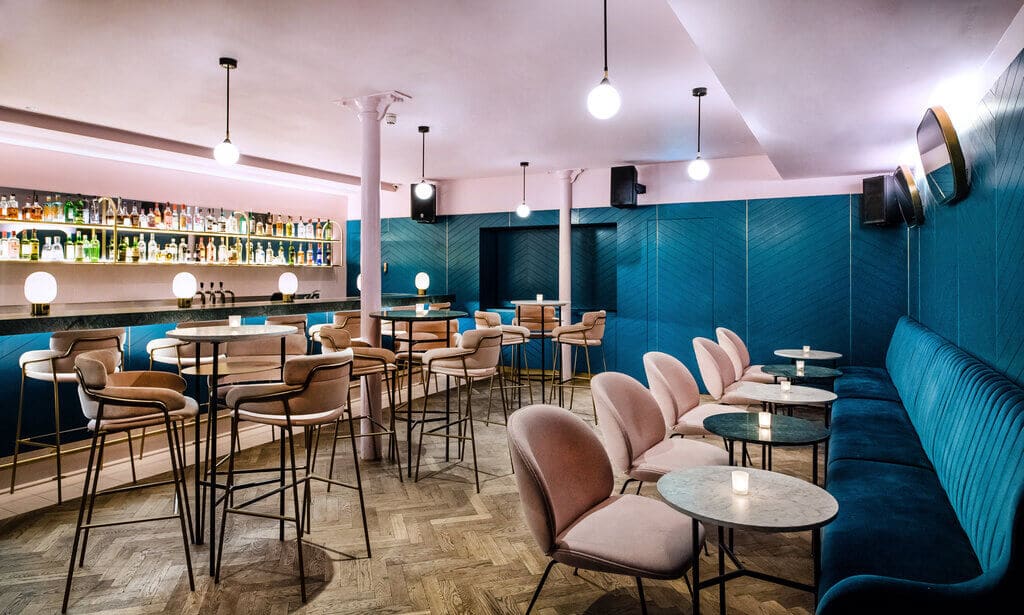 Source: essentialhome.eu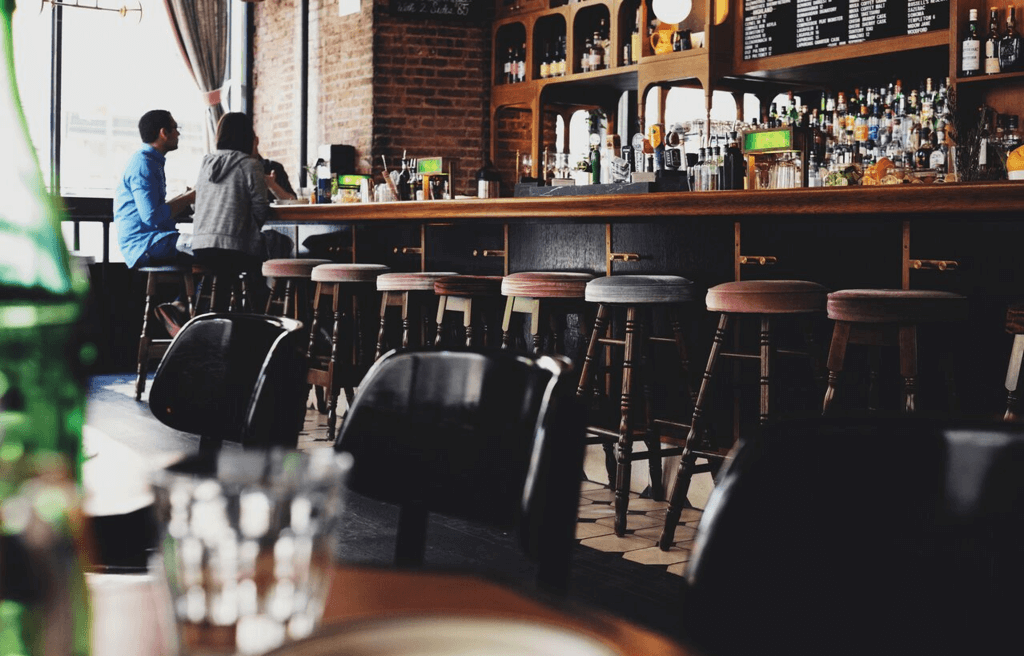 Source: barstoolsfurniture.com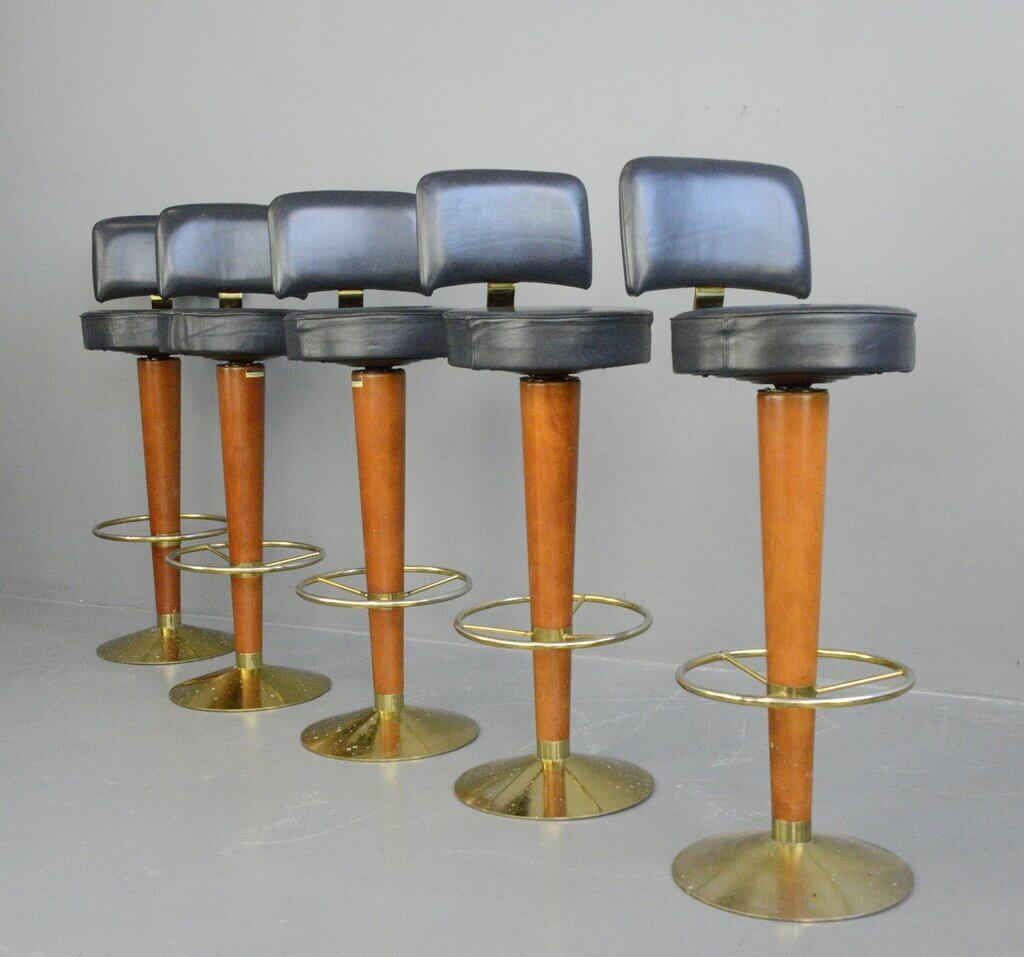 Source: vntg.com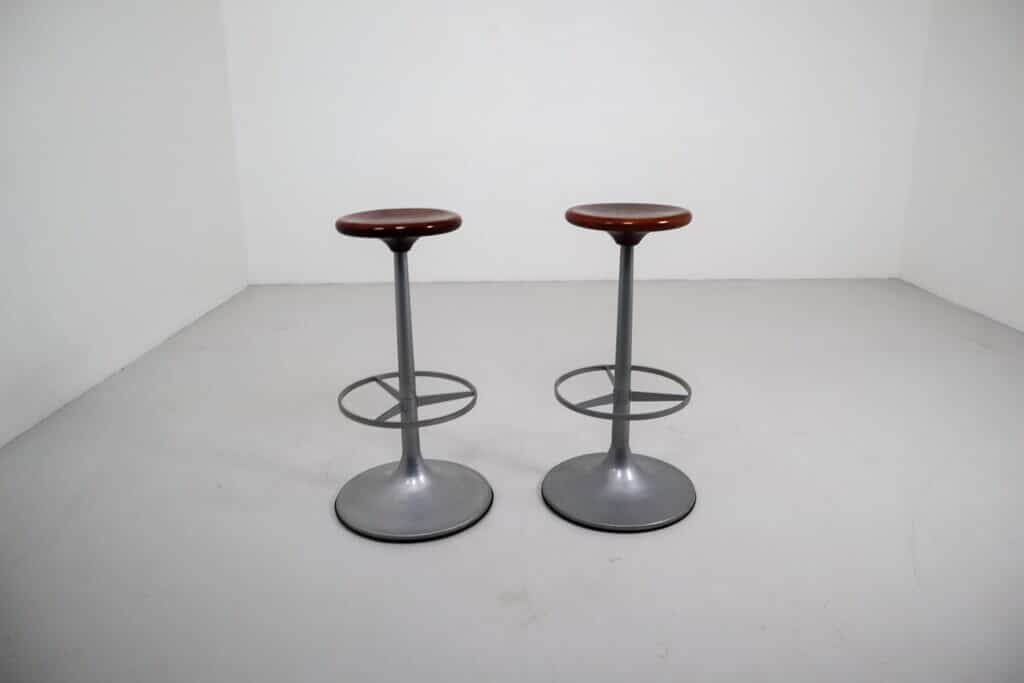 Source: davidowski.nl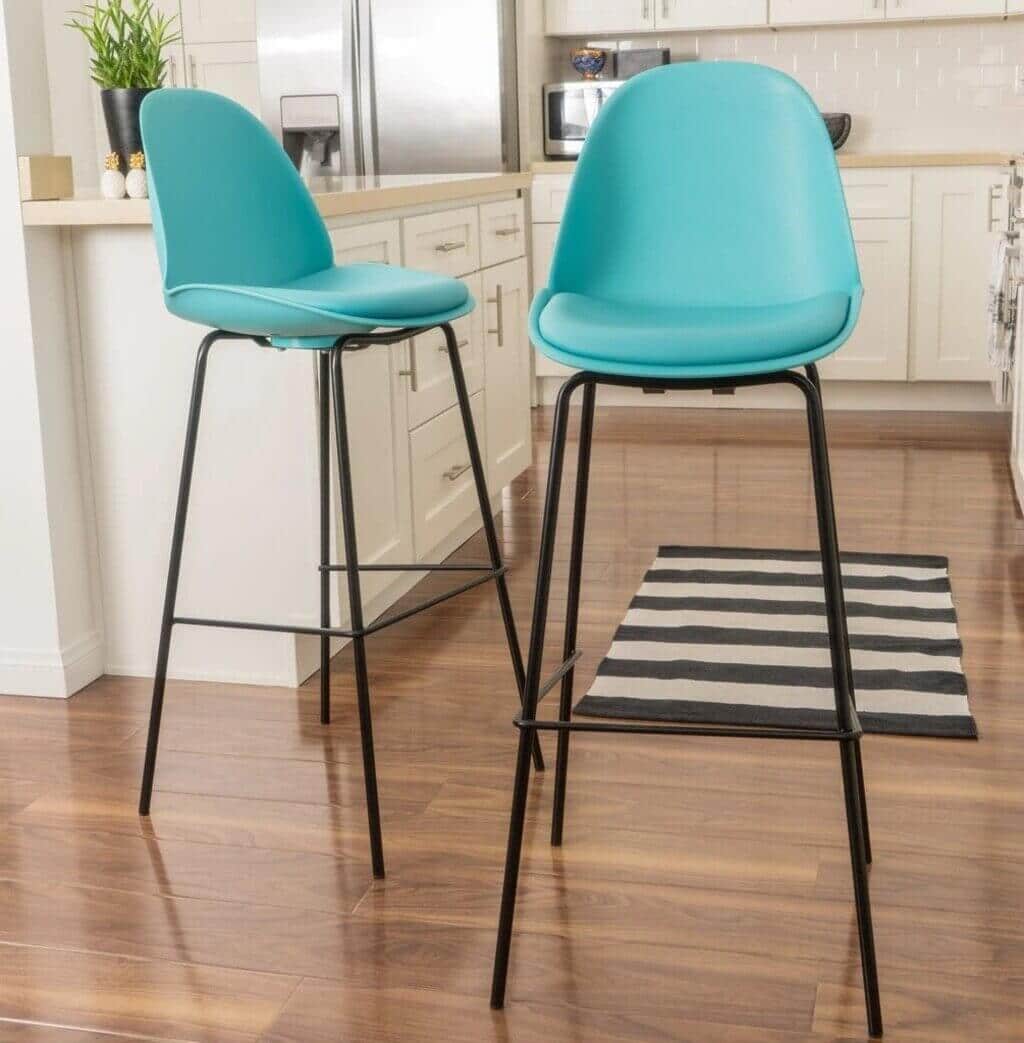 Source: shopify.com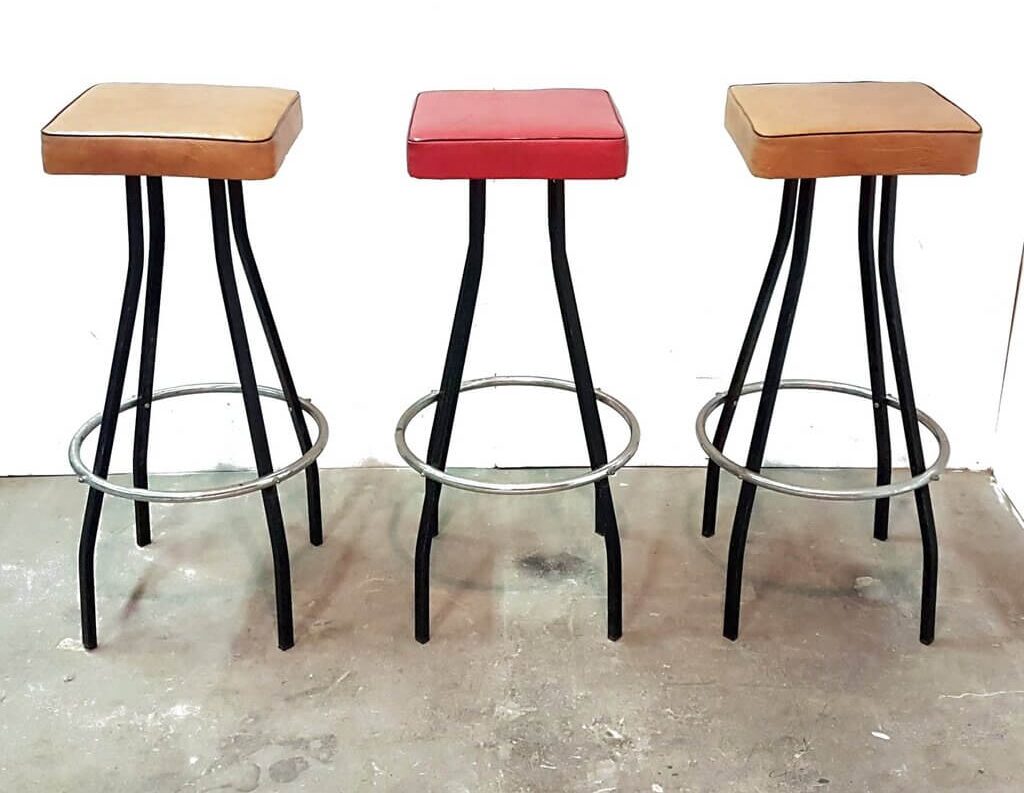 Source: vntg.com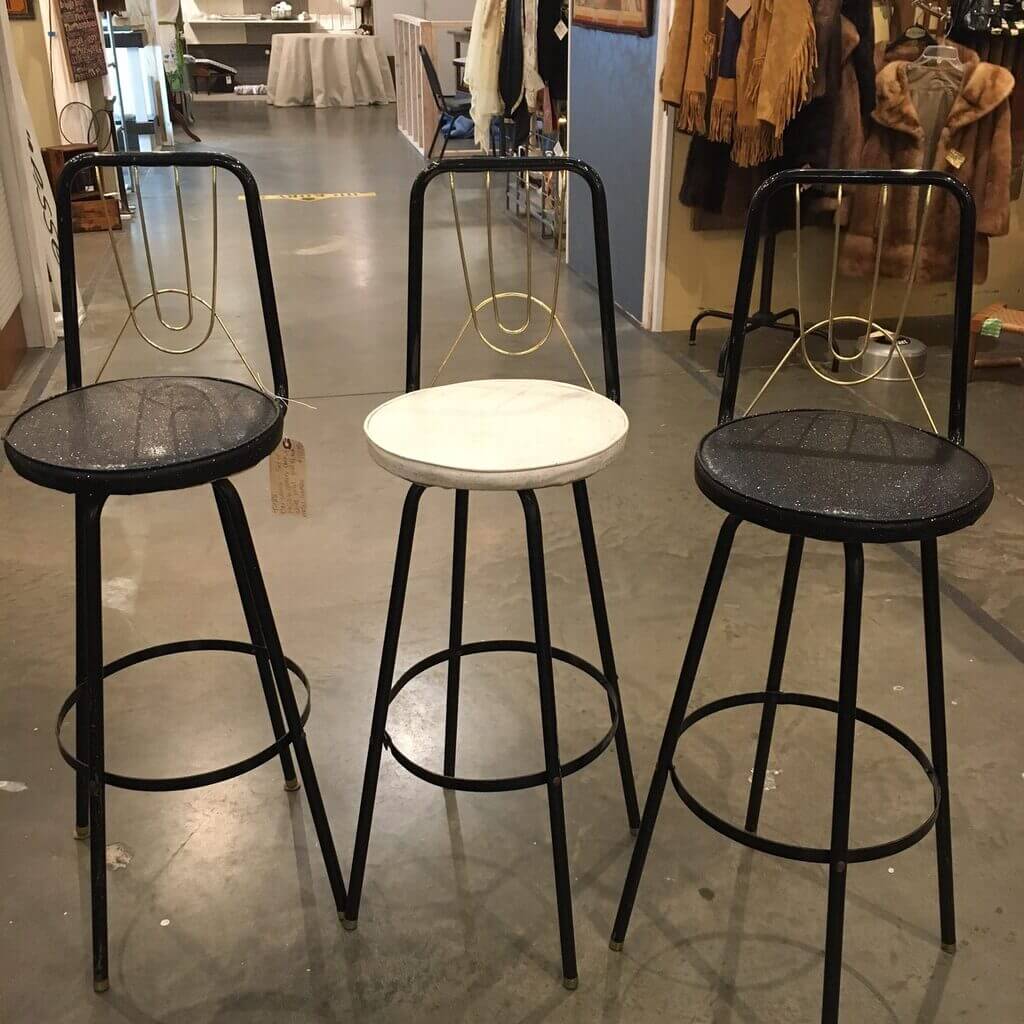 Source: gaslampantiques.com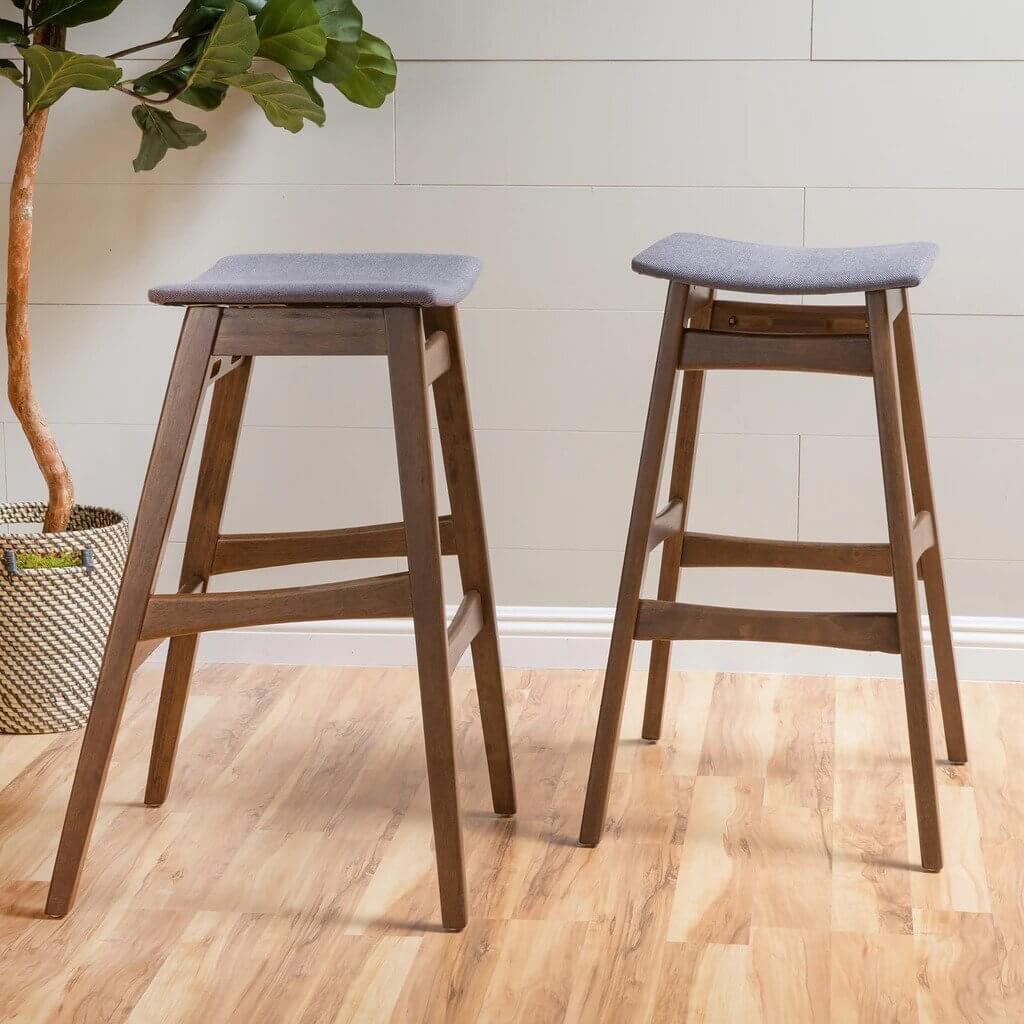 Source: shopify.com
Your home decor aesthetics have to be reflective and co-relative to each other. The best way to choose your id-century modern bar stools is by analyzing your entire decor and categorizing it into a theme. Once you have a theme, choosing the bar stools as per it becomes easy. Another important factor is the color scheme, as it plays a pivotal role in making your interior spaces look well-merged with each other.  
An important factor to also consider is the functionality aspect of the bar stool. As in the end, the usage of a product is of core importance, it is necessary to analyze the product by using it before buying. From height adjustability to back comfort, consider all the aspects for choosing the ideal mid century bar stools.
Home Decor as easy as it sounds might be complex math to solve. For choosing your mid century bar stools you can also consult with your designer before taking the final call. In the end, though, your choice is the only call that matters. Since Mid – Century Modern style has a timeless aesthetic with longevity in durability, these bar stools might be the one that out last time. 
To know more about cleaning tips, home improvement tips visit Architecturesideas.