Interior designing is not just about decorating your home with the new accessories and building it in the most current style. Interior designers love to be given challenge, to revamp or recreate an old living space in the most contemporary manner. Traditional and vintage properties have very high real estate value. Those who own such properties, must not underestimate the remarkable value and the aura that it creates. People hardly care about preserving vintage properties. Those who have an eye for looking into the historical value attached with such property will thrive their best to preserve its history and old architecture.
However, if you are lucky enough to have a house that emulates the vintage feel you must be careful about preserving its past history and original character of historical touch. This does not limit you in refurbishing and giving a makeover to your home. Decorating a vintage property is a challenging task also. Filling up the house or apartment with too much of antique pieces can create monotony and leave the place crowded.
The trick is to create harmony between the modern and vintage character of your house. You need to contemplate to change the interiors with a modern touch, without overshadowing the historic charm. It leaves one in a state of quandary, to mix modern design elements with traditional character. Here are a few tips on how to add modern furniture to an old house without compromising on its ancient character:
Keep Neutral Colours in Furniture
Traditional house with an ancient character requires the furniture to be in a neutral colour. If you have a bricked wall or a fireplace with bricks, a neutral coloured modern sofa set with a low height coffee table in white or light grey colour will create an interesting contrast without compromising the historic appeal. Neutral colours complement every type of interiors, especially to mix traditional with the contemporary.
Add plush or printed cushions to balance the simplicity yet the modern feel to your sofas or couches in the living room. Remember, you can give a more modern spirit to your home by adding one coloured intricate pieces of furniture and artistically designed unique modern furniture giving life to your house, yet preserving the historic character of this place. Neutral colours give a warm and inviting feeling. Walls, ceilings and trim works should be painted in one neutral shade to hide any imperfections.
However, if your trim work is in good shape you can keep it in another neutral contrasting shade. Furniture can change the outlook of any place and a neutral shade would add brightness with a certain quirky charm to the living area, bedrooms or the outside porch furniture.
Do Not Remove Historic Fixtures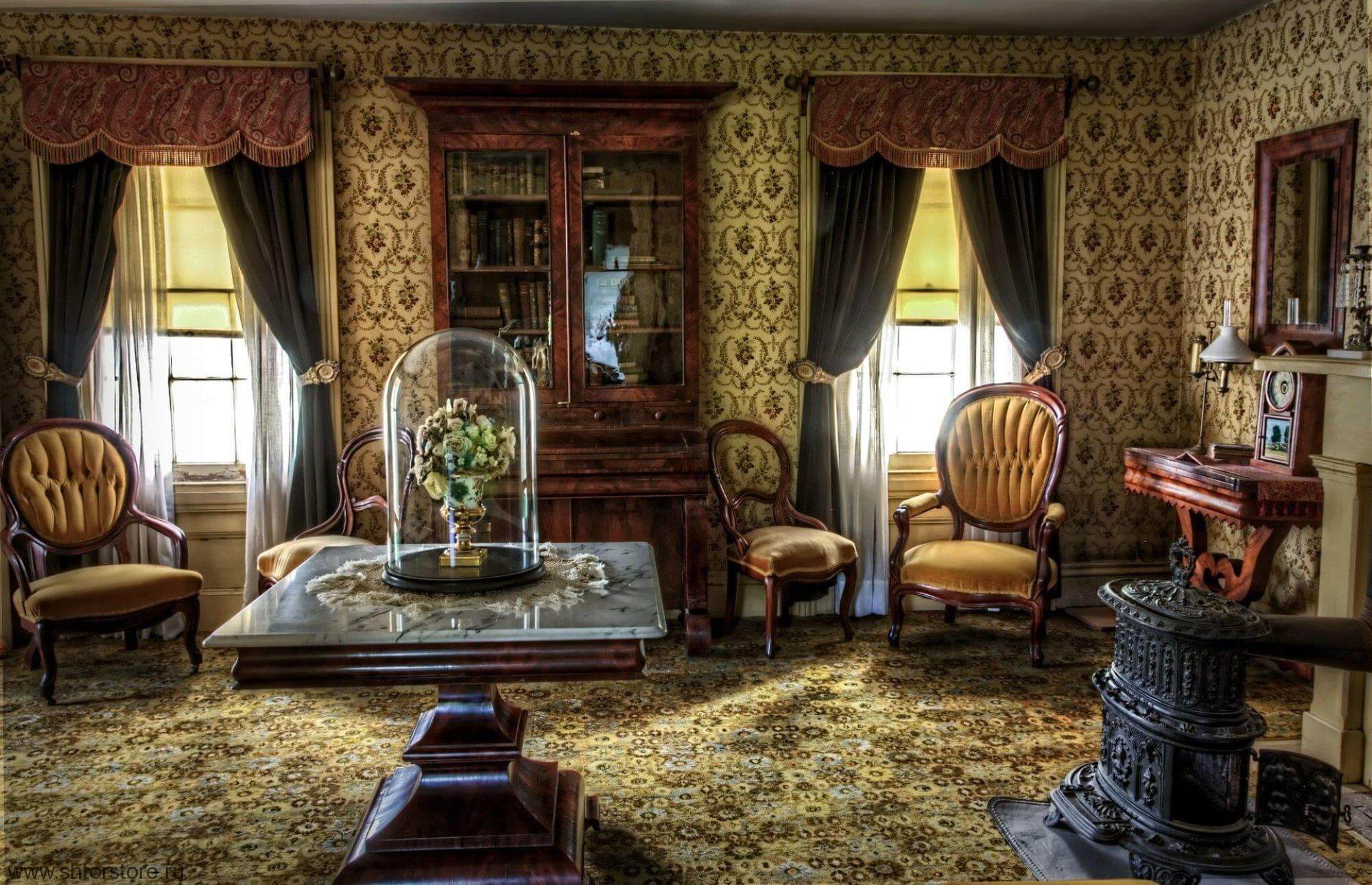 Our main motive is to find the best ways in which we can incorporate modern living into old houses. In order to achieve this purpose, do make sure that you do not remove historic fixtures leaving its originality and character intact. However, you can paint away from the imperfections. Original lighting fixtures look great in the tall ceiling of a period house providing an excellent focal point in your traditional home while keeping the modern interiors and decoration.
Collocate 18th and 20th Century
Another myth buster for interior decoration is that the things do not necessarily have to match. Try to stay away from too much matching. Here we are aiming to work around 18th and 20th-century juxtaposition. Collocating pieces from both centuries brings an exquisite and Victorian ambience. This combination specifically is never a fail. Adding an original piece of artistic panelling behind a modern metal four post bed concealing the damaged background wall, mixing playful modern furniture pieces around the tiled brick fireplace, charming curved lamps beside an ottoman seat; are just a few examples of creativity at its best.
Try to Achieve The Transitional Look
By adding modern furniture, you are actually achieving a transition state to your historic house. The best mix of old and new can be attained, by bringing the balanced transitional look to your house. This will not be easy as you are actually working around keeping the old character while providing the new and modern feel, around the house. The transitional look can be achieved by:
Play only around with neutral colours in furnishings, walls, ceilings and piece of arts without creating a clutter.
Place modern and old furniture together. Such as putting contemporary chairs around the old wooden dining table
Create balance by not adding too much of one specific style in one room
Do not over decorate one area. Instead, keep the furniture and architectural character as the centre of attraction.
Consider refurbishing the old artistic piece of furniture, and add to the modern interior to break the monotony.
Add Contemporary Artworks   
Adding contemporary artworks to the old textured walls gives a perfect balance between creating a new and keeping the old intact with its character. Artworks are a special aspect to bring harmony with a contemporary feel of a house. Survey your art galleries and nearest stores to acquire the best pieces complimenting your modern furniture.
Create Zones
Traditional homes often consist of tricky spaces in between that do not suit our modern lifestyle. Mark the spaces and create different zones in order to fill them with modern furniture. Although they are difficult to work with they can be filled in with modern furniture and accessories without knocking down the original layout zones. You can create zones by dividing one single longer corridor or rooms through modern furniture and art pieces, neutral coloured rugs, bench sofa and wooden open shelves.
Showcase Lighting for a Conservative Decor
While adding modern and conservative furniture, you can put conservative decoration to compliment the furniture and traditional character of the room. Try to focus on simple shapes and neutral colours while adding accessories. Be bold exceptionally for modern lighting. You can add elegant chandeliers for the living room and a contemporary arc floor lamp to add a flair of sophistication with the contemporary ones in furnishings without compromising on the room's historical element.
Use Intricate Patterns and Shades
While creating a transitional look to your house, try to balance the neutral shades of furniture and bedding with the intricate patterns and shapes in other upholstery or interior decoration. Create perfect harmony by placing patterned rugs or intricately designed traditional weaved carpets in dark warm colours. They are an essential modern feature to complement the coolness and subtleness of modern furniture for every room.
Do Not Forget The Outdoors 
Do not underestimate the importance of outdoor in vintage houses. Giving a makeover to the interior of an old age house should not mean that the outdoors are excluded. Try to fill in the long corridor and verandas, with modern conversation chairs and small coffee tables for a cosy setting. Add floor potholders at the end of the long corridors or wrought iron stands to give a modern stroke to the vintage cottage.
Conclusion
No matter how difficult to manage, the mix of modern with the traditional setting to home is certainly exciting and relaxing. It requires a great deal of knowledge and expertise to create a contemporary transitional look without losing the charm of the vintage character and the originality of it.
Read More:-