How to Use Old Wooden Windows: The Best Ideas for Craftsmen
Modern windows made of aluminum and plastic are rapidly replacing the old wooden windows. They are more practical, easier to maintain, and durable. Therefore, they are gladly installed instead of the outdated ones. Nevertheless, it is not worth utilizing the dismantled windows — they can serve the owners, but in a new way.
1. Wall Shelves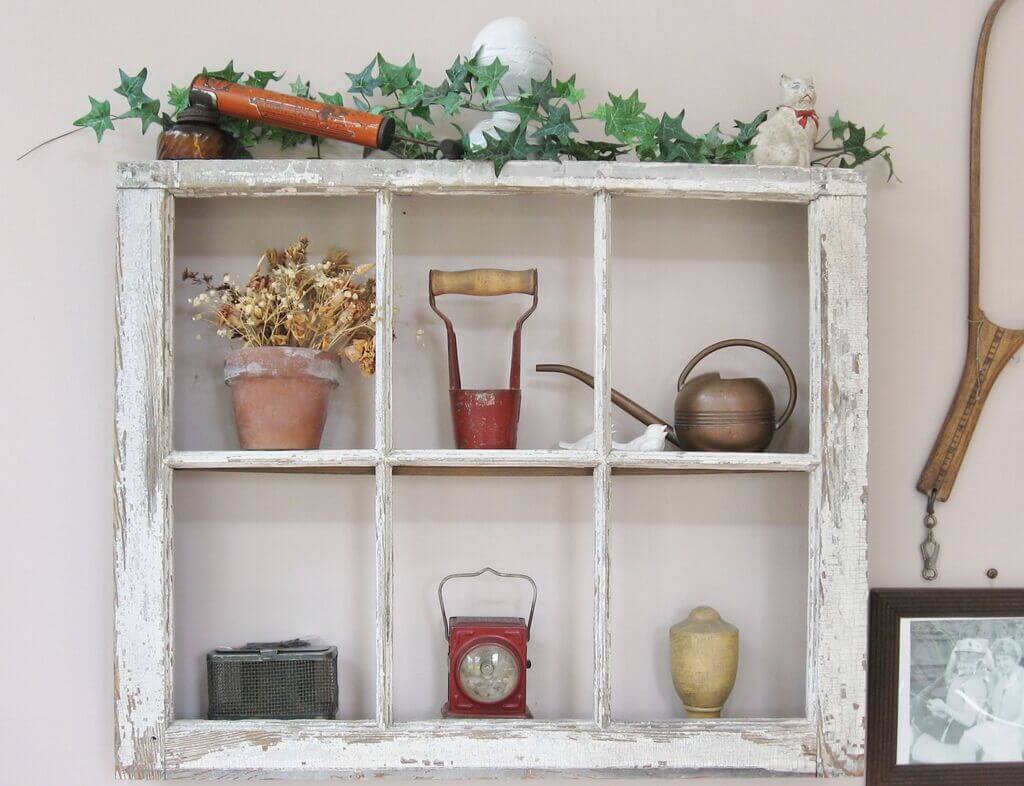 Source: pinimg.com
An ordinary wooden window will become the basis for the manufacture of wall shelves. You can place seedlings, blanks, tools, put souvenirs or photographs on them. Besides, it is convenient to put flower pots on such shelves. You can also use them as room decor. It is better to clean the frames from old paint and soak them with mordant before work so that the product looks more stylish. Perhaps, for Good Window Works, it may be relevant to invite the specialists. 
 2. Vintage Racks 
You can use old windows to make beautiful racks in vintage style. You can also decorate them using the craquelure technique to get a semi-antique look. Also, furniture from the windows looks modern if the craftsman uses paints and varnishes. Depending on the interior design, it will perfectly fit Country, Provence, or Loft styles. You can decorate furniture with fabric, ribbons, ropes, and other materials.
3. Photo Frame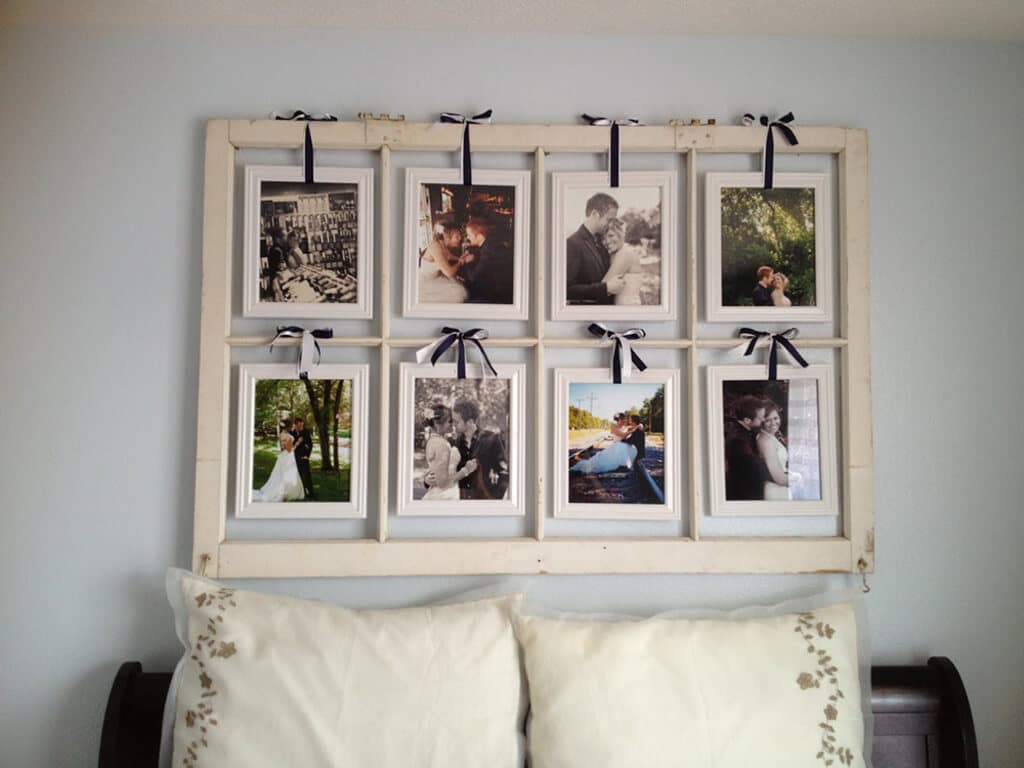 Source: ringlogie.com
If the thickness of the dismantled window is normal, you can turn it into a photo frame. The best option is to take a frame that is dividing into many cells. Thick plywood is nailed to the back of the window, while wooden elements are painted or decorated in another way. You can easily attach pictures to it with pins.
4. Table 
A window frame is an excellent workpiece for a table. By nailing dense plywood, you can make a tabletop from it, and then decorate it according to your imagination. The techniques of decoupage, painting, varnishing, carving are suitable for decoration. Legs are screwed to the bottom, and a ready-made tea and coffee table is done. Instead of wood, craftsmen can use glass for the countertop construction.
5. Planter for Flowers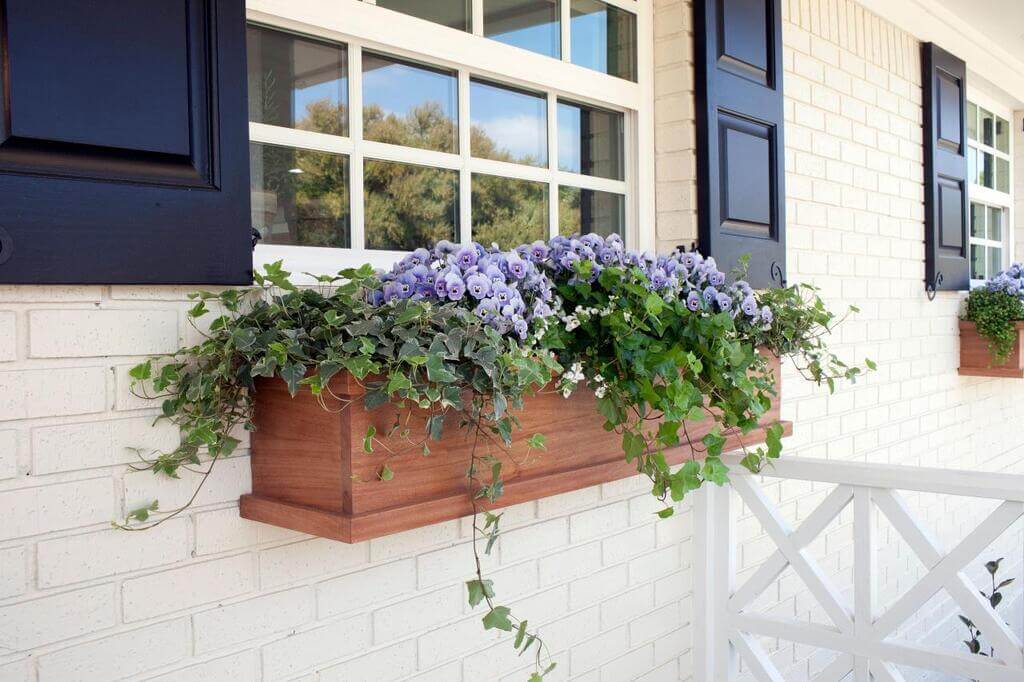 Source: sndimg.com
From an old frame without glass, you can make a beautiful planter for flowers. The wood is cleaned of peeling paint and covered with a suitable paintwork material. On the reverse side of the window, hinges are attached for hanging the planter on the wall. In each cell of the window, ready-made pots purchase in advance are securely fix it. Such a planter will become a real decoration of the room.
6. Whiteboard for Notes 
These boards are great for schoolchildren, students, and anyone who wants to leave "reminders" of important events. They help visualize the schedule of lessons, a plan of meetings for the upcoming week, and other tasks. A smaller sheet of plywood is attached to the old frame, nailed firmly to the base, and painted with dark paint. If the board will fix on the wall, fasteners must attach to it from the backside.
7. Panel
You can give a second life to old windows by making extraordinary decorative panels. After processing the frames, the window cells will fill with any available materials, forming riveting compositions. Besides, you can use wine corks, pieces of fabric, posters, leaflets with notes, creations from a natural material, embroidery, etc. The painted-glass panel, which you can decorate with acrylic paints directly on old glass, will not go unnoticed in the interior.
Also Read: The Importance Of Windows In Living Room Decorations
8. Headboard 
In a bedroom decorated in rustic or country style, you can put a bed with an original headboard. The outdated window frames of an arched or rectangular shape will come in handy for it. You should remove the old headboard and attach and secure a new one with self-tapping screws.
9. Mirror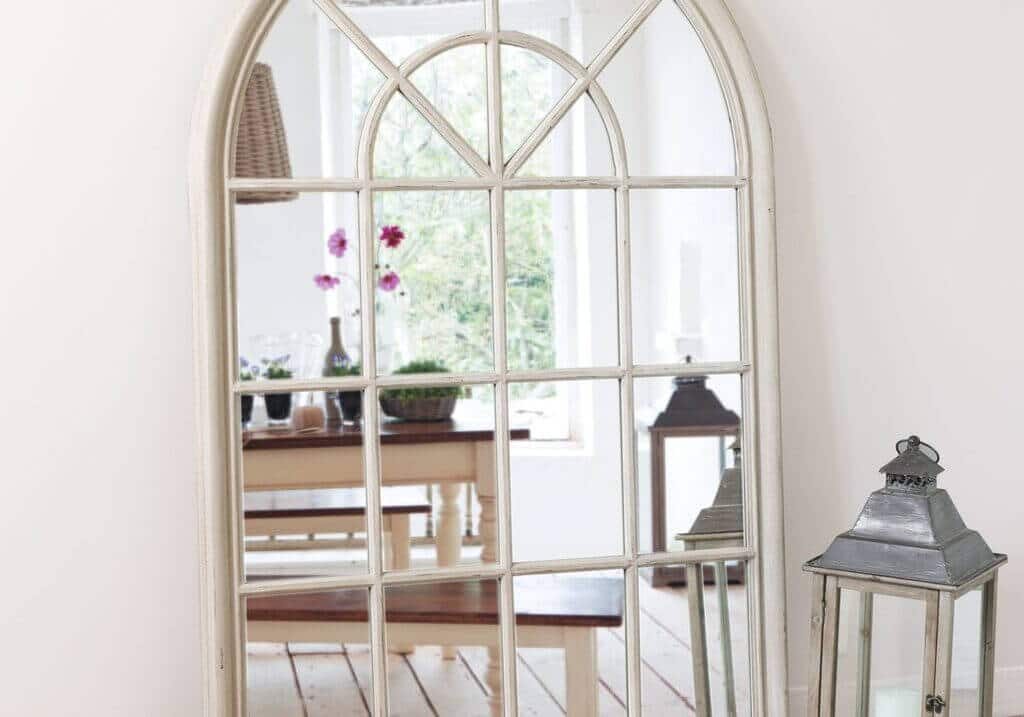 Source: lamaisonconvertible.fr
You can insert a mirror plate into a used window — it immediately turns into a practical and functional thing. Such a product is decorating depending on the purpose and interior of the room. The mirror can also exist in different versions – be one piece, make a mosaic, etc.
10. Organizer for Accessories 
A small window or a separate window cell is a suitable display stand base for accessories. It is enough to clean the wood from paint, recolor it and take out the glass. Instead of it, you need to insert a metal mesh, hang beautiful hooks, after which you can hang the accessories on it.
Conclusion
Ready-made items can consider as a real exclusive. All of them will be made in a single copy so they will cause the surprise and admiration of your guests. Meanwhile, if you have any cool ideas on how to give a second life to the outdated window, share your thoughts with us in the comments.