Try Before You Buy! Pinterest Adds New AR Shopping Feature For Home Decor
For You, What's It Like to Go Furniture Shopping? Is It Exciting or Boring? 
Some people like to spend hours shopping for a couch for their home, but it's a waste of time for some. That's why many people prefer online shopping. There you can see all the product descriptions and specifications, but sometimes it is hard to decide whether the particular item looks good in your space, not while just looking at its picture. Do you agree with us? 
Here's the perfect solution to this: Augmented Reality! 
Have You Tried the Ar Home Decor Feature of Pinterest?
Pinterest is one of the most commonly used platforms for home decor and fashion inspirations. Recently it has launched a new augmented reality-based function, "try before you buy." 
This ultimate 'Try On' feature is available for home decor and exclusively for US mobile users! This try-before-you-buy feature allows users to virtually place furniture and decorations from various retailers such as Crate & Barrel, West Elm, CB2, Walmart, and Wayfair. With the help of the Pinterest Lens camera, you can explore and virtually place different items. 
This Single Feature Takes the Shopping Experience to a Whole New Level.   
So if you like a particular sofa or chair but aren't sure whether it will look good in your space, or whether it will go with other furniture or not, you can try this feature.  
So what's augmented reality? Is this a new technology?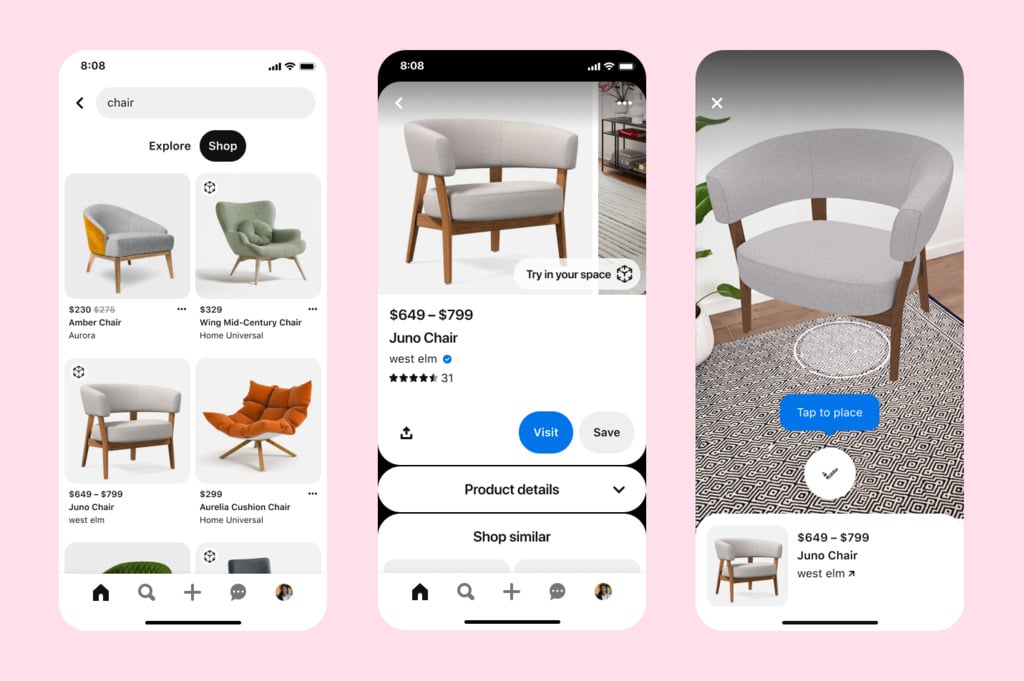 Source: pinterest.com
Augmented Reality (AR) of Pinterest is one of the most popular and biggest technology trends in the market. AR is just like having an interactive experience with the real-world environment. 
With the help of AR, you can explore many things and places while sitting at a particular spot. The Pinterest ' Try on' feature also provides the same thing, where people can virtually place different furniture items into their homes and offices.
Also Read: 5 Mistakes to Avoid When Shopping for New Furniture
Do You Know That This Virtual Shopping Feature Is Pinterest's Largest Ar Shopping Investment to Date? 
Yes, this feature for home decor is launching in the US across more than 80,000 shoppable Pins!   
And the most interesting thing about it is that this isn't the first time Pinterest is launching anything like that. Back in 2020, Pinterest also launched the Try On function for beauty products, and that time it got instantly popular in the beauty market.   
This time instead of trying out various lipstick and eyeshadow shades, you'll be able to visualize furniture, accessories, and other decorative items in your own space. You can try the furniture pieces that you're considering purchasing in the exact shape, size, and color.  
"Since the pandemic began, we're seeing more digitally savvy shoppers than ever before, as millions of people now expect virtual and mobile options to try before they buy, see personalized recommendations, and gather information as part of their decision-making process," said Jeremy King, SVP of Engineering at Pinterest, in an announcement. 
He further added, "These behaviors are happening across Pinterest every day, which is why we're continuing to advance technologies like AR Try On and make Pinterest a full-funnel shopping destination that takes people from inspiration to purchase anywhere in the app."
How Exactly Does This AR Feature Work? 
Source: pinterest.com
This feature uses AR Lens technology which takes actual dimensions and details of the virtual object and, in this case, furniture and accessories. This way, you can accurately depict the object and see how it will look in real-world space.      
This feature also recognizes objects in the real world, and according to that, it suggests online recommendations. The user can also adjust the product's position and see how it fits in their space. 
As explained by Pinterest, "This is our latest step in bringing together the worlds of augmented reality and shopping on Pinterest as people seek more immersive online experiences that help them make purchase decisions from the comfort of their home. Try-On for Home Decor makes it possible to envision home decor and furniture items in your home and "try before you buy" from premier launch partners."
So the Big Question Is How to Use the Try on Feature?
You can use this feature on both iOS or Android platforms. First, you need to click the three dots at the top of supported home decor pins. This will open a menu. After this, click on the "Try in your Space" button. Now you can see the virtual product through the camera lens. After this, all you have to do is to reposition the camera to the desired location.
The best thing is that you can directly get all the product's information, including its specifications and pricing details. If you like the product and want to purchase it, just click the Pin, and you'll be directed to the final checkout page on the retailer's website. Easy and fast, isn't it?  
Pinterest is one of the world's largest home decor platforms, and people love to shop and explore things here. The new 'Try On' for Home Decor feature is launching in the US only, but the company hinted that the next location would be Australia. 
From the last two years after launching their first "Try On" beauty tool, around 32 percent increase has been seen, and it will continue to increase. According to Pinterest, searches related to the AR shopping feature with a lens camera will increase year-over-year by 126%.
So, transform your furniture shopping to be hassle-free, convenient, and fast with the latest AR home decor feature!
For more latest technology updates and architectural information, explore Architecturessideas. Don't forget to follow us on our Instagram page architectures_idea for daily architectural information and updates.