8 Poolside Decorating Ideas for a Backyard Oasis
Get inspired by these creative backyard pool makeover ideas to transform your space into a true outdoor haven.
Nothing can be more relaxing than a quick dip to cool off in those hot summer months. Having a backyard pool is a luxury that draws all your friends and family to stop by. Be it a pool party, a casual swim, or just a compelling lounging space, pools are the coolest thing you could have in your house.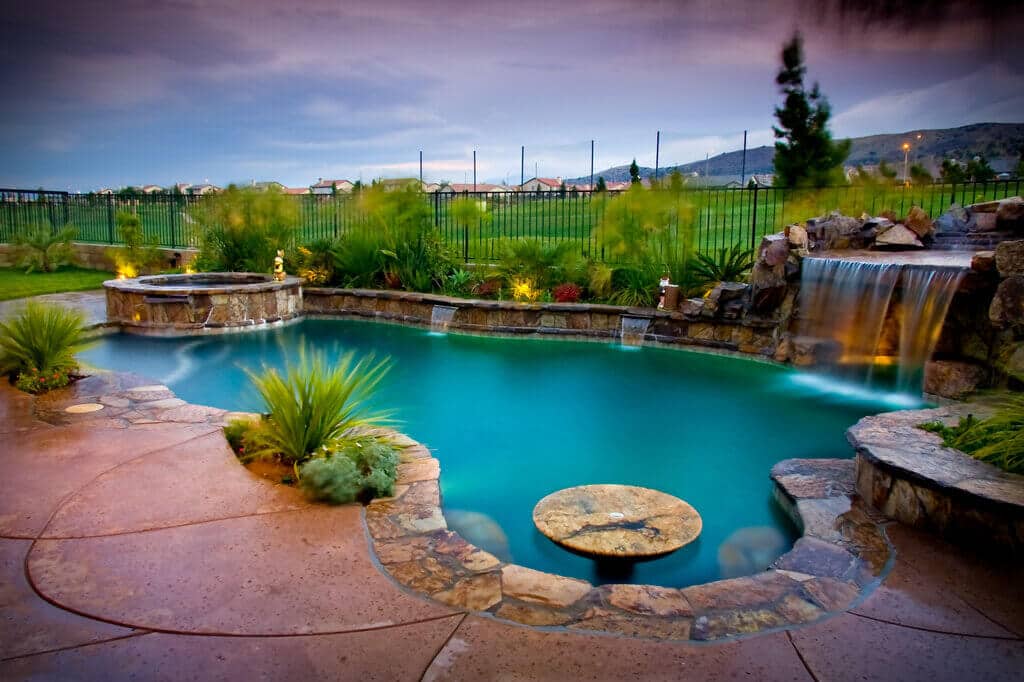 Source: alanjacksonpools.com
Whether you have an existing pool or are planning on building one, there are plenty of ideas you can use to glam up the yard space as your dream pool area. Usually, if you are just at the planning stage, seeking out professional help from pool contractors is a wise call. It would lend expert execution help to your ideas with a practical check on if you are too optimistic over raising a whale in your pool.
However, built or upcoming, if you are a design enthusiast looking for some awesome poolside decorating ideas, you landed just the right article. So, read on and get inspired!
A Blue-Green Paradise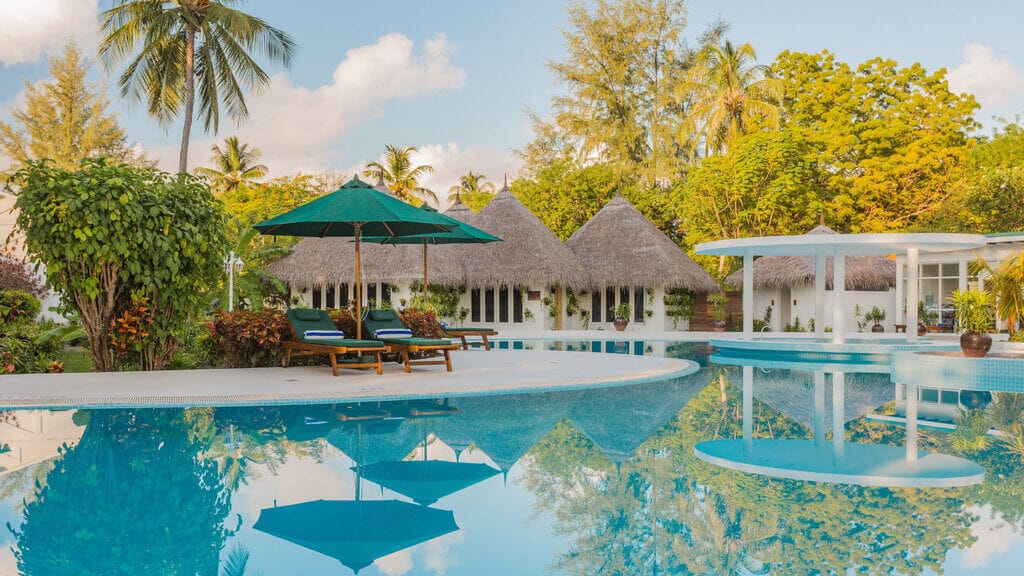 Source: read.ft.com
Sipping your favorite beverage under the vast blue sky can be best complemented with a touch of nature. Try to spruce up your pool area with some greenery. You could add bushes, shrubs, fragrant flower species, and more to grant it an exquisite feel like any of those touristic, vacation destinations.
You can also make it more vibrant with a careful pick of paving material. Having stone tiles, wood or grass can enhance the soothing effect of nature when treading over post-swim. It's a matter of a few tweaks that a simple backyard pool can be transformed into a personal wellness retreat.
Evening Recreation Hotspot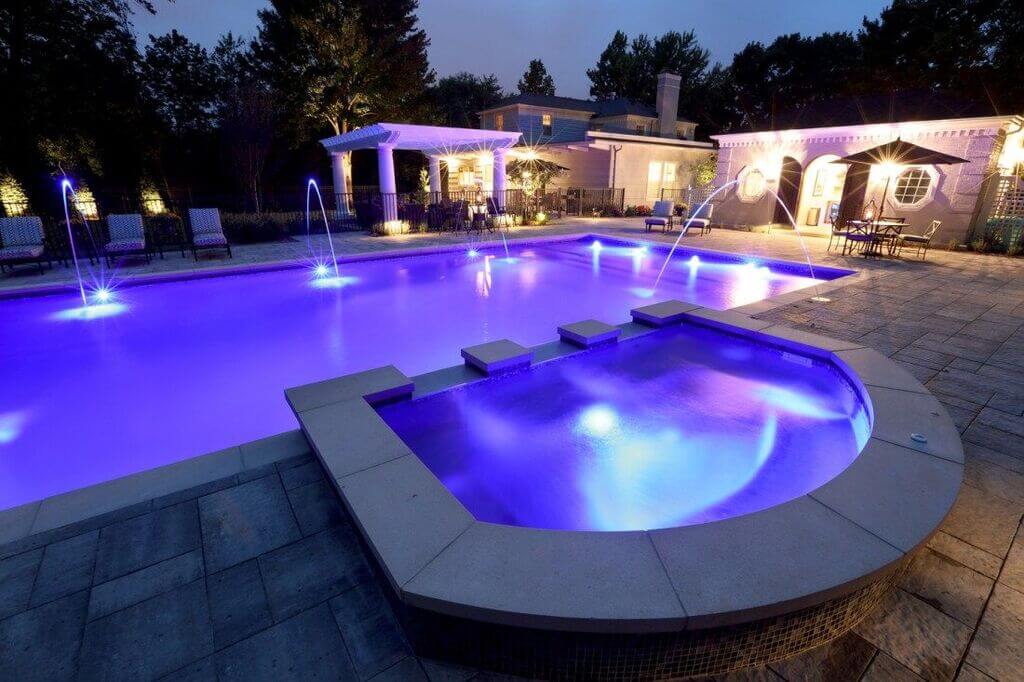 Source: pinimg.com
What can be more relaxing than an evening spent lounging by the pool? The cool breeze, compelling water reflecting the dark deep blue of the evening sky, and a perfect dinner or movie set up for some quality time is a dream evening plot.
Add some floating pool lights for an exquisite vibrance and artistic touch to highlight your landscape features that might otherwise feel dim or dingy in the night. So whether you're planning for a romantic date or just a Netflix binge-watch session, you can always set up an evening entertainer by the pool.
Minimalistic Sophistication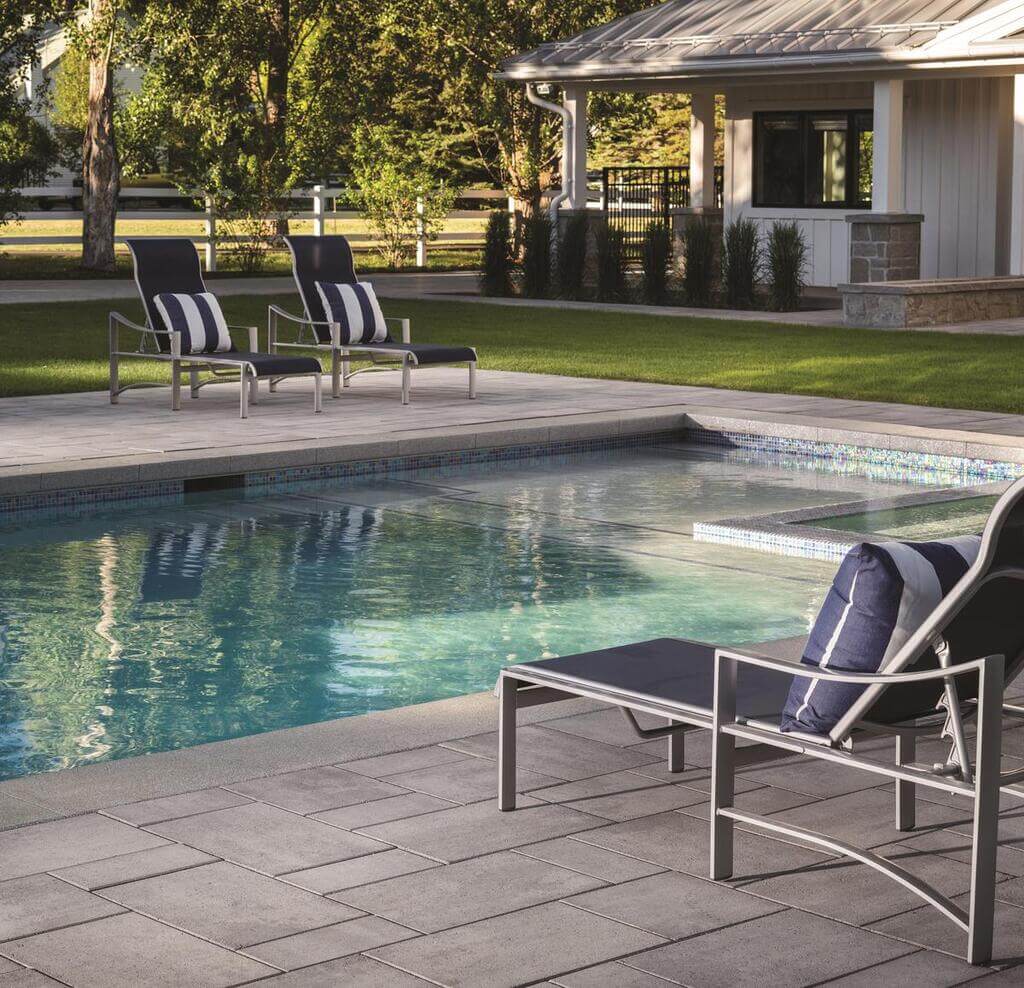 Source: contractors.com
Is your idea of a perfect poolside something of minimalistic elegance? Then, you don't need to go around with much accessorization. A simple makeover of some contrasting or textured paving with a separated zone to set loungers can do the trick. You can always uplift the ambiance with some string lights and planters.
A Private Harbor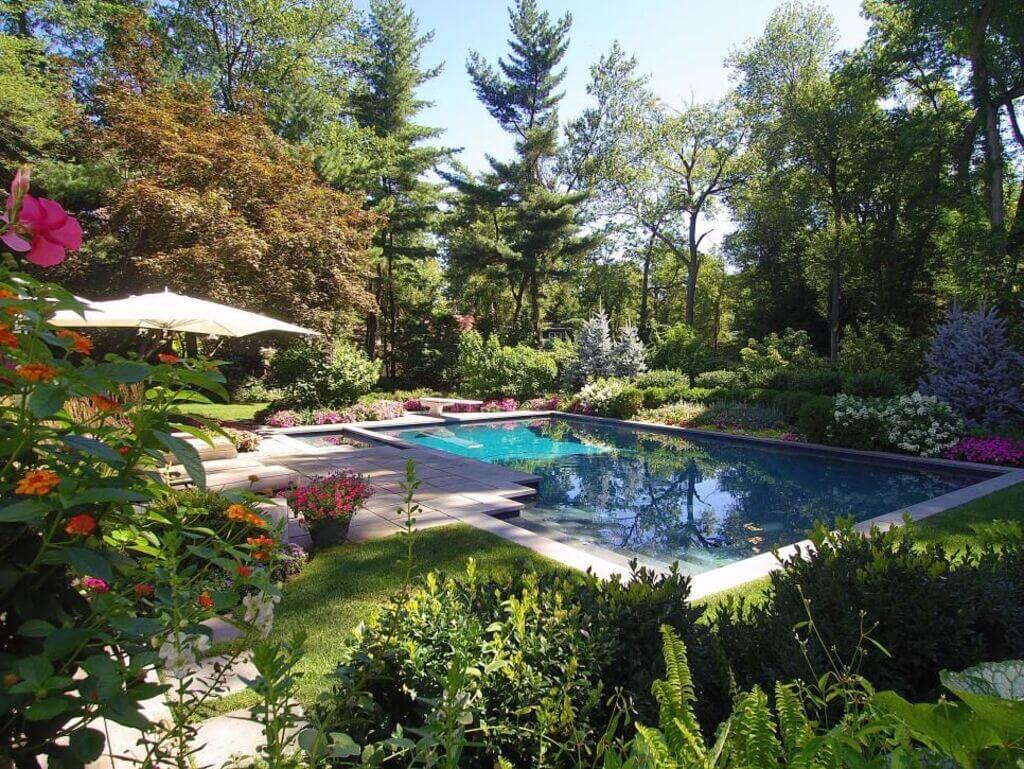 Source: pinimg.com
Love the idea of a pool but wish for a greater sense of privacy while you swim, then add some thick layering of trees and bushes around the perimeter of your backyard pool. With an appropriate selection of plant species, your pool can become as enticing as a mystical spring discovery.
An important consideration to this is to have a good knowledge of your plant varieties. Ensure that their location is responsive to their growth and spread at the mature stage. Besides, analyze them on their attributes and if desired, opt for more fragrant varieties to have the natural scent linger around as you relax in your pool. 
Resort Style Retreat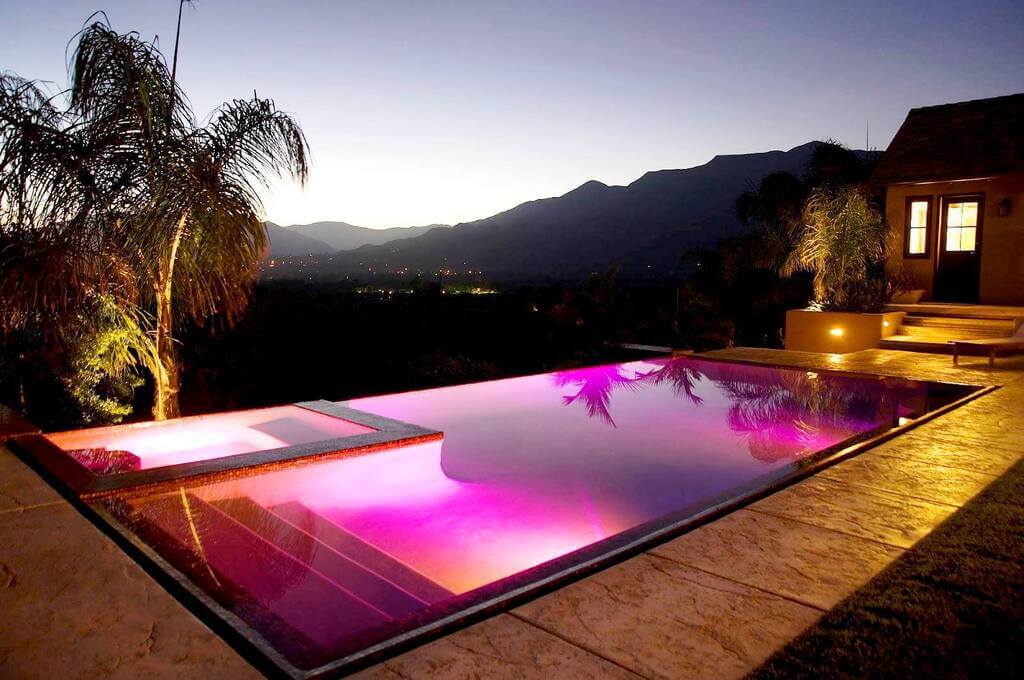 Source: blogspot.com
Are you aware of what makes the resort pools such an instagrammable hotspot? Yes, you guessed it right! It is indeed a great view!
Leaving behind a conventional setup of a rectangular or oval pool, you can always try having a few tapers and chamfers. Asymmetric arrangement to such a pool shape with add ons of exotic tropical tree varieties like palm can transform it into a resort retreat. You can also try out infinity pools if your location shares a picturesque view of the natural features around.
If you are searching for something even greater to take social media by storm, check for creating your lagoon. Adding features like cascading waterfalls, large rocks, and a lush bush surrounding can take it just another level. You need not worry about nailing it if you have no clue how to achieve the look. Of Course, many pool contractors shall help you customize your dream look.
Setting Fire Around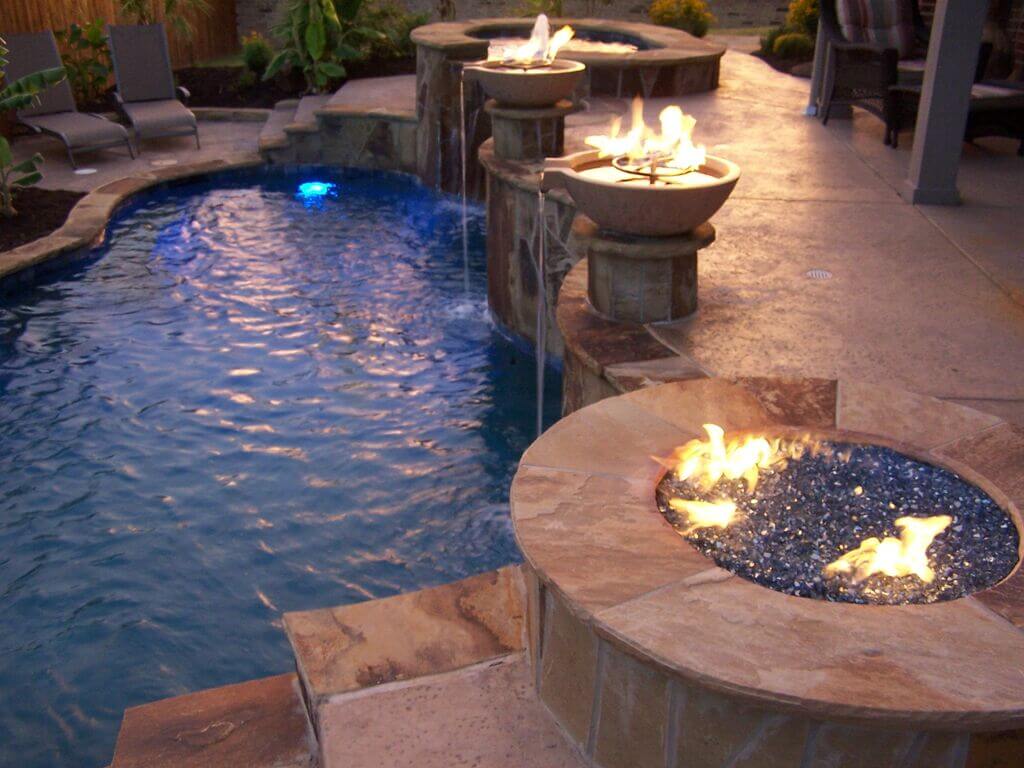 Source: byrossi.co.uk
Fire and water, their contrast is indeed what makes them a thrilling pair. The soft glow of flames beside your pool can impart a luxurious and serene-filled appeal. You can achieve this look with simple firepots. You can always add elements like glass fire beads for enhanced visual effects.
Style Check with a Cool Deck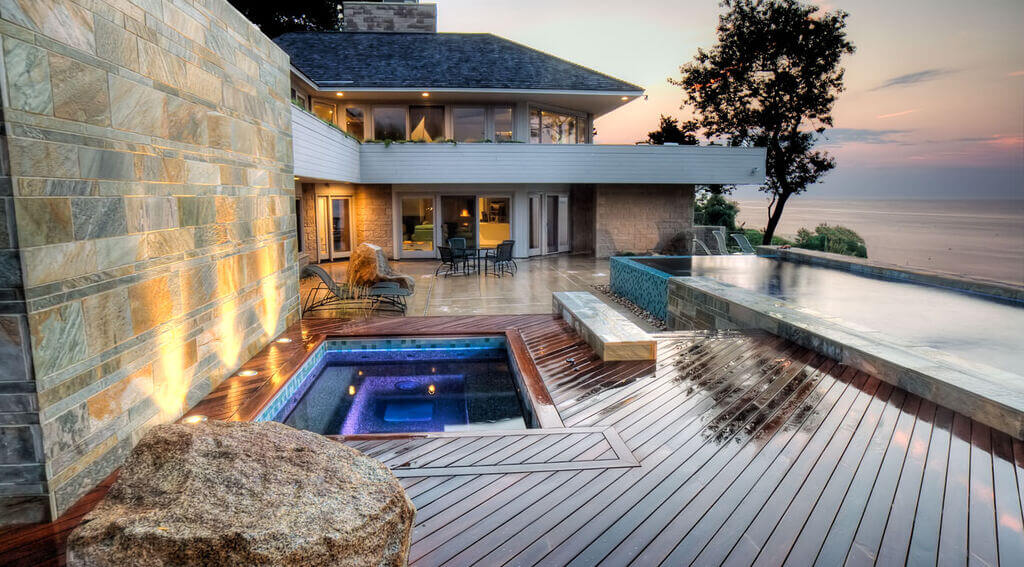 Source: zenassociates.com
The combination of a pool and deck is so popular that sometimes people assume them to be an obvious arrangement. Having a deck extended by your pool can be a great choice to create an illusion of built-in pool space. Glam it up with flooring material, furniture additions, patio string lights, and orbs and it can become an ultimate cocktail party venue.
Also Read: Small Swimming Pools: 17+ Dreamy Pool Designs For Your Backyard!
Stairway Hangout to Dry Off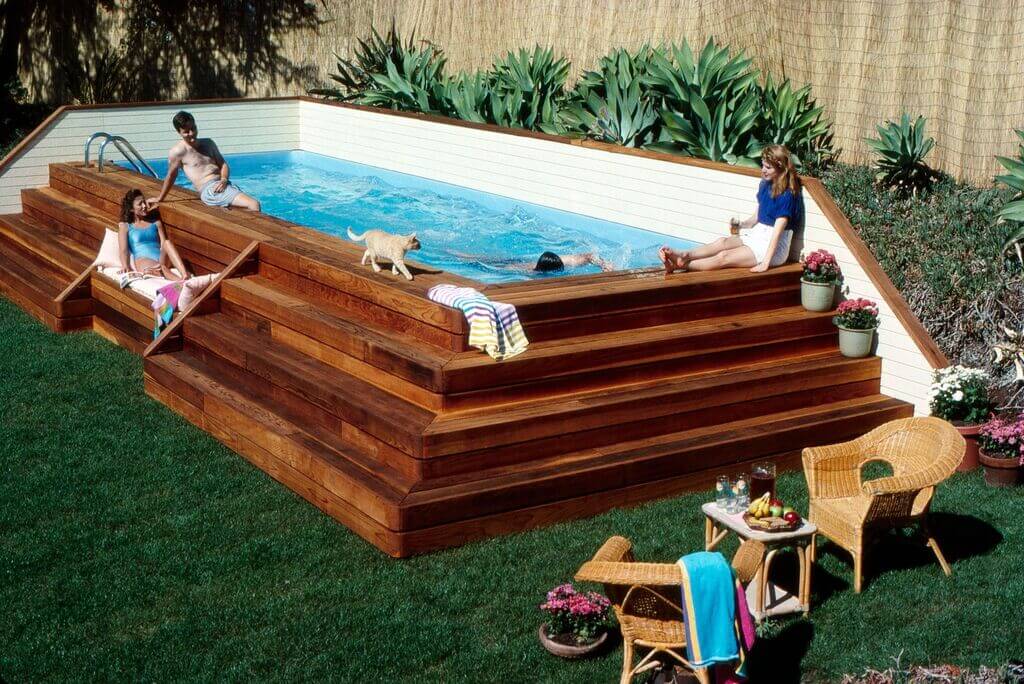 Source: pinimg.com
Remember those childhood playtimes in small circular tube pools. While they might not have been that bedazzling, they had the advantage of being space-efficient. Sometimes, we might have just enough space to accommodate a pool but don't wish to lose or not have a lot of space for green and paving around it. 
In this case, you can have stairway hangout pools that efficiently combine the purpose of a swim area and lounging deck. An above-ground pool with some well-adorned steps spanning its length is an ultimate tie of purpose and efficiency.
Pool Adventure Climax!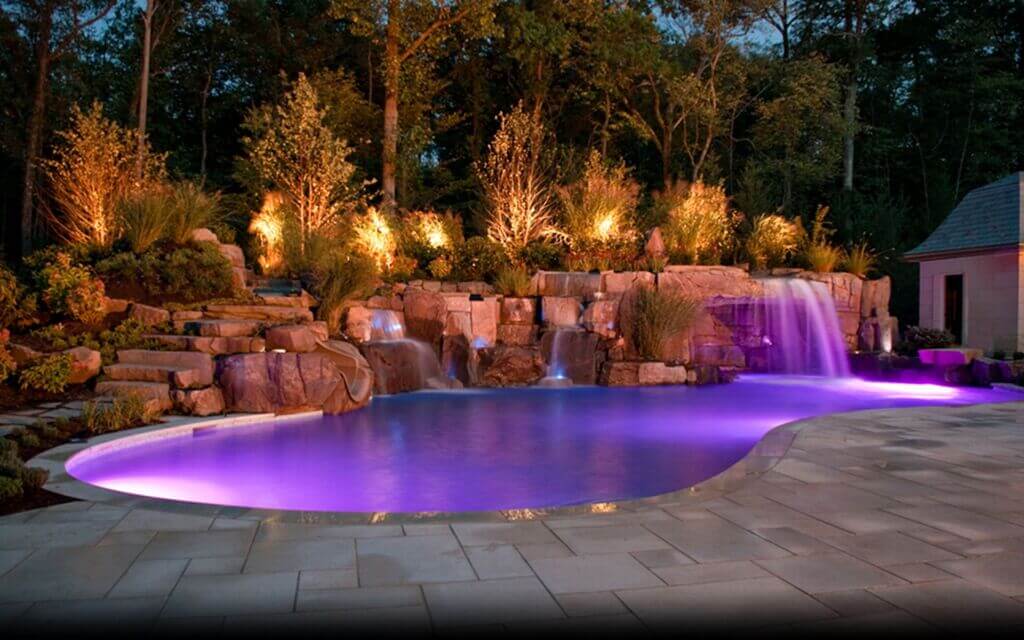 Source: pinimg.com
It's a great opportunity to have a private pool in the first place but customizing it to your choice can make it feel more personal. The makeover isn't always a costly affair. Sometimes all it requires is clarity of your style and inspiration of some creative ideas. For technical details, contact your nearest pool contractor.
So, What's your favorite idea for a cool pool?