Luxury Poolside Designs and Accessories
Spending summer days relaxing by the pool can be one of the most enjoyable experiences of the year, especially if you've taken the time to personalize your backyard into an oasis that feels like an extension of your home space. From custom-built furniture to accessories that add a splash of color, luxury poolside designs are easy to achieve with just a little effort on your part. Here are some poolside designs and accessories to transform your space into a serene escape from the world.
Essential Things to Consider When Planning Your Poolside Decor
Before you head out to buy pool accessories for your new pool, keep in mind that it's not just about picking stuff to match your existing décor. 
It's about thinking outside of the box. Poolside decorations should complement both your home decor and outdoor landscaping. 
For example, you don't want a fire pit that looks like it belongs at a campsite. Instead, you should buy one that fits in seamlessly with a tropical patio. 
The same goes for poolside furniture – don't go too overboard with bright colors or patterns if you want to maintain an understated look in your yard.
Choosing a Color Palette for an Outdoor Space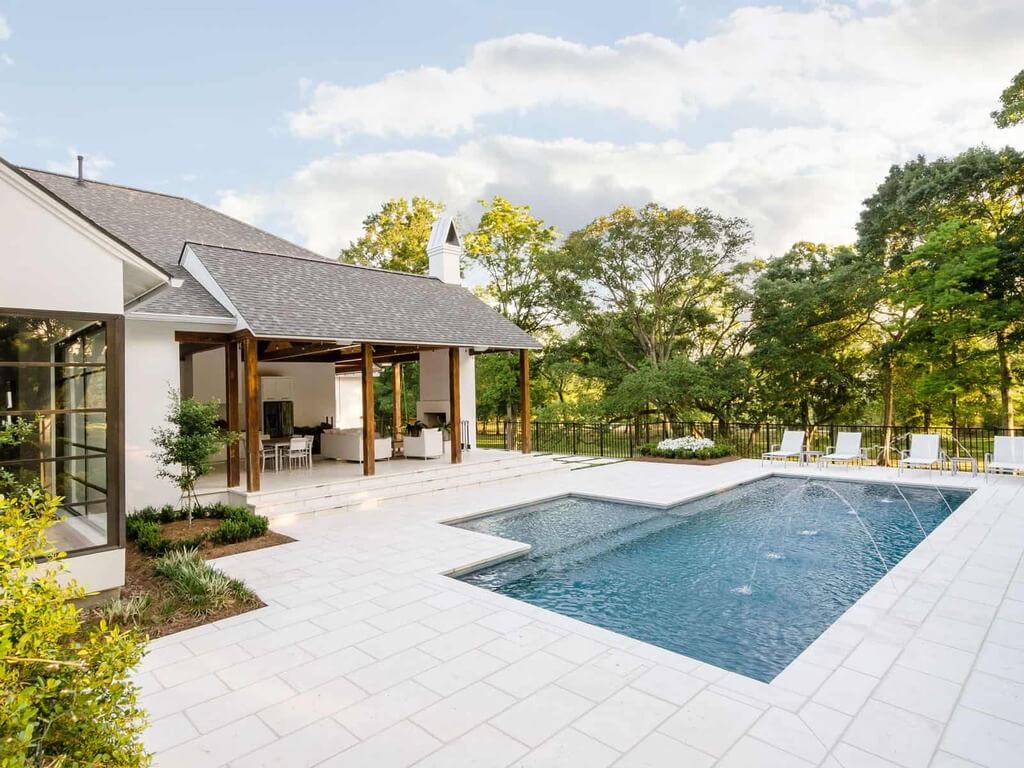 Source: peacockpavers.com
It's tempting to go overboard when creating a color palette for your outdoor space. But, unfortunately, it's also easy to over-design. 
Instead, focus on one or two colors from your interior design scheme. If you've already painted your house exterior, use it as a guidepost for an outdoor color palette. 
In most cases, it's best to choose bright primary colors for smaller spaces, such as a backyard patio or terrace, and stick with pastels in more expansive spaces like a pool area or entire yard. 
Neutral tones that match those used indoors are often a good idea in addition to bright accents of color—and can help tie everything together perfectly. Try using paint swatches from your wall decor as inspiration!
Add Some Light to Your Outdoor Space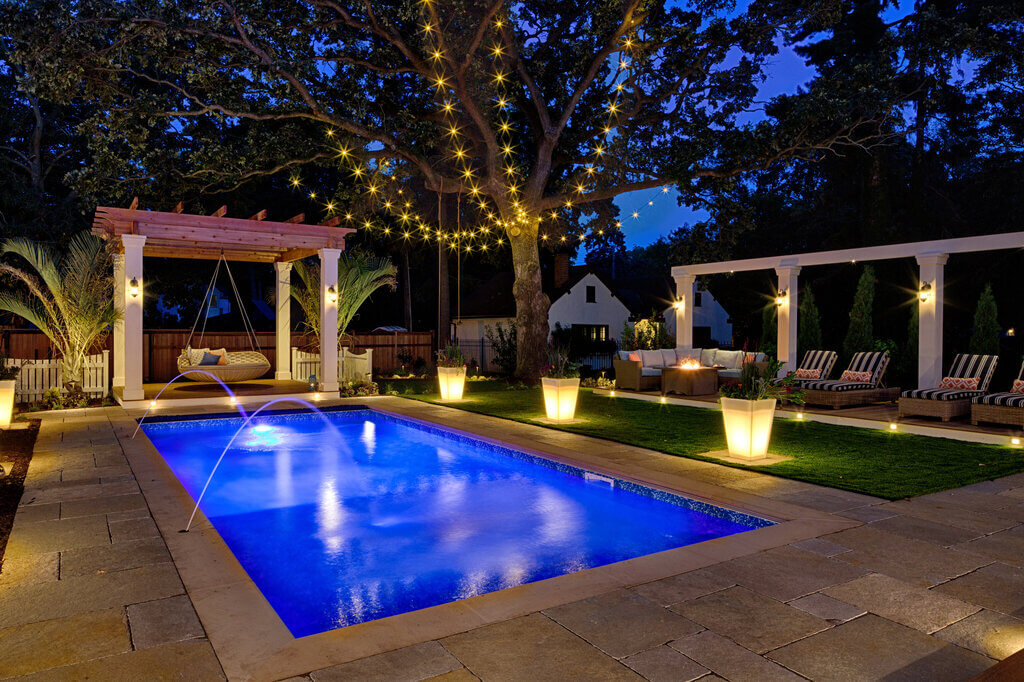 Source: squarespace-cdn.com
Lighting is a key component of any outdoor space. Typically, people install lights along fences or pathways that lead into their yard. 
Lights that attach to trees or exterior walls can also create a unique look. You can even use lights as a way to accentuate other features, such as a pool or water feature. Focal points are crucial for focusing your space and drawing people's attention where you want it to go. 
Adding some bright outdoor lighting is an easy way to create one of these focal points, not to mention it helps with safety too! 
If you have plans of hosting big parties in your backyard at night, be sure you have plenty of well-placed lighting so guests can see where they are going.
Poolside Flooring Options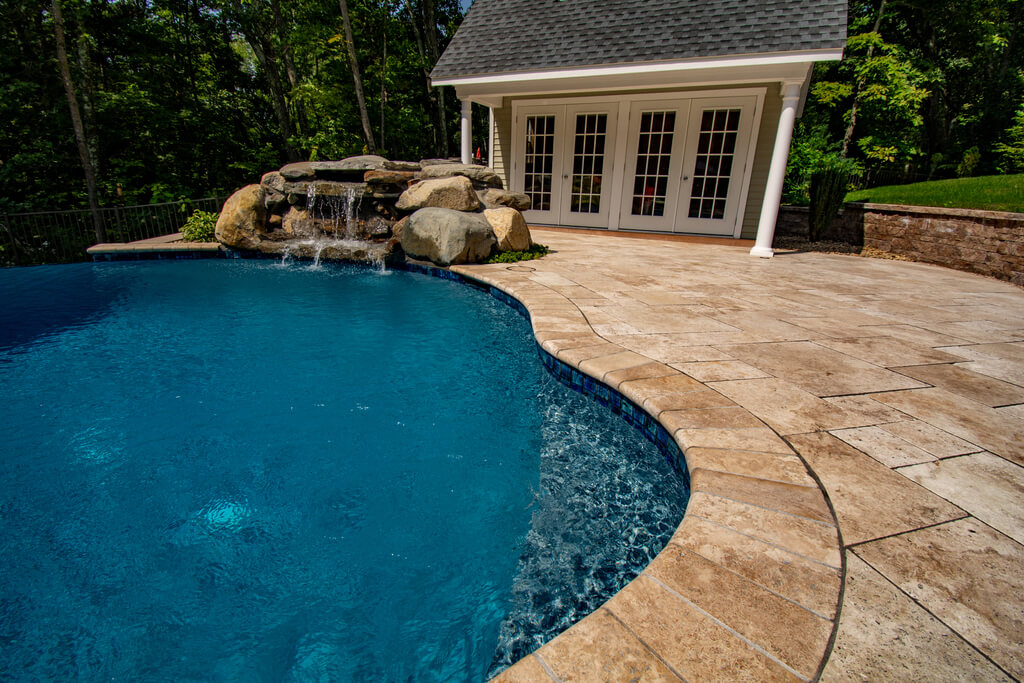 Source: triadassociatesinc.com
It's important to consider what type of poolside flooring will work best for your space. When choosing a pool deck design, ensure that it is low-maintenance as well as slip-resistant. 
Some options include natural stones such as flagstone or cobblestone that allow for an elegant look without worrying about slippery surfaces. 
If you're looking for something more durable yet just as stylish, you may want to consider tile instead of stone. A terrazzo tile with intricate patterns can dress up your space—as long as you stay away from highly dark colors that might be prone to dirt buildup.
Poolside Furniture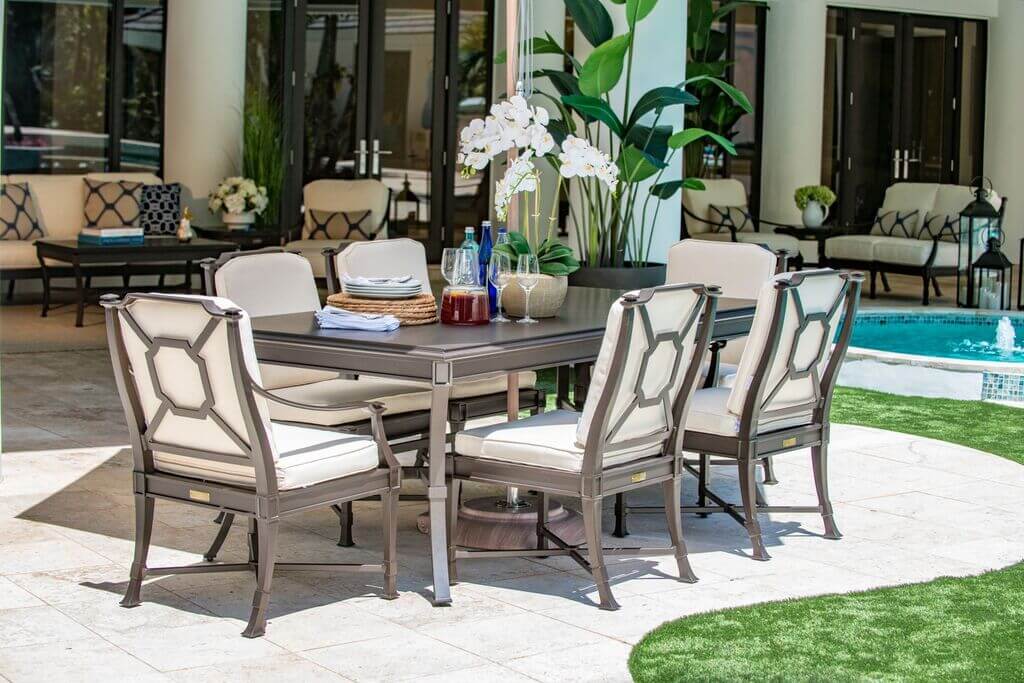 Source: patiofurniture.com
When buying poolside furniture, it is essential to find something that will match your home's décor. But do not forget to choose furniture that can handle water. 
Never place glass-topped tables or chairs near a pool because they could fall in. Instead, it is safer to buy unbreakable plastic or metal ones. You can clean them easily with soap and water or by throwing them into a washing machine. 
Also, make sure your furniture does not take up too much space on the decking around your pool. Remember, you need room for people to sit down without stepping over chairs! 
If your decking is small, consider getting an outdoor sofa or other comfortable seating instead of many chairs.
Also Read: 5+ Best Solar Pool Heater: Save Energy Cost and Nature As Well
Conclusion
There are many styles to choose from when it comes to selecting a poolside. However, it's important to remember that what you want may not be what you need. 
While a pool is necessary for most places, a luxury touch may make your life more pleasurable. Adding a hot tub or waterfall to any outdoor setting will raise its value, giving you something enjoyable for years to come. 
More importantly, great poolside designs and accessories will significantly boost your property's value if you ever decide to sell. 
Omaha's leading realtors, such as Favor Home Solutions, can be of great help for those who want to sell a house fast. Click here to learn more about Favor Home Solutions.