Why Invest in Retractable Screens?
As a homeowner, you will want to make the most use out of every part of it. Using the patio in your home can prove to be quite difficult with the existence of insects and weather changes. That would be a shame for homeowners who enjoy lounging at their own houses and taking in the view. One simple way to solve many issues would be to install retractable screens in your doorways. 
There are many benefits you can achieve by investing in some high-quality screens. By reading this article, you will discover the many perks of installing retractable screens in your own home. Once you are aware of how useful they can be, you will not want to pass up on the chance to have them.
Source: squarespace-cdn.com
Why Invest in Retractable Screens
Privacy
Retractable screen doors will allow you to have privacy in any area you choose to install them in. They will act as a sort of barrier that blocks out the view of that area from other people. This will be excellent for swimming areas if you want to keep onlookers away from your pool. If you value your privacy, you will definitely want to invest in a high-quality screen door. 
It will benefit you and the other members of your house to have the privacy you need to enjoy certain areas of your home and you do not even have to worry about the potential hassle of having to remove them during certain types of days. The self-storing feature of retractable screens will prove to make a difference. They will make everything much more convenient for you by making the storage and removal of them hassle-free.
Protection from Insects and Weather
One of the most important benefits of retractable screens is quite essential. They will protect your home from insects and weather conditions. They work to prevent insects and other pests from invading your home from the outside. 
By doing so, you can relax outside without having to worry about constantly looking out for insects. The nice breeze will be welcome into your home while the screen allows your home to stay nice and ventilated.
Retractable screens will also protect the designated areas of your home from rain and UV rays. Some areas of your home and certain types of furniture can be affected by the weather. The retractable screen will make sure that they will stay safe from damage, rain, or shine. This will allow you to relax even when the weather tries to affect your surroundings.
Extends the Life of Your Patio
You will definitely want to make the most out of your patio and the swimming areas of your home. They should last as long as possible in order to stay in top condition despite conditions that would cause them to wear down. Retractable screens will help extend the life of your patio by a long-shot. They will work to protect your patio from being harmed by insects and the weather. As a result, it will take much longer for the patio areas to wear down from outside factors. 
Furthermore, the value of your home will increase. This will be important if you are ever thinking of selling your home. Retractable screens will allow you to have more time with your patio than before. The screens will help the patios stay functional in different seasons thanks to the protection that they provide.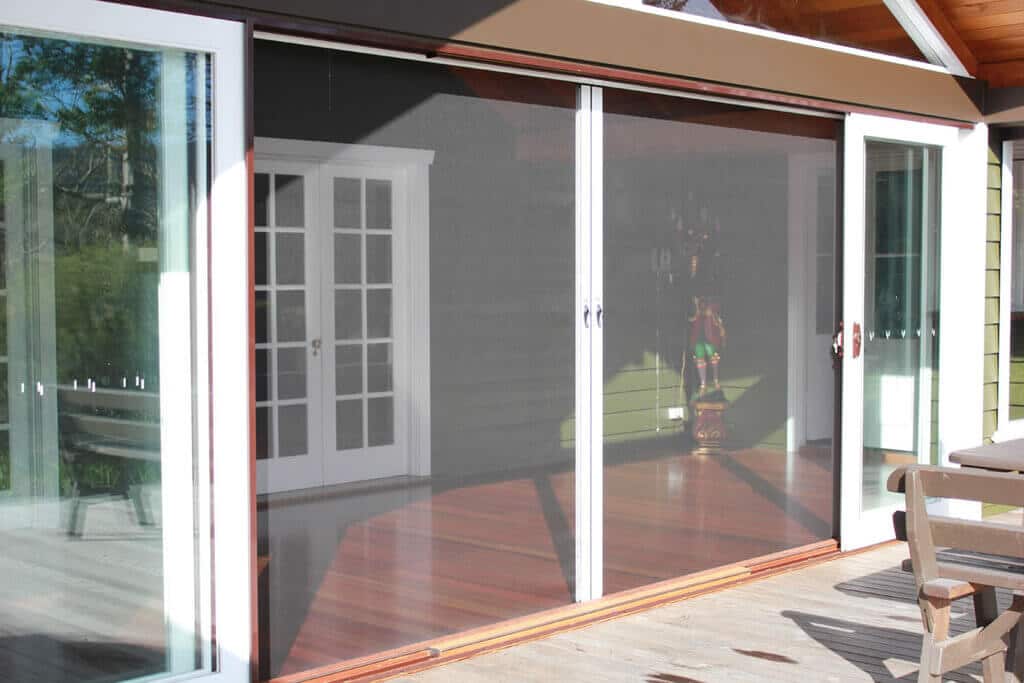 Source: palmbeachenclosures.com
Can Be Custom Fitted
Retractable screens are designed to be custom-fitted to any door frame, no matter the size. This will save you the hassle of worrying about problems regarding size during installation. Retractable doors are considered to be a universal fit for any area of the house. This eliminates the concern about inconvenience when it comes to installation and use. They are perfect for terraces, patios, gazebos, and many more areas of the house.
You can keep the retractable screens up to prevent the invasion of pests. They will also disappear on their own when they are not being used. Having this level of convenience while still maintaining your privacy will prove to be beneficial. No matter what room you want to install retractable doors in, your mind will be at ease knowing that it will fit.
Helps You Save Energy
Retractable screens are built to protect your home from the weather. Helping your home be more energy-efficient will help you save money and keep your furniture safe from damage. UV rays become a bigger problem during the hotter months of the year. You will want to be prepared to let your retractable door keep your house cool. 
They are able to prevent a good amount of sunlight from entering your home. This means that you will not have to blast the air conditioner as hard to keep your house cool during the summer.
They also help keep your house ventilated during the winter, which prevents you from having to turn the heater up higher. No matter what season it is, retractable doors will help you save money on your energy bills. Your home will stay comfortable and you will not have to worry about overheating or freezing.
Keeps Air Free of Pollen and Dust
Many people suffer from pollen and dust allergies. It can be difficult to go to certain areas outside of your home if you are affected by it. Retractable doors are designed to protect the inside of your home from dust and pollen, keeping the air free and your lungs safe. They are pretty easy to clean as well. Cleaning it will help ensure that the mesh stays in peak condition to ventilate the area. 
Having a retractable door will prevent you from being surrounded by allergens and keep your living space allergen-free. The amount of protection you will receive thanks to retractable screens will have you satisfied with its high quality.
Conclusion
Investing in a retractable screen has been proven to be more convenient for you in many different ways. Go Retractable is a reliable brand if you're looking for retractable screens. The installation will be easy and it will fit perfectly into any door space. The easy installation process and the amount of energy you will save will prove to be entirely beneficial.