9 Sturdy & Stylish Shoe Storage Bench to Keep the Footwears Organized!
An entryway is an integral part of the home as it's where your guests get their first & last impression of your home. Also, it's the last place where you visit before you leave for the day. So, it should be well organized and welcoming. But if your sandals, stilettos, and sneakers are laying here and there, it will be the worst case ever. Due to this disorganized situation, it is not only difficult to find the right pair of shoes when needed, but your visitors will also get the wrong impression. The best solution to keep your footwear safe and easy-to-get is a shoe storage bench!  
An entryway shoe storage bench can create the best possible impression of your home by keeping your shoes and other accessories organized. Plus, they also provide seating while looking stylish and inviting. Isn't that great? Today we've compiled up the nine best shoe storage benches from Amazon that will make your life easy and convenient. So whether you want storage for your thousand pairs of shoes or just a stylish, trendy looking organizer, you'll find the perfect one in this list.  
Best 9 Shoe Storage Bench On Amazon in 2022! 
Below are the top 9 most popular shoe storage bench options that are worth your money!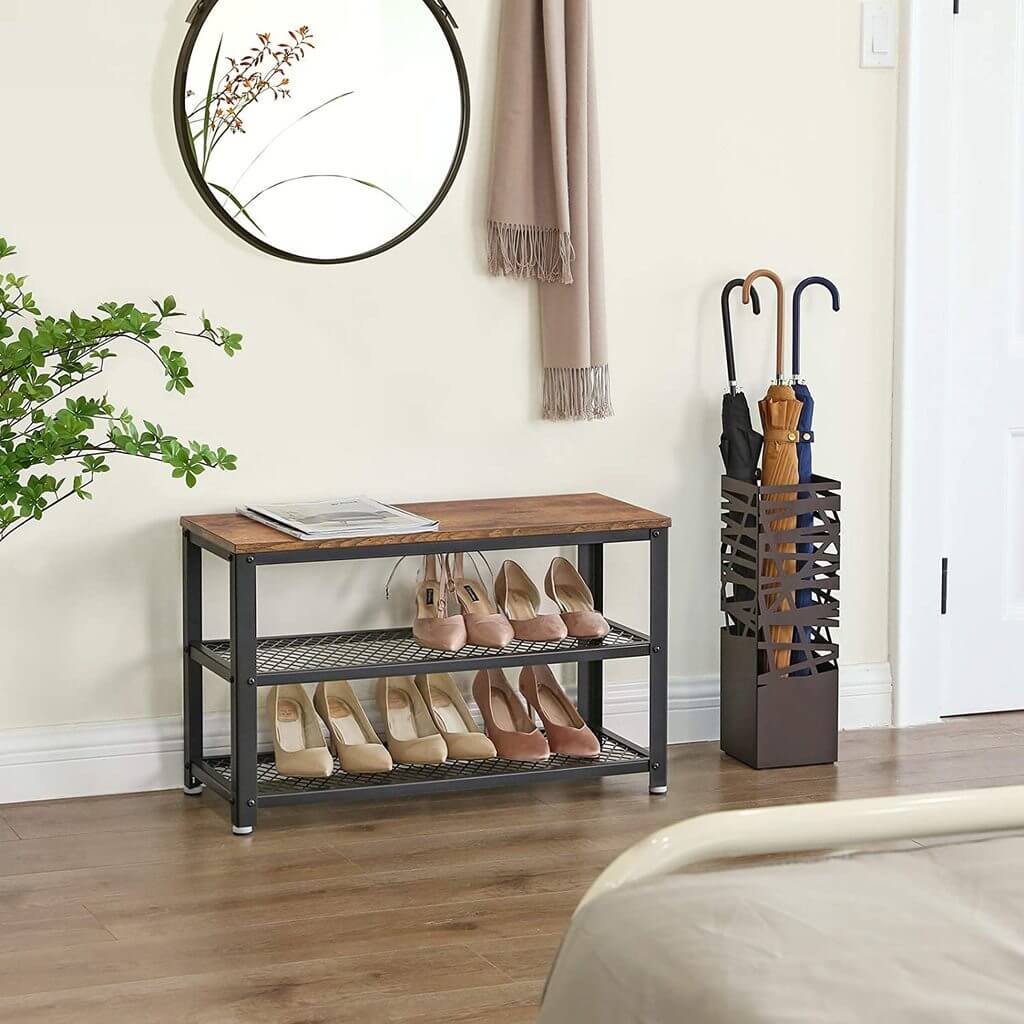 Source: amazon.com

Features:
Made from high-end, engineered industrial metal and wood

Can be used as indoor and outdoor furniture

Easy assembly and usage

Can withstand 198 pounds of weight

Can hold up to 6-8 pairs of shoes
This Valuable Shoe Bench and Store Organizer shoe rack are crafted from engineered wood, which is more moisture-resistant than solid wood. The rustic wooden shoe bench can be used to hold your dirty shoes and you can also use it as an entryway bench. 
It is cordially designed as a modest rack by combining a metal framework and an engineered wooden plank on top. Apart from shoes, you can also use this as a rack to place your bag, books, and keys, and other things. It is pretty strong as it can hold up to 198 pounds. Plus, it has non-slip adjustable feet. All you need to do is tighten the screws that come along with the package to assemble this, and this will hardly take 10 minutes! 
| | |
| --- | --- |
| Pros | Cons |
| –  Minimal yet modernistic furniture | –  Don't have wheels |
| –  It has adjustable feet | –  Not water-resistant. |
| –  It is both shoe rack and bench | |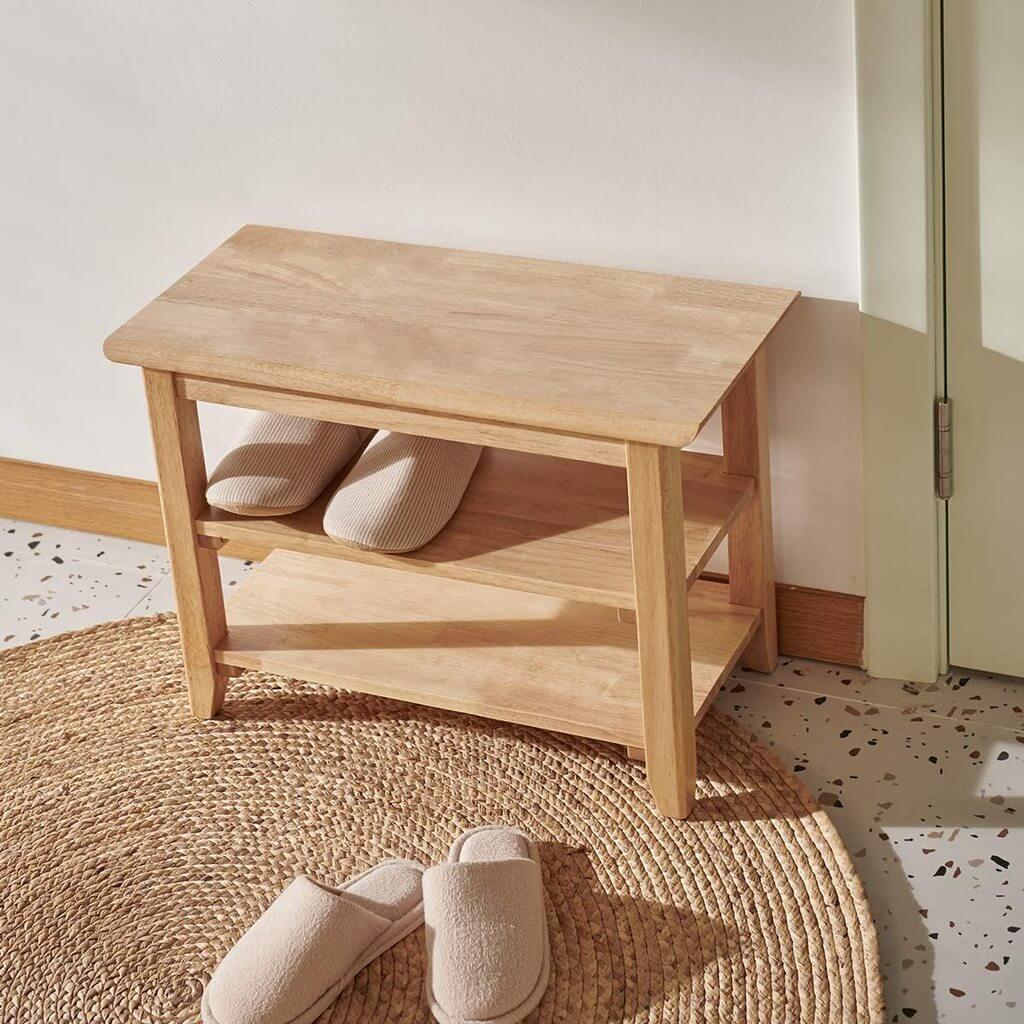 Source: amazon.com

Features:
Made of 100% rubberwood.

Stable, durable, and eco-friendly.

Suitable for your hallway, living room, bedroom, patio, or kitchen.
Are you looking for a small but sturdy shoe rack? Bring home the ACRO Wooden Shoe Bench. It measures 23.6 x 11.8 x 16.5 inches, which is ideal for storing your slippers, sandals, shoes, and more. Don't think that it is not sturdy; actually, it has an impressive weight capacity of 500-plus pounds. So, it is pretty strong and stable to sit on. 
As its size is small, its capacity is also less. You can only keep about four pairs (depending on the size and type) stored in this shoe bench. You can put this compact bench in your tight entryways or busy areas of the home.  
| | |
| --- | --- |
| Pros | Cons |
| –  It has two shelves to store the shoes | –  Shoe rack space is a little less |
| –  Multi-functional | –  Can hold up only 6 shoes |
| –  Has a sturdy and finishing outlook | |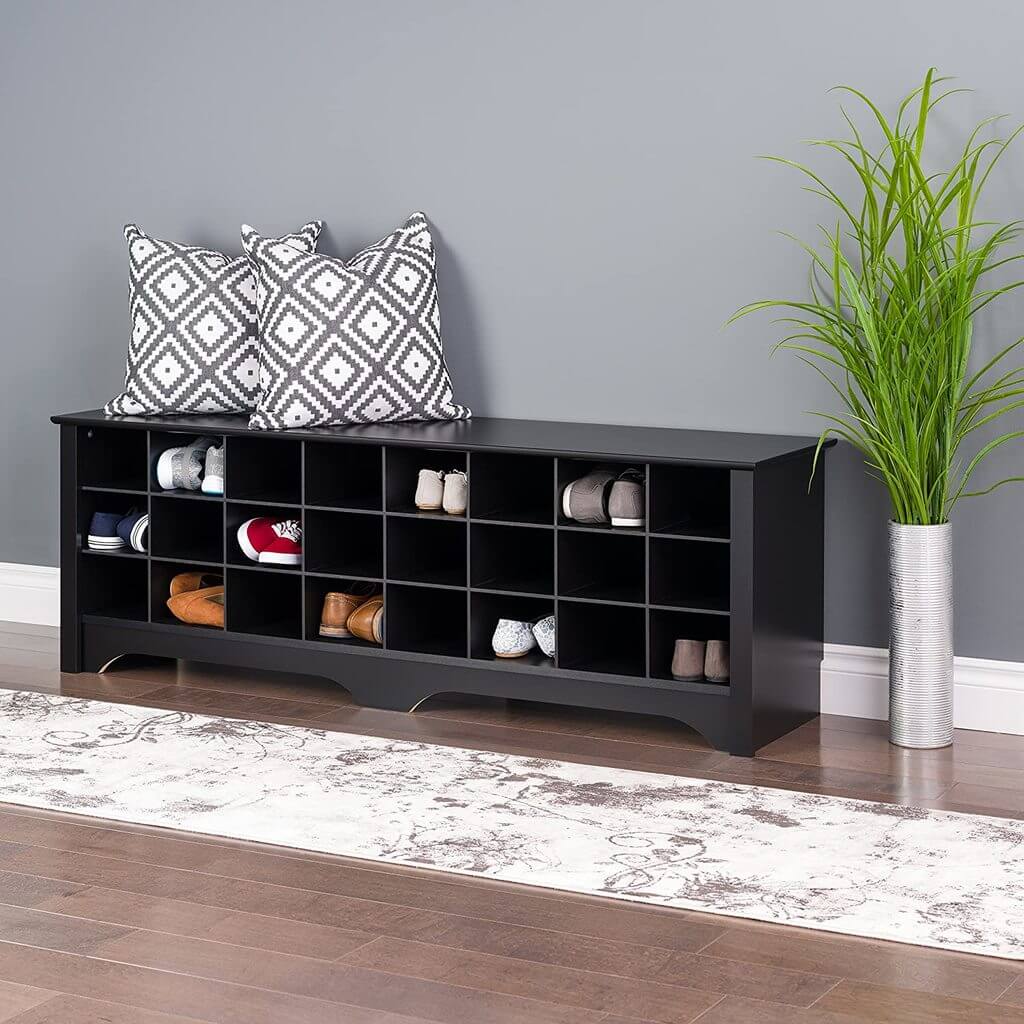 Source: amazon.com

Features:
Can store 24 pair of shoes or accessories

Comes with a 5-year warranty

Composed of non-toxic, composite wood

Has Weight Capacity of 66 pounds

Remarkably easy and simple to assemble
Do you have a large family, and no shoe rack is enough for them to store their shoes properly? If yes, then get this one; this Shoe Storage Cubby Bench by Prepac can accommodate up to 24 footwears. Yes, you read it right, TWENTY FOUR. 
This shoe storage unit comes in four colors, including espresso, drifted gray, black, and white. With the 24 deep compartmentalized and widely spaced cubicles, now you can store all your and your family's shoes together in it. Not only this, but it also comes with a 5-year warranty! It will be a great addition to your porch or patio and good for places that hold events, occasions, or parties quite often.
| | |
| --- | --- |
| Pros | Cons |
| –  Comes in four colors  | –  Dimensions are too wide |
| –  Weather-resistant | –  Looks good only in utility rooms or corridors |
| –  Highly durable & versatile | |
| –  Comes with a 5-year warranty  | |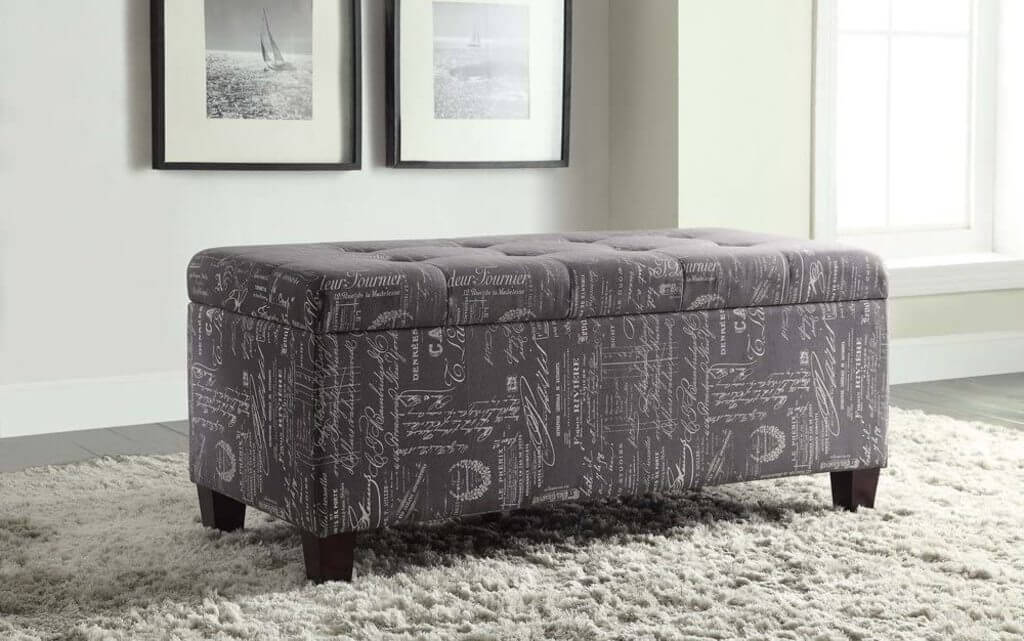 Source: amazon.com

Features:
It has pre-installed shoe compartments.

It comes with a beautiful script patterned upholstery

Ample interior storage space

Has a comfortable plush cushioned top
If you're searching for a stylish bench with great storage, Linon Carmen Shoe Bench is a brilliant option for you. You can place it in your walk-in closet, entry, or at the foot of a bed. It has not only a trendy design but also has plenty of storage space. With 18 storage slots, it is perfect for fitting shoes for men and women. 
You can also put various things and other items in the slots. This script upholstered shoe storage bench is capable of holding a maximum weight of 200 lbs. This piece will easily complement and go with any decor style and color scheme. So sit on the seat top and wear your shoes comfortably. 
| | |
| --- | --- |
| Pros | Cons |
| –  Provides sitting area. | –  It isn't scratch resistant. |
| –  Comes with a Safety hinge on lid | –   |
| –  Side storage pockets provide Extra storage | |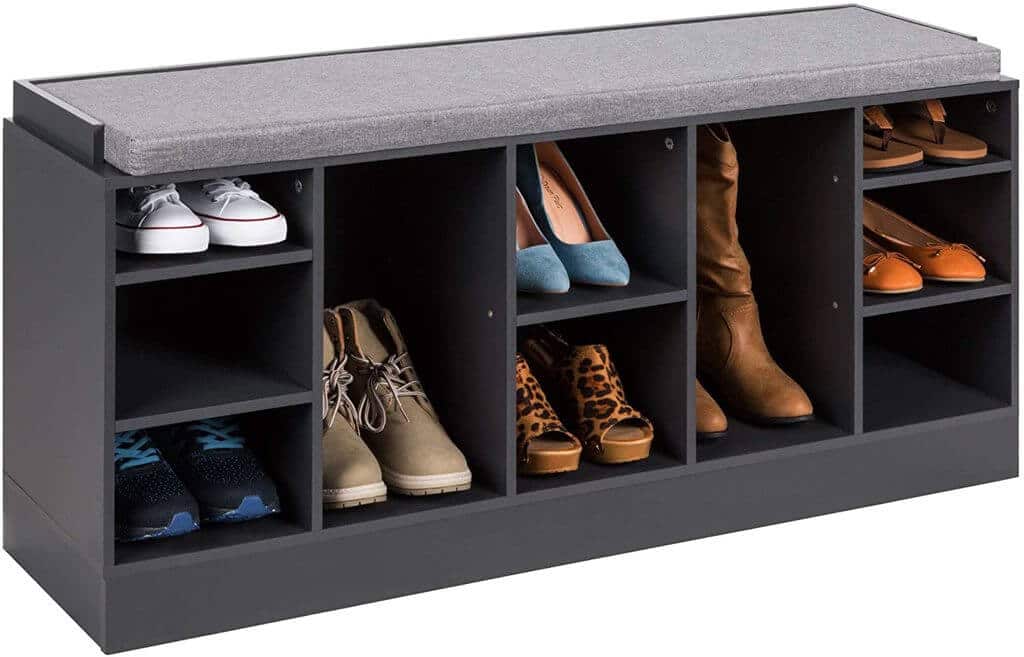 Source: amazon.com

Features:
Versatile storage furniture with 10 cubbies

Ideal for boots

Has a sleek and modern design. 
Most shoe organizers are designed for everyday footwear, so you will not be able to store other types of shoes such as boots. Worry not, as this Shoe Storage Bench from Bestchoiceproducts is brilliantly designed for every type of shoe. It has 10 spacious cubbies, which can fit everything from ankle boots to tall winter footwear.
There are four 6-inch sized cubbies, two shorter 3.5-inch cubbies, and two 15.75-inch cubbies in this rack, where you can store your boots without folding them. With a 400-pound weight capacity and high-density foam cushion, this organizer is an easy spot to sit and wear your favorite pair.
| | |
| --- | --- |
| Pros | Cons |
| –  has a high-density foam cushion atop | –  A little complicated process of assembling |
| –  It can also serve as a bench | –   |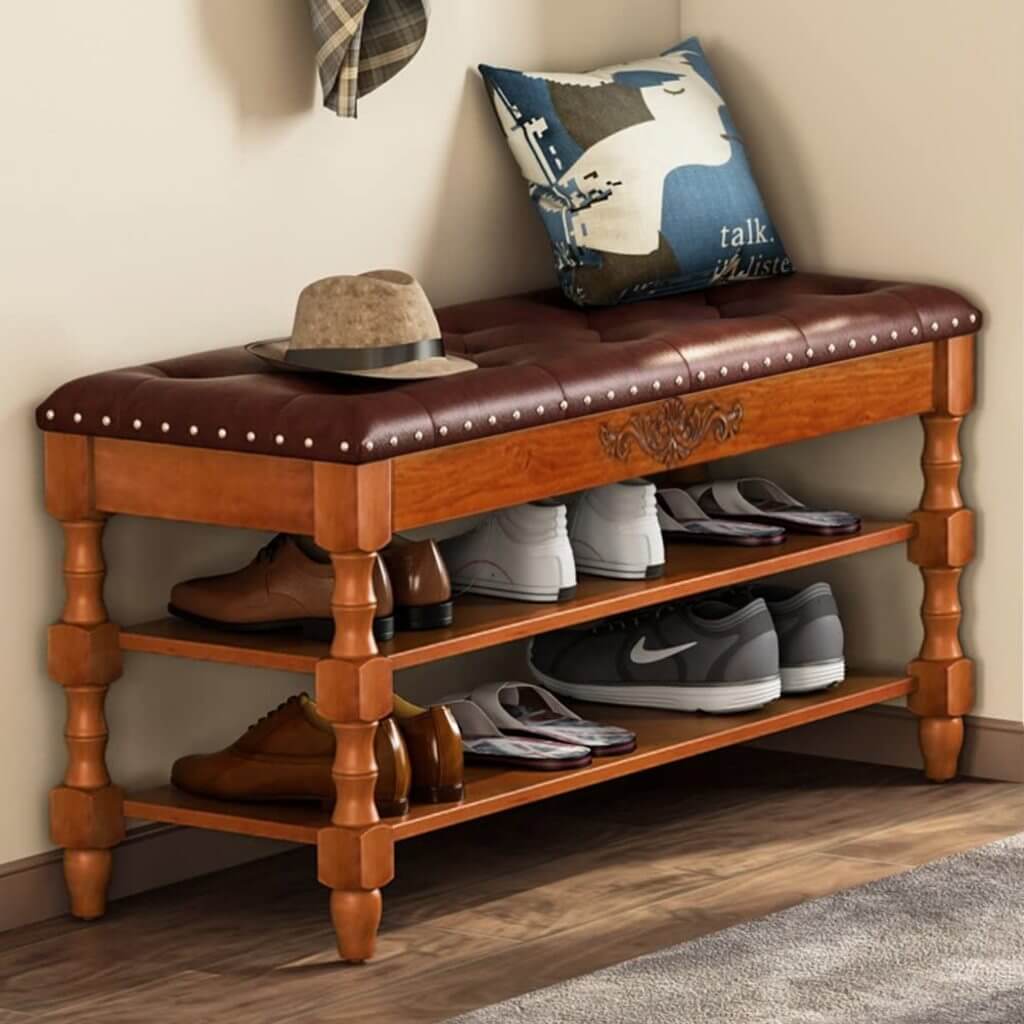 Source: amazon.com

Features:
Can provide entry to a maximum of 10 shoes

Comprises of a leather tufted cushion along with cortical buckles

Composed of solid wood and has an antique look

It has a gorgeous leather cushion design

Has a glossy polished look with round edges

Has 90 Days Money-Back Guarantee,   
This hand-carved Tribesigns vintage Roman stool will be a great addition to your house. It not only looks beautiful as a decor piece but also it is the best storage bench for shoes. This shoe organizer has a tufted leather cushion, where you can sit down and fix your shoelaces or your heels. 
Apart from this, this is a pretty sturdy stool that is also resistant to wear & tear dents, and scratches. It is polished, so even after many years of usage, you'll never see any chipped corners. All the edges are also round, which makes it safe for kids. 
| | |
| --- | --- |
| Pros | Cons |
| –  Sturdy & Resilient to wear and tear | –   Needs effort while assembling |
| –  Comes with18-Months Warranty | –  Lacks compartmentalization or cubicles |
| –  Space-saving design. | |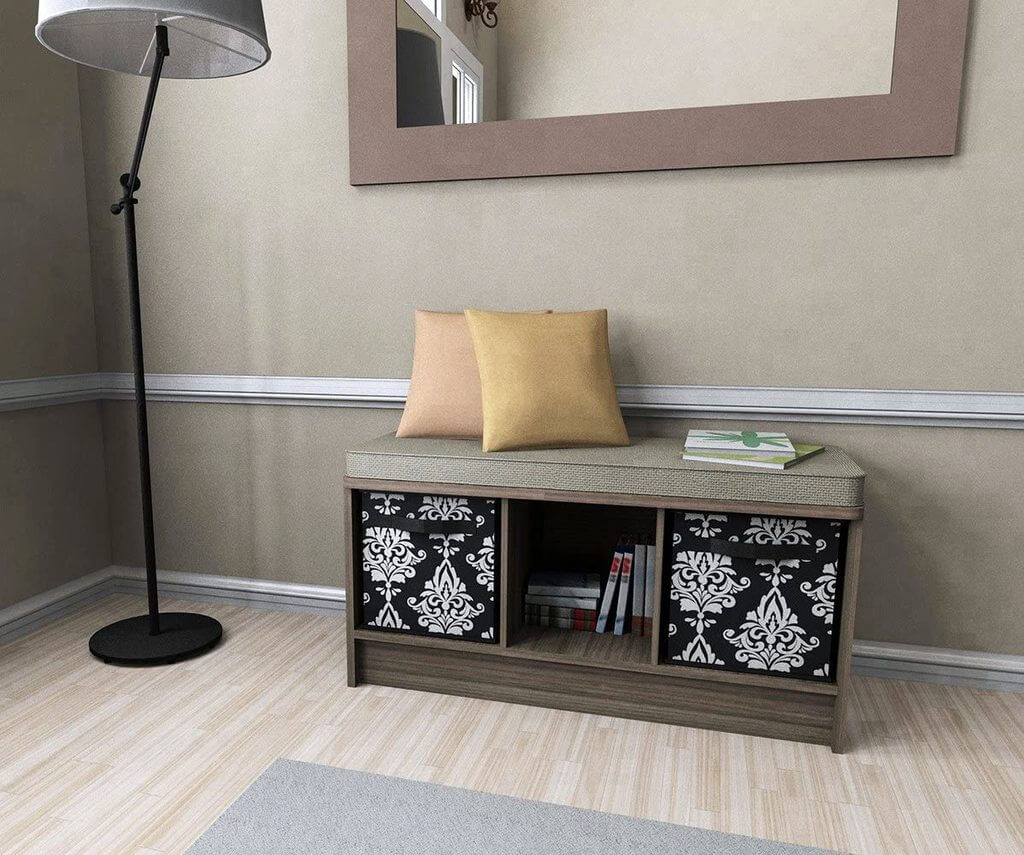 Source: amazon.com

Features: 
No additional hardware is required to assemble it.

Can be used as a seating option

Takes less floor space

Made of laminated wood
Another great shoe organizer for you is from the brand ClosetMaid. Composed of engineered wood, this has a cubical storage design. You can put your shoes, decorative items, hobbies, toys, media, and office supplies in the three cubes. You can also use them with or without drawer baskets. 
Another best thing is that you can order it in that color which complements your interiors perfectly as it comes in four different options including natural gray, dark cherry, white, and espresso. Because of these qualities, this is one of the top-rated storage benches on Amazon. 
| | |
| --- | --- |
| Pros | Cons |
| –  Seating Available | –  Can hold a limited number of shoes |
| – Comes with back panels | –   |
| –  Has sturdy and finishing outlook | |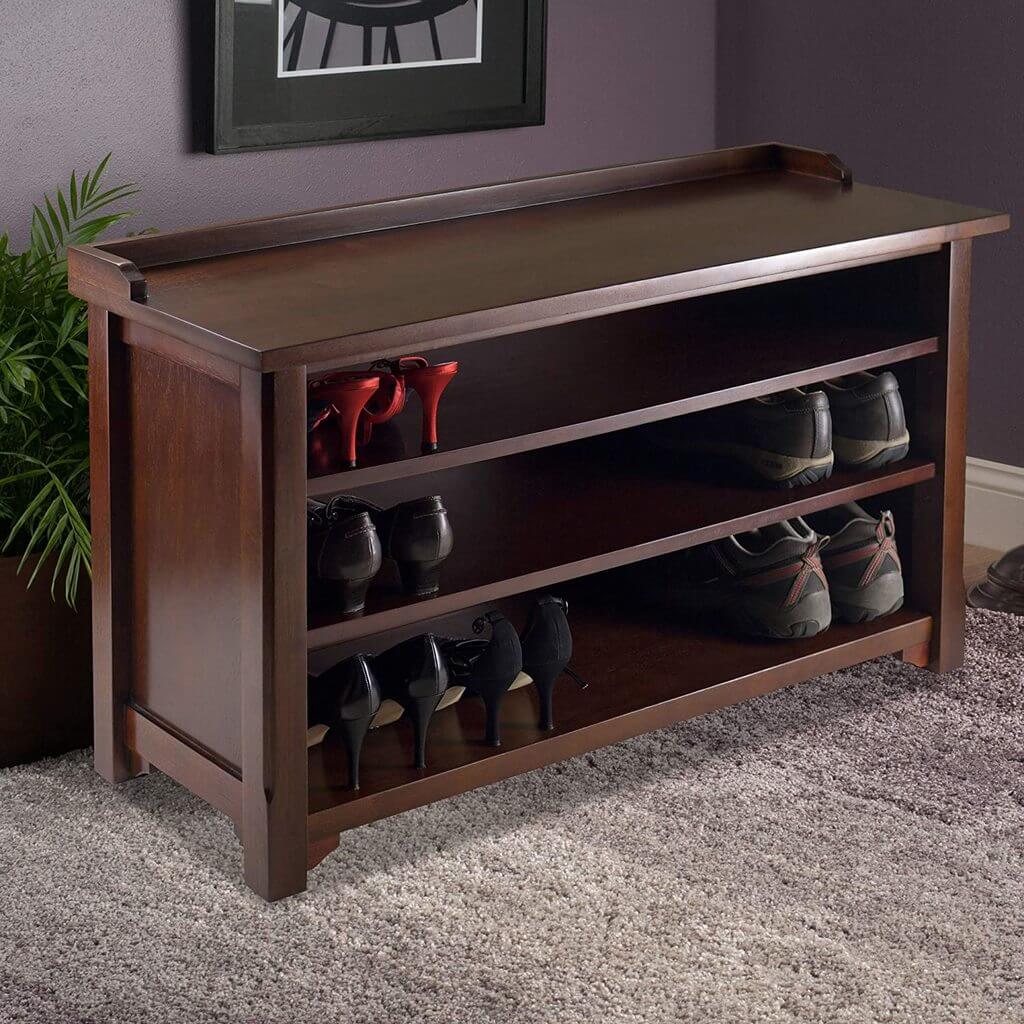 Source: amazon.com

Features:
Looks good indoors as well as outdoors decorations

Composed of composite wood

Can support anything within a 250-pound weight capacity

Has a rich walnut appearance 

will only take up to 25 – 45 minutes for assembly
The Dayton Shoe Bench has an elegant transitional style, so it will be an excellent entryway bench with storage for your house. With the cumbersome design and shiny walnut upholstery, the Winsome Dayton Bench has the huge capacity to hold three times more shoes compared to any other shoe storage.  
Sit comfortably on this bench & put on your shoe, and it can also be cleaned without any extra effort. Thanks to its 250-pound weight capacity, you can even put your TV on the top. Apart from shoe storage, you can also use it to place books, VHS cassettes, DVDs, etc.
| | |
| --- | --- |
| Pros | Cons |
| –  Easy to assemble and put together | –  Comes in only one color |
| – Sturdy, durable, and weather-resistant | –  Doesn't look good with funky, or retro furniture |
| –  Has a sleek & simple design | |
Also Read: Goodbye To All Expensive Racks with These DIY Shoe Rack Ideas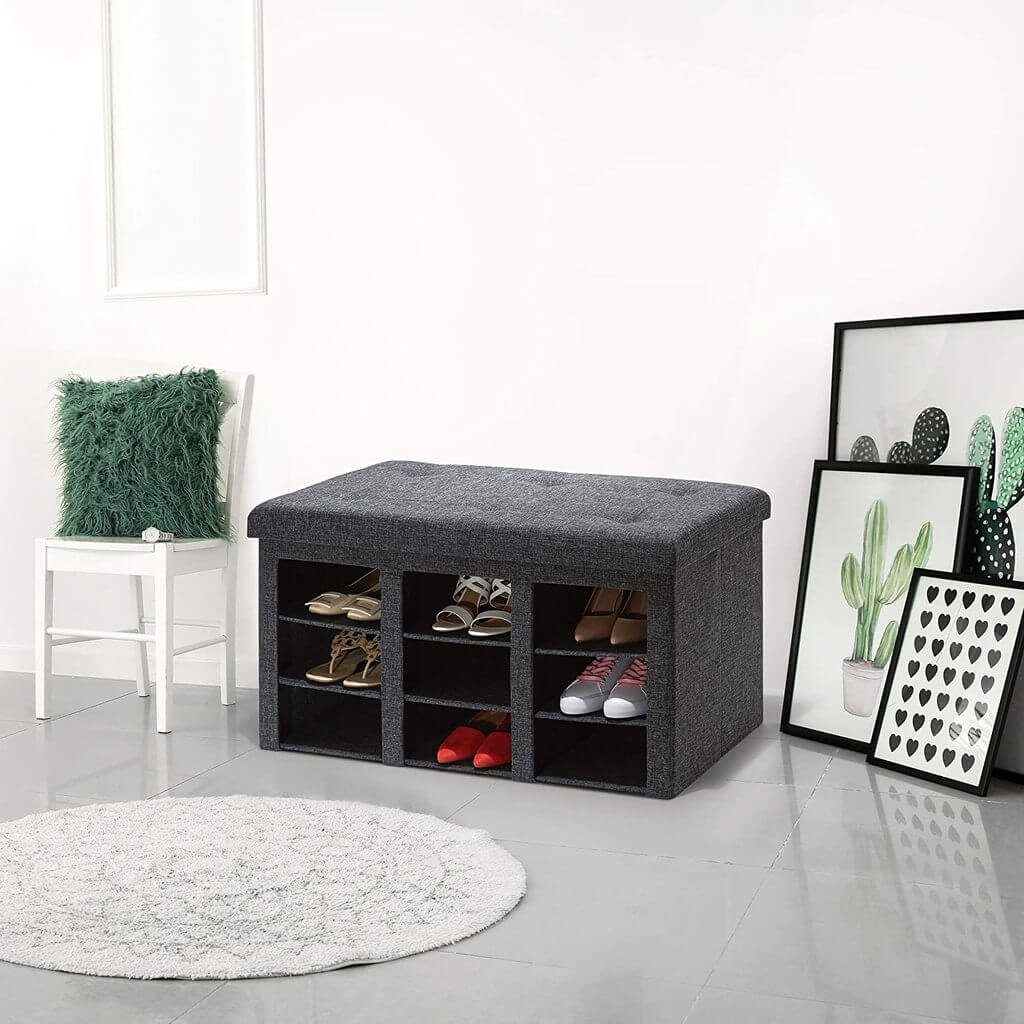 Source: amazon.com

Features: 
Elegant design with dual-purpose nature

It can endure a weight capacity of 440 pounds

Ideal for placing in the bedroom and living room

Its synthetic, non-woven fabric is resilient to wear and tear
This shoe storage is probably the most unique one. Why? Because it comprises two styles – the cube style and the end-of-bed bench style. Seville Classics Tufted Shoe storage bench with cushion is comfortable yet functional. There are a total of nine roomy cubbies for shoes of all sizes, and you can also adjust the size as the dividers are removable. 
There is also a top-hinged lid or a button-tufted padded cushion on the top, where you can again store more stuff such as sunglasses, hats, scarves, and gloves. Made from polyester fabric, this organizer can be easily cleaned. 
| | |
| --- | --- |
| Pros | Cons |
| –  Gives a clutter-free appearance | –  Not ideal for placing outdoors |
| – Comes with a button-tufted, padded cushion | –  Can only house 9 pairs of shoes at a time |
| –  Comes in six other fabrics | |
| –  Quite sturdy and resilient to weight | |

Source: netdna-ssl.com
Final Words! 
So these are all the best shoe storage benches from Amazon. Now you don't have to waste your time finding a shoe. So, put your shoes and accessories in a more organized manner with the help of these organizers. So what are you waiting for, go ahead and get the one you like.
For more home improvement tips and decoration ideas, visit Architecturesideas.