10 Best Under Bed Storage Organizers and Ideas for 2023
Are you short on the bedroom space? Are you looking for some extra storage space to store your clothes and accessories? If yes, then you don't need to buy new storage units; instead, just take a good look around your room and see what you already have: FREE space under your bed! You may have already seen this type of under bed storage solution in college dorms, and many of you may also have used this method back in your college days. 
Only the bed itself takes up a lot of floor space in your bedroom, no matter whether we use a master bed, a single bed, or a kid's bed. So why not you make use of the valuable space beneath? This is a practical way to store your day-to-day essentials. Here we're not telling you to stuff or kick things under there; consider under the bed storage solutions. Today we've listed some of the best under bed storage for your bedroom. From metal, wood to soft or structured fabric boxes, here in this list, you'll find various and the right storage drawers or bags for your room. 
Whether you want to store off-season clothes, overflowing shoe piles, or your kid's ever-expanding toy collection, these creative under-bed storage ideas will help you. They also will go with any type of room interior and style. 
The Benefits of Under Bed Storage Solutions
Let's see the benefits of having under bed storage:
It will maximize your current storage.

You can efficiently utilize otherwise wasted space under your bed.

It will

make your bed look amazing

more appealing.
So are you ready to get started?
10 Best Under Bed Storage Ideas in 2023! 
Below is the list of all the storage solutions that can make all the difference in your room:
1. Stylish Boxed Storage Units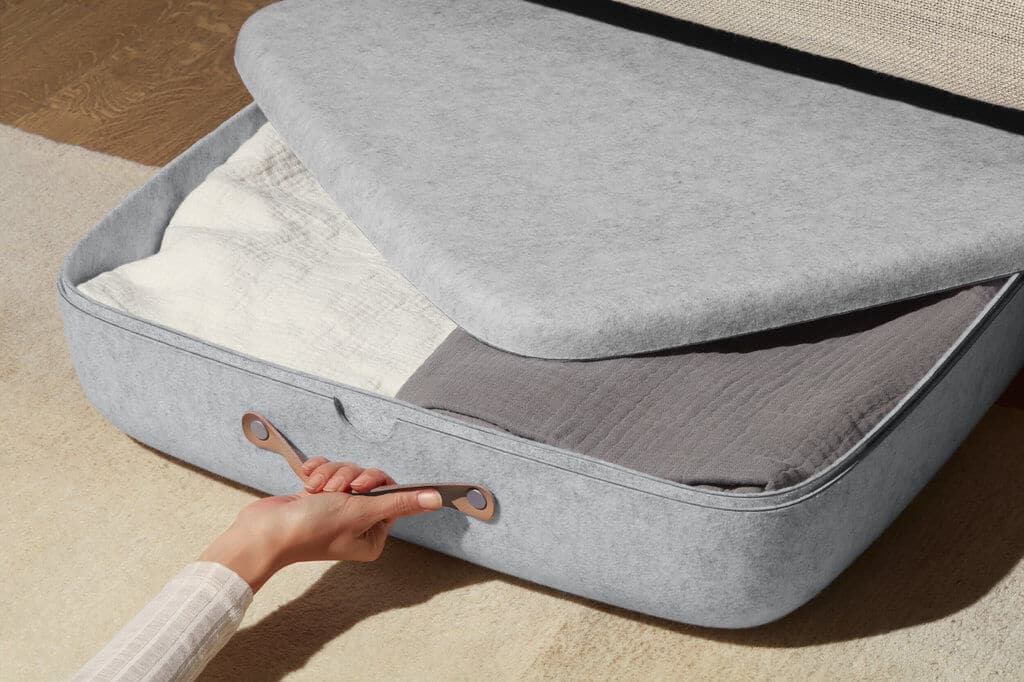 Source: squarespace-cdn.com
One of the easiest ways to use under-bed space is these stylish yet affordable storage boxes. You can use regular card boxes or luxury ones; just make sure that they fit perfectly under your bed.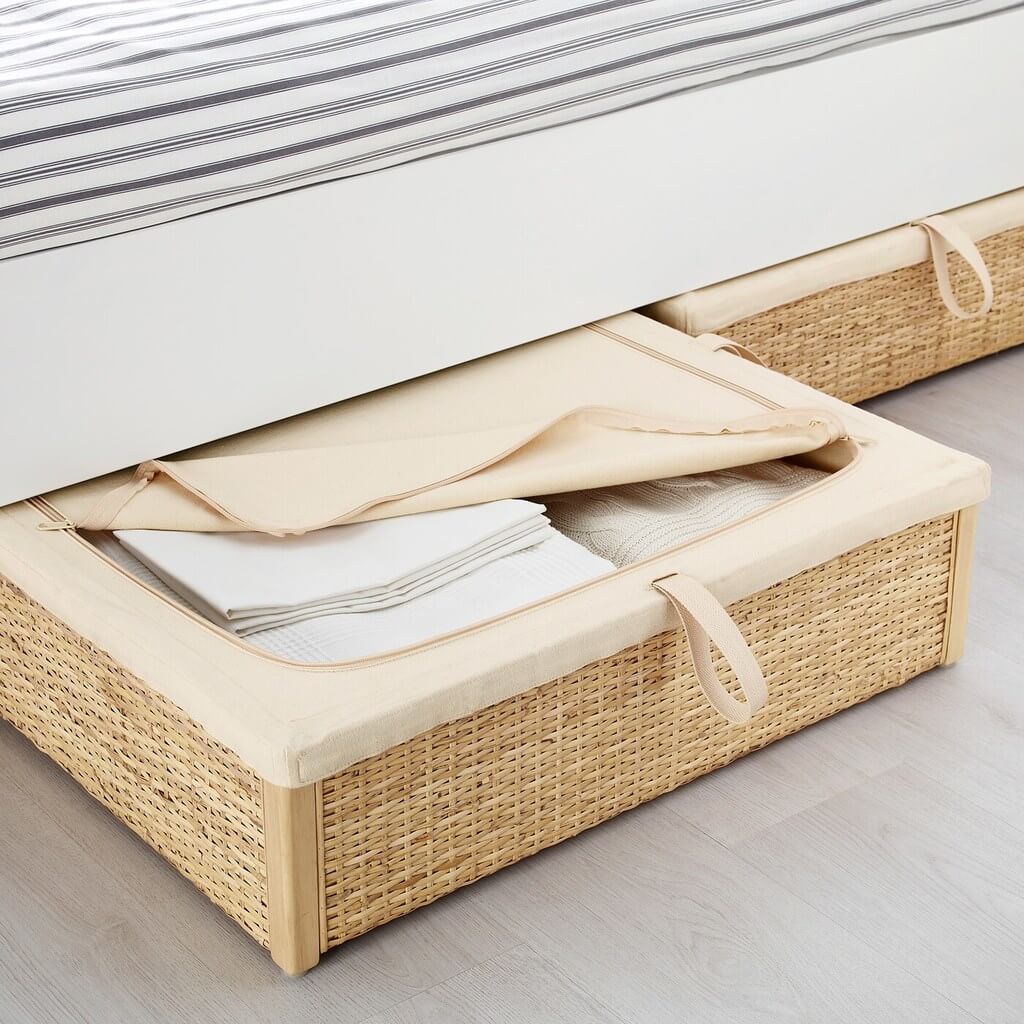 Source: ikea.com
You can also DIY these cute under bed storage containers by placing some printed contact paper on the regular boxes. You can also paint them so that they'll match perfectly with the rest of your bedroom decor. Don't forget to label them; otherwise, you'll forget what you stored in what box! This way, you can keep your belongings safe in your under bed storage box in style. 
2. Sturdy Wood Storage Bins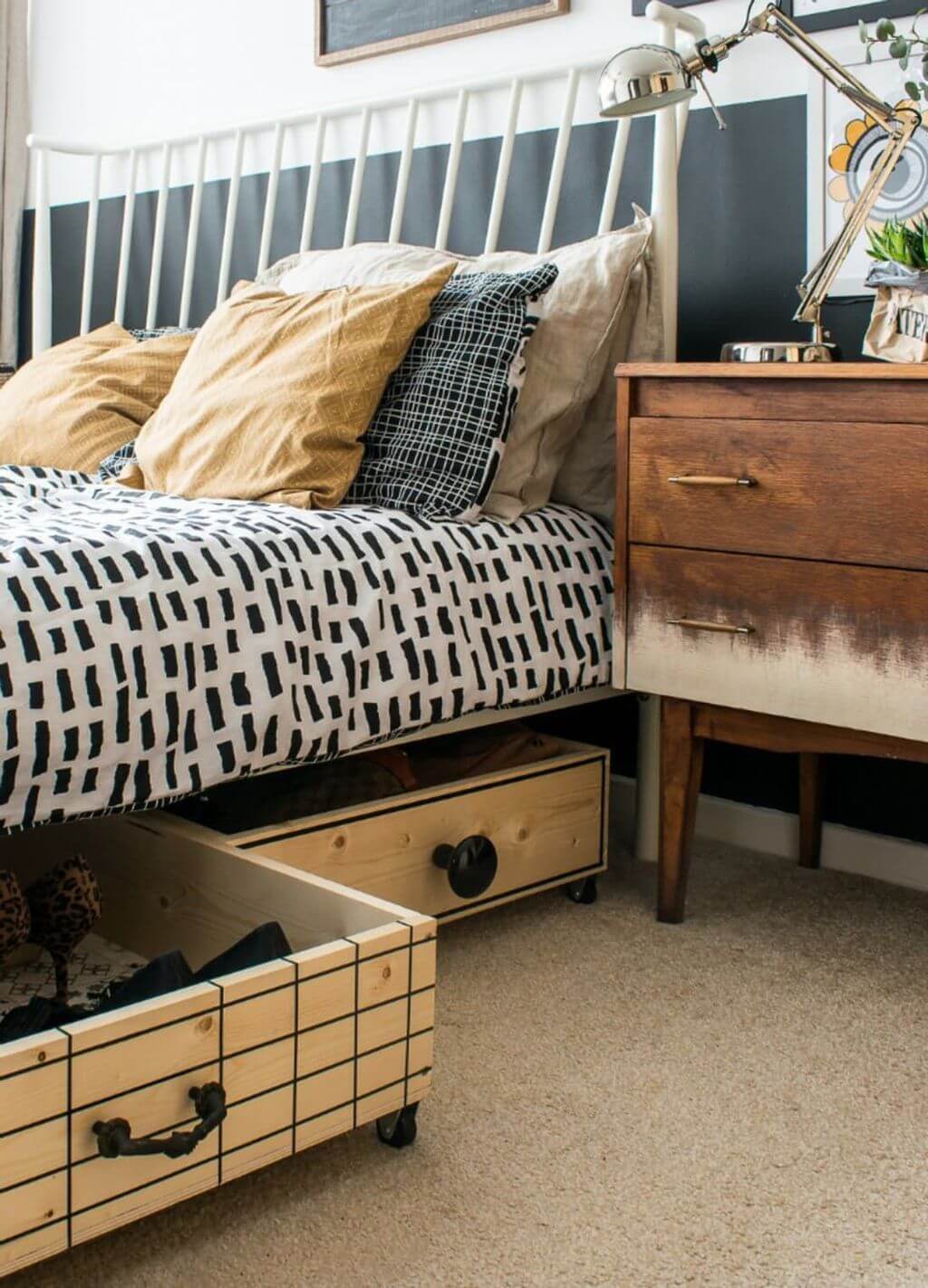 Source: pinimg.com
Do you want a classic and minimal storage idea? Go for wood underbed storage with wheels. They are timeless, easy to install, and look extremely fabulous. This storage solution is perfect for storing all your garments, styling accessories, and other random stuff.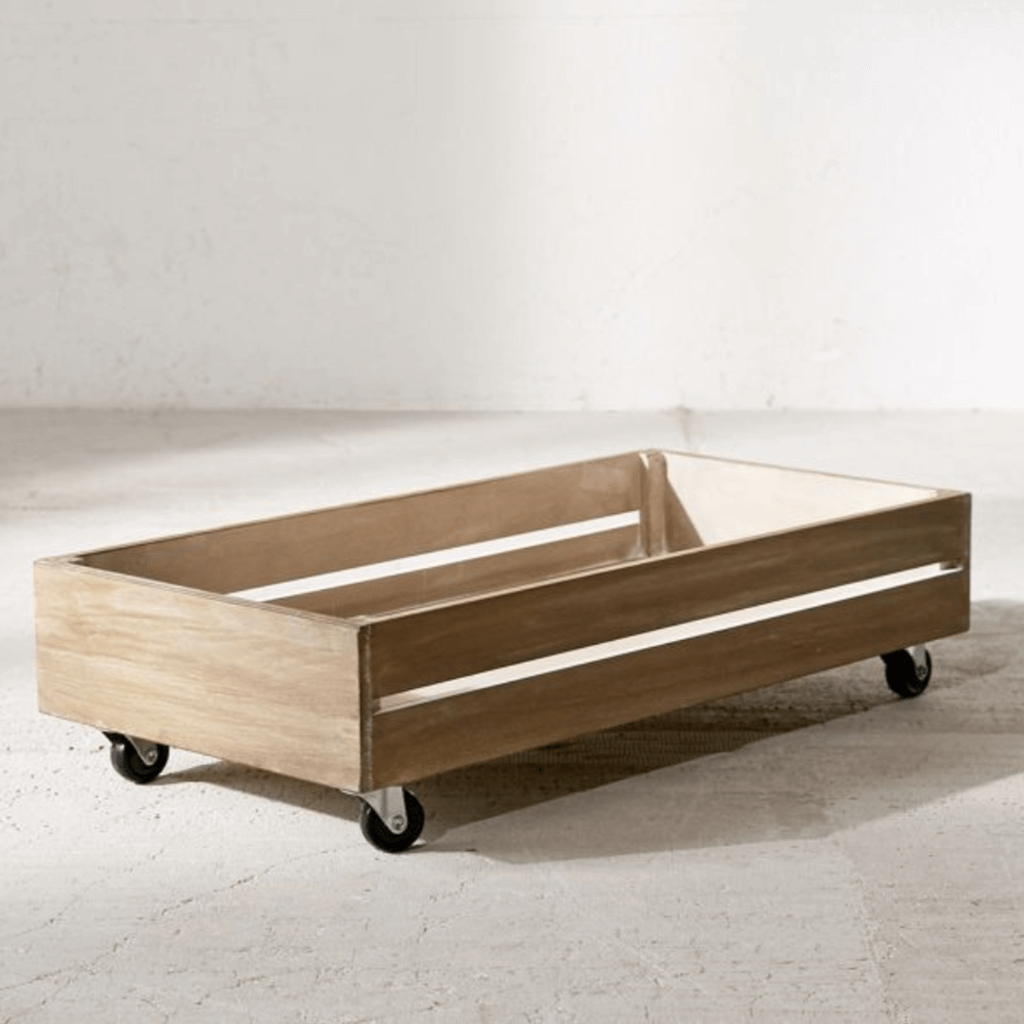 Source: pinimg.com
You can easily make this simple DIY project using wood, glue, and wheels. To make them more bedroom-friendly, you can also either paint them to match the color scheme of your bedroom or simply cover them in printed contact paper. Do whatever you feel like doing! From students to teenagers, these under bed storage bins with wheels are a great option. 
3. Vintage Suitcases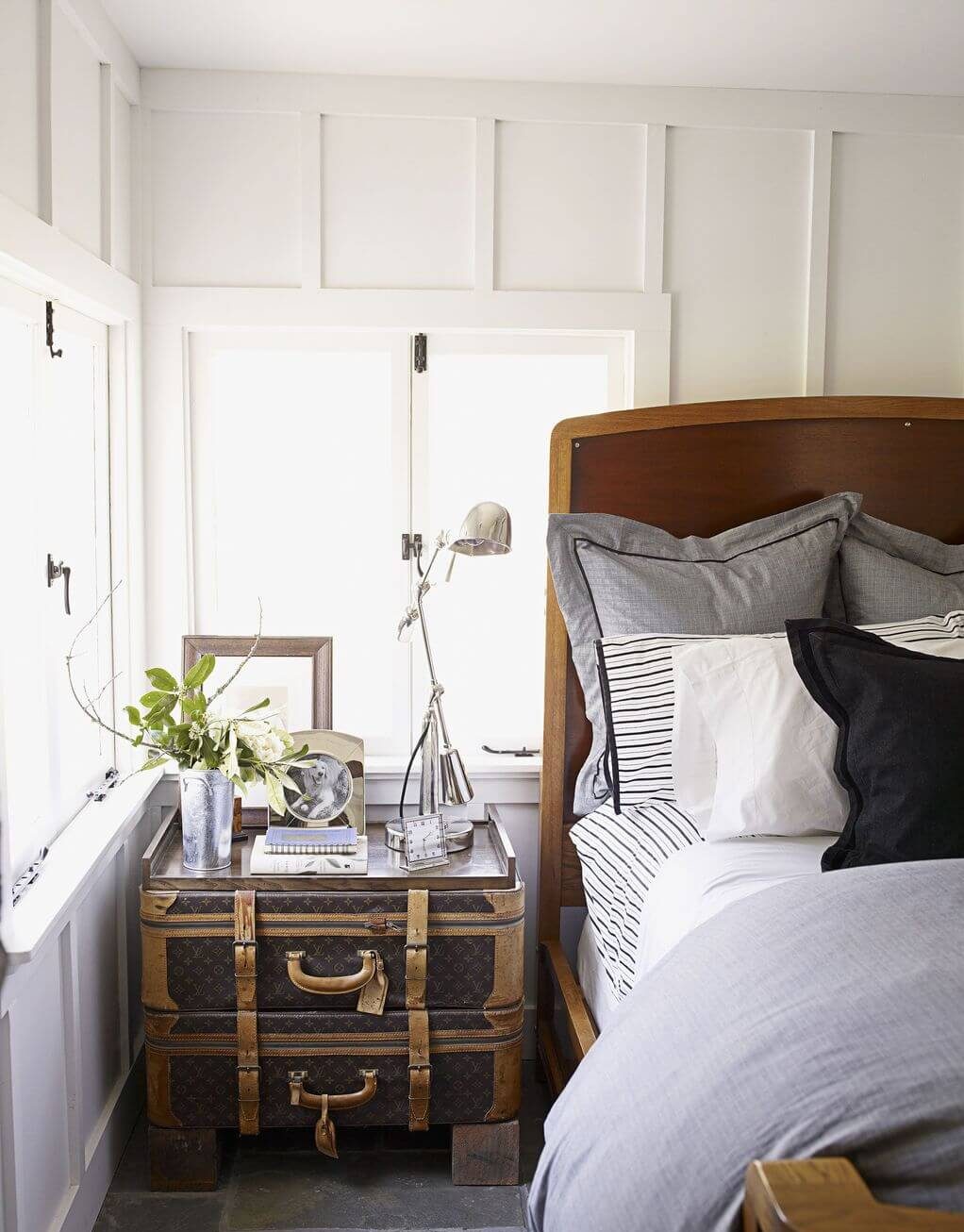 Source: hearstapps.com
Where we all put our suitcases or travel bags? Under the bed or on the top of the closets, right? Don't let your travel bags sit empty; instead, use them for storing your off-season clothes and other things currently not in use. Just tuck your luggage and vintage suitcases neatly under your bed and use them as an under bed dresser.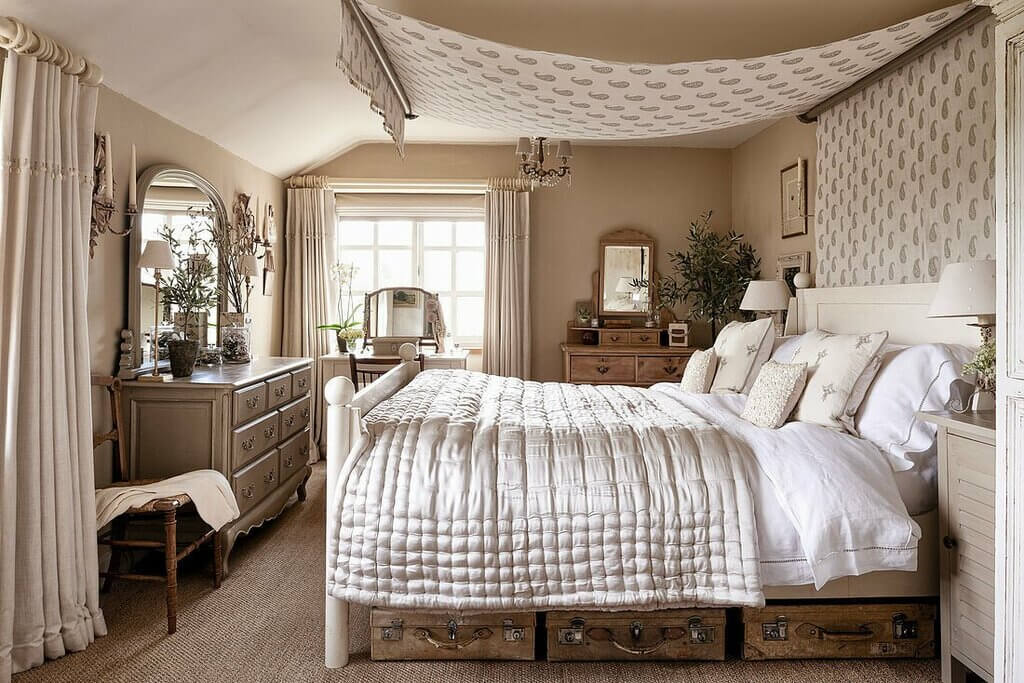 Source: living4media.com
They are really a good spot to store clothing, linens, and blankets. However, this idea won't work for those who travel frequently, and they need quick access to these bags and luggage. But one thing you can do is you can pack all your travel essentials in them and keep them underneath your bed. These vintage bags look really aesthetically pleasing.  
4. Use a Bookshelf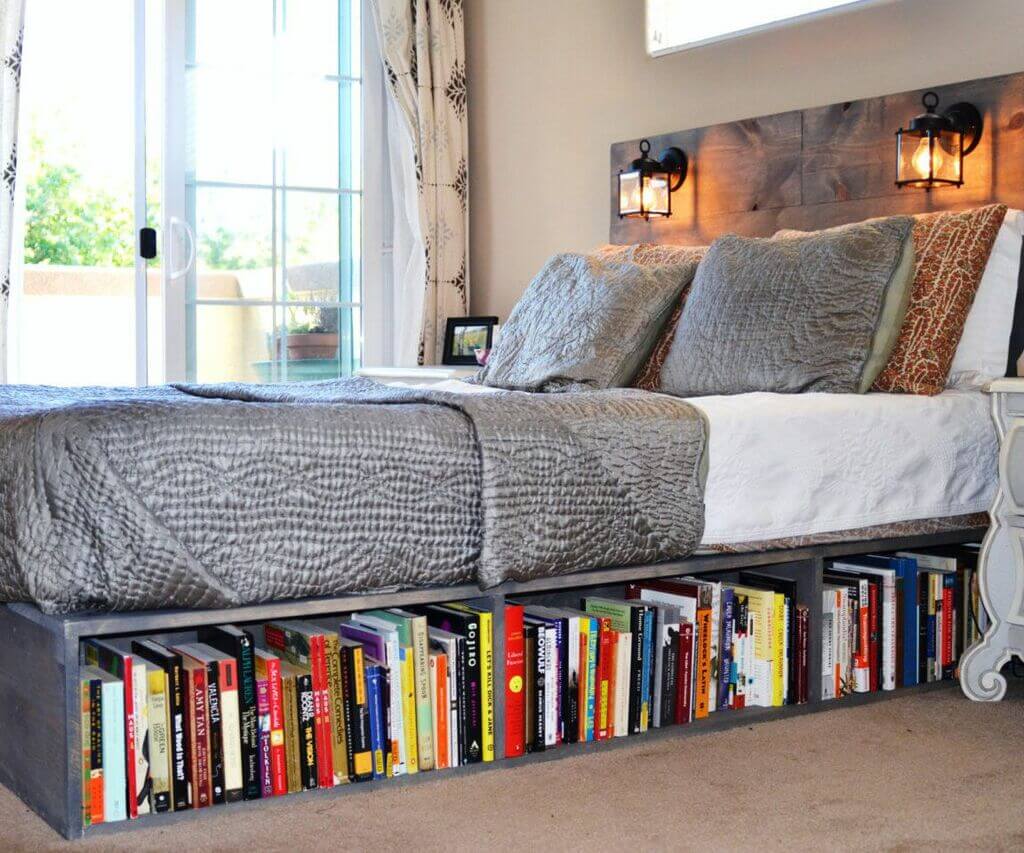 Source: pinimg.com
I know it sounds different and weird to use a bookshelf as under-bed storage, but first, take a look at the above bedroom picture. Now I am sure that now you don't have any doubts and maybe you're surprised.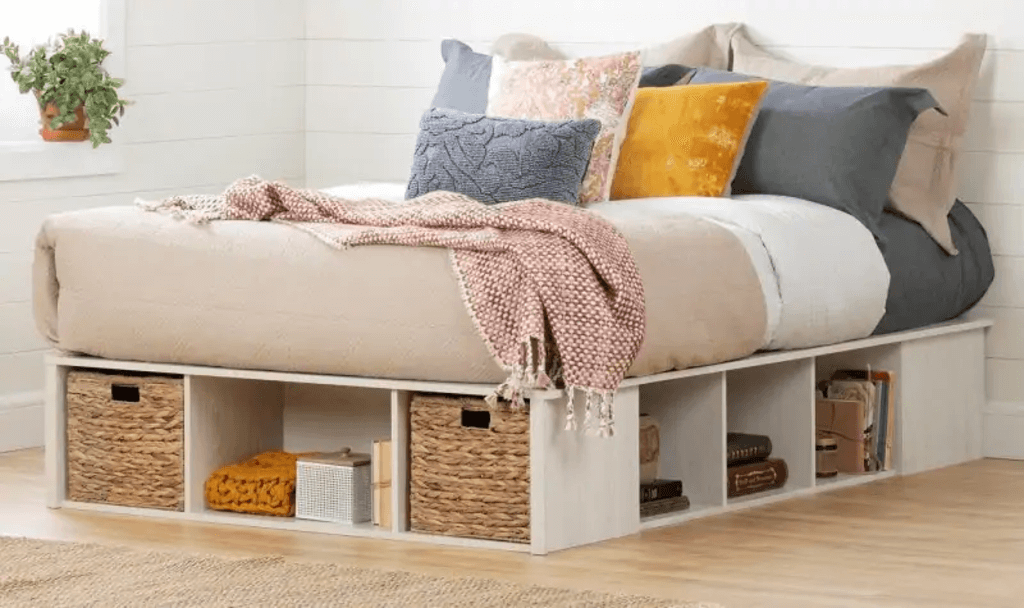 Source: pinimg.com
Bookshelves are great because they have a perfect size to slide under the mattress, and they already have built-in compartments. You can use these sections for storing different pieces of clothing. So don't hesitate to repurpose a bookshelf as a storage unit.
5. A Shoe Organizer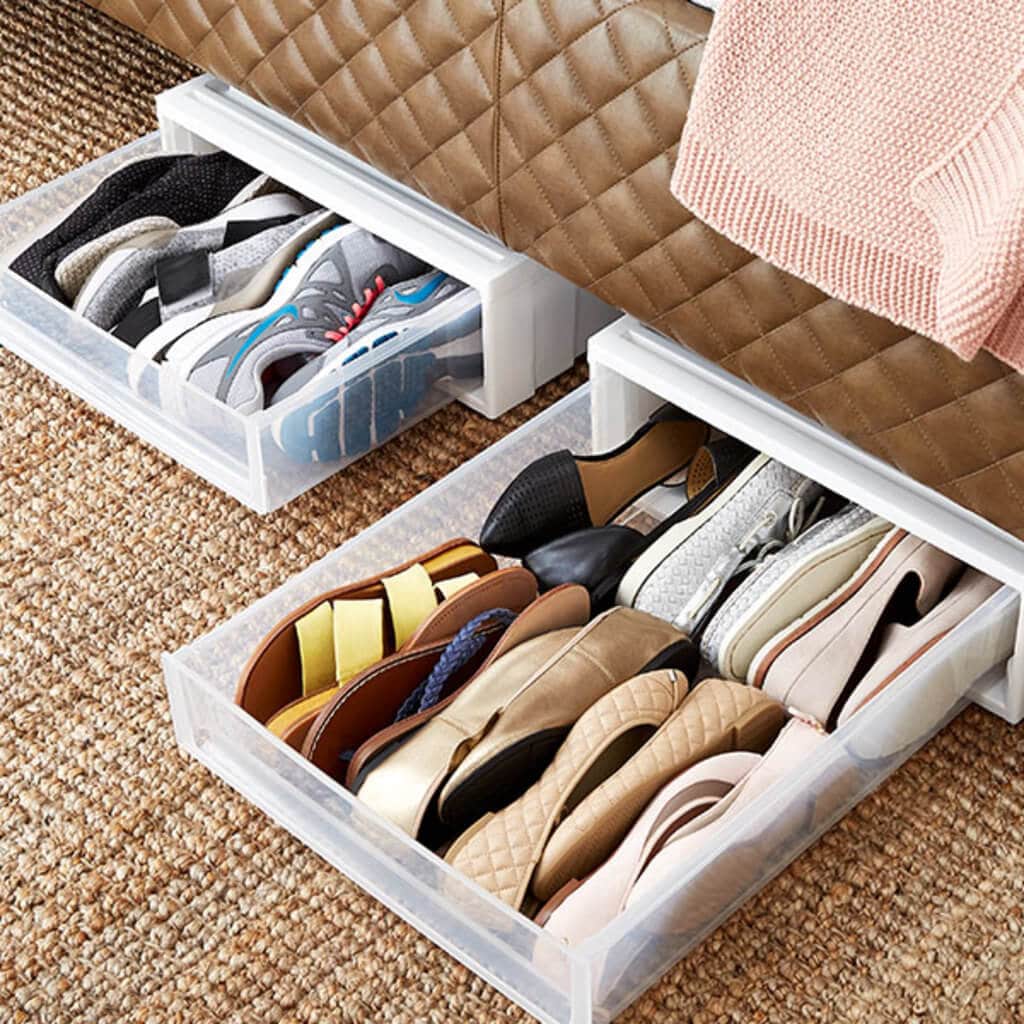 Source: prismic.io
If you're lucky enough to have a walk-in closet or have a wardrobe that is large enough to hold your clothes, you probably don't need extra storage for clothes. But what about the other things like your shoes? You obviously need a separate space to store all your shoe collection. For that, you can use space under the bed as a new storage area.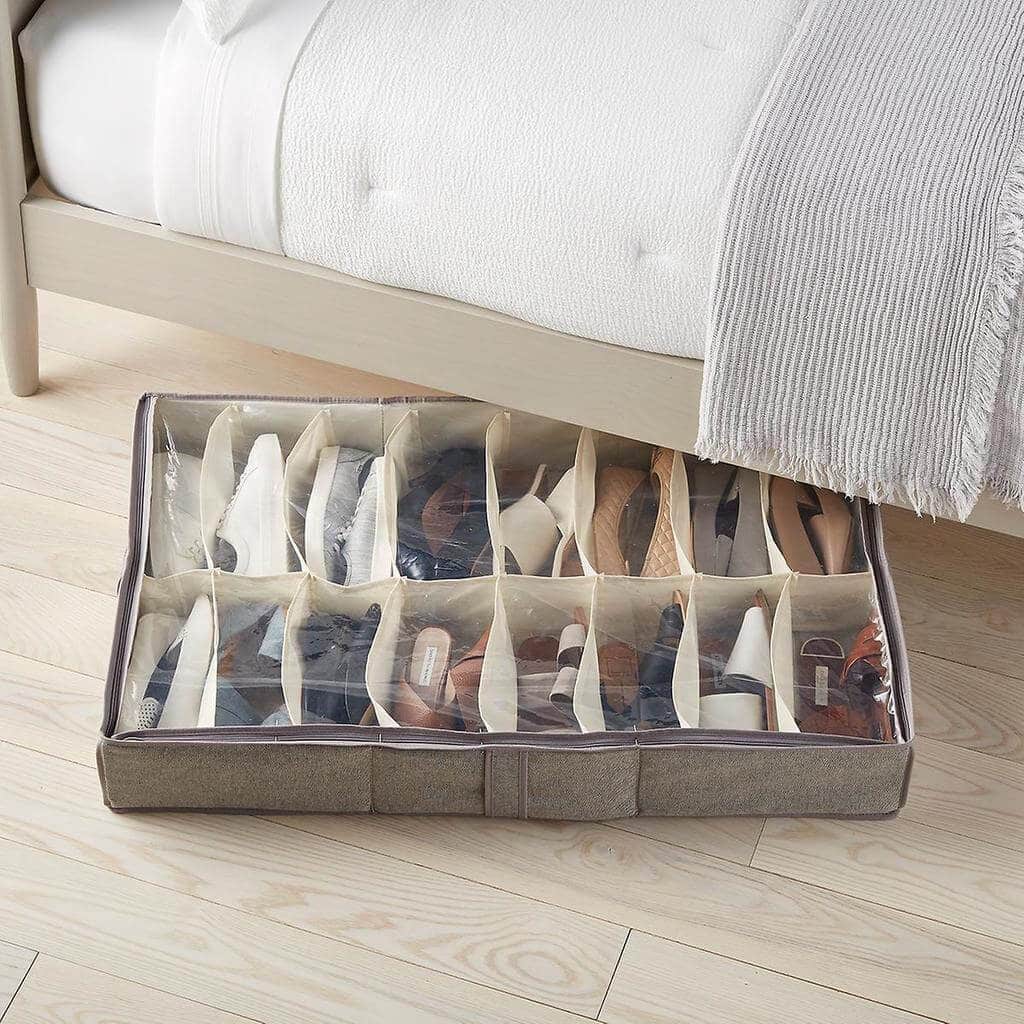 Source: containerstore.com 
After reading this, just don't randomly throw your shoes under the bed, and don't expect that they'll fit in properly this way. You have to buy proper storage containers for your shoes; otherwise, they will look like a huge pile of shoes, and this will look really messy. A shoe organizer or a horizontal shoe rack will hold all your shoes neatly. You can organize your shoes in several divided boxes as they will go neatly under your bed. 
6. Under Bed Storage Drawers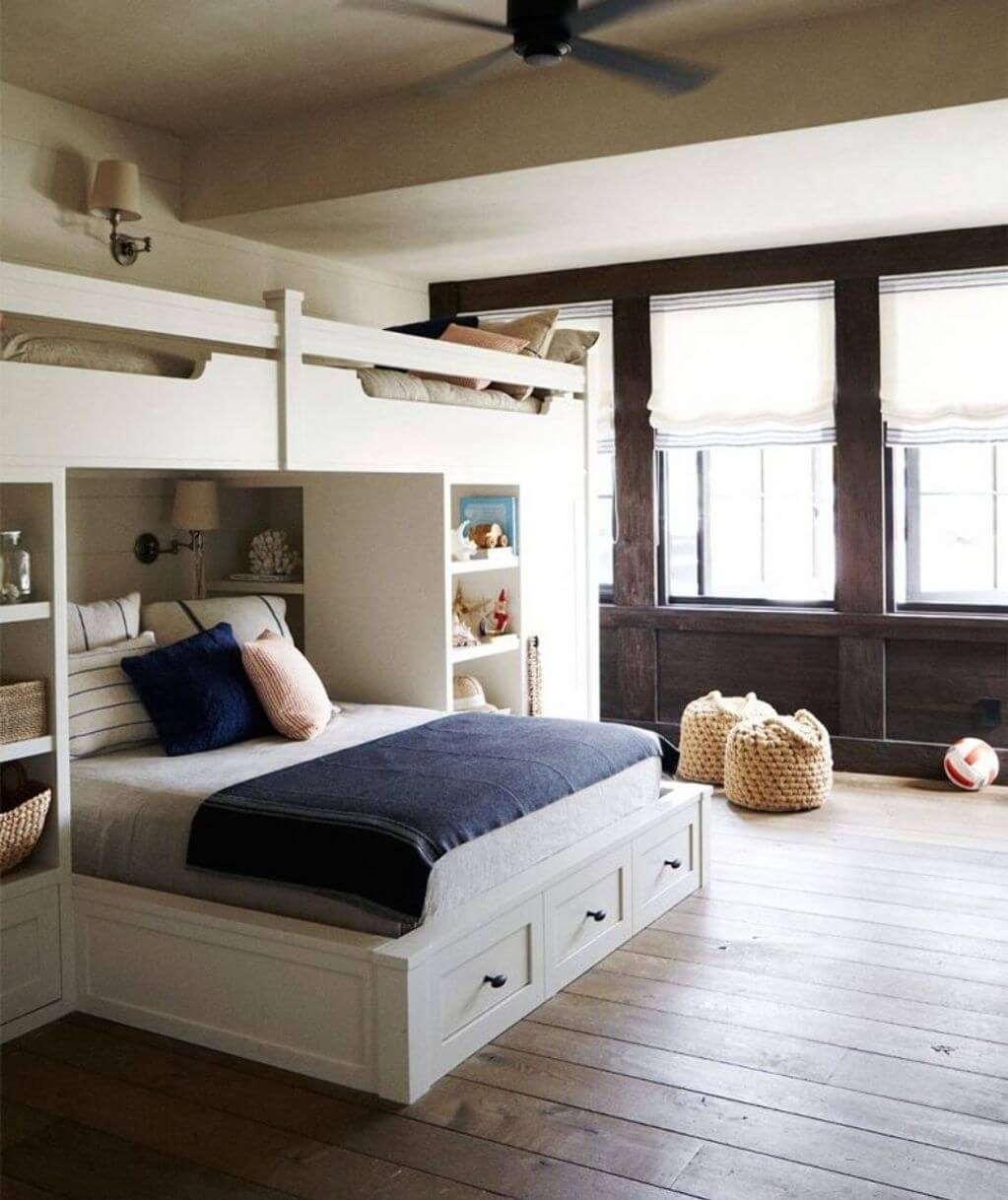 Source: malyutka.net
Here is a tip for you: Consider buying a bed with multiple storage compartments, such as one with built-in bed drawers. These types of beds with inbuilt under bed drawers will give a decent storage area and help you keep your stuff organized. Although these beds are a bit on the expensive side yet, they're worth it!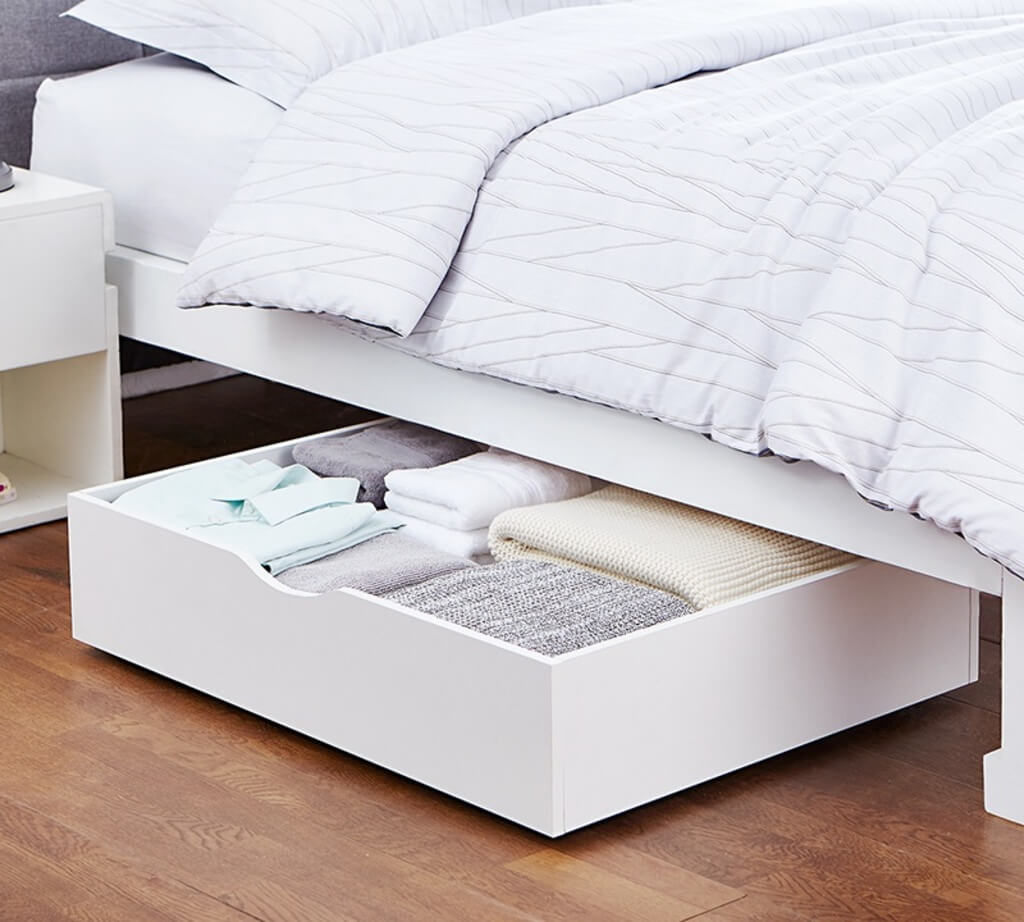 Source: walmartimages.com
If you are thinking of upgrading your bedroom, then try to switch your old bed with a new one that has multiple drawers underneath. These are perfect for storing furs, leather, and knits. Note that these drawers are undetachable means you can't separate them from the bed. 
7. Go For Vacuum Storage Bags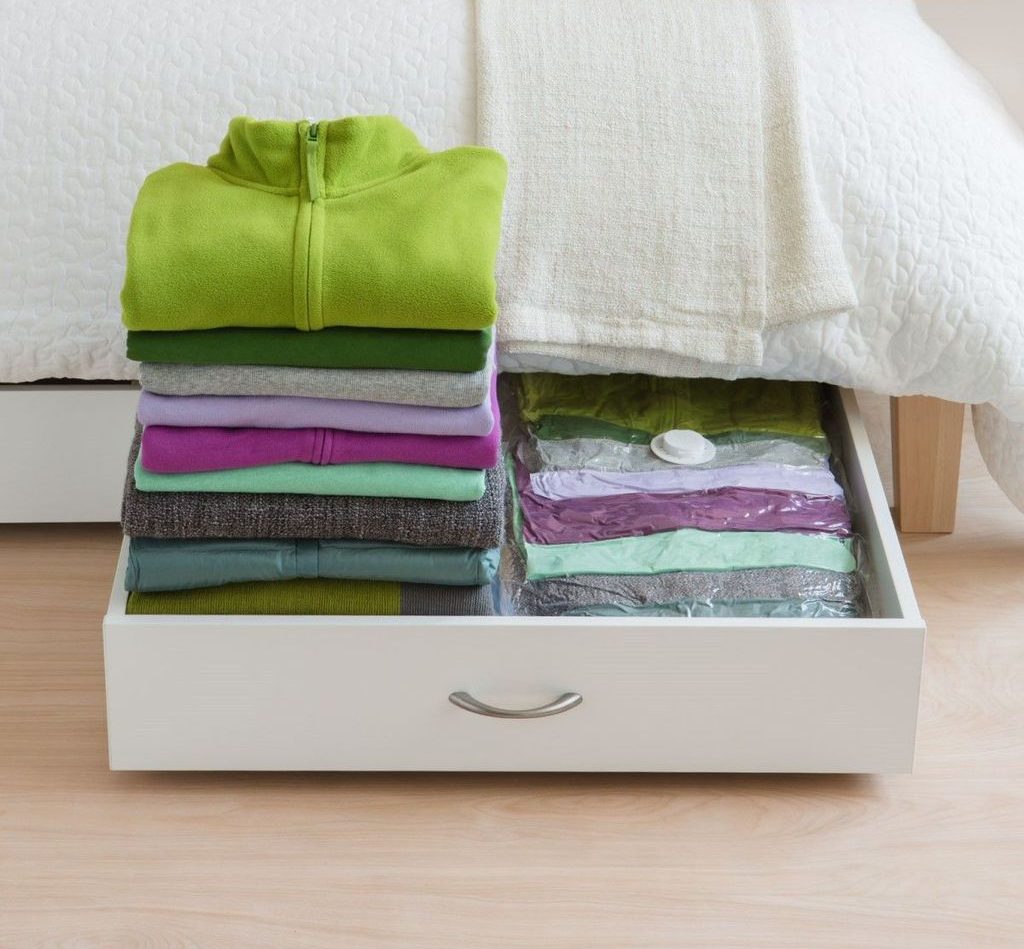 Source: pinimg.com
Does your single blanket take up all the storage space? If yes, then go for vacuum storage bags. These types of bags are now commonly seen in every other house in America. They magically reduce the bulk of your winter-warm comforters by up to 75% and make a lot of extra space to store all your belongings.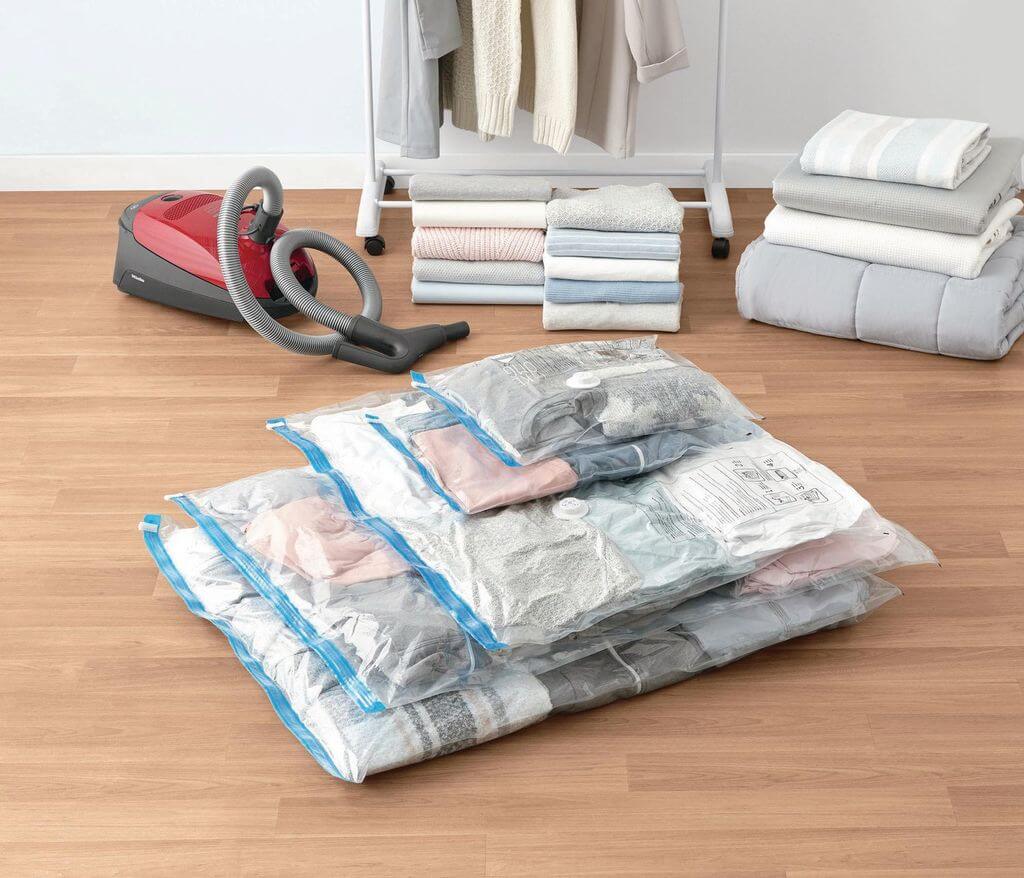 Source: walmartimages.ca
They not only give you extra area but also keep your stuff safe from mold, mildew, and any terrifying critters that might lurk under your bed. They are a one-time investment product, which means just spent money one time, and they will last you for many years because you can reuse them over and over again. 
8. Slide & Forget!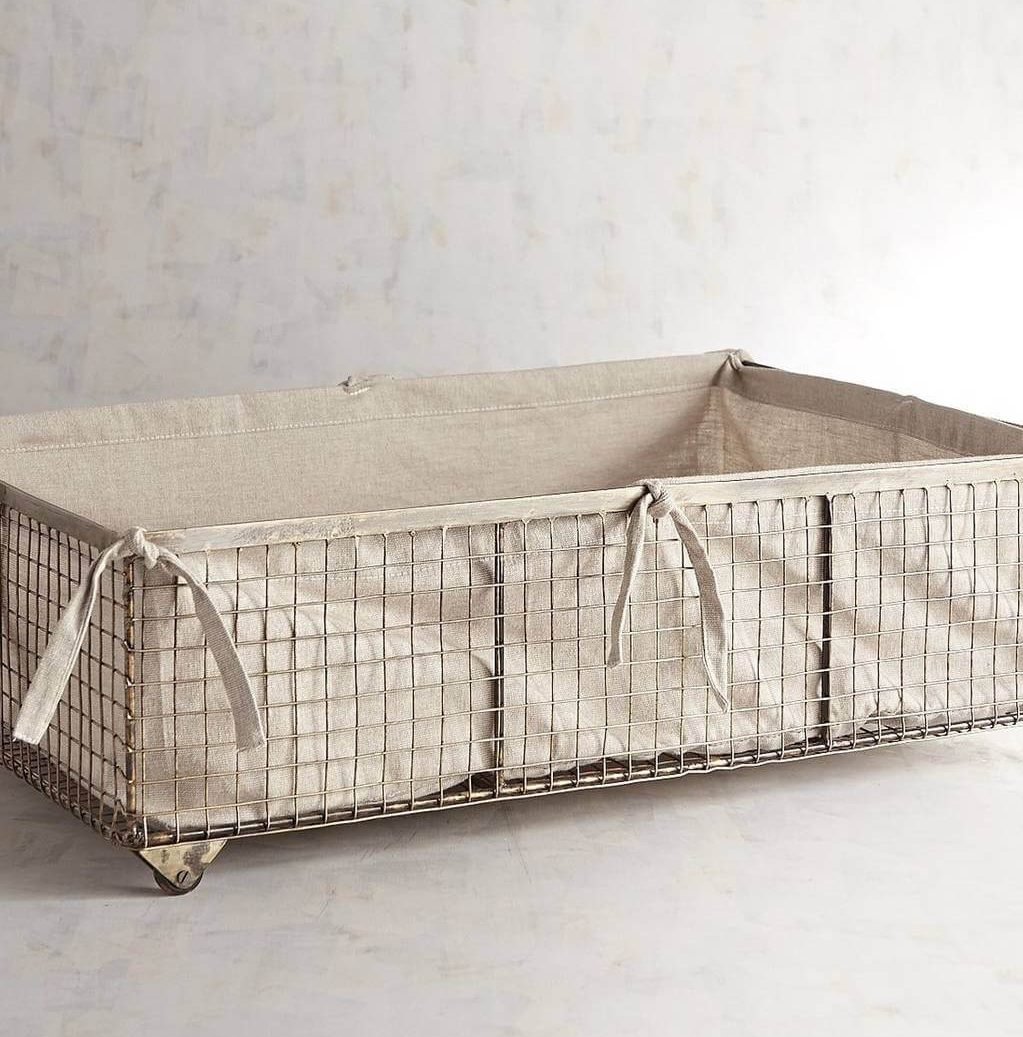 Source: architecturaldigest.com
Are you looking for affordable under bed storage ideas? Sliding storage containers will be best for your bedroom. They are not only budget-friendly but also they're durable. You can easily find them in any departmental store. We all do have things such as extra bedding, extra bed linens, and seasonal clothing that we can comfortably store under our beds with the help of these cotton bins with wheels.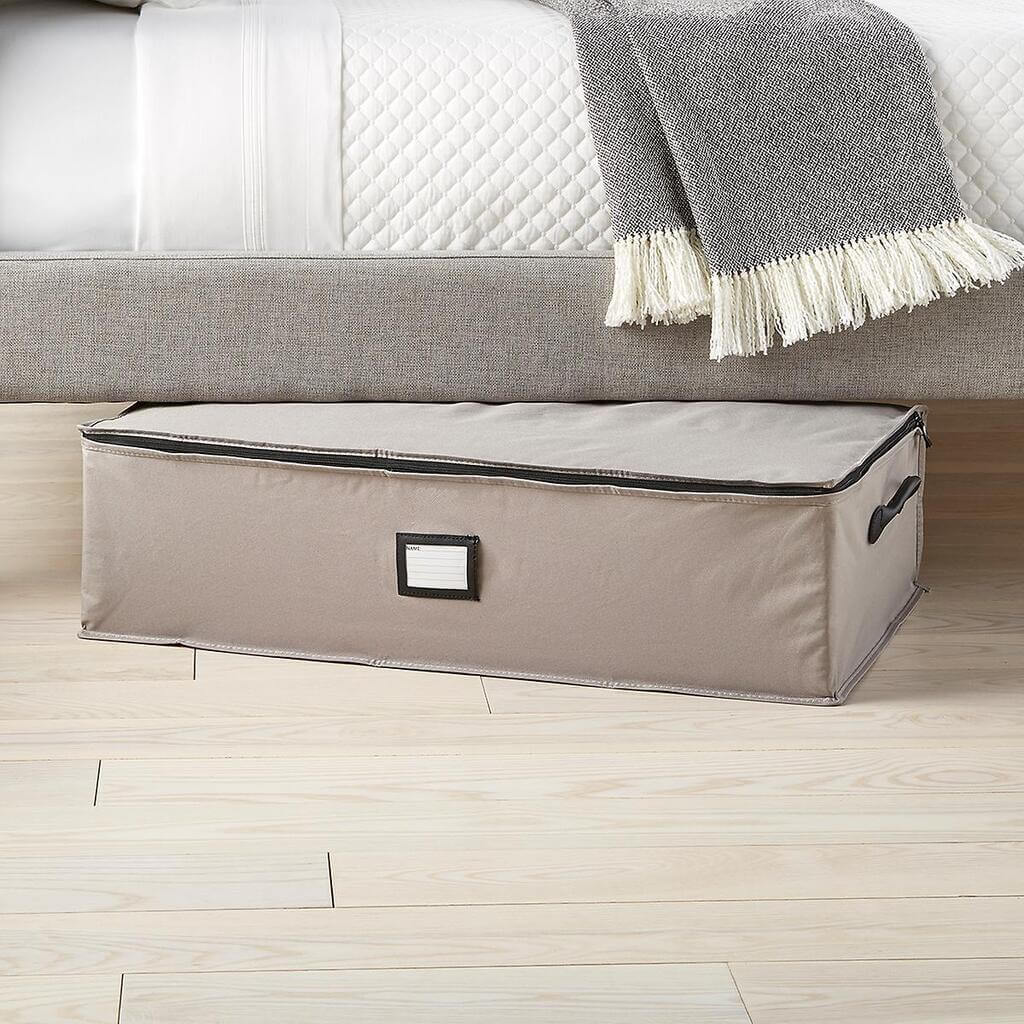 Source: containerstore.com
All the slip and slide storage units are made from a transparent vinyl cover, so it is easy to see what's inside. There is also a handle that gives you easy accessibility to slide and pull underneath your bed. They are breathable as well, which means they'll keep your clothes fresh and clean all year round.
9. Use Archival Boxes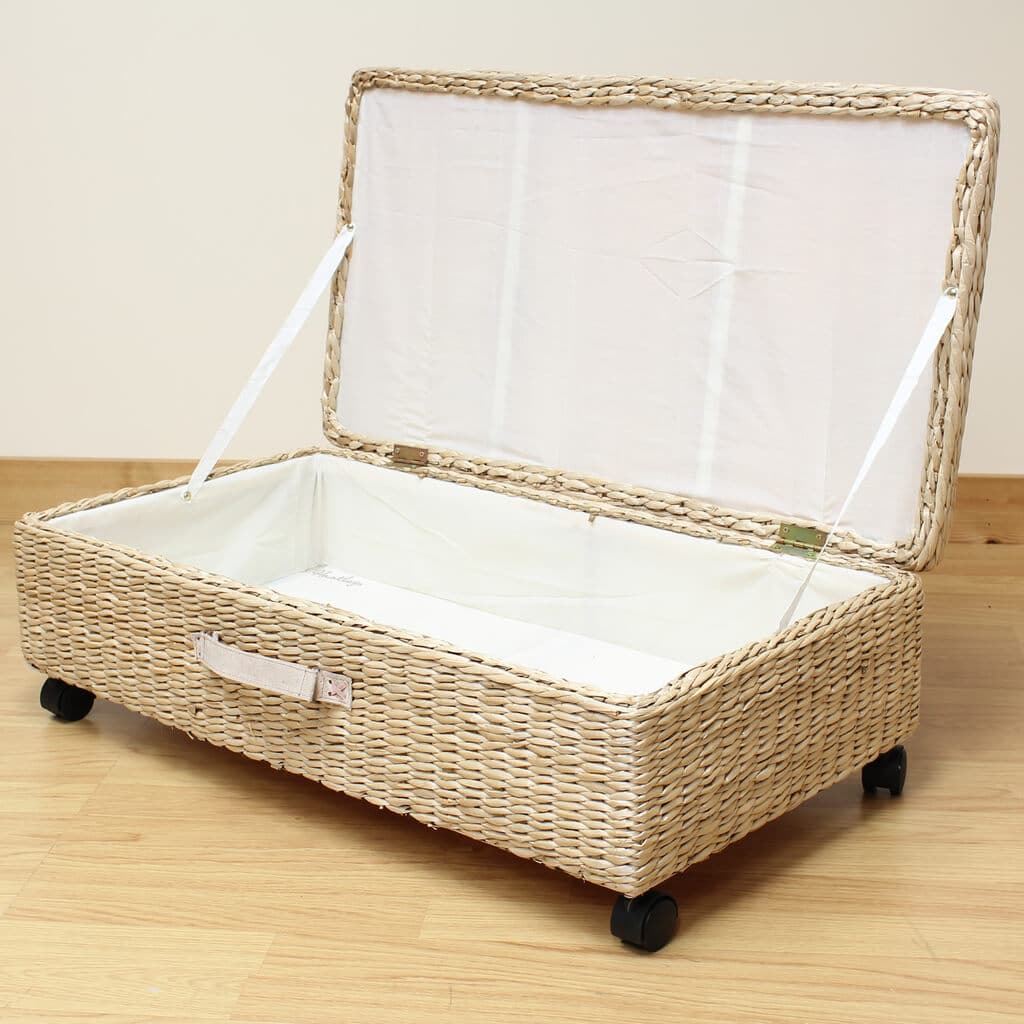 Source: esellerpro.com
These boxes are for those garments that need to be placed in their original shape. Clothing or garment items that you don't wear as frequently, you can keep them inside an archival garment storage box.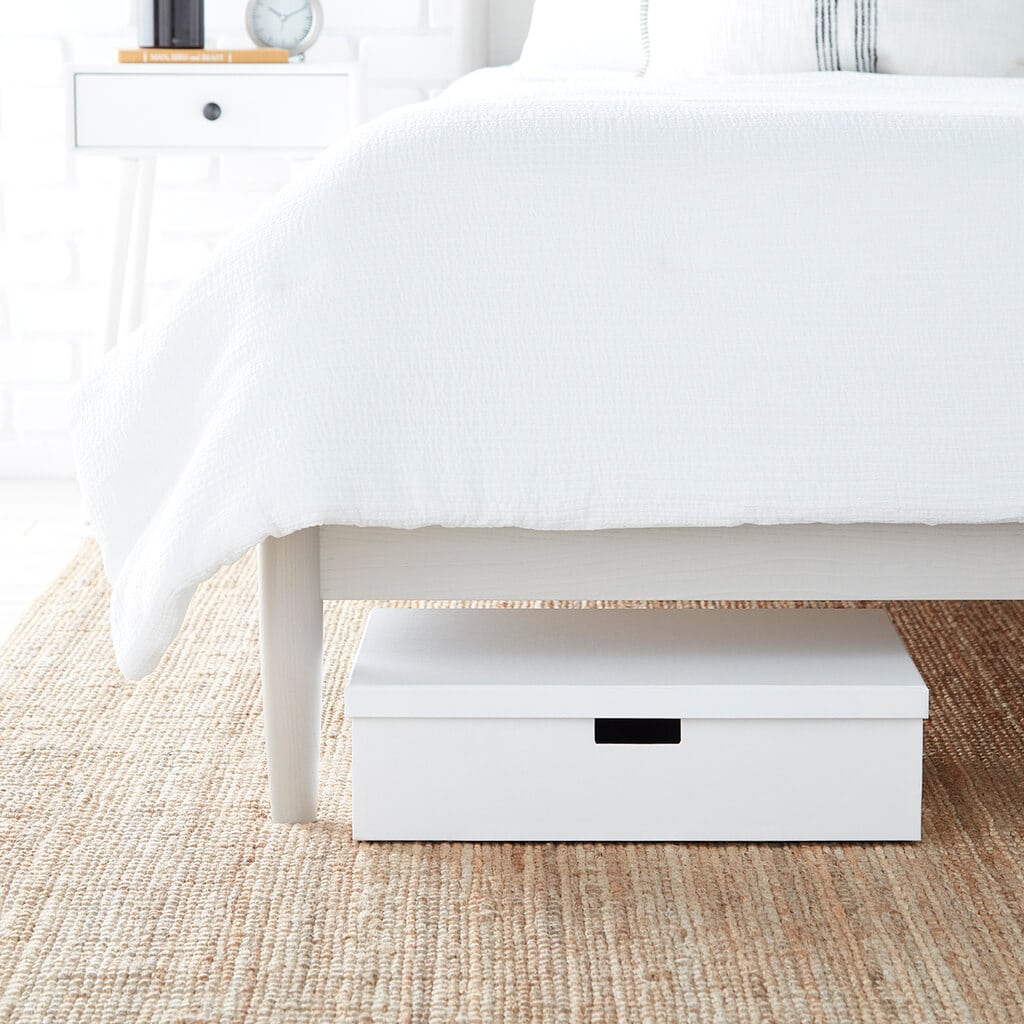 Source: containerstore.com
These boxes will ensure that your clothes don't deteriorate and stay clean and safe. You can easily put them in the box and tuck them neatly underneath the bed. In the future, when you need them, you can easily access the box. 
Also Read: DIY Modern Murphy Bed: Complete Guidelines [Step-by-Step]
10. Stay Extra Secure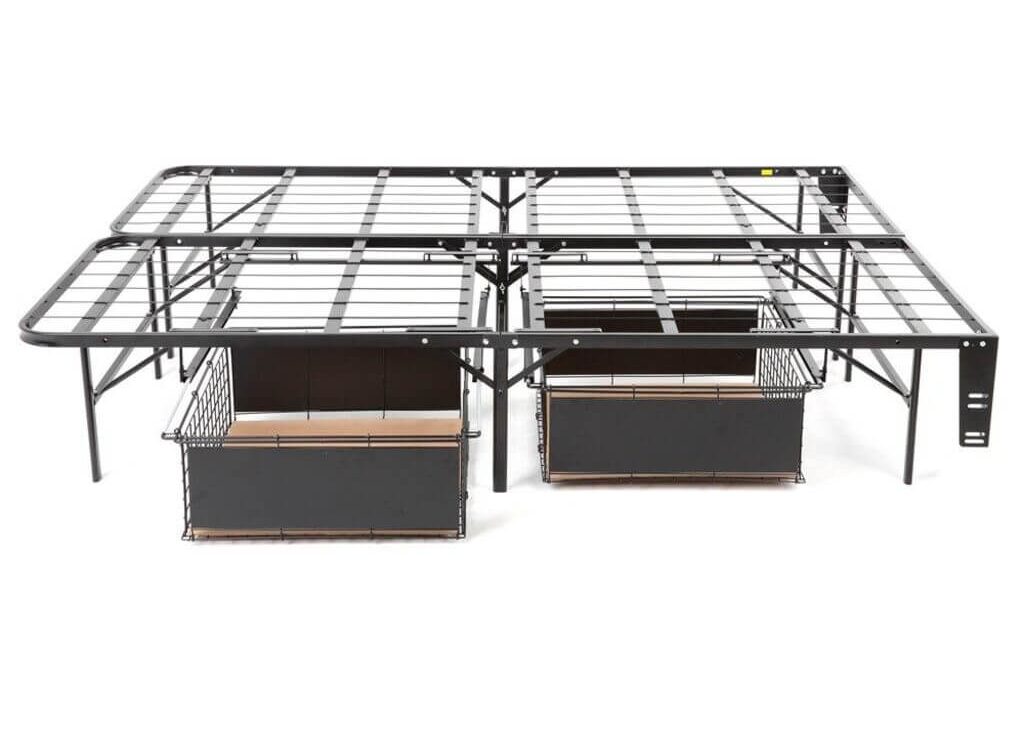 Source: pinimg.com
This option is for those people who want to keep their precious valuables safe. These fireproof steel storage bins are a safe place, and they provide guarantee secured access. Store your precious items such as jewelry, accessories, and money in them.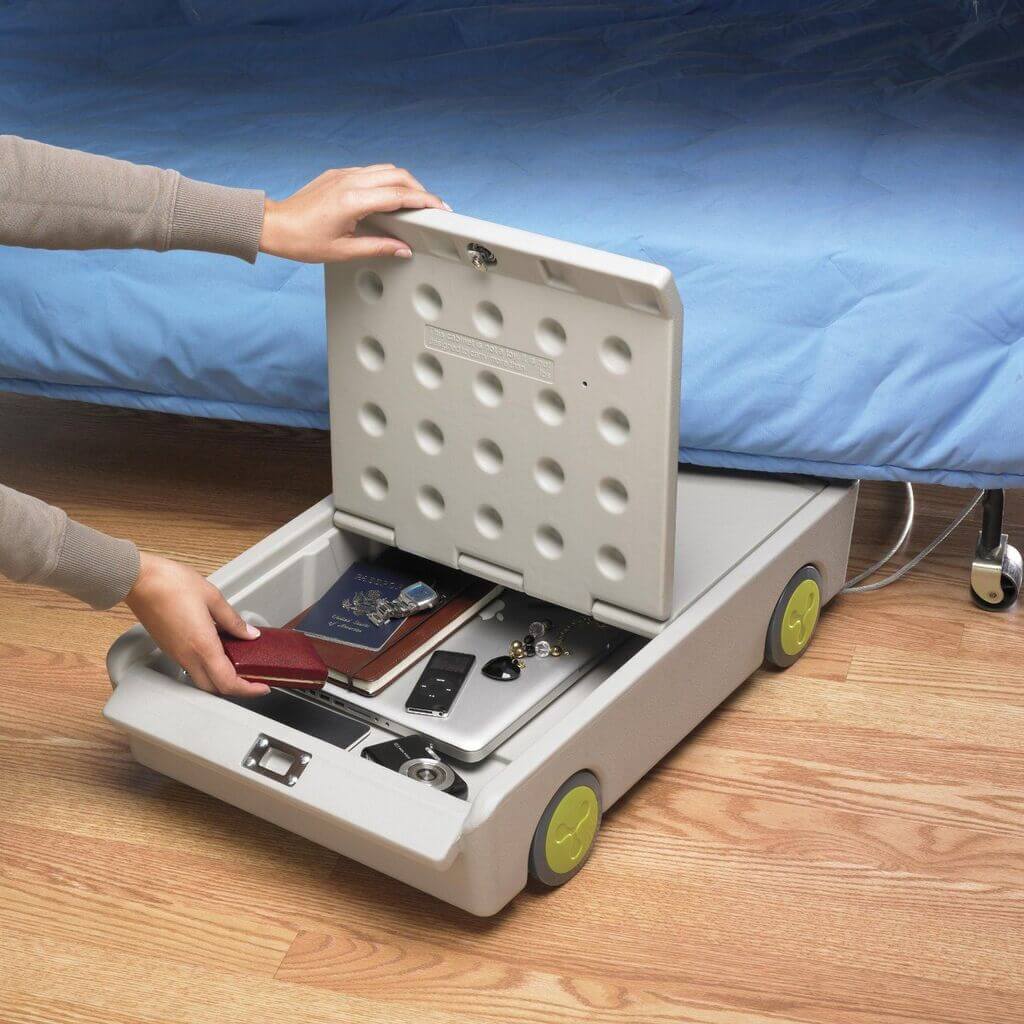 Source: pinimg.com
Not only jewelry, but you can also store anything that you want to conceal from guests while needing easy access to them. But they're expensive so keep that in mind while buying one of these boxes. 
Keep your hats and scarf organized with the cool storage ideas. Read our previous blog on 20 Cool Hat Rack Ideas!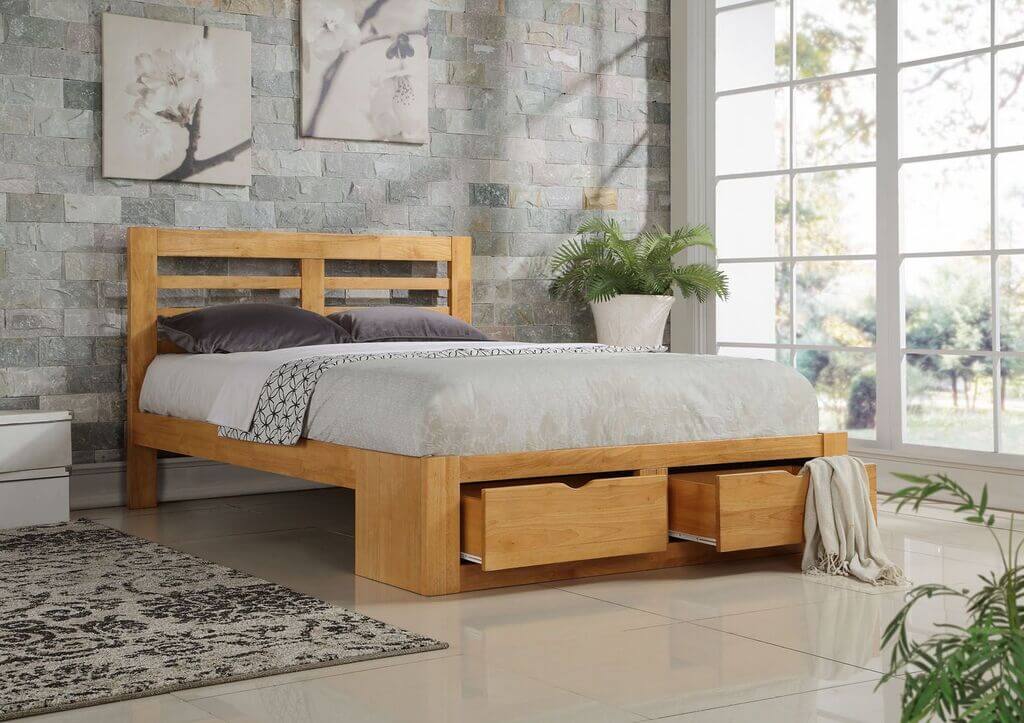 Source: bedkingdom.co.uk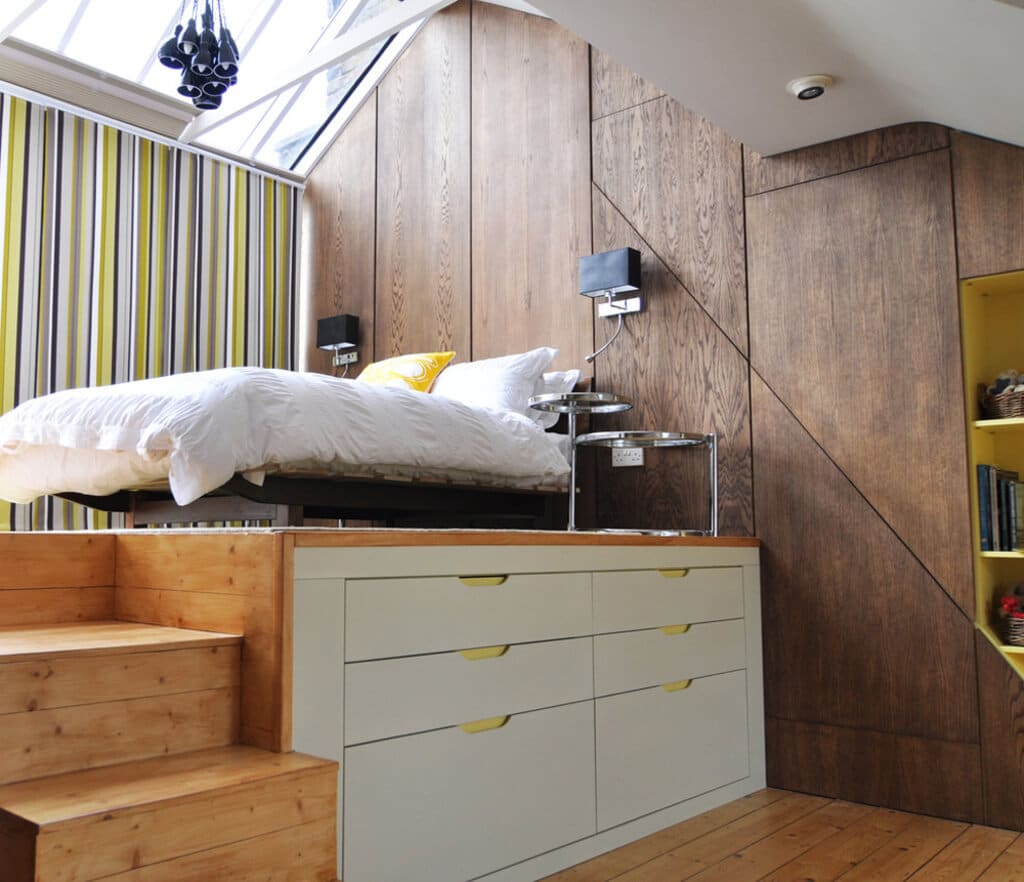 Image Source: impressiveinteriordesign.com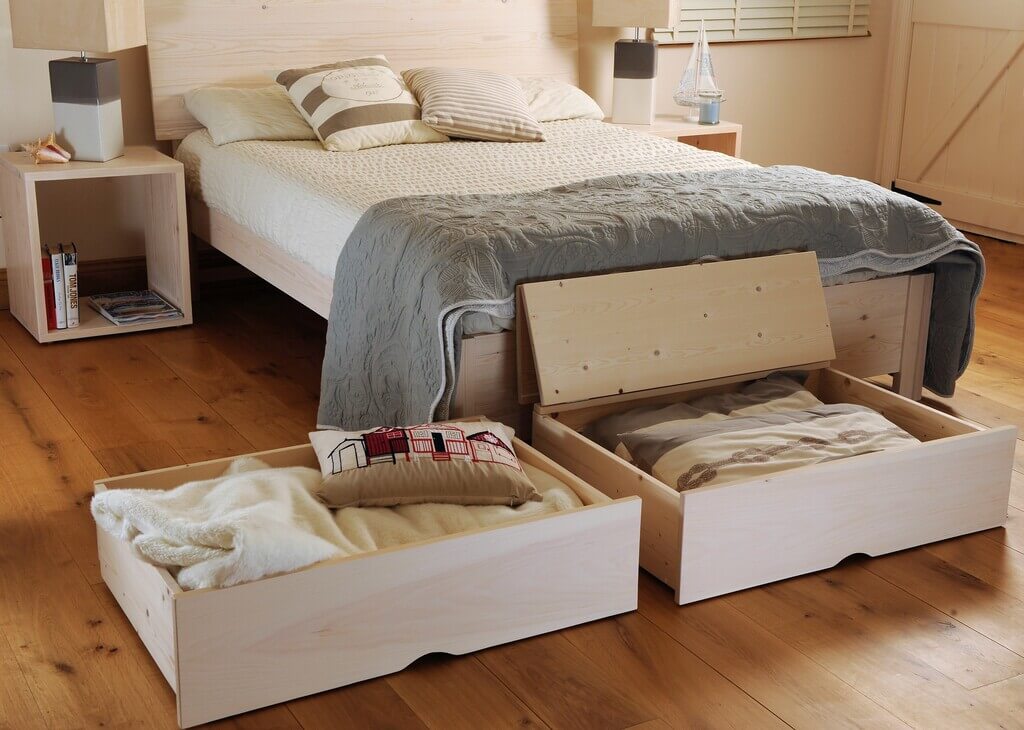 Image Source: feelgoodecobeds.co.uk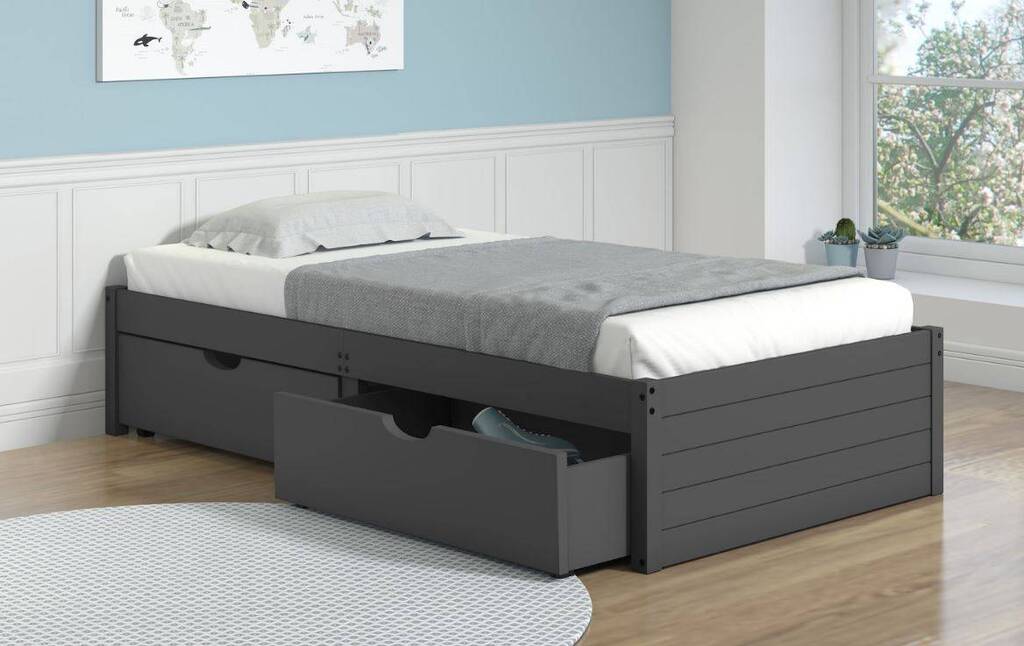 Source: totallyfurniture.com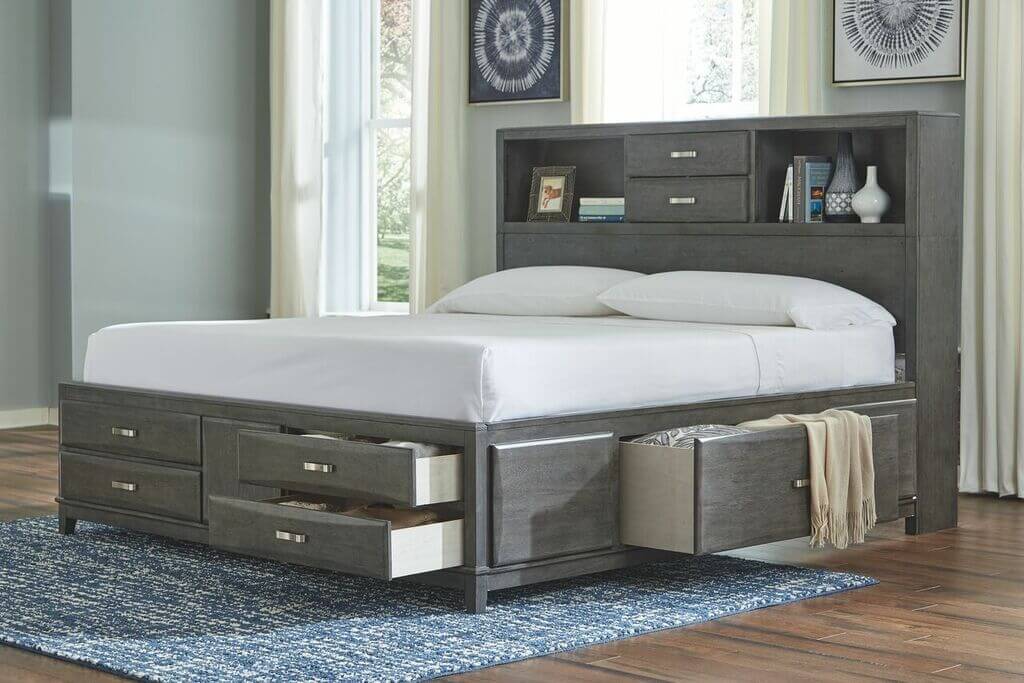 Image Source: bigcommerce.com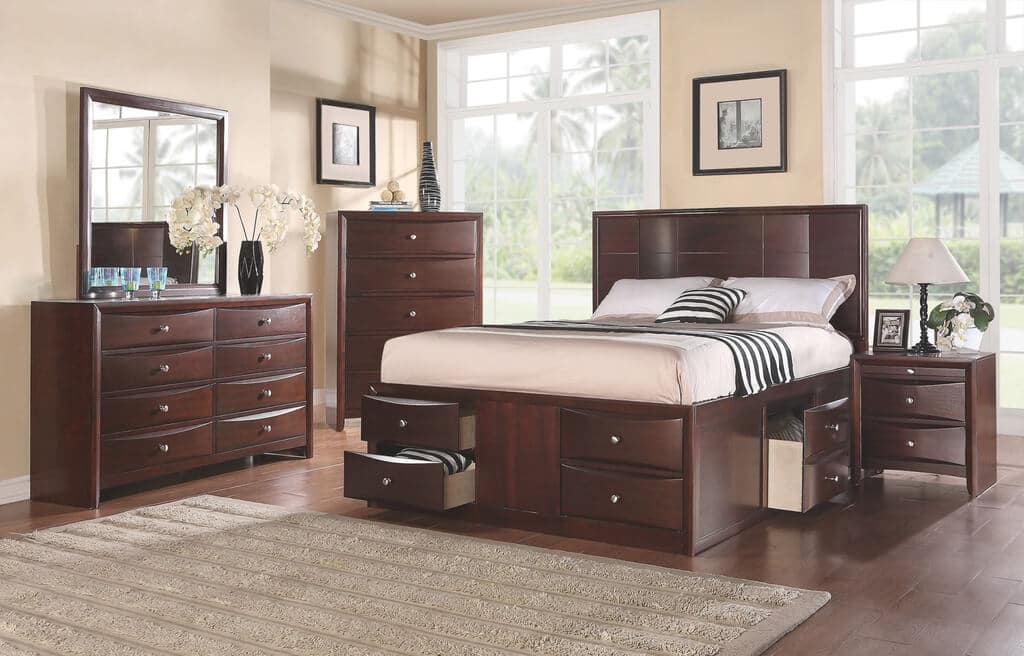 Source: wp.com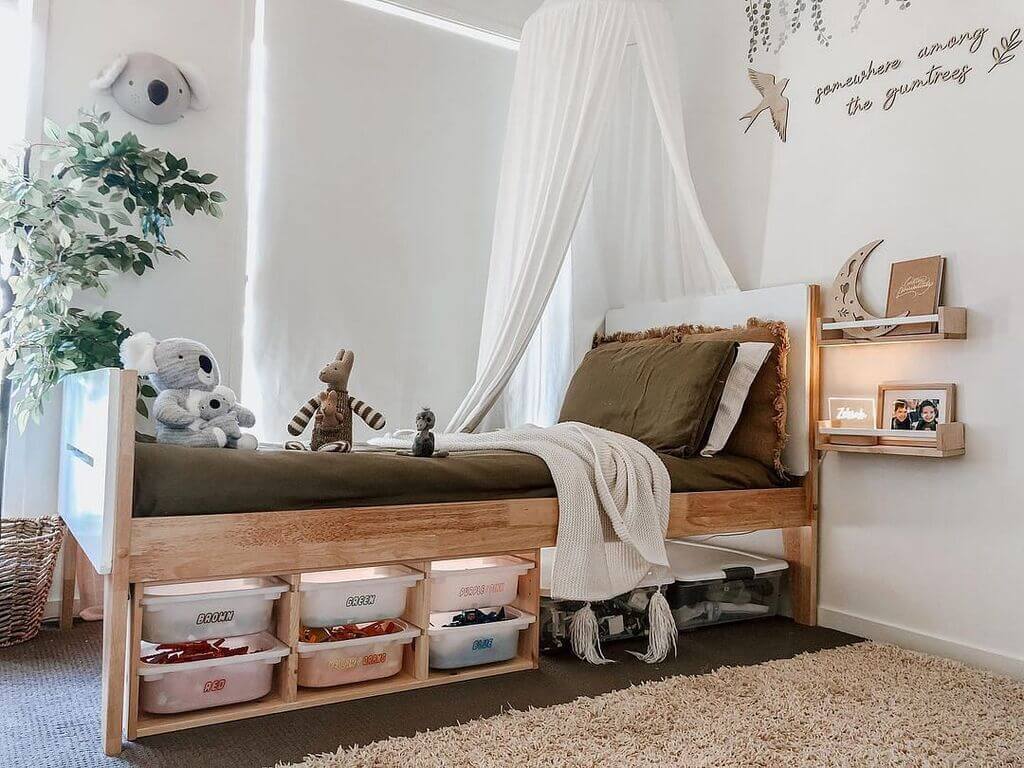 Image Source: houszed.gumlet.io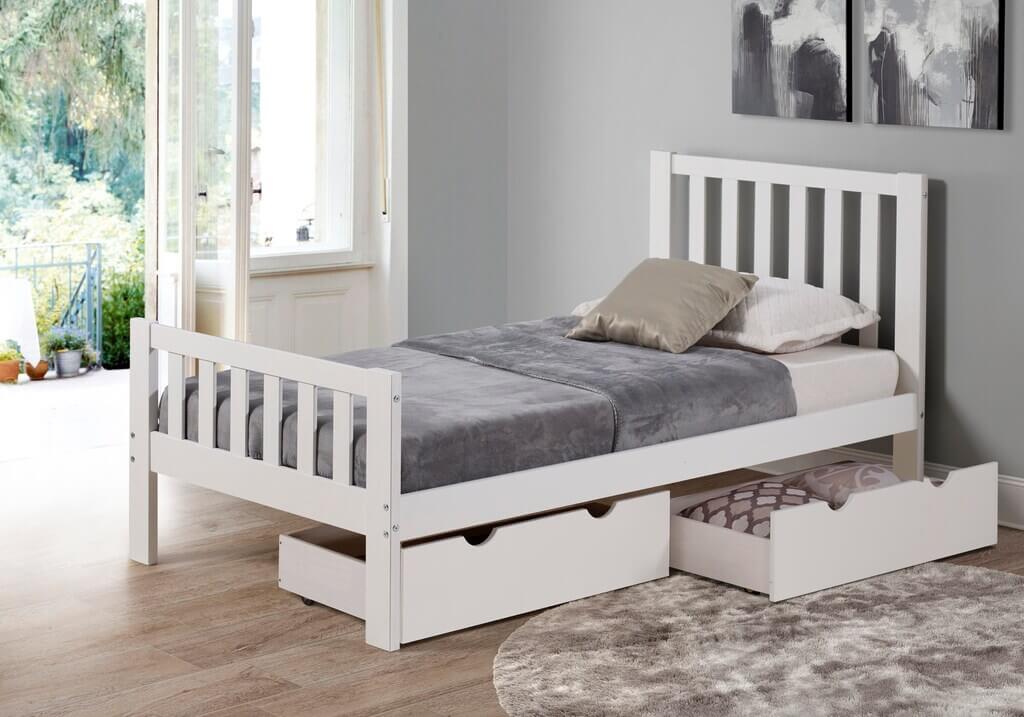 Source: lowes.com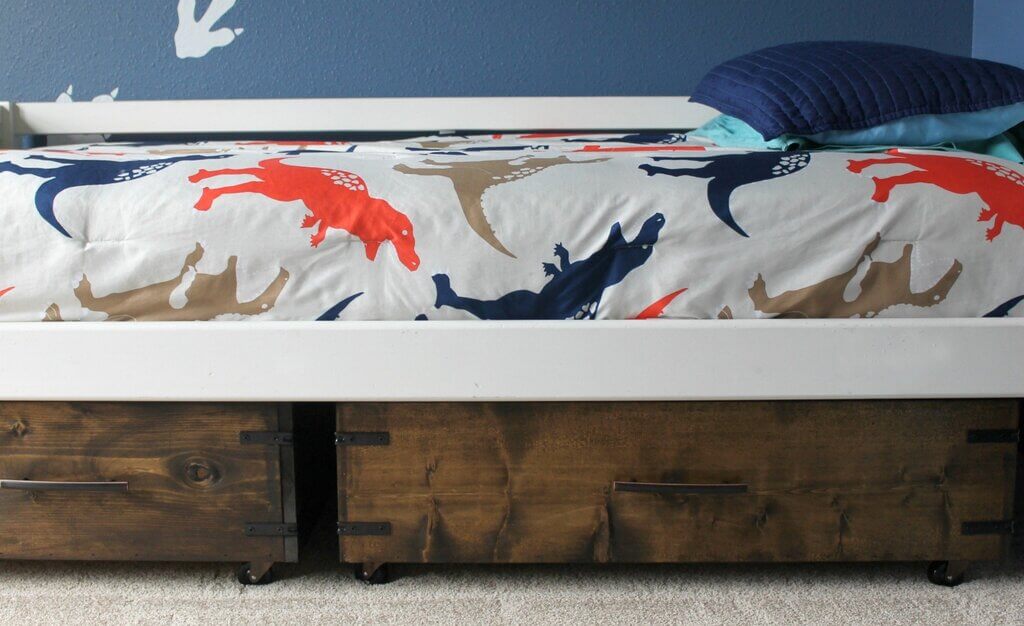 Image Source: lifestorage.com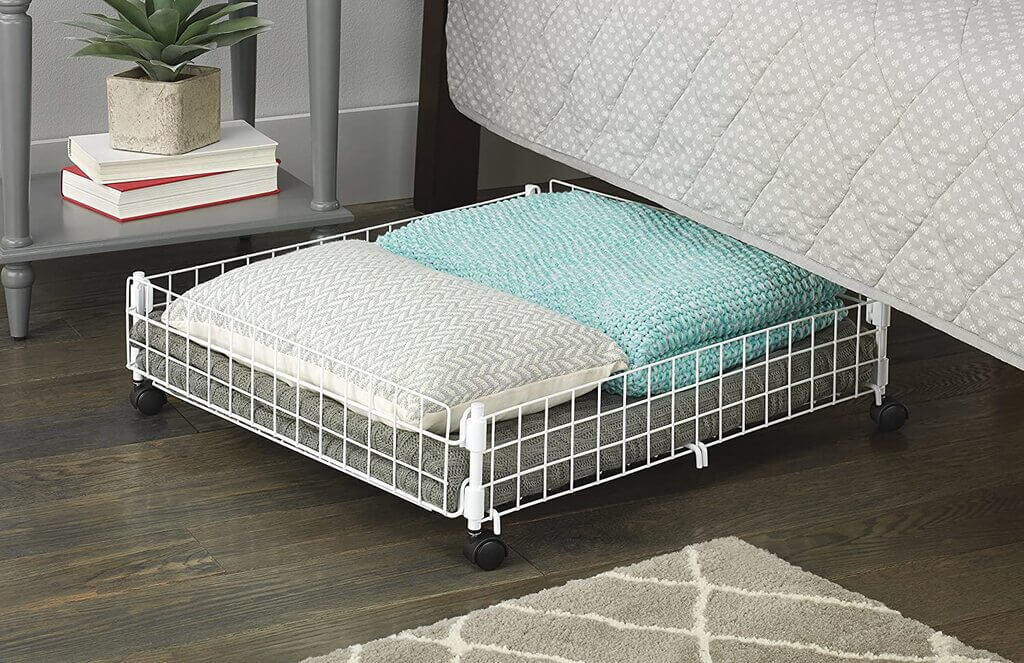 Source: bobvila.com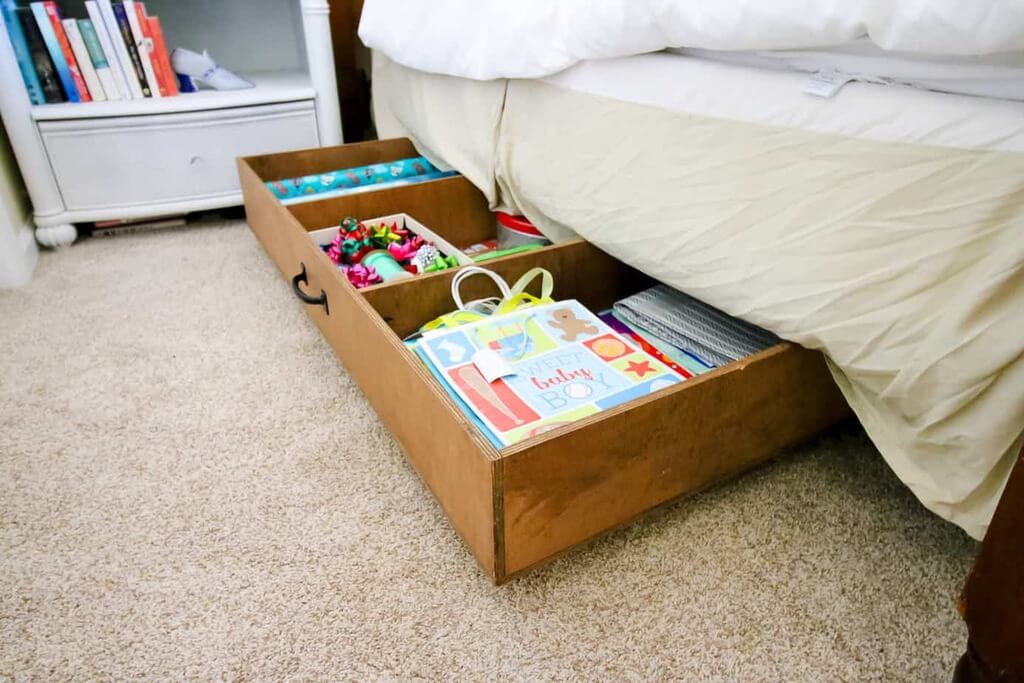 Source: charlestoncrafted.com
The Bottom Line
So did you find the right under bed storage solution for your room? With many options, it's a little challenging to find the exact one for your bedroom. If you are still confused, here is a tip for you: look under your bed and see how much space is under it; if there is a large space, you can go with any of the above under bed organization ideas, and if not, then vacuum storage bags are best for you. 
I hope you liked all these unique and creative under bed storage ideas. So create a clutter-free bedroom that is a happy one! Don't forget to share this helpful blog with your friends and family.
For more home improvement and decoration ideas, browse various sections of Architecturesideas. 
For daily updates, follow us on our Instagram page @architectures_idea.