Trending Soapstone Countertops 2023
There have been many trends in the kitchen design that have come and gone. In the beginning, homeowners used to love granite countertops since these were easy to install and offered a unique design. Later came the natural stones, and everyone wanted to have a luxurious surface in the kitchen. Quartz is becoming a fan favorite, providing individuals with the best of both worlds. However, in this post, we will present a fresh choice and discuss the various varieties of soapstone countertops 2023.
If we are going to talk about soapstone countertops, we first need to look at the material. Soapstone is a rock that contains a mineral called talc. The name of the counter was inspired by the fact that talc is incredibly soft, similar to a bar of soap. However, it is crucial to clarify that the amount of talc in each slab can vary depending on the manufacturer. That's why homeowners might find soapstones that are harder than others.
The durability of all types of soapstone countertops is pretty good since, on the hardness scale, it scores between 2.5 and 3.5. There is no exact score because the final result is determined by other minerals that might be on the surface.
Further, one of the unique characteristics that this stone offers is that it is nonporous, antimicrobial, stain, and heat resistant. This means homeowners won't have to spend some extra money every year to seal the surface. Plus, they can cook without worrying about any bacteria or viruses.
Even though we love all types of soapstone countertops, we understand that the ideal surface is different for all homeowners. That's why all those that want to check out more stone countertops can click on the link to learn more.
Six Trending Soapstone Countertops for 2023
Now that we have learned a bit more about the surface that is trending in the market. We will look at some inspirational ideas. Remember that these countertop options could be mixed and matched to create a unique style.
1. Statement Piece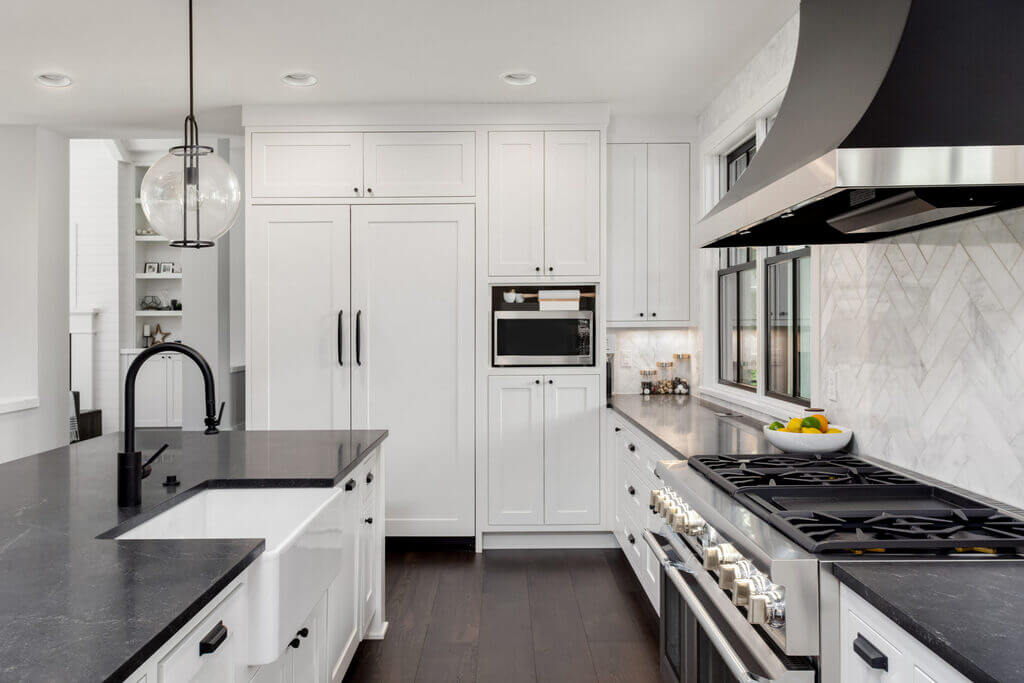 Source: cosmosurfaces.com
To kick off our list, we will talk about one of the soapstone countertops colors we love. This features a black background with some dramatic veining on top. The veining itself could have different tones, including green, brown, and white. We recommend homeowners use it on both the countertop and island to highlight all kitchen decor.
We think this is one of the colors of soapstone countertops that will look great in any design. But, some specific styles in which it would look great include traditional, classic minimal, and contemporary kitchens. 
2. Two Stones
What is even better than installing one stone countertop in the kitchen? The answer is getting two of them. That's right, we love to be surrounded by natural stones in the kitchen because this material brings light into the room. Plus, it is also the perfect opportunity to add another trend and do a black and white kitchen. This classic will never go out of style, and it is easy to construct using marble and a soapstone surface.
After reviewing the colors of the soapstone countertops, determine which marble countertop will complement them. Don't do it before, or the textures could mix and make the kitchen look crowded. Finally, think about which surface will be perfect for cooking and install the other on the island.
3. Classic Vibe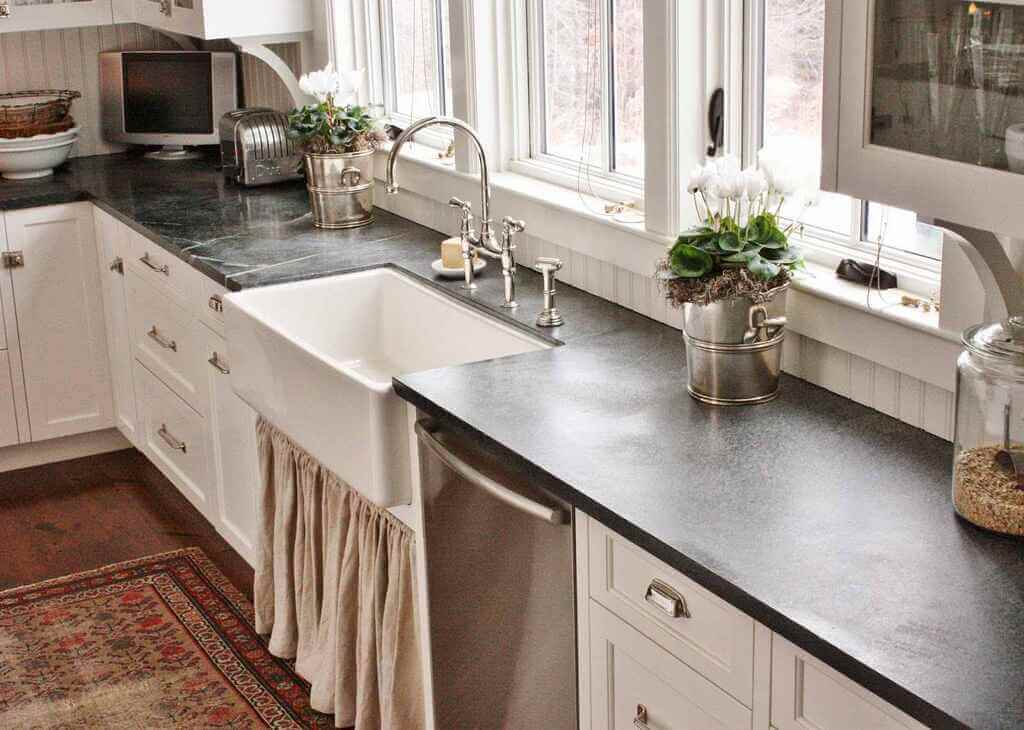 Source: thespruce.com
As we mentioned above, creating a black and white kitchen is one of the classical vibes that will never go out of style. However, there are different ways to achieve this. First, homeowners could go to a supplier and look through all the soapstone colors. In an ideal scenario, the best one to purchase would be an almost solid black countertop. But, if that is not possible, look for a light grey with some delicate veining.
For this style to work, the cabinetry in the kitchen needs to be completely white. The fixtures and decor could either be gold or silver. Ask the supplier for a personalized edge to give the surface a more luxurious style.
4. Bringing Back Wood
Wood is a material that has been used in the kitchen from the beginning because it creates a warm environment. Think about it; there is nothing better than making your guest feel at home. In this regard, homeowners can opt for something rustic by installing dark cabinetry and vintage light fixtures. Or it could be a traditional style with oak cabinetry.
For the first option, look for colors of soapstone countertops that have some white veining and light undertones. This will create the perfect tonality contrast. To achieve the latter one, go for something that has some green in it and try to find a solid design without any veining.
5. Luxurious Style
A style that has been around for years and is still a fan favorite is an all-white kitchen style. This tone allows any room to feel larger and, with a good source of natural light, it can look timeless. But, as it happens with any design, it is necessary to create some contrast. To accomplish this task, soapstone would be perfect.
For this trend, it is better to use statement colors like green or even deep grey. Plus, make sure it is installed on the island and that it highlights other features from the kitchen.
6. Contemporary Kitchen
Source: precisionstonedesigns.com
Today everyone wants to have a contemporary kitchen that combines both the trends and some old vibes. This style is difficult to achieve with several materials, but luckily we are talking about soapstone. We would choose a light blue tone for most of the kitchen to choose the right reference for this design.
First, try some of them out by painting stripes on one wall. Then to get the right balance, go to the nearest supplier and look through the colors of soapstone countertops to find a black surface with some white veining.
Conclusion
This year we are seeing how more people are trying out soapstone countertops at home thanks to the incredible characteristics that this material offers. We are sure among our list you will find a perfect idea for your next renovation.