Which Stone Flooring & Countertops Is Best for Your Kitchen
The most loveable corner of our house is the kitchen. Where we cook food, brew love, and create memories while witnessing the best times of our life. But with every passing day, a regular wooden or stone flooring counter may look outdated, faded, or damaged.
On the other hand, countertops made with Epoxy and Stone Flooring material are long-lasting. And if they appear to be old and faded, one can revamp them effortlessly. This post discusses the qualities, pros, cons, and maintenance tips so the homeowners can decide when choosing countertop material for their kitchens.
Learn more about epoxy countertops in this Caesarstone guide.
Qualities of Epoxy and Stone Flooring for Countertops
Stone epoxy flooring cost depends on the quality and various other factors. Usually, people get attracted to beautiful designs and colors while ignoring the quality of the material, but such countertops don't last long. Therefore, homeowners must consider the below-mentioned things when investing in kitchen countertops with epoxy and stone flooring kits:
Smooth Surface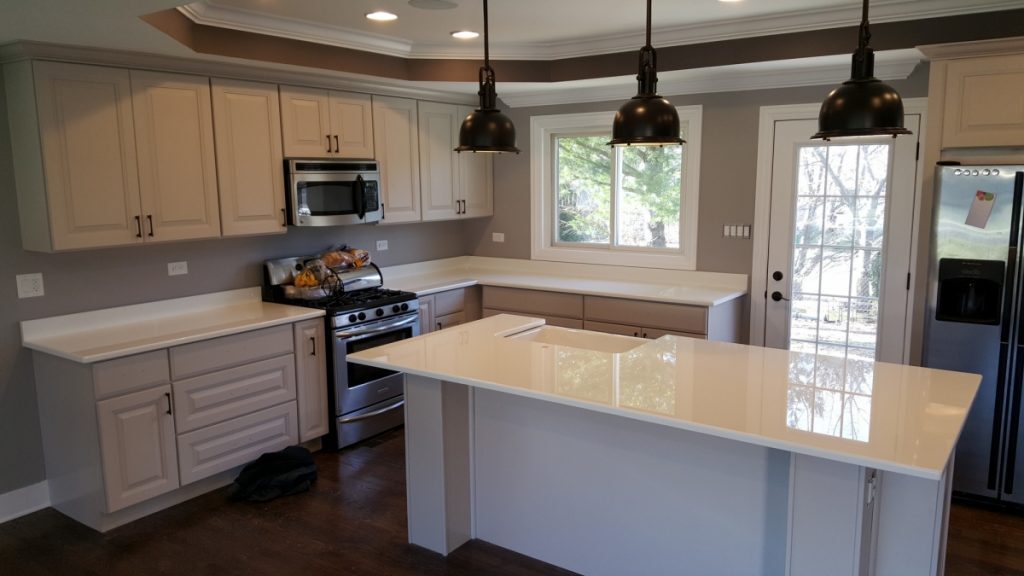 Source: archfinishes.com
While having the countertop designed with an epoxy and stone flooring kit, make sure the material is self-leveling to ensure a smooth counter. If any countertop lacks even finish, it will get dirty soon and clog food material, making day-to-day chores troublesome and resulting in uneven sections.
Heat Resistant
The major quality of any countertop is – heat-resistant material. When using epoxy and stone flooring kits in the kitchen, be sure they can withstand high temperatures because they will be in contact with hot utensils. And aid in the prevention of cracks and damage caused by prolonged heat exposure. However, if a countertop cannot withstand the heat, it may shatter or directly damage food with fumes, causing problems while cooking or cutting.
Scratch-Resistant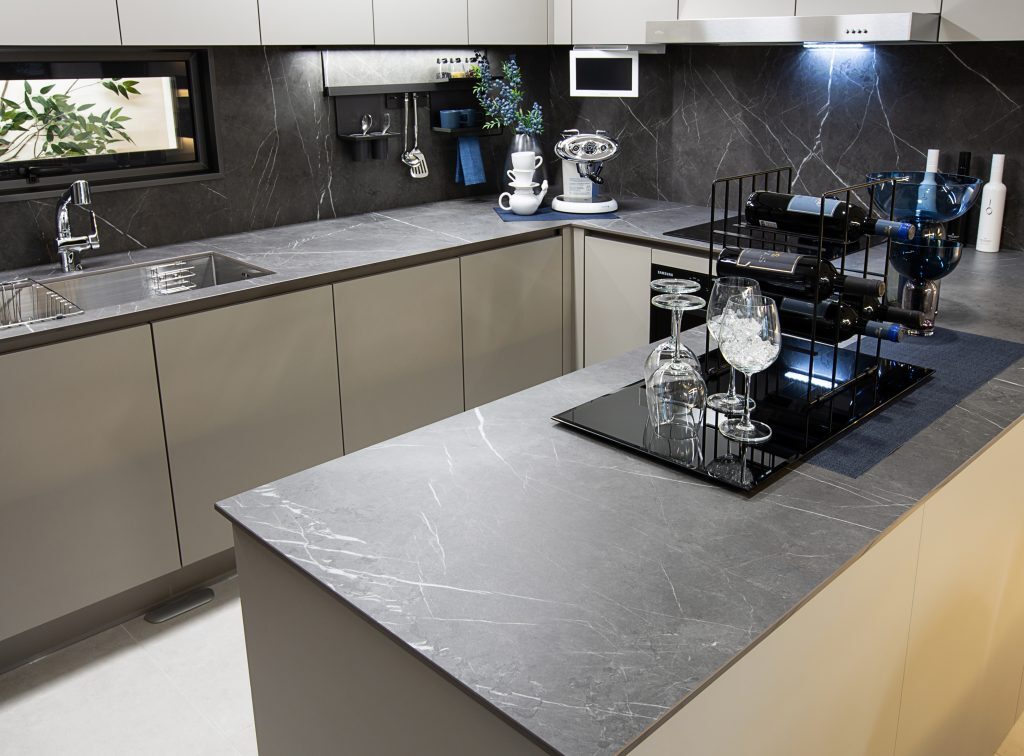 Source: kbis.com
During regular chores, we force countertops to bear a lot, and it causes scratches all over the counter. And eventually, their color and gloss fade away while glossy countertops become old pieces of stone. So, it's essential to use an epoxy stone flooring kit with a label emphasizing – a scratch-resistant formula.
Easy to Clean
Although there are various materials available to add some uniqueness to epoxy kitchen countertops. But during regular hustle, a countertop should be durable and smooth enough to clean easily. Epoxy is easy to clean and manufactured with multiple layers, which help prevent damage for a long period.
Non-Toxic Material
Usually, the manufacturers produce material that provides a sense of relaxation– the food is safe and not infused with any toxic chemicals. However, it's essential to double-check this property before buying the material.
Also Read: Tile Flooring and Kitchen Tiles
How to Maintain the Countertops Made with Epoxy Stone Flooring Kit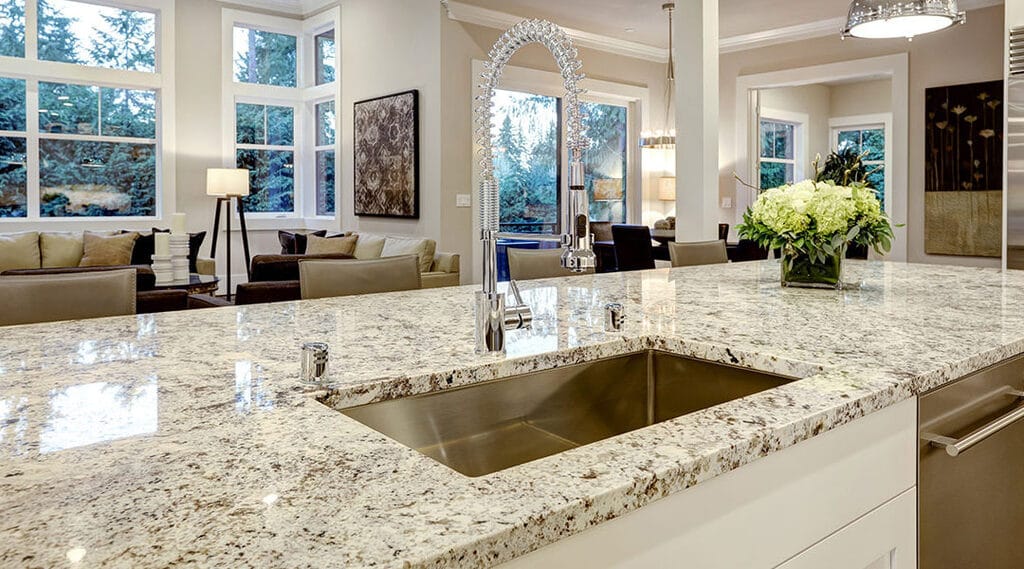 Source: jacksonstoneworks.com
Homeowners can improve the longevity of kitchen countertops with these maintenance and care tips:
Try to avoid prolonged exposure to hot utensils on kitchen countertops and ensure cleaning up hot spills instantly.
Mix mild soap with normal water to clean the countertop easily. Also, use a white cloth to avoid transferring fabric color on the kitchen counter.
Another effective way to clean marks is – baking soda with water. And for perfect results, approximately add four parts of soda to 1 part of water. Use a soft-bristled brush to apply the mixture to the kitchen countertop. Leave it for some time and wipe it off with a clean cloth.
To maintain the countertop's epoxy stone flooring for a long period, avoid bleaching them. Also, avoid abrasive cleaning with them. It can easily cause tiny scratches and make any epoxy countertops look dull.
If the countertop is getting dull, rejuvenate it with mineral oil or use countertop polish liquid. Just spray some liquid and buff the counter with a lint-free cloth.
If the countertop is damaged, try using epoxy polishing paste or any specific laminate.
A green cleaner can also be used to remove dirt or smudges easily. Just add equal parts of water and vinegar to it. Softly sweep the countertop with denatured alcohol and avoid touching it afterward.
Don't forget to clean old caulk around the sink or facets.
Homeowners can also bring the shine back with a new coat of translucent epoxy. Here are the tips to consider while doing so:
Before painting, carefully apply painter tape around – the sink, faucets, and backsplash.
Next, de-gloss the entire countertop with 100-grit sandpaper. And smoothly clean the residue with a tack rag.
Before painting, apply a good quality primer and leave it for almost 4 hours to dry.
After painting a single coat, repeat another coat and leave it for 24 hours to dry completely.
Also Read: 10 Ideas to Brighten Up Your Kitchen
Epoxy Stone Flooring Pros and Cons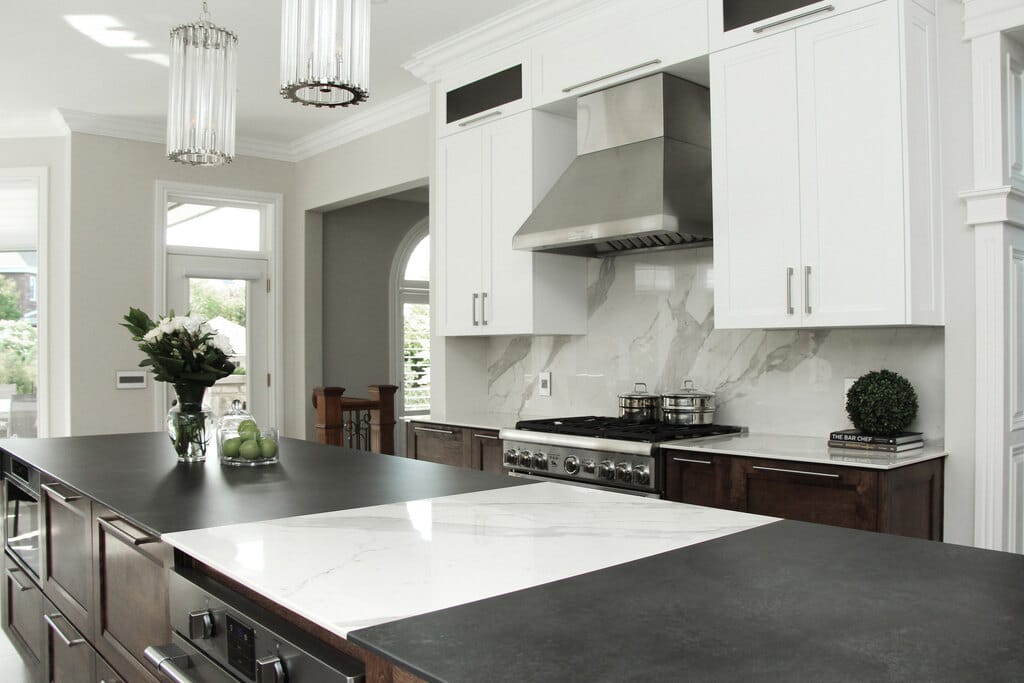 Source: Pinterest.com
There are several pros and cons that one must know beforehand:
Pros of Epoxy Stone Flooring
Over the years, these countertops have shown promising results in boosting the overall look in the kitchens. However, we have shared a few more advantages of infusing an epoxy countertop with a traditional wooden base below:
Affordable Designs:
Stone epoxy flooring cost depends upon the pattern and color used. For example, if single color epoxy is used, the approximate cost can range from $20 to $30 sq. ft. Whereas, if multi-color epoxy is used for countertops, it may cost $90 sq. ft. and above.
Easy to Refinish:
The do-it-yourself refinishing products are easily available for sprucing up the kitchen countertops. Moreover, countertop refinishing uplifts the look of the kitchen and makes the cleaning process easier. Homeowners can efficiently handle refinishing as well as cleaning solutions without getting the countertops damaged or faded away.
Cons of Epoxy Stone Flooring
Difficult to install
Require professional help with installation
Conclusion
Hopefully, this post was informative regarding stone epoxy flooring cost, material, qualities, pros, cons, and how it can be maintained for a longer period. However, don't forget to look at the must-have qualities before investing your hard-earned money on new kitchen countertops. Always remember – that quality material lasts longer. Therefore, it's a wise decision to spend a little more initially instead of having the low-quality material and spending repeatedly on the repairs and replacements.