7 Top Rated Solar Powered Bird Bath Fountain in 2023!
In this pandemic time and with the lockdown orders, the best way to bring peace and serenity to your outdoor spaces is the solar powered bird bath fountain! Imagine you're relaxing in your outdoors with a glass of your favorite wine in hand and listening to the chirping of birds and the sound of trickling water from a water fountain. This will help you unwind after a long day at work. There's absolutely nothing that will be more relaxing and soothing than this, right?
Normal water fountains require a whole lot of energy as they operate on a 24/7 basis. But worry not because we've come with the alternative solution: The solar bird bath fountains! They use sunlight to pump water by converting solar power into electricity, which means they're highly energy efficient and eco friendly. These days they are on the top of the trend list of 2023.
Today we've made a list of the best ones. Already have a bird bath? Do you need a new solar fountain pump? This list will help you find the perfect one for your garden, so keep on reading. First, let's know about the type of these popular bird bath bowls.
Types of Solar Bird Baths
There are four kinds of bird bath bowls are available in the market:
Free-standing pump

Floating fountain pump

Solar pump kit

Pedestal bird baths
7 Best Solar Powered Bird Bath Fountain in 2023!
Below is the list of seven solar powered bird bath bowls and fountains, along with their features, specifications, and pros and cons: 
1. SmartSolar Solar Bird Bath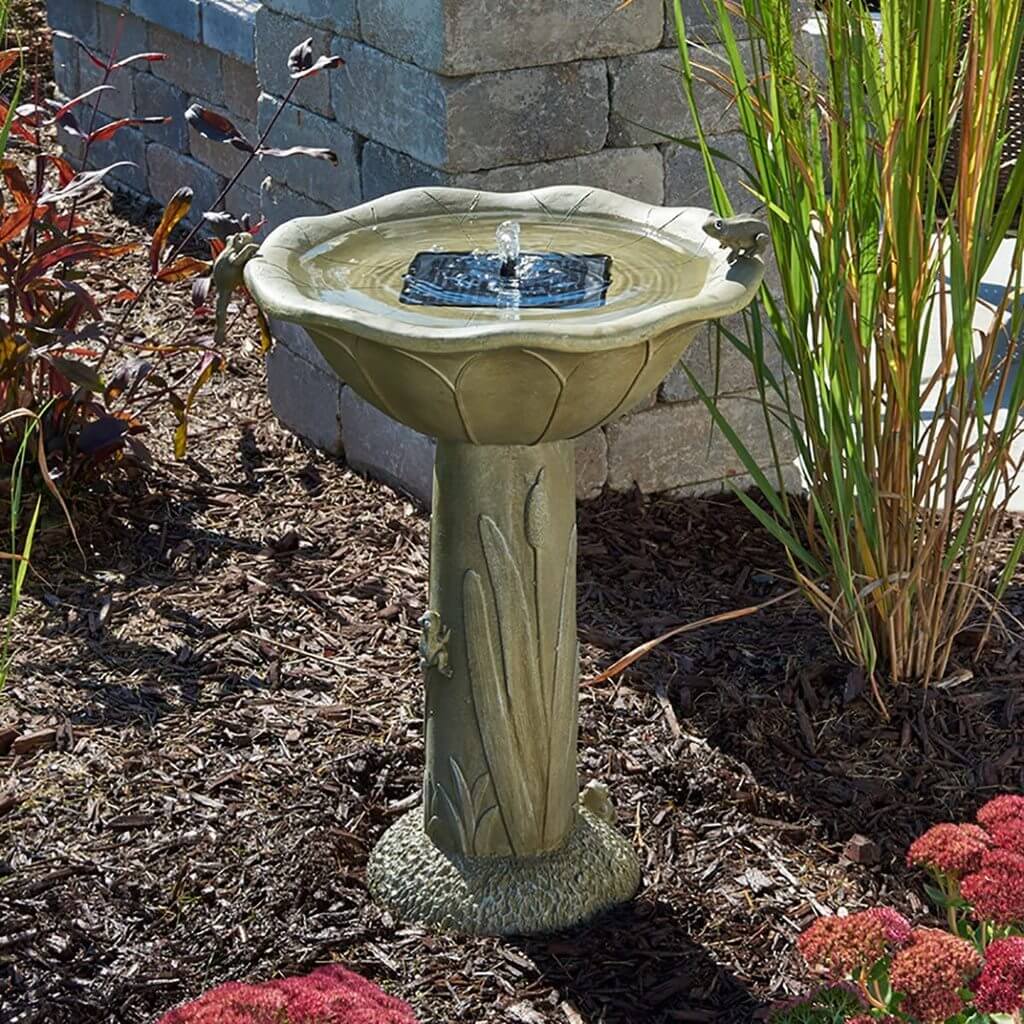 Source: amazon.com
Features: 
Operates in direct sunlight only

Made from glass-fiber reinforced concrete (

GFRC

)

Low voltage water pump with filter

No operating costs and no wiring

Recycles water from the hidden reservoir

Creates a relaxing atmosphere on your patio, deck, balcony, or in your garden
Specifications: 
Weight: 26.4 lbs

Water Capacity: 1 Gallon

Bowl Depth: 1.3 inches
This is a heavy-duty bird bath from the brand Smart Solar that has great aesthetic appeal and stunning looks. With a nice and compact design, this will maintain its grip even in extreme weather conditions. Because of its practical build, it is space-efficient, and you can easily place it anywhere in your garden, patio, or balcony.
This device is perfect for you if your area has a lot of sunlight as it is only operable in direct sunlight. This is also pretty low on maintenance, and all you need to do is simply drain, wipe down, rinse and refill! 
| | |
| --- | --- |
| Pros | Cons |
| – Compact size, fit in anywhere | – No backup power and will only operate under the sun |
| – Concrete reinforced fiberglass construction for durability | – Not resistant to shock or impact |
| – Low Maintenance | |
2. Sunnydaze 2-Tier Solar Powered Outdoor Water Fountain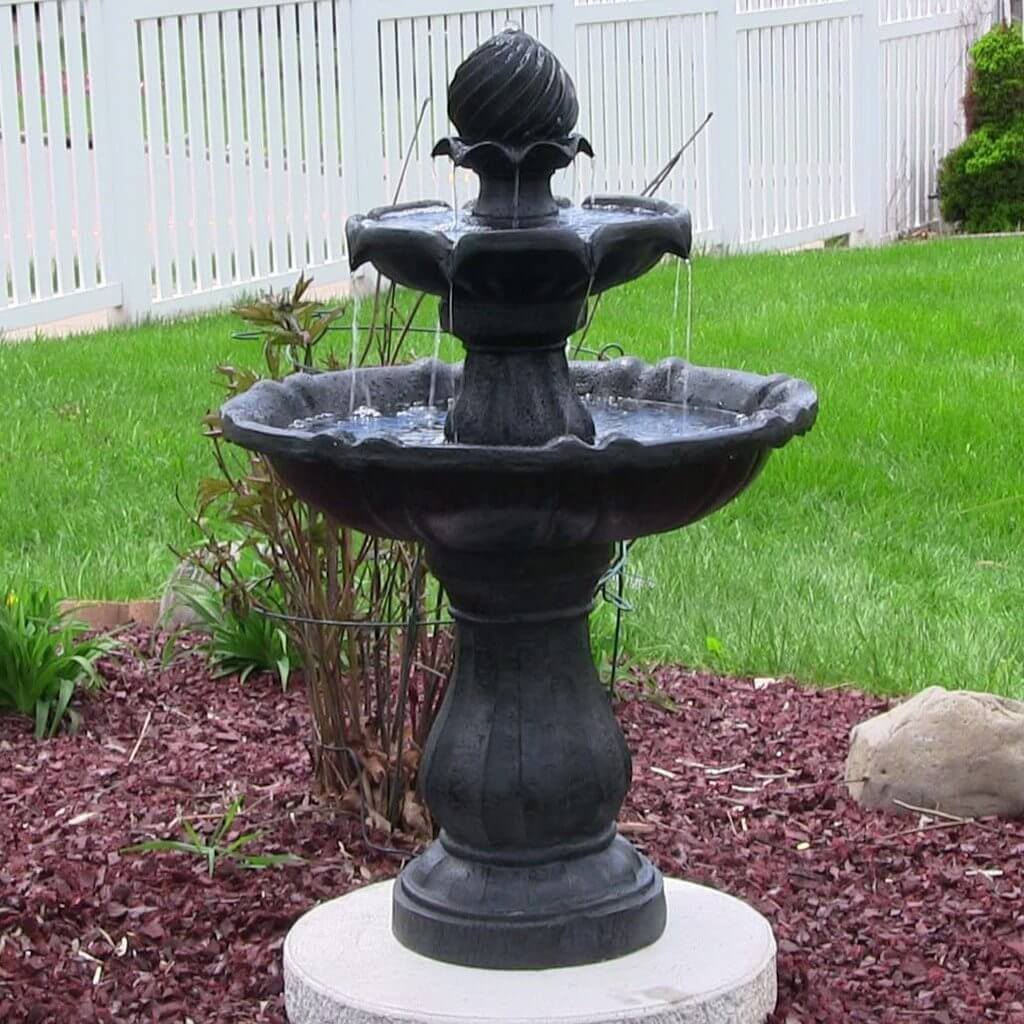 Source: amazon.com
Features:
Features a rust finish

Durable polyresin construction

Comes with a 1-year manufacturer's warranty

Perfect size garden decor

Adjustable pump

It has a 34.5-inch height. 
Specifications:
23-inch diameter x 34.5 inches tall 

Weight: 30 pounds

Water Capacity: 3 gallons

The top bowl has a 13-inch diameter
The Sunnydaze 2-Tier Solar Powered Outdoor Water Fountain features a rustic design and a two-tier system. From the aesthetics to the functionality, this solar water fountain has everything. It comes in a sleek and compact size, but still, it provides a full feature fountain. You can also double it as a solar-powered birdbath too.
A high-quality resin material has been used in the construction of the fountain, and it can hold up to three gallons of water at a time. Most importantly, it can run on solar and battery back-up power. On the battery mode, it can run for up to 4 hours. Pretty amazing, right? 
| | |
| --- | --- |
| Pros | Cons |
| – Comes with a fountain | – Warranty has limitations |
| – Two-tier design | – Small pedestal design |
| – Battery backup included | – Only one color option available |
| – No need for an extension cord | |
Also Read: Solar Power: Know the Pros and Cons
3. OUSI Solar for Fountain Solar Fountain Pump Kit Review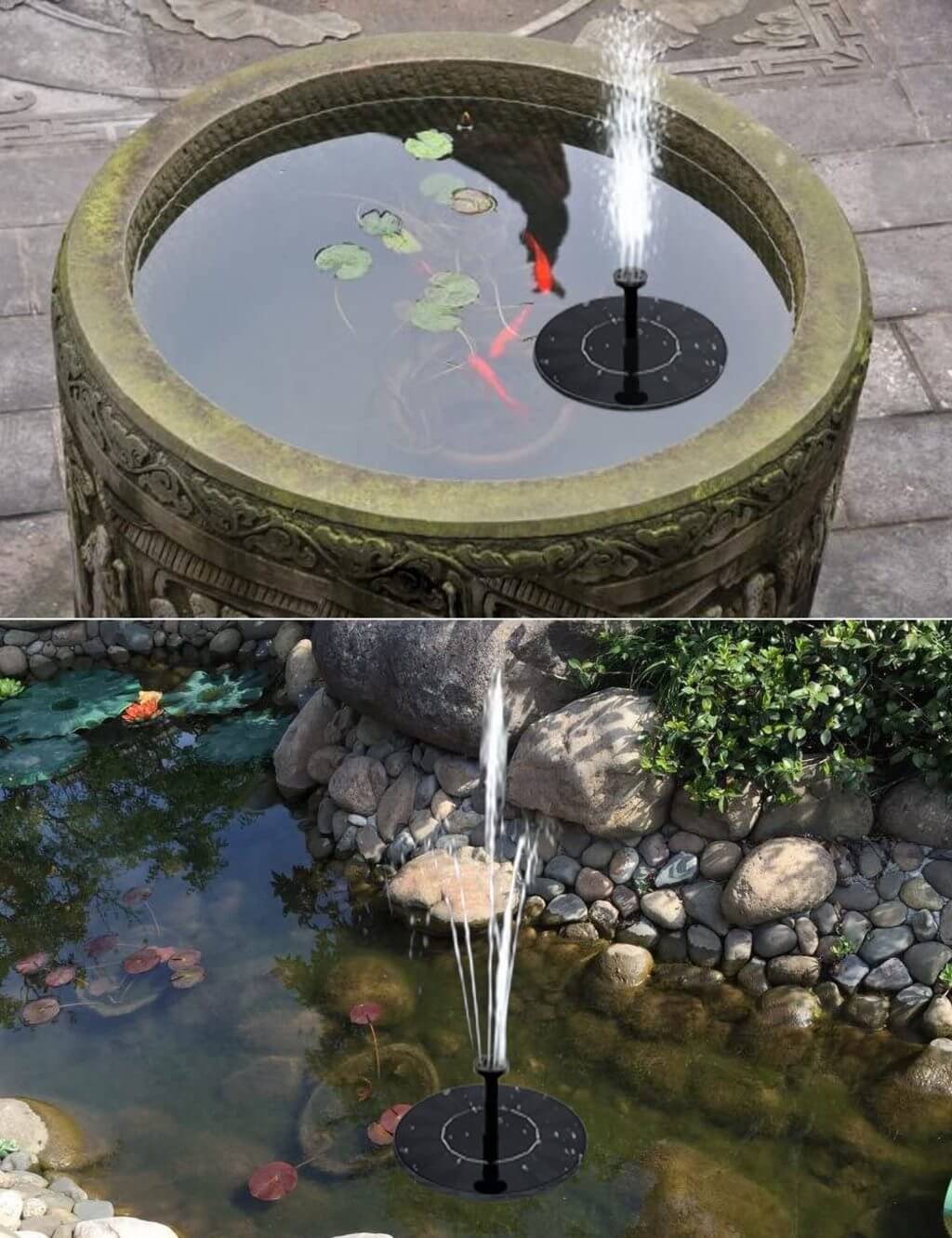 Source: amazon.com
Features: 
Features four nozzles to create interesting water effects

Improves water circulation

It automatically stops operating when there's too much dirt or blockage.

Features a bottom cover to prevent blockages

More than 10,000 hours lifespan
Specifications:
Weight: 6.72 ounces

Size: 6.3 x 6.3 x 2.2 inches

Maximum water height: 17.7 inches

Minimum water depth: 3 inches
Do you want to improve the oxygenation and circulation of your fountain water while saving money and energy? If yes, then purchase this solar pump. This Solar Fountain Pump Kit comes with an easy to remove nozzle that makes its cleaning and maintenance a lot easier for you. 
Don't worry about safety. Yes, it is a budget model of a fountain, but it comes with many safety features such as a bottom cover to keep it from getting clogged, which ensures that it will last as long. It also has an energy-saving brushless motor, which means it can last for 10,000 hours in total. So give your patio or garden a beautiful ambiance with this incredible bird bath fountain.
| | |
| --- | --- |
| Pros | Cons |
| – Easy to set up and install | – Only works in full sun |
| – Longer service life | – The instruction manual can be a bit difficult to understand |
| – Inexpensive | |
4. SmartSolar Ceramic Solar Bird Bath Fountain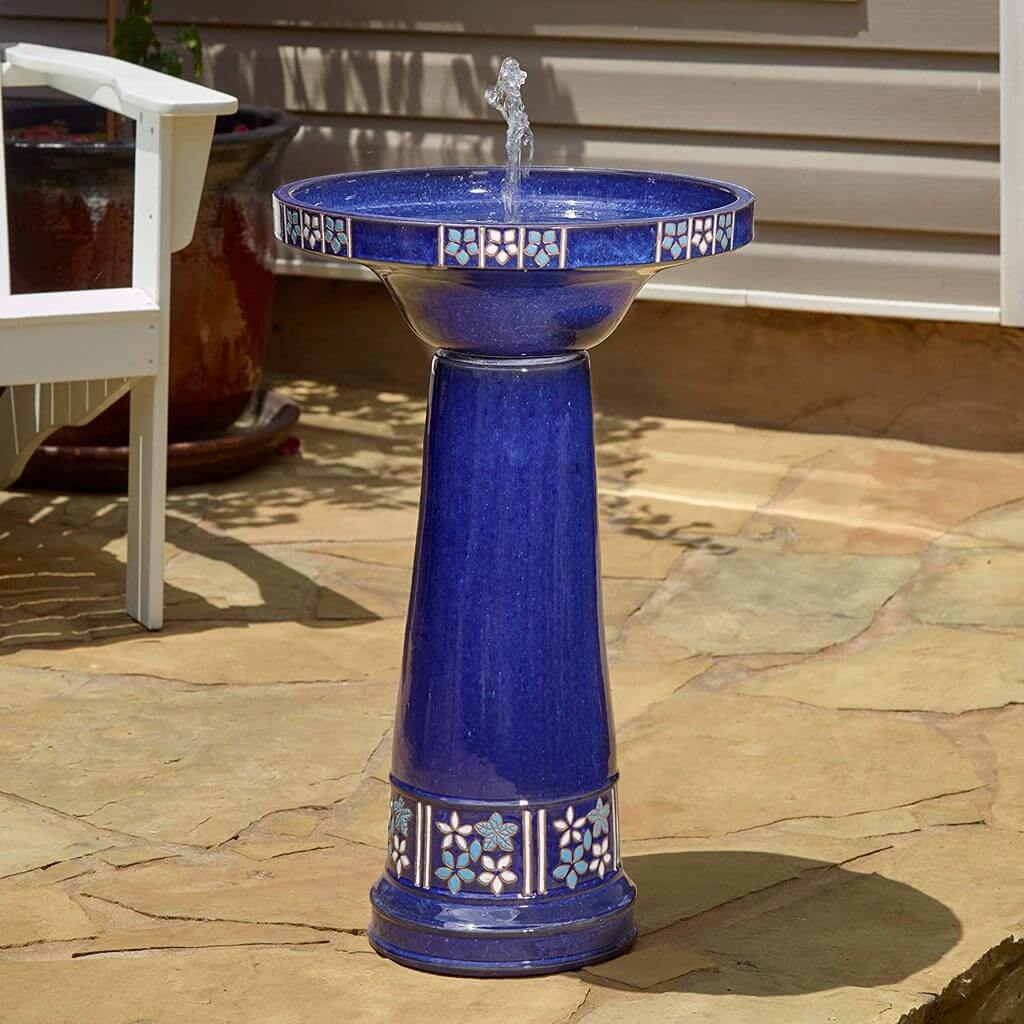 Source: amazon.com
Features:
Low maintenance

Now wiring, simply installs with zero operating costs.

Patented underwater integral solar panel and pump system

Includes bubbler and 360-degree spray topper 

Cobalt blue finish with hand-laid floral tiles
Specifications: 
Weight: 26 pounds

Size: 17 x 17 x 25.2 inches

Water Capacity: 1.5 gallons
This gorgeous looking birdbath bowl is the Louisa Solar Birdbath. This elegantly designed SmartSolar bird bath is made of durable black clay ceramic that has a vibrant blue finishing. It also features a patented underwater integral solar panel and pump system that operates best in direct sunlight. 
It also includes a bubbler and 360-degree spray topper for the desired water effect! Easy to install, this has no wiring or operating costs. But don't move it too much because it is delicate and prone to breaking. Also, this operates only in direct sunlight. So, attract birds and make your garden more beautiful with this stunning fountain. 
| | |
| --- | --- |
| Pros | Cons |
| – It has an exquisite blue finishing | – Heavy to left and move around |
| – Looks extremely elegant  | |
| – Best for wide areas and large gardens | |
5. Peaktop Outdoor Dragonfly Fusion Glass Solar Powered Bird Bath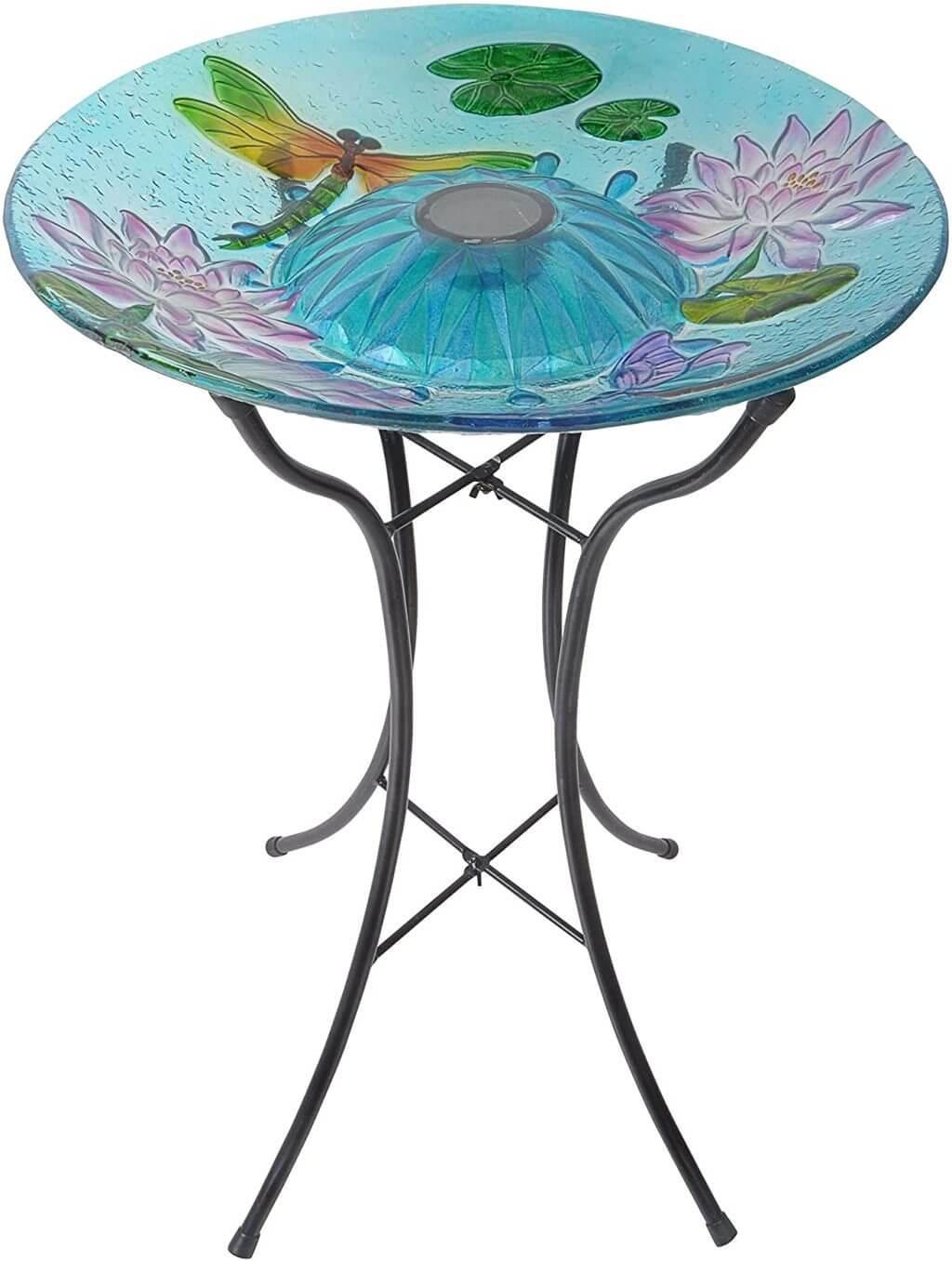 Source: amazon.com
Features: 
Solar Powered Light

Manufactured using premium fusion glass.

Easy to install and operate
Specifications: 
Dimension: 18.00″(L) x 18.00″(W) x 21.20″(H)

Weight: 7.28 lb
This stunning Peaktop bird bath will be the perfect place for your beloved birds to bathe, drink, and splash about in. The secret behind its beautiful design is that it is crafted from high-quality fusion glass. Apart from its premium looks, it also has steel legs that make it sturdy, and it won't be easily knocked over.
Comes in six different styles (ranging from butterfly designs, bird paintings, and flower petal designs), it will be a great addition to your garden or patio. This bird bath bowl also has solar-powered light to guide the birds during the night and give a warm glow to your garden.
| | |
| --- | --- |
| Pros | Cons |
| – Attractive | – Can be Pricey |
| – Comes in a Variety of Designs | – Flimsy Stand |
| – Solar Powered LED | |
| – Easy Assembly | |
6. Sunnydaze 4-Tier Outdoor Water Fountain with Fruit Top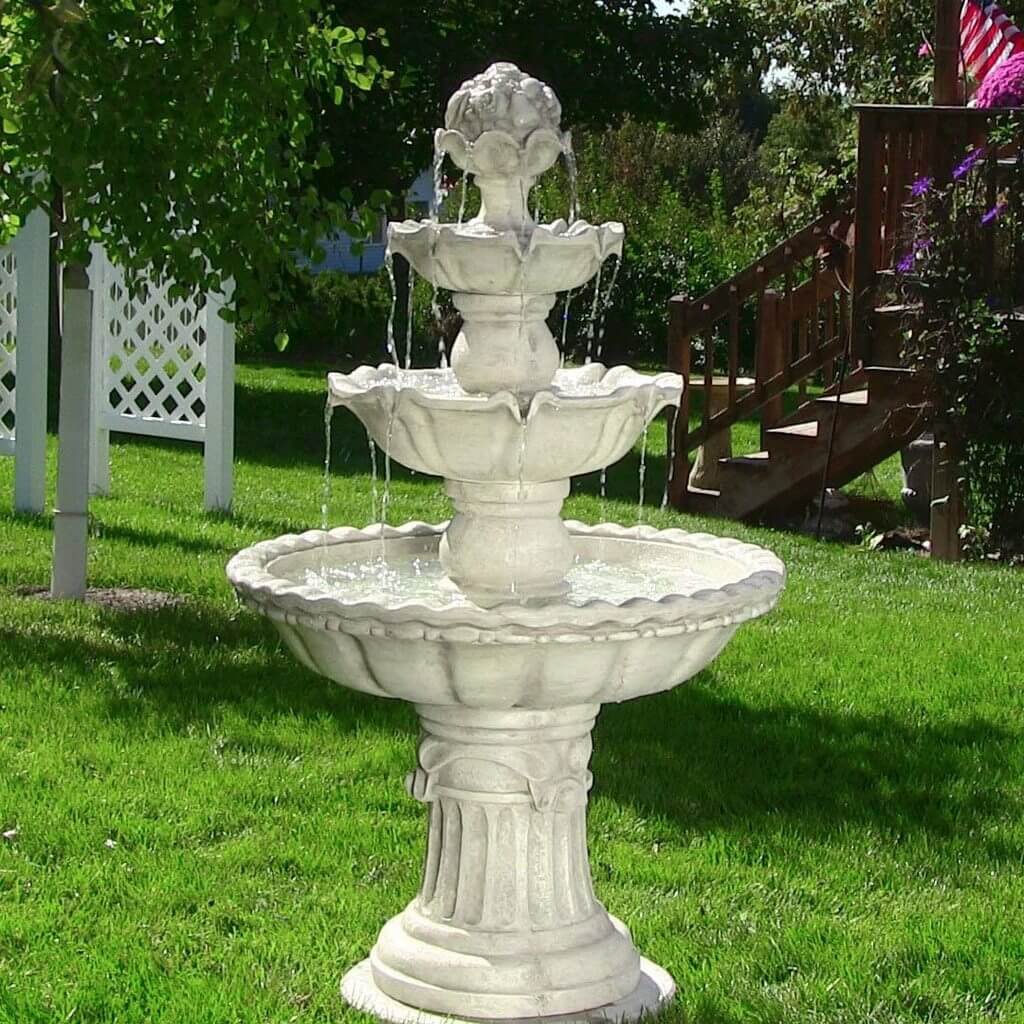 Source: amazon.com
Features:
Durable fiberglass construction

Lightweight and Easy to maintain 

Spin & Lock technology 

Submersible electric pump 

Scalloped edge detailing adds elegant style

Fruit top for extra contemporary charm

Durable material selection

Fiberglass construction
Specifications: 
Total height: 52-inch height 

Dimensions: 31 x 31 x 52 inches (LxWxH)

Weight: 50 Pounds
Are you looking for a bigger solar fountain birdbath? Yes, then buy only the Sunnydaze 4-Tier Outdoor Water Fountain with Fruit Top. With a height of 52 inches, this is one of the larger options in the market. This fountain does have a heavier weight of 62 pounds. 
The solar birdbath gives a smooth movement of the water in the fountain, which makes it extra special. With a classic design with a sculpture of fruit at the top, it is not only aesthetically pleasing but also pretty strong and sturdy. It is able to withstand outdoor weather conditions and resistant wear over time. Also, you will hear a soothing sound, and there are fewer water spills from the device. 
| | |
| --- | --- |
| Pros | Cons |
| – Fruit top sculpture and multi-tier design | – Warranty has several limitations to consider |
| – Smooth water movement | – On the heavier side |
| – Easy assembly | – No alternative color options are available |
| – 1-year warranty | |
Also Read: Five Ways Indoor Water Fountains Can Enhance Your Home
7. Best Choice Products 2-Tier Pedestal Solar Bird Bath Fountain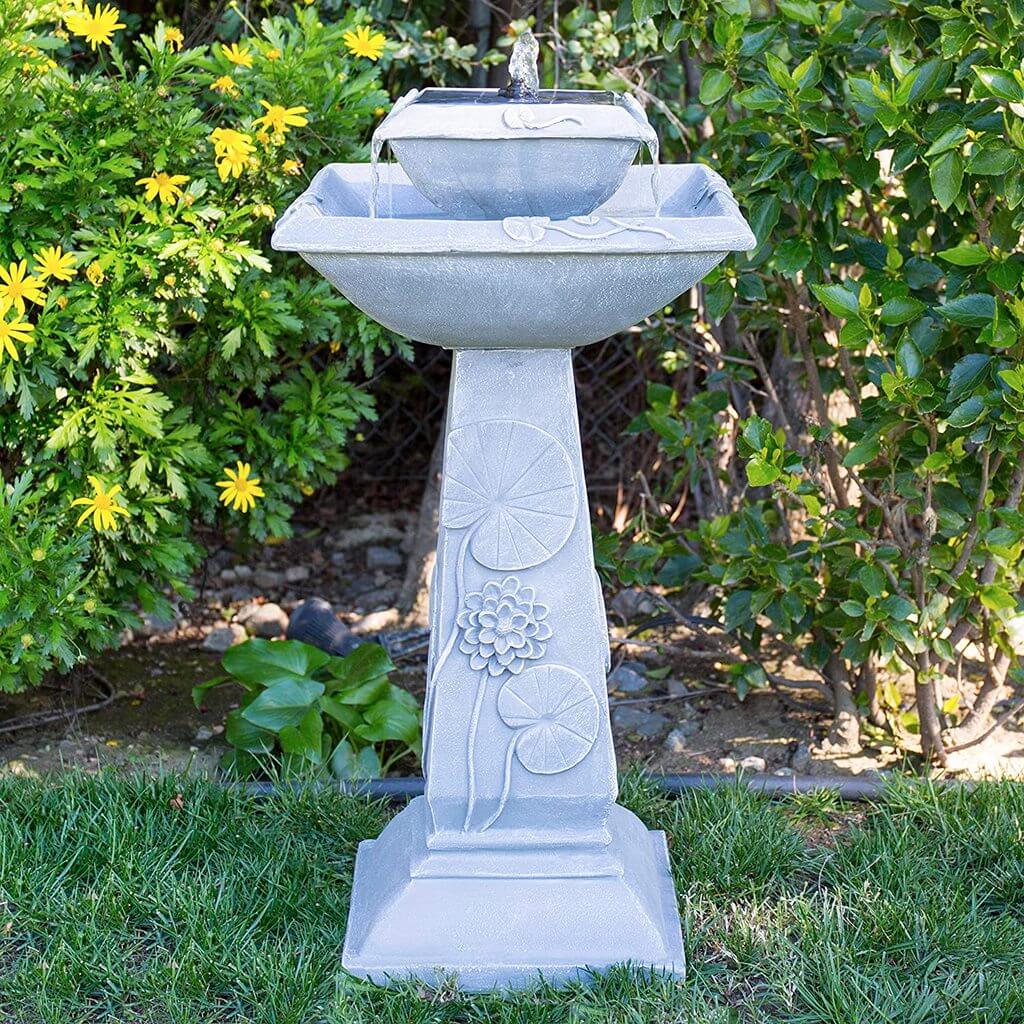 Source: amazon.com
Features: 
Modern Two-tier design

Built-in LED lights

Integrated solar panel

Long pedestal
Specification: 
Dimensions: 15 x 15 x 30.5 inches

Weight: 14 pounds
The last best solar bird bath bubbler is the Best Choice Products 2-Tier Pedestal Solar Bird Bath Fountain. This is such a great option you can add to the garden without spending thousands. It has a pedestal design with a two-tier construction at the top. 
There is a solar panel built into the fountain, which makes the setting and installing process easy and fast. A storage tank is also included to ensure water is always available in the device. Brilliant idea, right? There are integrated LED lights, which you can turn on at night. Lovely floral designs are engraved on the pedestal, so birds will surely enjoy the birdbath. 
| | |
| --- | --- |
| Pros | Cons |
| – Modern design | – Relatively heavyweight |
| – Two-tier design | – No warranty provided |
| – Sturdy construction | |

Source: rspb.org.uk
Conclusion
The most important thing that you all should seek in a solar powered bird bath is its functionality. Look for the best one that soaks up the sun's energy easily and turn that energy into movement in your water. If it doesn't do that properly, what's the point of buying it? 
Good looks are necessary, but if the solar bird bath doesn't actually work, rendering the unit useless. Here all the solar bird bath fountains are energy-efficient, functional, and will be a wonderful addition to any eco-friendly backyard. So order your favorite one from the list and make both yourself and the birds happy! 
For more interesting product reviews and architectural guidance and ideas, keep coming to Architecturesideas.