3 Low Maintenance Water Softening Solutions For Your House
Water hardness is one of the most common problems for many homeowners. If not treated, it may cause heavy mineral build-up all along the pipes of your house, can wear down fixtures and appliances earlier, can also affect the quality of your soaps and detergents, and more. 
Fortunately, Watersoftenershub has a different range of products that will help you solve all these issues. Before you find the right one for your home, you need to check certain aspects such as the amount of water used in your home, the manufacturing company, the system's size, its price, and one of the most important things to consider – the maintenance. 
No matter how effective a system is against hard water, difficult and time-consuming maintenance will make you reconsider your decision. This is why we have prepared you a list of some water system softening solutions available on the market that need the least maintenance throughout their life span.
Source: toiimg.com
Salt-Based Water Softeners
Despite what is often said about these systems, salt-based water softeners are not that difficult to maintain. Yes, you will need extra space to store the salt bags used for regeneration, and you will have to refill the brine tank periodically to ensure the system's functionality, but you won't have to do it every day.
Therefore, a salt-based water softener that uses an ion exchange process to soften your water can operate for years with minimal maintenance. The best part is that most systems on the market are advanced enough to let you know when you need to add salt in their tank, which usually happens once every 6-8 weeks. 
If you are looking for a salt-based system that can take care of itself, we recommend you Water2Buy W2B200. This water softener can measure the water usage of your house, and only regenerates when necessary. Therefore, this happens usually at 3 am, when the water supply is not in use, without affecting the normal water usage. For this reason, it is the most efficient salt-based system in terms of maintenance at this moment.
Salt-Free Water Conditioner
With a different way of dealing with water hardness, salt-free water softeners work by changing the way that hard minerals react to surfaces. As the name implies, these systems are altering hard minerals, but won't entirely remove them like the salt-based models. 
In other words, water hardness is being treated without the use of salt. That means the maintenance is much easier compared to our previous example.  
Moreover, a salt-free water conditioner usually has only one tank. For example, the model Watts Premier 7100638 does not require a storage tank for regenerating the brine solution or a control valve to track the flow and initiate backwashing cycles and it can be easily installed on a floor or mounted to a wall.
Therefore, because it is a salt-free system, there will be no need for electricity, wastewater, or regular salt refills. The only thing you will need to do in terms of maintenance is to change the system filter according to the manufacturer's specifications. This can be done easily and quickly by following a few simple steps from the user manual.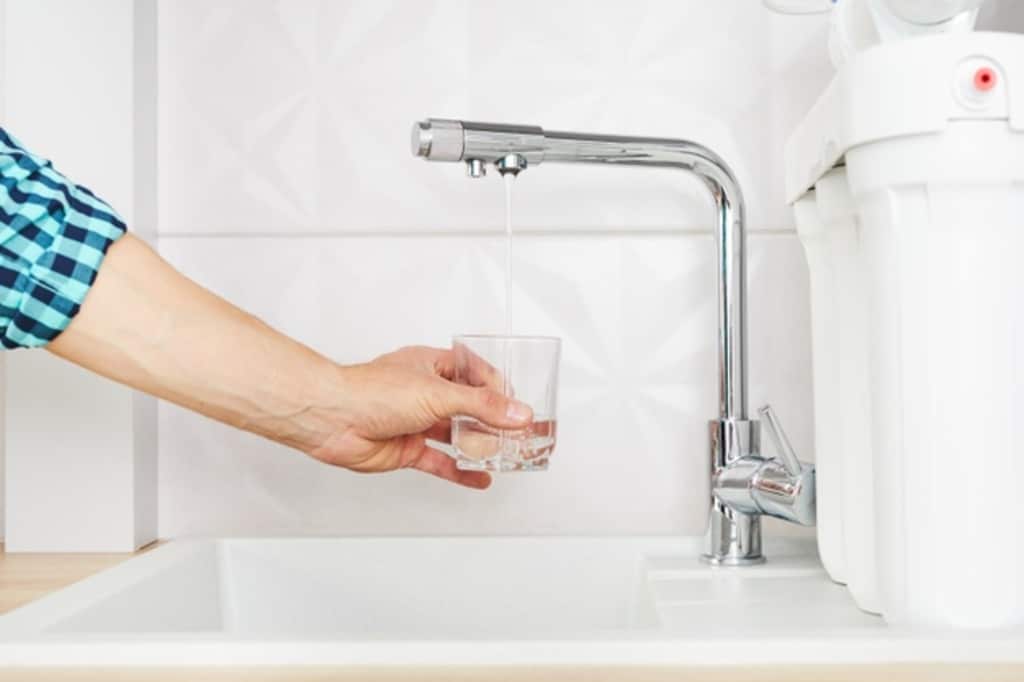 Source: freepik.com
Electronic Water Descaler 
And finally, we present you with a water softening solution that requires no plumbing and no maintenance at all. A system such as the Yarna water descaler will never need user intervention after the installation is done. 
Compared to other water softening solutions, the electronic descaler does not use ion exchange and is not acting as a conditioner to change the structure of hard minerals. That means no salt refilling and no filters which must be replaced.  
In this case, hard water is treated with electric impulses that break the crystals and transform hard minerals into ions. Therefore, by choosing the electronic water descaler, you will enjoy your water with all its good minerals, and you will get rid of other effects of hard water in your home. 
Also Read: 6 Tips to Help You Choose the Best Water Filtration System
To Summarize
As you have seen, there are water softening solutions on the market that require very little or no maintenance on your part. Furthermore, it is up to you to decide on the best water softening solution for your house, checking other essential factors such as size, price, capacity, and so on.
To make the best choice, you can always follow the reviews of people who have used a water softener in their home. Those will help you make an informed decision and will also increase the chances of finding the best product for your needs.