Stained Glass Art: Its Types And 11 Best-Stained Glass Windows In The World
You might have seen stained glass windows in several places. You would have just lost in their beauty for a couple of minutes and you might have also wondered how is it possible for a human to create such intricate art, right? After all, the stained glass art is remarkable in itself, and from many many years, it is in practice. From religious buildings to the universities, they can be seen everywhere. So if you're also curious to know more about them or just want to know how to make stained glass windows, read this blog. 
Here, we've explained everything in detail, and along with that, we have also provided a list of some of the most breathtaking stained glass windows and art. If you're creating a stained glass window for your place but currently are out of creative ideas, just look at these designs and patterns. 
What is Stained Glass?
Stained glass is nothing but simply a colored glass that is used for making decorative windows and doors. Glass is colored by the addition of various metallic oxides while it is in a molten state. Sometimes various arts are painted on the windows and they are known as stained glass. 
This is definitely not a new trend, rather it was followed from a thousand years ago. You might have seen these stained glass windows or decorations in old churches or buildings. They're exclusively used in windows of churches and other notable religious temples. These stained glass arts are very eye-catching, which also consists of many patterns and designs. If we talk about in recent years, they have been used to show the modern art elements, three-dimensional structures, and sculptures. 
Types of Stained Glass
Now you are thinking that what is the main purpose of these stained glass windows? The main motive of these windows is to block the view so that nobody knows what's going inside and also to maintain some privacy. Secondly to control the amount of light. That's why stained glass windows are also recognized as "illuminated wall decorations."
Now, let's talk about the designs or the types of stained glass. Actually, there is no specific style in which they've been created, rather there are numerous designs and patterns. The design of a window may be a figurative or abstract, depending upon the place. If the structure is a religious place, then there will be figures of gods, people, or descriptions of the historical events on the glass windows. And if it is a college building, then there will be figures representing the arts and sciences, flora, fauna, or landscape.
Below is some most common type of stained glass:
Nature

Humans & Animals

Botanical

Scenic 

Tiffany

Transform

Mythological and

Decorative  
11 Gorgeous Stained Glass Windows
Now, let's look at some of the most amazing and bizarre buildings from all around the globe where the stained glass art has been used on another level. Check out the 11 most breathtaking and enormous buildings with the use of stained glass: 
1. Cathedral of Brasília
source: architecturaldigest.com
Location: Brasília, Brazil
Architect: Oscar Niemeyer
Year: 1970
The Cathedral of Brasília, located in Brazil, is designed by Oscar Niemeyer. It has peculiar stained glass windows that were created by artist Marianne Peretti in 1990. Do you know this cathedral covers about 22,000 square feet and has a capacity of 4000? The windows have some extremely intricate works and feature waves of blue, white, green, and brown glasses. 
2. Chicago Cultural Center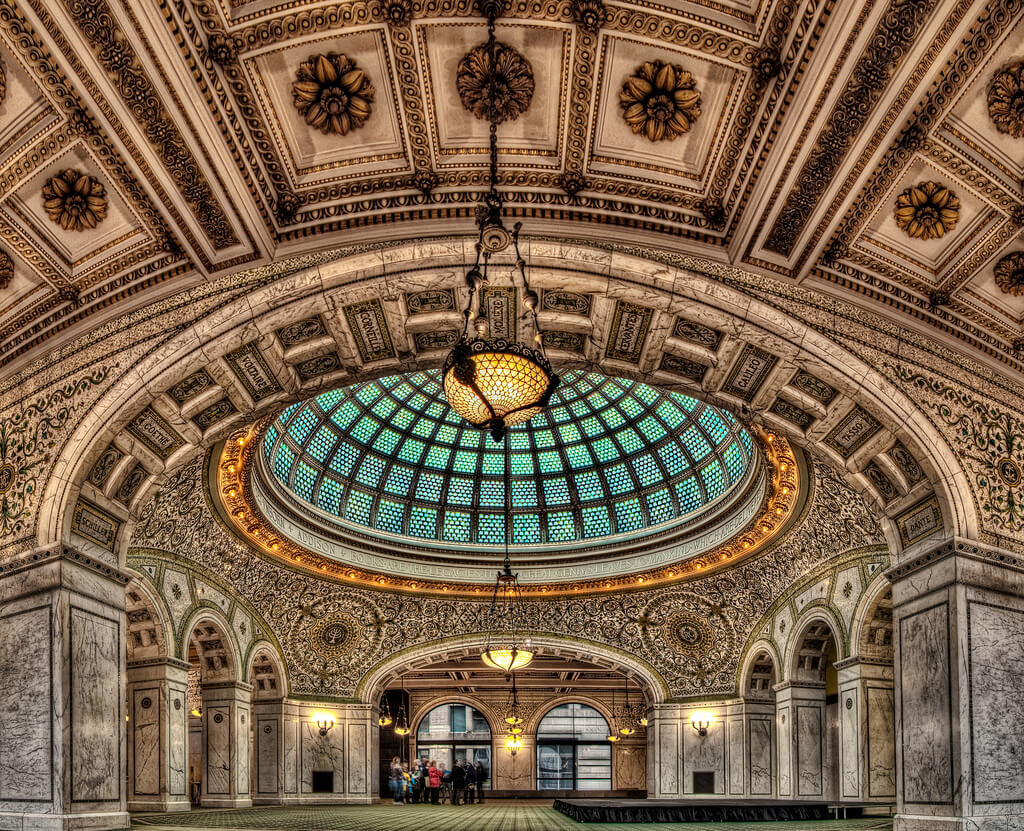 source: urbanmatter.com
Location: Chicago
Architect: C. A. Coolidge and Robert C. Spencer
Year: 1893
Just look at this beautiful dome. It is the Louis Comfort Tiffany dome at the Chicago Cultural Center. Not only it has mesmerizing looks, but it also has some cool features like the diameter of this dome is 38 feet!! Which makes it the world's largest stained-glass dome.
There is an ornate cast iron frame that supports 30,000 pieces of glass shaped like fish scales. This building was first opened for public use in 1897, and then in 2008, the dome underwent a meticulous restoration. 
3. Gran Hotel Ciudad de México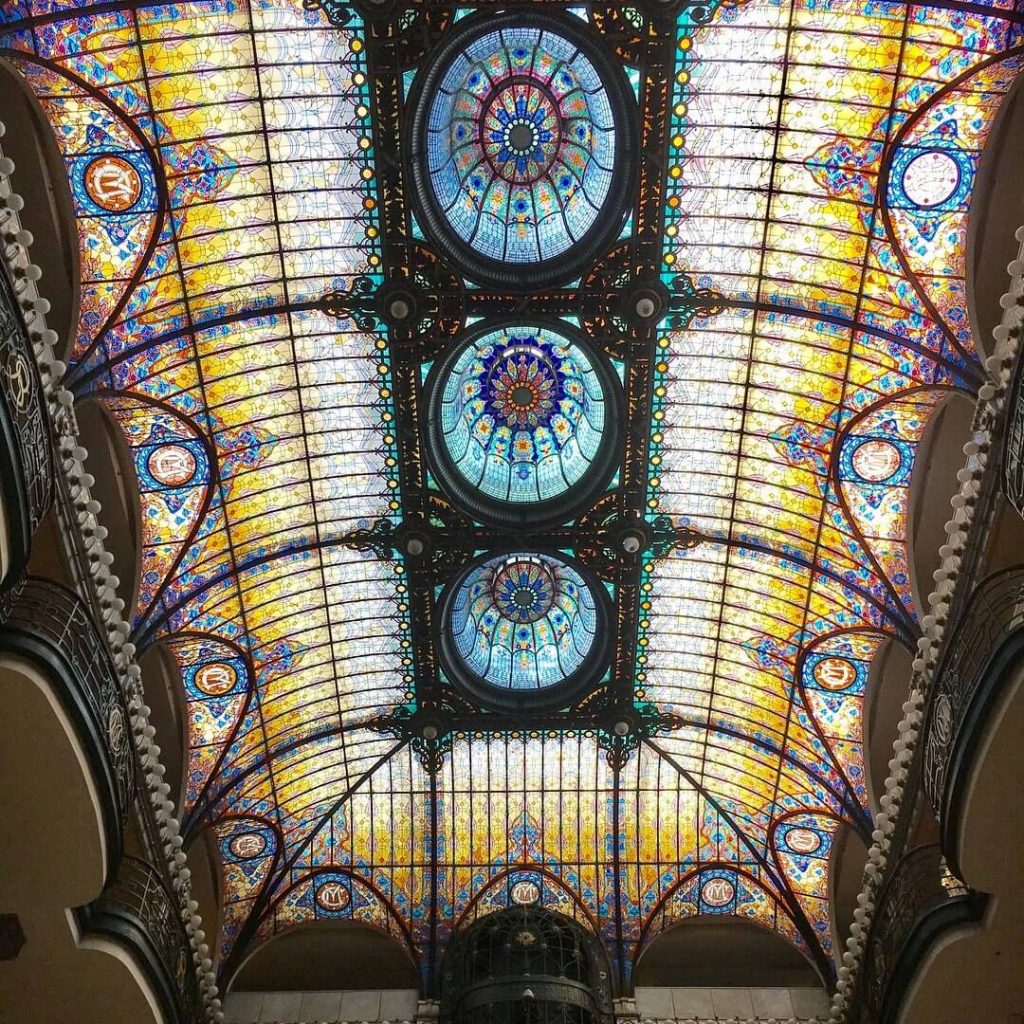 source: pinterest.com
Location:  Mexico City
Architect: Jacques Gruber
This was an old ordinary department store, but in 1899 it was transferred into a luxury hotel in anticipation of the 1968 Olympic Games. Everything seems normal when you look around, but when you look up, you will see the magnificent ceiling. 
This roof is made of Tiffany-stained-glass, which shows the country's Mesoamerican heritage. The ceiling was designed by French artisan Jacques Gruber, who used turquoise and gold colors. There is also a Louis XV–style chandelier, which looks absolutely perfect with the glass roof. 
4. Melk Abbey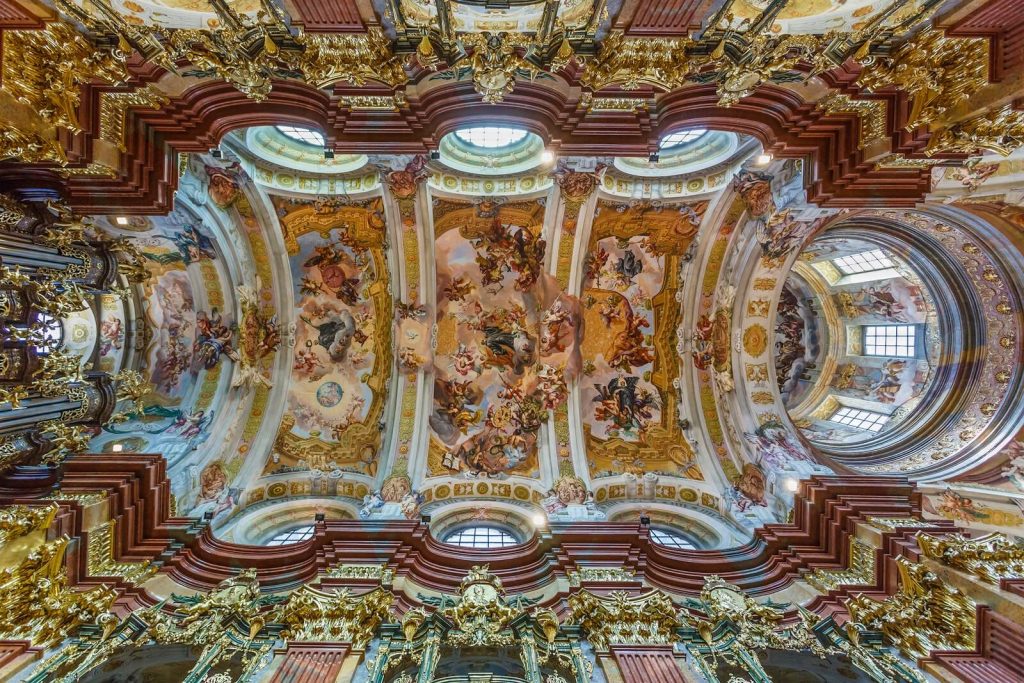 source: architecturaldigest.com
Location: Austria
Architect: Jakob Prandtauer
The building was designed by Jakob Prandtauer, and the famous ceiling was painted by a well-regarded baroque painter, Johann Michael Rottmayr. Melk Abbey is situated on a rocky land overlooking the river Danube in Austria. 
5. Metropolitan Cathedral of St. Sebastian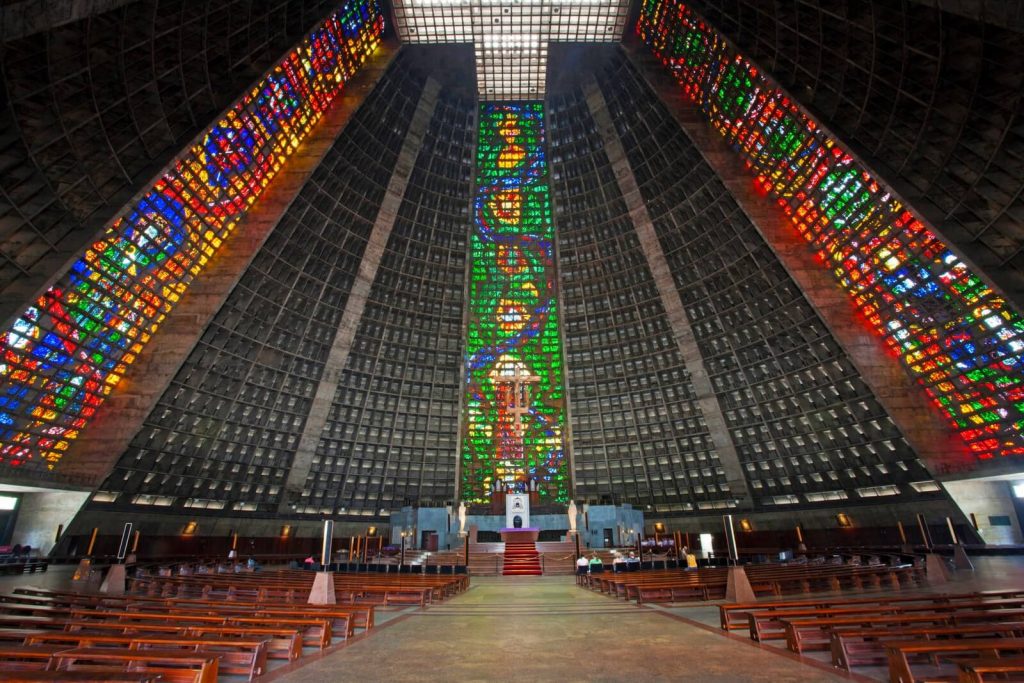 source: medium.com
Location: Rio de Janeiro, Brazil
Architect: Edgar Fonseca
Year: 1979
Although it's a religious site, there is still something exciting here, and that is the four rectilinear stained-glass windows. They go from ceiling to 200 feet in height in a beehive-shaped cathedral. Another fascinating thing about this building is that around 20,000 people can fit in the Edgar Fonseca–designed church, which also holds the Museu de Arte Sacra in its hidden space.
6. Nasir al-Mulk Mosque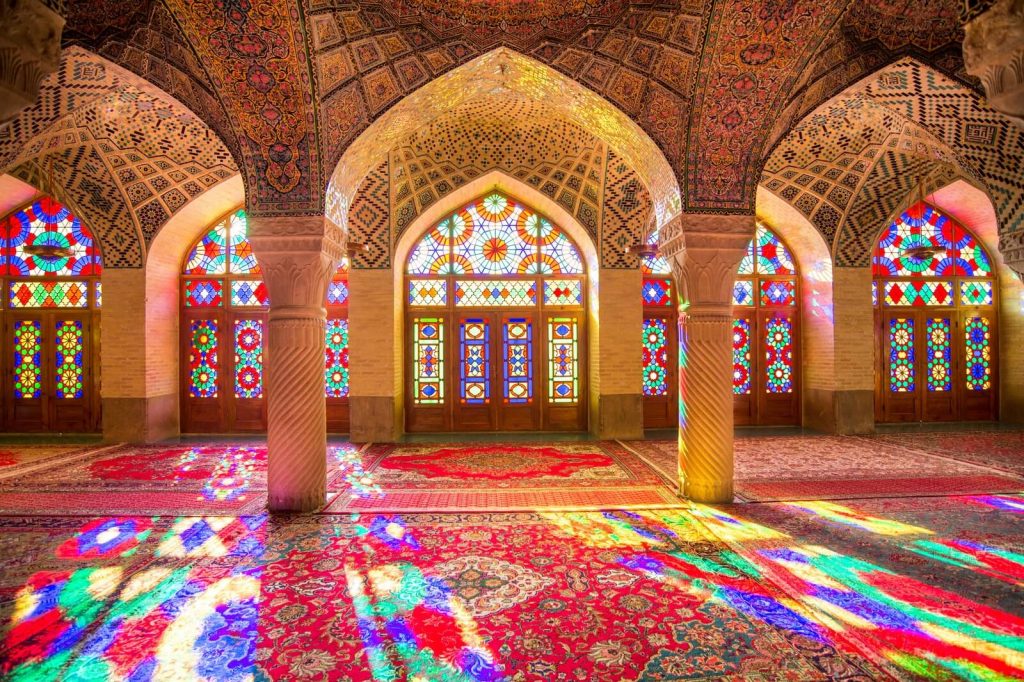 source: persiaparadise.com
Location: Shiraz, Iran
Year: 1888
Nasir al-Mulk Mosque is also known as the "Pink Mosque." It was completed at the end of the 19th century, this beautiful place features stained-glass windows, carved pillars, richly colored tiles, and woven rugs. But the real magic happens in the morning when the early morning light enters the mosque through these glass windows. A kaleidoscopic effect is produced by sunlight, which is stunning. 
7. Notre Dame, Paris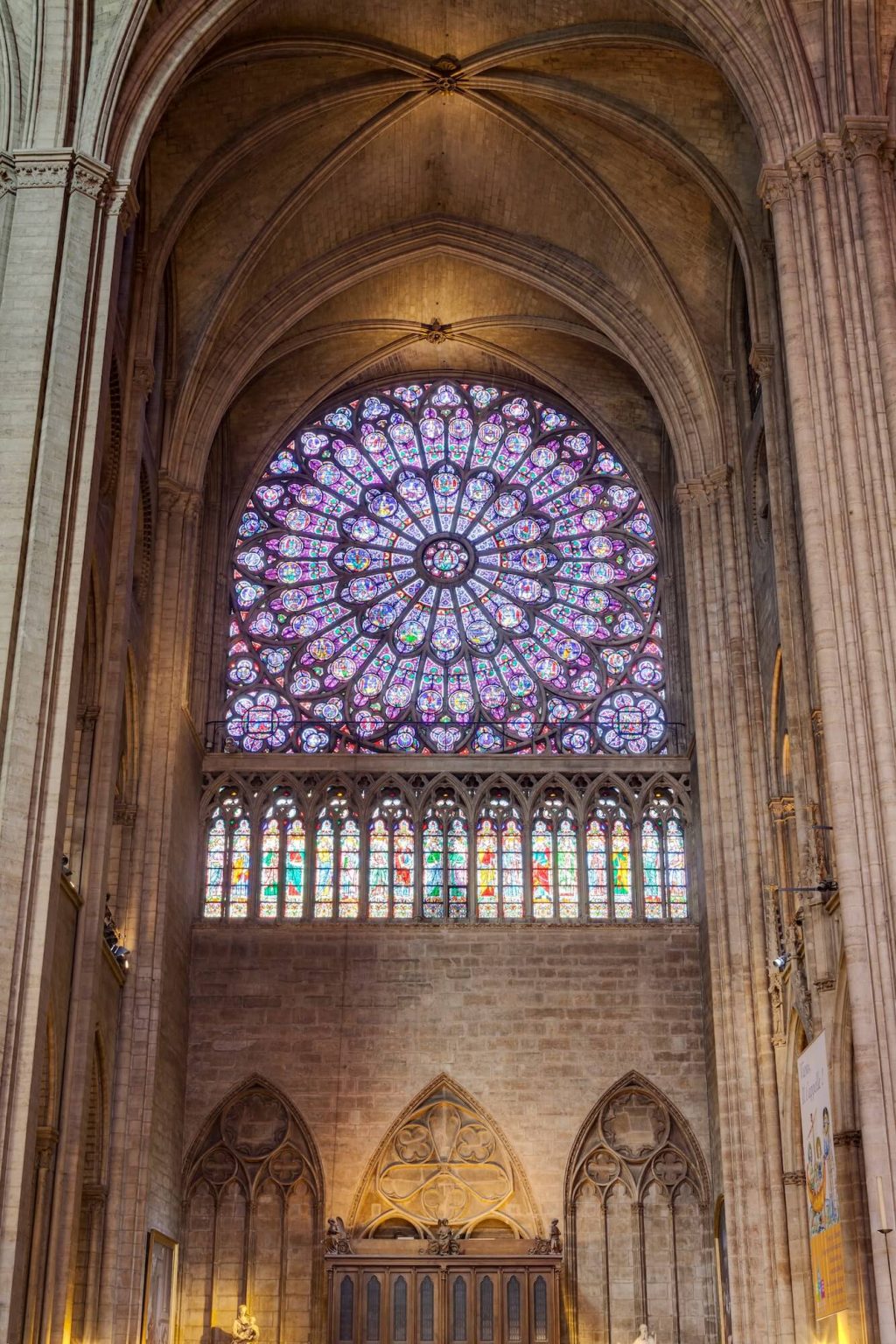 source: gettyimages.in
Location: Parvis Notre-Dame – Place Jean-Paul-II, Paris
Architect: Jean de Chelles and Pierre de Montreuil.
Year: 1345
The meaning of Notre-Dame de Paris is "Our Lady of Paris," which is commonly referred to simply as Notre-Dame. It is widely famous for its French Gothic Architecture. But apart from this, it is also recognized for its iconic stained glass arts. 
Look at the above picture – it is the South Rose Window—a gift from King Louis IX of France. Designed by Jean de Chelles and Pierre de Montreuil, it is 42 feet in diameter. Huge, right? It contains 84 panes divided into four circles. 
Also Read: The Unfortunate Incident Of Notre Dame Fire Accident
8. Sainte-Chapelle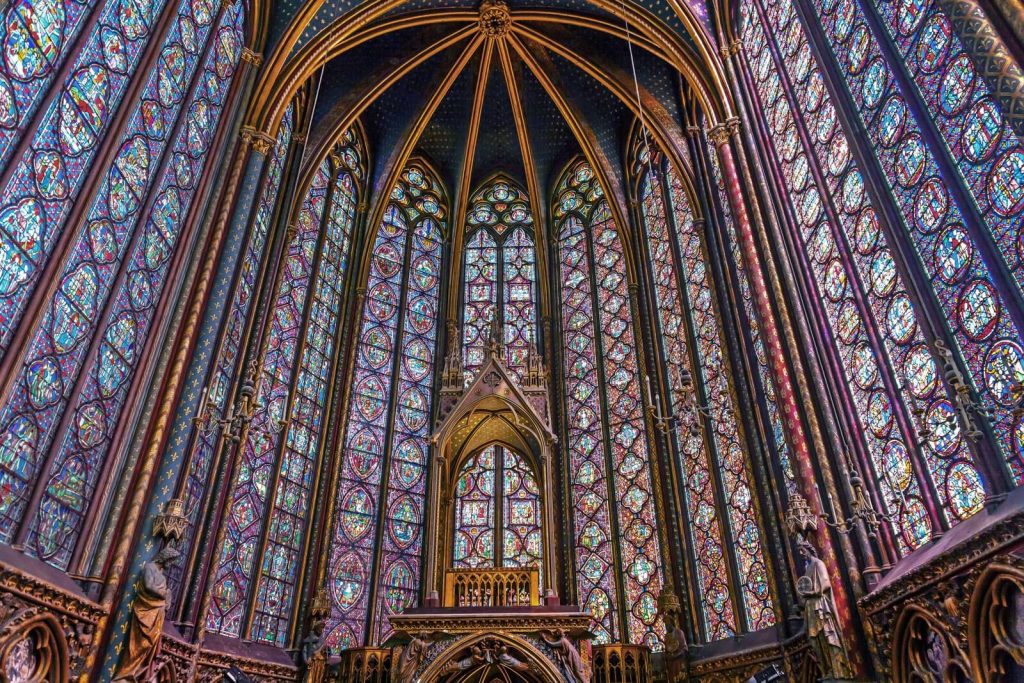 source: architecturaldigest.com
Location: Paris
Year: 1248
This is a Sainte-Chapelle, which is in the gothic architecture, which boasts 15 stained-glass panels in its nave and apse. They are not like the other stained glasses in the world, instead, they depict more than a thousand biblical figures. Recently, these panels have undergone a seven-year restoration. Pretty amazing, right? 
9. Palau de la Música Catalana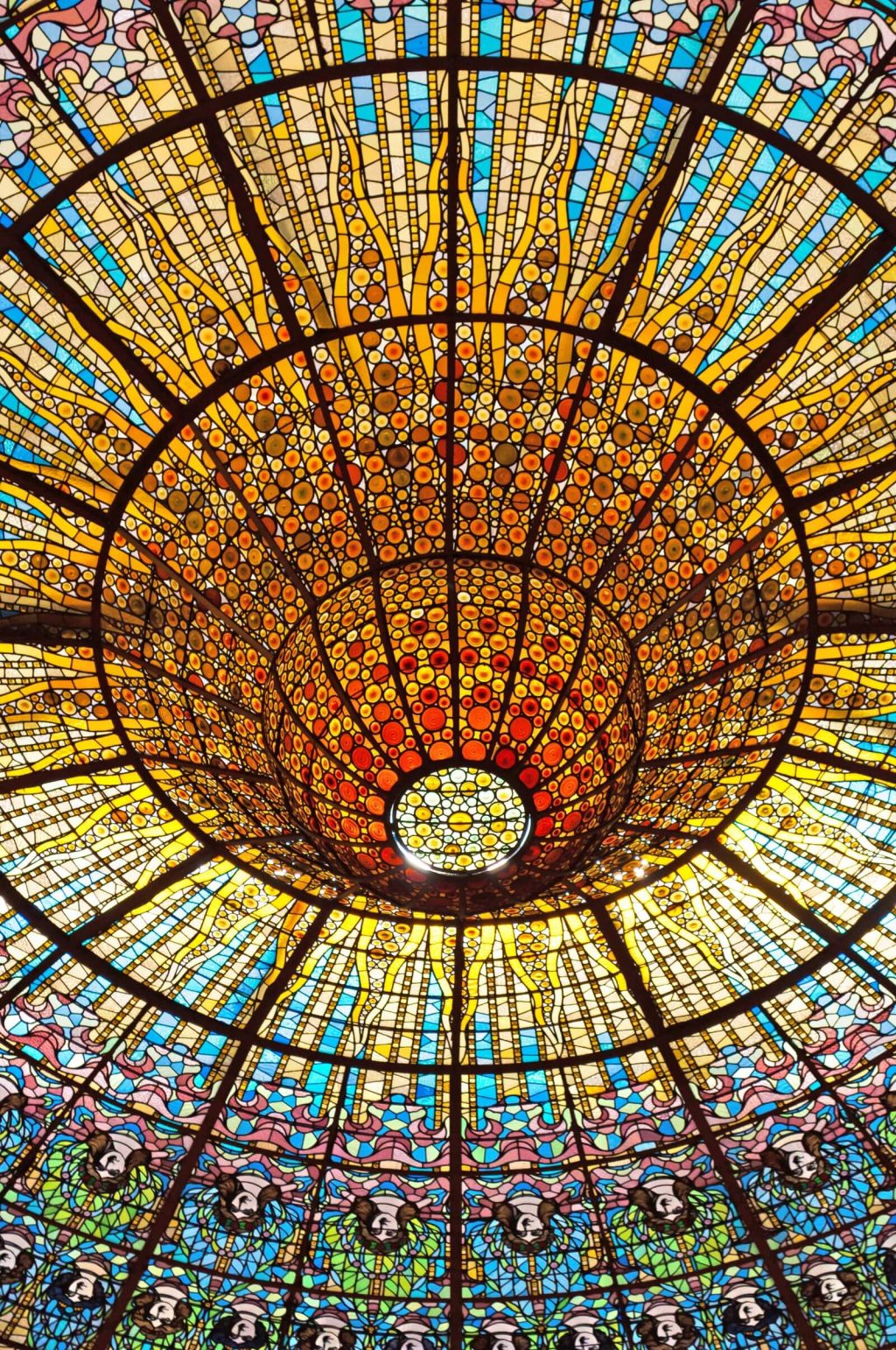 source: pinterest.com
Location: Barcelona, Spain
Architect: 1908
Year:  Lluís Domènech I Montaner
Palau de la Música Catalana was completed in 1908, and the architect of this remarkable structure is Lluís Domènech I Montaner. There is a steel-framed concrete hall that has a stained-glass skylight featuring a three-dimensional depiction of the sun. In 1997, this building was also named a UNESCO World Heritage Site. 
10. Thanks-Giving Square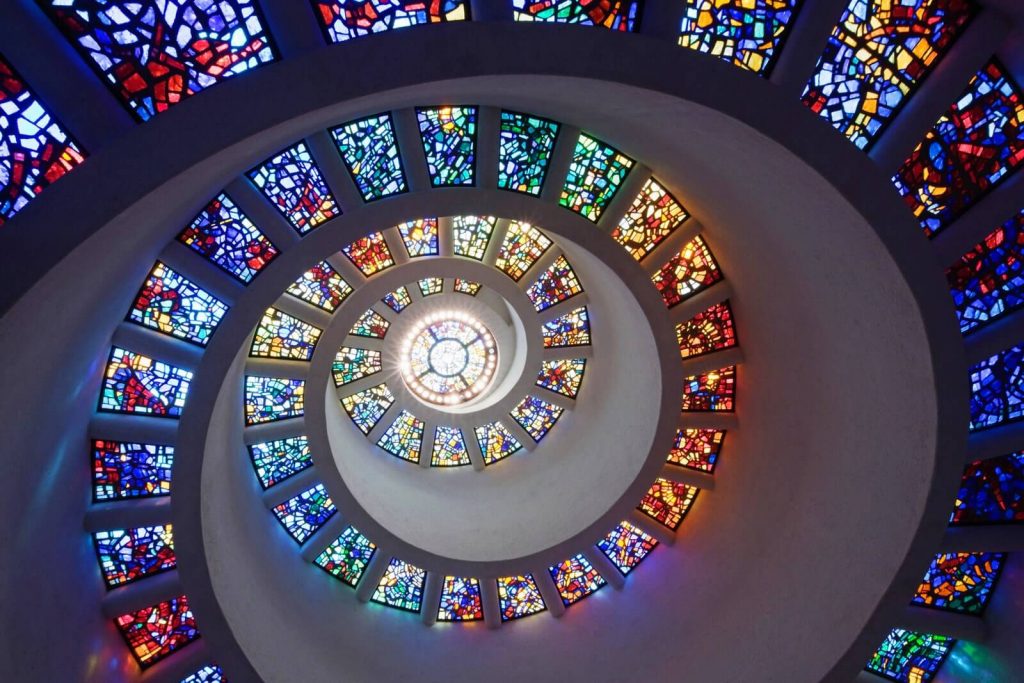 source: pinterest.com
Location: Dallas, Texas, US
Architect: Philip Johnson
Year: 1976
Look at the illustration of spiral glass windows. Philip Johnson-designed this in 1977. It is a delicate white spiral chapel, located in the heart of downtown Dallas, United States. The structure has a glory window that is made from 73 stained-glass panels and it is created by French artist Gabriel Loire.
11. York Minster Chapter House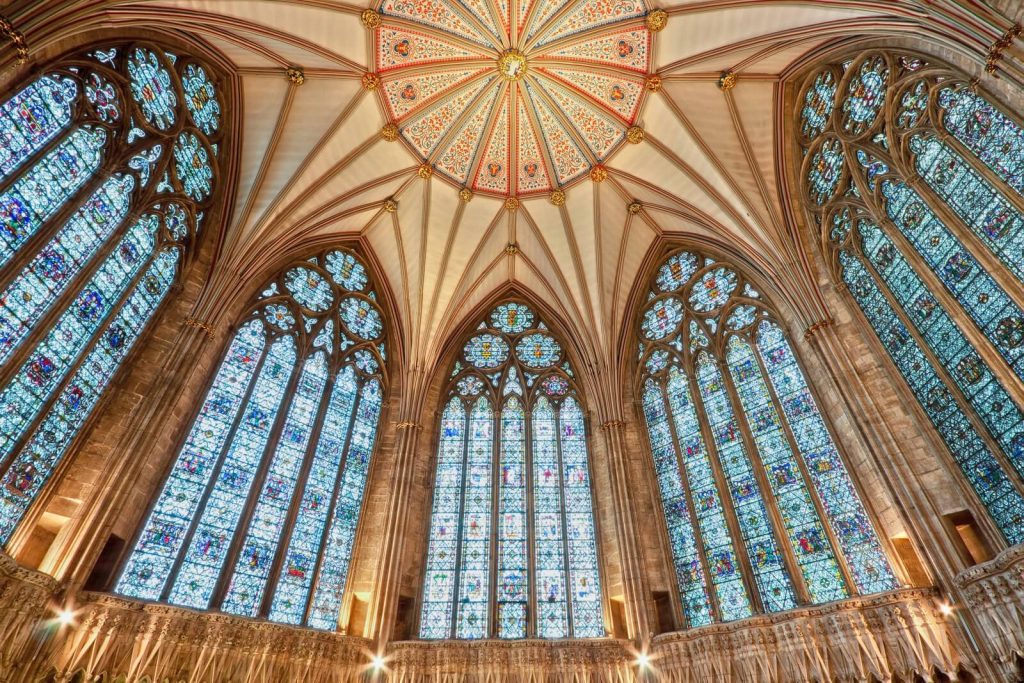 source: architecturaldigest.com
Location: York, England
The Cathedral and Metropolitical Church of Saint Peter in York is widely known as York Minster. This chapter house situated in England is one of the largest Gothic Cathedrals of Europe. It has some striking glass stained windows and some of them also depicted several full-length figures, which look astonishing. 
Final Verdict
There are a lot of things that we can still learn from our history, especially in the field of architecture. We're pretty sure that your eyes and your brain must have got a shock after looking at these astonishing stained glass arts. This will also provide you with a high dose of inspiration, so if you're planning to stain your window, you will get some creative ideas.
For more architectural information or home decoration tips and tricks, keep coming to Architecturesideas. We regularly post amazing content on Monday, Wednesday, & Friday, and also, don't forget to follow us on Instagram so that you don't miss anything.