Many of us don't pay much attention to staircases, but they are an integral part of any building, whether it is residential or commercial. Isn't it? The right staircase railing design will reflect the architecture of your house. Railings are not only used for safety & comfort but they also add an aesthetic appeal to the place.
We use stairs numerous times a day, so they should be in the best condition. Otherwise, you may injure yourself severely (which nobody wants!). Selecting the right staircase designs is sometimes a tough & tiring task, but with this guide, this will be a fun activity for you.
You can choose the terracotta tile one based on numerous things such as theme, style, and material. Yes, the material is a crucial factor as stairs should be comfortable, cost-effective, and, most importantly, it should look pleasing. Read this ultimate guide, which tells you about the different stair railing ideas. In this blog, we are going to tell you about the various handrails which are classified in different categories. Let's take a look at them one by one:
Generally, railings can be classified into these categories:
On the Basis of Style & Theme:
You always select your home decor & furnishings on the basis of the theme or style. This way, you can choose your staircases and its railings in a particular design or style. Vintage, rustic, boho, beach, an industrial or traditional, name it, and you will find hand railing in that one.
Here are some of them:
1. Rustic Staircase Railing
The rustic style includes elements that have old & rough feels on it. So if you love this type of style, go with the railings that have this kind of vibes.
2. Traditional Railings
Living in the 60s-70s house and love the old classic style? Then these staircases with these traditional railings are for you. These are the ones which are evergreen, you can never go wrong with this!!
3. Sleek Modern Stair Railings
Nowadays everyone wants a modern look, whether it comes to furniture or railings. There are various modern designs and patterns in Railings that are available in the market. One of them is sleek modern stair railings.
4. Cottage Railing
Colorful & comfortable, these are the main things of a cottage style!! So if these things are your needs, then go for a railing that has these.
5. Light Fashionable Railings
If you don't want to make your space bulky & congested, go for these kinds of light-weighted railings.
6. Craftsman Porch Railing
Who says that wood railings are boring? If you also think like that, then just take a look at this beautifully crafted railing. Wood is the type of material that you can do anything. Right? You can shape a log into beautiful sculptures and even railings.
7. Industrial Stairs with Railing
These railings are made of solid materials like steel or iron, and most of them are painted in black color. They are perfect for those who are looking for some rough and salvage style.
8. Rope Railings- beach-inspired
Who says that you require expensive materials to build something creative? Just look at this railing, it is made from ropes. Yes, they totally go with the beam theme. This proves that you can show your creativity anywhere. Right?
On the Basis of Materials
Another way you can select your railing is through building material such as wood, steel, iron, and glass. You can also mix the two materials to achieve the desired look.
Here are some railings made from various materials:
9. Clear Glass Stair Railing
To get the ultimate modern look, try these kinds of solid clear glass railings. They make your place look luxurious and glamorous.
10. White Steel Railing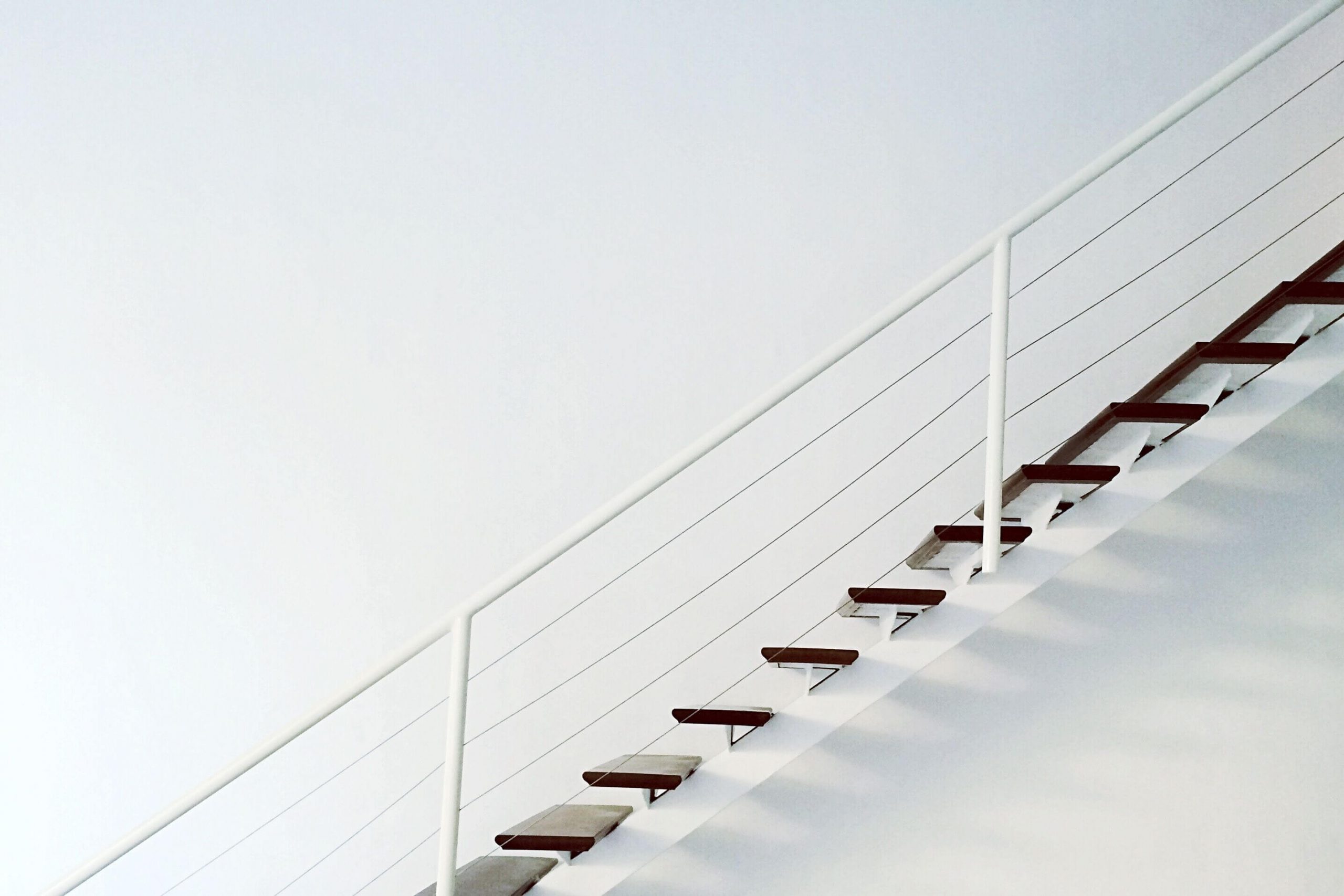 Steel is another material that is very popular these days, especially white steel. They look absolutely gorgeous outdoors & indoors.
11. Vinyl Railing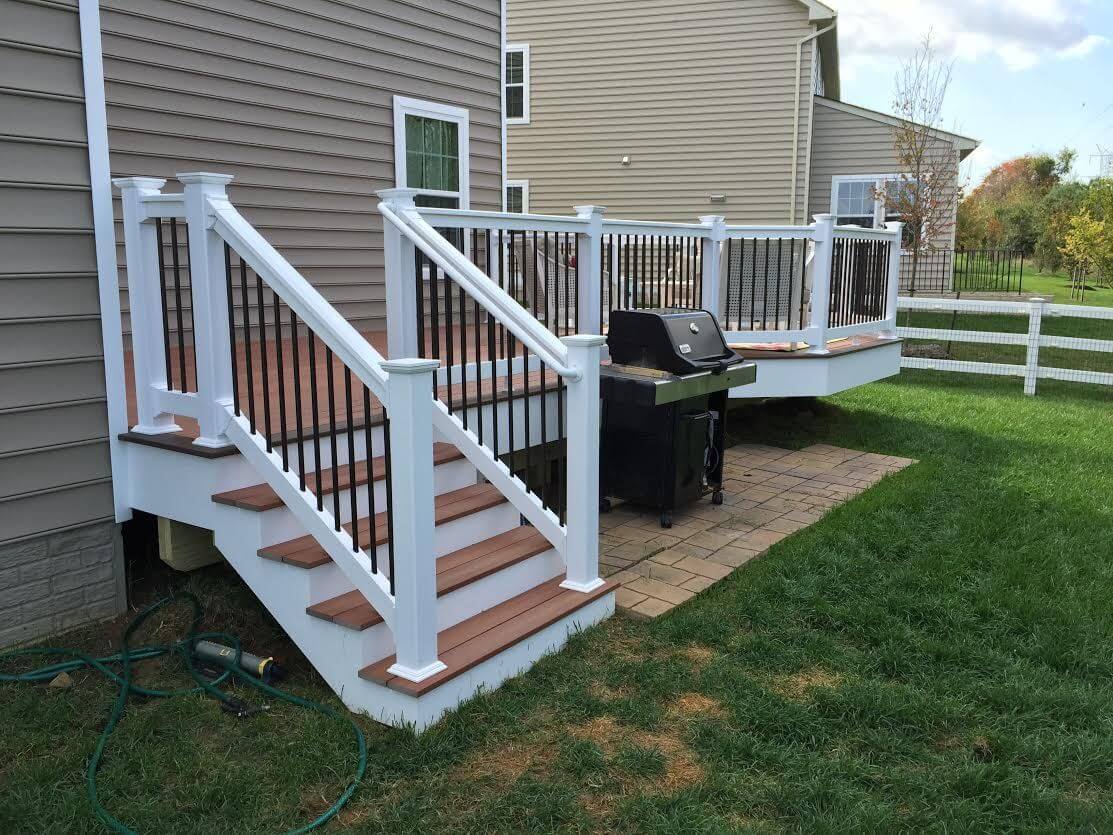 Vinyl railings are commonly used as the backyard railings, they are light weighted and also require low maintenance. To clean them, just spray some water, and they'll be shiny again. So, if you're looking for a railing for outdoors, then this will work.
12. Metal Stair Railings
Do you want durable railings? Then it is best to select this one, as metal is one of the most durable materials on Earth that has been used in making railings from ages.
13. Steel Staircases Railings
Do you want a railing that is a one-time investment? If yes, choose the steel railings, install them, and forget about them. Because they don't get rusty, also they're water-resistant. So what else do you need? Nothing right, it has everything.
14. Brick Railings
Yes, it may look old, but still, there are some houses where you can find brick ceilings. You can use them to give support to the porch or backyard stairs.
15. Aluminum Railings
Aluminum is another material that has also been used in the building of railings. Some of you may have never heard about them, but yes, they're increasing in popularity because of many reasons. They're durable, super easy to install, and affordable.
16. Combination of Wood + Metal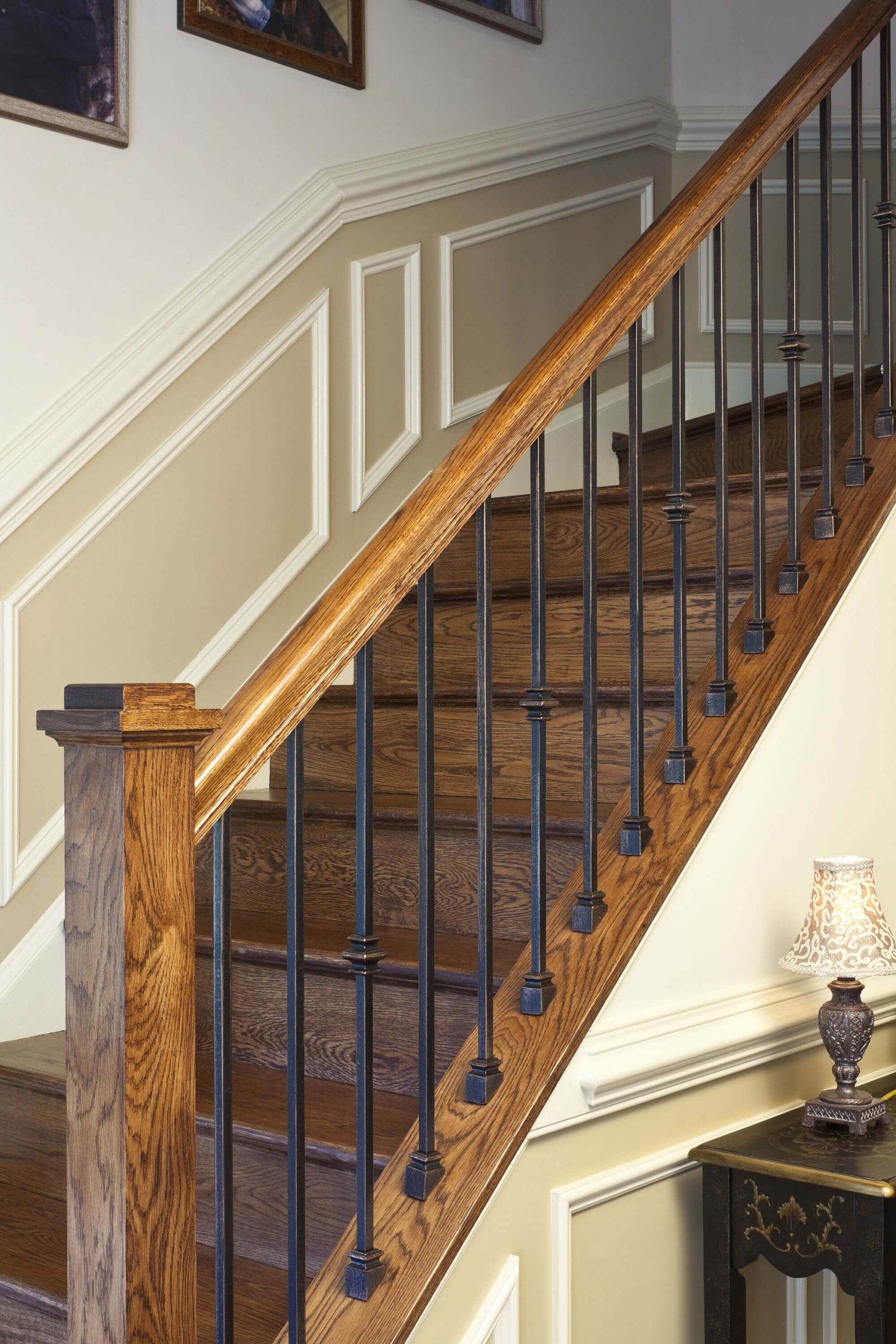 Another material that you can mix is wood with metal. Yes, they will look flawless & clean. Look at the above staircase, isn't it looking pretty?
17. Composite Railings
Composite rails or plastic railings are made from the mixture of PVC (PolyVinyl Chloride) and recycled wood flour. It also has low maintenance benefits such as it never needs painting or sanding. Isn't it fabulous?
18. Wrought Iron Stair Railings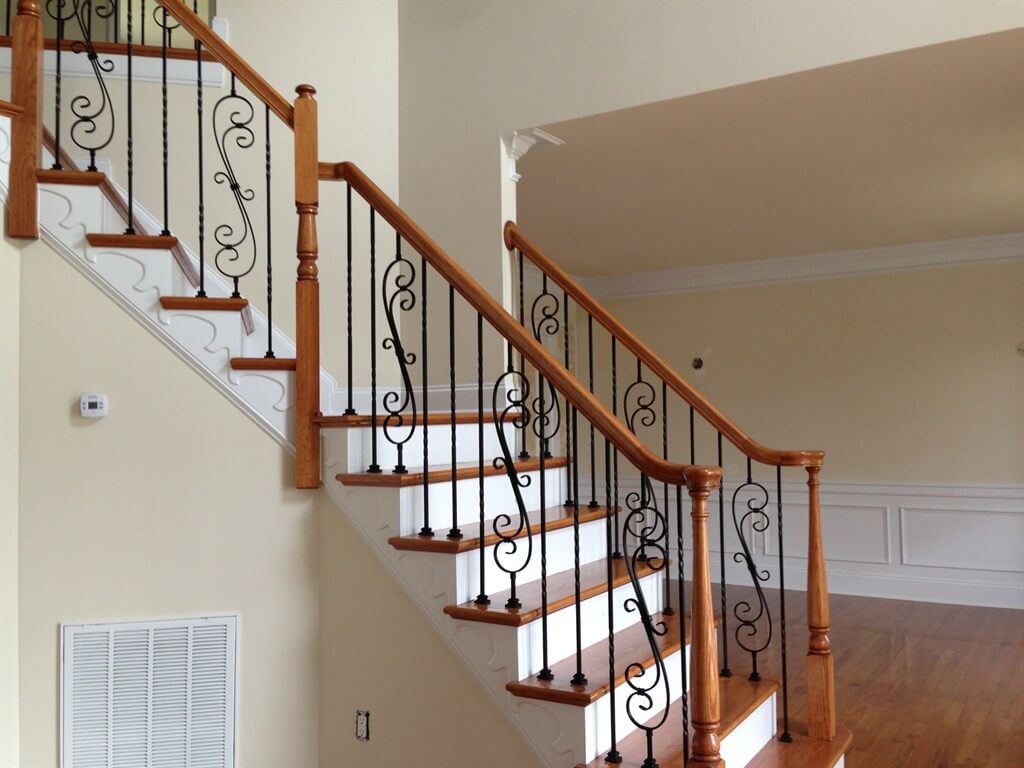 Whether you want to cover your garden deck or outdoor stairs, wrought iron railings are always a good option.
Wooden Railings
You'll find many types of railings in the wood itself, below are some wooden handrails for outdoor steps:
19. Solid Wooden Railings
Wooden railings are quite seen in almost every house, but here we're talking about not only railings but also the staircases are made from solid wood. Aren't they looking royal?
20. Bamboo Railings
Do you want something different? Try these awesome bamboo railings. They are eco-friendly but also modern, which is the best thing. Isn't it?
21. Oak Staircase Railings
If you love wood furnishings, then this is another option for you. Unlike other railings, they are lighter in color, which gives an excellent minimalistic look.
22. Walnut Staircases
Do you love dark wood? Walnut wood has the perfect combination of black & dark chocolate. It is also very sturdy but a little bit heavy, so take care of it while handling it.
On the Basis of Patterns & Designs:
Yes, you can even select your staircase railing on the basis of the design elements to make your place more beautiful. Here are some railing designs:
23. Baluster Railings
A baluster or spindle is a structure that is widely used to make railings. They are hand made & at the construction site. Some fancy baluster ones also have designs that look very royal. You will find them in old mansions & bungalows.
24. Intricate Detailing Railings
These railings are very pleasing to the eyes. Isn't it? It is actually an old art but nowadays it is again gaining popularity with a little bit of twist. In earlier days, they were done on stones, but now you can find them in iron, on glass everywhere. So give your house a fancy look by a railing with intricate detailing.
25. Wire Handrails
If you're a lover of minimalistic arts, it is quite evident that you'll also want them in the elements of your living space. True? So, go with this one, it has a vertical design that is ideal for your area.
26. Grid or Mesh Pattern Railings
How about this? This is another type of railing, if you like it, go for it! Perfect for the homeowners who have pets. As there are high chances of pets getting hurt by falling down the stairs, the grid pattern covers all the areas entirely and also looks stylish.
27. Box Pattern Railings
Try railing with a box pattern. They came in various designs like a boxy spiral, rectangular slabs, and many more.
28. Branch Pattern
This railing is inspired by tree branches. They are pretty unique, right? It will bring a soft and organic appearance to the space.
Complete the Look
You can also create the perfect ambiance for your place by painting the staircases and railings in some fun colors. Go for either a monochromatic theme such as all white, all black, black & white, or a mixture of bright colors.
29. White + Wood railings
Combine two things and see the magic. Try dark wood with the classic white, believe us!! This combination is a bomb!!
30. Black Stair Railing
What do you think about this? Doesn't it look luxurious but with simplicity?
31. Black Metal Baluster and Wire Railing
Black metal stair handrails like this one will look absolutely fantastic. You can also use them as outdoor railing.
32. All white railing + staircases
Sometimes you want to blend the stairs with the rest of the space. Try this blend -in method, in which what you have to do is paint your stairs & railings in the white color if your walls are also depicted in white. This way, they do not come in the eyes of the people.
33. Dramatic Colors & Combinations
Do not bound yourself with the black & white colors, use dynamic color combinations with various materials. You'll be amazed with the results.
Unique Railings
Here are some railings, which are unique in their own way. Check it out:
34. Lego Railings
This isn't made out from real lego toys, but it is designed like that. So if you want something creative in your home, try this one.
35. Modern Floating Staircases
If your space has floating staircases (which is, by the way, is super cool!), and you are totally confused about the selection of the handrails, then try something like this (see image above). It is quite different, but it looks totally amazing.
36. Gold & Silver Railings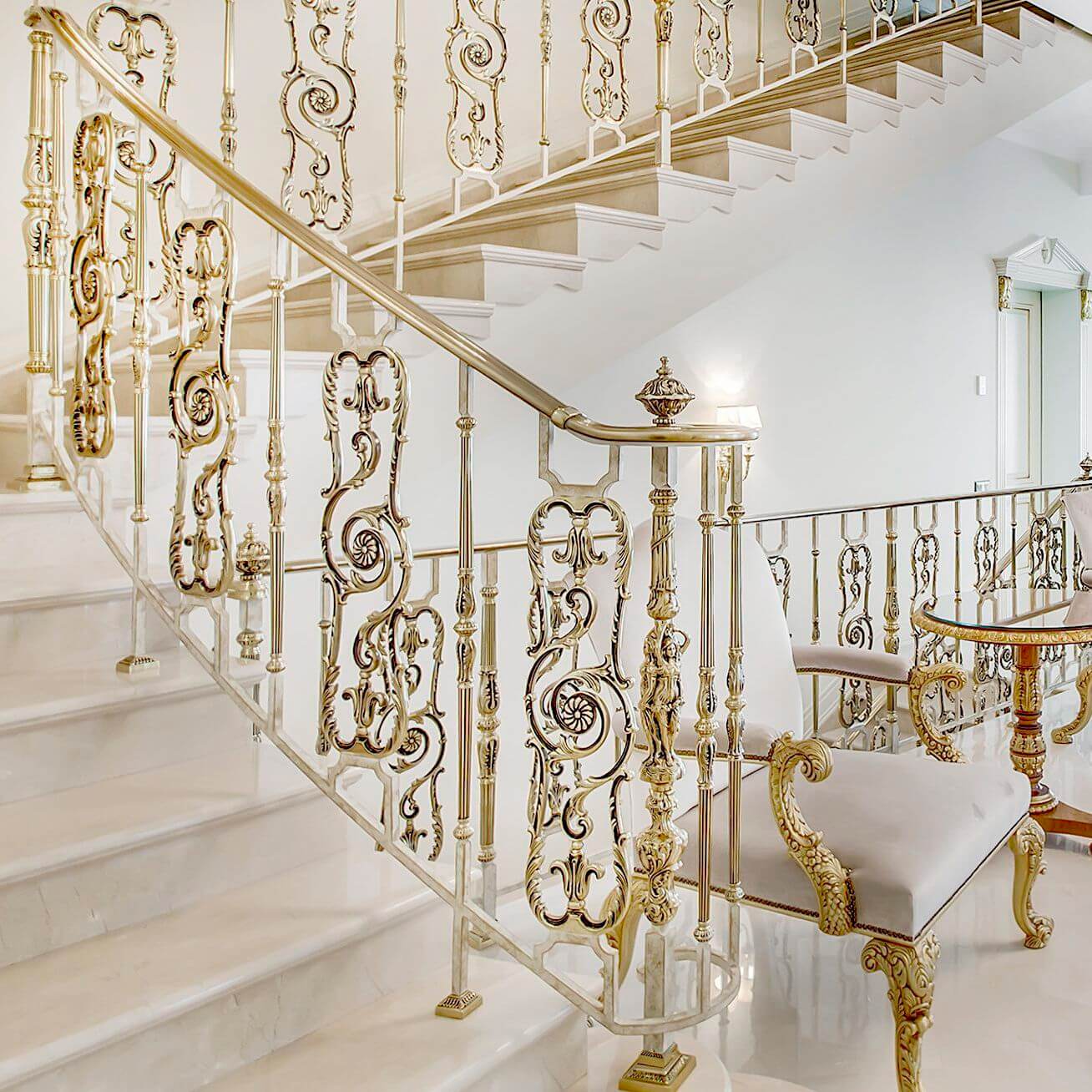 Yes, some people have railings that are entirely made out of gold or silver. But it is quite expensive, so what you can do is paint the railings in this color or use it to accentuate the overall look.
37. Side Boxy Patterns
You can also create this kind of boxy structure, it will act as side railings and also look fabulous.
38. Wall Handrails
With the side railings, you can also place some handrails, which is very useful if you have older people in your family. They can grab it and comfortably climb the stairs without facing any discomfort.
39. Custom Designs Railings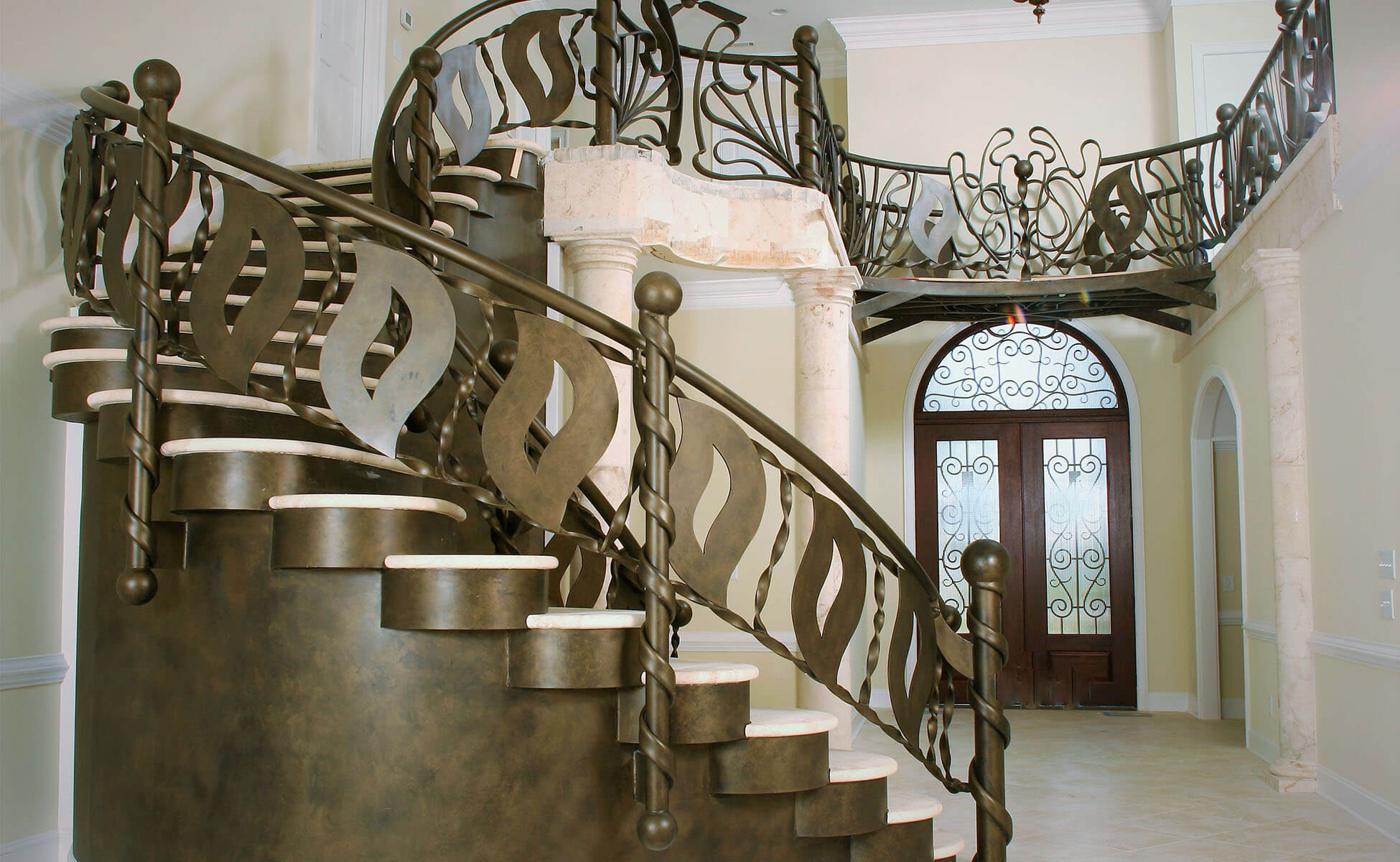 If you wish for something specific in designs or patterns, then you can always go for the custom made ones. Contact the nearby home depot center or carpenter, and tell your requirements. He will definitely build the one with all the specifications.
40. Outdoor & Indoor Stair Railings
First, select the area or stairs where you want to place the railings such as outside or inside. Then decide the material and design. All the above hand railings are suitable for both outdoors & indoors.
So, this is everything about railing designs. Do you like this information? I know, it is lengthy but very informative. Right? Here we have collected all the designs and patterns so that you'll find everything in one place. Rather than spending time on searching one by one railing designs, here, you'll get every design of railings for stairs.
In case you missed it!