Terraria House Ideas – 11+ Best Ways for Your Next Project
A game that is extremely popular among kids, teenagers, and adults these days is Terraria! You'll be surprised to know that by the end of 2020, this game has sold over 35 million copies! So what's the reason behind its popularity, and why are people crazy about this game?  It allows users to create, design, and build houses, buildings, and massive structures; that's why it has become an addiction (good one!) for many people of every age group. Let's see terraria house ideas.
From NPC Houses and treehouses to castles and even underground cities, you can build and try various Terraria house ideas and many other construction types in this game. Just like in real life, some people love to live in small and simple places, but some like to live in modern villas and huge houses. So, if you love architecture and want to create something unique, Terraria will be a perfect game for you.
Are you looking for some cool Terraria house design ideas? After all, constructing one type of architecture, again and again, will become boring after some time, right? How about creating some new architectural designs? Yes, today in this blog, we've piled up the top 11 creative and easy to put together Terraria house designs of 2022.
What is Terraria?
Terraria is an action-adventure 2D sandbox game developed by Re-Logic. It was first released on May 16, 2011, for Microsoft Windows and now is available on several platforms. The gameplay offers vast opportunities, including exploration, building, crafting, combat, survival, and mining. 
You can easily create various structures, including simple house designs to intricate, complex ones, realistic to fantastic, or beautiful to haunted houses. 
The game is playable in both single-player and multiplayer modes. It is famous for its classic exploration-adventure style of gameplay, which is quite similar to other games such as the Metroid series and Minecraft.
Terraria House Requirements
Before getting onto the house ideas, you should first know how to build a house and what are the basic requirements. Below is the list of all the basic requirements you should keep in mind while constructing any structure.
A house must have at least 60 blocks or tiles but less than 750 in total, including the areas across its frame, floor, ceiling, and walls.

The smallest home you can build is three blocks wide, ten blocks high.

Apart from the naturally occurring walls, each house must have a background wall.

You should include at least one of the following furnishings: a light source, a comfort item (a workbench and a chair), and a flat surface item.

Entrance is necessary for every house or structure. You can use a door or a trap door, or any wooden door. 

Never breach the corruption levels. (an evil biome that makes your houses uninhabitable)
11+ Easy & Creative Terraria House Ideas of 2022
Building a house is one of the first tasks you'll do in Terraria because it is one of the most critical steps towards survival. This will keep you safe from any wandering foes, and they will attract non-player characters (NPCs) that provide useful skills such as selling items. So here are eleven Terraria house ideas for beginners and for regular players to explore and build: 
1. Terraria Starter House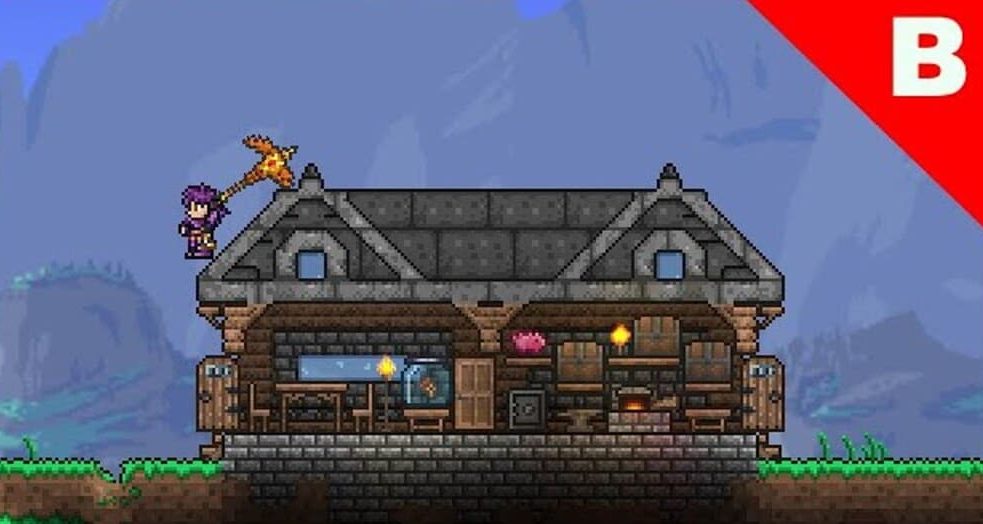 Source: youtube.com
Are you new to the Terraria game? If yes, it will be best for you to start with the small constructions. A small shelter or starter houses will be perfect for first-time users. This way, you'll be able to know the tools and the most efficient way to build a home for your NPCs.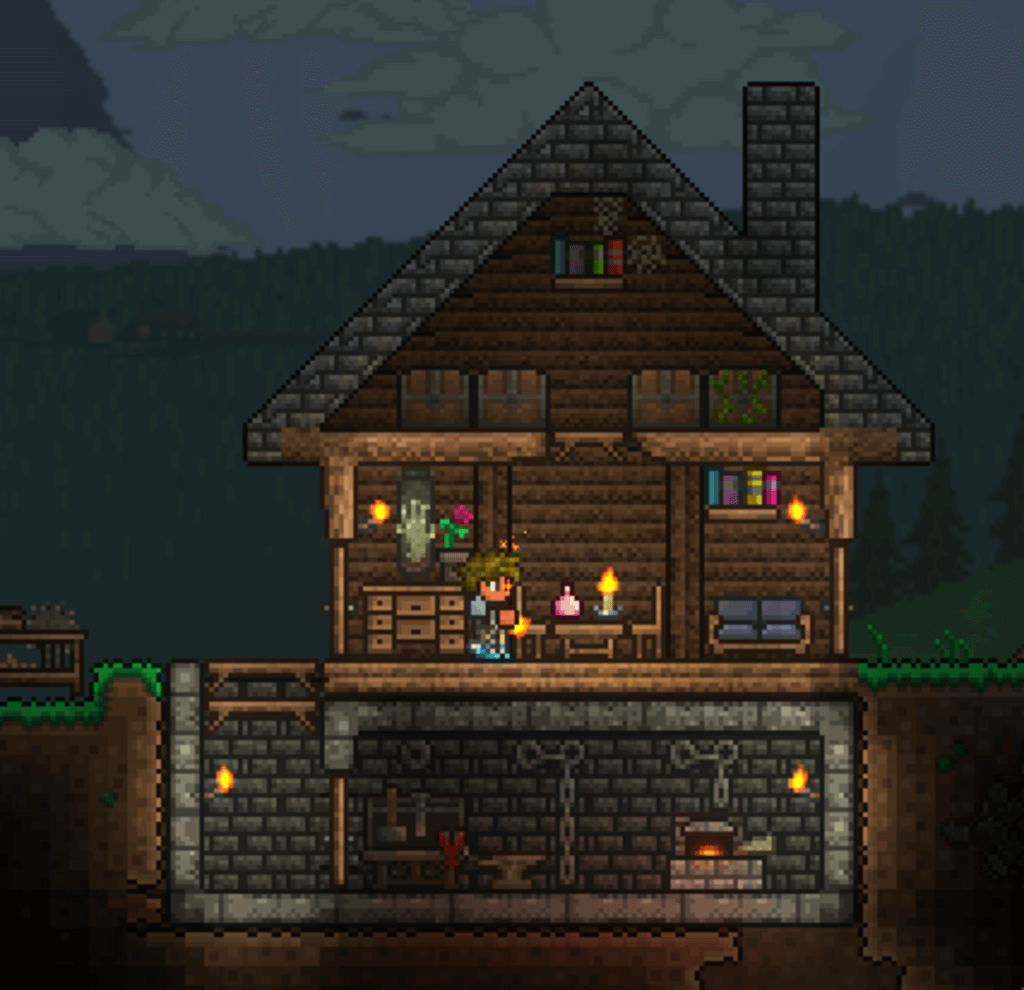 Source: redd.it
Using all the basic requirements that we've already told you in the previous part of the blog, you can easily create a starter house. Look at the above house picture; this is good-looking and easy to put together, which you can build in less time. No matter how many houses you build, you'll always remember your first house in Terraria.
2. Terraria Desert House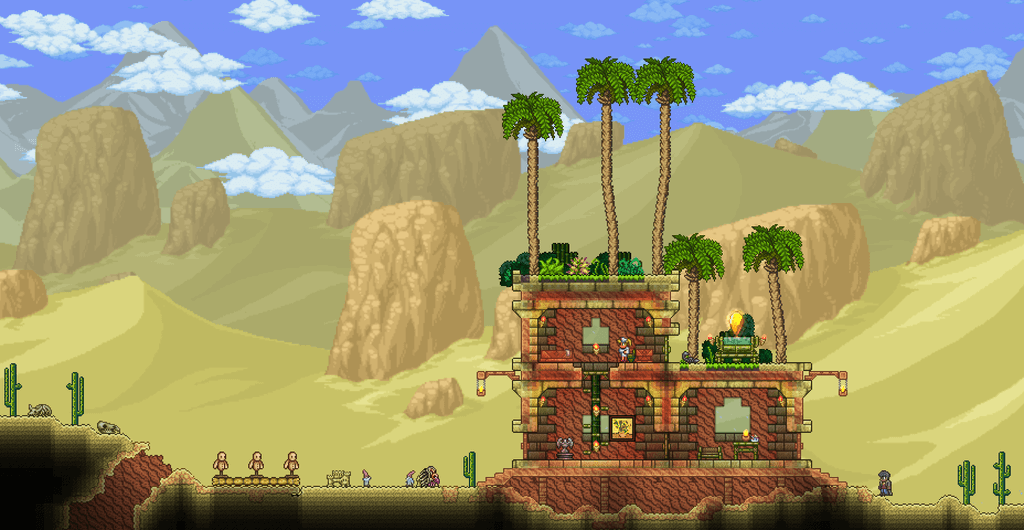 Source: redd.it
Another simple but attractive build idea for you is this unique Dessert House. From its biome to fancy decorations, everything about this construction is creative and eye-catching. 
Source: redd.it
Do you know that Terraria's desert biome is a favorite of several NPCs? Yes, NPC such as the Dye Traders like the desert area. So, if you feel so, you can build this home for yourself. 
3. Terraria Treehouse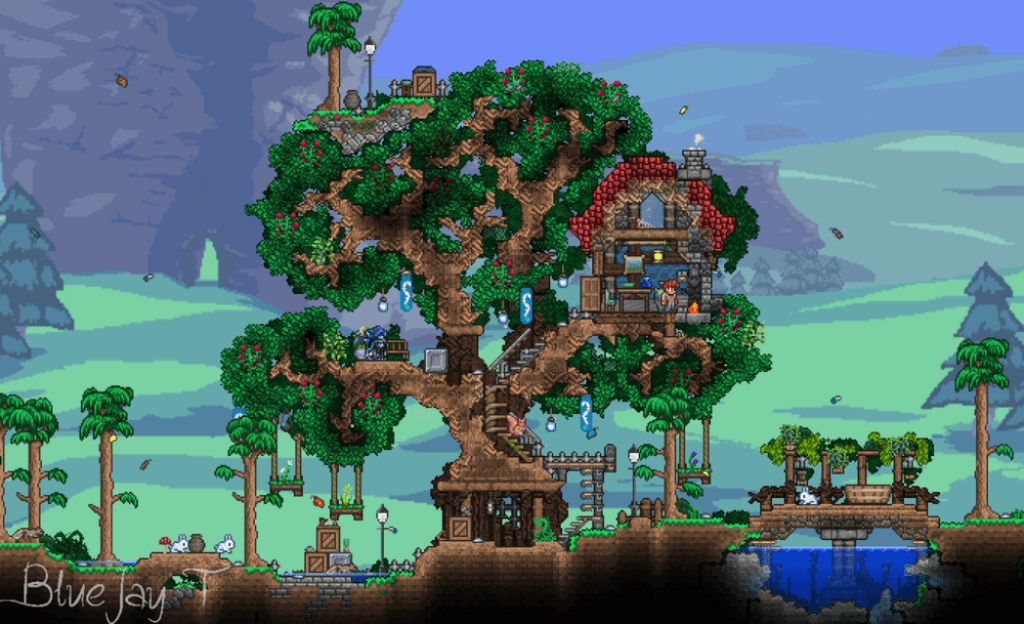 Source: pinimg.com
You can build tree houses in two ways: on a single tree or connecting multiple trees and creating a huge treehouse. If you're a new player, we suggest going with the simple one because a sprawling web of interweaving treehouses can be a bit challenging for you.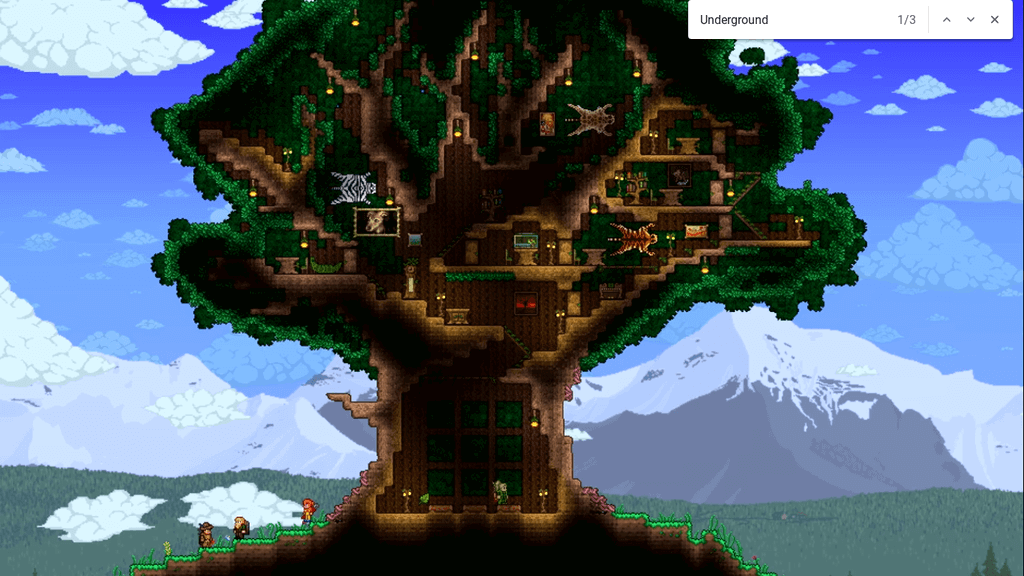 Source: pinterest.com
Here the above picture shows the treehouse built on one solid tree, with branches protruding from a thick trunk. It also has dangling vines for NPCs to come and go as they please. To create a magical and inviting home for your townspeople, you can use atmospheric lighting and plenty of wood.   
Though you can access this treehouse from the ground, yet it's much easier to use Terraria wings to reach the highest branches.              
4. Terraria Underground House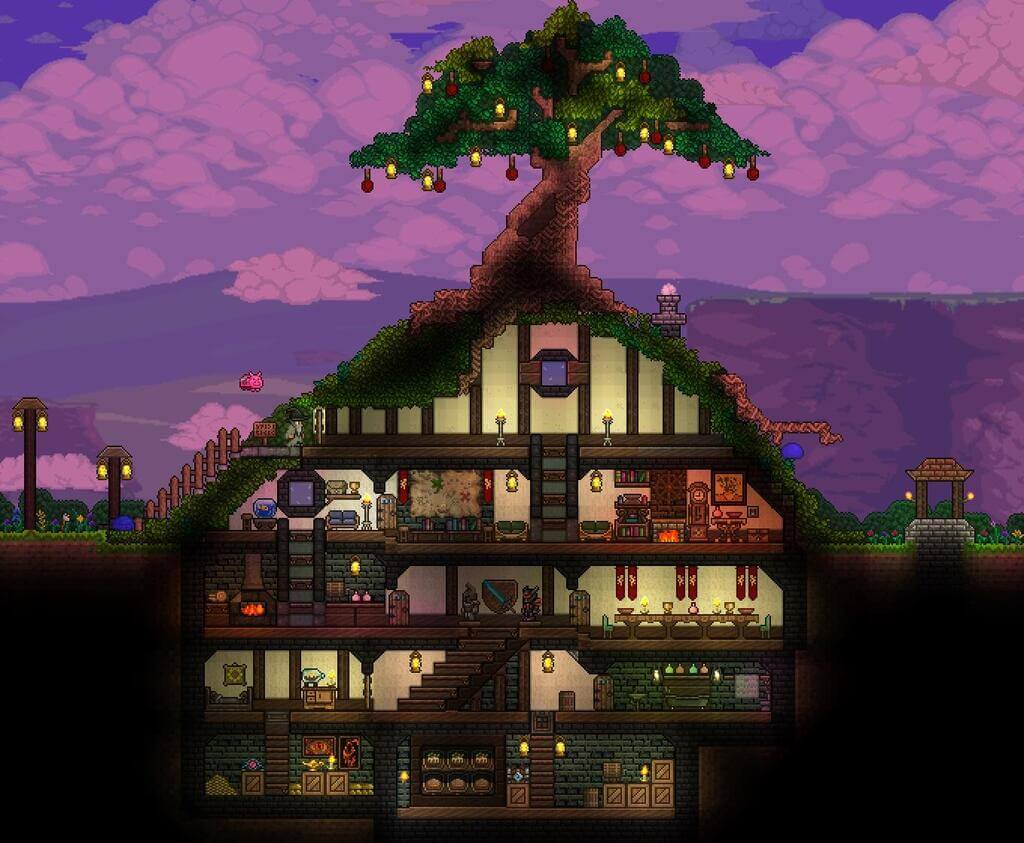 Source: redd.it
This house idea is for our creative players. This is not an ordinary residence but an underground house. Isn't it looking cool? To some people, this challenge may look extremely hard, but it is not that. With the help of some tutorials and youtube videos, you can easily build these types of structures.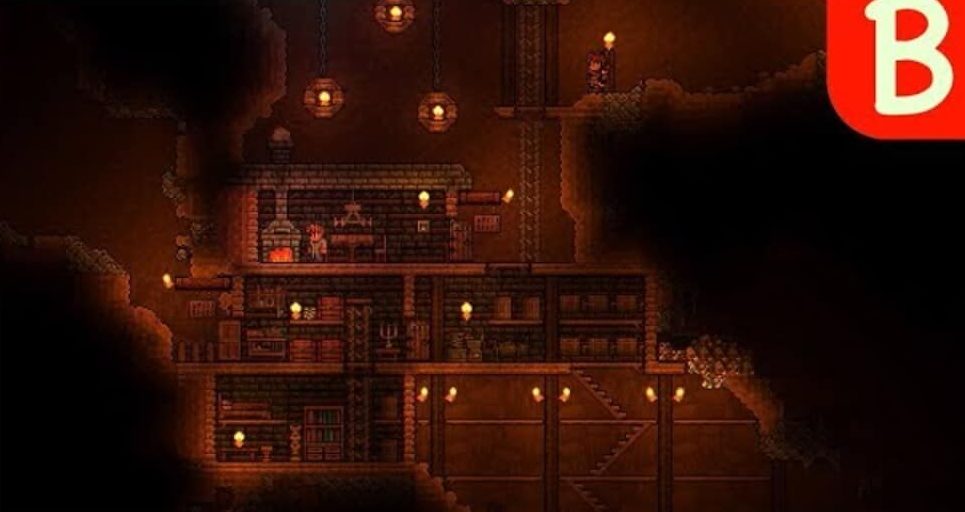 Source: youtube.com
You can also convert an old ruin into your dream cave home. All you need is some creativity and the right materials. One of our favorite underground houses has to be this hobbit hole. 
5. Terraria Jungle House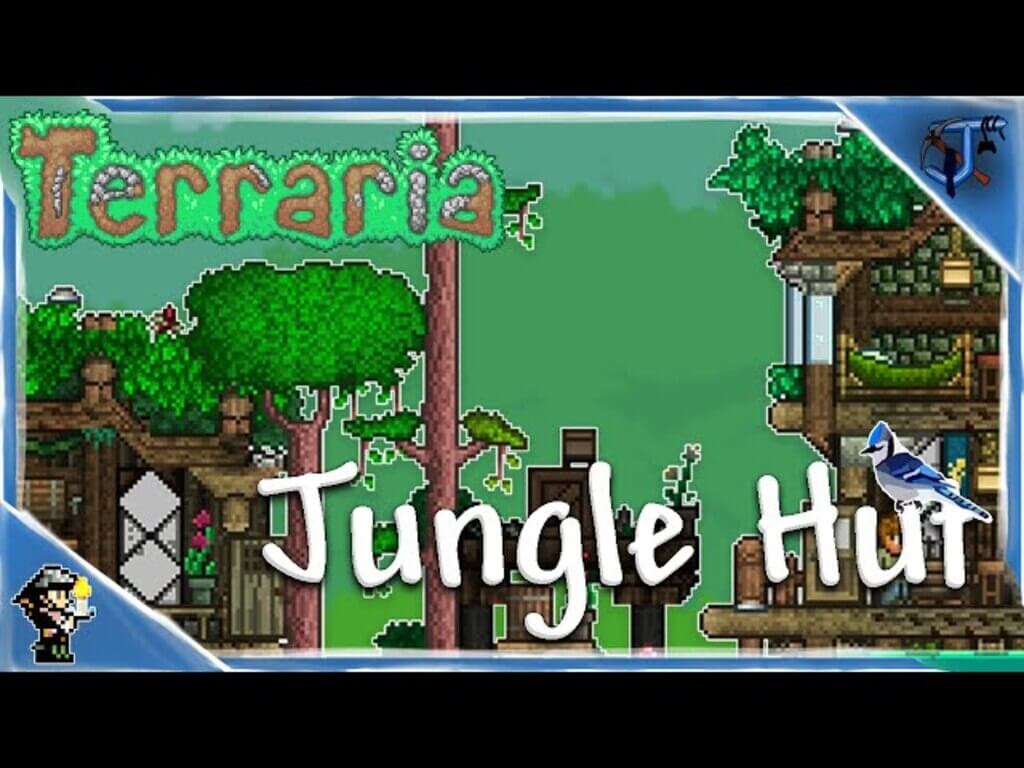 Source: youtube.com
Another popular build in Terraria is the jungle biome. However, it's a bit tricky and challenging to create. But challenges force us to make unique housing builds and designs, right?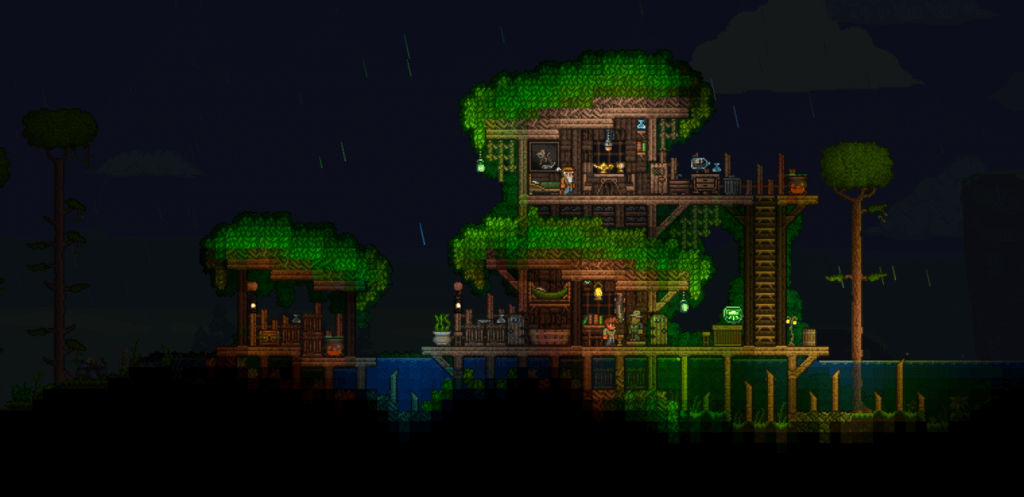 Source: kartinkin.com
You can go with the jungle hut design, just like the above picture. It requires a lot of bells and whistles. This advanced build is super charming and easily adaptable to suit your skill level and taste.                                                                                                            
6. Terraria Christmas House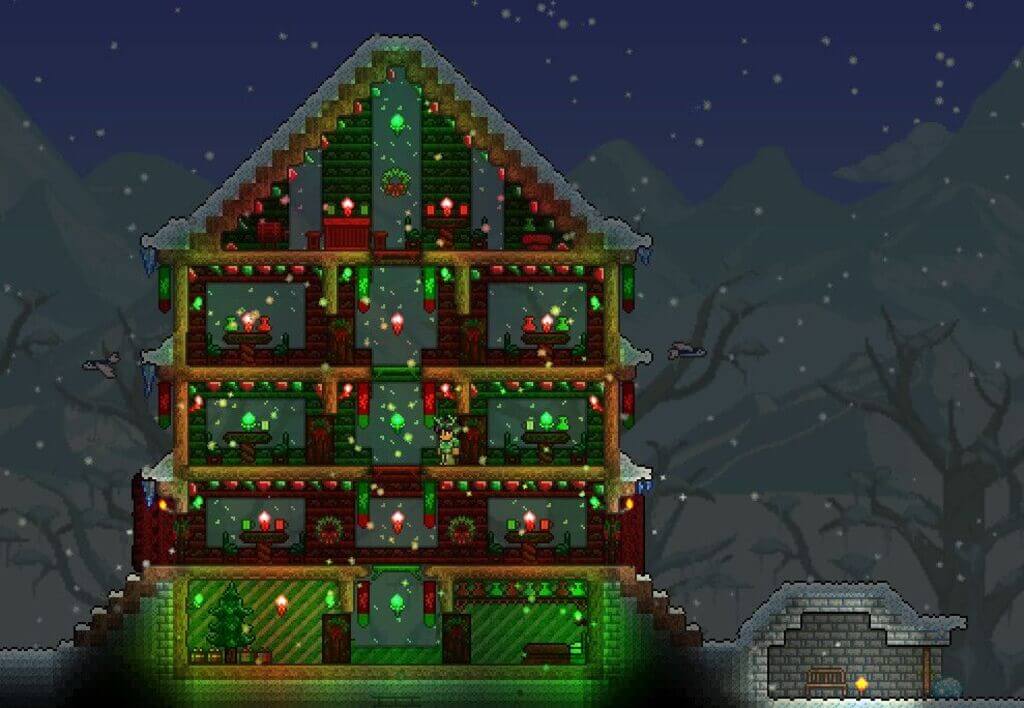 Source: pinimg.com
Whether it is a game or real life, we all love to celebrate holidays. After all, the holiday season is the best time of the year. Of course, you know how to celebrate Christmas in real life, but in-game, you can show your love by building this unique Terraria Christmas house. 

Source: pinimg.com
It will remind you of the real Gingerbread house that we all make in our homes during the Christmas period. This house has a lot of detailing in the design. The most creative thing is the 3D effect in the front part of the house, making it more real. You can add outdoor decors such as a candy cane tree and a snowman to decorate your exteriors.
7. Terraria Snow House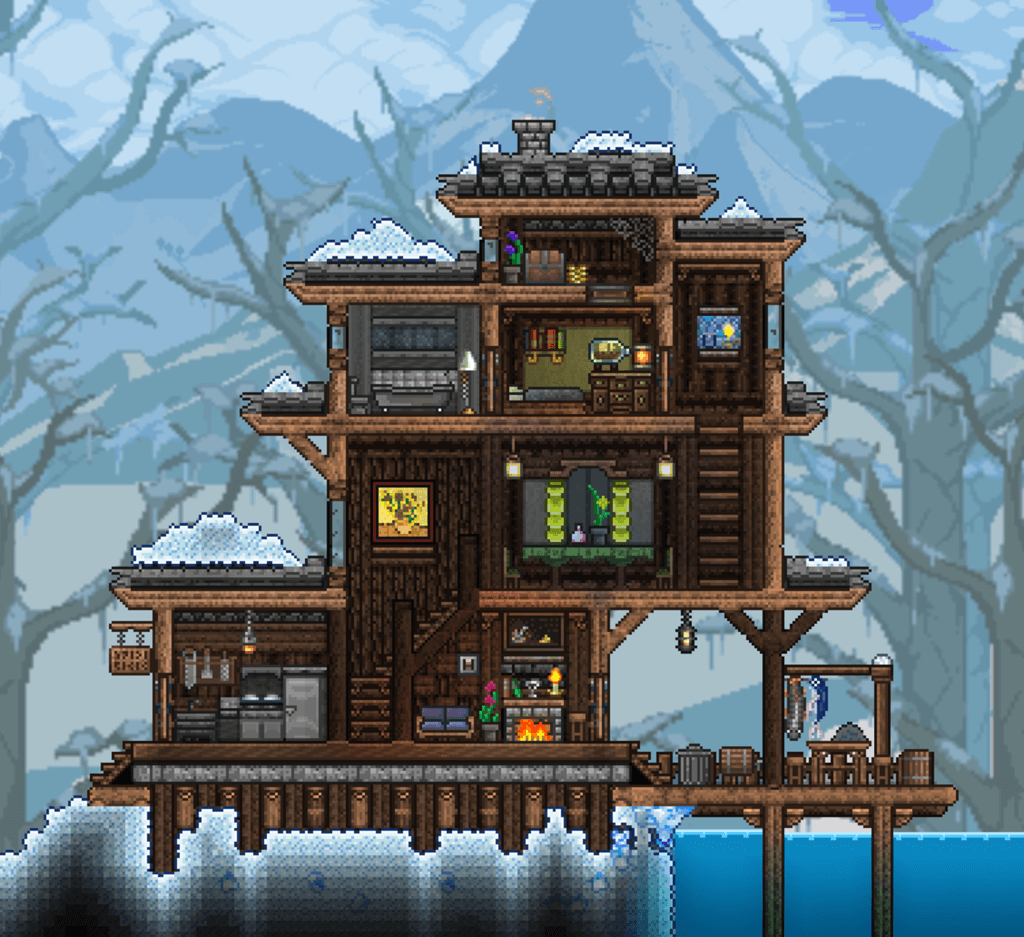 Source: pinimg.com
There is nothing more homely and welcoming than a snowy winter cabin, right! Look at the above Terraria house; isn't it looking cozy? You can also make this pleasant-looking build that has a cozy fireplace and ample decorations.
Source: redd.it
Here's another example. Yes, this type of construction is not that easy, but if you're a regular player, you can use your ability and collect the right sources and build it.                               
8. Terraria Underwater Housing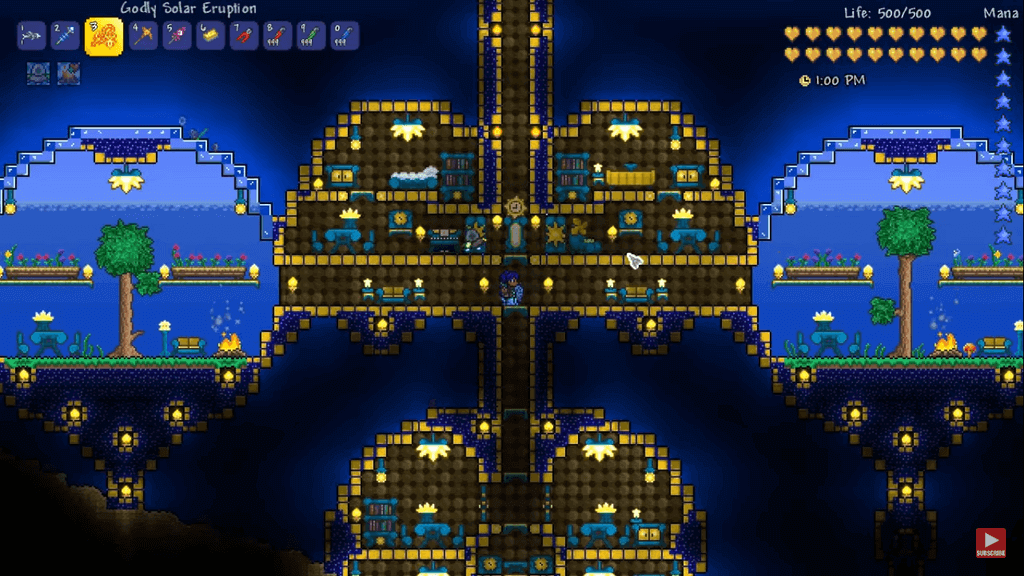 Source: pinterest.com
Those who love to take tough challenges and want to create something different, Underwater Housing will be perfect for you! Look at the above housing idea, doesn't it look similar to pirate ship housing?

Source: imgur.com
This Terraria's Underwater Living Quarters or any type of underwater construction requires proper planning and a lot of patience. This spot will become your place where you can branch out. Build a nice ship at the top of the base to attract more NPCs.
Also Read: How to Build a Minecraft Medieval House? Let's Try Some Nine Different Ways
9. Terraria Castle Housing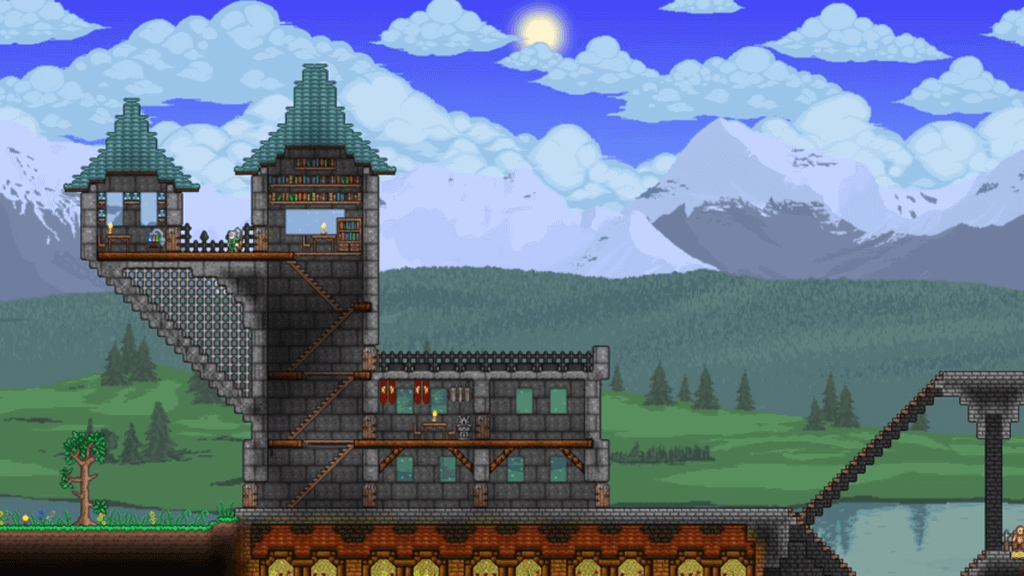 Source: pinterest.com
Want to build your kingdom and a castle? Take inspiration from these ideas. This Terraria castle has a sturdy foundation for your NPCs. This will also act as a set-up shop with an elaborate and colorful castle on top.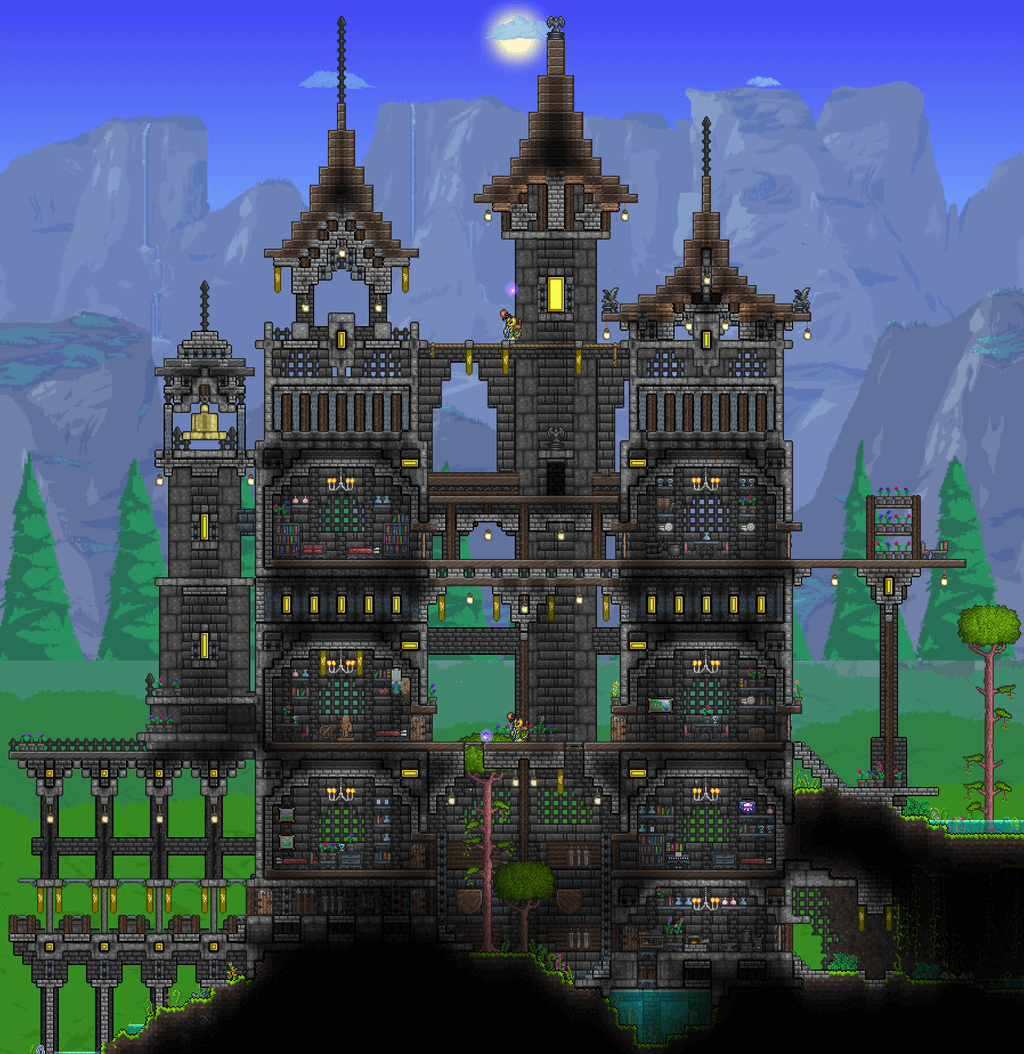 Source: pinimg.com
This Terraria Housing design features a Medieval Castle. It is entirely made of thick stone slabs and fences. This house will keep you safe and will be a perfect spot for your wizards, knights, and alchemists.
10. Terraria Beach House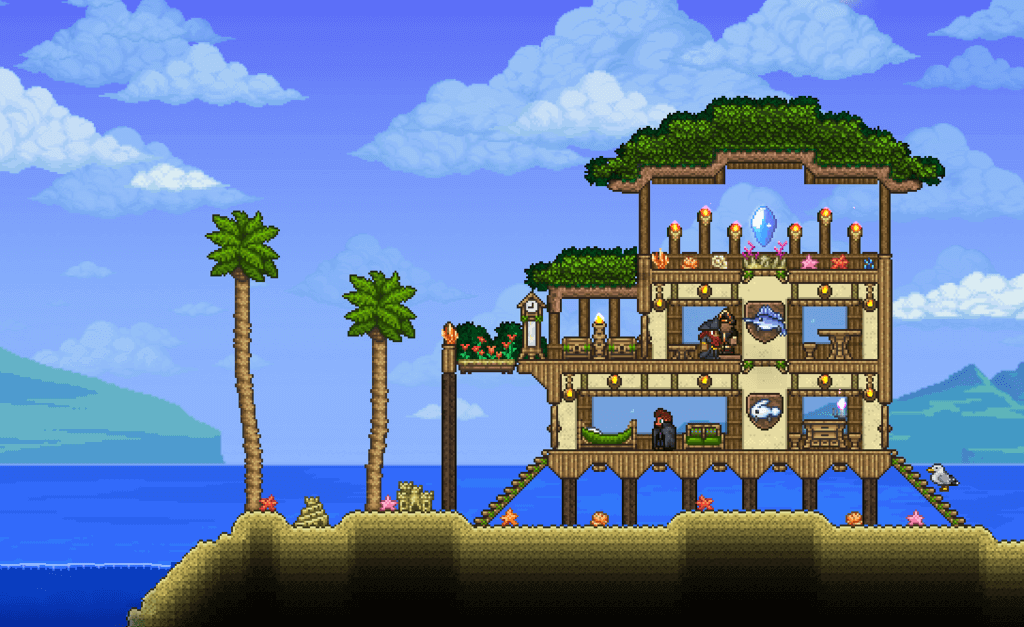 Source: redd.it
No build is complete without having a beach house. So if you haven't tried any beach house, we highly recommend constructing one. They're super easy to build and look pretty luxurious and cool at the same time.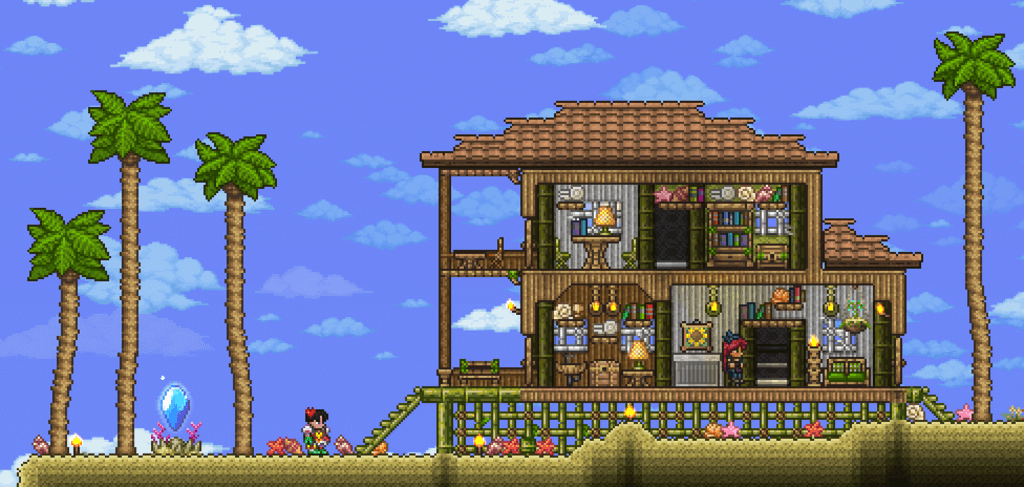 Source: redd.it
First, you have to find a perfect beach location, and after this, you can start building your structure. You can either go with the one level or multiple levels according to your liking or available materials. 
11. Terraria Modern Villa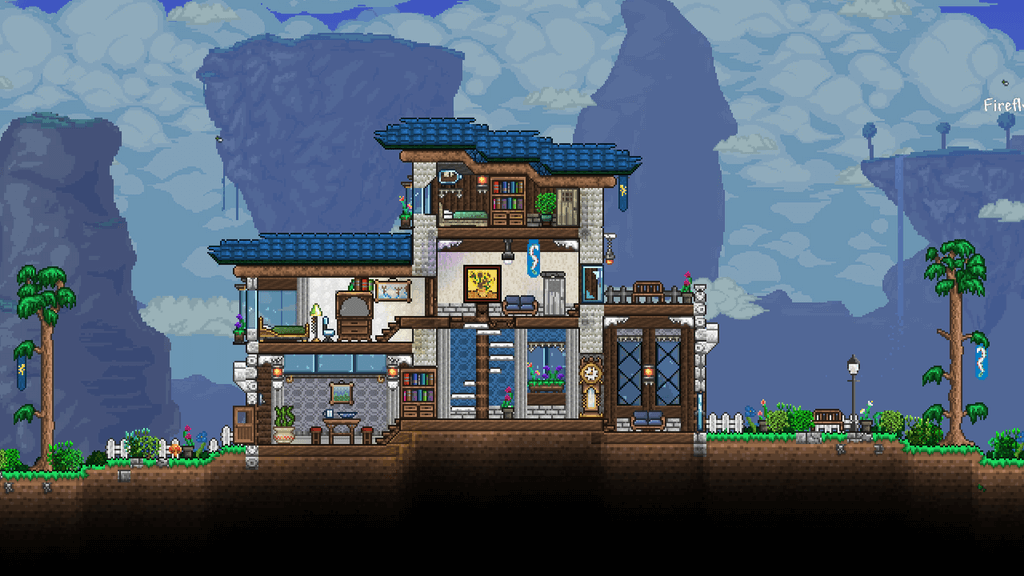 Source: redd.it
The last Terraria house design on the list is Modern Villa. Yes, you can construct ultra-luxurious modern houses in this game. Look at the above houses, don't they look pretty amazing?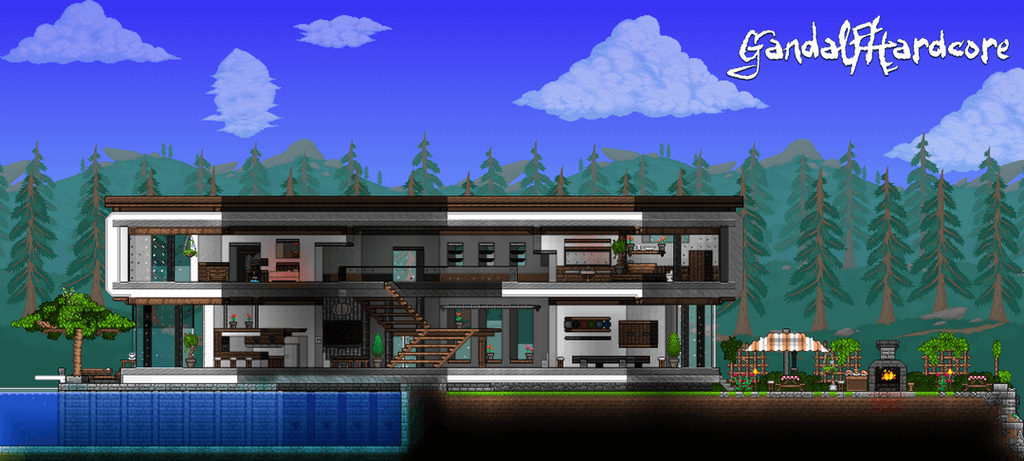 Image Source: redd.it
This construction will definitely take proper planning, and you have to design everything carefully. You can include multiple levels and details such as furnishings, lighting, and decorations. If you want, you can also add a 3D effect, which will make your house more realistic. 
Here are some more Terraria House design ideas and inspirations for you: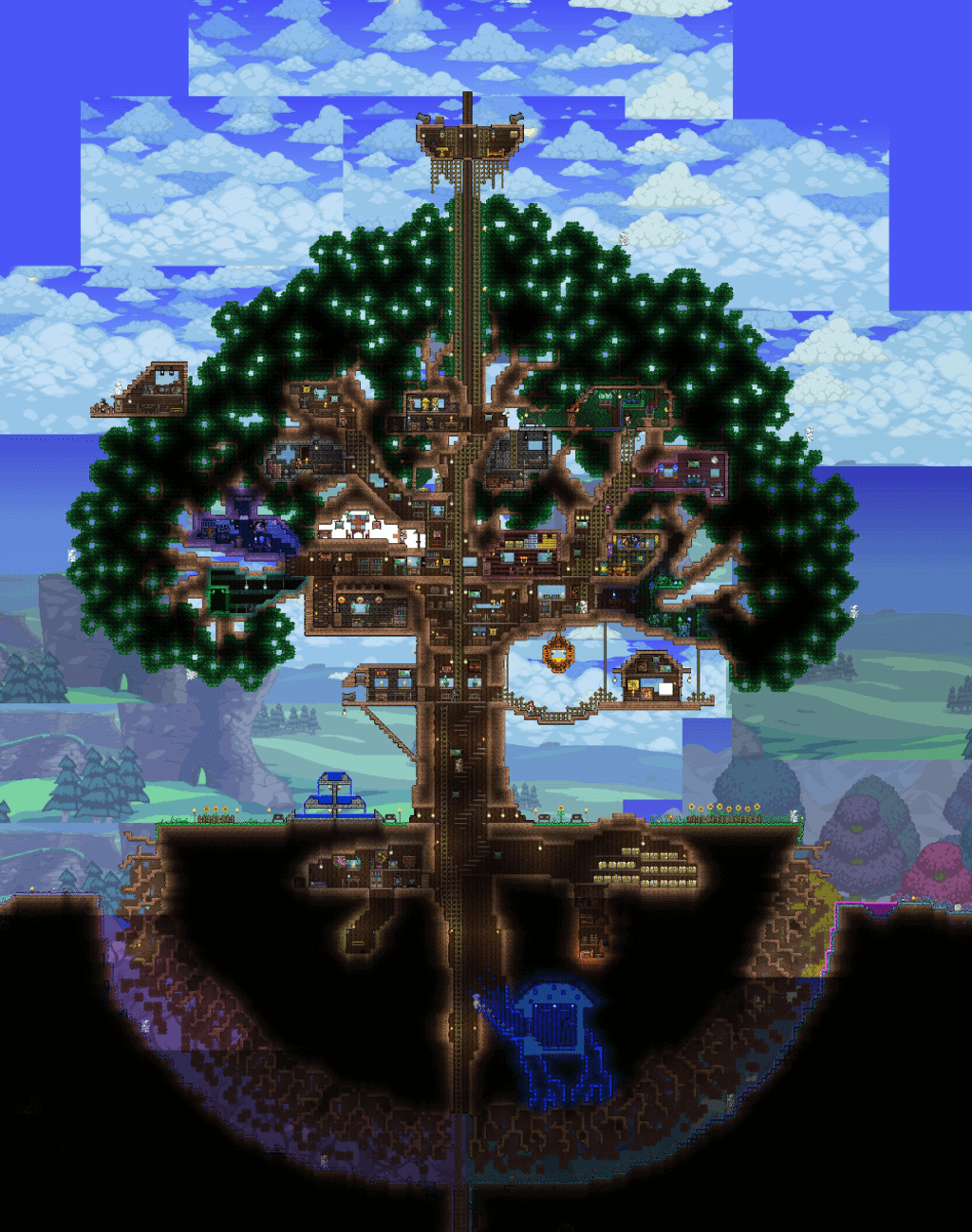 Source: pinimg.com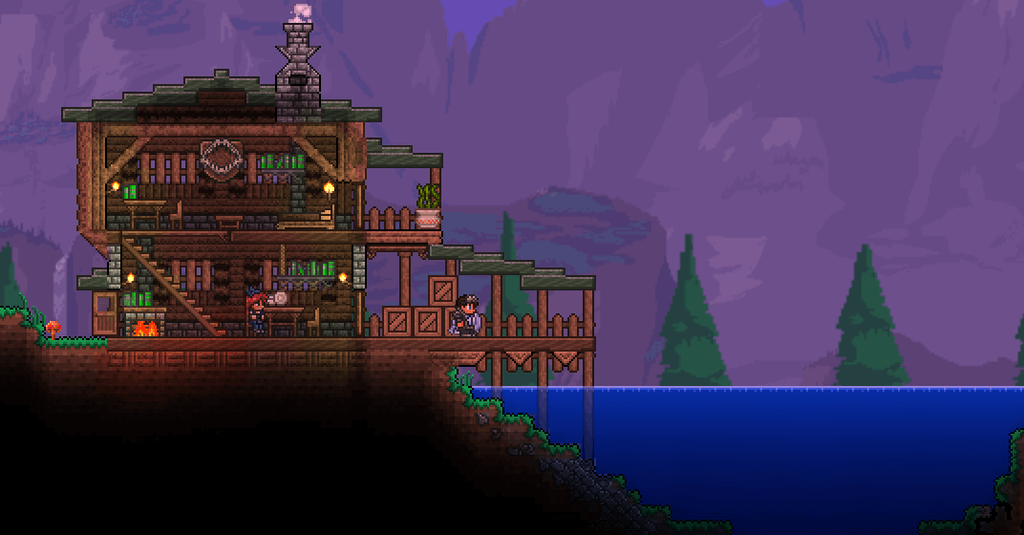 Source: redd.it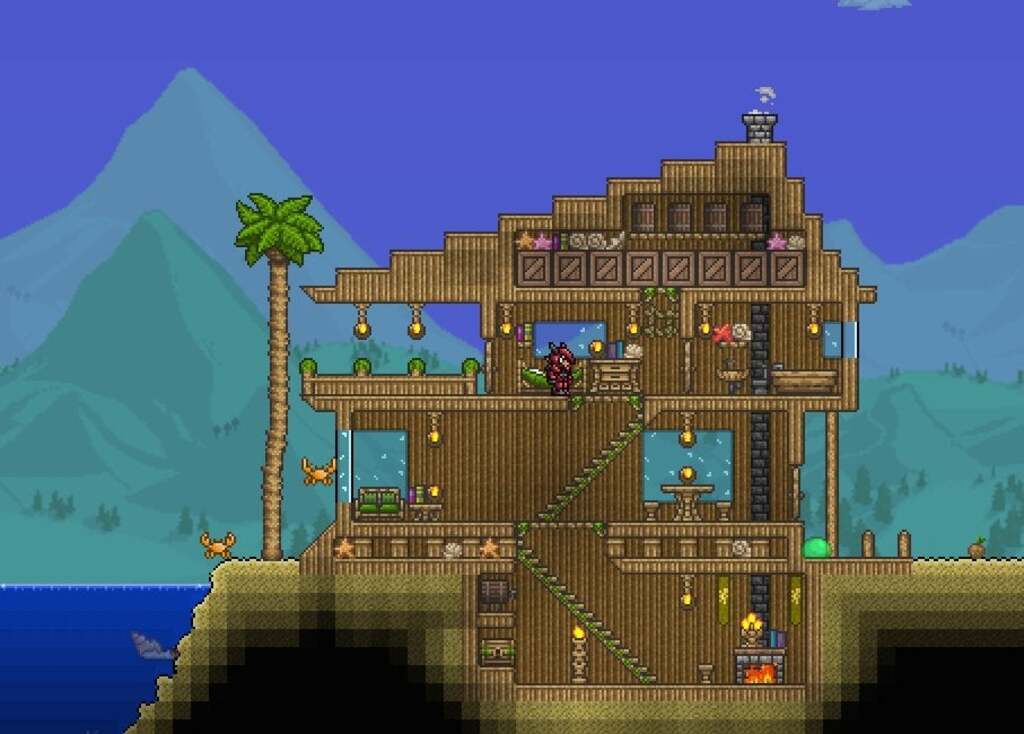 Source: redd.it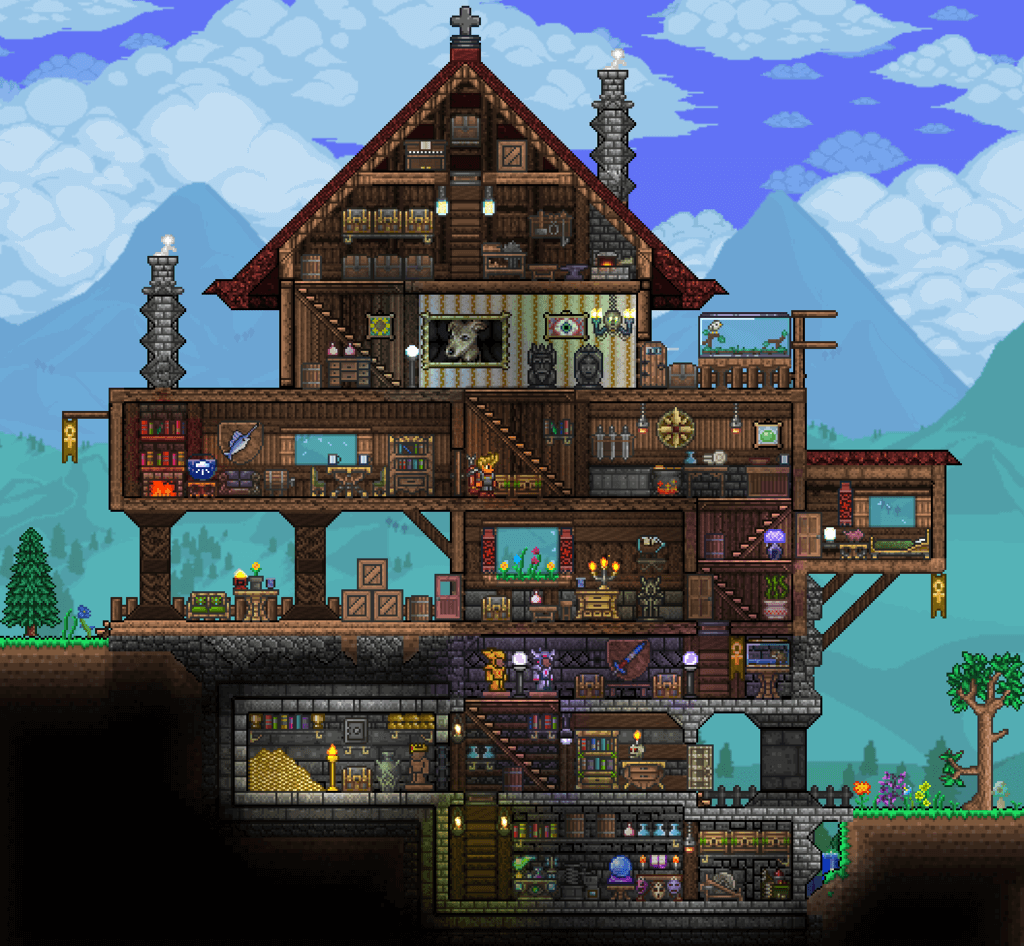 Source: pinimg.com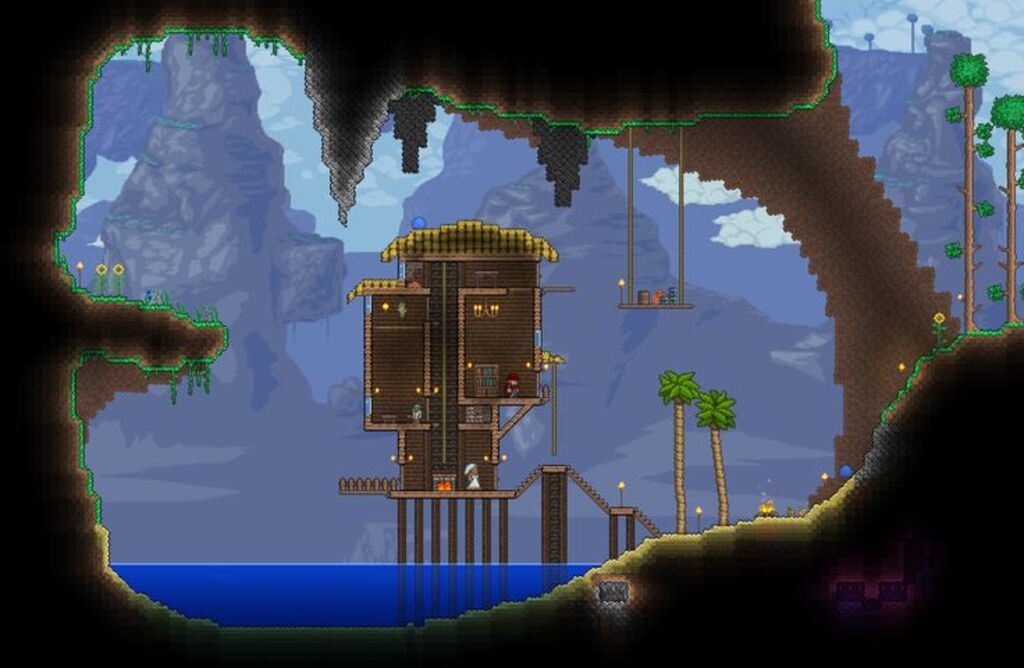 Source: pinimg.com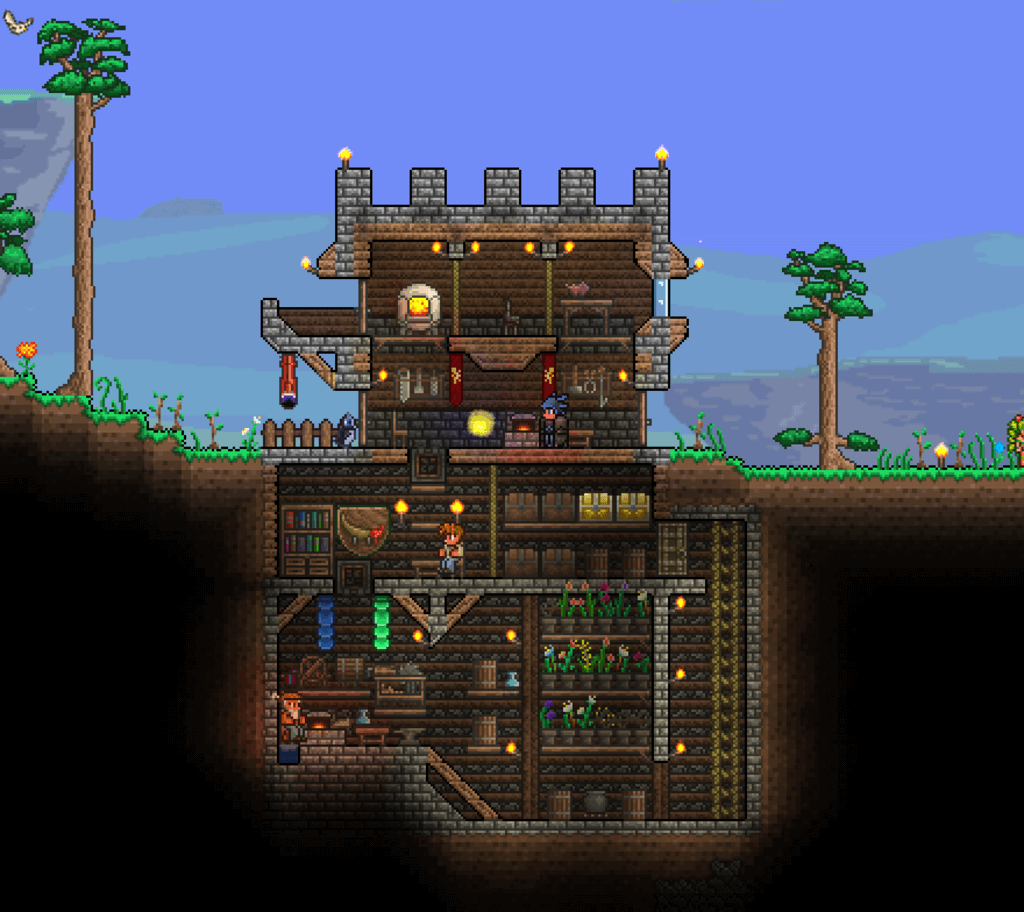 Source: imgur.com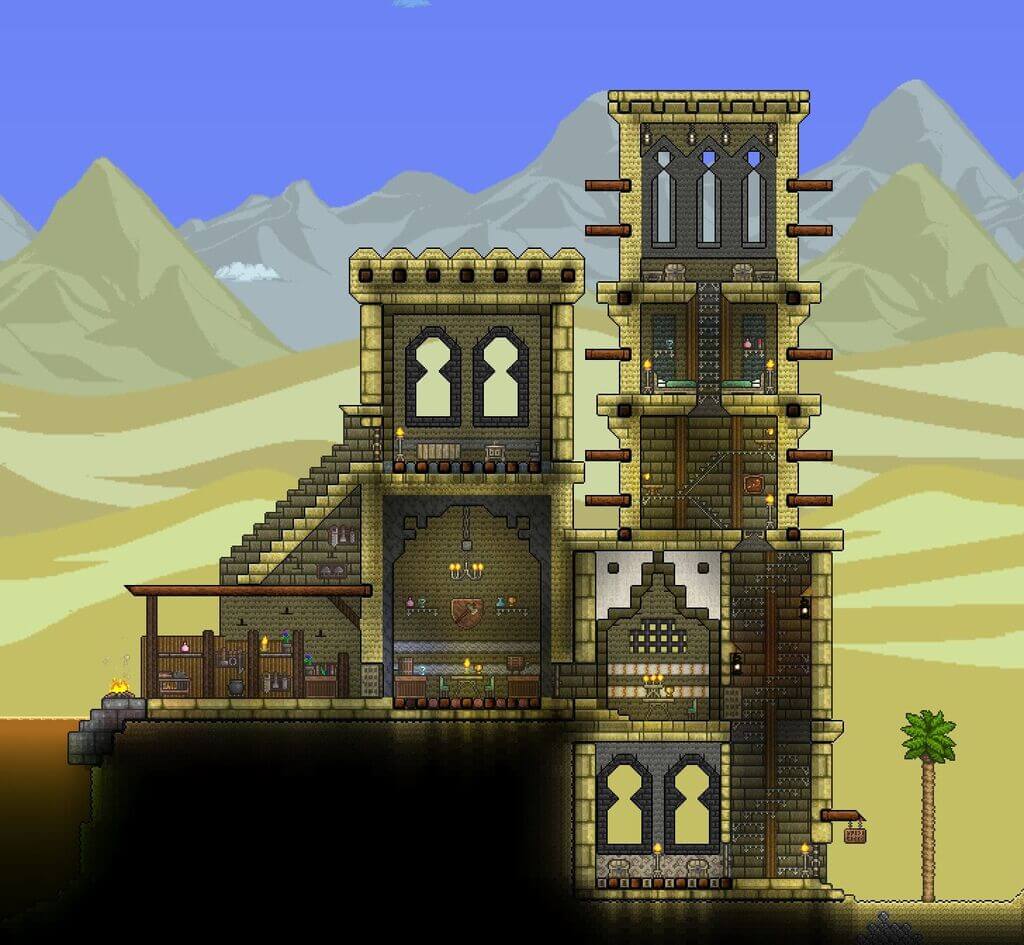 Source: pinimg.com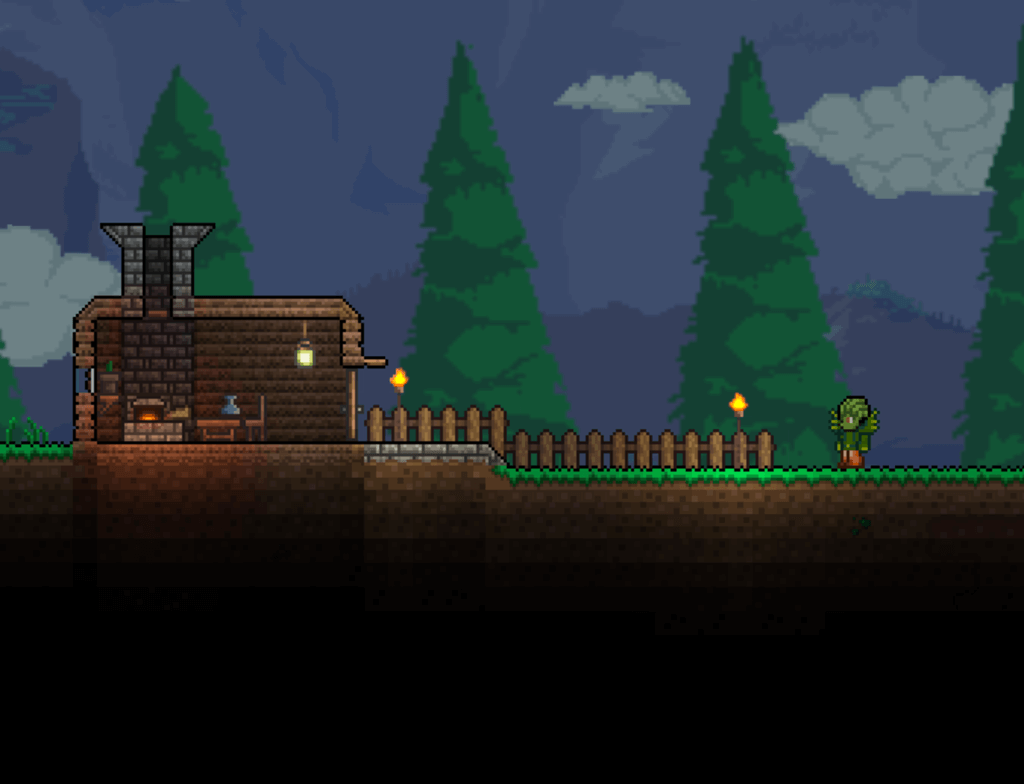 Source: imgur.com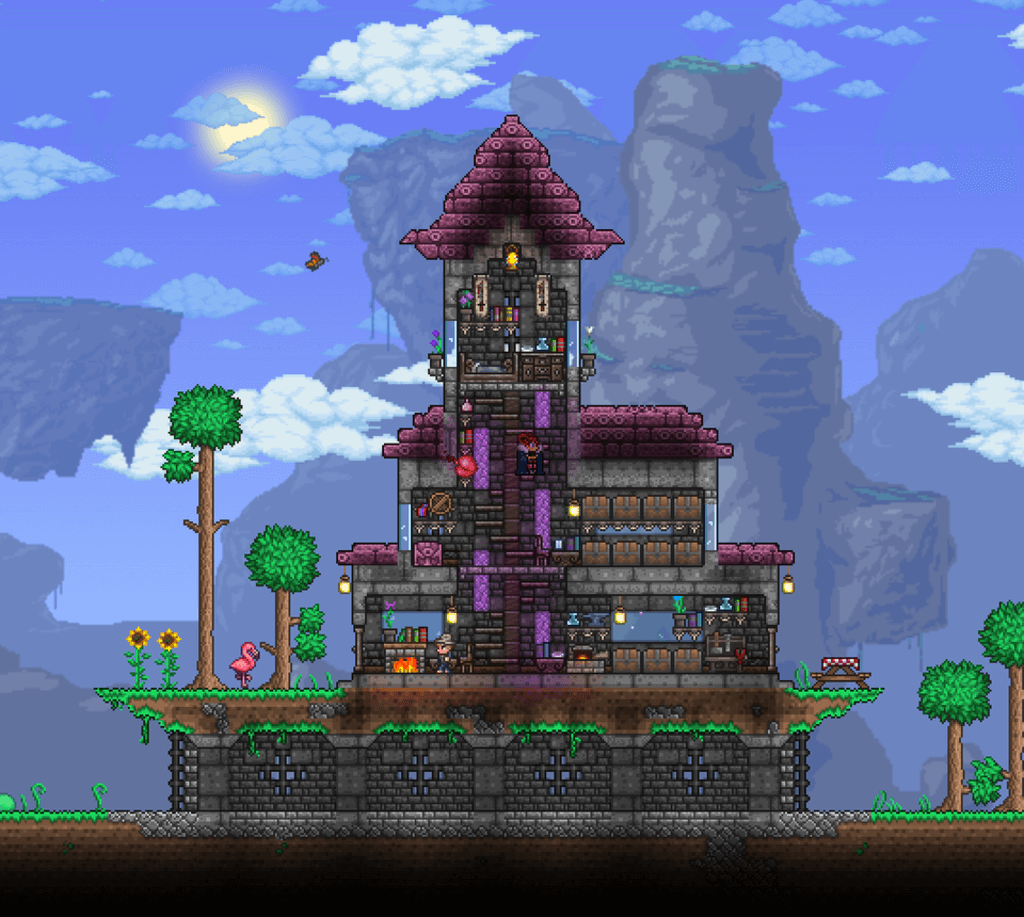 Source: pinimg.com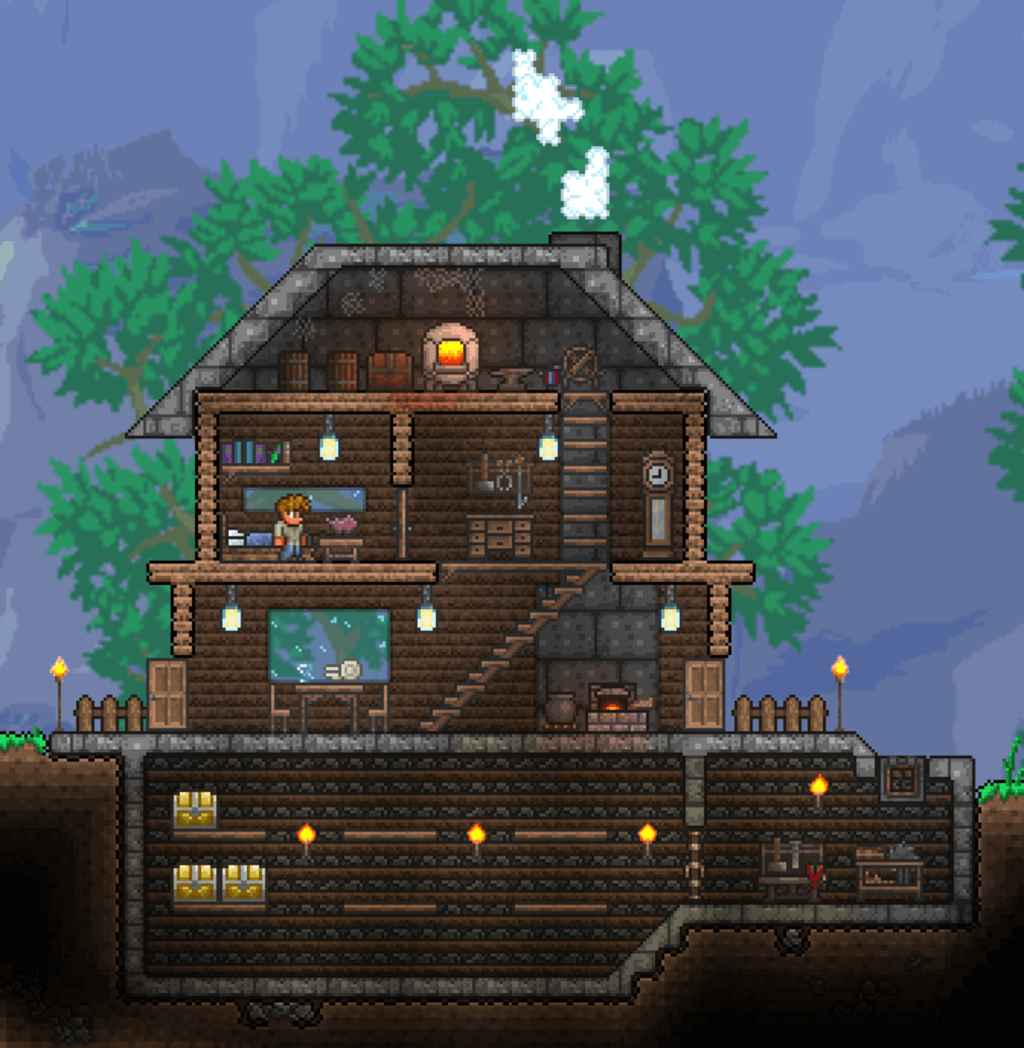 Source: imgur.com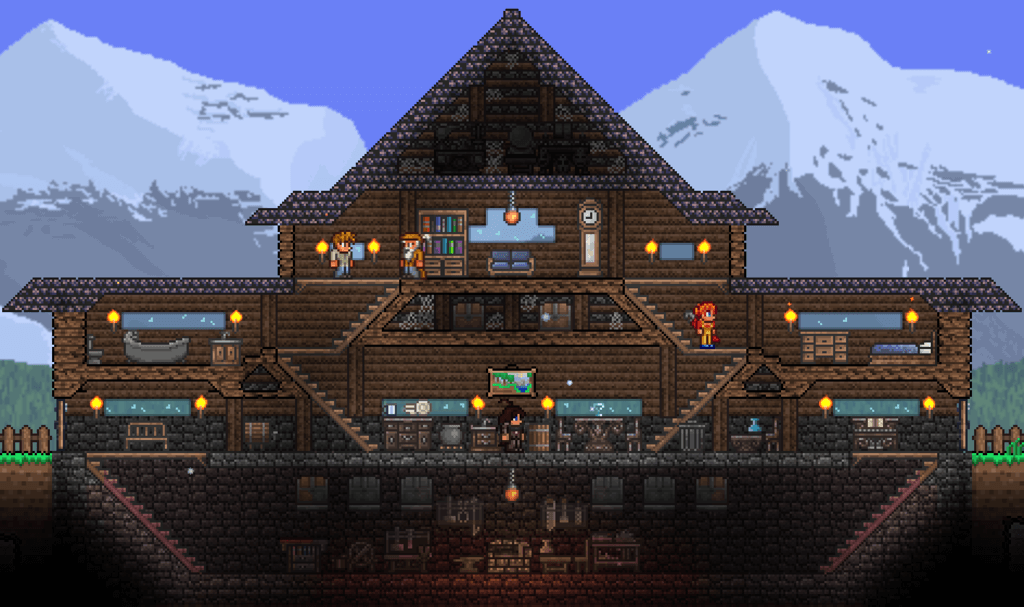 Source: pinimg.com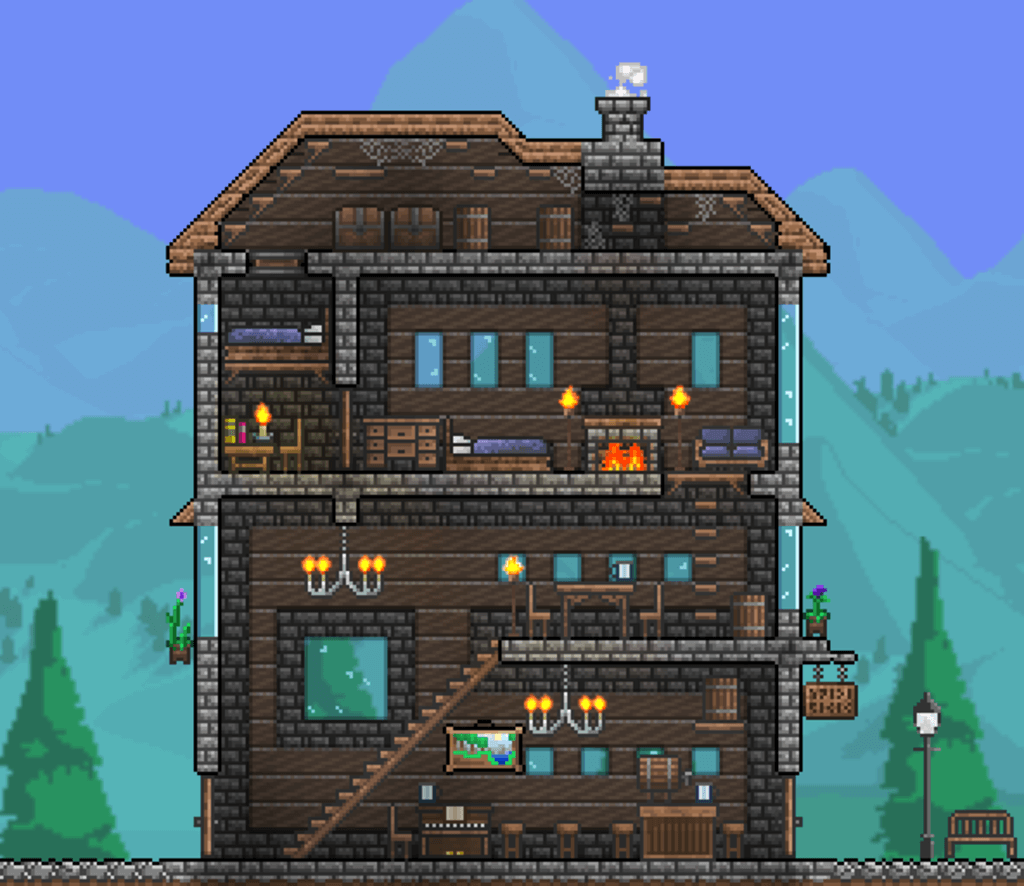 Source: imgur.com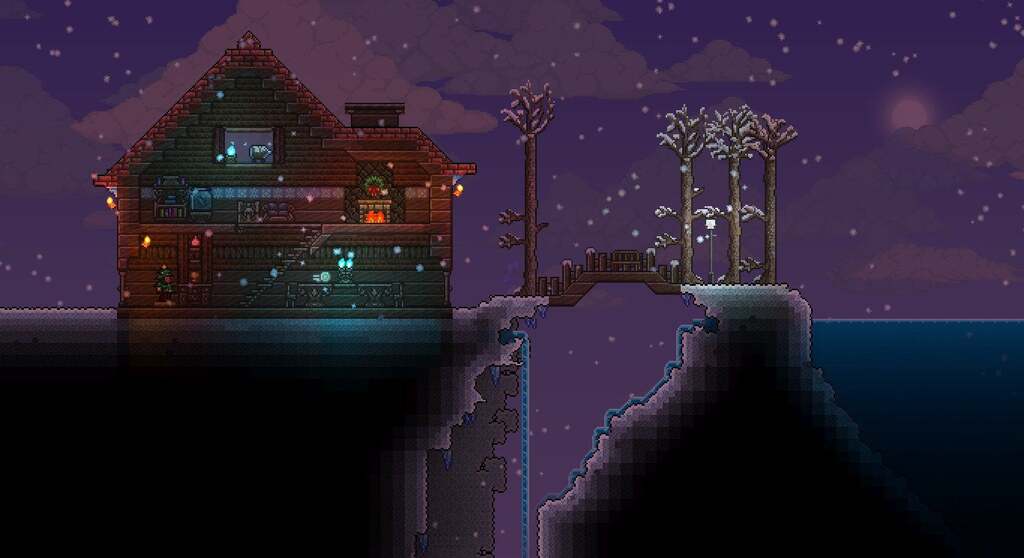 Source: redd.it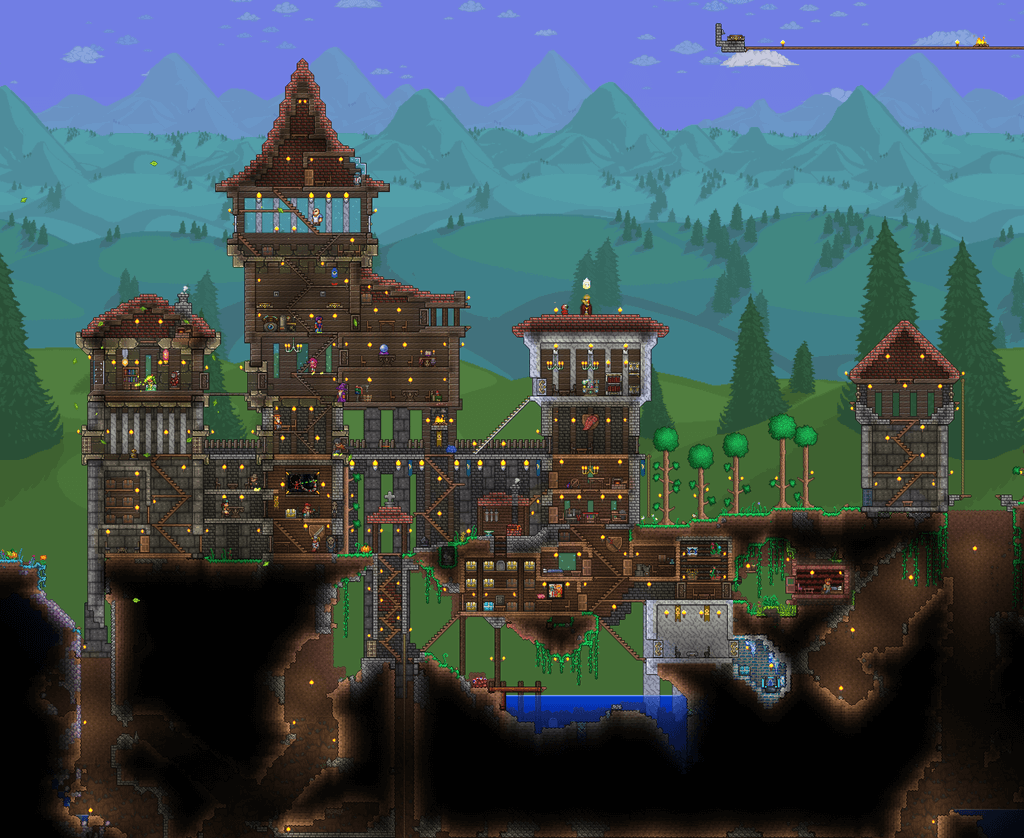 Source: redd.it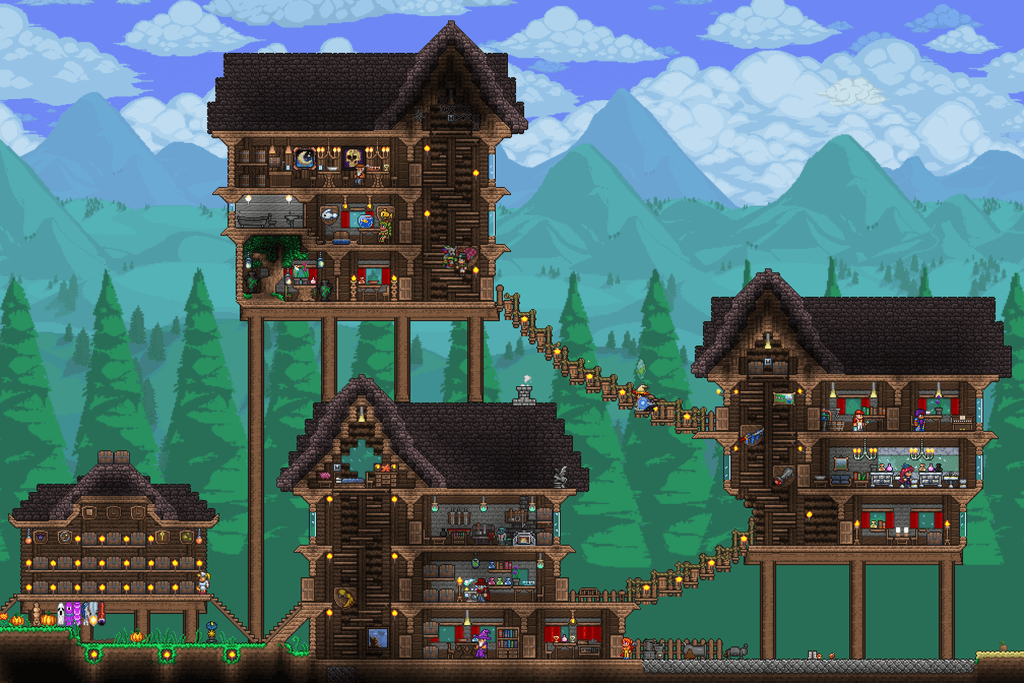 Source: redd.it
The Bottom Line
So which Terraria build did you like the most? Constructing a structure in the game isn't always easy. It requires a lot of thinking, planning, and the right materials.
That's why it is best to start from the Terraria starter shelter and later try out new house designs. 
Trying out the more elaborate Terraria house designs can be both challenging and adventurous of one of the best crafting games on PC. Everyone has their own building style; just use your imagination and creativity. Don't be afraid to try and experiment with various styles and designs, and you can also take inspiration from other builders. 
So, this is all about the easy yet attractive Terraria House ideas for NPC. If you find this blog helpful, share this with all your Terraria playing friends and create amazing structures with them.  
For more interesting blogs on home decoration and architectural guidance, keep coming to Architecturesideas.   
For daily updates, follow us on our Instagram page @architectures_idea.
terraria house design ideas, terraria house designs, terraria house ideas