25+ Best Sims 4 House Ideas in 2023 That You'll Love
Have you always enjoyed decorating and building spaces? Then Sims 4 game is a virtual dreamland for you!
The Sims 4 is a game in which players may construct their own virtual world, complete with bespoke characters, relationships, careers, and, most importantly, homes. Whether you're a seasoned Sim 4 player or a beginner to the game, these Sim 4 house ideas are guaranteed to stimulate your imagination and elevate your Sims' living arrangements. 
One of the most interesting features of the game is building and decorating houses, where players can let their imaginations run wild and construct unique and personalised homes for their Sims.  So let's get started and explore the fascinating world of Sims 4 house layouts!
In this blog, we'll look at the best 30+ Sims 4 house ideas to help gamers get inspired and build their dream homes in the game. 
Top 30 Sims House Ideas for the Creative Gamer
1. Modern Minimalistic Sims 4 House Ideas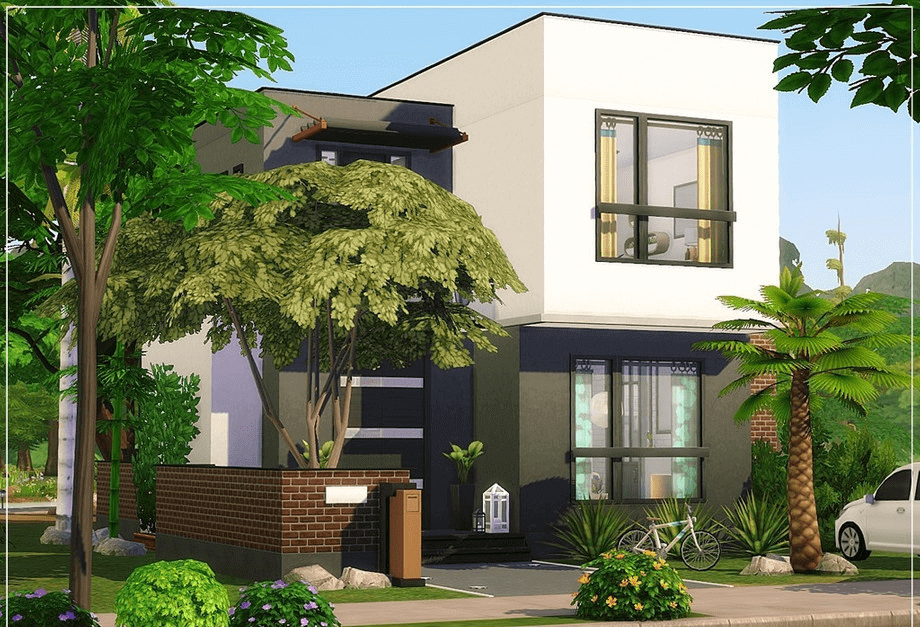 Source: pinimg.com
Do you want to build a house based on utility and simplicity? Then these sleek and professional Sims 4 house designs look ideal for individuals who want a more modern aesthetic.
A contemporary minimalist house in The Sims 4 is characterised by clean lines, a simplistic design, and neutral colours. To generate a light and airy feeling, these homes often have open floor layouts, huge windows, and minimal décor.
2. Family Sims 4 House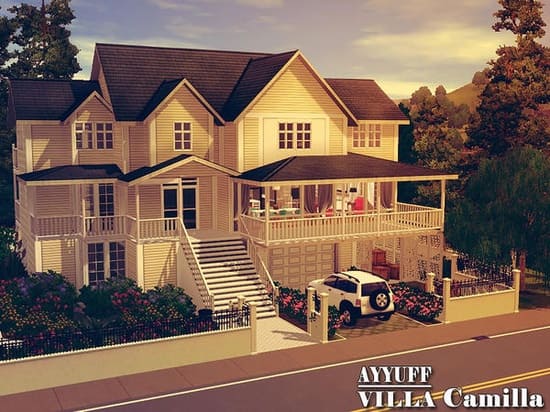 Source: pinimg.com
Square footage is a costly commodity in the real world, but it is a little more affordable in the virtual world! A large family home is an excellent choice for Sims gamers who enjoy creating a lively household with many family members. This house has large living areas, many bedrooms and bathrooms, and lots of space for family activities.
The outside space is another key factor to consider while creating a large family house in The Sims 4. A spacious backyard with a swimming pool, playground, or outdoor dining space is ideal for relaxing and spending time with family members.
3. Farmhouse-Style Sims House Ideas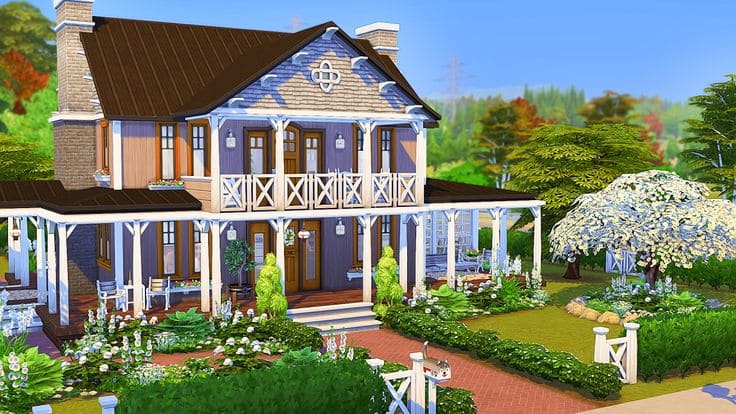 Source: pinimg.com
Owning a farm in a city may seem unattainable, but you may make your dream a reality with Sims 4 house ideas!
A modern farmhouse in The Sims 4 is the ideal combination of rustic charm and sophisticated flair. This kind of house often combines traditional farmhouse components like a wrap-around porch, a gabled roof, and board-and-batten siding with contemporary accents like sleek metal roofing and minimalist furnishings.
Pro Tip: For Farmhouse-style Sims 4 house,  use natural materials such as wood, stone, and metal, as well as neutral colours, to create a clean and rustic look.
4. Tiny Industrial Loft
Source: pinimg.com
Tiny Industrial Loft is a terrific design in The Sims 4 house ideas for gamers that enjoy the urban, edgy atmosphere of loft apartments. To produce a clean and modern image, this design emphasises raw elements such as exposed brick, concrete, and metal.
Use furniture and storage options that save space. To maximise your space, consider introducing multi-functional furniture, such as a couch bed or a storage ottoman.
5. Retro Sims 4 House Ideas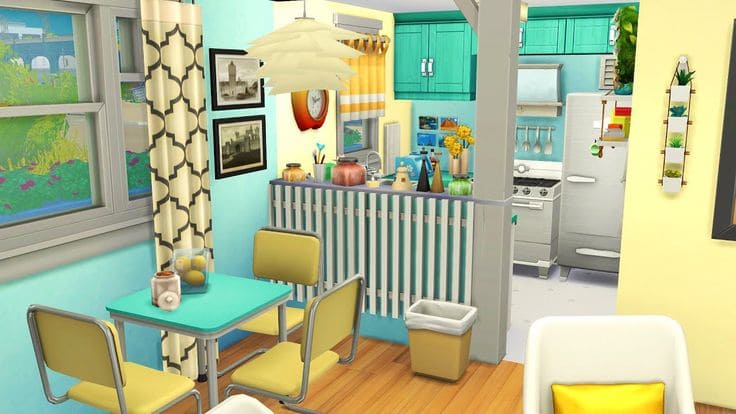 Source: pinimg.com
A retro 1950s-style house is a perfect way to add some fun and whimsical energy to your Sims 4 house game if you enjoy all things vintage. How do you achieve such a nostalgic vibe? Experiment with patterns like strong stripes, polka dots, and geometric forms in vibrant colours such as pink, blue, and yellow. 
Pro tip: Players in The Sims 4 can concentrate on adding aspects such as pastel colours, checkerboard flooring, and chrome accents. 
6. Tropical-themed Sims 4 House Ideas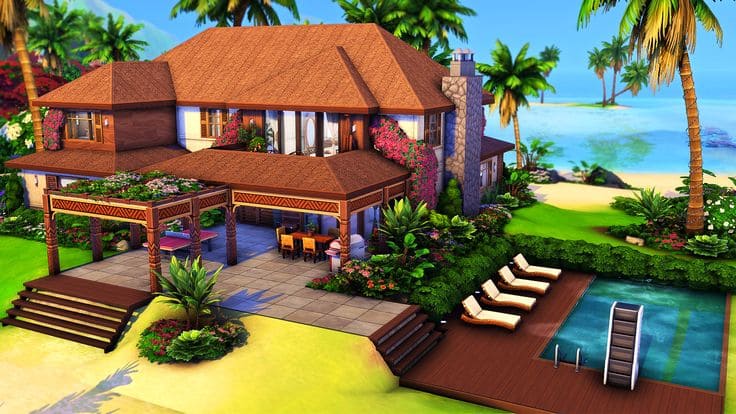 Source: pinimg.com
Prepare to pack your bags and travel to a tropical paradise in The Sims 4 with a tropical-style house! Include a variety of natural textures and colours, such as bamboo, rattan, and bright greens and pinks. This will aid in the creation of a place that is not only visually attractive but also gives the impression that you are living in the centre of a tropical rainforest.
Pay close attention to the lighting!  To create a cosy and inviting ambience, try adding soft lightings, such as floor lamps or table lights.
7. Luxury Urban Apartment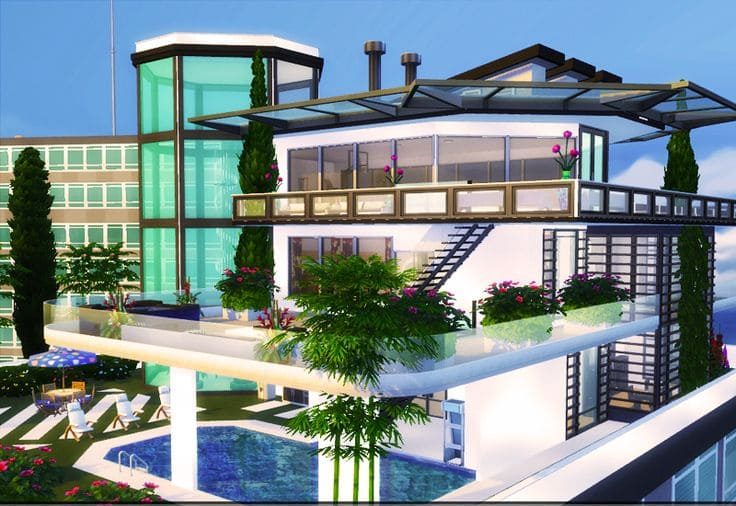 Source: pinimg.com
Were you always keen on lavish interior decorations?  Then you should surely try out these luxury apartment sims 4 house layouts.
You should choose high-quality materials such as marble, granite, and polished wood. Consider using high-end furniture pieces, such as plush couches, leather armchairs, and striking coffee tables, to add to the luxury impression. Large-area rugs may also provide texture and warmth to a room.
8. River Cabin Sims 4 House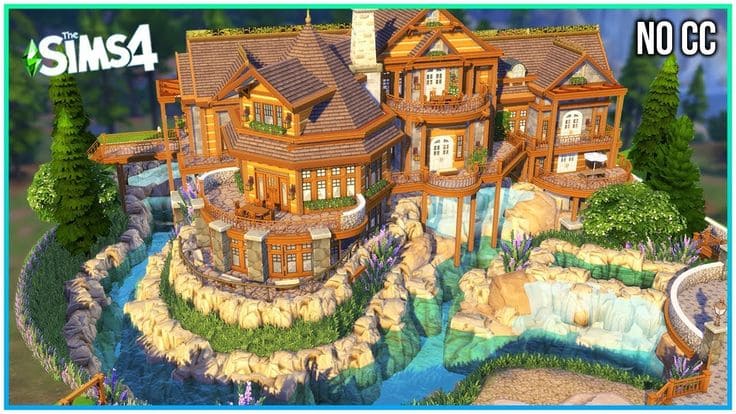 Source: pinimg.com
These Sims 4 house plans are all about channelling your inner lumberjack or nature enthusiast!  Consider historic riverside cottages with conical pitched roofs and porches.
Choose natural materials such as wood and stone, and focus on creating a functional and practical room. After all, you'll need plenty of space for fishing equipment, hiking boots, and other outdoor necessities.
9. Sims 4 House Ideas for Country Estate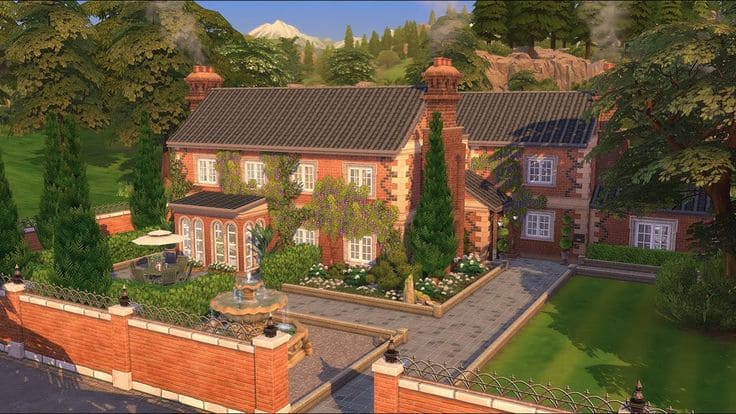 Source: pinimg.com
Living in the large country estates of English aristocrats might sound like a dream, but not in the world of Sims 4 build ideas! A modern country estate's architecture may incorporate both classic and modern architectural aspects. For instance, a farmhouse-style structure with a sleek metal roof or a historic red brick facade with wide, contemporary windows.
Begin with a neutral colour scheme of whites, creams, and greys. Think cosy and comfy when it comes to decor. Soft materials, such as plush couches and throw pillows, may provide warmth and comfort to a room. 
Pro tip: You can add classic manor house elements like a vintage fireplace or even a ball room.
10. Japanese Townhouse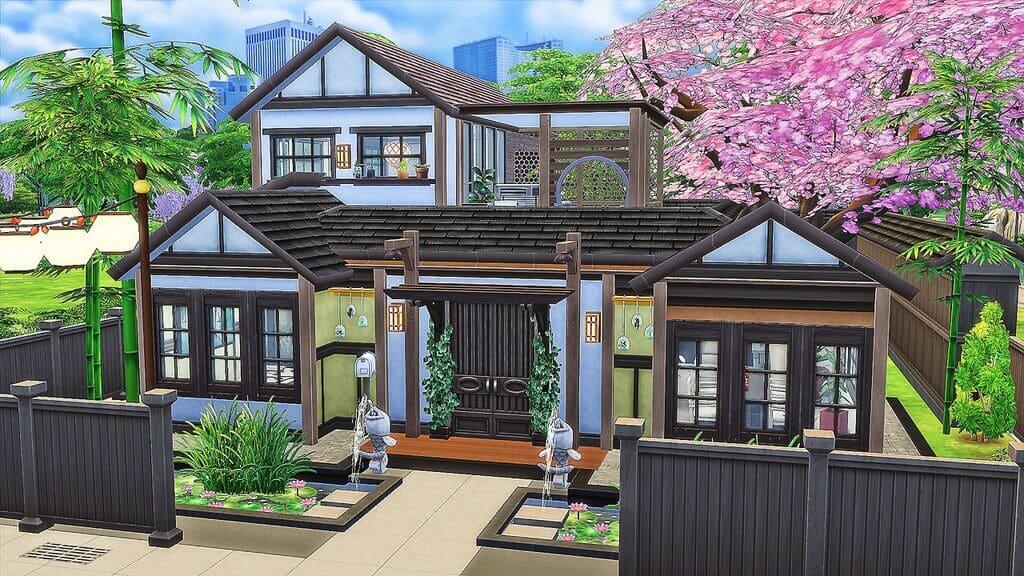 Source: pinimg.com
Have you always wanted to design a house like the one in which your favourite Anime character lives? You can fulfil your this dream with this sims house layout. Focus on clean lines, natural materials, and simple décor while designing a Japanese townhouse in The Sims 4. To add authenticity to your townhouse, consider using traditional shoji screens, tatami mats, and sliding doors.
Pro Tip: In a Japanese townhouse, lighting is extremely crucial. Look for basic and unobtrusive fixtures, such as paper lanterns or wooden pendant lights. Include a few statement pieces, such as a gorgeous bonsai tree or a calligraphy illustration.
11. Tiny and Eco-friendly Sims 4 House Ideas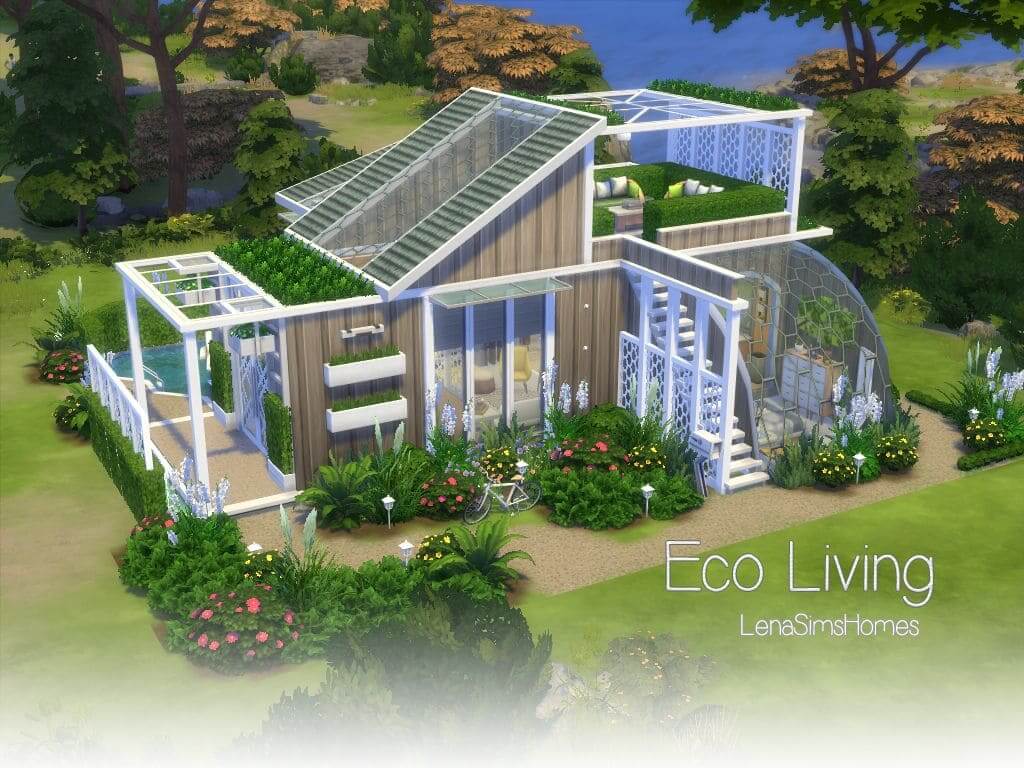 Source: pinimg.com
Let's carry on the trend of sustainability in the world of Sims 4 house plans! Consider employing recycled or repurposed materials for the outside and inside of an eco small home.
To make the most of the limited space within the house, employ space-saving furniture and storage options. Reduce your Sims' dependency on traditional energy sources by using energy-efficient equipment such as solar panels or a rainwater collecting system.
12. Christmas Cabin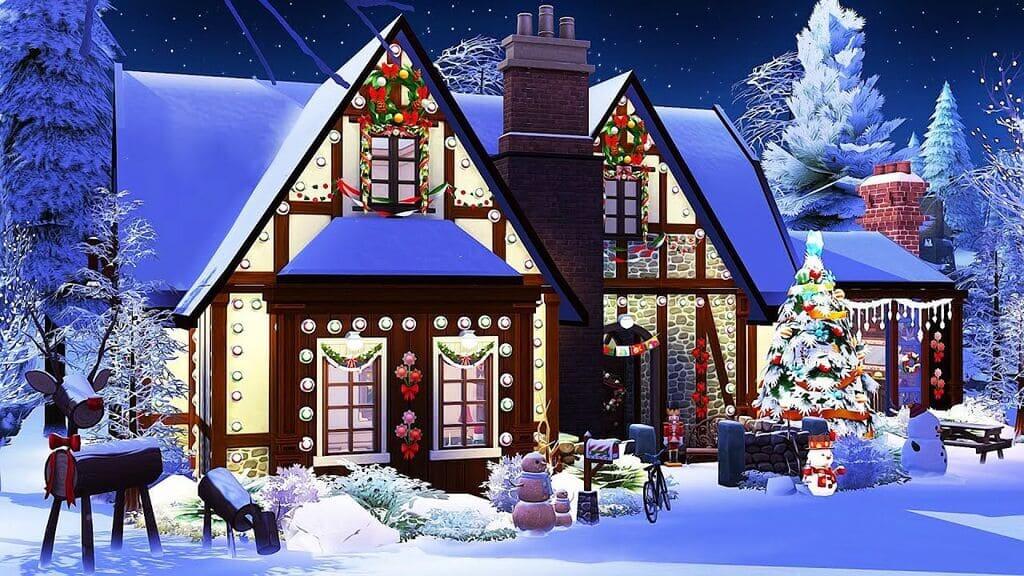 Source: pinimg.com
Now you can design your very own Disneyland-themed Christmas cabin with Sims 4 build ideas! This look combines cosy, rustic elements with a festive flair.  Create a rustic cottage first, then add items such as a snowman, wreaths, fairy lights, and so forth.
Decorate with typical Christmas designs such as wreaths, garlands, and dazzling lights to your heart's desire. Consider putting up a Christmas tree and other seasonal decorations to make the room feel more cosy and welcome. 
13. Sims 4 House Ideas with Shipping Containers
Source: pinimg.com
In The Sims 4, a container home is a contemporary and sustainable style that is ideal for individuals who wish to live simply and effectively. Begin by deciding on the size and quantity of containers you'll require, as well as the arrangement and orientation of the containers to maximise space and natural light.
Consider insulation and ventilation next. Because shipping containers are not intended for housing, adequate insulation and ventilation are required for a pleasant and healthy living environment. 
14. Sims 4 House for Vampires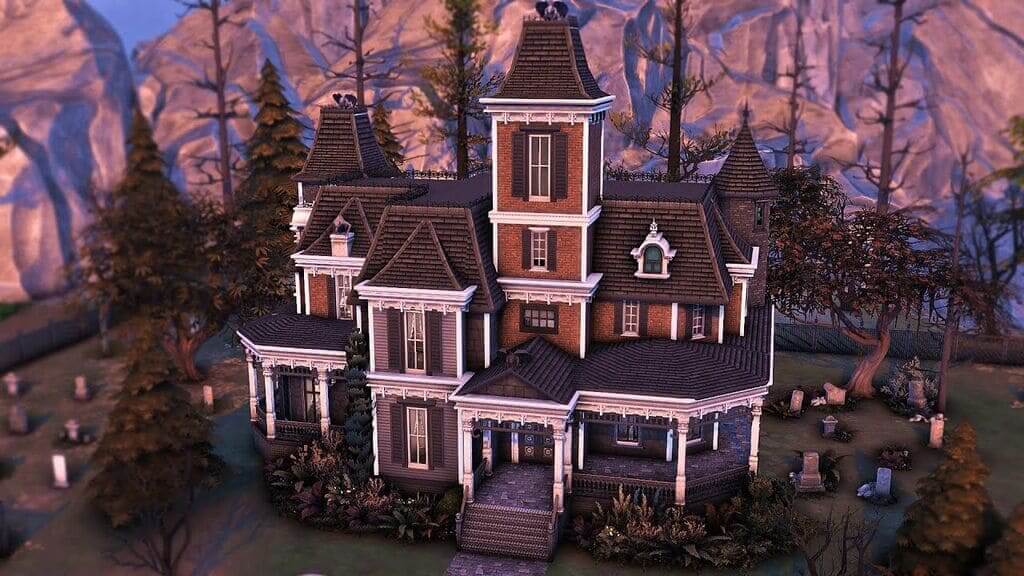 Source: pinimg.com
Are you a fan of The Vampire Diaries? Bring in that mystic aura of vampire houses with sims 4 build ideas! For the outside, use a wrought iron fence and gate to create a frightening and menacing ambience, and add eerie landscaping such as dead trees or a fog machine to create a horrific appearance.
Pro Tip: Use gothic elements such as candelabras, tapestries, and elaborate mirrors. Add vampire-themed artwork and décor, such as blood-red drapes or an old coffin, to create a scary mood.
15. French-inspired Chateau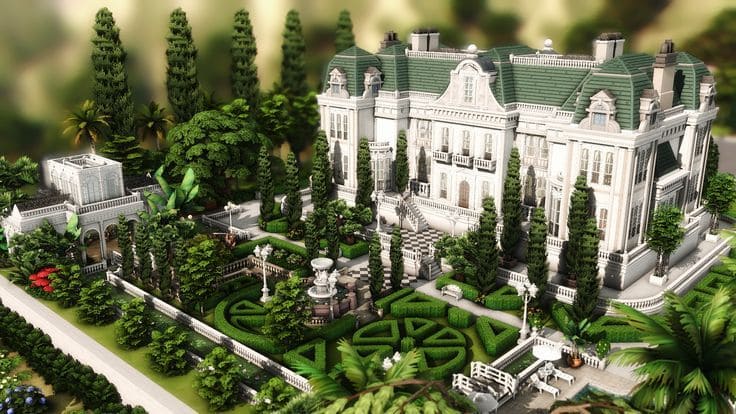 Source: pinimg.com
In The Sims 4 house world, a French-inspired Chateau is a large and romantic design that is ideal for individuals who desire to live like royalty.  With a symmetrical design and ornamental accents like a wrought iron gate, a fountain, and manicured landscaping, you may create a big and regal environment.
To create a romantic ambience, use rich textiles and textures such as silk, velvet, and lace. For a magnificent impact, use extravagant features such as crystal chandeliers and gilded mirrors.
Enhance the design with a big entryway, a dramatic staircase, and decorative decorations. 
16. Base Game Modern Sims 4 House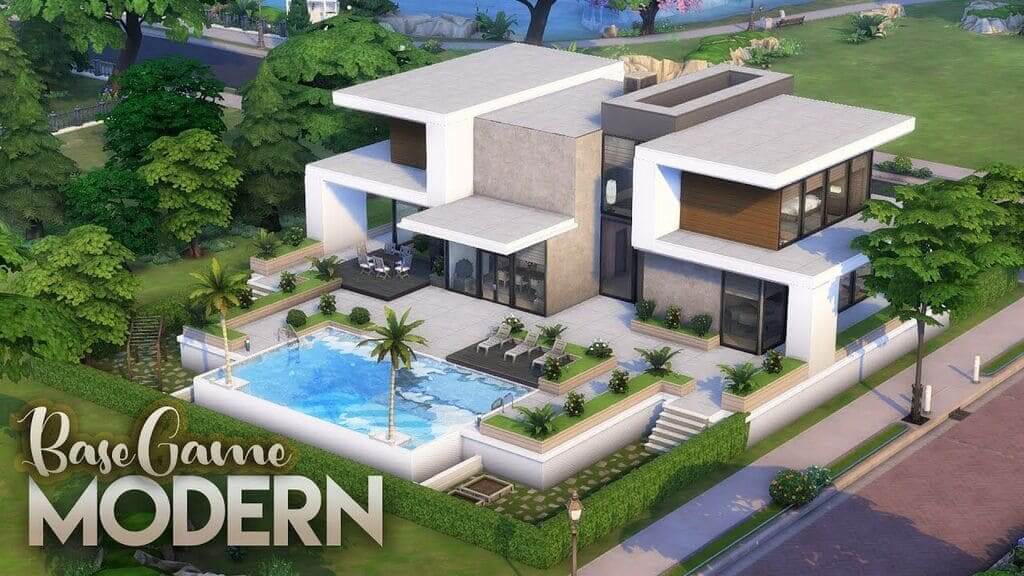 Source: pinimg.com
If you want a sleek and contemporary home without the need for additional packs, Simified's base game modern house is an excellent alternative. The house has a sleek and elegant air because of its minimalist design, clean lines, and neutral colours.
With open-plan living areas, a huge kitchen, and a magnificent bathroom, the interior of the house is equally as spectacular as the façade. With three bedrooms, the property is ideal for a medium-sized family.
17. Rustic Log Cabin-styled Sims 4 House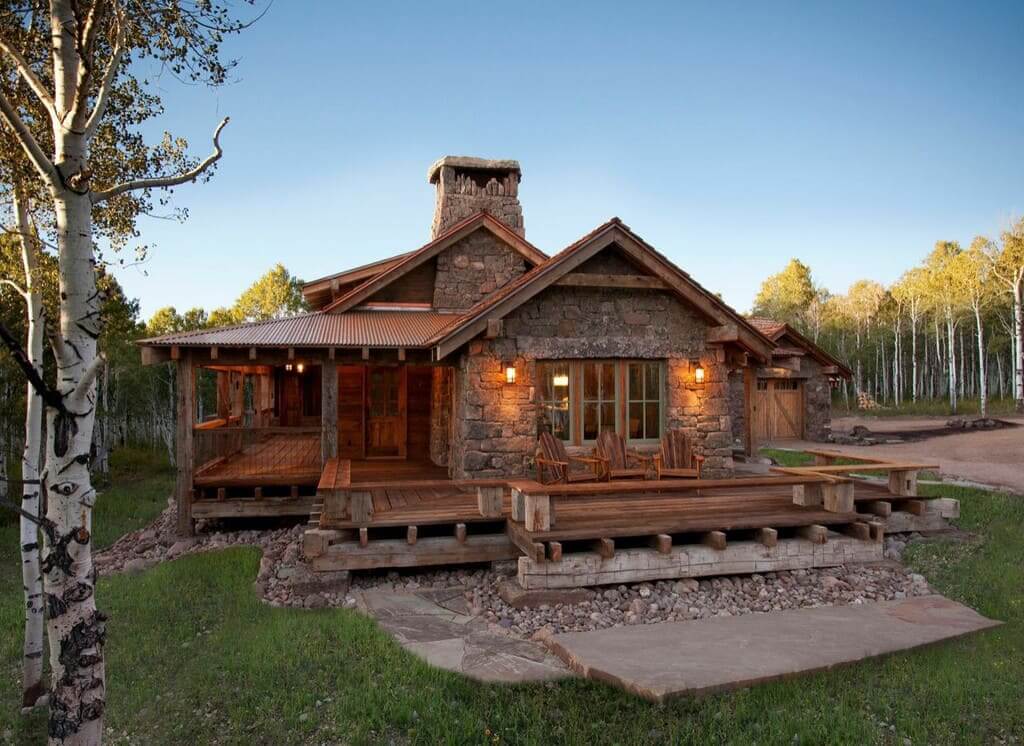 Source: hzcdn.com
If you enjoy the cosy and rustic ambience of a log home, these Sims 4 house ideas can be the ideal alternative for you. Include wide windows to allow in lots of natural light and to link the inside and outside.
To create a cosy and inviting ambience, utilise warm colours and natural textures such as wooden beams and stone accents. Provide comfy furnishings such as plush sofas, armchairs, and a dining table where the family may congregate for meals.
18. Rustic Mountain Cabin-styled Sims 4 House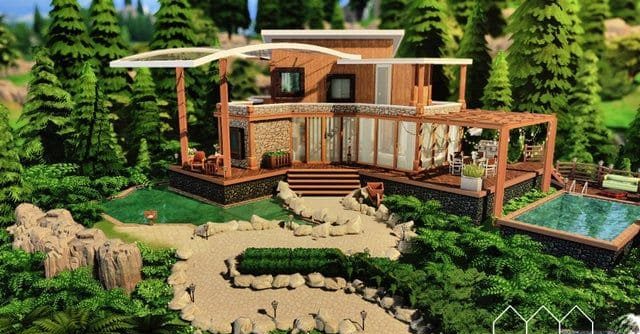 Source: pinimg.com
Another of those beautifully curated humble Sims 4 House ideas! Whether your Sim is an explorer or a homebody, this rustic alpine cottage will give both comfort and style. 
Take cues from historic log cabins and mountain lodges, which have robust wood beams and huge windows with panoramic views of the surrounding countryside.  Inside, the cabin is built for comfort, with warm wood tones, comfortable couches, and a cosy fireplace ideal for cuddling. 
19. Sims 4 House Ideas Inspired by Mediterranean Villa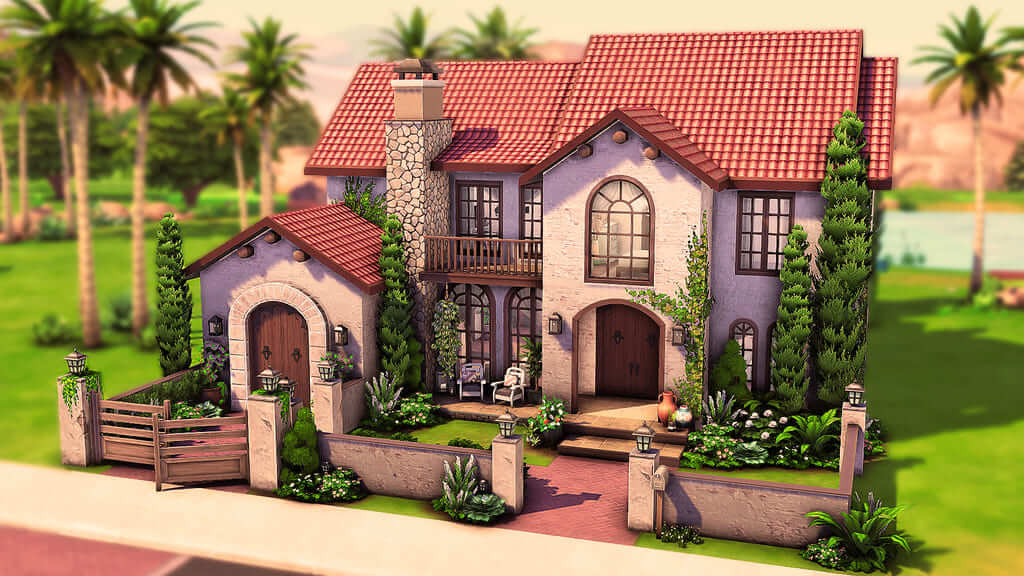 Source: twimg.com
In The Sims 4, a Mediterranean-style home is a beautiful and exquisite choice for gamers looking to create a warm and inviting ambience in their game. Inspired by the charming Mediterranean seaside villages, this style is distinguished by its warm colours, terra-cotta roofs, and lush flora.
Inside, use light-coloured furniture, such as white or beige sofas and chairs, and add splashes of blue, green, or yellow to create a large and airy environment. Decorate with wrought-iron chandeliers, colourful tiles, and mosaic patterns inspired by the Mediterranean.
20. Crescent Sims 4 House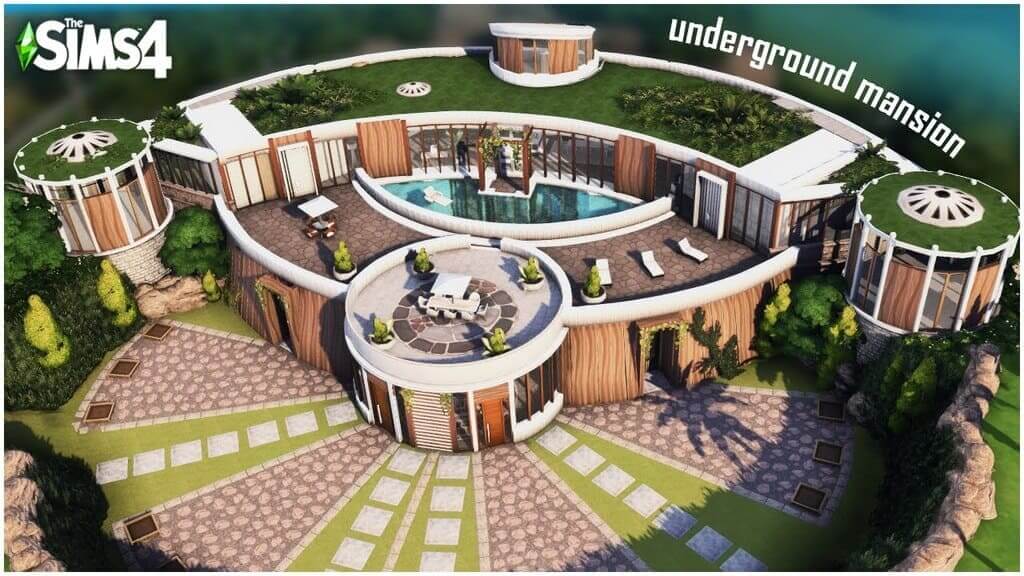 Source: ytimg.com
Are you bored of the same old rectangular Sims 4 House plans? The Crescent Home might be precisely what you're looking for.  This stunning residence, designed in the shape of a half circle, combines outdoor areas with indoor courtyards that serve as focal points.
The Crescent Home has an open floor design that maximises space and light on the inside. Large windows in the living room provide a glimpse of the outside scenery, making it the focal point of the house.
21. Haunted Lighthouse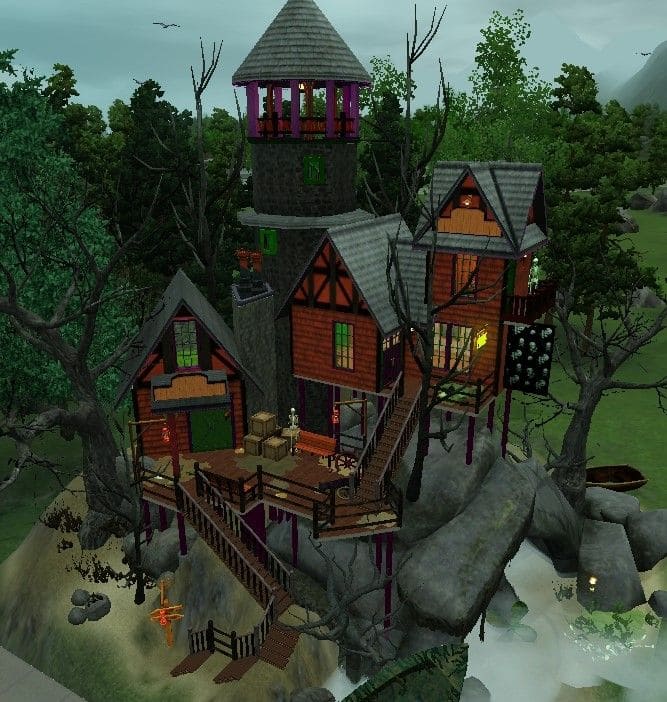 Source: pinimg.com
Sims 4 house ideas are all about fulfilling your deepest fantasies! Create this spooky structure, complete with haunting apparitions, creaky steps, and gloomy fog that envelops the structure.  Your Sims can investigate the abandoned lighthouse and try to learn its mysteries.
Set the tone with scary design and furniture, and then watch as your Sims traverse the twists and turns of this terrifying abode. 
22. Suburban Sims House Layout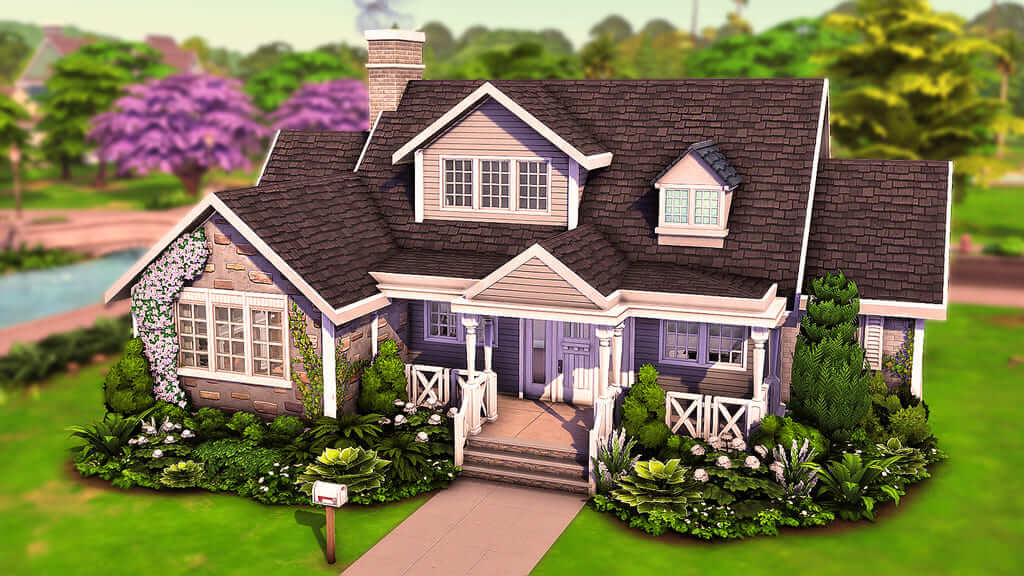 Source: twimg.com
Encapsulate the spirit of sub urban living with Sims 4 house ideas! Look for buildings with a flat or low-sloping roof, a combination of materials like brick, stucco, and wood, and a basic landscape plan.
Modern suburban homes may be created to accommodate any budget or lot size, from huge family homes to little starter homes. Players may also customise these homes by inserting unique design items or adding their own landscape elements.  
23. Boho Loft Sims 4 House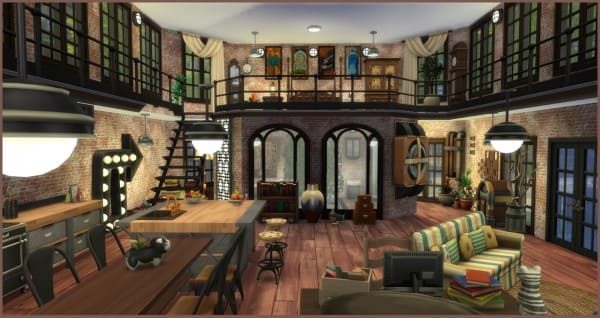 Source: sims4downloads.net
Boho Loft is a popular choice for gamers who like to mix and match different patterns, colours, and textures since it is the perfect balance of stylish and eclectic designs.
Begin by creating a loft-style apartment with an abundance of natural light in The Sims 4. To give the place a rustic character, choose natural wood floors and exposed brick walls. Add some cosy fabrics in various patterns and textures, such as rugs, blankets, and throw cushions, to create a pleasant and inviting area.
24. The Brindleton Family Farm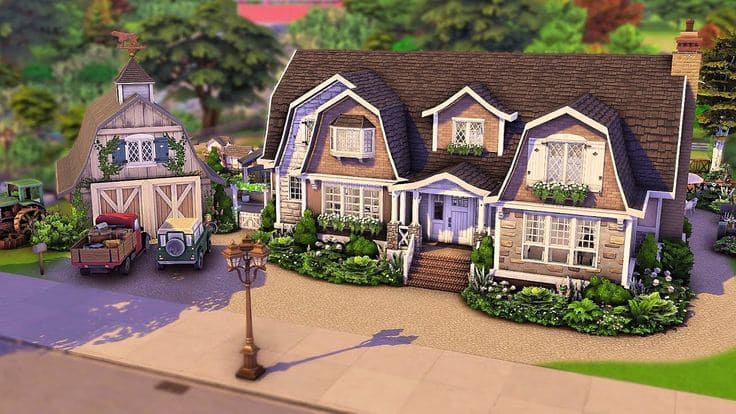 Source: pinimg.com
The Brindleton Family Farm is a fantastic alternative for a pleasant countryside escape for your Sims 4 house ideas.  The farmhouse itself is warm and inviting, with a rustic ambience and lots of space for your Sims to rest and socialise. The barn has plenty of room for cattle, and there's even a little pond on the property where your Sims may fish and relax.
Pro Tip: Use the "bb. move objects" trick to put things more accurately and artistically. This trick allows you to place things wherever you want, even overlapping them, and may be used to create unique and creative designs for your homes and lots.
25. Tudor-Style Sims 4 House Ideas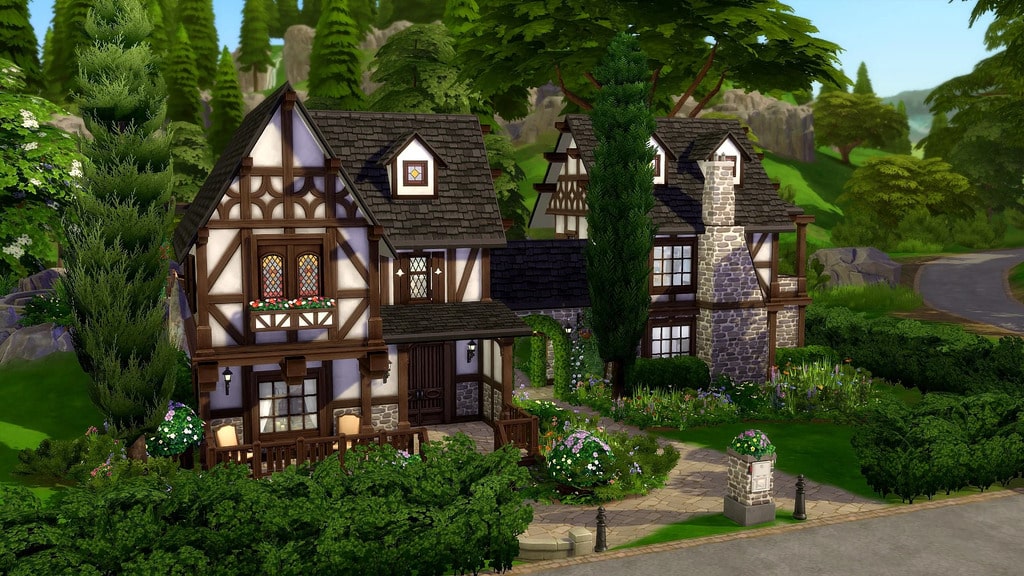 Source: pinimg.com
If you're seeking a large and exquisite family house in Sims 4, a Large Tudor Family house could be precisely what you're looking for! This house type is influenced by Tudor architecture and has a unique, steeply pitched roof, sometimes with one or more front-facing gables, a brick or stone facade, and ornate half-timbering.
Consider adding some vintage-inspired furniture and décor, such as elegant wooden bed frames, soft carpets, and cosy armchairs, to make the most of your Tudor-style house. You may also grow climbing vines around the outside to give it a nice, cottage-like appearance.
26. Floating Houseboat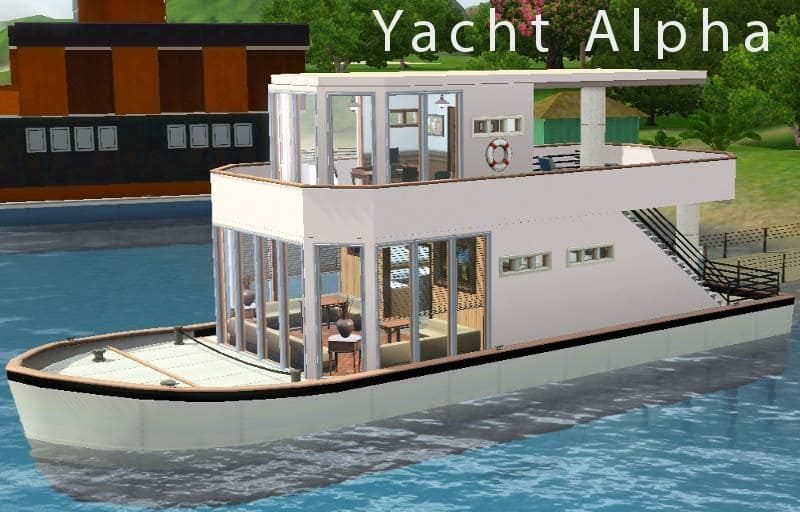 Source: pinimg.com
Want to explore some fun Sims 4 house ideas? The floating houseboat is ideal for gamers who enjoy being on the water and want a more relaxing way of living.  Building a houseboat is simple, and you may customise it to your preferences. You may add sleeping, culinary, and entertaining areas, as well as a small watercraft dock for quick access to the coast.
Pro Tip: Create a level, the floating basis for your houseboat using the "foundation" tool. You may change the height of the foundation to make your houseboat appear to float on the water.
27. Geodesic Dome Sims 4 House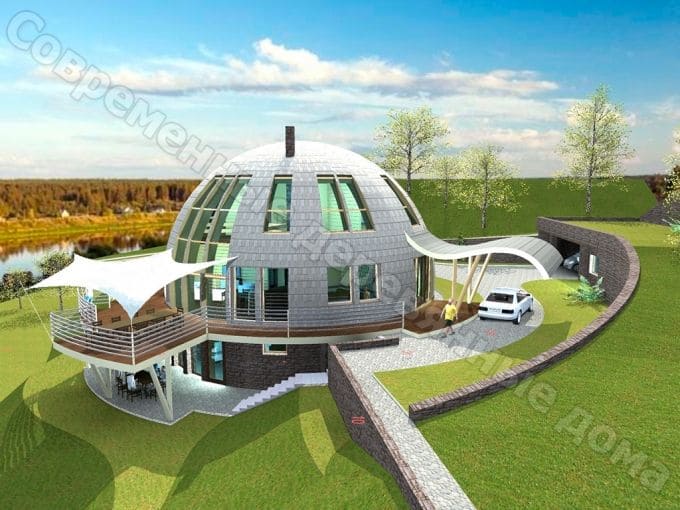 Source: pinimg.com
An exciting aspect of Sims 4 house ideas is that you can explore different geometries while designing the house! A geodesic dome is a spherical shape formed by a sequence of interconnecting triangles.  It's important to keep in mind that the dome form can necessitate some inventive interior design ideas, but the finished product might be a beautiful and distinctive house for your Sims to enjoy.
Experiment with different roof materials and colours to give your geodesic dome house a distinct appearance. Consider installing solar panels or other environmentally friendly elements to complement the eco-friendly aspect of this style of home.
28. Hobbit-Themed Sims 4 House Ideas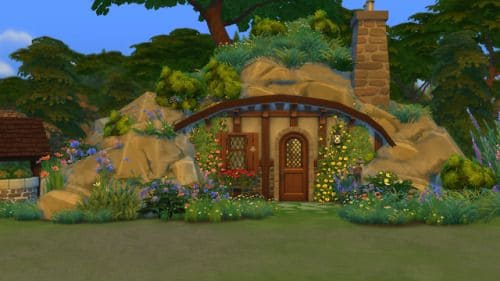 Source: pinimg.com
The perfect Sims 4 House Design for fairytale lovers!  A Hobbit House is a cosy and attractive dwelling inspired by Middle Earth's Hobbit cottages. It is distinguished by a spherical entryway, round windows, and earthy materials such as wood and stone.
To complete the Hobbit house style, consider a rounded front door and round windows. Natural décors, such as potted plants, hanging vines, and stone paths, will enhance authenticity.
29. Ski-Lodge Themed Sims 4 House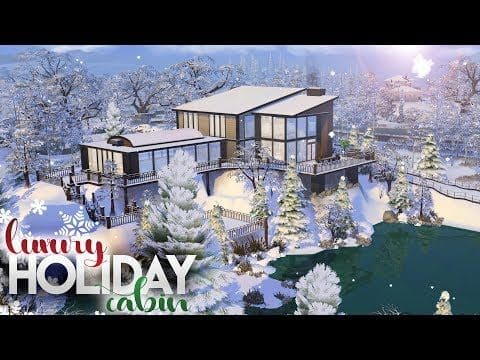 Source: pinimg.com
Ski Lodges are ideal virtual holiday homes for Sims that enjoy skiing and snowboarding. It's a cosy haven with a rustic design, a stone fireplace, and soft lighting. 
In The Sims 4, you may build your own Ski Lodge by selecting a lot in a mountainous globe and sculpting the landscape to your taste. Add usual winter holidays amenities like hot tubs and marshmallow parlours for further creativity.
Also Read: Terraria House Ideas: 18+ Inspiring Terraria House Design
30. Steampunk-Inspired Sims 4 House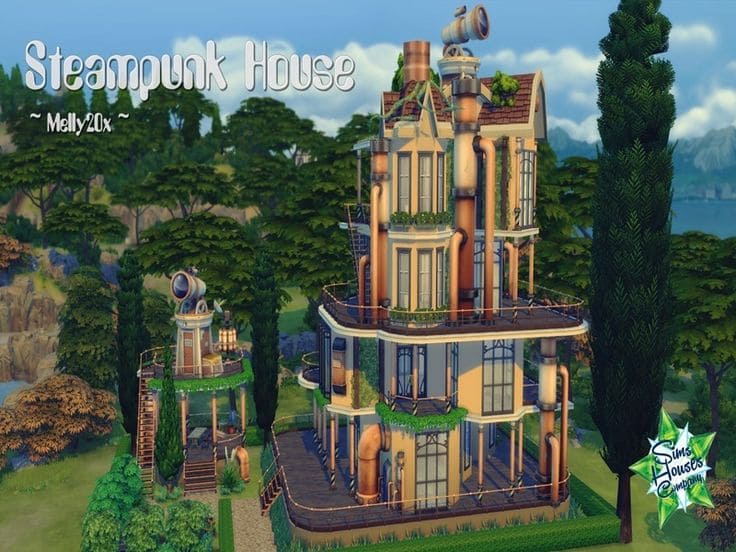 Source: pinimg.com
For those wishing to design a distinct and adventurous home in The Sims 4, a steampunk-inspired house is a distinctive and interesting alternative. This style is influenced by the Victorian era and the industrial revolution, resulting in a mix of metal, wood, and mechanical parts.
Vintage objects such as typewriters, telescopes, and antique globes can also contribute to the steampunk aesthetic. To complete the theme, incorporate industrial light fixtures and antique-looking furniture.
Let's Get our Creative Juices Flowing with These Sims 4 House Ideas!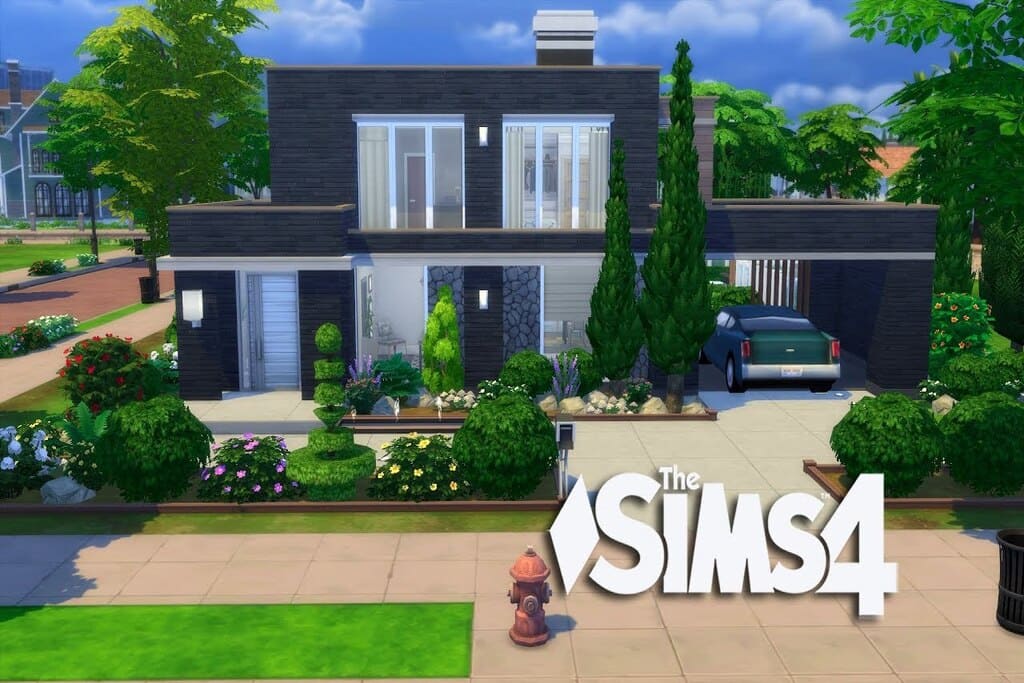 Creating your own house in The Sims 4 can be a thrilling and rewarding experience. With so many options and styles to pick from, your only limitation is your imagination. So, why not accept the challenge and begin designing your dream home with these Sims 4 house ideas right away?
FAQs for Sims 4 House Ideas
1. How Do I Get Started with Building Houses in Sims 4?
To get started with building houses in Sims 4, first, you need to enter the build mode. From there, you can choose an empty lot, select a pre-built house, or bulldoze an existing lot to make room for your new construction.
2. What Are Some Common Building Challenges for Sims 4 House Ideas?
Common challenges when building houses in Sims 4 include managing your budget, fitting everything you want into a limited space, creating functional layouts, and dealing with terrain and landscaping issues.
3. How Do I Create Unique and Interesting Sims 4 House Ideas?
To create a unique and interesting house design in Sims 4, try experimenting with different architectural styles, colours, materials, and patterns. You can also add landscaping, outdoor decor, and custom furniture to add character and personality to your creation.
Yes, you can share your Sims 4 house creations with others. You can upload your houses to the Sims 4 gallery or share them on social media platforms. You can also download and install other players' house creations to use in your own game.
5. How Do I Get Inspiration for My Sims 4 House Ideas?
You can get inspiration for your Sims 4 house designs from various sources, such as architecture and interior design websites, social media platforms, real-life houses, movies, and TV shows. You can also participate in Sims 4 house-building challenges and contests to get ideas and inspiration from other players.
More from The Architecturesideas
To know more about Home improvement ideas, Cleaning and decoration tips visit ArchitecturesIdeas
For daily updates, follow us on our Instagram page @architectures_idea.