Tiny things are cute and make you go aww with just a glance. But what about small houses? Okay, not those barbie houses (they do make you feel excited, but they are counted as things, not houses).
Here we are talking about real tiny houses. Yes, they do exist, and to add more, there are whole tiny house communities in different countries.
Are you thinking that it might be one of the houses on the wheels or kind of thing? Yes absolutely. RVs are also the type of tiny house. Now focus on the word ALSO in the last line. What it signifies? That there are other small houses too. We already said that there are communities of tiny houses.
You know there are people who have moved to the small spaces leaving the apartment houses or have them as a second home for vacations. And some tiny house communities are built to provide shelter to the homeless people by the non-profitable organizations.
You are here either to get the information, check if it is really good to move-in to the small houses, or you have already made up your mind for the tiny houses and looking for such communities.
The first thing that would have come to your mind is why someone would live in a tiny space (that too leaving apartment houses)?
Let's get honest with each other, it can be a result of financial issues, or you (or your family members) find tiny houses fascinating.
Small space would require less maintenance, less usage of electricity, and no issue of private and public land. The costs will automatically drop down and plus if you have RV or house built on a trailer, you can travel with it, just like Eric and Danielle Hannan. The most positive point of having a tiny house is clutter-free space.
Another purpose of gradually increasing the number of tiny houses community in the countries is to save our mother earth and go green. You can save lots of wood and money in building a tiny house.
#FYI: The measure of a tiny house rarely exceeds the 500 square feet.
Where apartment houses take about $225,000 to build, small homes can get ready within the range of $10,000 to $60,000. These tiny houses can be built using fresh materials or can be created from scratch. The costing will depend on the same.
DIY is an excellent option if you are planning to have a small house as a second home. But if you are planning to move-in permanently, then get it designed from the expert. Or if you are finding a community to live in, below we have mentioned a few tiny house community that will win your heart.
Tiny House Community in Florida
Be it fixed small house or on-wheel small house, Florida has them both and are growing notably. Many RV parks are welcoming those wandering houses to stay there on a monthly rent basis.
One of them is Gracious Tiny House Park, which was opened in the 1980s as an RV park, and now they are expanding as a community and accepting tiny houses. The amenities it is providing are pool, clubhouse, and waterfronts.
Another is Orlando Lakefront, which was initially an RV park and now a tiny house community located near to Lake Fairview. The amenities they provide are fishing docks, a boat dock, and a laundromat. Plus, it is pet-friendly!
Tiny House Community in California
There are few tiny house communities in California too. Some are villages and some are WiFi based RV areas.
One is Park Delta Bay in Isleton, where you can live a small house living. It is the only legal tiny house community in Northern California. But due to the zoning regulations, you need to have your own house on wheels. The amenities it provides are a swimming pool, a pet playground, and a community clubhouse. 
Another is Habitats Tiny Homes in San Diego. It has a capacity of 50 dwellings having a private backyard. These tiny homes are packed with energy-saving features to reduce the overall footprint of the community (including solar powers and water reclamation). The amenities that it is providing are on-site farmers market, edible landscaping, and a glorious garden.
Tiny House Communities in Texas
This largest state also has the tiny house communities located in it. Providing the best of nature to the ones who want to rejuvenate and also want to save some bucks.
One of them is Spur, Texas, where you will feel relaxed and away from the hustle of cities. The cost of living of spur is about 30 percent less than the national average. If you are someone who is planning to have a start-up, then this one is for you. 16205 Tiny House Community to Move-in for Experiencing the Best of Nature5 Tiny House Community to Move-in for Experiencing the Best of Nature5 Tiny House Community to Move-in for Experiencing the Best of Nature
Another is Community First! in Austin. This project is solely made to support the homeless and disabled people in Austin. This village is affordable, sustainable, and is filled with RVs, mobile homes, and many more.
Tiny House Community in Nevada
The only tiny house community created by a businessman is located in the Las Vegas of Nevada. LV the city of parties, or you can say the nightlife city has one of the best tiny house communities.
It is also the first tiny house community in Nevada. The Zappos CEO, Tony Hsieh, lives in a 240 square feet Airstream with his two pet alpacas (namely, Marley and Triton). He created this project to reinvigorate the ailing downtown of Las Vegas.
The project has the Airstream, a few tiny houses, and the two pets of the CEO roaming in the community. The parties and concerts are held in the small house city. And it also has the basic utilities and Wi-Fi included in the monthly rent.
What a luxurious tiny house community!
Tiny House Community in Colorado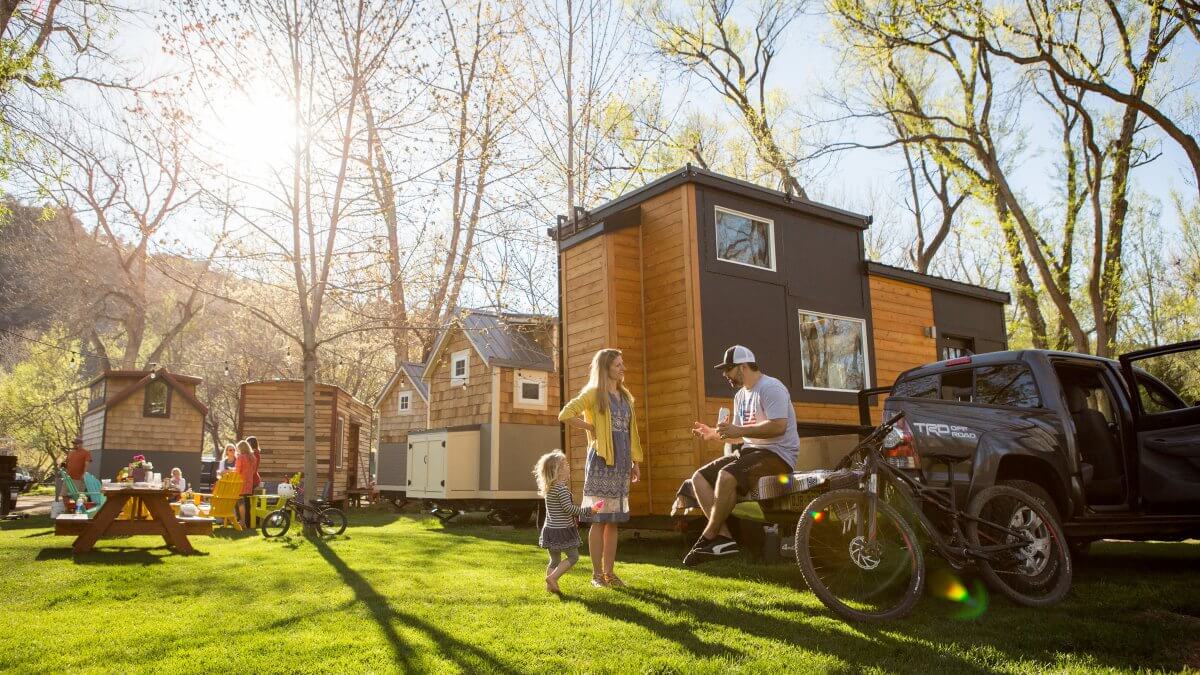 Colorado has the largest tiny house community and also the trial version of tiny houses. Didn't get it? Don't worry, keep reading, you will get it.
First, let us tell you about WeeCasa. WeeCasa is a resort located 45 miles to the north of Denver. The attraction of this resort is its allowance for living the tiny house life for a short period. So that you can take a final call on moving to the tiny house, or the community of one.
WeeCasa was a project built in 2013 after the flood, in which many families lost their homes to provide them a place to stay. Now the resort has few short-term stays in these houses for the displaced families and other than that, it is busy serving as a spot for wedding parties.
Now let's talk about the largest tiny house community in Colorado. The project is headed by Sprout Tiny Homes to create a tiny house village in two mountain towns – Salida and Walsenburg.
The one developing in Salida is also known as 'Heart of the Rockies,' having 200 rental homes built within the 260 to 760 square feet. Another one in Walsenburg will have 33 micro homes whose size will range between 260 to 670 square feet.
Both the communities are located within walking distance and will have amenities like fitness centers, retail spaces, and green gardens.
Tiny House Communities in other States
Other than these, there are many other villages and areas of tiny houses where you can try to move. The primary purpose of small homes is to serve you the living space at the minimal cost possible and sustainable at its best. You will be able to live the nomadic life if you are opting for RVs as the small house.
Few other states or communities promoting the tiny house movement are as follows:-
Canoe Bay Escape Village, Wisconsin

Tiny Tranquility, Oregon

Tiny Homes Detroit, Detroit

Little River Escape, Georgia

Quixote Village, Washington

Caravan Tiny House Hotel (for a test drive of life in a small house), Oregon

Tiny Estates, Pennsylvania, and many more.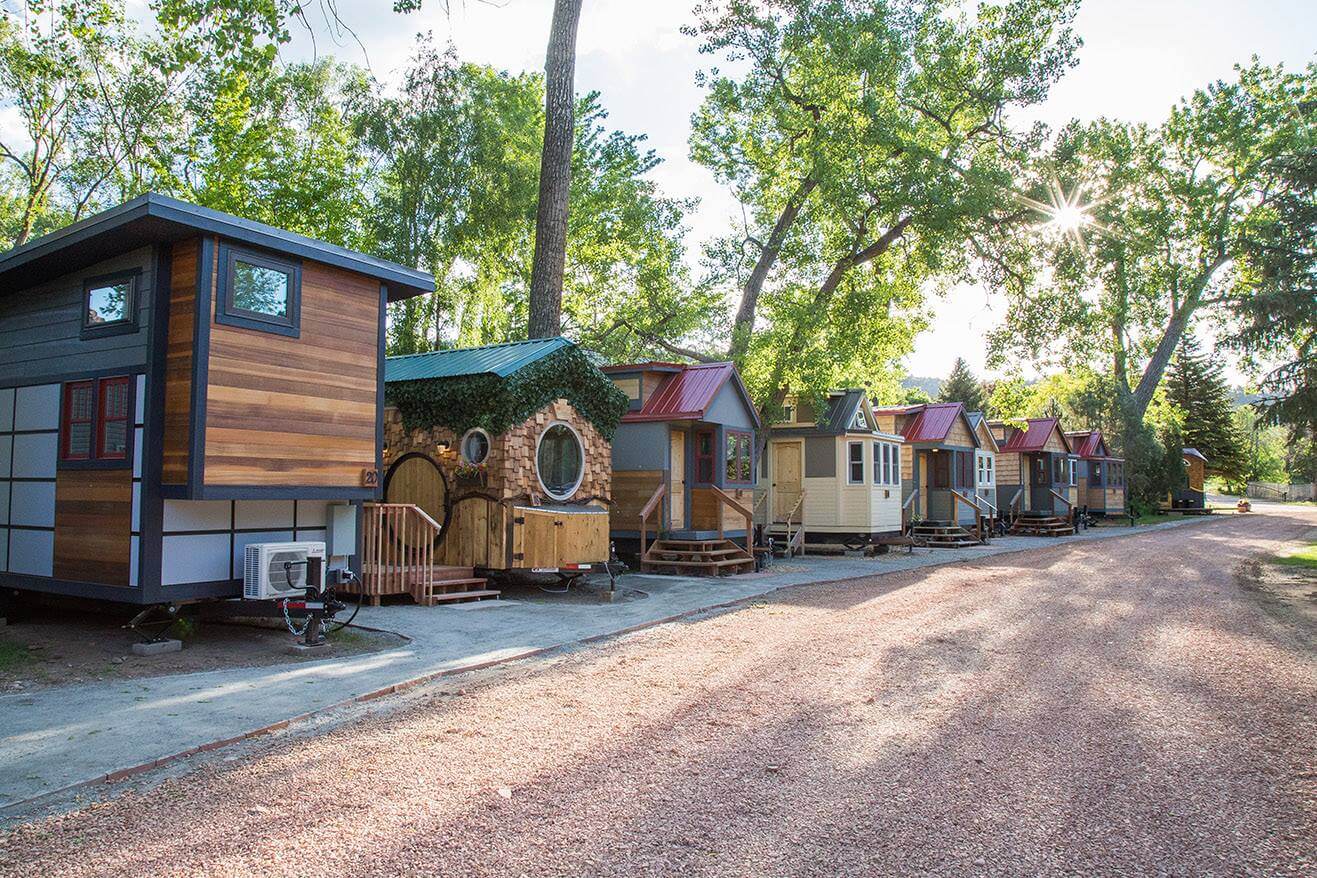 Accepting the New Way of Life With Tiny Houses:-
So now you know everything about miniature houses. From its benefits to its location, in addition, you can also take a test drive of before finalizing whether you can give lifetime commitment to it or not. Once you move to the small house, you will feel the immense pleasure and relaxation.