Two Tone Kitchen Cabinets: 10+ Stunning Ideas For Small Spaces
Do you feel something is missing in your kitchen but don't know exactly what? Is it the decor? Appliances? Or something else? 
To get the right answer, take a step back and carefully look at your kitchen. The missing factor that you're looking for is the proper color scheme.  
Even though your kitchen has been recently renovated or upgraded, your kitchen space won't feel complete if you don't select the right color scheme. Have you heard about the two tone kitchens?
Over the past few years, two tone kitchens have become immensely popular. Interior designers and architects have also recommended two tone kitchen cabinets to create a contrasting effect. Even in small spaces, this styling technique will work smoothly.
So what's so special about two tone kitchens?
Two toned kitchen cabinets are an excellent way to add some depth, intrigue, and a subtle variation to your kitchen. Whether you like to have bold and bright kitchen interiors or neutral or minimum design, you can go with this kitchen styling tip.
So, how to incorporate this two tone kitchen styling technique? It is actually quite simple! You can use any two contrasting or complementing colors on the upper kitchen cabinets or lower cabinets. And if you have glass cabinets, you can use trims in various colors to create appealing visual effects. 
Now comes the main question: what colors to use for the 2 tone kitchen cabinets?
There are a lot of color combinations that look awesome. But if you have a kitchen
cabinet that is combined with white, or if you are planning to choose a white combination
from our suggestions, it is important to know that white cabinets need special care to keep
their standout look. For that, you have to use kitchen cabinet cleaners frequently.
Today, in this blog, we've made a list of some of the best two tone kitchen cabinet ideas for you. From dark blue and black to neutrals like white and beige, we've included all types of shades and materials. So keep reading till the end and pick your favorite dual color two color kitchen cabinets.
Let's start.
10+ Latest Two Tone Kitchen Cabinets Ideas in 2023 (With Pictures!)
If you can't decide on one color theme for your kitchen, a two-tone kitchen will be a perfect solution for you. You can select the first color as the primary color and the other one as an accent color to create various focal points. These colors should always be implemented with each other to create a fantastic contrasting effect. 
Here are the best two tone kitchen cabinets ideas recommended by experts and designers: 
1. Forest Green + Natural Wood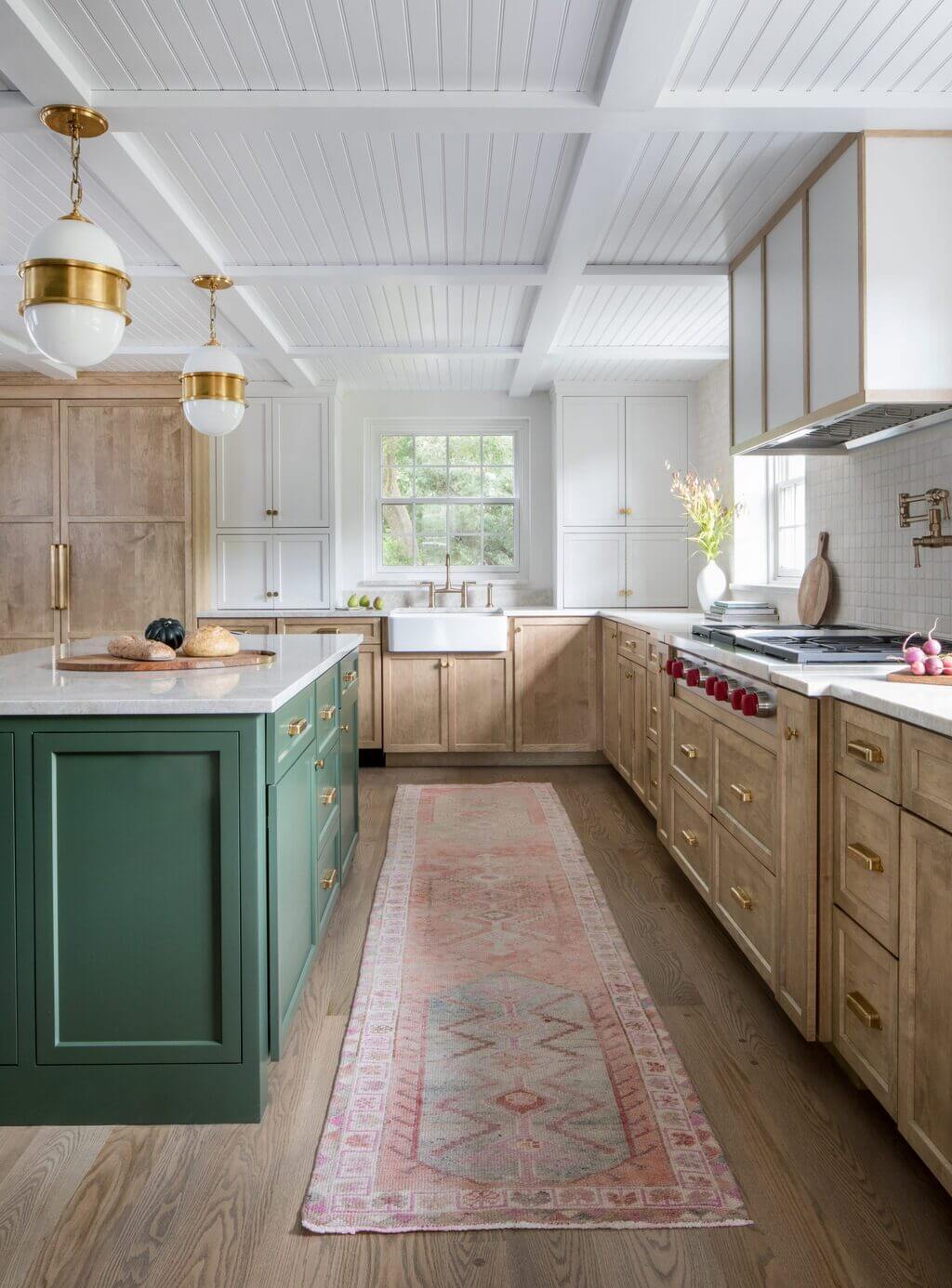 Source: stockton.se
Let's start with the color that will make your kitchen alive and fresh. Green colors are incredible for the two tone kitchen cabinet kitchen scheme. If you feel that your cooking space feels a bit congested and boring, just splash some shade of green color. 
You can bring natural vibes directly into your kitchen without going out. Here, the homeowners selected a beautiful green forest color that goes perfectly with natural wood. The lower cabinets are made of wood, while the upper ones are painted white. 
2. White Upper + Black Lower Cabinets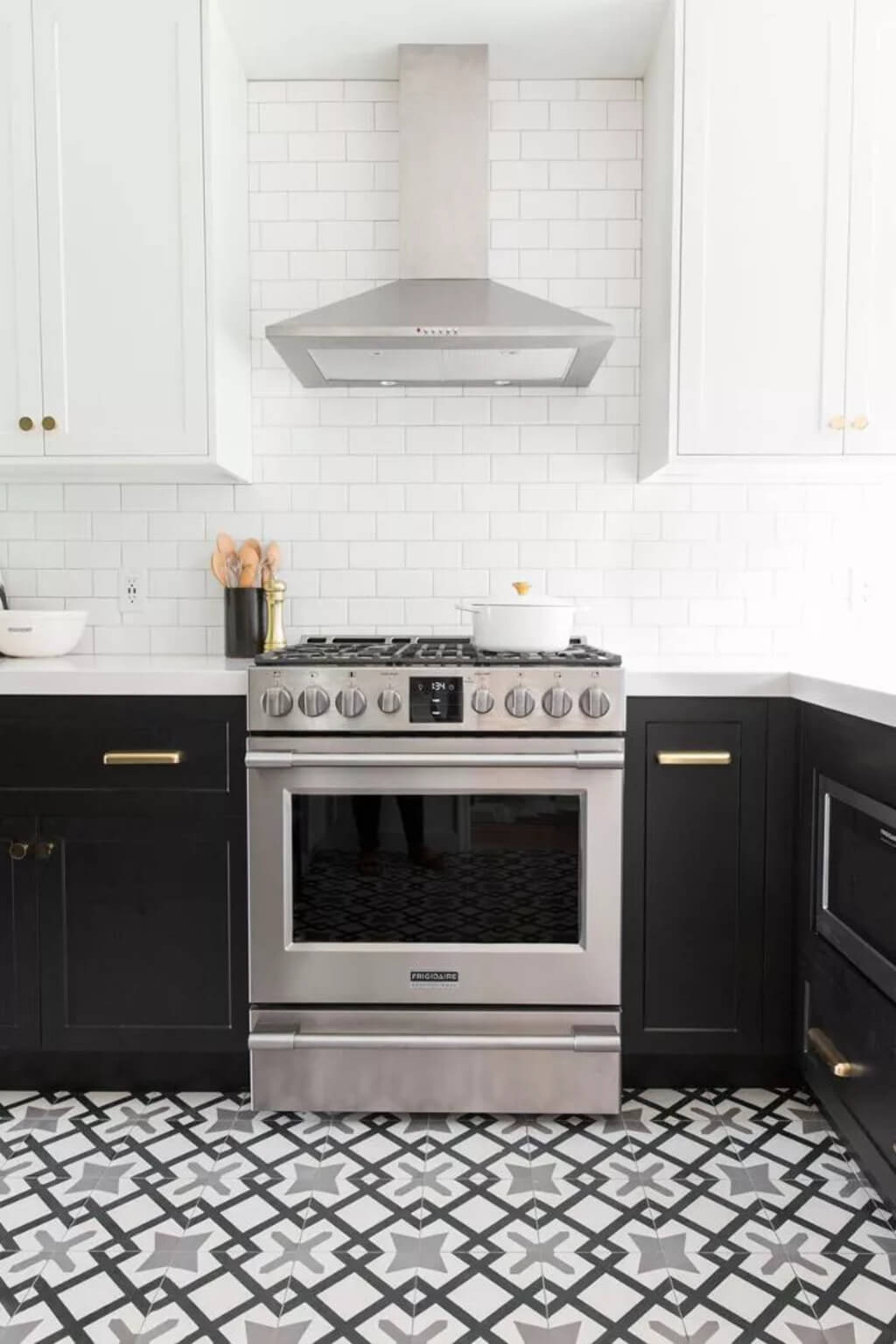 Source: mydomaine.com
Black and white is a timeless color combination! 
A wonderful way to test out this two-toned kitchen cabinets scheme. It is to use in lower and upper cabinets. Use countertops and backsplash in white and use a dark black color to paint the upper cabinets.
For a statement look, go with subway tiles and a patterned floor. This way, your cooking space will appear refined and highly designed.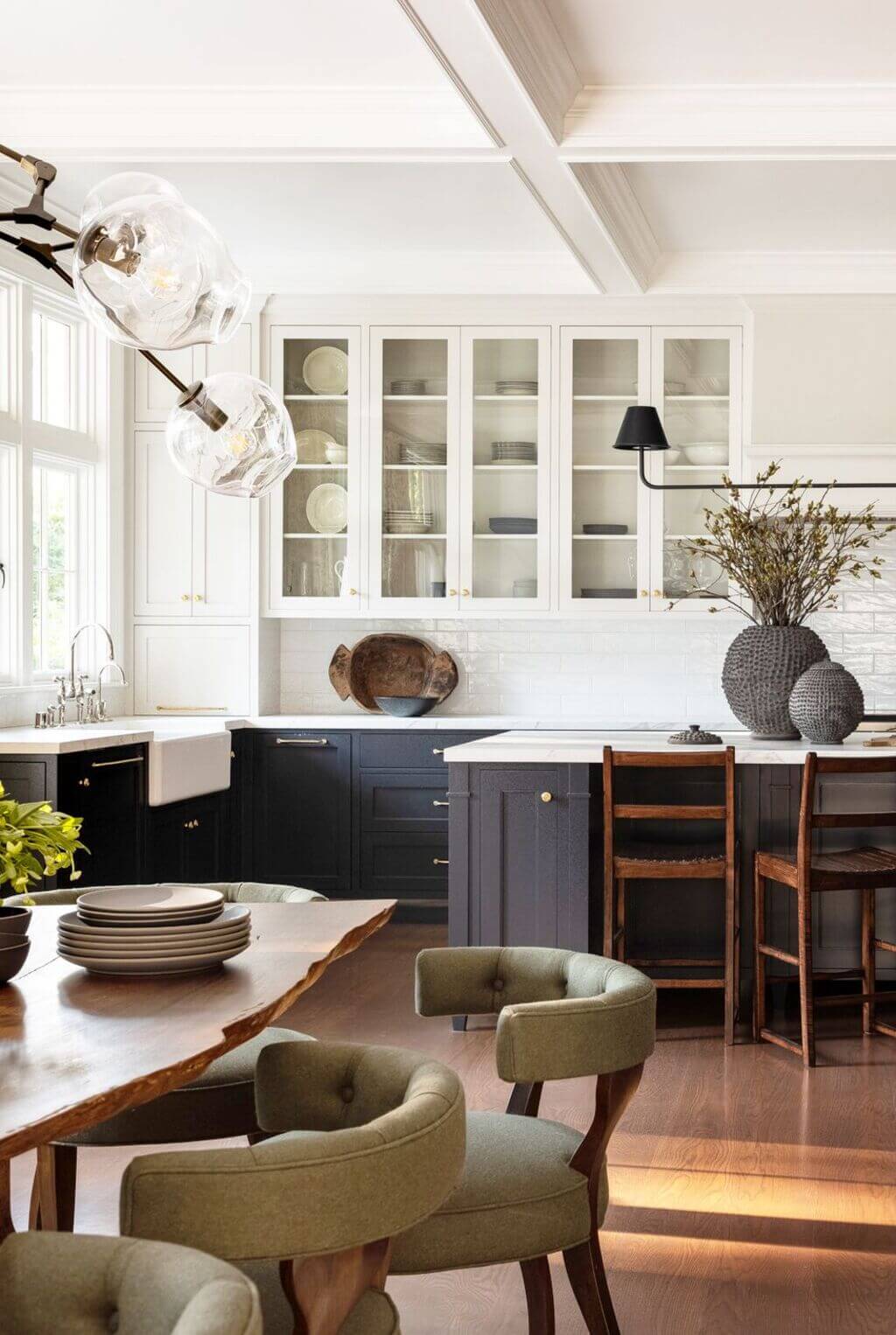 Source: hearstapps.com
Look at the above gorgeous kitchen. It was designed by Heidi Caillier, who used two tone kitchen cabinets. Here the glass enclosures have cream trimmings, and it is perfectly camouflaged into the wall, which is also painted Cream.  
On the other hand, navy lowers have been creating lovely contrasting effects. The reason behind this color scheme is to avoid the visual chaos that is usually created by having too many dark cabinets. 
4. Traditional Wood + White Cabinets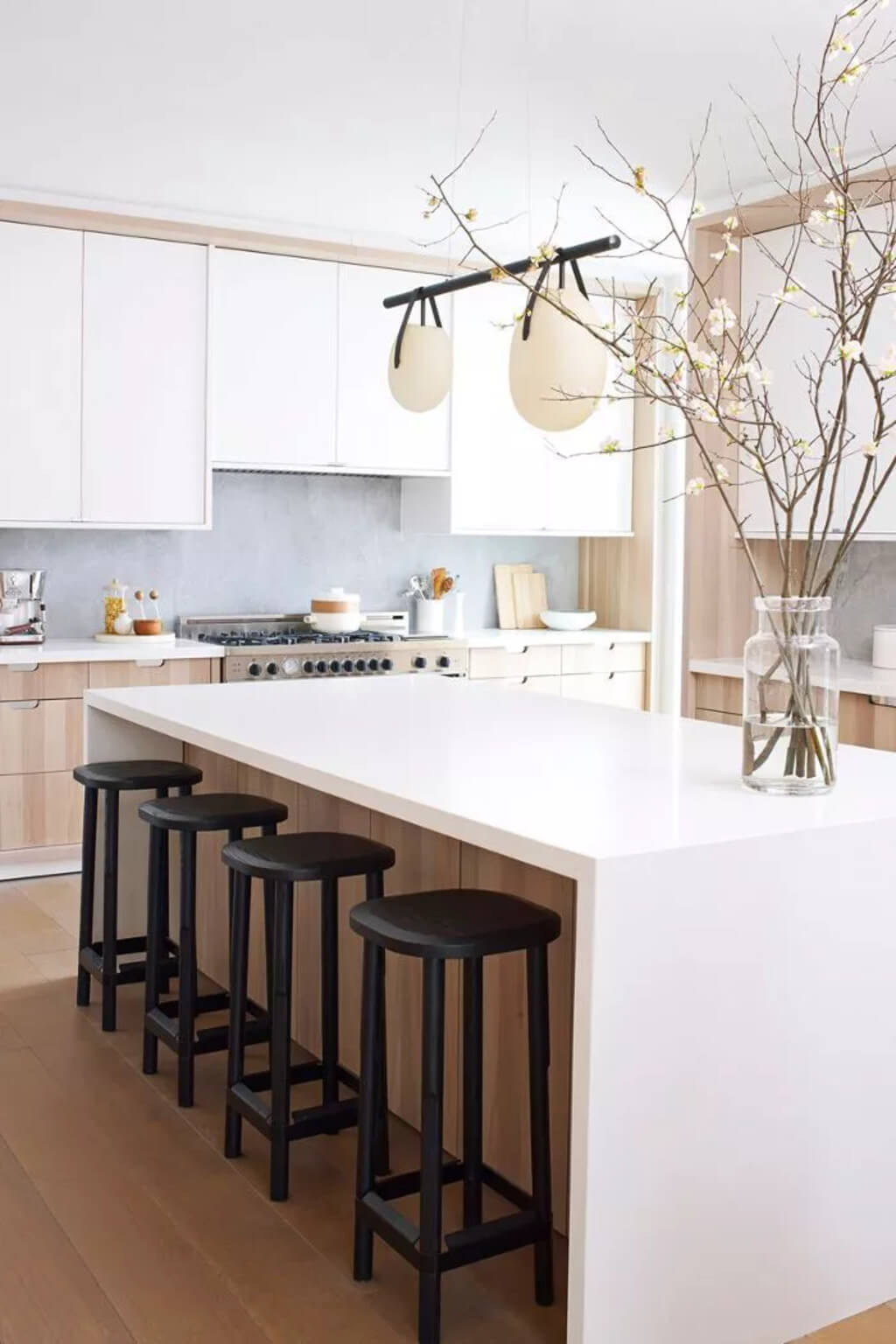 Source: mydomaine.com
If you want to combine traditional wood with a colorful kitchen island, this two tone kitchen theme will be a great option. Here in this kitchen, traditional wood has been used in lower cabinets which seamlessly goes with the white upper cabinets.  
As you can see in the above picture, white countertops are continued with the island's waterfall design. On the other hand, traditional wood has been used on the floor, under the island, and on the lower cabinets, creating subtle visual effects.  
5. Farmhouse Black + Gold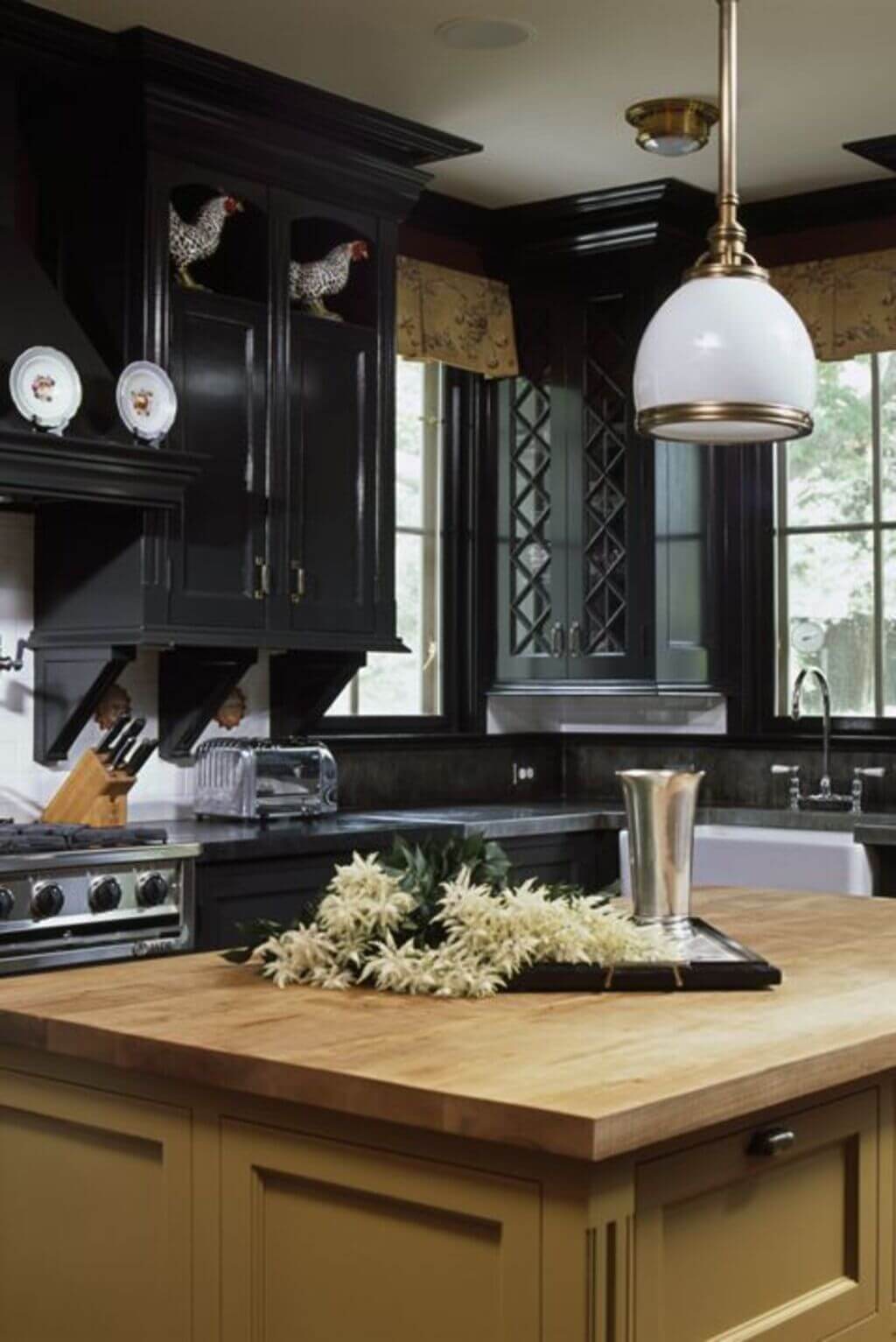 Source: hearstapps.com
Gold makes everything glamorous!
If you also want to add some stunning glam factor to your kitchen, go with this two tone kitchen cabinet design. The above kitchen has three elements, one hidden element: Black lower two tone cabinets, white uppers, some wood-toned open shelving, and gold accents. 
6. Black+ White + Wood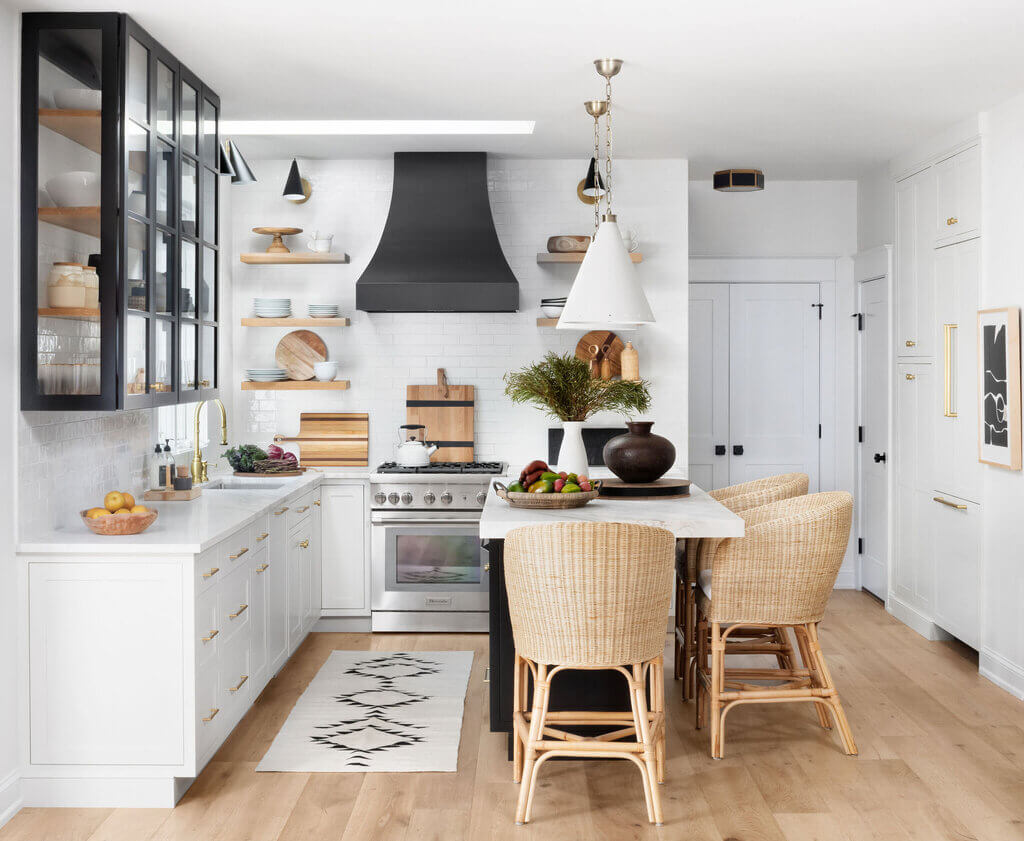 Source: squarespace-cdn.com
Do you want to know about a timeless combination?  
Black+ white + Wood! We're not only talking about using the colors for two tone kitchen cabinets but also the materials. Take a look at the above kitchen for inspiration. Look how beautifully designers have used all three elements. You can select the tone of the wood according to your preference.      
You can also add some wooden stools as an accent. Read this guide to know more about Best Stools For Kitchen Island. 
7. Cherry Wood + Greige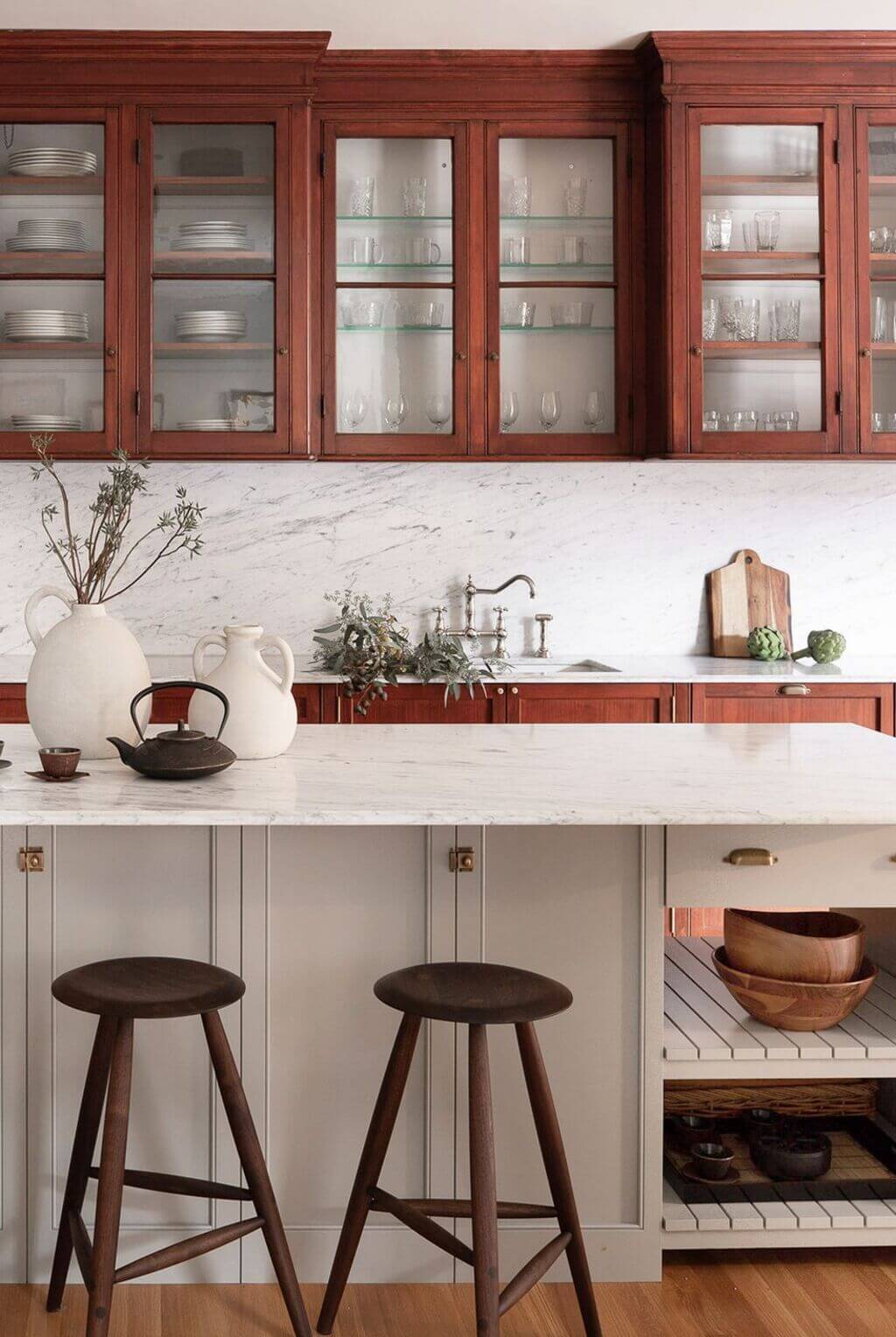 Source: hearstapps.com
If you love wooden accents, you can use this two tone kitchen theme. Instead of going traditional wood, go with cherry wood! This type of wood is extremely good with Cream and white colors.  
In this kitchen cabinet, cherry wood is used on the upper and lower cabinets. At the same time, the countertops and backsplash have been used in white color with a marble effect. 
Read more about Cherry Wood Kitchen Cabinets here! 
8. Color-Blocking Scheme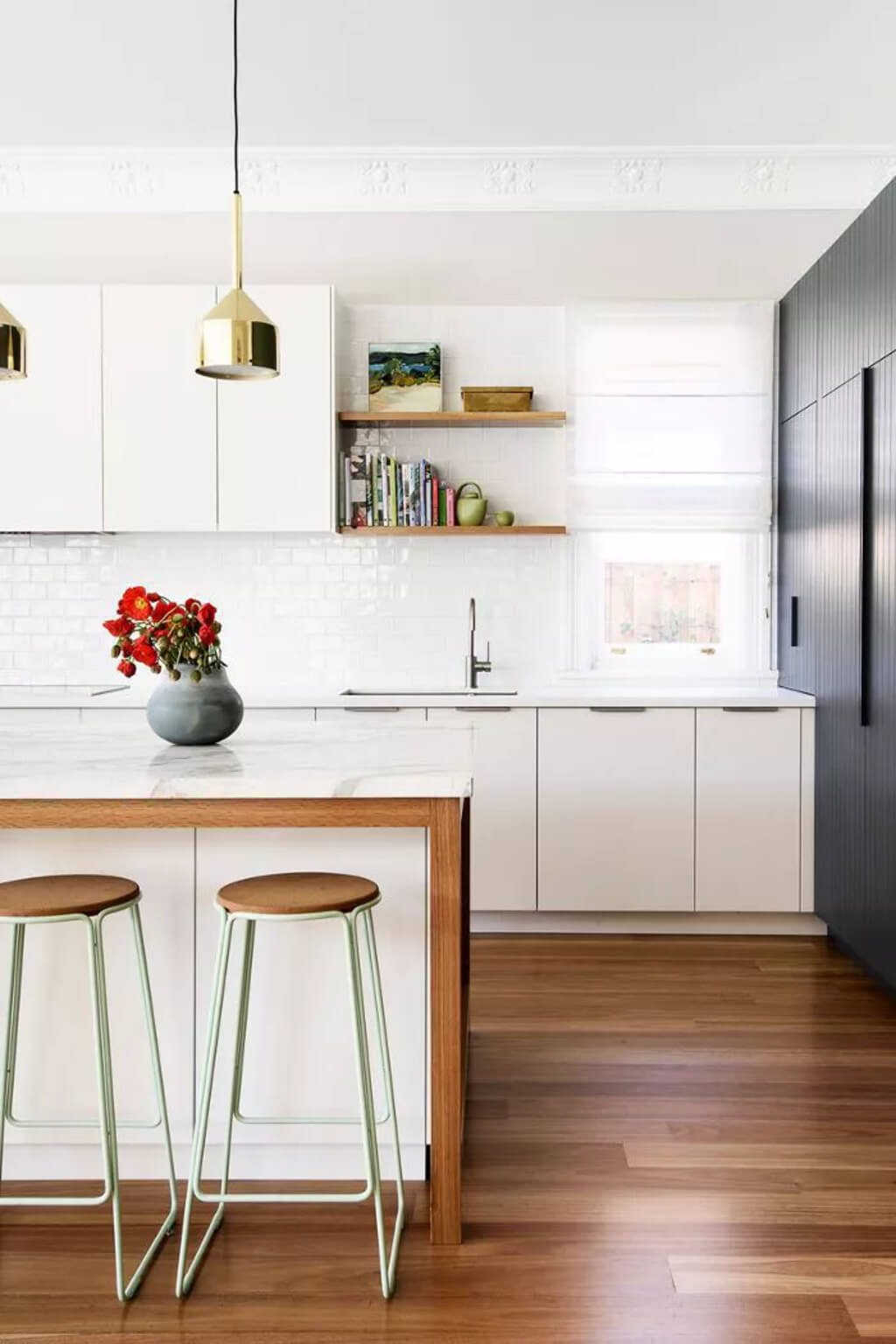 Source: mydomaine.com
If you don't like the contrasting upper and lower kitchen cabinets, here's another great solution for you: go with the color blocking technique. In this scheme, you have to leave one wall of cabinets a single shade, and on the other wall, you have to use various contrasting colors. 
Take inspiration from the above kitchen; here, subway tile backsplash, all-white cabinets, and counters are placed on one side of the wall, and the other side has color-blocking charcoal-colored cabinets. 
9. Powder Blue & White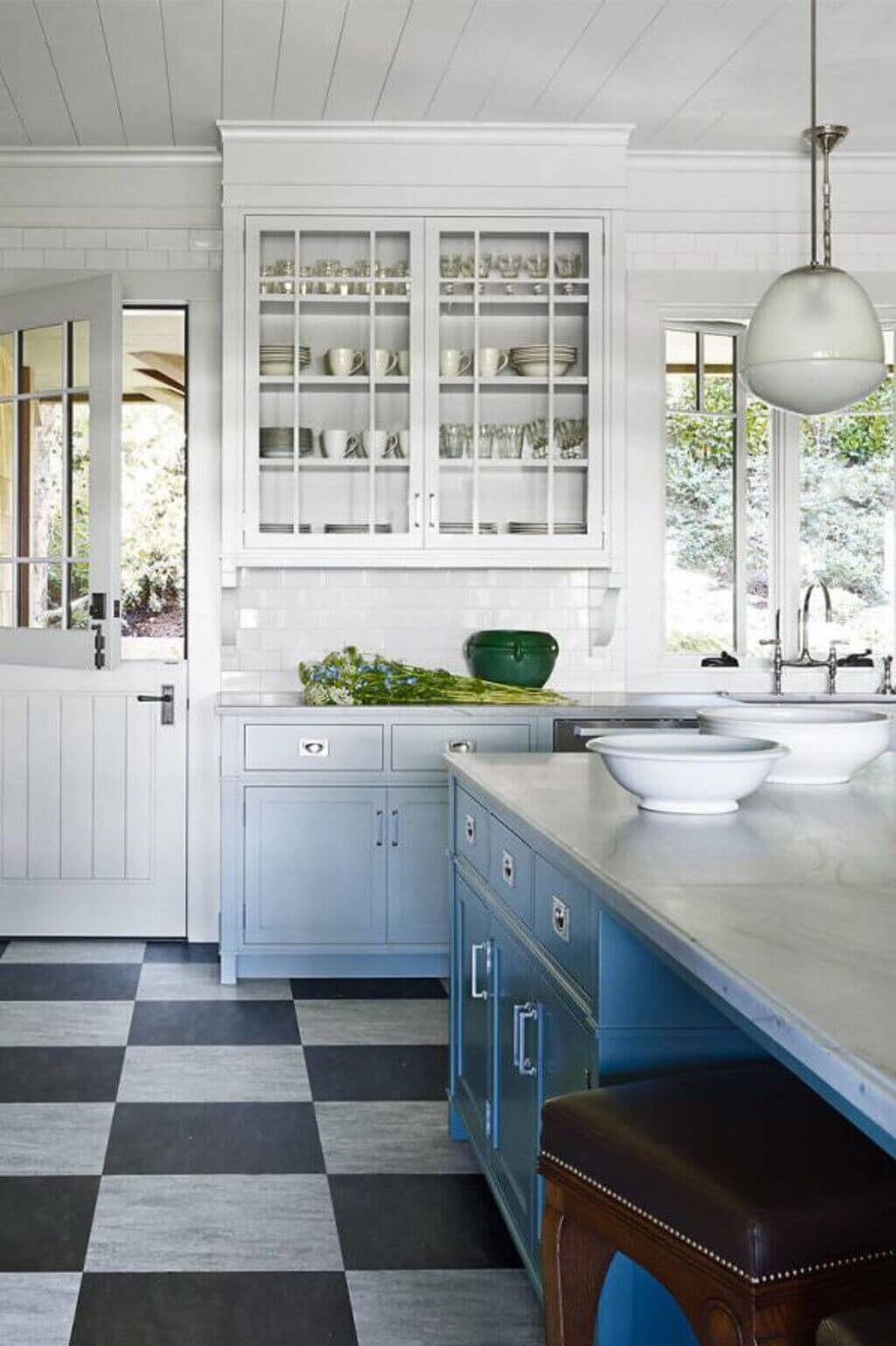 Source: hearstapps.com
This gorgeous kitchen is a part of the Beverly Hills cottage, which belongs to the designer Madeline Stuart. She loves the Arts and Crafts movement, which is perfectly shown in the above kitchen. 
Here two subtle colors, powder blue on the bottom and white up top, have been used to create an elegant and sophisticated ambiance.     
10. White + Stainless Steel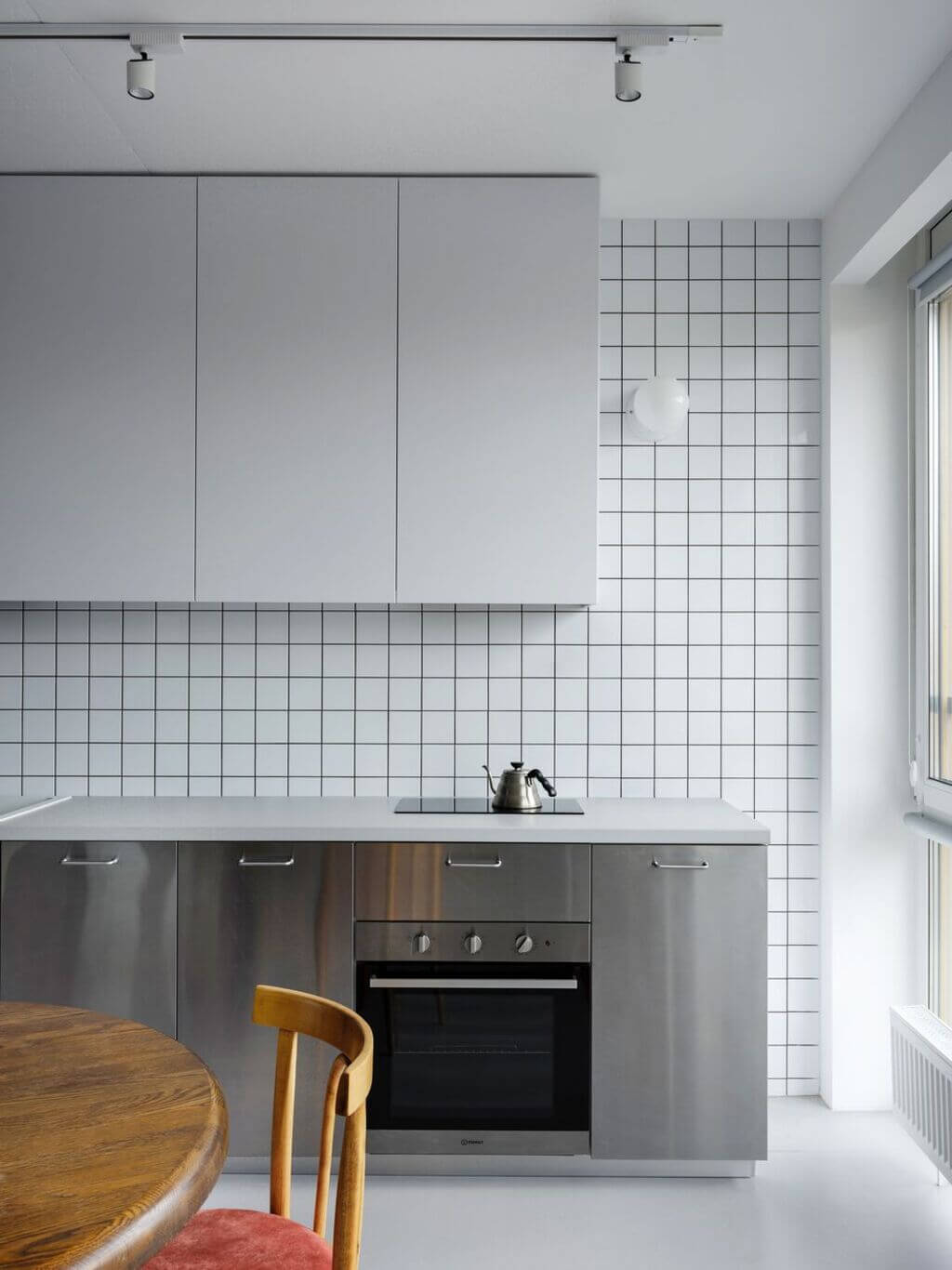 Source: hearstapps.com
One material that can uplift your entire kitchen ambiance is steel. Use stainless steel in various parts of your kitchen, including the two tone kitchen cabinet. Look at the above picture; here, stainless steel lower cabinets have been used along with gray upper cabinets and white square tiles. 
This gives the entire space a professional look. This is also a great idea for those people who wish to have a sleek, simple, and minimal kitchen. 
11. Monochromatic Two Tone Kitchen Cabinets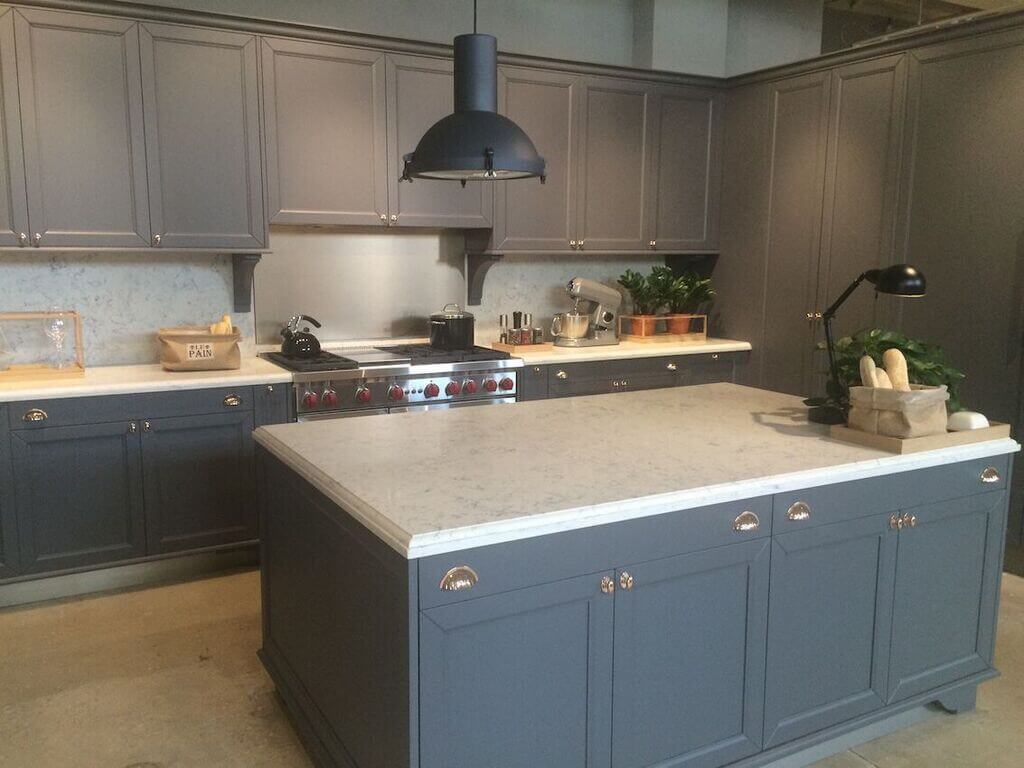 Source: homedit.com
Do you have a weirdly shaped kitchen? These types of kitchens are hard to design and decorate. That's why sometimes two-tone color schemes won't work perfectly. So, what to do in this situation? 
Instead of going with two different colors, select a single color and use different hues and shades of it. For example, if you pick the color blue, use pale blue on the higher cabinets and muted periwinkle blue on the lower cabinets or vice versa. You can put focus on these parts with the help of wooden counters for a fresh and clean look.    
Do you want some more inspiration for small kitchen two tone kitchen cabinets? Scroll down!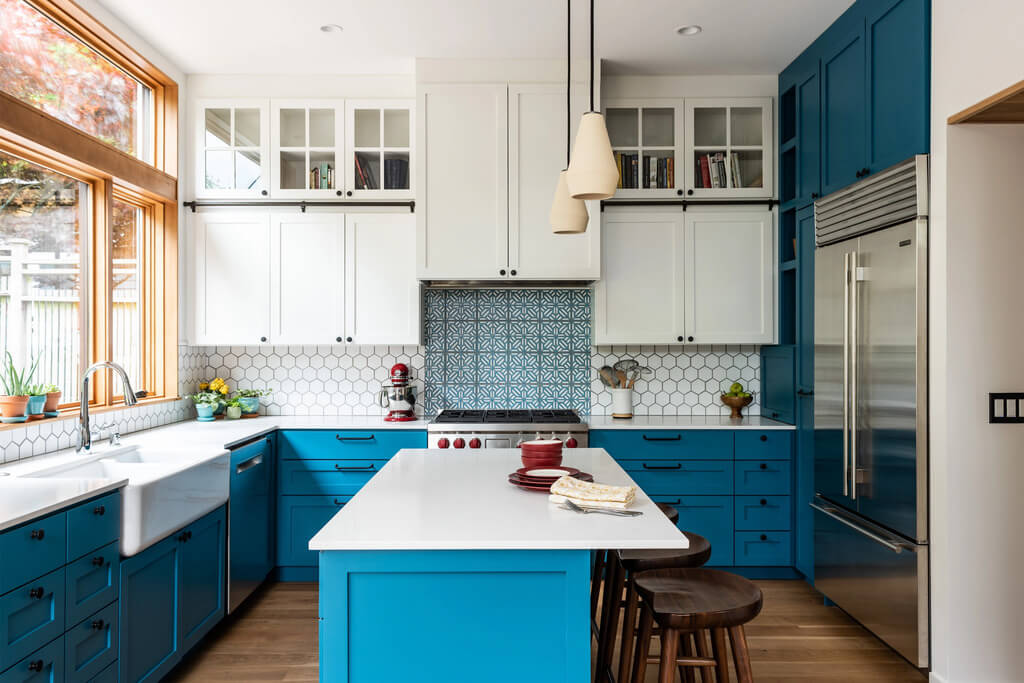 Source: boardandvellum.com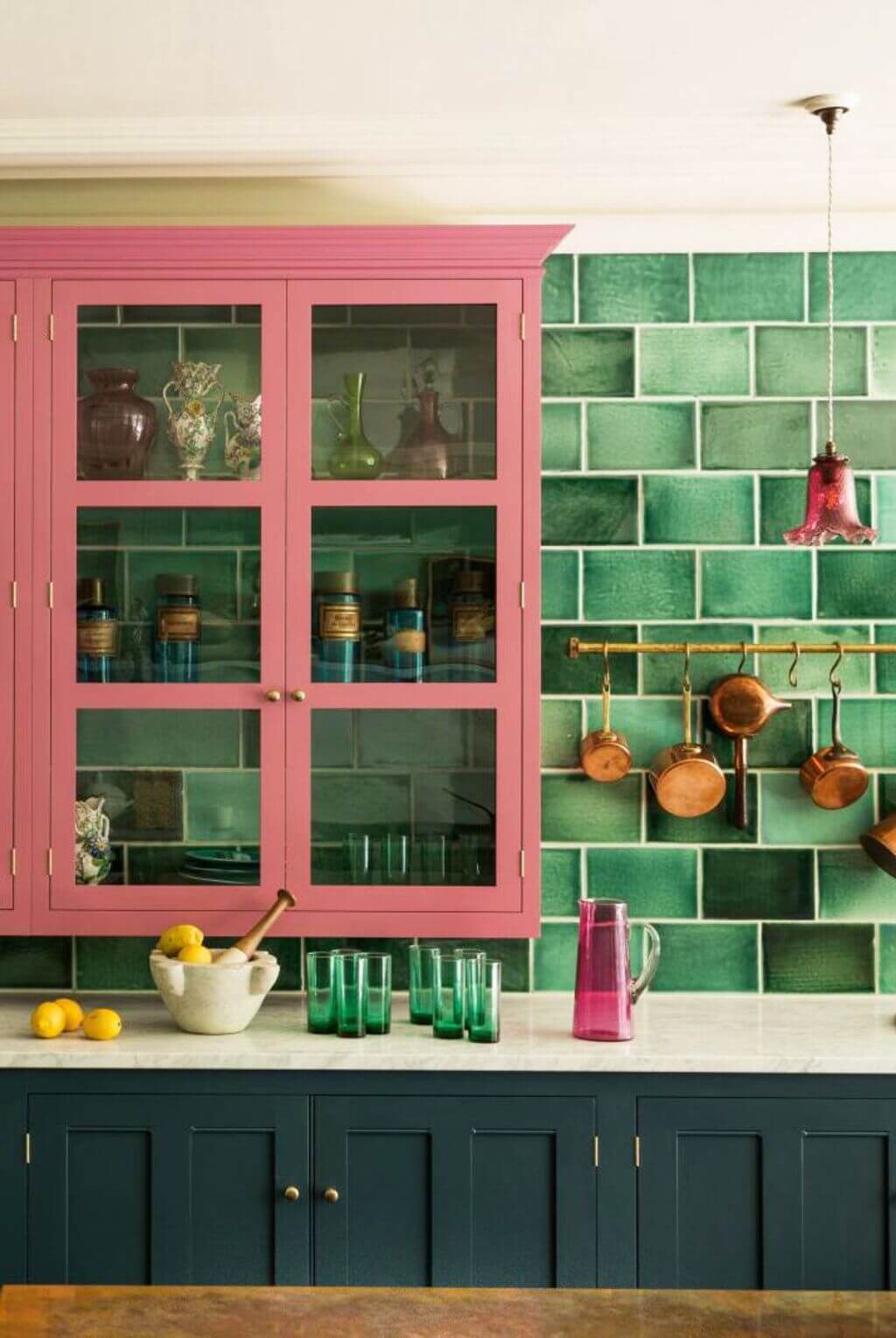 Source: hearstapps.com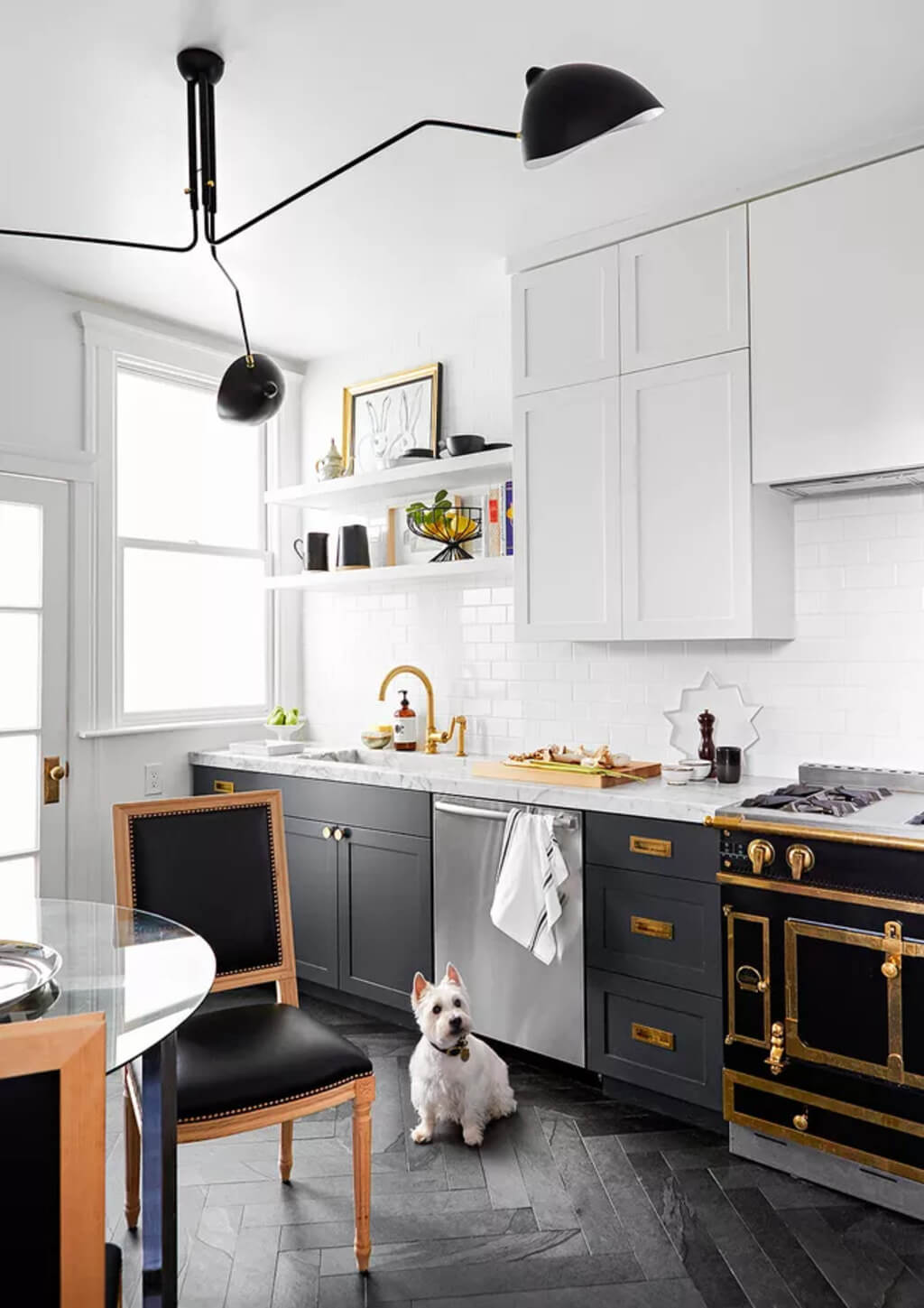 Source: bhg.com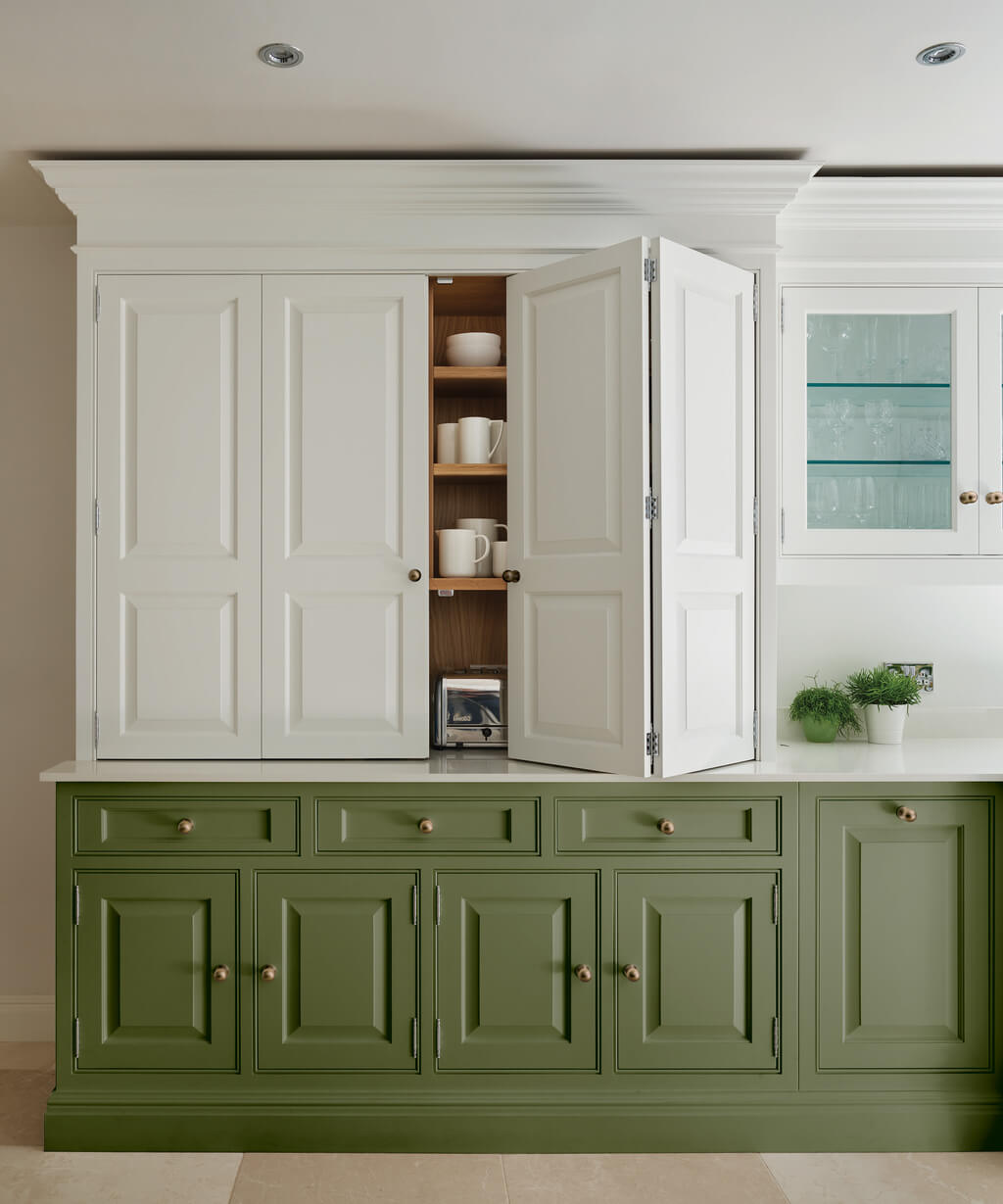 Source: futurecdn.net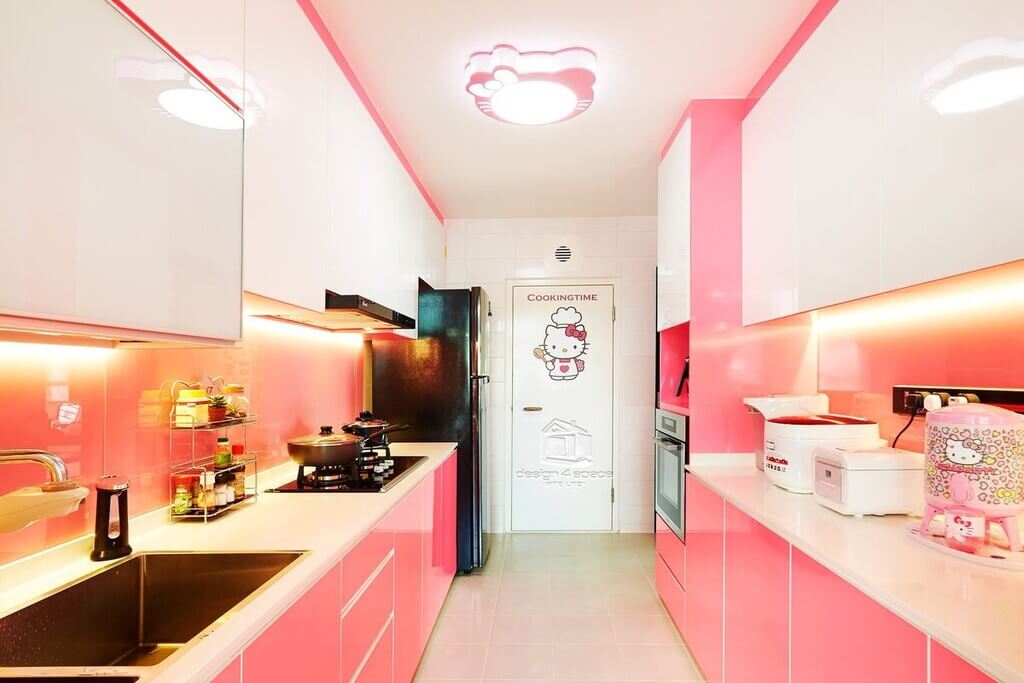 Source: visualhunt.com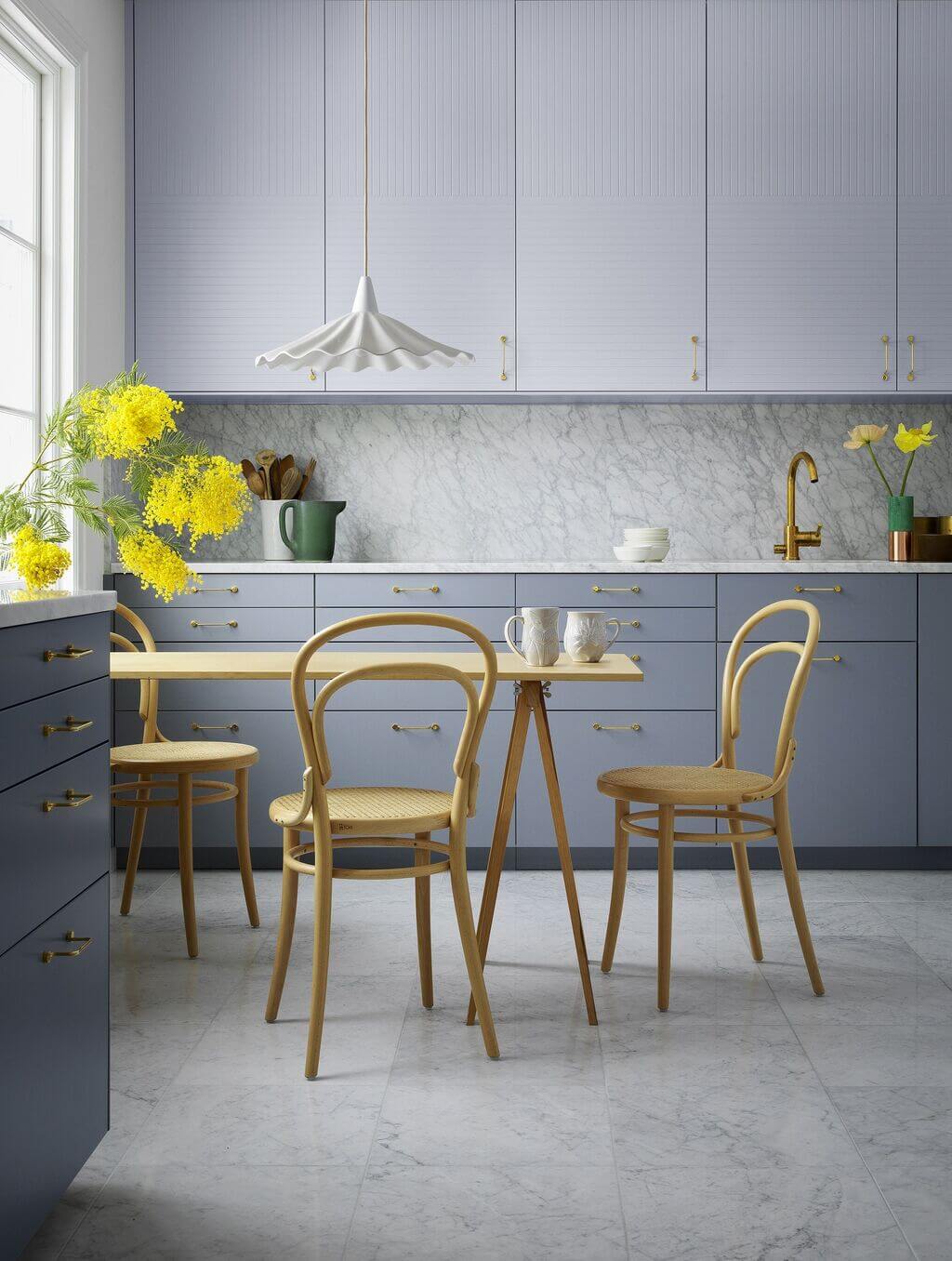 Source: pinimg.com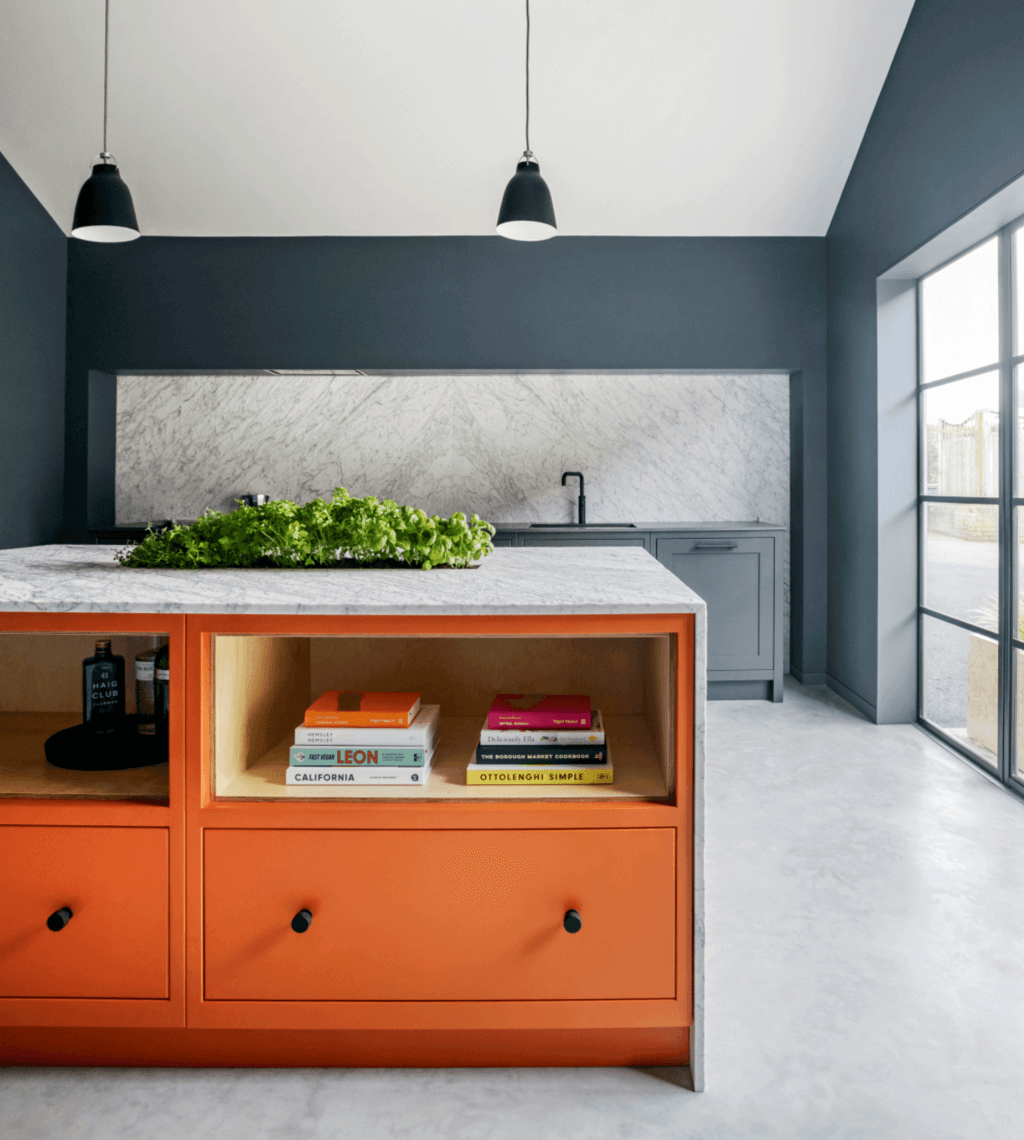 Source: ivanestradaproperties.com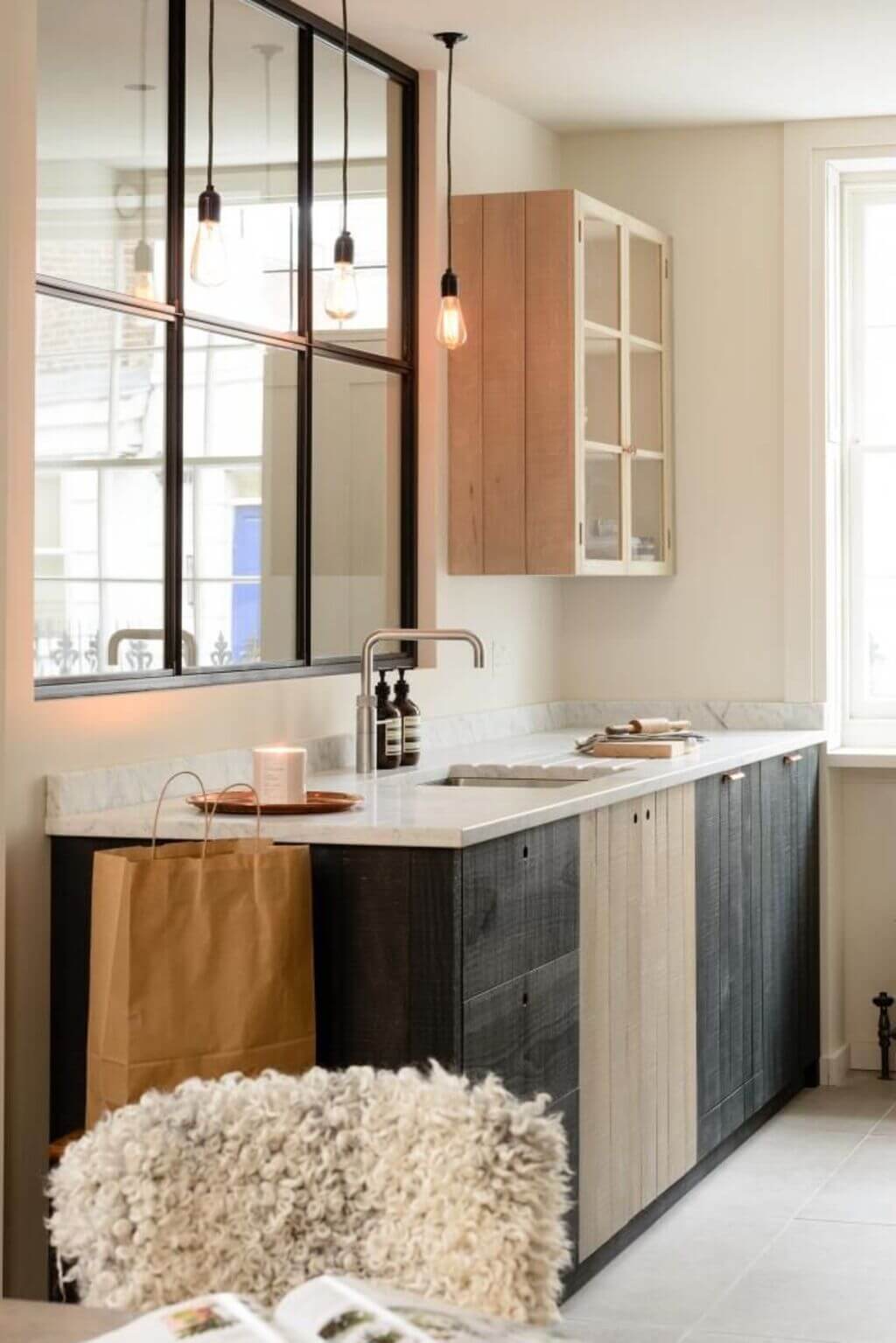 Source: hearstapps.com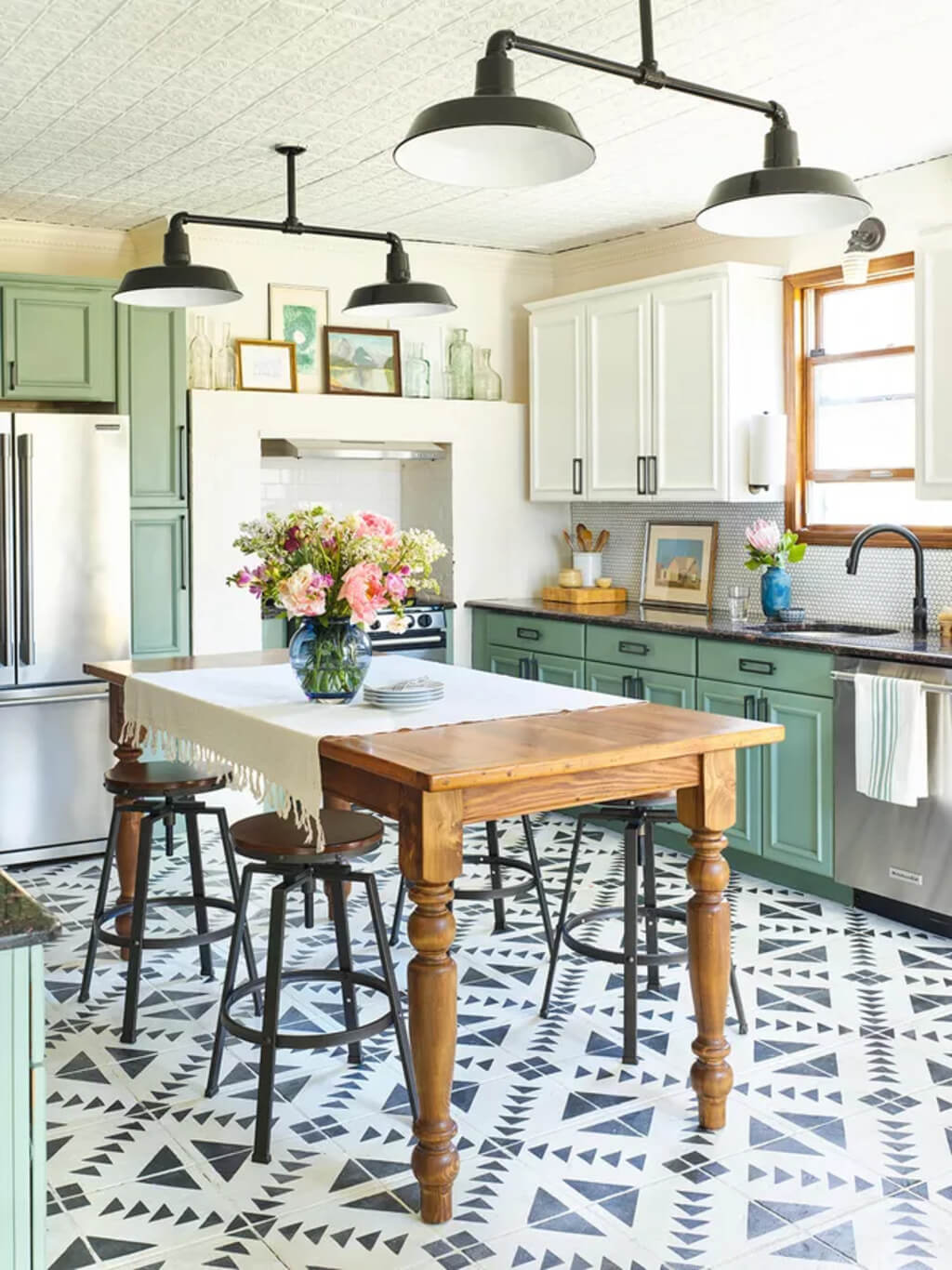 Source: bhg.com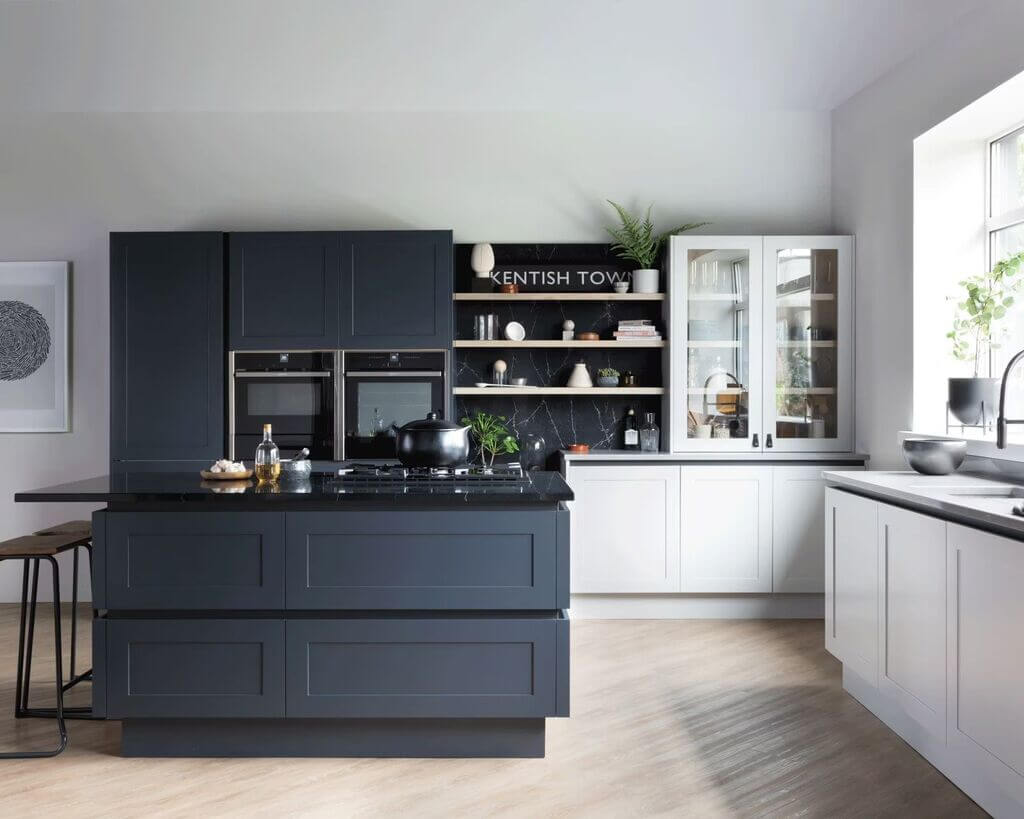 Source: pinimg.com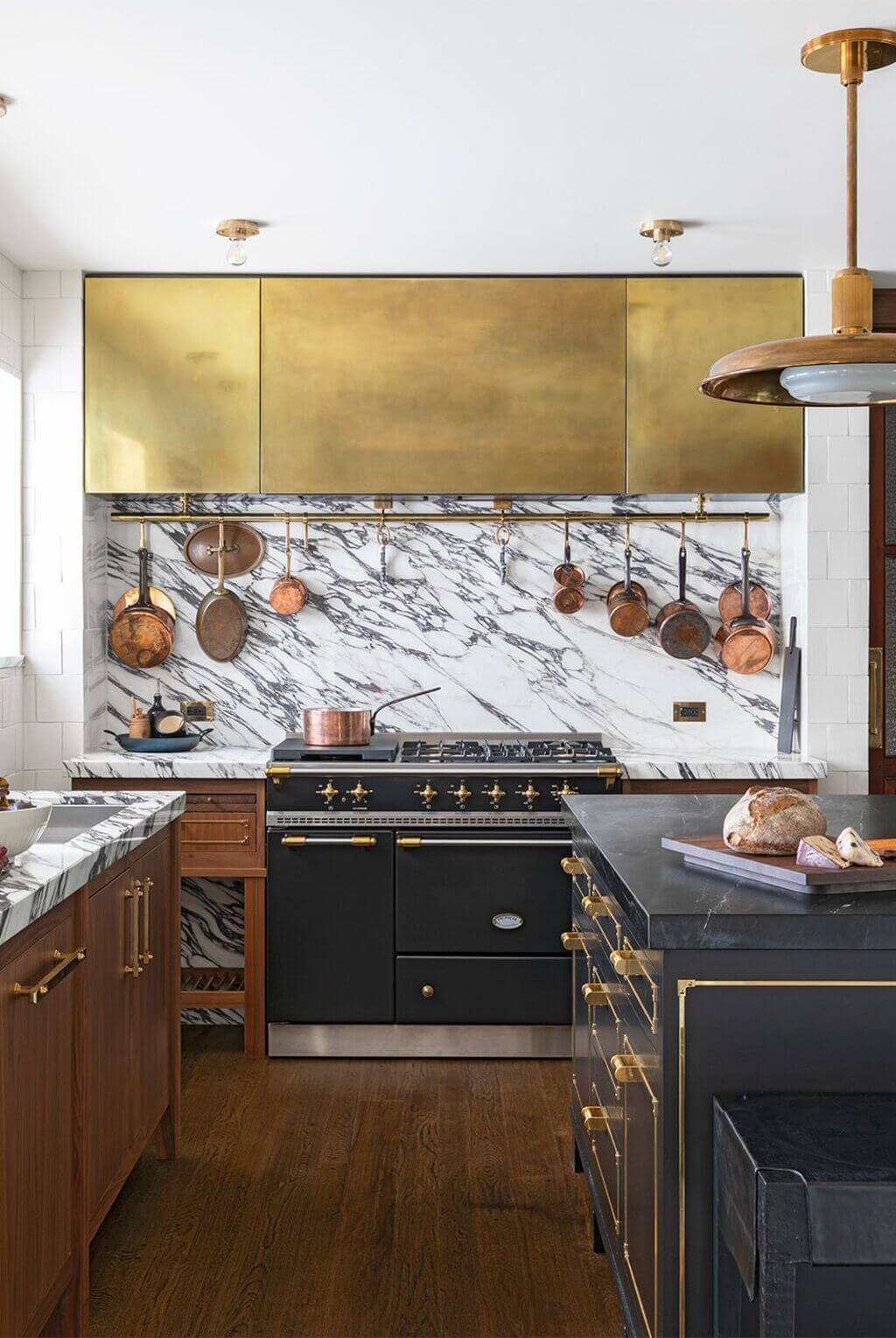 Source: hearstapps.com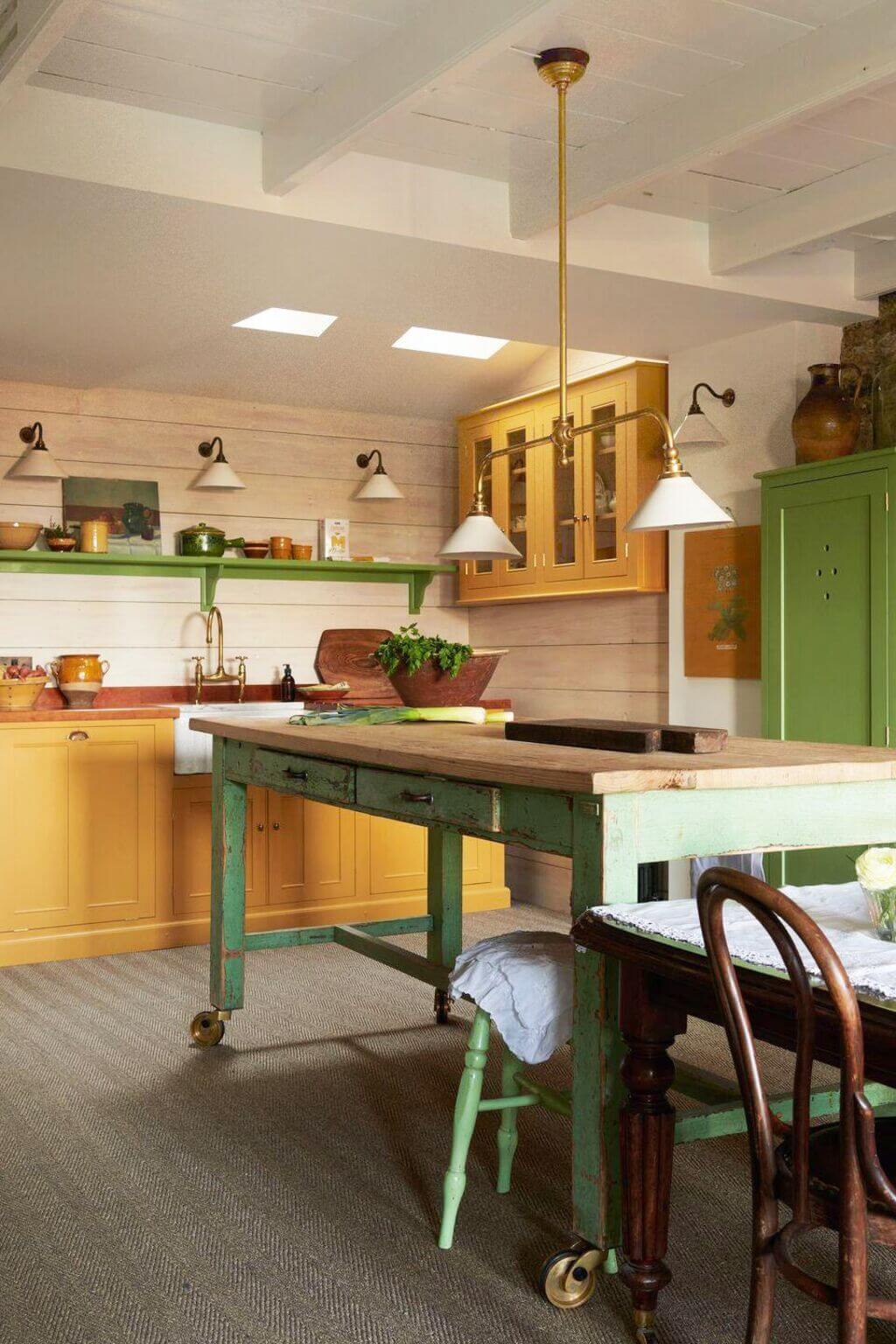 Source: hearstapps.com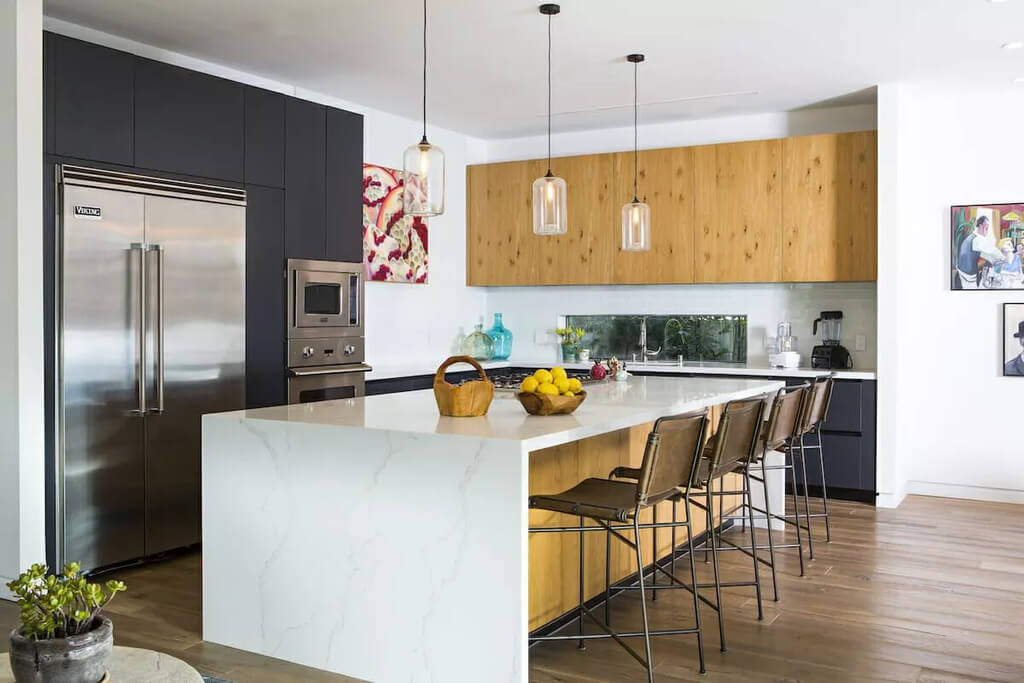 Source: nitrocdn.com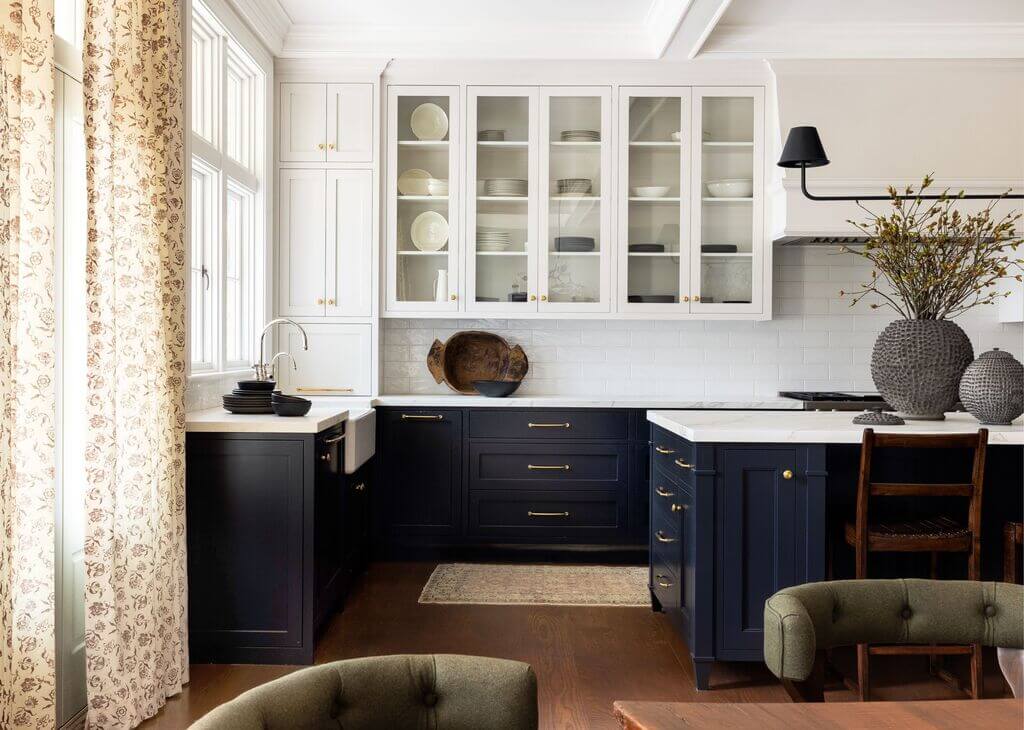 Source: hearstapps.com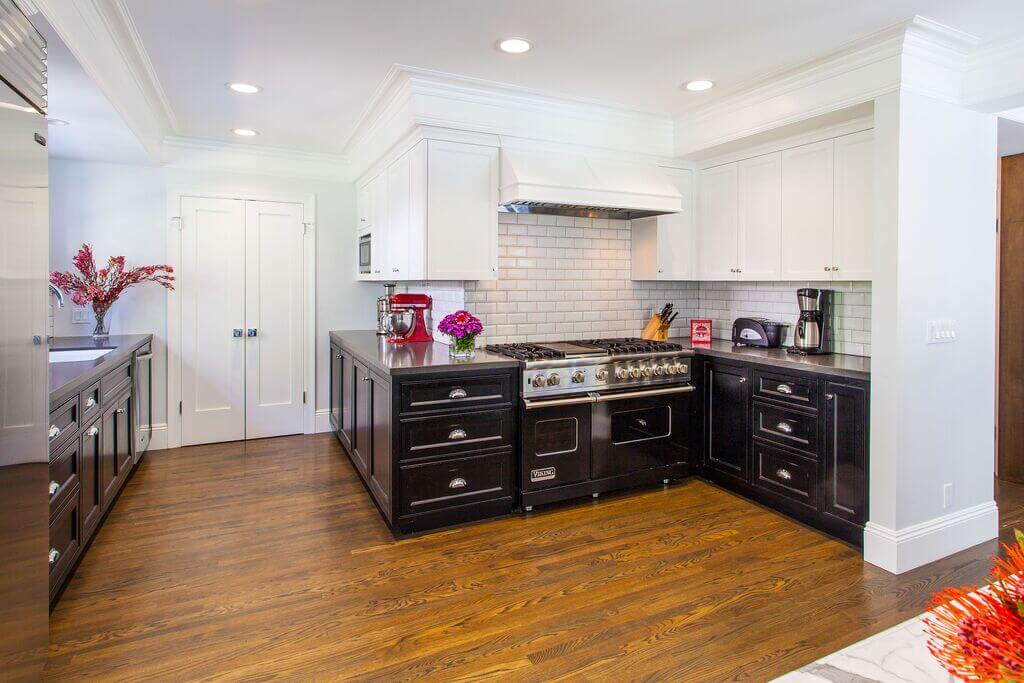 Source: earstapps.com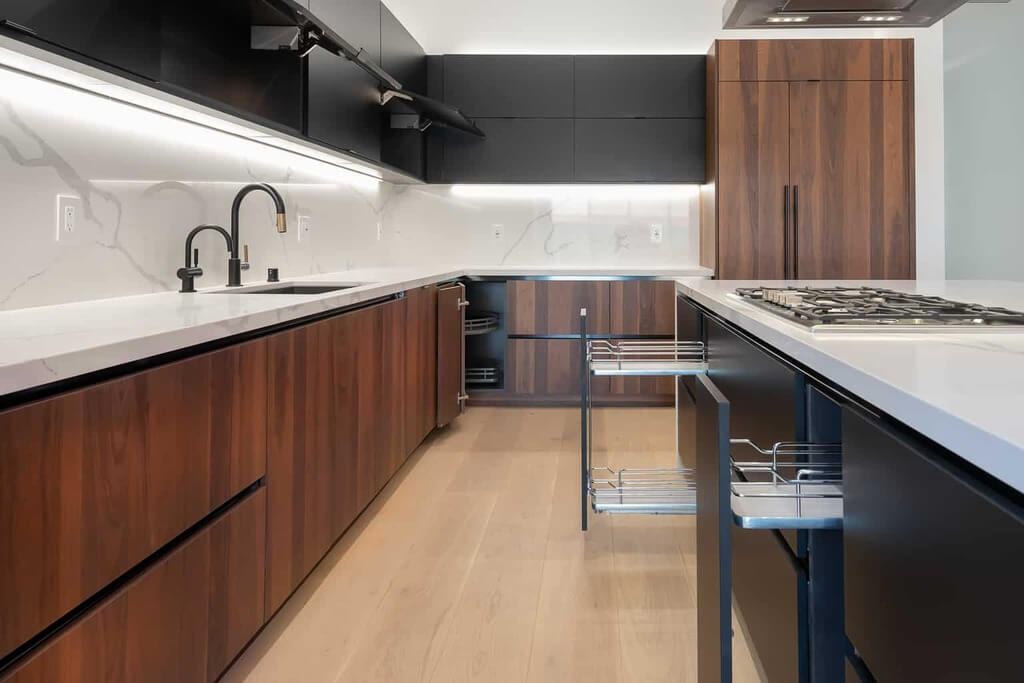 Source: mtdkitchen.com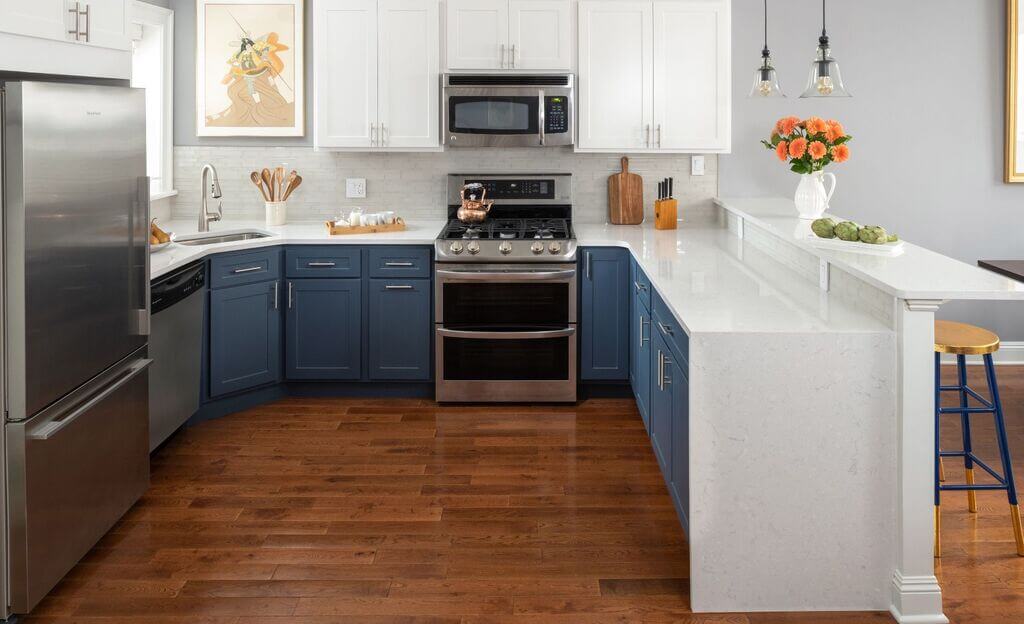 Source: widencdn.net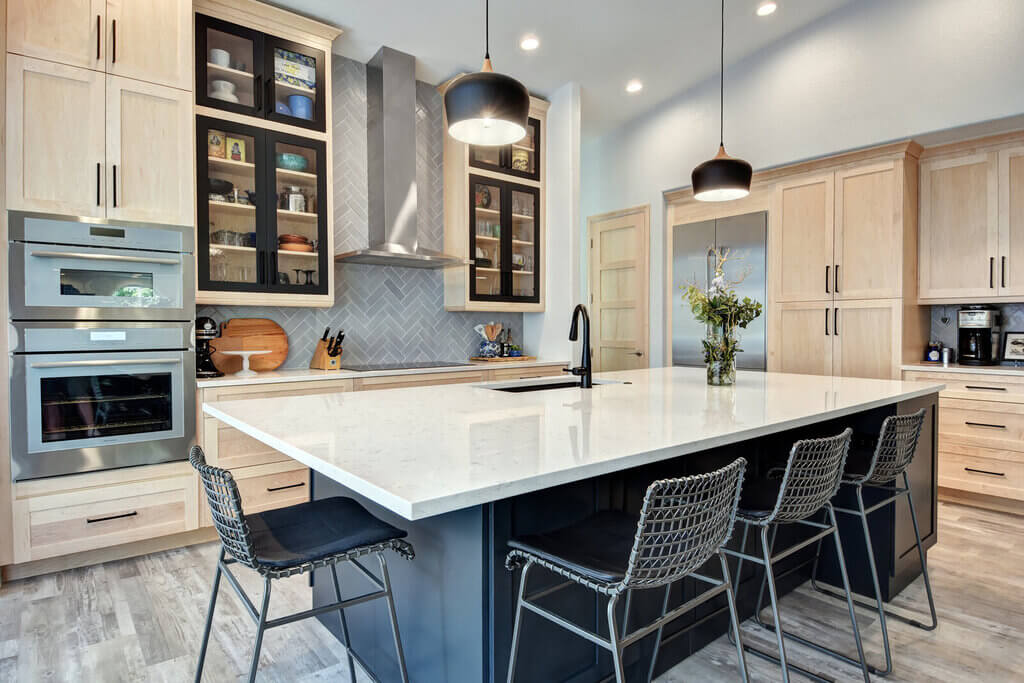 Source: squarespace-cdn.com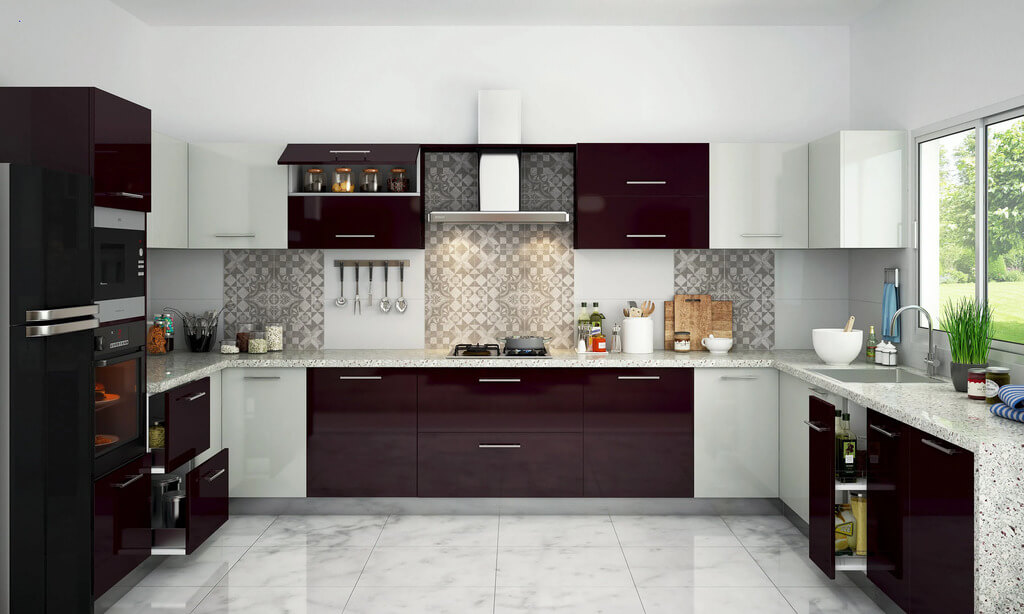 Source: livspace-cdn.com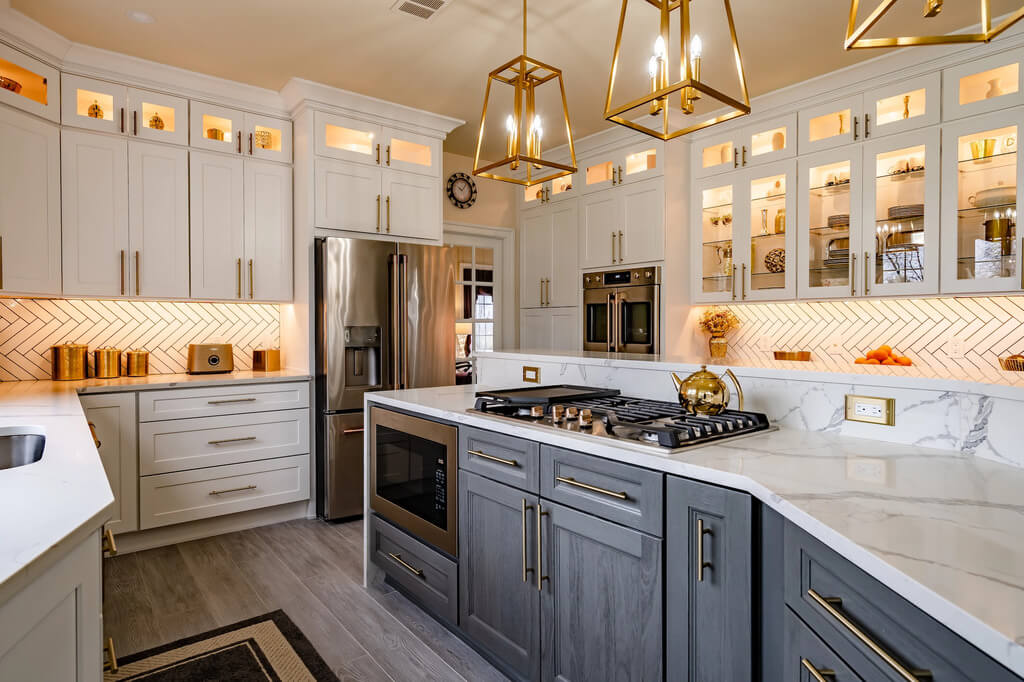 Source: thertastore.com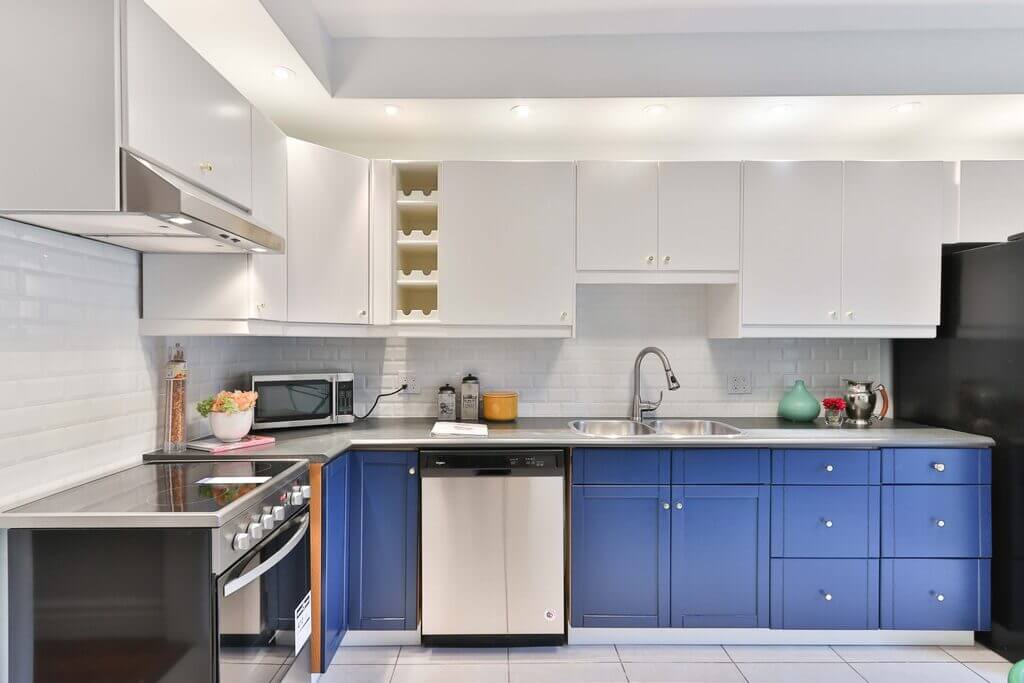 Source: lathamstairsandcabinets.com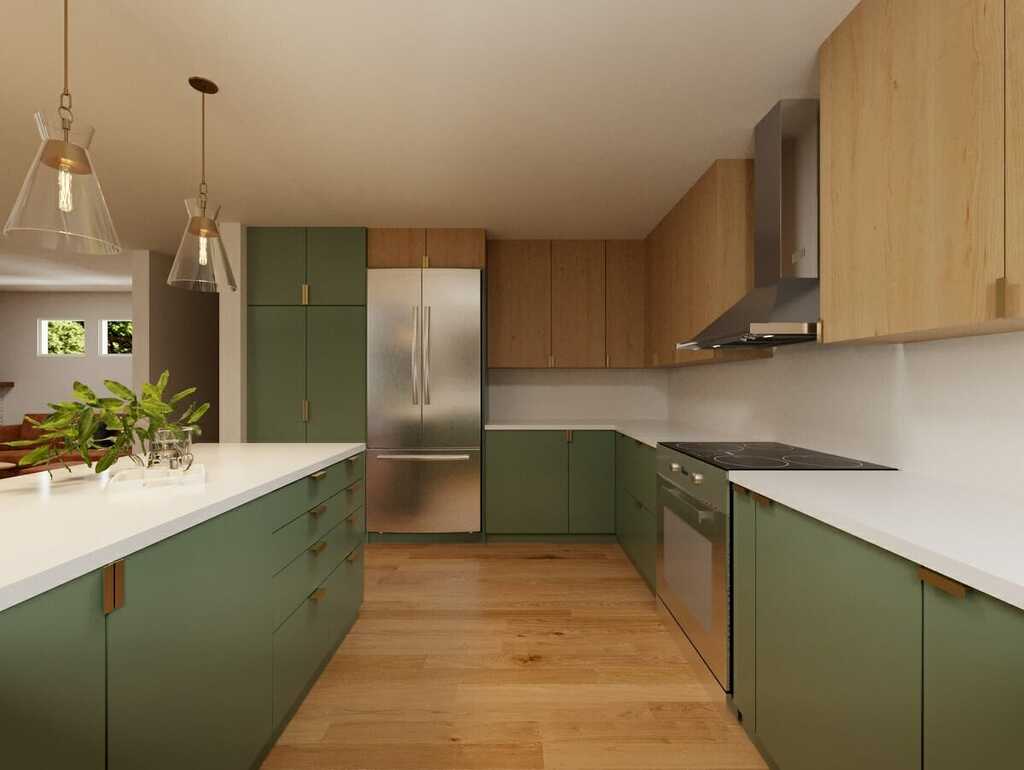 Source: decorilla.com
The Bottom Line
So, this is all about the two tone kitchen cabinets. 
I hope this guide on small kitchen two tone kitchen cabinets has helped you to pick the right two tone color scheme for your kitchen. From dark shades to muted neutral tones, you can select any dual color two color kitchen cabinets. 
Do you want to know more about kitchen styling and trends? Read our blogs on Best Kitchen Flooring Ideas, Italian Kitchen Design 2023, and many more. 
If you find this post on two toned kitchen styling informative and helpful, share it with your family and friends and help them to create fantastic-looking kitchen interiors. 
For more interesting home and office improvement and decoration ideas, explore Architecturessideas.
Follow us on our Instagram page architectures_idea for daily architectural information and updates.