What's the Best Kind of Plantation Shutters for My Home?
As a homeowner, there are many choices for your window furnishings. Still, if you're interested in window treatment options best known for practical and finest aesthetical benefits, plantation shutters are the best choice you've got. Vinyl roller shades for sale are ideal for controlling light, and airflow thus makes your indoor and outdoor surroundings alluring by offering incredible relaxing experiences you and your guests or family wouldn't help but love. However, while almost everyone applauds them, plantation shutters come in different types; therefore, understanding which types of plantation shutters precisely fit your needs is paramount.
Different Types of Plantation Shutters
Plantation shutters usually come measuring about three and a half to four and a half inches. Ideal for most homes' elegant looks and aesthetic designs, they are classified based on wood, vinyl, and composite materials.
However, when it comes to the best kind of plantation shutters for your home, you've got a lot of factors to consider, including your desiring style, color, size, and the shutter material that excellently blends with your home décor. Below are the different types of shutters and why some are excellent choices for your home than others:
Wooden Shutters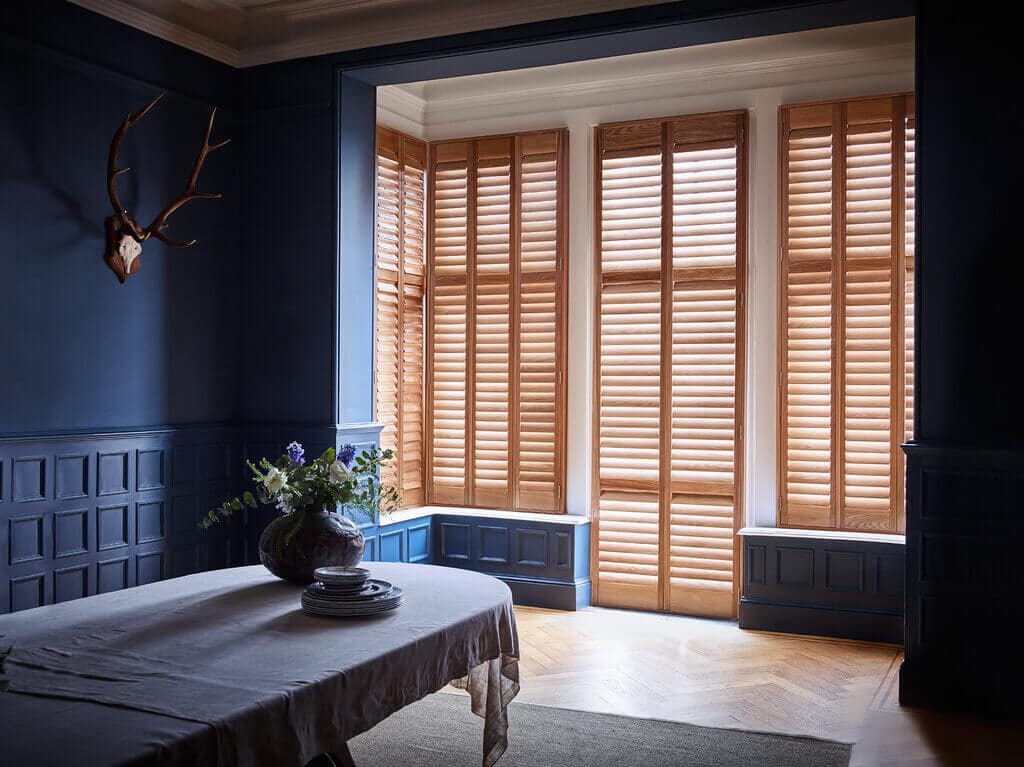 Source: theshutterstore.com
Wooden shutters come in three types: basswood, faux wood, and hybrid with wood and faux combination.  Among the three, basswood takes the lead as the best wooden plantation shutters and the best option for your home, especially if you're looking for shutters with exceptional durability and can easily paint or stain. 
Thanks to their perfect uniform color selection, basswood shutters are ideal for interior window treatment considering their accomplishing abilities to offer elegance in and outside of your house. Likewise, basswood plantation shutters are lighter and have stunning natural beauty. You can easily blend with your interior décor combine it with other upholstery designs and styles. 
Moreover, to get the finest type of basswood plantation shutters, be sure to choose furniture-grade wooden shutters over cabinet wooden plantation shutter designs. Furniture-grade basswood shutters are the types that come with tighter and stunning wood grains, thus more durable. 
Additionally, some of the reasons for making basswood shutters your best options are fashionability, blemish-free, and resistance to splintering and warping.  Other better wooden plantation shutters choices you can go for include:
Faux Wood
If you fascinate by plantation shutters that are both excellent options for your home's window treatment aesthetics and easy to install, faux wood shutters are a good choice for you.
They are designing from lightweight and hollow-wood and composite materials, making them worthwhile for DIY installation and maintenance. Also, their modern version looks like natural wood, thus excellent choices for blending with your wooden arts designs. 
They are also superb insulators and highly affordable. Moreover, faux wood plantation shutters will be your to-go choice if you are interested in shutters ideal for rooms with high moisture and humidity, like kitchens and washrooms.
Likewise, if your home is near an ocean, you'll probably need plantation shutters ideal for intense rays and able to withstand the effects of saltwater. As such, faux wooden shutters will still be your priority option.
The Combined Hybrid Wood and Faux Plantation Shutters
If you're passionate about shutters that give you both classy and premium value for your home's fantastic looks, hybrid wood, and faux wood combine shutters are your best options.
They are sturdy and designed with energy-efficient abilities, thus ideal for impressive looks and reducing your energy bills, especially for your HVAC unit's cooling and heating. The best types of hybrid and faux combined wooden shutters are those made from dense synthetic wood materials.
Also Read: How Beneficial Are Fire Rated Windows and Shutters
Vinyl Shutters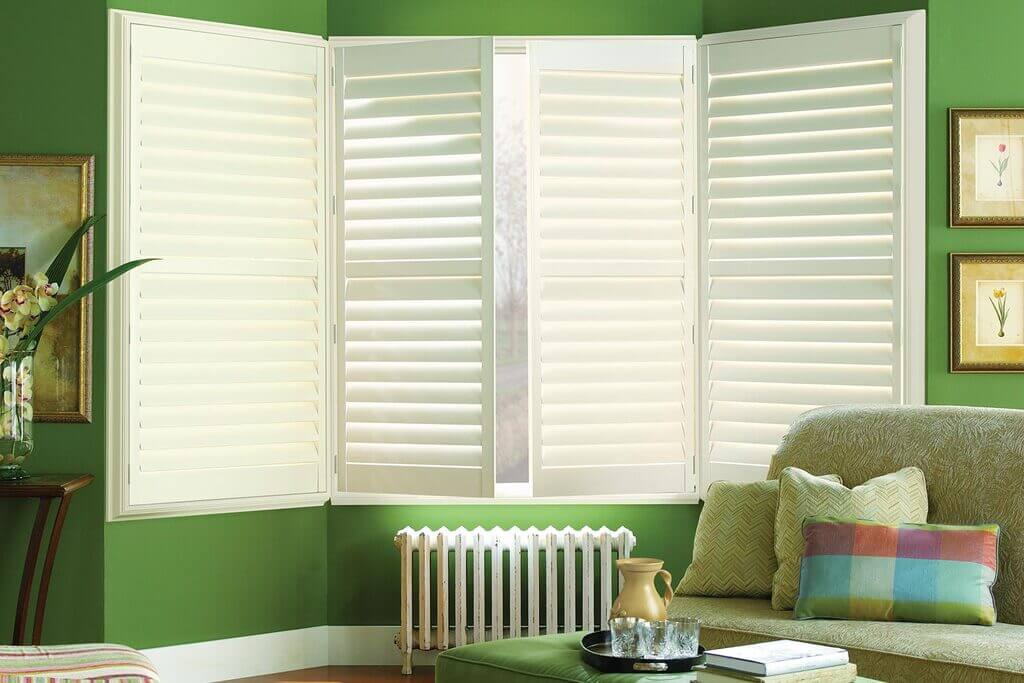 Source: metroblindsfl.com
According to your budget, vinyl shutters will be your best option, especially when looking for the most affordable and highly resistant to moisture and other weather conditions. Aside from being the cheapest, Vinyl shutters are good, especially since they hardly peel, crack or fade like wooden shutters.
  They are also scratch-resistant, thus ideal if you've pets and kids around.  Additionally, you won't struggle to look for painting shutters, staining, or sanding with Vinyl shutters, considering they come excellently furnished and identical to finely painted wooden shutters. 
However, before settling for Vinyl shutters, understand they are easily prone to structural damages, easily sag over time, and are not ideal if you've big windows.
Composite Shutters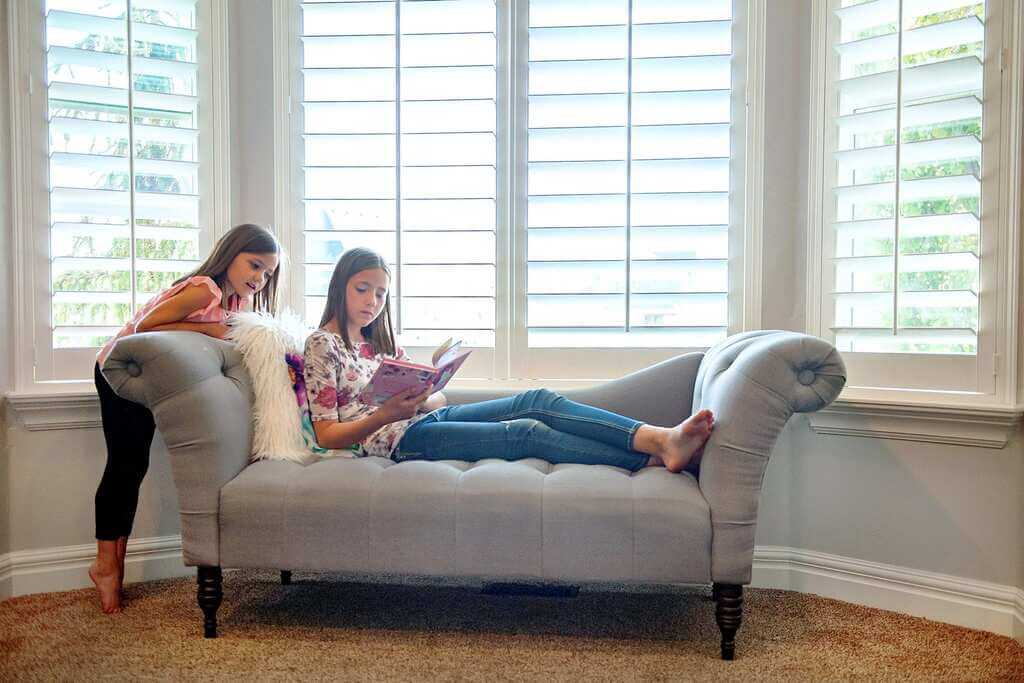 Source: blindspotutah.com
These shutters are ideal if you're interested in affordable window treatments.  However, while they are economical, composite shutters are not durable and wear and tears out easily. They also design from glue and sawdust material combinations making them less resistant to adverse weather conditions hence poor choices, especially if your home is locating in humid areas.
While you've many types of plantation shutters to pick from, your budget, size, material, and aesthetic needs determine the best option for your home. However, wooden shutters, specifically basswood shutters, are the overall best choice for your home, considering their undeniable benefits like fashionability.