Upgrade Your Primary Bedroom: 12 Tips for Affordable Makeover
The primary bedroom is often overlooked when we change things around. When you haven't made changes to it for a long time, things can start to feel boring. That's usually the sign you need to give that room a new look.
You may think that a makeover will cost you quite a hefty amount. It doesn't have to, especially if you know how to make small changes that bring significant differences in its appearance. 
If you're looking for some ideas, then look no further because we have brought you twelve affordable makeover tips to upgrade your primary bedroom!
Buy and Refurbish Furniture From the Flea Market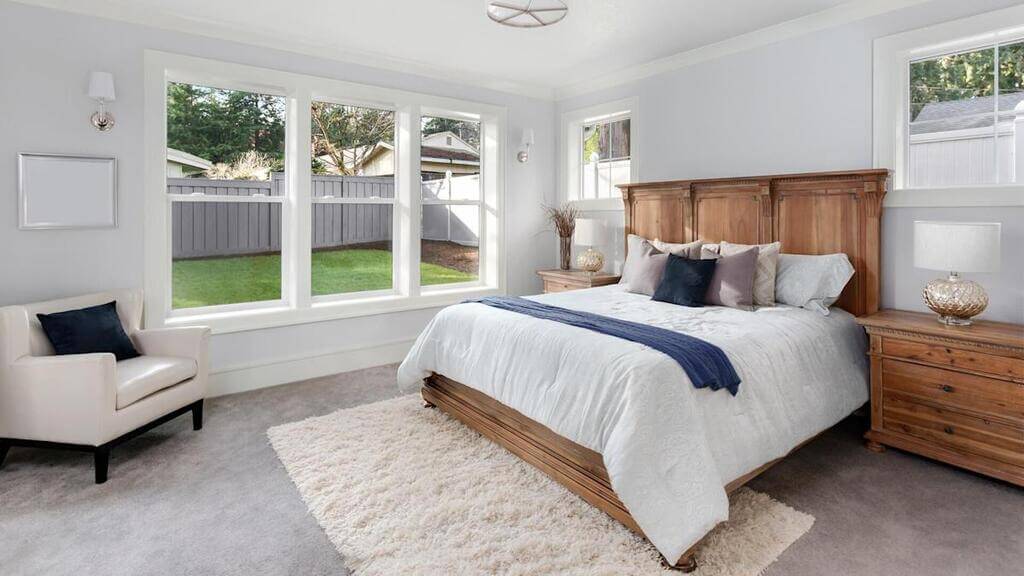 Source: yimg.com
If you want to give a complete makeover to the room, start with the furniture. Brand new furniture can be expensive. That's why you should try out a flea market. You can find unique second-hand furniture at a lower price and can refurbish them to match your room. 
Plan out the theme that you want for the bedroom. This will make it a lot easier for you to decide which pieces of furniture you'll need and how you want to refurbish them. Also, add a comfortable sitting arrangement near your window, where you can sit and enjoy your books and coffee. 
Plan how you want the design of the furniture to be, and make a list of materials you'll need for refurbishing. 
Suppose you bought a sofa set that you liked initially, but there are a few changes that you want to make. You can cut off the parts that you don't want, and add anything that you think will match well with the design you planned. You can then build the furniture of your dreams at a fraction of the cost of buying brand new ones. 
Change the Mattress and Bedding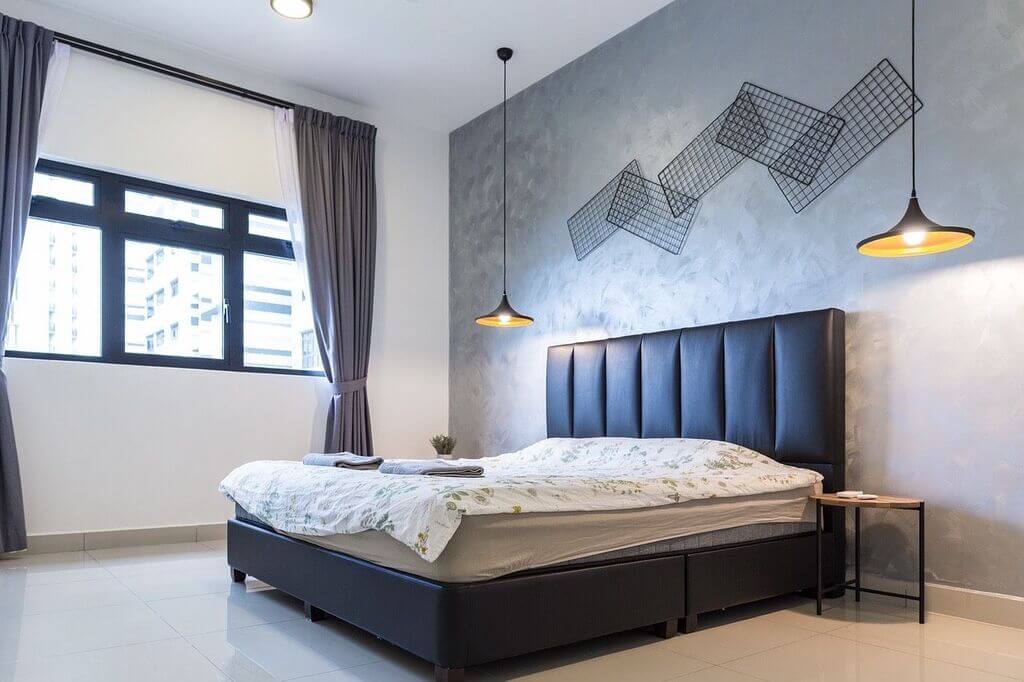 Source: yimg.com
While changing the furniture, try changing the mattress and the bedding. You may want to try some affordable options such as Eco Terra Mattress if you want to feel the comfort of a luxury mattress with the right amount of support on a budget. 
You can switch to microfiber bed sheets and pillow covers. They aren't just inexpensive but very comfortable to sleep on and last longer. You'll feel like you're sleeping on clouds. Choose pillows that are comfortable for you to sleep on. 
You can also get a comfortable bedspread with the perfect warmth at much affordable pricing. 
Change the Lighting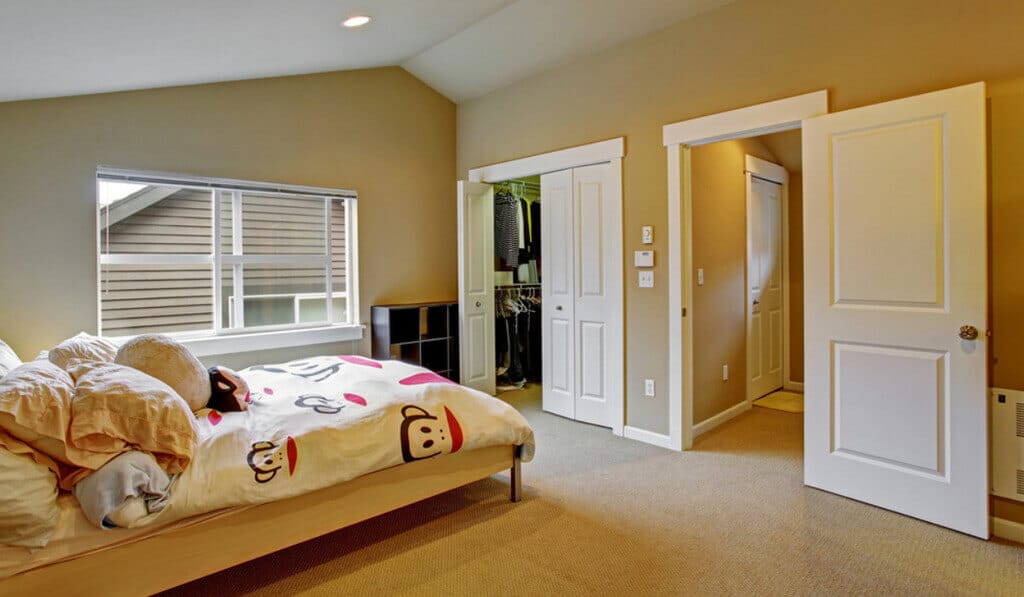 Source: pinimg.com
This is the cheapest way of bringing the most significant difference to your primary bedroom. Using lighting to change the room's entire vibe is very underrated, yet the best way to create a calming environment within the four walls.  
Change the lighting to warm. This will create a soothing view instead of the harshness of white LED lights. You can add a strip or two of fairy lights to your window, in front of, or under your drapes. Both will give you two different and soothing nature of decorative lighting. 
You may add strips of colorful LED lights behind the headboard of your bed, and underneath your bed all around. Do these itty bitty changes, and you'll see how lively and poetic the room looks in the most inexpensive way. 
Refresh Your Room With Paint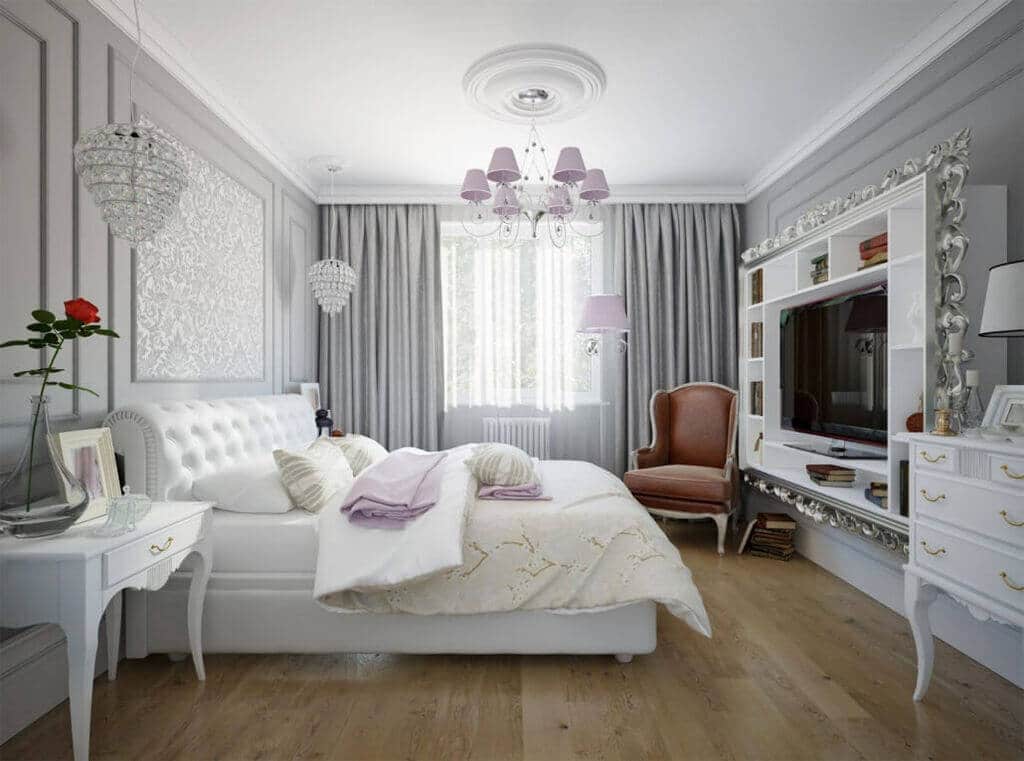 Source: housing.com
Are you bored with how your room looks? When was the last time you changed the paint of your room? If it looks very drab now, maybe you should consider painting the room with a new color- something that's bright and refreshing to the eyes and mind.
You may be thinking, isn't painting a room costly? No, it doesn't need to be, especially if you already have the tools that you need. With a little guidance, you can paint your bedroom properly by yourself. You can even paint the accent wall however you like to add your little magic touch!
Here's a little idea. How about giving a gray aesthetic to your room? Do you think that your room will look dull in gray? It doesn't have to. You just need the right combination of lights and colors with it, and your room will look classy and comfortable at the same time.
Refinish Your Room's Wooden Door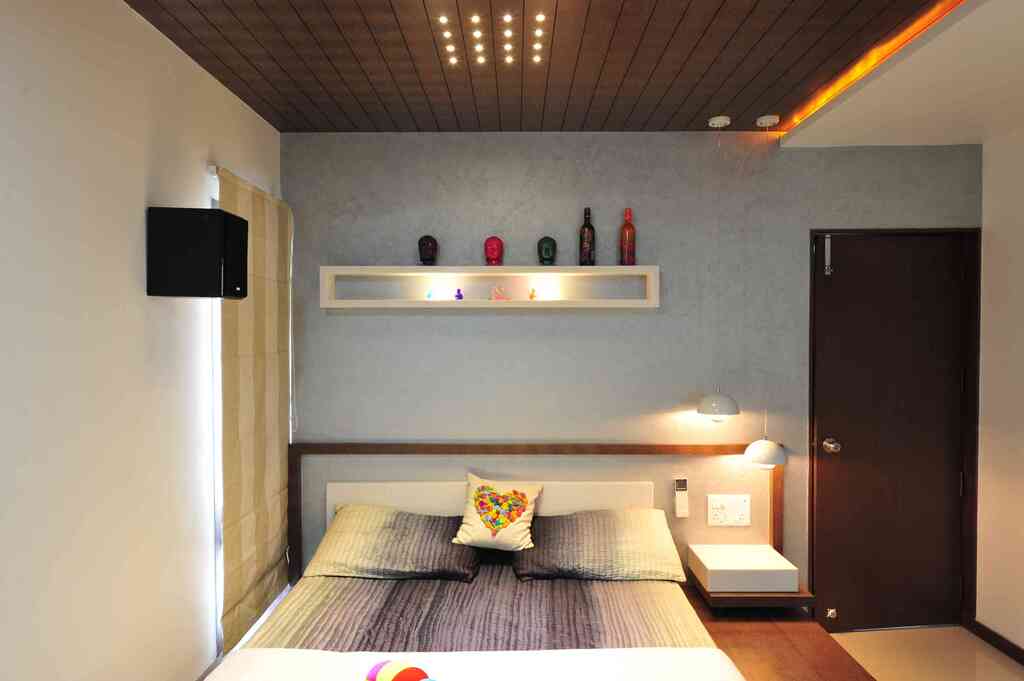 Source: zingyhomes.com
If you have a wooden door to your primary bedroom, you may notice it looks a little old and weary after years. The varnish may fade over time and can start looking dirty. Refinish the door by giving it a new color and varnish, and fill up any cracks and holes to make the door look good as new!
Take sandpaper, foam, color if you want to change the look of your door, and a small can of varnish. Start giving it a new finishing, and you can make your room's wooden door look good as new! It won't even burn a hole in your pocket!
Just look up some tutorials on how you can varnish your bedroom's wooden interior door so that you can do it properly to last you for a few more years. 
Add Floor-to-Ceiling Drapes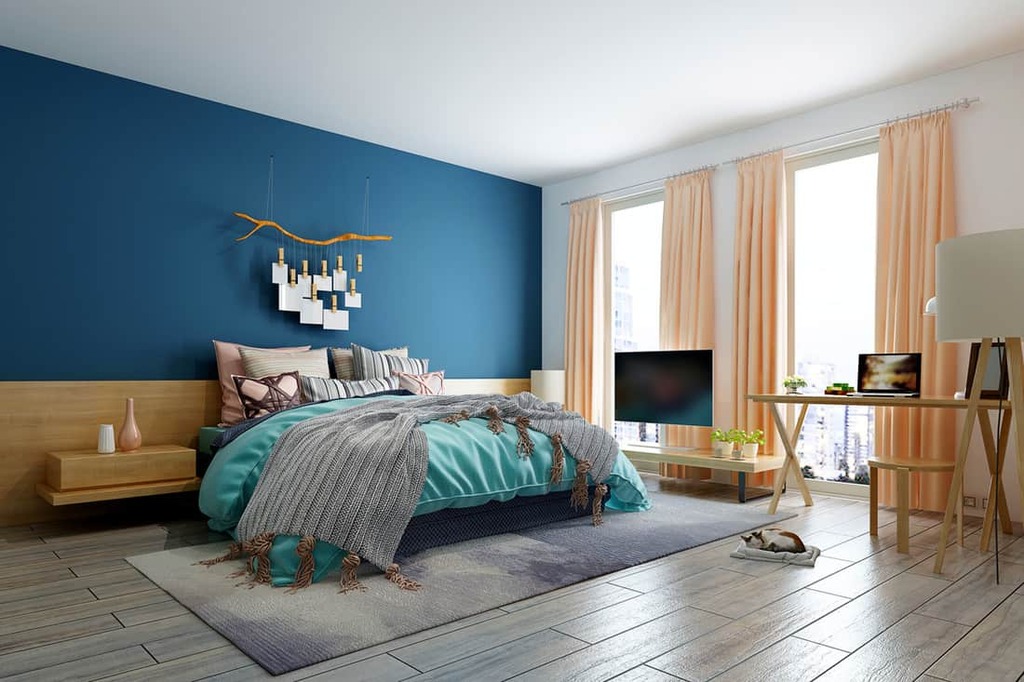 Source: homedecorbliss.com
Draped curtains, that too from floor to the ceiling – that sounds expensive. It doesn't have to be! Cotton curtains are cheaper than the rest, so you can easily use them in your room renovation. As a bonus, your room will look much chicer!
To save yourself from spending extra on these curtains, choose curtains that don't have patterns. Also, choose a lighter color, probably along the line of white, to open up your room and make it look brighter. 
You can get curtains with adhesive on their top and buy some hooks that you can fix yourself with proper measurements. You'll be spending much less than you had anticipated!
Hang Personalized Artwork and Accessories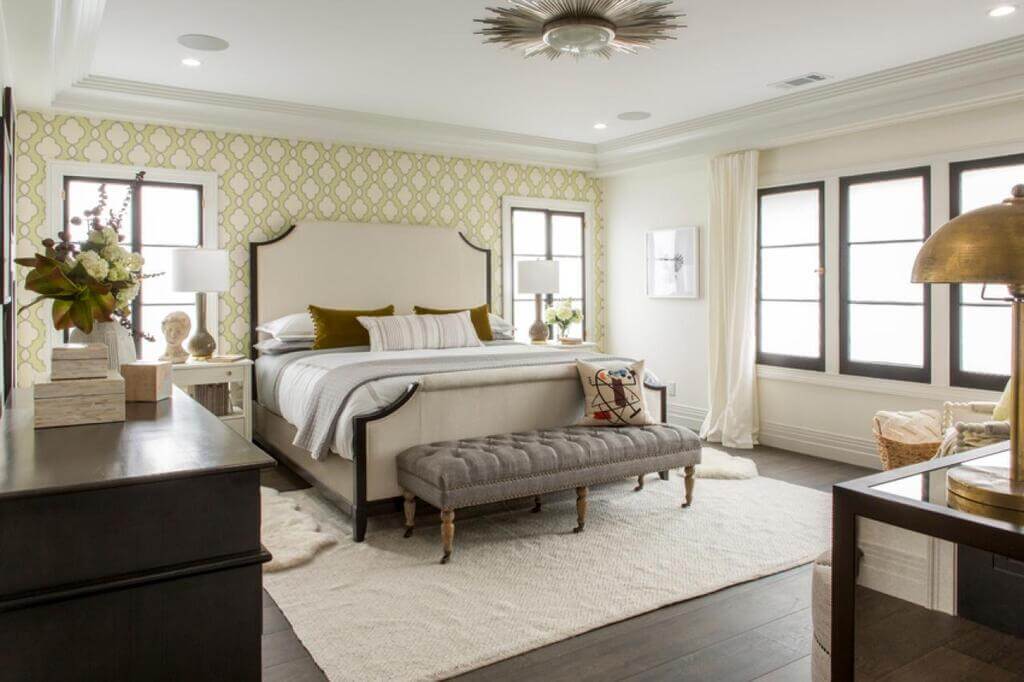 Source: yimg.com
A great and inexpensive way to upgrade your primary bedroom is by decorating the room with handmade artwork and accessories. There are so many things that you can do in this case.
If you're a painter, then you can hang some of the paintings that you had done previously, or you can paint something that will vibe well with the room. 
If you're into handicrafts or want to try your hands out in them, then try crafting some wall hangings, such as dream catchers, macrame headboards and tapestry, macrame swings, jute, and bamboo baskets, etc. You may even try making some wind chimes if you have a place for them in the room.   
Install Floating Shelves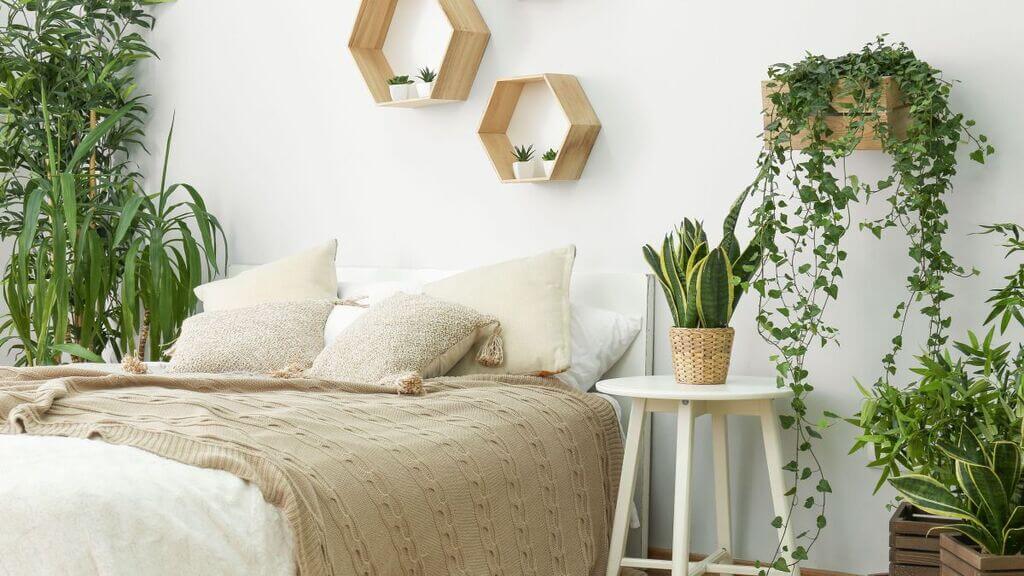 Source: yimg.com
A nice way to make storage for your books and little succulents without suffocating the space is by adding floating shelves. You can add them as straight shelves or as shallow V-shaped ones. They are well fixed to the wall, in short, or long lengths that will add not just some extra space but also some character to your primary bedroom. 
Take some wooden shelf pieces, paint, and varnish them to match the theme of your room. Fix them to the wall with nails and support in any arrangement that you like. You can make them parallel horizontally, or you can fix them in a V-shaped arrangement. You can even decide how long you want the shelves to be. 
If you want, you can even build a floating shelf as if it was a desk, and you can keep decoration pieces on top of it. You can even make it under the TV so that you can keep the other gadgets there. It's all in your hands, so visualize how you want them to look and what you want to keep on them, and build them!
Add a Statement Mirror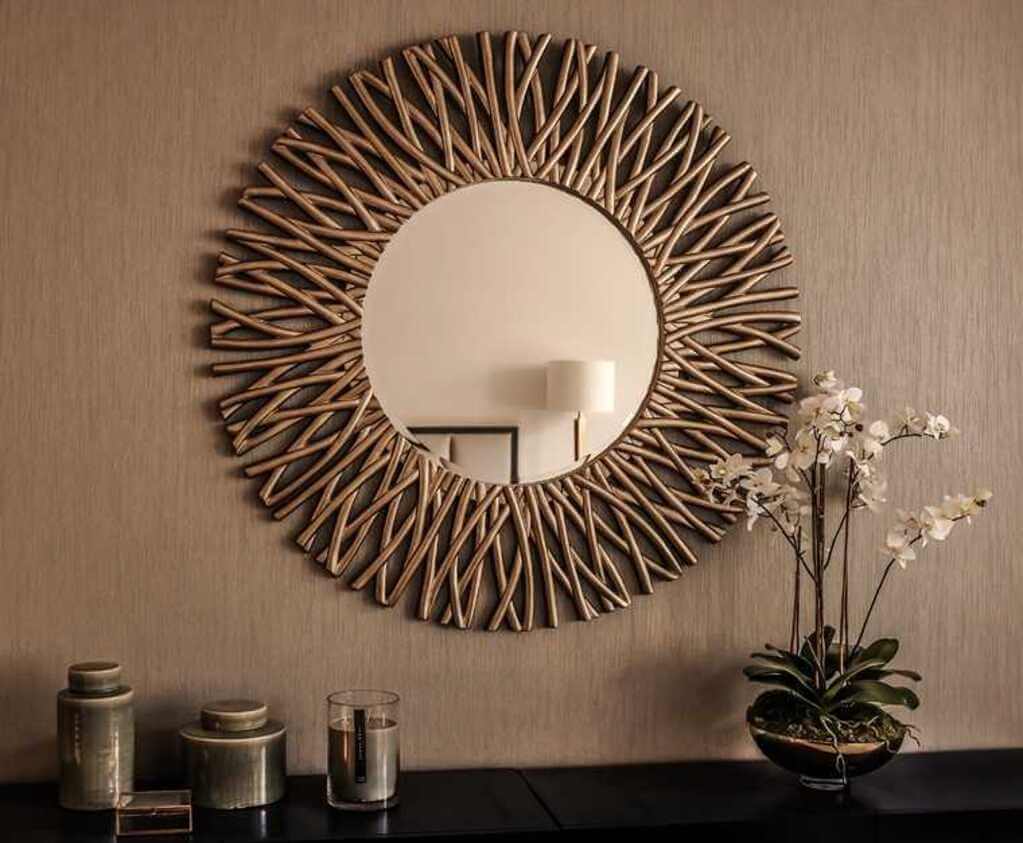 Source: sndimg.com
A statement mirror adds extra definition and personality to the room. You can place it in the corner of the primary bedroom, or you can hang a large mirror from the wall, whichever you prefer!
You can buy an antique mirror from the flea market or somewhere else if you want to, or you can even do a DIY statement mirror by yourself. Make it macrame, or maybe decorate it with epoxy resin and glass paint. You can also add small plastic flowers to your mirror. Whichever you're comfortable working with, experiment with it!
You can buy a long, full-sized mirror, and place it tilted on the wall, or you can fix it to the wall. You can even buy one or a few mirrors – round, diamond, honeycomb, or any other shape that you find- and fix them in the center or a little higher to your accent wall or above your bed. 
Add a Rug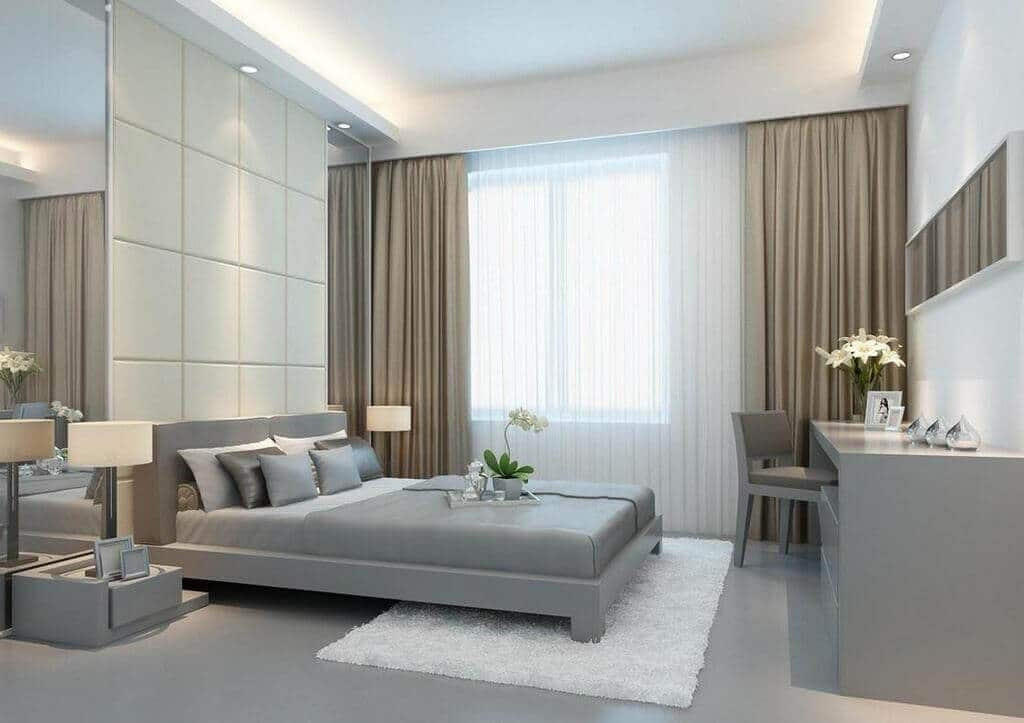 Source: 100realty.ua
Add a rug of your choice to the primary bedroom made of any material that you think will go with the room's theme. The rug can be made from soft faux fur, jute, fiber macrame, wool, or nylon, whichever you feel comfortable with. You can even DIY your rug by watching a few tutorials. 
You can place the rug wherever you like. You can buy a huge rug and put it under the bed in a way that you still have a lot of the rug coming around from under the bed. You can also place the rug in front of the foot of your bed, or place it in front of your door. This is one of the ways with which you can add extra comfort to your bedroom.
If you have a dressing table in that room, you can also place a rug under the seat of the table to add a little elegance. If you have placed a long mirror with your accent wall, then you can add a faux fur rug in front of it, so that you can even sit in front of the mirror. 
A rug is an excellent way to add some character, color, or light to your room. So whichever material and design of rug goes with the room, add it!
Also Read: New Year, New Bedroom: Five Ideas to Refresh Your Décor
Get More Flowers Without Spending a Dime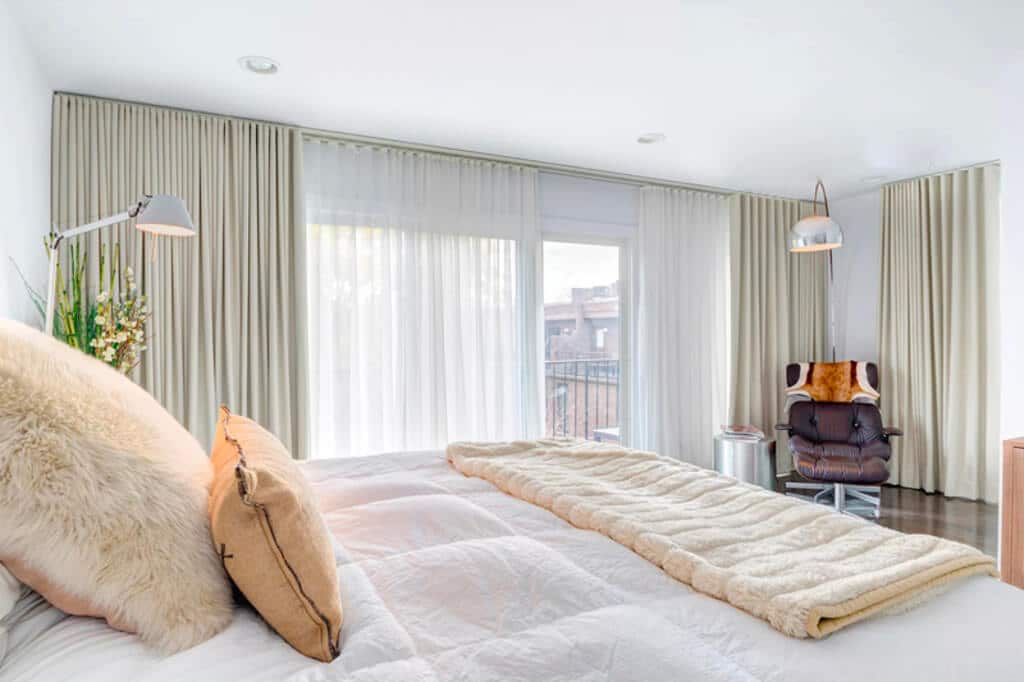 Source: futurecdn.net
Some states have constitutional restrictions regarding picking wildflowers from roads. Check if anything like this applies to the place you live in. 
If you are allowed to pick flowers from public properties, then you can always pick a few lovely flowers to add some freshness and color to the bedroom whenever you're out for a walk or are returning home. You don't even need to spend a dime for it!
You can even craft your own paper flowers. All you'll need are papers, paint, wires, lace or strings, plastic scraps, and a hot glue gun. Watch some DIY videos on how you can craft decorative flowers for your home and you can make a bunch of beautiful flowers that you can use for a longer period of time!
Add a Houseplant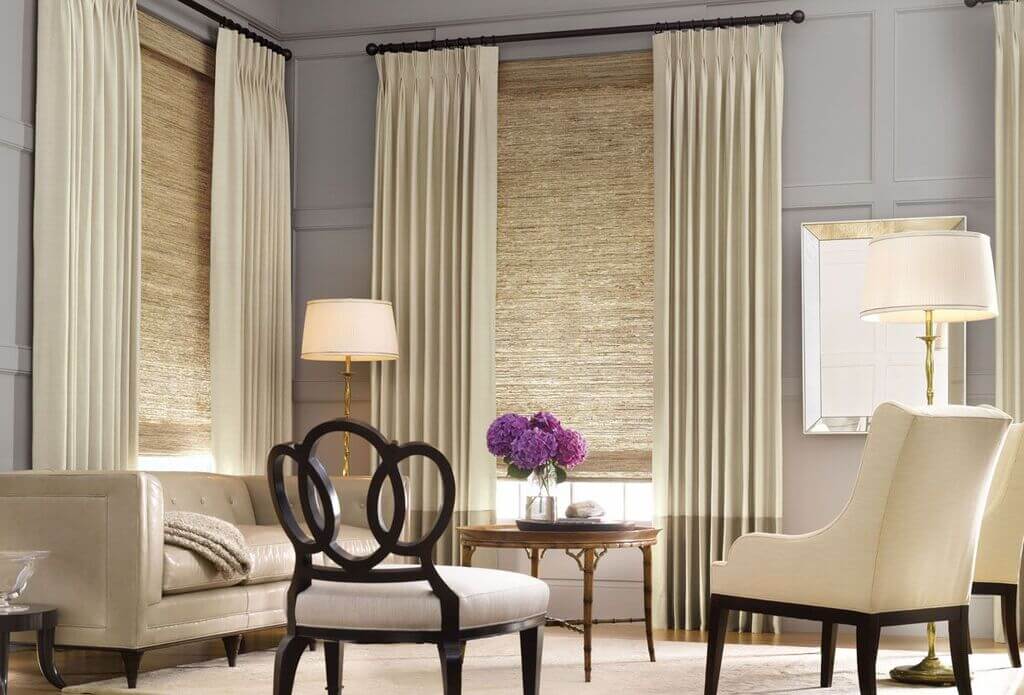 Source: sndimg.com
A big touch of green in a corner is always a mood booster for both the room and the inhabitants. Therefore, don't skip it! Add a plant, or maybe two, to a well-lit and airy corner of the room. 
A regular house plant doesn't cost much. You just need to water it and maintain it every day. Taking care of your houseplant regularly will boost your mood and have an overall positive impact on your mind. Try tending to it when you're feeling down and see the difference it makes. 
Conclusion
Yes, you'll need to spend some bucks if you want to upgrade your primary bedroom, but you don't need to break your bank for it. With the twelve tips discussed, you can give your primary bedroom a makeover with a minimal budget. 
We hope you consider using these tips and renovate your room beautifully so that you return to a peaceful and elevating environment at the end of the day.