UV resin is a type of acrylic gel (resin) of a single component of ultra-fast drying in 3 or 4 minutes by UV rays. Therefore, it is dried in the sun or with a UV lamp or flashlight. In almost all the technical sheets of synthetic resins, such as epoxy, its resistance to UV rays is discussed. Do not confuse epoxy resin resistant to UV drying in the air with UV resin drying with UV lamps!
UV polyurethane resin, 3D Epoxy resin with UV air-drying filter have a greater resistance to yellowing by sun rays. In contrast, UV resin needs UV rays to dry. Always use the best UV resistant epoxy resin for your crafts and DIY jewelry with epoxy or manicure.
Advantages of UV resin
UV resin needs special molds that let UV rays pass. This type of resin has some very positive points that make it one of the most used for crafts, finishes, and especially jewelry and ornaments with epoxy resin.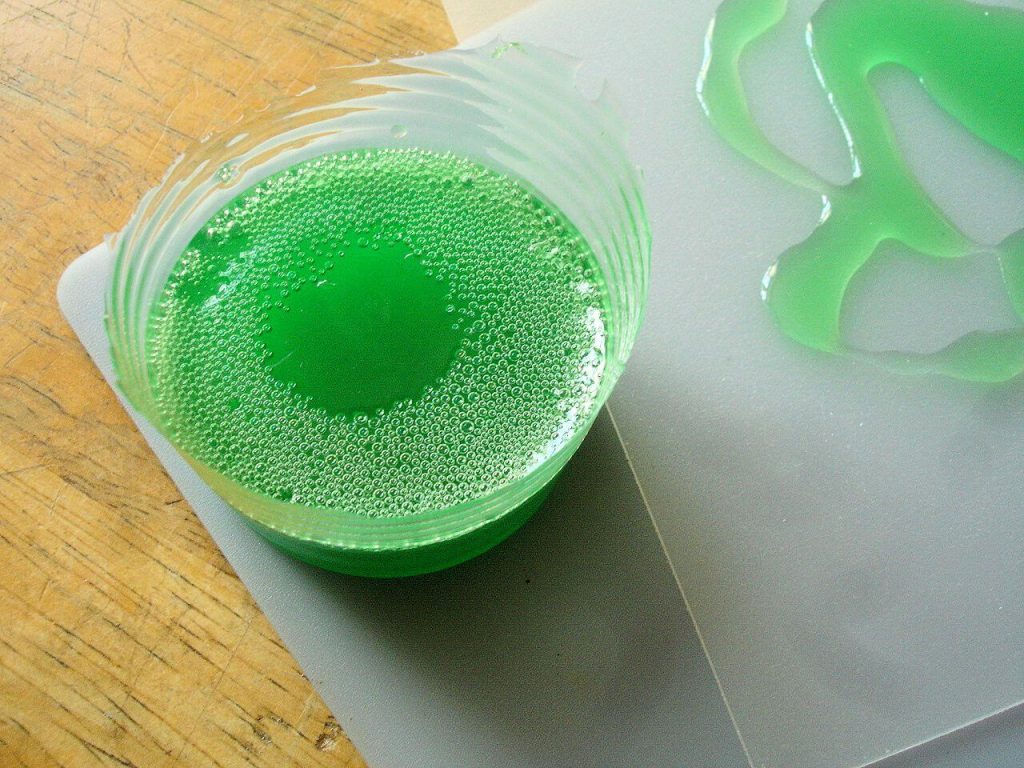 Fast drying
In less than 5 minutes this resin will have dried under ultraviolet light. If even so, the piece is sticky, place it in the sun and in 30 minutes it will be perfectly cured.
Does not yellow with the sun
In front of certain synthetic resins, the UV resin does not yellow with the sun's rays.
Easy to apply
Thanks to its applicator, you can dose just the amount you need so that your finishes are perfect and do not waste the product.
High transparency
Its crystalline shine and transparency are perfect for creations of any color and texture.
Pigmentation
In addition, this resin admits glitter, dyes, and pigments in neon and pearly powder. They also sell them in colors!
Compatible with other resins
You can use the UV resin to protect your creations from polyurethane, polyester, or epoxy resin.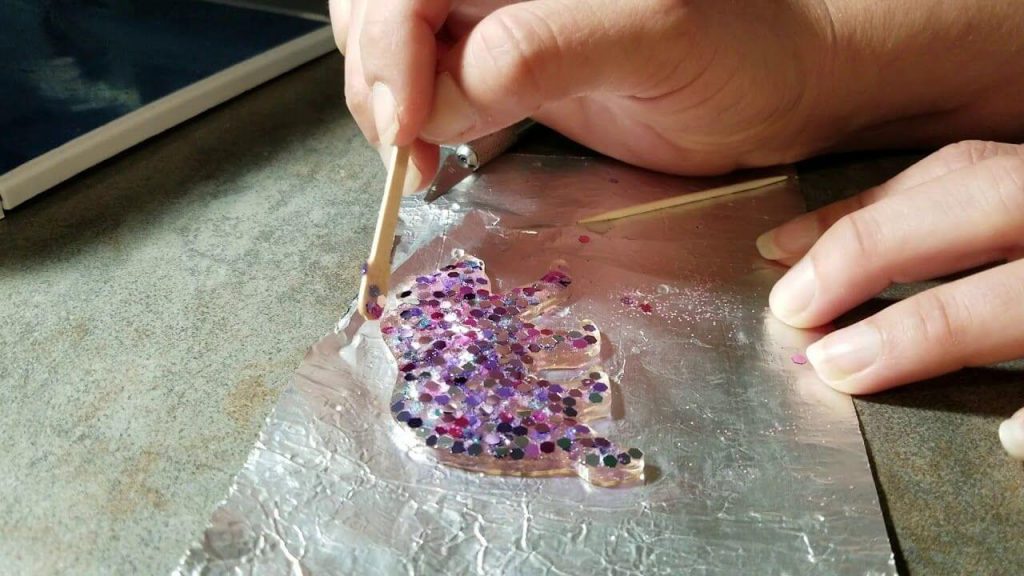 High adhesion
Used as resin jewelry glue, it has exceptional adhesion. In addition, the result is totally transparent.
The biggest advantage of this compared to the epoxy resin is that it dries much faster or needs mixing.
No bubbles
By not having to mix, you will prevent bubbles from forming. In perfect finishes, this resin is unrivaled.
Tips for using UV transparent resin
You need ultraviolet or a sun lamp. It really isn't a problem, since you can find a fairly cheap UV lamp or flashlight. So living in a place with a few hours of sun is no longer an inconvenience.
Use in small quantities. To dry quickly and completely, you cannot make pieces of good thickness, as with other resins.
Don't use it with opaque molds. For this resin to dry, silicone molds or any other material must let UV rays pass. Do not use opaque molds!
Uses of the UV resin
This product has many more applications in many more fields than it seems:
Crafts
This is the best-known field of use for UV resin, especially the creation of ornaments, rings, and pieces of jewelry.
The original pendants, bracelets, rings, necklaces, charms, earrings, bracelets, and earrings made with this resin stand out for a perfect shiny finish.
In figuration, fairy figurines and larger pieces are an excellent enamel for finishes.
For the nails
Since this resin appeared, the possibilities in manicure and nail decoration have multiplied. UV resin allows you to personalize your nails with glitter, pearls, glitter, gems, precious stones, and dried flowers!
Hunting and fishing
A small amount of UV resin applied to pellets and artificial baits will protect your piece and make it more resistant. Hunters and fishermen know it well!
Epoxy, epoxy, liquid crystal or porcelain resin is characterized by:
Use for larger pieces.

Air-dried at room temperature, minimum at 20 ° C.

Use of opaque molds.
On the other hand, UV resin is more suitable as:
Glue

Finish varnish.

Small pieces of jewelry and ornaments.

Nail
Compared to two-component resins, this single component resin is much easier to use. You won't have to mix. And no bubbles will form!
You just have to pay attention to some facts. Use it in small quantities. Do not use silicone molds. Use a led lamp and the sun for the right time.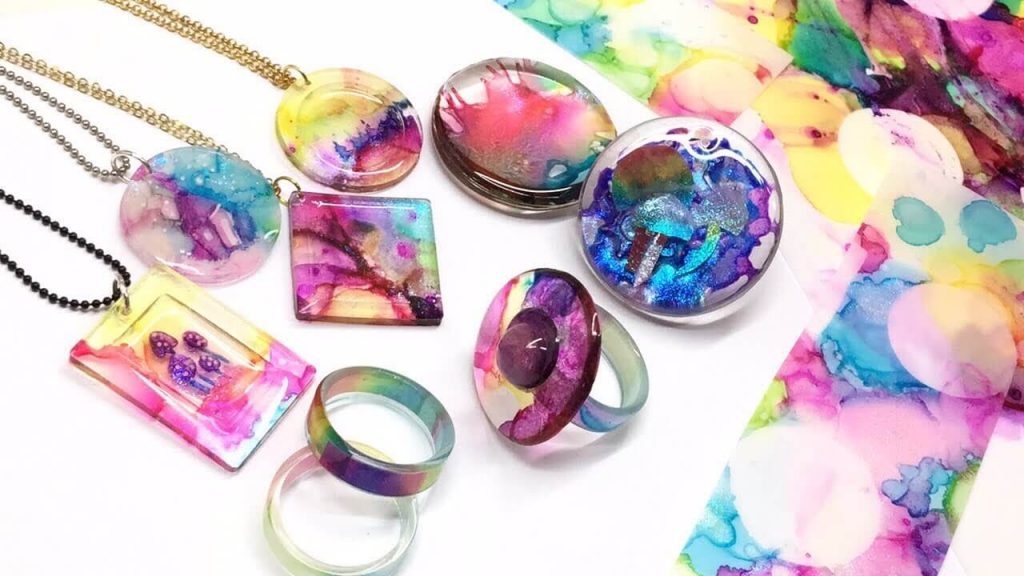 Final words,
UV resin does not have to be mixed with another component to harden. It dries in contact with UV light. This resin can be found in physical stores and online. Many establishments specialized in crafts, composites, and modeling, already sell the transparent or colored UV resin.