Did you recently install a farmhouse sink? Wondering how to wash dishes in a farmhouse sink? Don't worry. It's quite normal for new farmhouse sink owners to face this challenge. Luckily enough for you, we've got your back. In this step-to-step guide, we'll help you learn how to go about it. With these guidelines, you won't end up with broken plates and glasses. You'll also never have to worry about the tedious dishwashing session.
Instructions to Follow When Washing Dishes in a Farmhouse Sink
1. Scrap Off Food Remains from Your Dishes
When cleaning your dishes, the first thing you need to do is scrap off the food that remains on the plates. This makes the cleaning process easier, especially if working with a single-bowl farmhouse sink.
Scrapping off the food remains ensures that they food remains do not stick on the sink or block it with the debris. It also helps you clean the utensils without having to drain your sink now and then.
2. Sorting Out the Dishes
Sorting the dishes helps to minimize the risk of damage to your sink and that of your dishes. It also makes the cleaning process more manageable.
The best way to sort the dishes is to get all plates and stack them together, pans on one side, and glasses in a separate stack from the rest of the dishes. This will keep them safe from breakage.
Stack all dishes in their respective categories to make the cleaning process smoother.
While doing so, remember to leave enough space for water not to hit on the dishes. This prevents the water from splashing back to you. You don't want to finish washing your dishes looking all wet, right?
3. Set Up a Drying Area
Most farmhouse sinks don't feature a drying area; You'll therefore have to set one up.
Why a drying area?
Because it'll help you clean and dry your dishes with ease.
You can set out a drying area (use a drying rack) on the counter beside your kitchen sink. The trick to ensuring that water from the drying dishes gets directly into the sink is by leaving one side of the rack dangling near it.
If you don't have a drying rack, you've got no reason to worry; just get a dry towel to dry your dishes.
4. Time to Wash the Dishes – Add Soap to the Sink
If using a double-bowl farmhouse sink, add soap to the water in one bowl and add water to the other bowl to rinse.
If using a single-bowl farmhouse sink, add soap to the water in the bowl and get another bowl to help you rinse your dishes. You can also choose to rinse the dishes in the same bowl after washing them.
Start washing your dishes one at a time. Do so using a soft sponge to scrub each utensil. Wash until you're done with the whole stack.
5. Rinsing
Once you've scrubbed all the dishes, it's now time to rinse them clean. To do so, if using a double bowl sink, pass them through the rinsing water and rinse them thoroughly. Ensure that no soapy residue is left on them.
For the single bowl version, turn the faucet and leave the water to flow with medium force. Pass your dishes through the water and rinse them well.
6. Set Your Dishes Up to Dry
Now that your dishes are clean, you need to ensure that they dry up perfectly. Remember the drying place you already set up? Place your dishes in it after rinsing them.
Alternatively, you can choose to dry every utensil with a clean, dry towel.
7. Cleaning the Sink
The biggest mistake that most people make after cleaning the dishes is leaving the sink dirty. What they don't know is that this is the most crucial step as it plays a vital role in the future dishwashing process.
Never leave your sink dirty.
To clean the sink, pull the plug to drain the dirty and soapy water. After that, rinse the bowl with water to remove the residual dirt.
Wipe it dry with a soft cloth or leave it to dry on its own.
Safety Precautions to Observe When Washing the Dishes
Watch Your Body Posture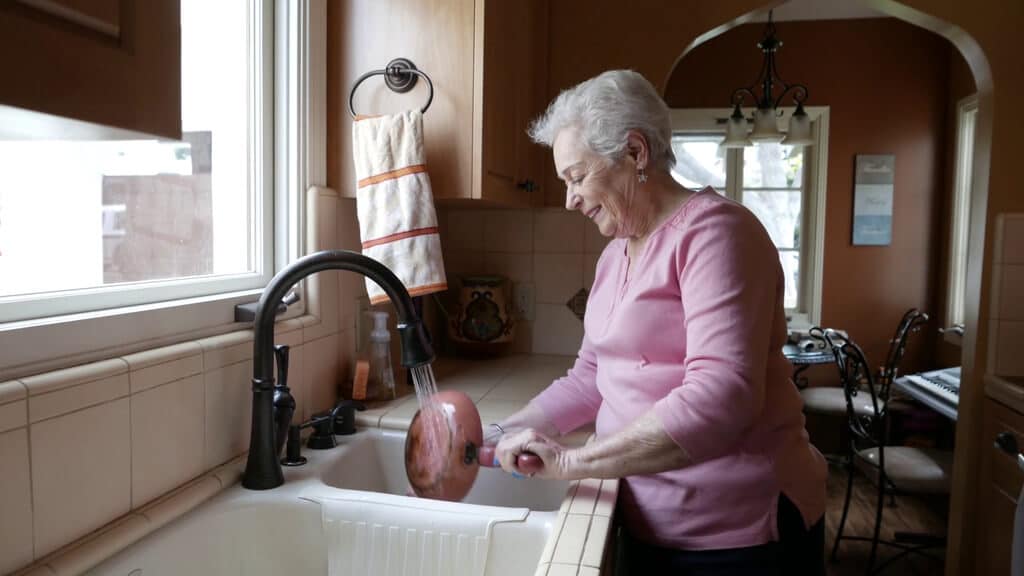 Farmhouse sinks are deeper than standard sinks meaning that you might get forced to keep bending forward when using them. Doing so for an extended period can result in severe back pain.
To avoid complications, stand close to your sink as this can prevent you from bending too much.
Avoid Diversions
Farmhouse sinks have no edges, meaning that if you're not careful enough, your dishes can fall out of your hands and break with ease.
You, therefore, need to be extra attentive and avoid getting diverted when washing the dishes. This will also protect you from unwanted injuries from knives and forks.
Don't Wear Gloves
Wearing gloves makes your hands slippery. It makes you more likely to drop and break your utensils when cleaning them, even in the fireclay farmhouse sink.
Avoid Wetting Yourself
If not careful, a farmhouse sink can get you very wet. Always keep the water from your faucet running at low pressure. Also, wear an apron to keep the water off your clothes.
Conclusion
Washing your dishes in a farmhouse doesn't have to be complicated. If you follow the above-listed steps, you'll have an easy time cleaning the dishes.
Also, ensure that you observe all the necessary measures to prevent water splashes and your dishes from breaking.
Find out more: