You might have heard about amazing infrastructure and amazing construction but have ever heard about Weird Houses? Yes, there are so many such constructions that can be titled as the World's Weird Homes that would make you wonder about the purpose of these buildings.
People are trying to be unique and so they try to get their homes constructed uniquely but sometimes those unique homes don't get approved as normal homes but those stand as Coolest Houses. These houses don't only showcase the weird side of the construction but at the same time, it tells a lot about the ability of architects which is great for sure.
If you are wondering about some of the bizarre homes in the world, then here are some of them listed below that you need to check out and at the same time you can also get inspired by the unique idea of those constructions:
Transparent House
This home is built in Tokyo that comes under Japan and we are all amazed to see the beauty of this house but are it even safe to stay at this house? Moreover, this home would fill your space with some natural lights and so at times, you can get irritated by the sunrays. This home is best for those who love to show off what they have got in their home and this home would let every passerby peep into the home. this has to be one of the Strange Houses in the world.
Curtains and lots of curtains everywhere is the only way to stay at this place and this beautiful home was constructed by Sou Fujimoto Architects and he got inspiration from the ancient living on the tree. This house has nothing that is not transparent and the glass that has been used to construct it has passed many safety tests that confirm the security of the home.
Skateboard House
This thoughtful home is built in Malibu which comes under California and this is a heaven for any skate lover. Have you ever even imagined that a person can be so crazy about skating that the person can turn his house to a skateboard? Well, if you are also someone who loves skating then this home can be perfect for you and this place is a perfect example of passion for a game.
You would not face any problem in this home rather it is just like any other normal home and from the exterior, you would not even be able to tell if there is anything unique about this home. Here inside the home, you would be able to see several skating floors where you would be able to skate anytime you want to which is great for sure.
Pierre Andre Senizergues who is an amazing skating champion has designed this home and this turned out to be perfect which is great for sure.
The Keret House
This house is located in Poland and the size of the home makes it unique and you would be shocked to know that this house is considered as the world's slimmest home that is still present. This home is about 152 cm wide and even less at some point in the house and living in such small space is a task for sure and staying comfortable is impossible at this place. It can be said that this home can be fine if you have a very small plot for constructing your home.
Jakub Szczesny constructed this home as his residential home and the only purpose of constructing this home was to make sure that there is no extra space in this home. there are two tall buildings at both sides of the Keret house and those buildings hide this home away to a huge extent which is great because Jakub is always fond of some privacy.
From outside, this home just looks like a giant capsule and it is entirely colored in white color.
The Hobbit House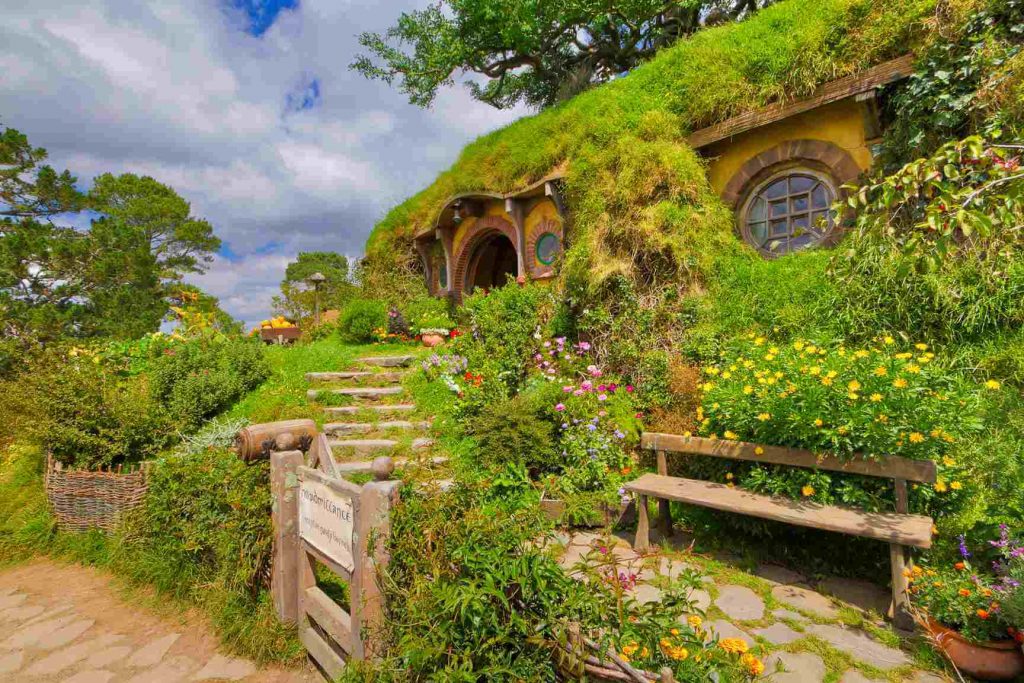 This house is situated in between the wilderness of Wales and this house is not just unique but at the same time, it is so beautiful that you might end up loving this house. Having such a home a crowded city is next to impossible and you would have to cut the plot in the outskirts area if you ever desire to have a similar kind of home for your living.
Here this home seems like a cave that is underground as there are grasses grown at the rooftop of this house. If you love nature then you would not be able to resist yourself from loving this beautiful home. This is a very small home so it would be great for small families and as there is a vast garden-like area outside the home so you would have a good time there.
The security of this home is still questionable as it doesn't seem to be the strongest home rather the housing material looks quite flimsy. This house was constructed by a photographer and since it was made by natural materials so it took $5200 to construct this house.
The inside of the home also looks very beautiful just like the exterior of the house and this house doesn't even consume much energy which is a great thing for sure.
Old Water Tower
This unique house is situated in Belgium and this house looks like any normal water tower and at first sight, you would not even be able to tell that this is a house, not any water tower.
Now, a residential home is not the only purpose of this building but at the same time, it also has some storage for water as well which got this home the name of the water tower. It is a 100 foot tall home that is very comfortable to stay in and if you are looking for a unique home that would be very comfortable then this would be the best home for you.
Bham design studio needs to be complimented for such beautiful construction and just like the exterior of the home, even the interior of the home looks so beautiful and it has a minimal modern interior which is a great thing for sure.
Brooklyn Clock Tower
This beautiful home is constructed in New York City and this is one of the most experimental homes of that place and at the same time this house is damn expensive so you might have to think several times before recreating this home. The total money spent on this home is about $18 million and the reason behind this home being expensive is the location of this home as it is constructed at the clock tower of Brooklyn.
This house is quite huge and the total area covered by this house is about 7000 square feet so a big family can also live in this great house.
The most wonderful thing about this house has to be the view of New York City from this house as the city looks beautiful from that place. This house has used modern minimal décor for the interior of this home and you would be able to see the clock from the living room of this house.
Dumpster Home
This house is located in New York City and it can be said that this place so many Unique Houses which is great and the dumpster home has to be one of them. The credit of this home goes to Gregory Kloehn who took the responsibility to turn a dumpster into a home and that is the reason that is one of the most affordable homes in the city.
This house has a room and a bathroom that's it and Gregory also kept some space to place a microwave, fridge and other such necessary things inside the home so that the home can be perfect for residential purposes.
Giant Seashell House
This beautiful home is constructed in Mexico City and you cannot deny the fact that this is one of the Coolest Houses in these works which turned out to be so beautiful.
This house looks like a seashell from both insides as well as, from the inside of the home. This is a single room home that is best for couples and a single person and Frank Lloyd and Antoni Gaudi needs to be complimented for such a beautiful home.