Zebra Blinds: The Combo to Control Light and Privacy
Zebra blinds are a fantastic accent to any home, whether you prefer minimalist interior decor or something more opulent. They provide a level of light control that no other blinds can match, in addition to bringing a lovely aesthetic to your home.
What Is Zebra Blinds? 
Zebra Shades are a contemporary take on the horizontal blind. Zebra Shades are a type of roller shade that can be used to go from sheer to private. It is a type of window covering that has been around for many years and is now gaining in popularity. The stripes imitate those of a zebra. It is composed of fabric strips that are alternated with translucent strips.
Why Choose a Zebra Shade?
By just pulling the chain on zebra shades, you can control the natural light levels. Unlike Roller Shades, they can be gently cracked, allowing just a little amount of light into the room. Zebra Shades are a fun twist on a traditional Roller Shade or Horizontal Blind for a living room window. Below, is how zebra blinds function in light and privacy control.
Privacy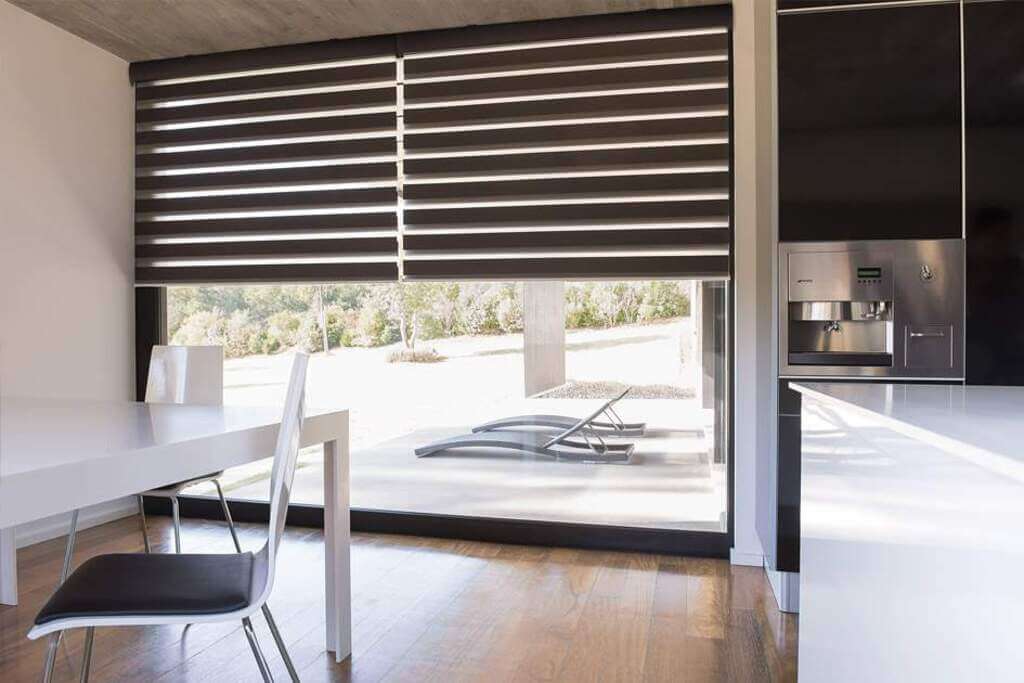 Source: inspiradecor.com
Living in comfort and having your privacy in the middle of a town seems impossible, but with zebra blinds, this is very possible. They are made up of black and white layers, which gives an advantage to you during the day. It makes it possible for you to see people outside during the day and impossible for them to see you. 

Zebra blinds offer privacy in areas of the house like the bedroom which is one and the toilet, they make it possible for those in the house to see outside while the outsiders can get a view of what is inside the house. 

Taking a shower, and having eyes on you is one of the most embarrassing moments in life, zebra blinds solve this problem by providing adequate privacy between your bathroom and the exterior.
Light Control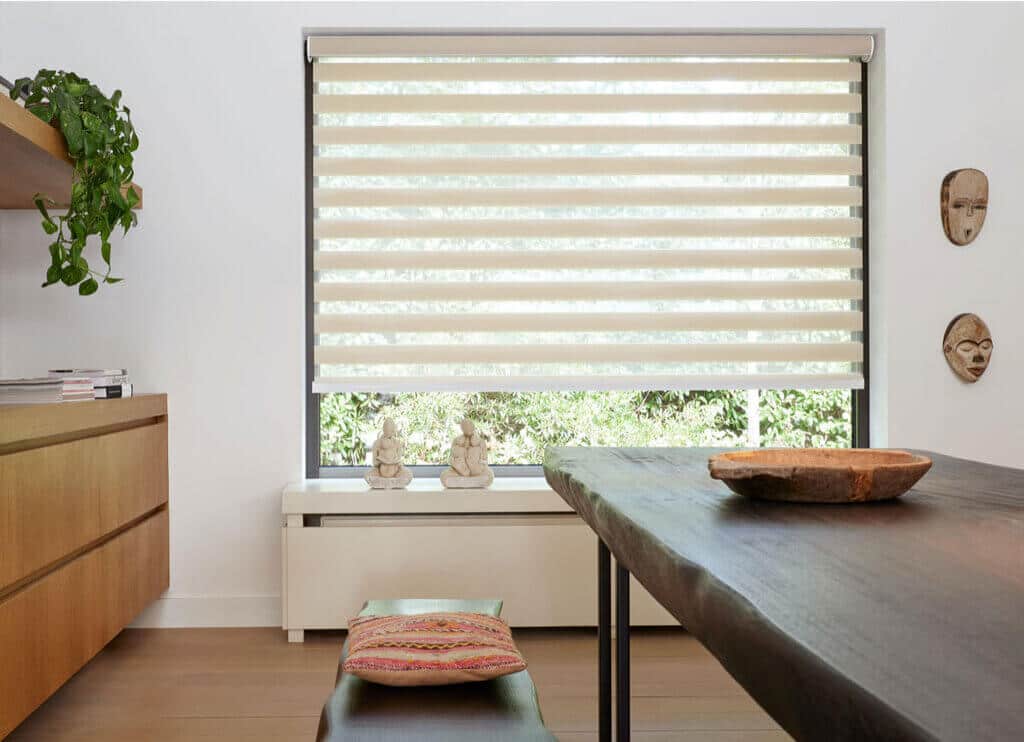 Source: squarespace-cdn.com
Zebra blinds are made up of light-filtering fabrics and light-blocking fabrics, they function as follows :
Zebra blinds are great for any area because of their sleek form and ability to manage light. When you want some seclusion, close the blinds; when you want more light, keep them open. You can also elevate them into their valance for a clear view outdoors without any window obstacles.

Double layer zebra shade combines alternating sheer and solid fabric bands in horizontal stripes, by remote control adjusting the density of indoor light, to isolate the external line of sight to ensure indoor privacy. Close blinds to block harmful UV rays, which may destroy the equipment of the house if allowed to penetrate the house freely and constantly.

The occlusion Light filtering fabrics are great for living areas because they make the space feel more energetic and larger during the day. Light filtering fabrics are great for living areas because they make the space feel more energetic and larger during the day. Zebra blinds are generally good for bedrooms where early morning light may be an issue. These zebra blinds are generally good for bedrooms where early morning light may be an issue.

If consistency is desirable, light-filtering or blocking out Zebra Blinds go well throughout the house, including glass sliding doors.
Also Read: Window Designs: Interior and Exterior
Other Options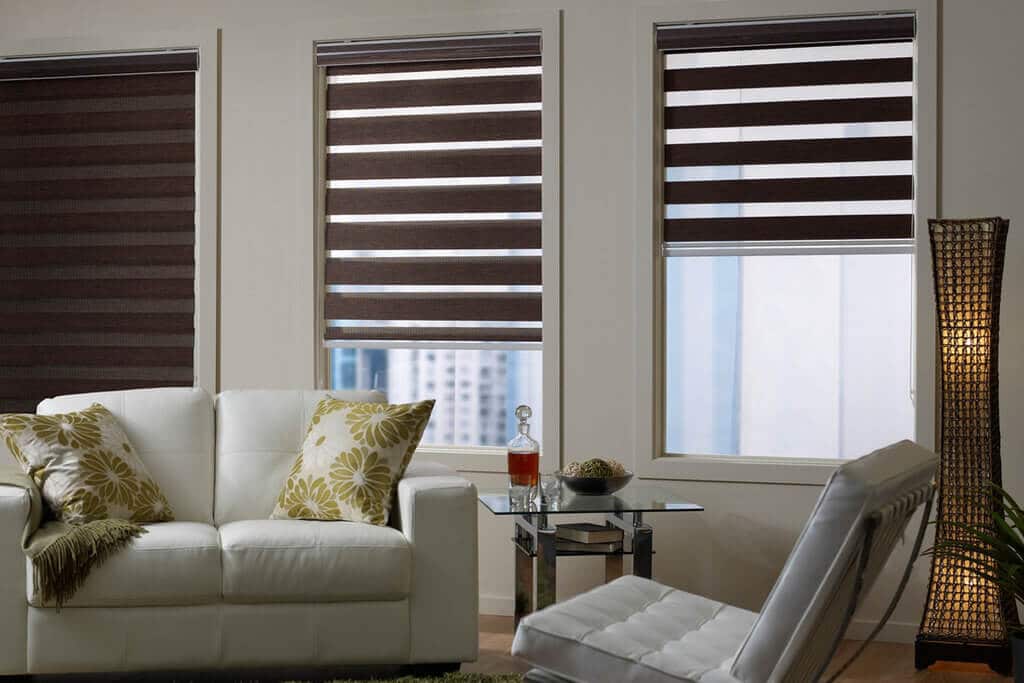 Source: spectrablinds.com
Motorization
Do you frequently keep your windows open or closed all day because they're too difficult to reach or to operate manually? Zebra blinds that are motorized can be programmed to work according to your preferences. Simply set the time on your app and let the motor take care of the rest. They not only save you time and effort by eliminating the need to manually operate your window coverings, but they also add value to your property.
Child Safety
Pets and children can suffocate if corded window coverings are used. There are no harmful wires or loops in motorized roller zebra blinds because they are cordless. They're ideal for nurseries, children's rooms, playrooms, and even classrooms.
Fabric Options
Zebra blinds are available in a range of fabrics, designs, and colors. You can either go bold with bright hues or keep it neutral, depending on your preferences. You can simply coordinate your zebra blinds with other room furnishings, such as draperies and upholstery because they come in both light-filtering and room-darkening fabrics.
As a member of the Roller Blinds family, Zebra Blinds are available in a variety of fabric selections, ranging from light filtering to block-out shades, and from lighter neutral tones to bolder brighter shades. Zebra blinds may be fully rolled up for a clear view of the outside, and when rolled down, the fabric sits flat against the window, providing light-blocking or room-darkening as well as privacy.