Although the basement was used before only for storage purposes, today you can turn them into a more useful part of your house. All you need to do is redo its decor. Basements are often thought of as casual spaces with exposed ceilings. Exposed basement ceiling ideas can look a bit off and make them unattractive.
A proper basement decor design not only makes most of it but also adds to the beauty of the house. You can now choose to dedicate this part of your house for hosting parties and converting your basements into second living rooms of your house and much more. Perfect ceiling ideas will also suit all your specific apartment requirements along with adding to your home decor exponentially.
Looking for some of the cool basement ceiling ideas? Well! Don't Worry! Here is an answer to your call. I have come up with the best basement ceiling ideas that will turn all your dreams into reality. From the low basement ceiling ideas, unfinished basement ceiling ideas, to exposed basement ceiling ideas, the article discusses it all.
You will also find a list of cheap basement ceiling ideas to fit right for you if you're on a low budget. Moreover, these ideas are easy to execute. You don't also need a special skill set of drills and hammers to execute any of these ideas. Turn your basement into more lively and fun by using one of these basement ceiling ideas.
Basement Ceiling Ideas:
Turn your basement into another living space of your house by choosing the right basement ceiling options. There are many different methods to cover your basement ceiling ideas. You don't need to put a lot of thought into your basement ceiling as I have come up with an easy list for you. Choose any one of the following basement ceilings to redo the decor.
1. Get a Stylish Beadboard Ceiling
Basements often have low ceilings. This is one of the reasons which makes many people don't give much thought to them. However, you can use basements as regular spaces by choosing perfect ceiling ideas for the basement. How about getting a stylish beadboard ceiling decor for the basement? You can choose the classic theme of beadboard ceiling material and add on the textures with the help of exposed beams.t
It will give it a look that's a proper amalgamation of modern design look and traditional vintage art. The idea will play wonders especially if you are a lover of simplicity. It is simple yet the best of many basement ceiling options. This material is great for those who live in noisy areas. Moreover, beadboard is a popular choice for many as it doesn't cost you much and will fit right even on a small budget.
2. Try Black and White Wood Frame Panels
Do you own a basement in the house that you use for storage? It's time to give more thought to your basement. Get a cool-looking basement by choosing one of the best basement ceiling options. Install wood frames for the ceiling of the basement. Try black and white color for painting them. It's perfect for a basement and gives a warm cottage-like feel to a home.
The design dates back to the Classic era but still rolls in the trend. Moreover, the wood frames are durable and easy to build. It adds a degree of insulation and works best in areas that have colder climates. You will have your basement a little warmer in the winter's cold mornings.
Moreover, you can complement the ceiling with white or grey painted walls. You must match the theme to tie everything together for an inviting second living room, game room, or guest room.
3. Old Tin Roof Style Ceiling:
Find the best basement ceiling idea for you to turn your old and boring basement into more lively and entertaining. This is the coolest ceiling idea for the basement. It is an elegant design of a basement that features a timeless, sophisticated look for formalizing any boring space. All you need is to have a simple metal basement ceiling. You can make it from old tin roof materials that are left spare in your house.
The idea speaks of taking pre-treated corrugated tin roofing and turning it into something unique. Choose to build eye-catching ceiling tiles out of it, with a bit more panache. Basement ceilings made out of old tin will be durable, reasonably priced, and add some classic style to your home decor. I am sure your neighbors will fall in love with this basement ceiling.
4. Simple Textured Glue-Up Tile:
If you love minimalism and finding some basement ceiling options that are easy to execute, try a simple ceiling texture of the tile. Glue up the tile to the ceiling of the basement and make it look extra vibrant. You can glue the tiles all at once or in sections.
Also, you can choose a series of colors depending upon the theme of your house. Even a mild design on the tile will look until you compliment it well with a neutral shade of the walls. It is simple and will fit right into your budget. Moreover, they add on the decor exponentially.
For more textures, you can also select a combination of tiles. Choose textured ones for the center part of the ceiling while keeping plain on the edges. This will bring more finished vibes to the aura and you will have a stunning ceiling for the basement. Use your basement like other rooms of the house with easy-to-do decor.
5. PVC Mosaic Peel and Stick Ceiling Tiles:
Want to have a ceiling rich in colors? This is one of the coolest ceiling basement ideas that speak of using multi-colored tiles for the ceiling. It is an economical option that is very easy to execute. Choose from a variety of tiles and styles. I suggest mosaic styles that will catch anybody's attention. This will make the basement look gorgeous.
6. Install a Ceiling Medallion:
Do you own a plain basement ceiling? Want to make it more exciting? Install a ceiling medallion for easy and quick basement ceiling ideas. Choose a color theme for the ceiling and compliment it well with a series of LED lamps. You can also accompany them with a chandelier in the center of the room. It will add to the glamour tremendously. Moreover, you will find a variety of styles, colors to match any theme of your house.
7. Beveled Mirror Tiles- Especially for Dark Rooms or Low Ceilings:
Do you own a boring basement space? Want to get super creative with it? It is the perfect time to redo your basement. Choose mirror tiles for a low ceiling. It will also work great for dark rooms in the basement. This is one of the coolest ceiling ideas for the basement that brings instant energy to any darkroom.
Install mirrored tiles with enough lights. It will make light bounce all around the room. It opens up space. You must also choose a neutral shade for the walls. Even a white color will be great for you. It reflects the light and hence makes the room look brighter. Moreover, it makes a small look even more spacious and vibrant.
8. Corrugated Metal Basement Ceiling for More Industrial Look: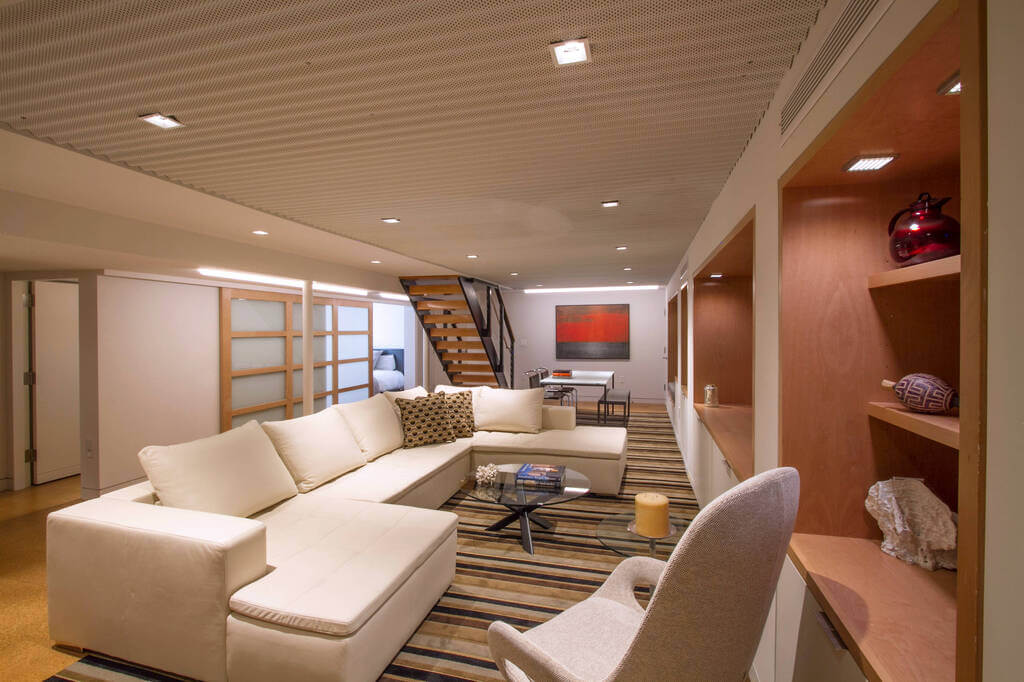 Adopt a corrugated form palate for the basement ceiling this year. The idea is unique and brings in the industrial look. Moreover, it features the ability to reduce sound well and hence plays a great role in noisy areas. Transform your old noisy underground room into much more comfortable using corrugated metal ceilings.
You can also complement it with wooden beams for a farmhouse vibe. However, make sure that you install a series of warm lights all around the room. These warm white light fixtures bring in a softer and more natural look.
9. Install Proper Lighting in the Basement
Do you own a small basement area and are looking for ways to make it more productive? There are loads of ways of using different basement ceiling ideas to decorate an otherwise simple ceiling. For example, get a super creative ceiling with this basement ceiling with a proper lighting system.
You can put together a series of small things to make a small space more attractive. Add some depth and vibrance by installing a great combination of lights. A perfect lighting system also creates the illusion of making a small space larger. Also, choose a light shade of paint for the wall to complement it well with ceilings.
Conclusion
Turn all your basement into a functional space of your house. For example, you can make game rooms, home offices, home theatres, and home gyms out of it. However, you will love to spend time in this part of your house when it has perfect decor. The above article discusses an array of inspiring basement ceiling ideas for the decor. Moreover, these ceiling ideas for the basement are simple and will fit right into your budget. Choose the one that matches your living style best!
Keep Reading: