Glamourising Your Utility With 10 Best Shower Caddy For 2023
Who doesn't like space savers or multi-use utilities? Well, some of the best shower caddies are the ones that do both, they save space while being a great multi-utility asset to have. Let's see the best shower caddy.
Today, we are going to look at some of our favorite picks of the best shower caddy for 2023. This list consists of some of the trending picks that will suit your home decor. 
What Is A Shower Caddy?
A shower caddy is a type of box, container, or holder that is used in shower areas of toilets and bathrooms to keep products in. They come in many different shapes, sizes, and materials and can be kept in the bathroom in different ways. 
A common one is the hanging shower caddy, which is hung on doors, taps, pipes, or shower curtain rods. They also come in the form of boxes, trays, and netted bags that can be kept on different surfaces.
Why Does One Need A Shower Caddy?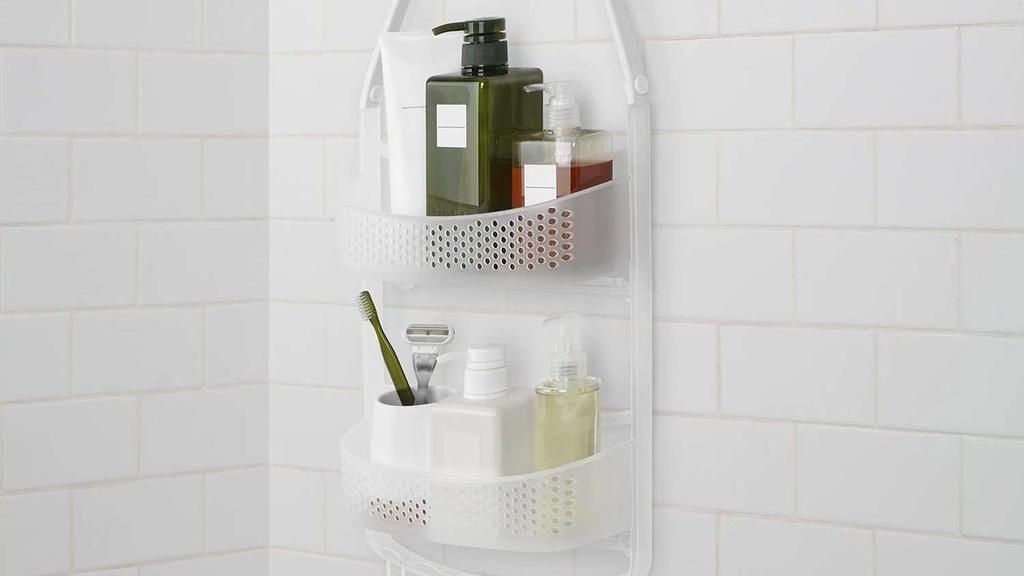 Source: feednews.com
A shower caddy is the best way to keep the bathroom organised. Soaps, loofah, shampoo bottles are harder to reach when scattered across the toilet and when one has soapy hands. They keep the space clean and provide efficient and easy access. Having an organised shower caddy also allows for efficient time usage, where one does not have to spend any time searching for things.
Best Shower Caddy of 2023
Since there are so many different kinds, the caddy completely depends on the bathroom design and what the user wants. 
Thankfully, there are so many different caddies to choose from which will match the required aesthetic. Another quality is it should be long-lasting and waterproof.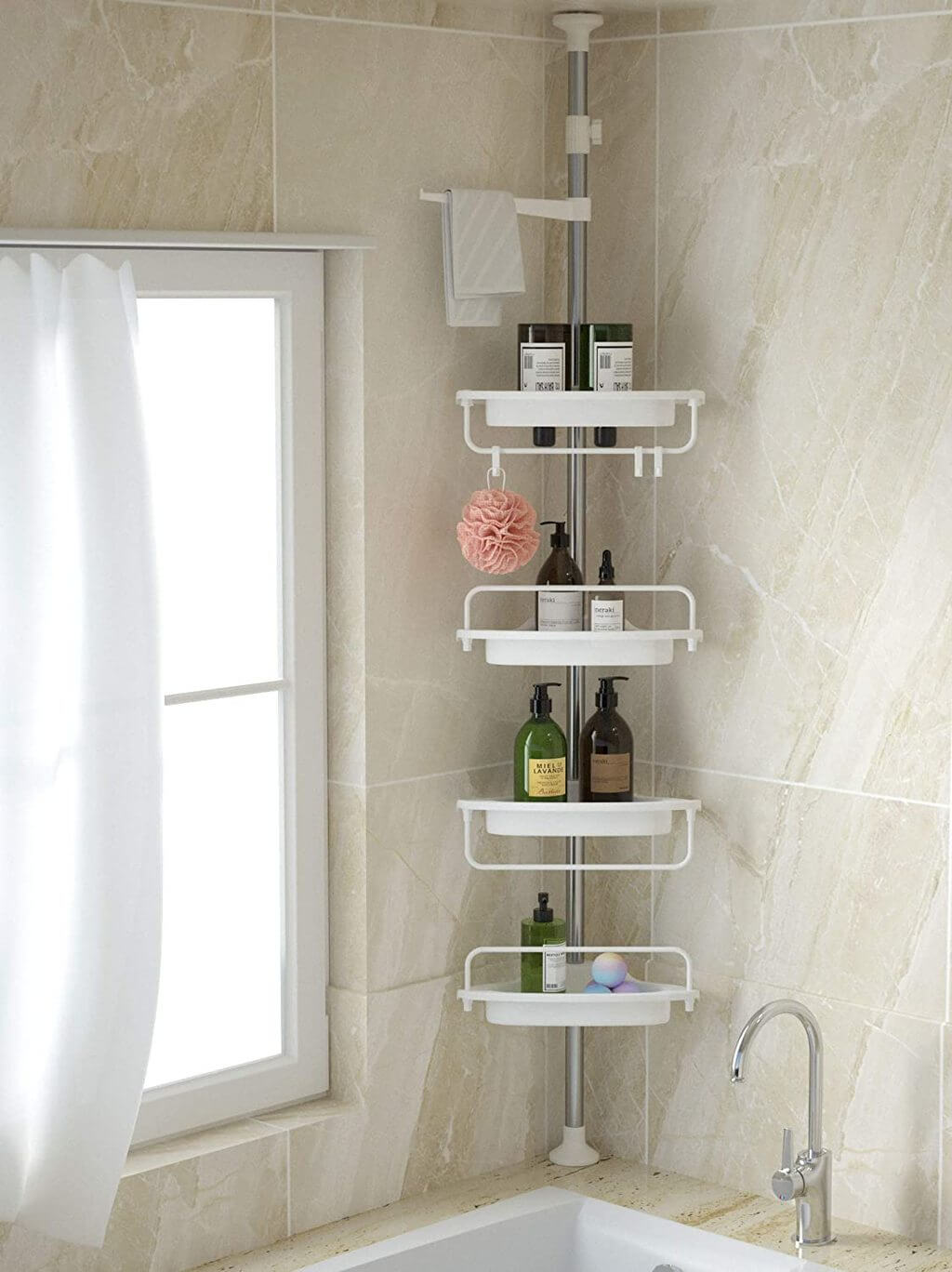 Source: Amazon.com

The ALLZONE Constant Tension Corner is make of stainless steel, fully adjustable and customizable. It has 4 tiers of shelves, each attach with a handle of sorts that can be used to turn the entire shelf upside down. It also comes with holes for shampoo bottles which can be completely turned when the quantity is reducing. 
The handles of this corner shower caddy also come with some hooks to hang small loofah, towels etc. Even though it's difficult to assemble, a large amount of storage space, functionality and interesting features make it one of the best on the market.
Source: Amazon.com

Sometimes simplicity  is the best! This type of best shower caddy can be install on any flat surface convenient to the user. It comes with 2 suction cups that stick firmly against the wall, and can also be easily detach when require. The stainless steel basket forms a mesh that won't allow any products from falling and can hold up to 44 pounds of bottles, brushes, soaps etc.  
The lack of hooks provides no provision for hanging loofah and towels. The shower caddy also comes in black steel for a more modern look.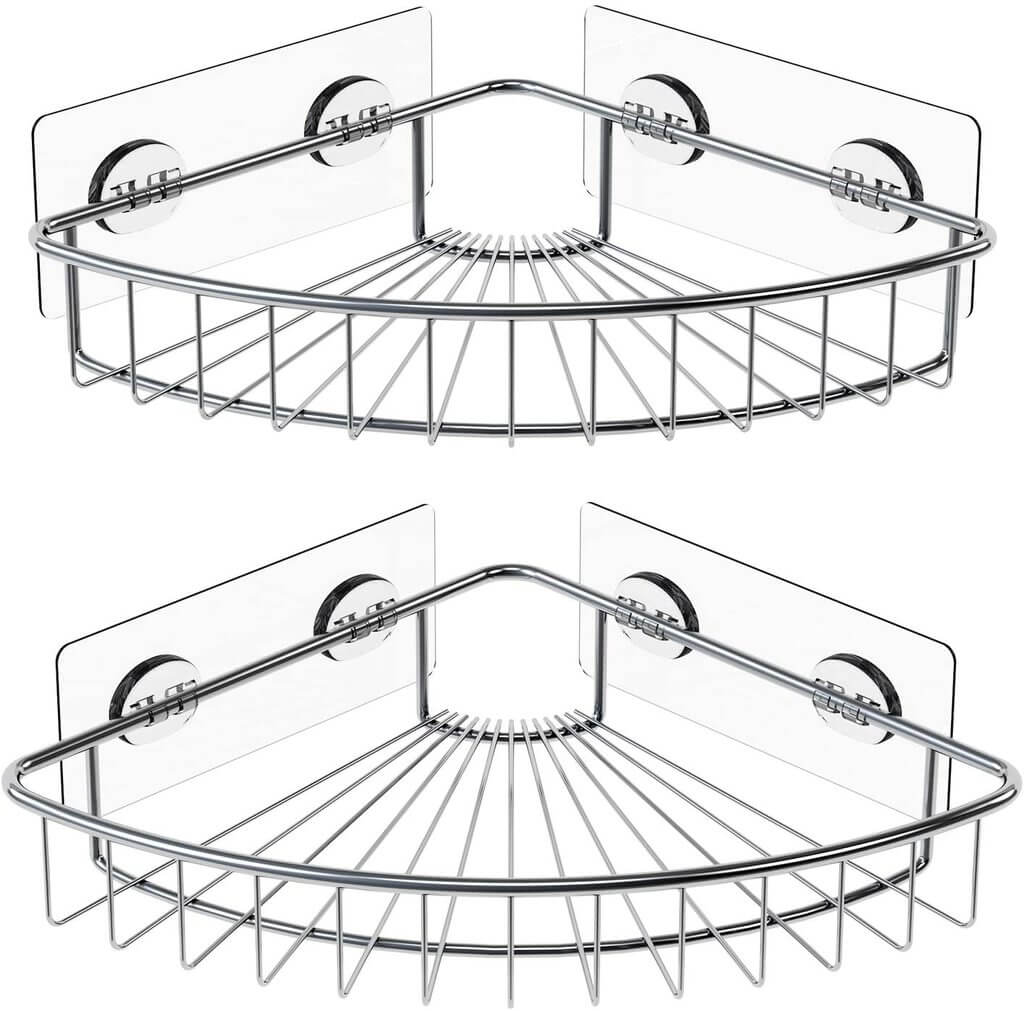 Source: Amazon.com

The Smartake Corner Caddy is a corner shower caddy that is simple yet remarkable. It features 2 deep baskets made of stainless steel wires that can hold a large number of products and tremendous weight. It comes with two suction panels on the two perpendicular sides and hence provides a two-way suctioned firmness and grip. 
The lack of hooks provides no provision for hanging loofah and towels. During installation, the sticker panels have to be carefully attached to the hooks on the basket rims which may be a bit of a task but the product is worth it in the end.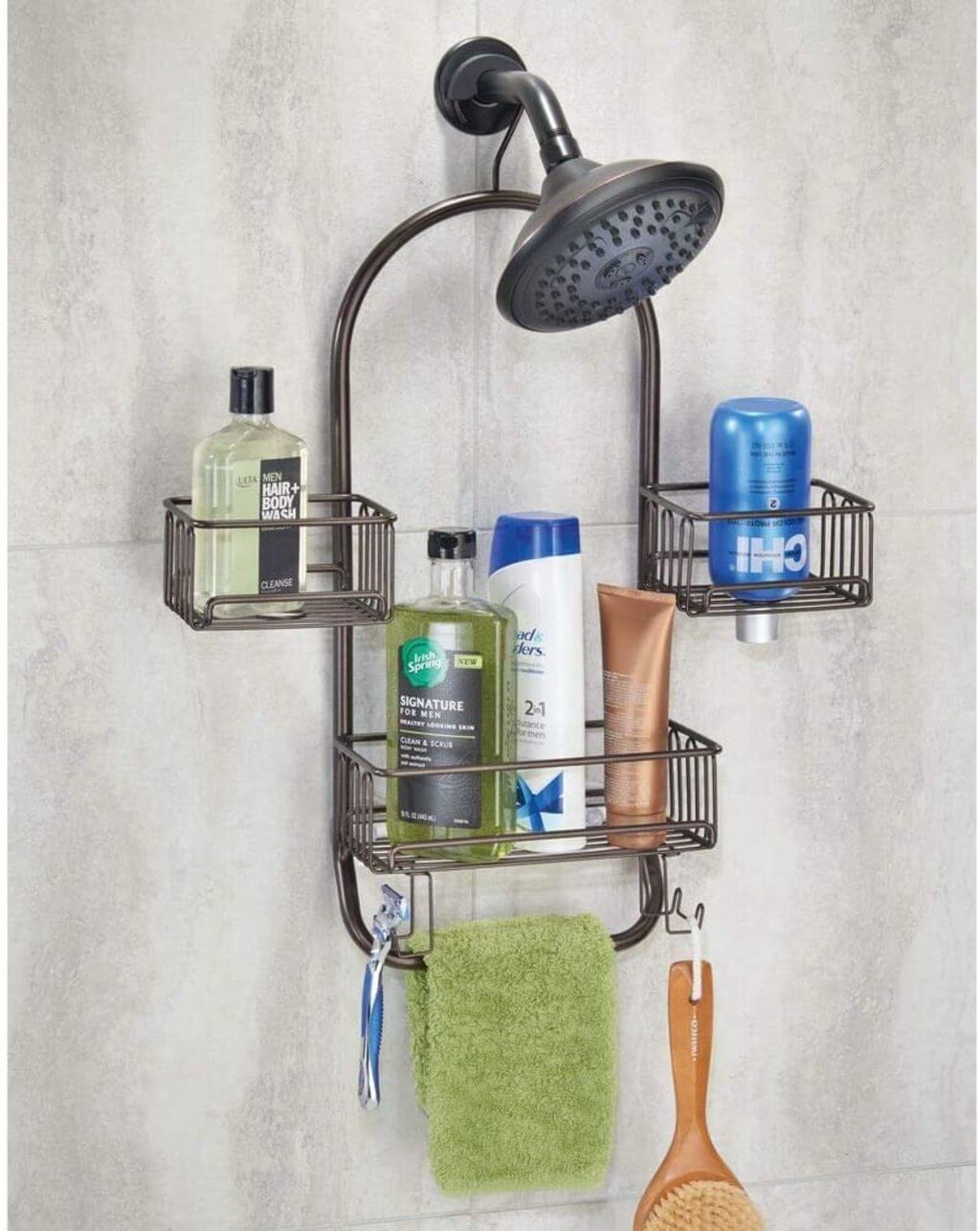 Source: Amazon.com

A modern-looking hanging shower caddy that is stylish yet functional. It hooks into a shower head and comes with 3 baskets, two hooks, and a towel. 
The baskets are made of strong steel wire, and have the capability of holding bottles upside down for easy dispensing and pouring. 2 suction cups are also add at the back of the mainframe to prevent the caddy from swinging. It is easy to install, stylish and durable, making it a perfect option for a modern bathroom design!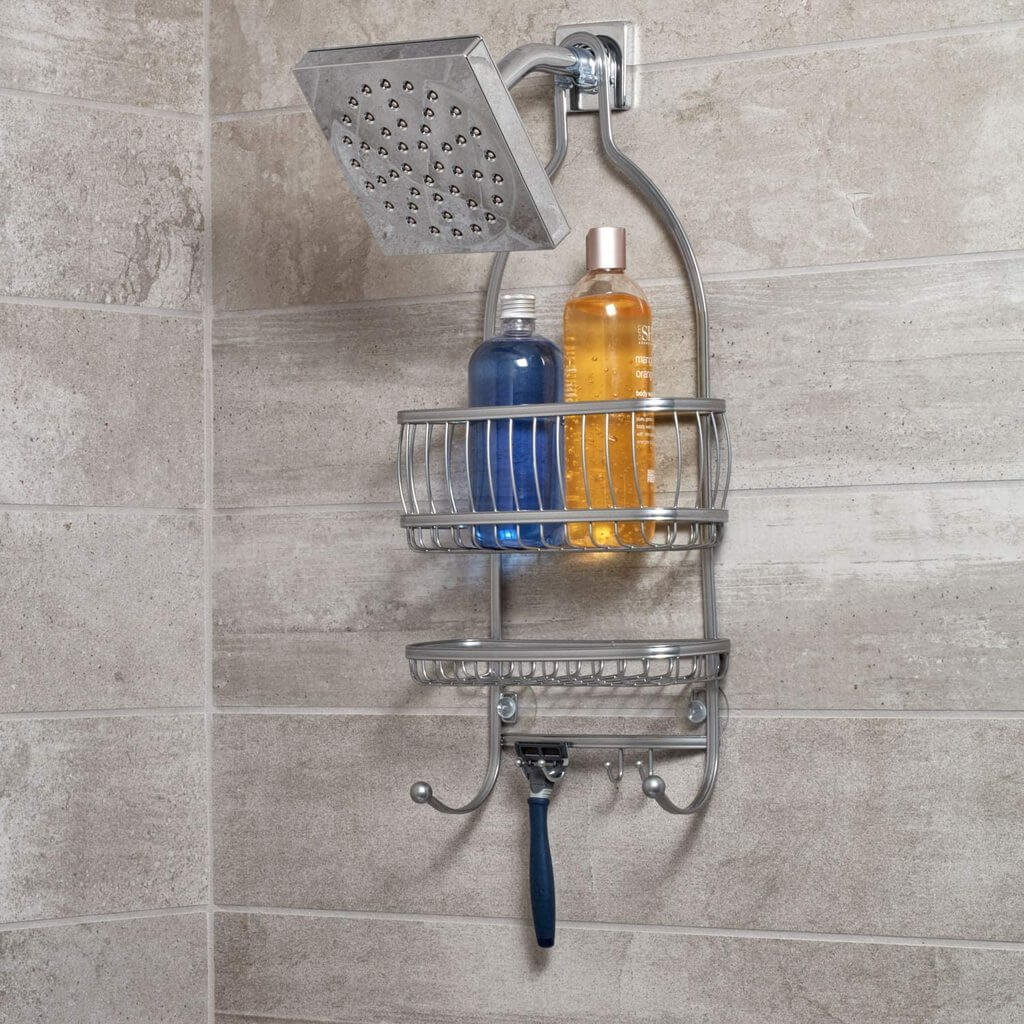 Source: Amazon.com

This hanging shower caddy features 2 baskets, one deep for bottles and one shallow for soaps, and an entire bar of hooks for washcloths, razors etc. The caddy is make of steel and is rust-resistant. 
It is installed on the showerhead but also comes with two suction cups attached to the mainline to prevent swaying of the caddy. Its wide design and seamless look is the perfect addition to a bath area!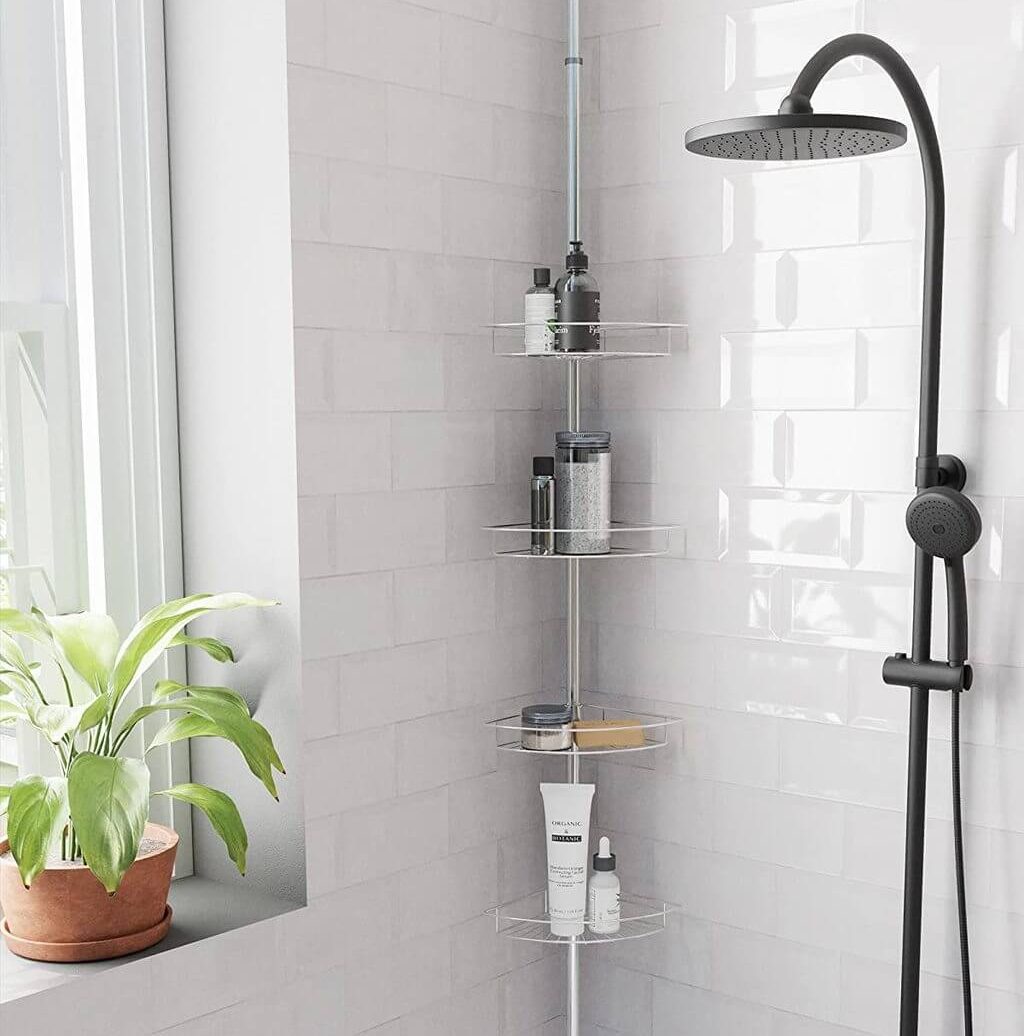 Source: Amazon.com

The Zenna Home Pole Caddy is a very elegant corner shower caddy with great functionality and a simplistic design. Equipped with a 4 quarter circle shaped basket attached to a tension pole. The spring pole can be extend to sit comfortably between the floor and ceiling. 
The baskets are deep enough for bottles and soaps to be kept. One disadvantage though is the fact that the shower caddy has the capability of toppling over due to the wide spacing of the bottom baskets and the guard rails. However, for a tension pole type corner shower caddy, the Zenna Home is a great option.
Source: Amazon.com

Another Zenna product of class, this shower is make to hook directly onto handheld shower hose stands. Made of stainless steel, the hanging shower caddy has a main rectangular frame that houses 4 baskets on 2 levels and a hanging rack at the bottom for additional functionality. The deep baskets enable bottles to be kept, and the hanging rack comes with hooks for clothes, towels etc. 
The material, like most caddies, is make of no-rust steel and the slip-proof collar holds onto the showerhead firmly. Additional suction cups are provided for better grip.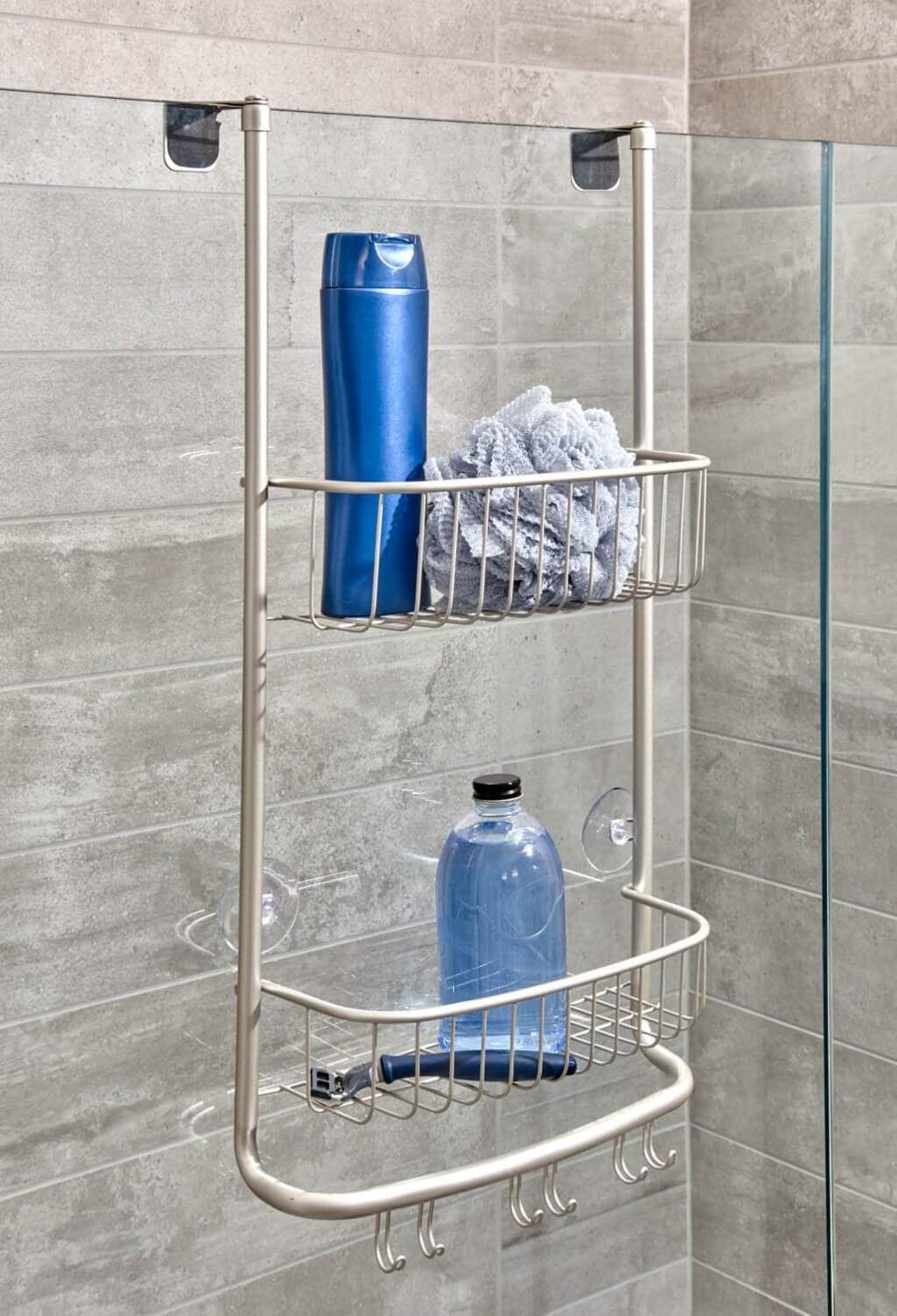 Source: Amazon.com

This type of shower caddy is install over the door of a bathroom. It comes with two flat hooks at the top of the door and provides great support, preventing any sort of tipping and swaying. InterDesign has created this hanging shower caddy with the need to be efficient and functional, where it doesn't get in the way or take up too much space. 
It has 2 steel grid baskets on 2 levels, differing in size is the main storage with a hanging unit at the bottom, fully equipe with hooks and a rack. The shower caddy also comes in different finishes like bronze, matte black. Pearl satin etc to match the taste of a bathroom. The inclusion of 3 razor hooks is also a great feature.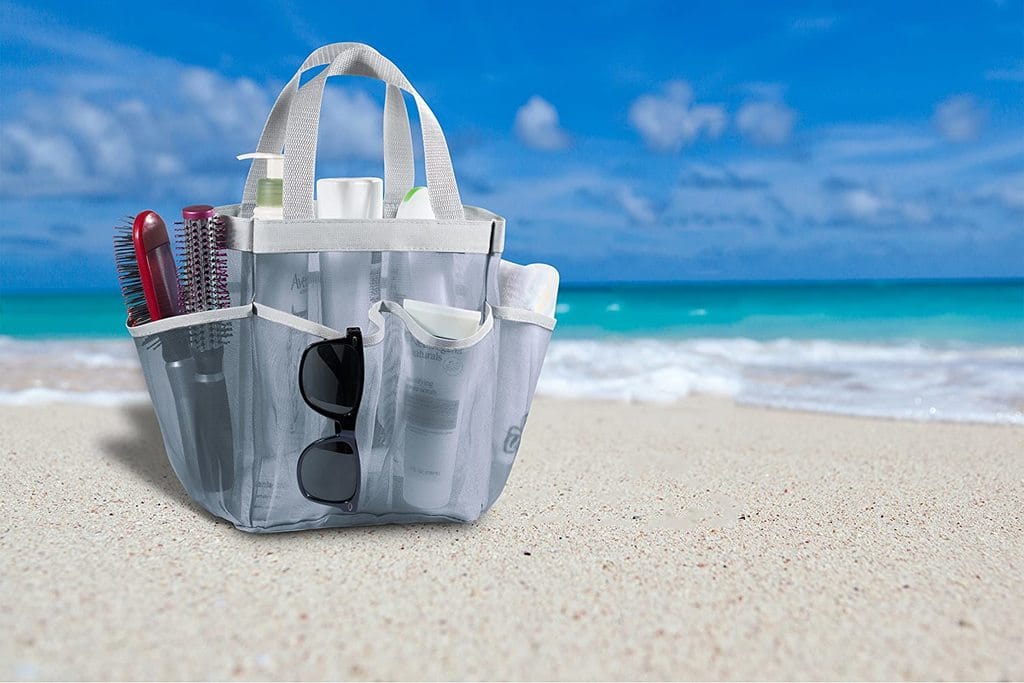 Source: Amazon.com

This type of shower caddy is completely different from the ones we've seen before. Perfect for travel in college dorms, hotels, gym etc, the caddy is actually in the form of a tote bag. Provided with 8 different compartments, it can hold large shampoo bottles, soaps, towels, and even clothes. 
The material is a polyester mesh and is hence very breathable, allowing for easy evaporation. It is attractive and easy to carry. Its only drawback is that it tends to be bulky and products can leak and create a mess. However, for a portable shower caddy, it's a great choice!
Also Read: 5 Best High Pressure Shower Heads to Upgrade Your Shower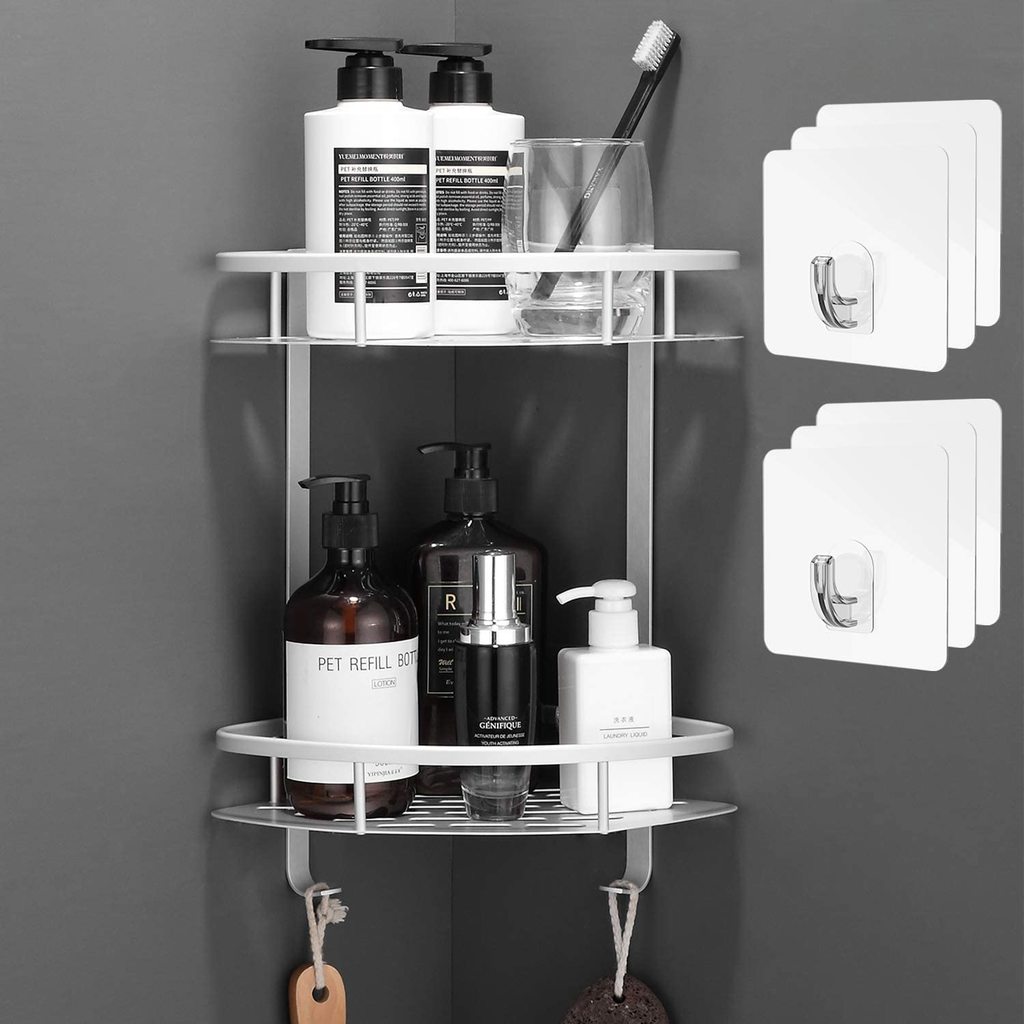 Source: Amazon.com

Another corner shower caddy of its kind, the Flowmist is the perfect modern addition to a modern design bathroom. Since it can be tucked away into a corner, it is very efficient. The caddy comes with 2 levels of open shelves with a steel guardrail, high enough to hold bottles inside. At the bottom, 2 built-in hooks are provided for hanging items. 
The frame is made of aluminium design and 2 action cup backings are provide to stick up against the walls. The one drawback is that there is no soap tray and is only useful for bottle storage. Its curved look provides a sleek look as well as a modern feel.
Which Is The Best Shower Caddy To Pick?
Source: huntershillart.com
The design finesse and diversity in the shower caddy make it a difficult decision to choose from. Since shower caddies are primarily a utility aspect with core functionality, you should prefer usability over vanity first. 
A caddy should be in relevance to your available bath space as well as your utility needs. Once this is establish you can start choosing between various options like a hanging shower caddy or corner shower caddy and many more. The variety is diverse and therefore, defining the purpose behind your buy is crucial. 
To know more about cleaning tips, home improvement tips visit Architecturesideas.
For daily updates, follow us on our Instagram page @architectures_idea.