14 Decor Ideas for Your Outdoor Kitchen
Outdoor dining and cooking evoke a fun, celebratory spirit. Family, friends, picnics, pizzas, pool antiques, games, beers, barbeques, and laughter. Being outside in the open-air inspires a carefree and cheerful atmosphere that is difficult to achieve indoors. Outdoor kitchen designs, ideas, and themes vary with individual needs and the surroundings. For most homeowners, your decor ideas for your outdoor kitchen will take place in the backyard, preferably on your beautifully decorated patios or decks.
However, some outdoor kitchens don't look too inspired, lacking some polish and beauty. Fortunately, there's a way to spruce up your outdoor kitchen with the right home decor.
To get you started with the decorations, here are fourteen great decor ideas for your outdoor kitchen:
1. Pergola Bar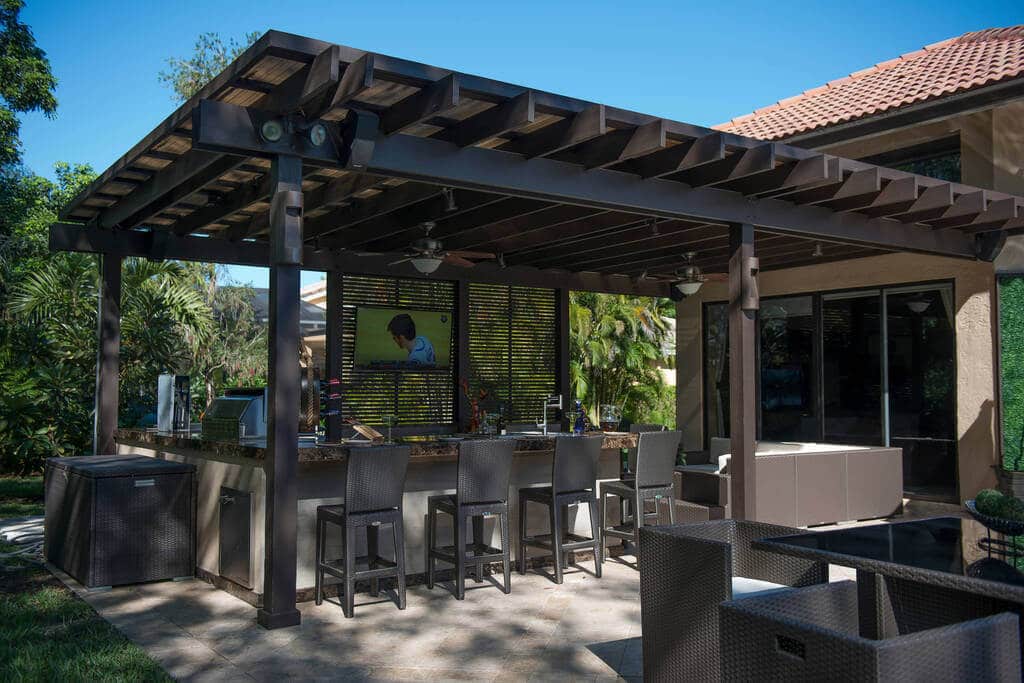 Source: hzcdn.com
Revamp your outdoor kitchen with a pergola bar to extend its appeal. It visually enhances a space by giving it character and definition while still providing shade. It also creates a perfect setting for incorporating string lights, which exude a dramatic effect during those special nights.
2. Shaded Kitchen
This kitchen decor idea is excellent if you are living in an area with unpredictable weather. Find a way of incorporating sleek vertical shades that match the walls and compliment your kitchen design. This way, when the rain starts to pour or the wind is too strong for you to prepare your meals, you can quickly close off your outdoor kitchen.
3. Add a Chiller Trough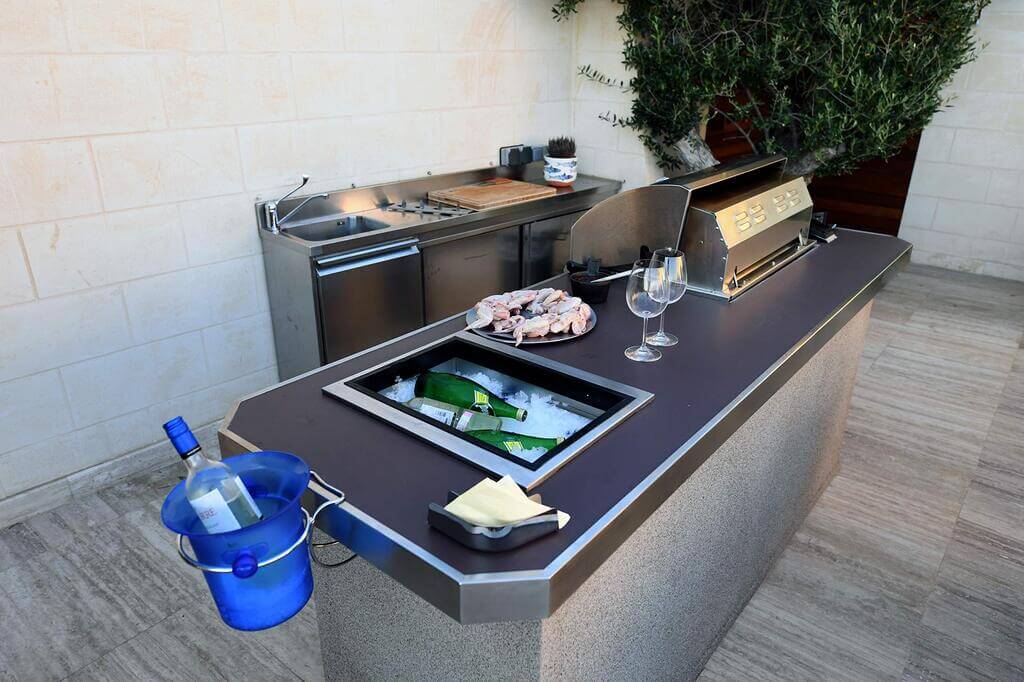 Source: amazon.com
Cold drinks are a great complement to hearty meals and warm days. Getting cold drinks from inside the house can turn into endless trips, which spoil the fun. Adding a chiller trough to your outdoor kitchen is one of the most practical and intelligent decor ideas. Install the chiller trough on or close to your outdoor dining table to enjoy a plentiful supply of chilled drinks within easy reach.
4. Repurposed Pallets
Your outdoor kitchen and barbeque station doesn't have to be an expensive project. A repurposed pallet kitchen is affordable, practical, and delightful. Plus, repurposed pallets have a rustic feel and a unique visual appeal. You can incorporate a tin roof to provide shade and protection against sudden rainfall.
5. Asian Lounge Theme
You can turn your outdoor kitchen into a mesmerizing and chic Asia-themed lounge. This decor theme lets you convey the enigmatic eastern feel with floor seating, bamboo plants, and vertical wood fencing. Take it a step further by adding a fire pit for nippy nights and a retractable canopy for shade.
6. White Boards
Make your outdoor kitchen a DIY project with whiteboards. With a few tools, wood planks, and dedicated hours of hard work, you will have a simple yet charming outdoor installation. Start by building the platform, then the counters, and go further by adding a pergola. This all-white concept can be complemented with shiny chrome kitchen implements.
7. Pizza Oven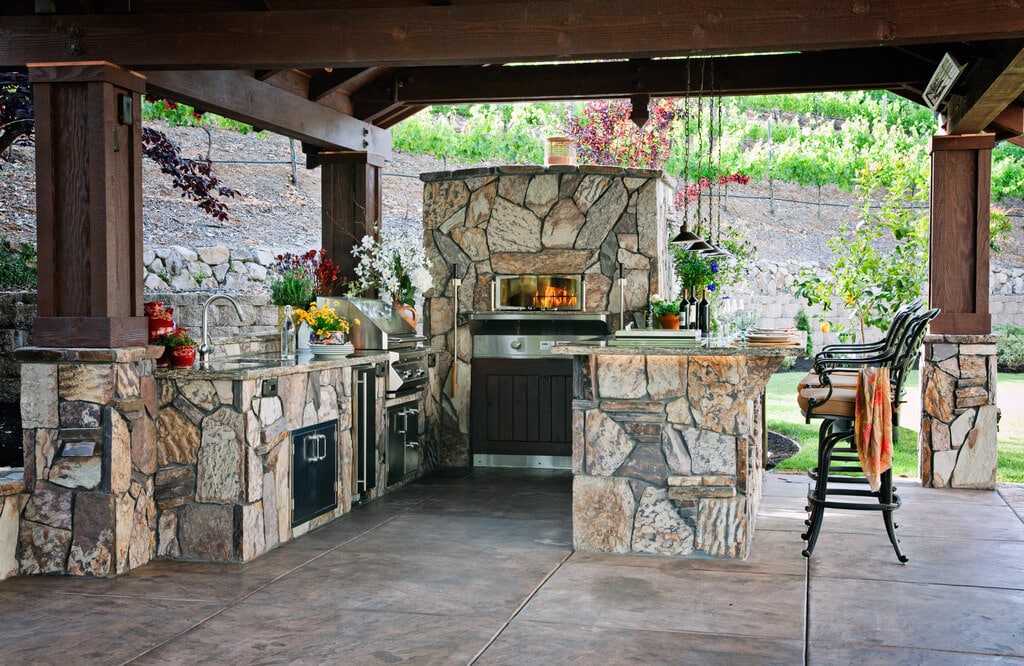 Source: arizonawholesalesupply.com
Outdoor kitchen cooking is synonymous with barbeques. But that shouldn't stop you from having other favorite comfort foods such as pizza. Install a pizza oven in your outdoor kitchen to enjoy bread with your barbeques and hot homemade pizza.
8. Rustic Barbeque Station
This outdoor kitchen-on-deck idea is designed to give the space a manly touch. To achieve the rustic feel and evoke the tumble cowboy vibe, incorporate a stripped wood pergola, reed slats for walls, bare wood flooring, and stacked rough stone sides.
9. Retractable Canopy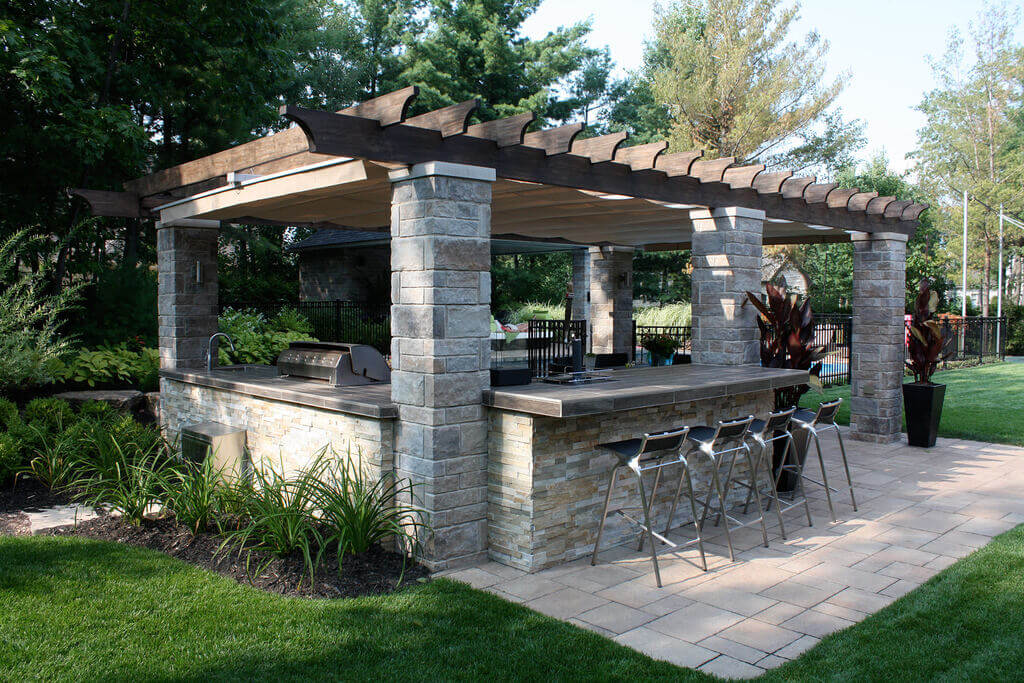 Source: shadefxcanopies.com
A retractable canopy is an excellent addition to your outdoor kitchen if you need shade during the hot seasons without installing a roof over it. This decor is a popular choice in most outdoor kitchen designs. You can pull out the canopy whenever you need it and hide it when it's not in use.
10. Rustic Kitchen Pavilion
If you love inviting your entire group of friends over, or have a huge family to feed, a huge outdoor kitchen to take care of the cooking is what you need. A U-shaped kitchen pavilion provides you with more than enough storage and workspace. Incorporate stripped wood roofing and paneling to give the space an archaic, unique rustic charm.
11. Rustic Kiosk
Who says a staycation can't be fun! It is also cheap and easy to arrange compared to the real deal. You can incorporate an all-year-round staycation spirit and fun with an outdoor kitchen rustic kiosk. It is ideal on rooftop decks, the edge of the garden, or next to a pool.
12. Red Bricks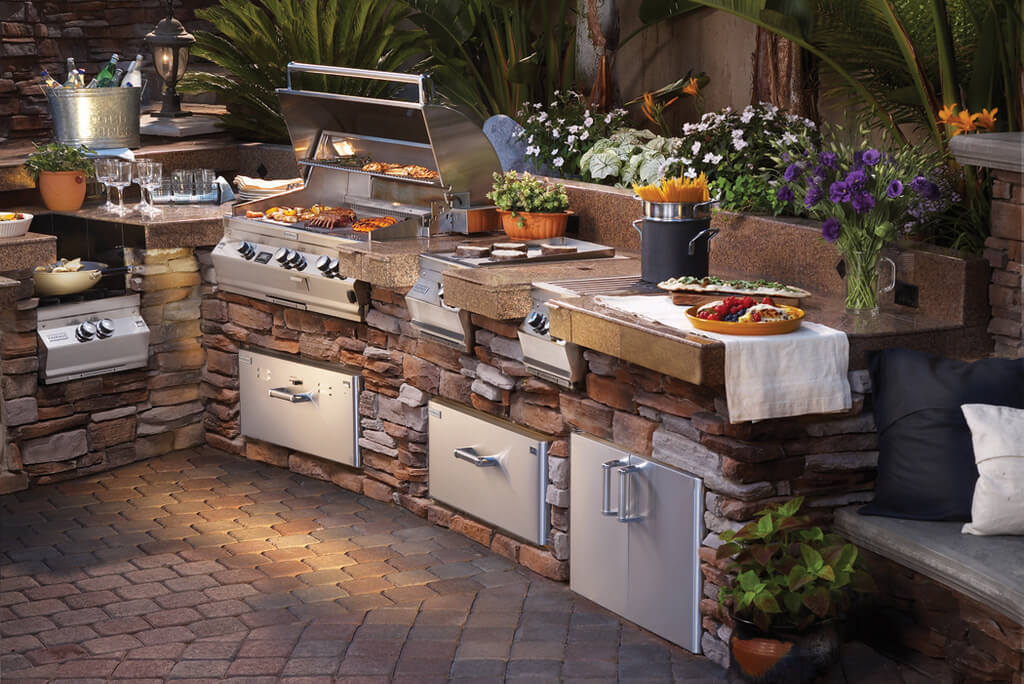 Source: ferriershardware.com
This outdoor kitchen-on-deck idea conveys the old-world image of sumptuous, smoked, and well-prepared meals. Go with a rough red-brick base, concrete counters, and polished wood cabinets to give the space a unique, robust, and rustic feel.
Also Read: The 6 Gorgeous Wall Decor Ideas for Your Kitchen in 2022
13. Refrigerated Drawers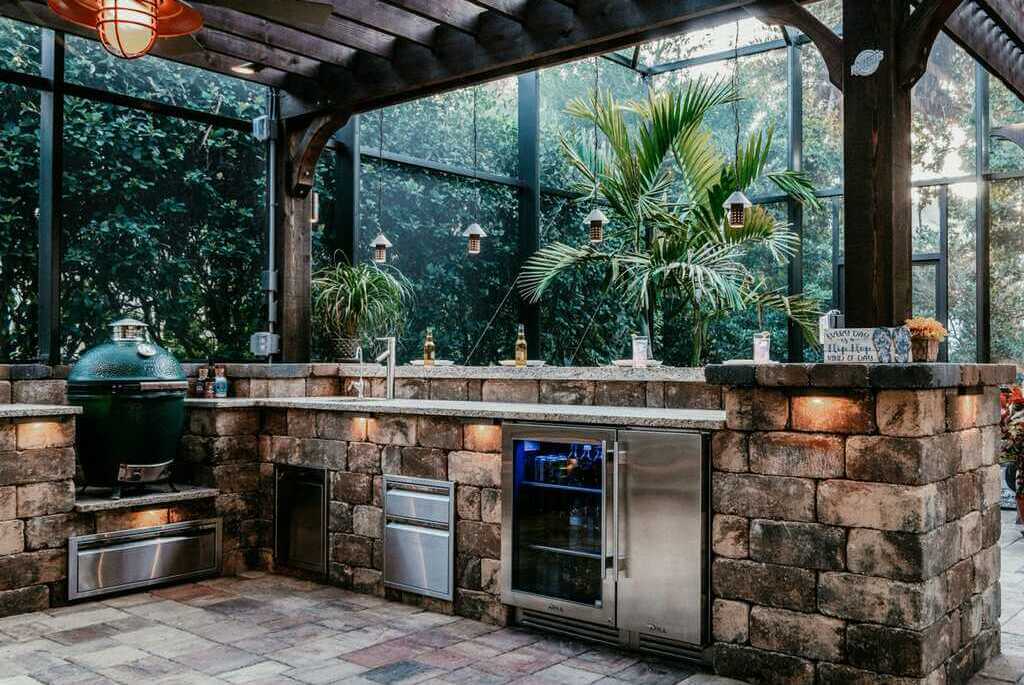 Source: true-residential.com
Cool drinks are essential for cozy night lounging, afternoon barbeque parties, and warm day picnics with friends or family. Keep your drinks cool and easy to access by adding refrigerated drawers to your outdoor kitchen.
14. Sail Shades
Sail shades are a great addition to your outdoor kitchen. They provide shade during hot days, can be removed if not in use. Plus, the shades are relatively easy to install. Choose sail shades that complement the theme of the rest of the kitchen.
These are just some ideas to give you a head start in your brainstorming session for your outdoor kitchen project. Don't hesitate to add your unique personal touch.