25+ Best Dining Table Centerpiece Ideas for a Standout Space
Dining spaces are where you gather up in a cluster to enjoy the meal as well as each other's company. In such a joyous setting the ambiance created by the table itself plays a role in stimulating the conversation. A contributing factor to such a thing would be the dining table centerpiece that creates the ambiance for the conversation and gathering. Getting the right elements to work in harmony to create such a setting is a task on its own. Lending a helping hand with the same are these dining table centerpiece ideas for your perusal. 
25+ Elegant Dining Table Centerpiece Ideas to Steal the Show
1. Modern Goth Appeal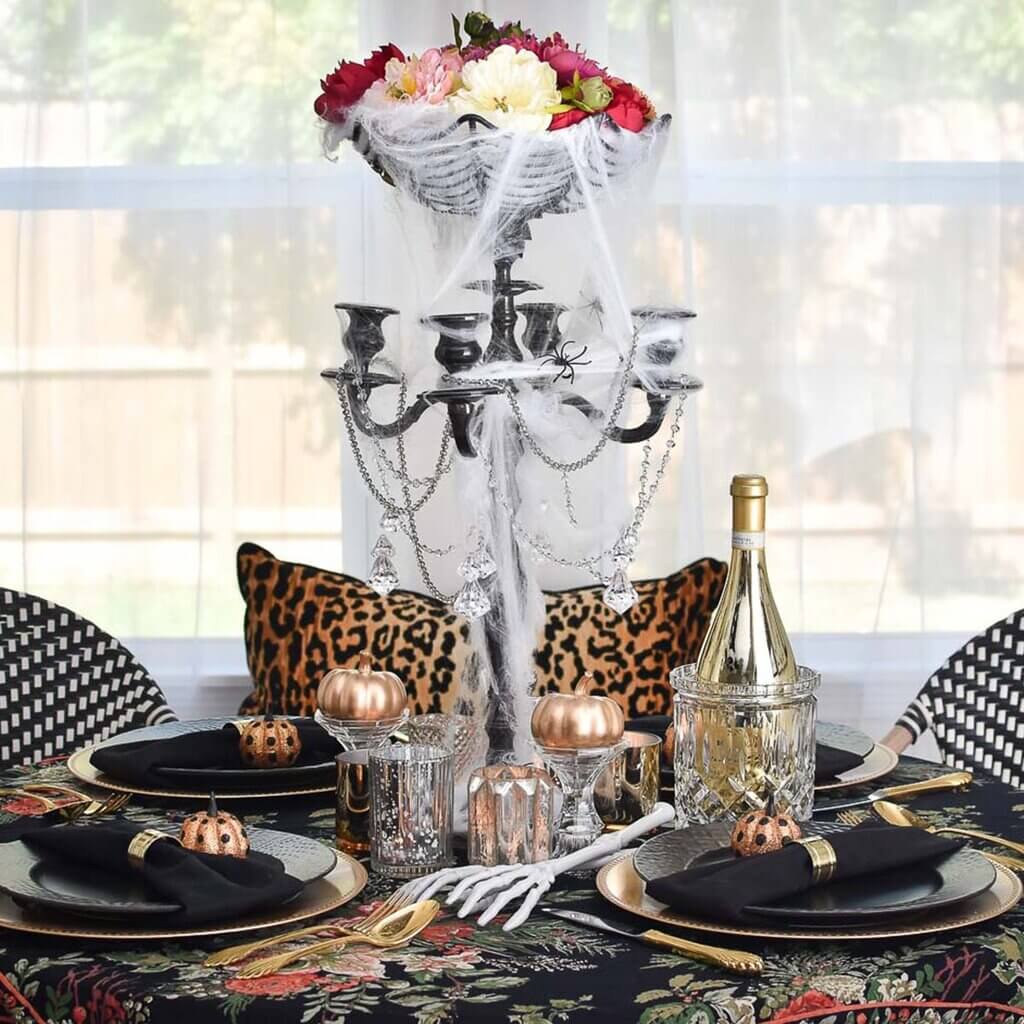 Source: squarespace-cdn.com
Gothic aesthetic today, is associated with a darker and spooky side of design where various dark prints and colors come into play. The dining table centerpieces ideas can be inspired from the same with accents of gold adorning the majority of a black or dark color palette. Tall black candle holders and decorations added with decor that compliments it can be taken.
2. The Old World Vintage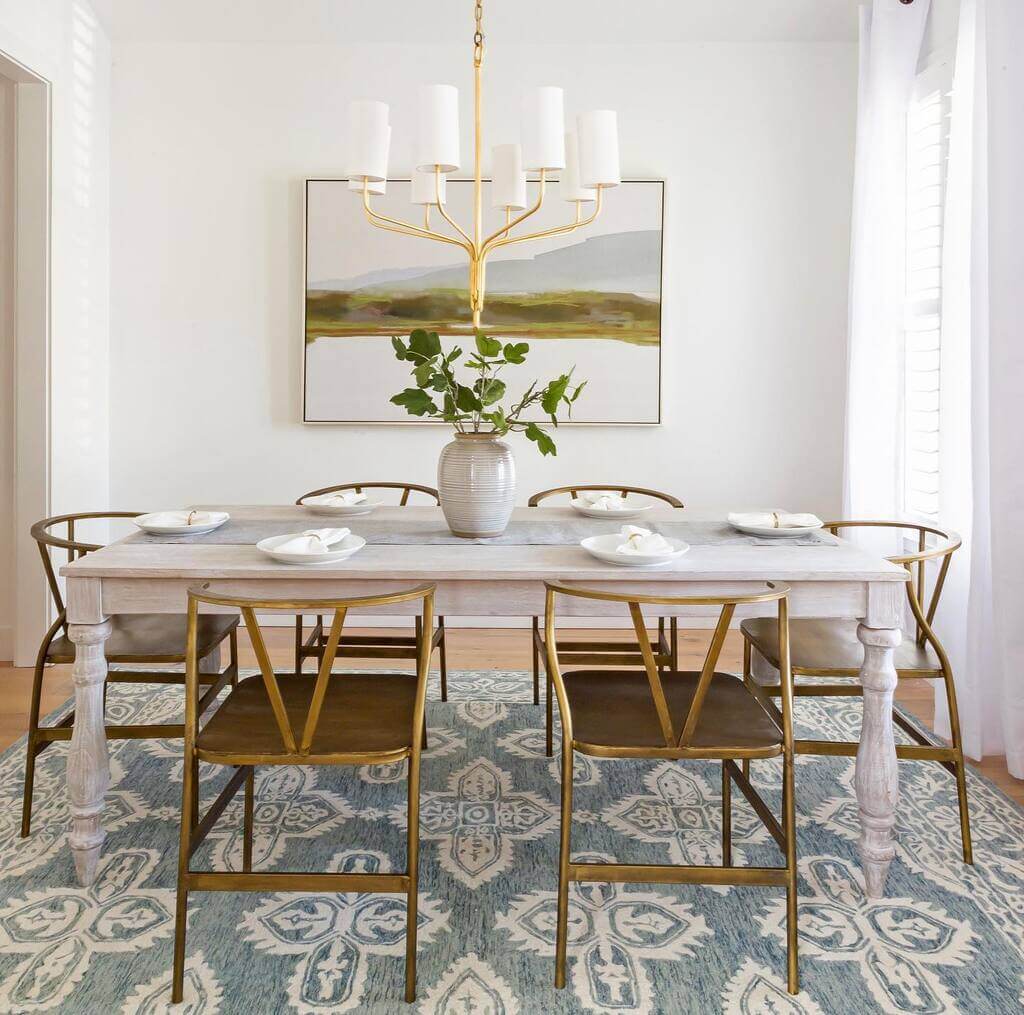 Source: rugs-direct.com
Take in the full advantage of the spring season to create a palette around this oldie but a goodie of a theme. Rich hues of burgundy, plum, and navy can be used in combination with subtle beiges to give an elegant pop to the dining table. Flowers and decorative vases were all the rave and can be brought back as a popular centerpiece. 
3. Fruit on Display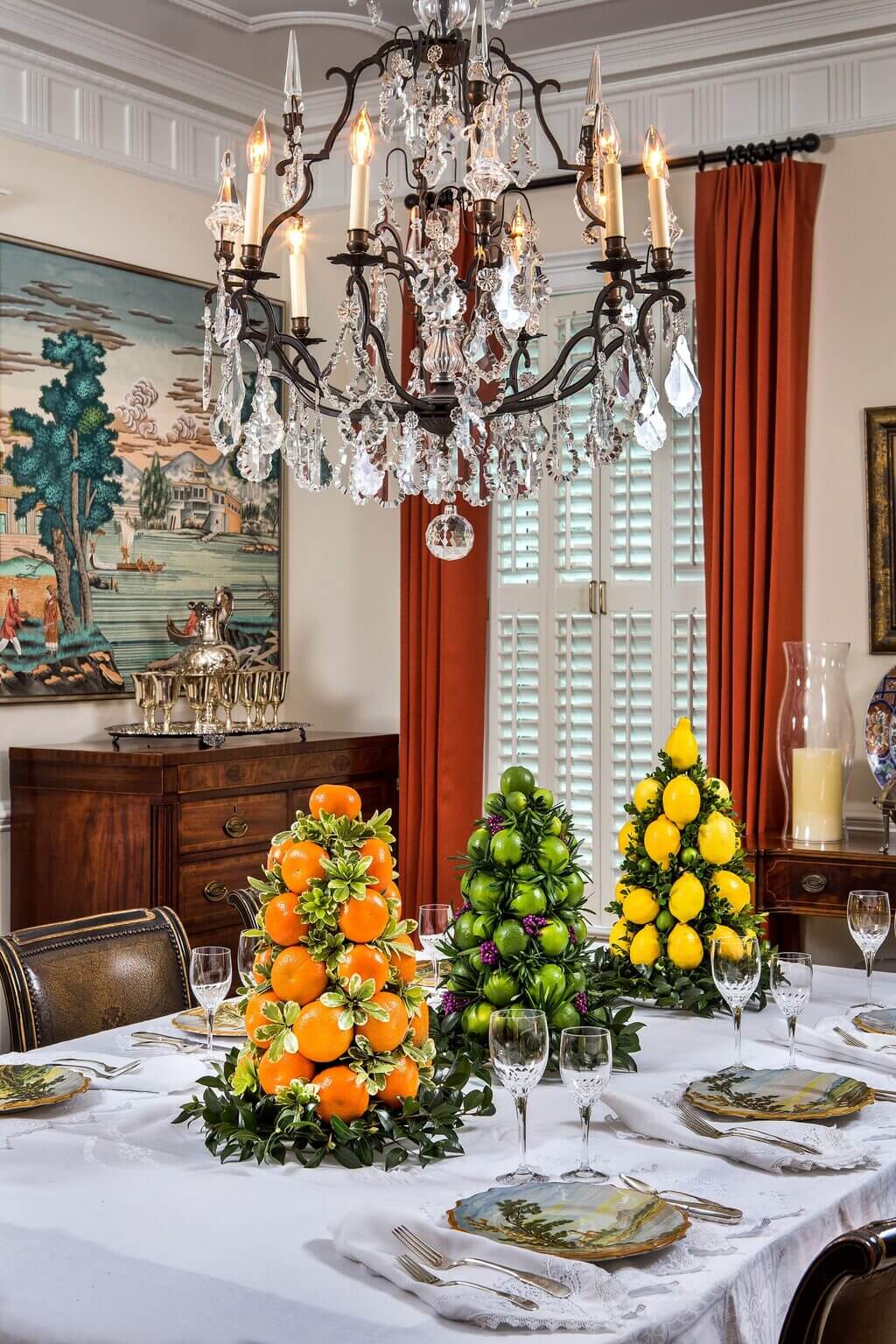 Source: columbiametro.com
How could a fruit on display be a centerpiece? Well, why not stack them on a tower that is made of kale and a foam cone. Use some kale and toothpicks to create a canvas for the fruit, here oranges, to be fixed like a tower. It gives the viewer a tropical vibe that also gives them a glimpse of how beautiful fruits can be.
Also Read: 40 Charismatic And Budget-Friendly Modern Center Table Design For Every House!!
4. Crafty Jars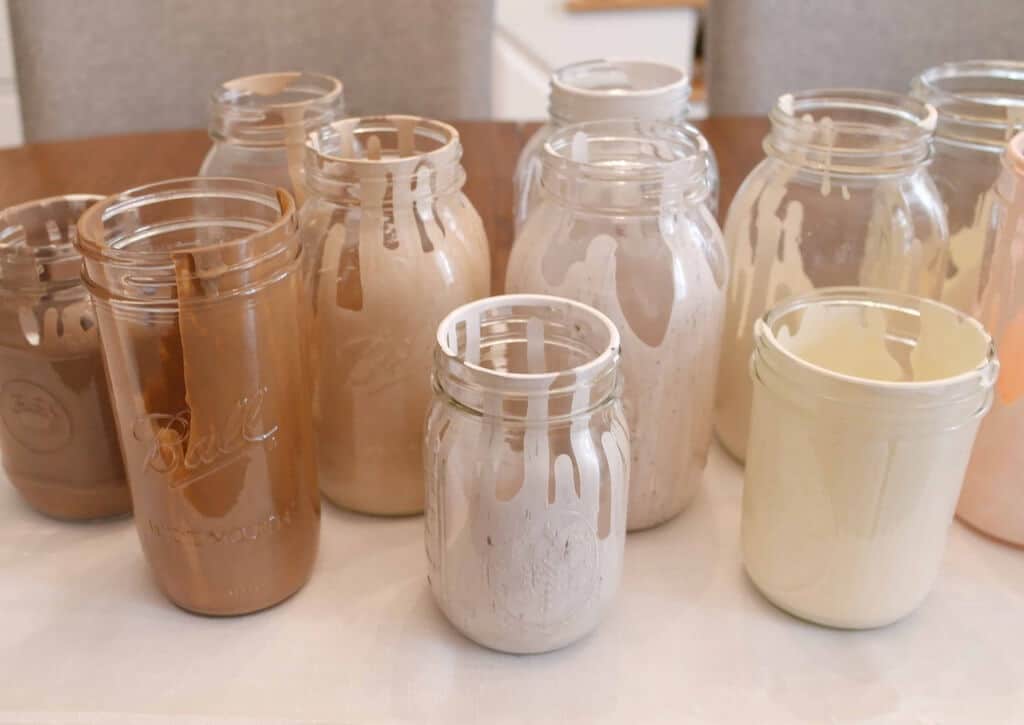 Source: arinsolangeathome.com
Wondering what to do with those empty mason jars that you never use? Well, turn them into simple dining table centerpieces ideas of course! You can be creatively free and go ahead and paint on them to create designs that will suit your dining room decor. It is a cost-effective and simple way to add vibrancy to the setting.
5. Bringing the Green In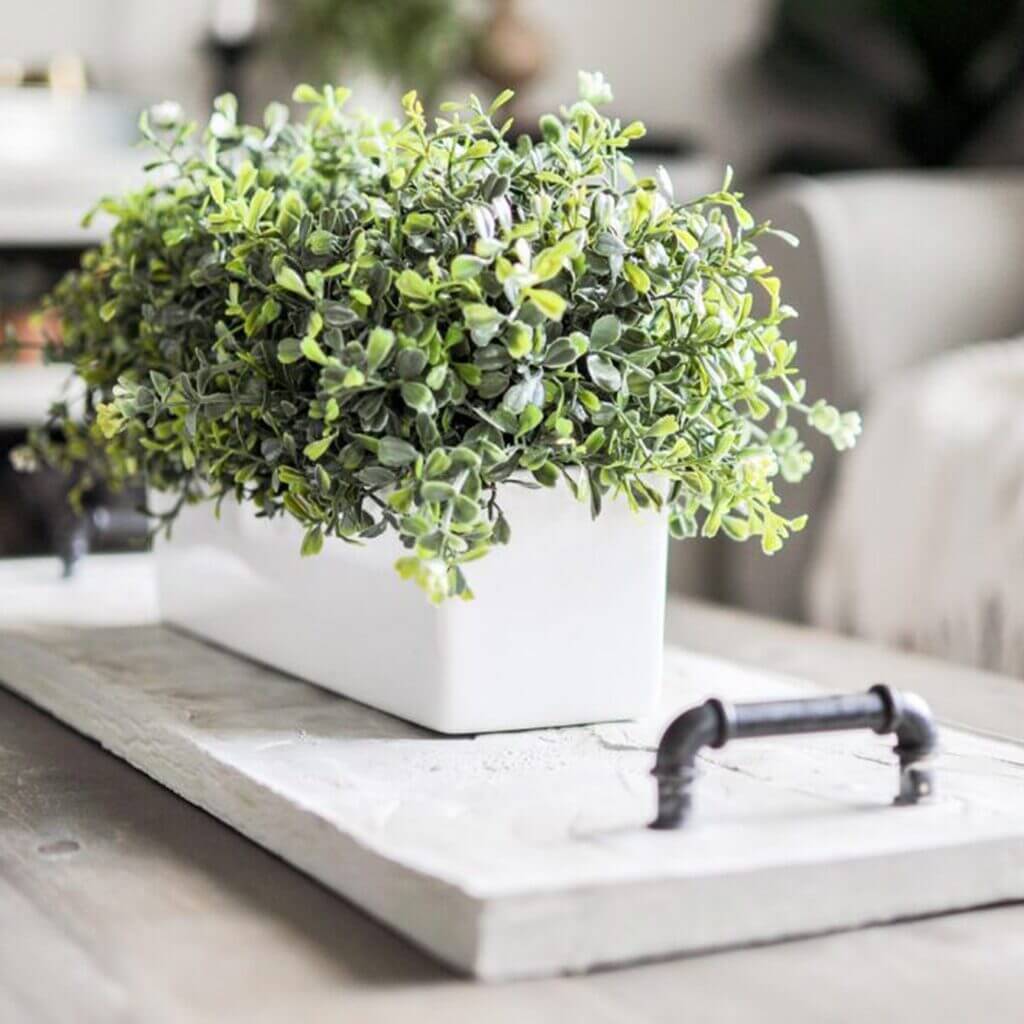 Source: tasteofhome.com
What could be more vibrant than a plant for centerpiece ideas? Bring in some of the nature from the garden outside or get them separately for the space. You can fashion a tray that could hold the plant that will keep away the dirt from the table.
6. Elegance with Candles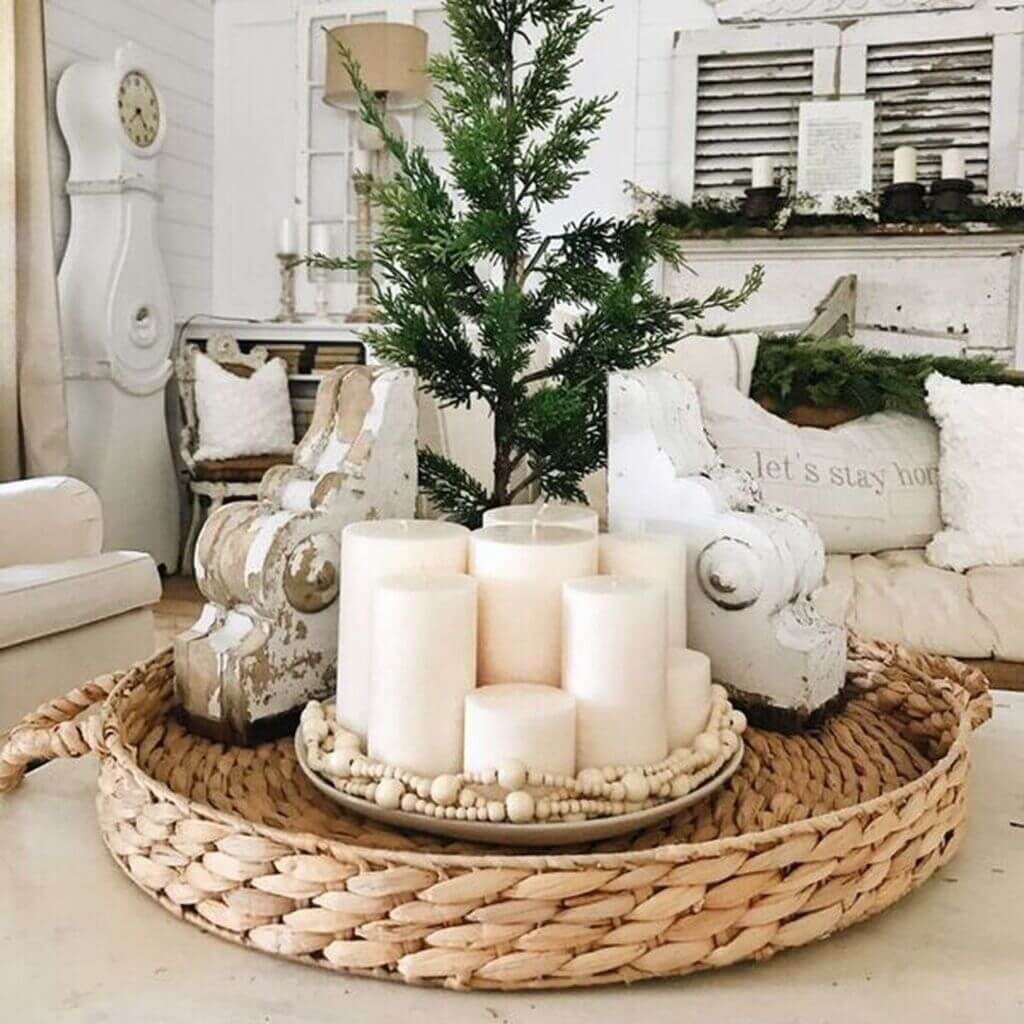 Source: pinimg.com
Big white candles are always a go-to element that can enhance the decor in a jiffy. The appearance not only adds to a sleek and aesthetic look but the light from it also sets the ambiance.
7. The Go-to Vase Set-up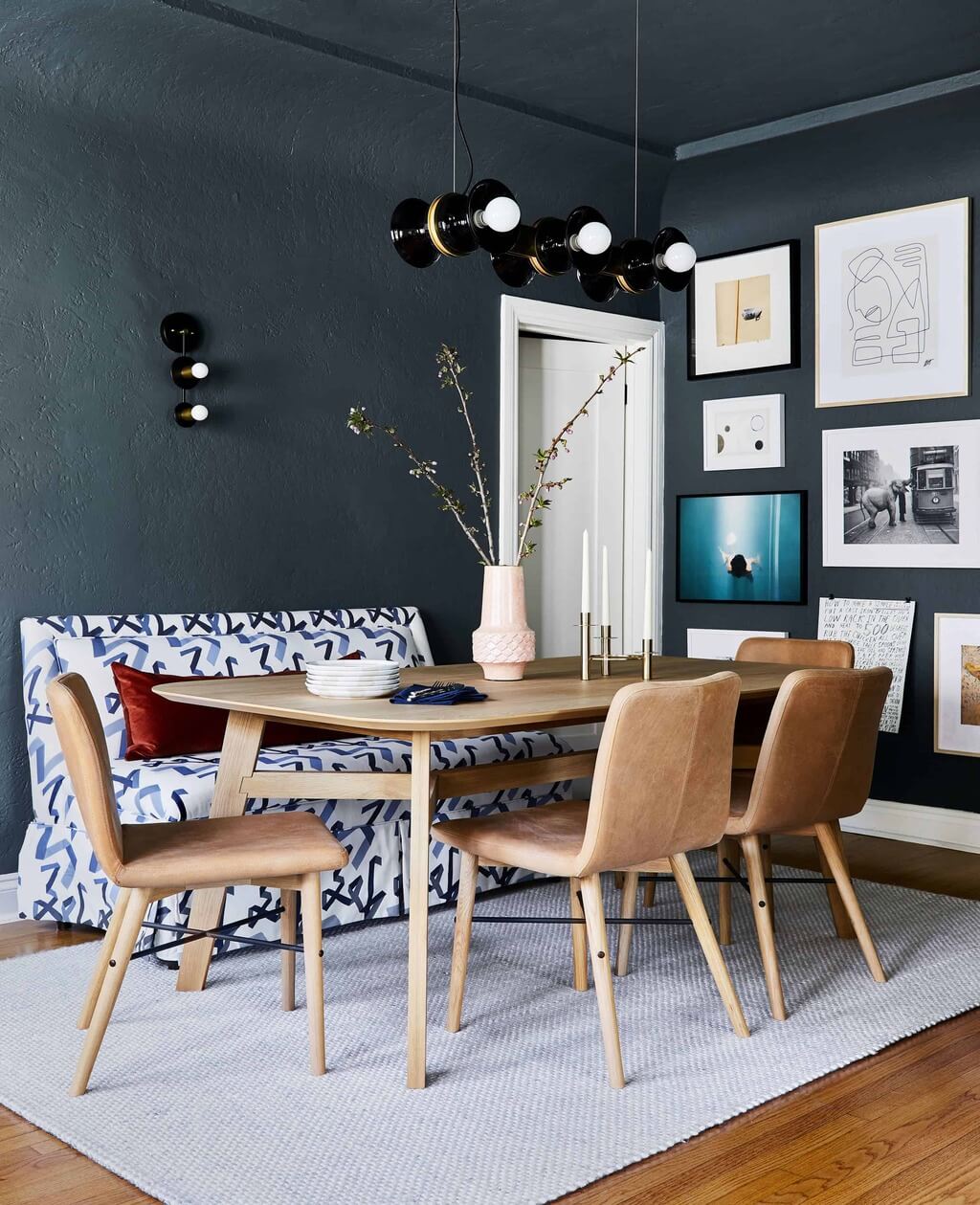 Source: stylebyemilyhenderson.com
No matter the family background a vase and some flowers in it is a go-to for most families when it comes to browsing through dining room table centerpiece ideas. It is simple and elegant while holding some of the most pleasant elements of decor, flowers. That vase can be of a decorative design or the most simple plain one thus, fits into any aesthetic easily.
8. Blooming Festivities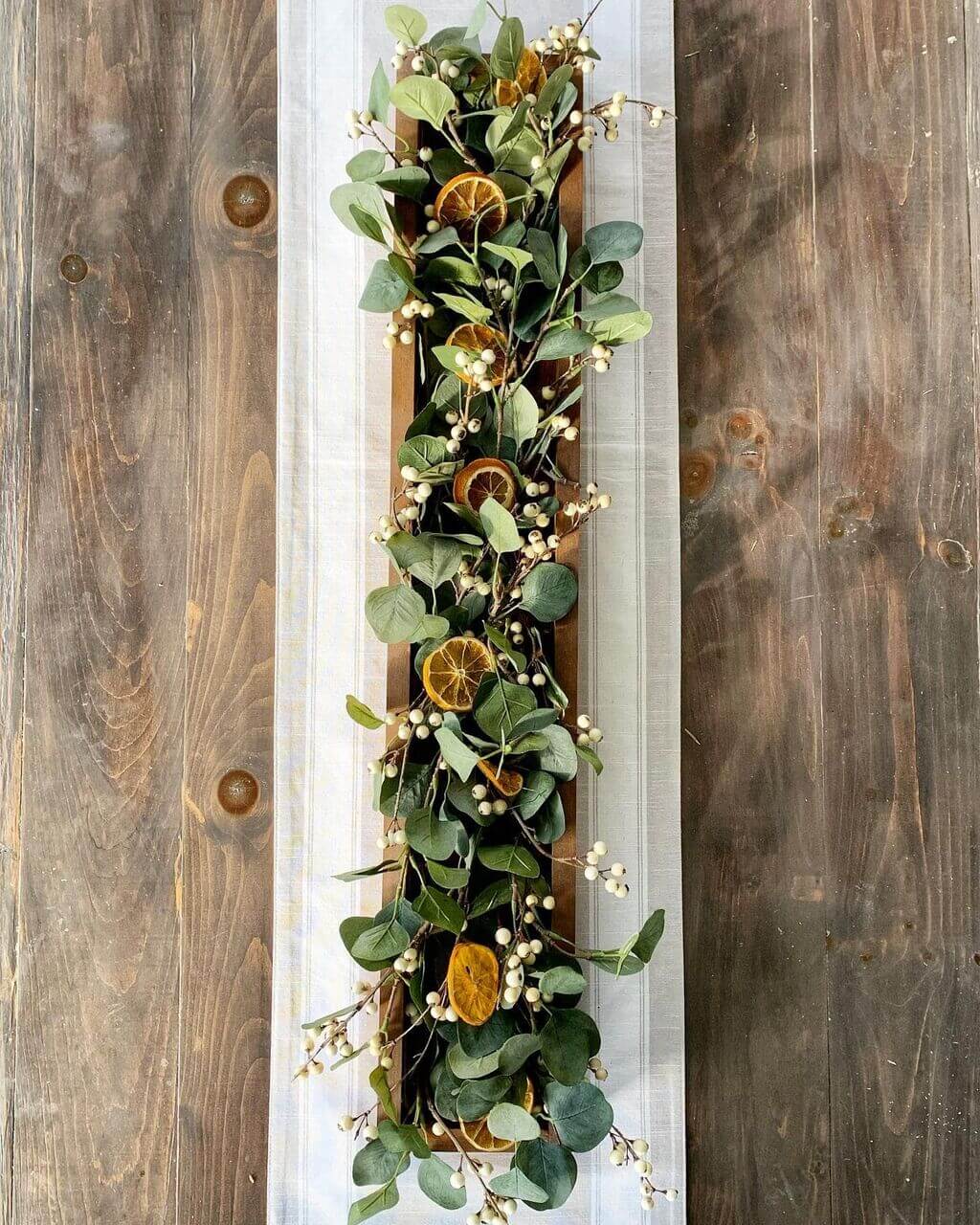 Source: pinimg.com
Special festival occasions are the events where the dining table becomes a star. Dining room centerpiece ideas here can run along the center of the table where it can hold decorative seasonal leaves and flowers along with ornaments like candle holders, sparkle balls, and even fairy lights especially if the gathering is outdoors.
9. Earthy Rustic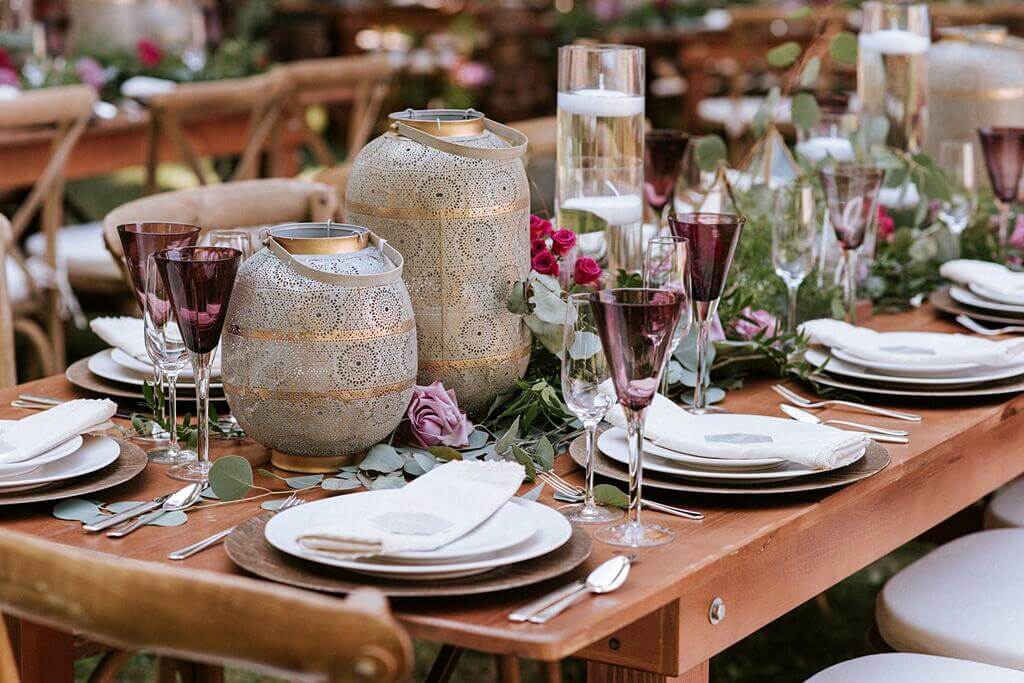 Source: weddingdesignllc.com
Bringing in the earthy colors of browns and greens can add a certain rustic element to the indoors. A wooden table could be adorned with wild grass and dried scented leaves along with smaller table plants. The setting can be taken up a notch with slender candlesticks and candles, all on an earthy-toned table runner in the middle.
10. Modern Minimalism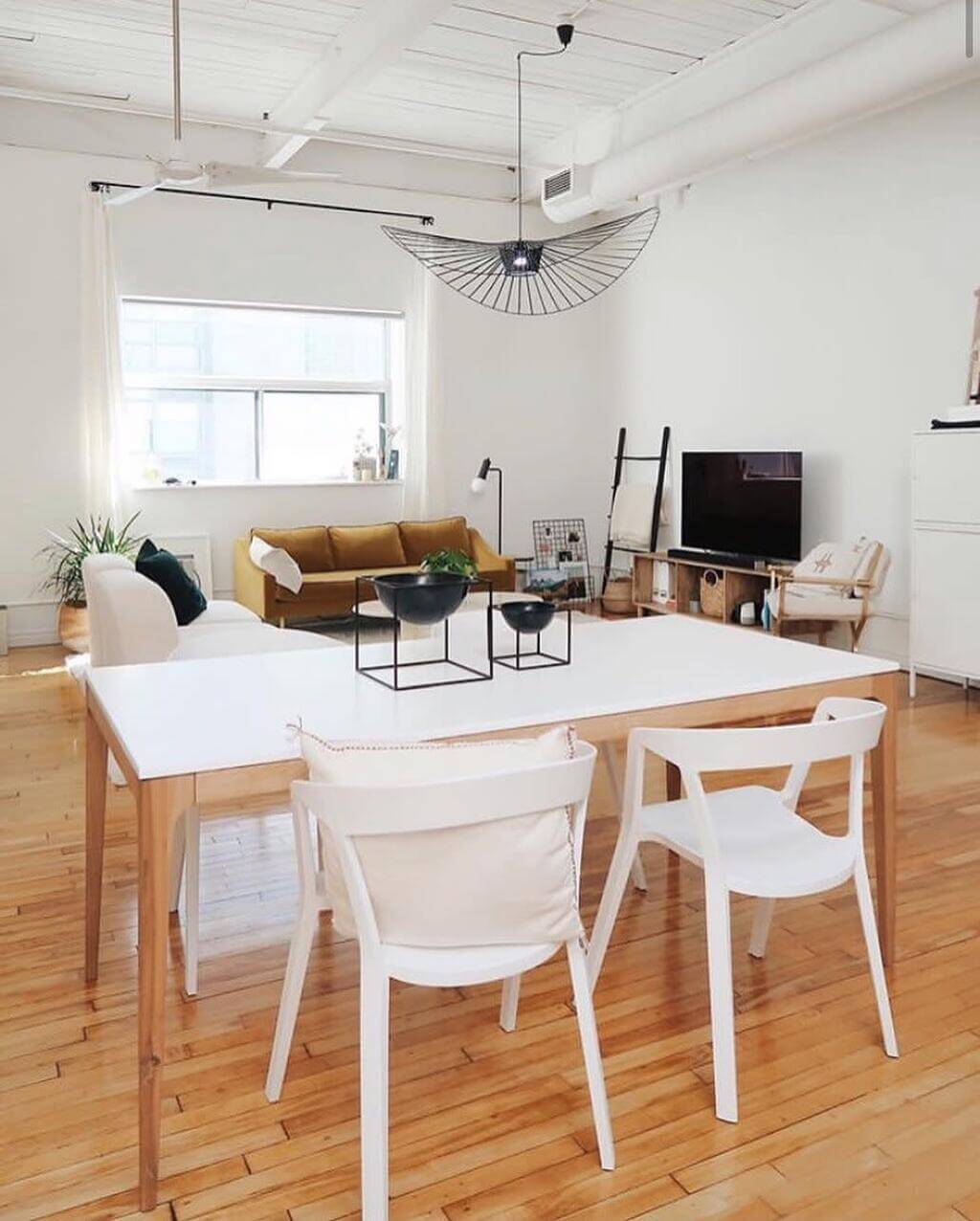 Source: trendey.com
Adding the elements such as planter boxes and candles can have a more minimal side to it where there is a contrasting plain hue used for the same. Planters that come in monotones of a thin holder and candle stands that have more of a functional aspect to them will look classy and chic with the modern theme of the house.
11. Gather up the Low-Cost Decor!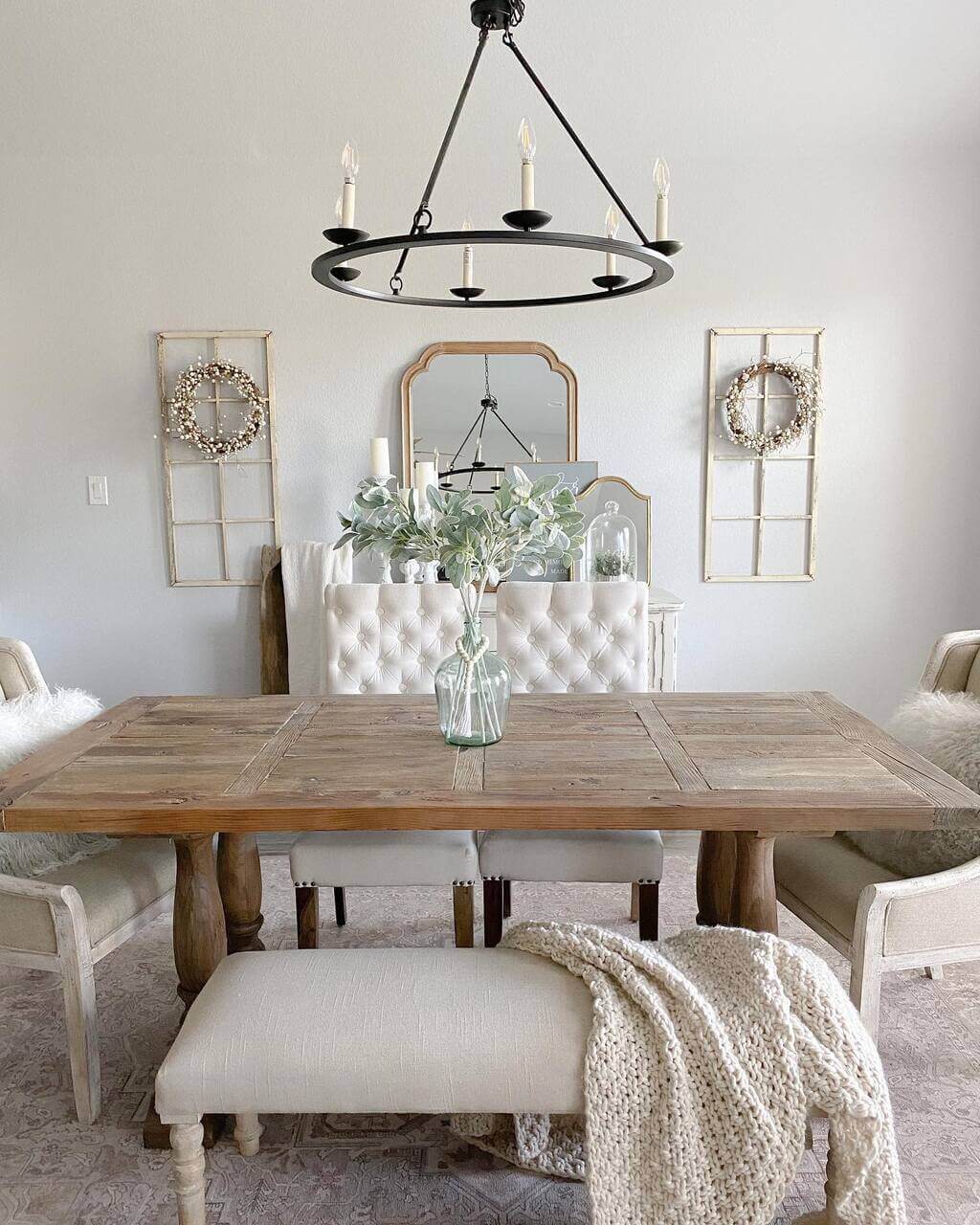 Source: trendey.com
There is no need to spend a separate ton of money on getting specific decor items for the dining room centerpiece ideas.  A household is always filled with things that need a home and use. Go through them and separate what would work as a centerpiece. Old and forgotten clear jars can make for an elegant vase while unused candles lying around can add the same.
12. A Cosy Farmhouse Setting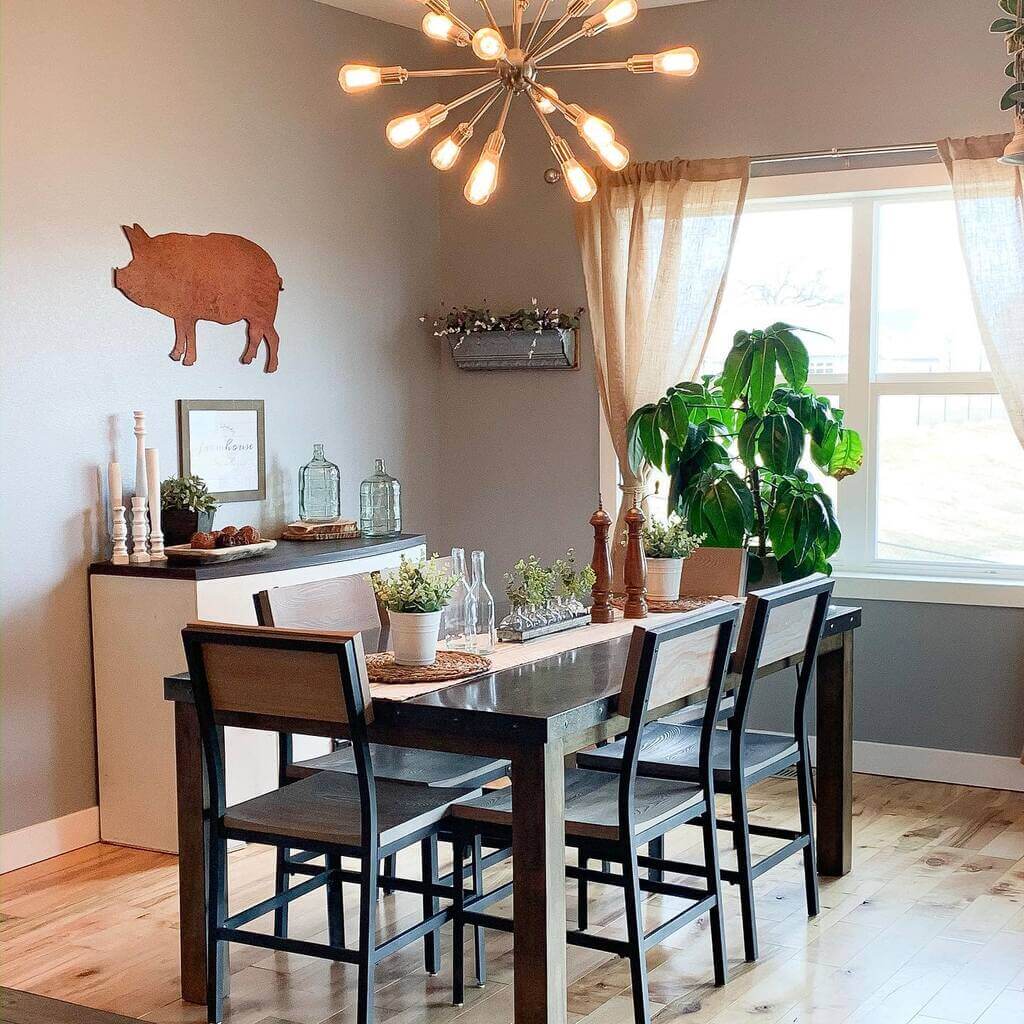 Source: trendey.com
Adding in more textures that are of wood, stone, earthy tones and fabric can create a comfortable and cozy feeling of a farmhouse. The setting needn't be in a clean and constructed format either. You can bring in these elements by using a textured fabric for a table runner, wooden holders for elements like plants, vases, etc, and metal that shines through the candles.
13. Fall Themed Out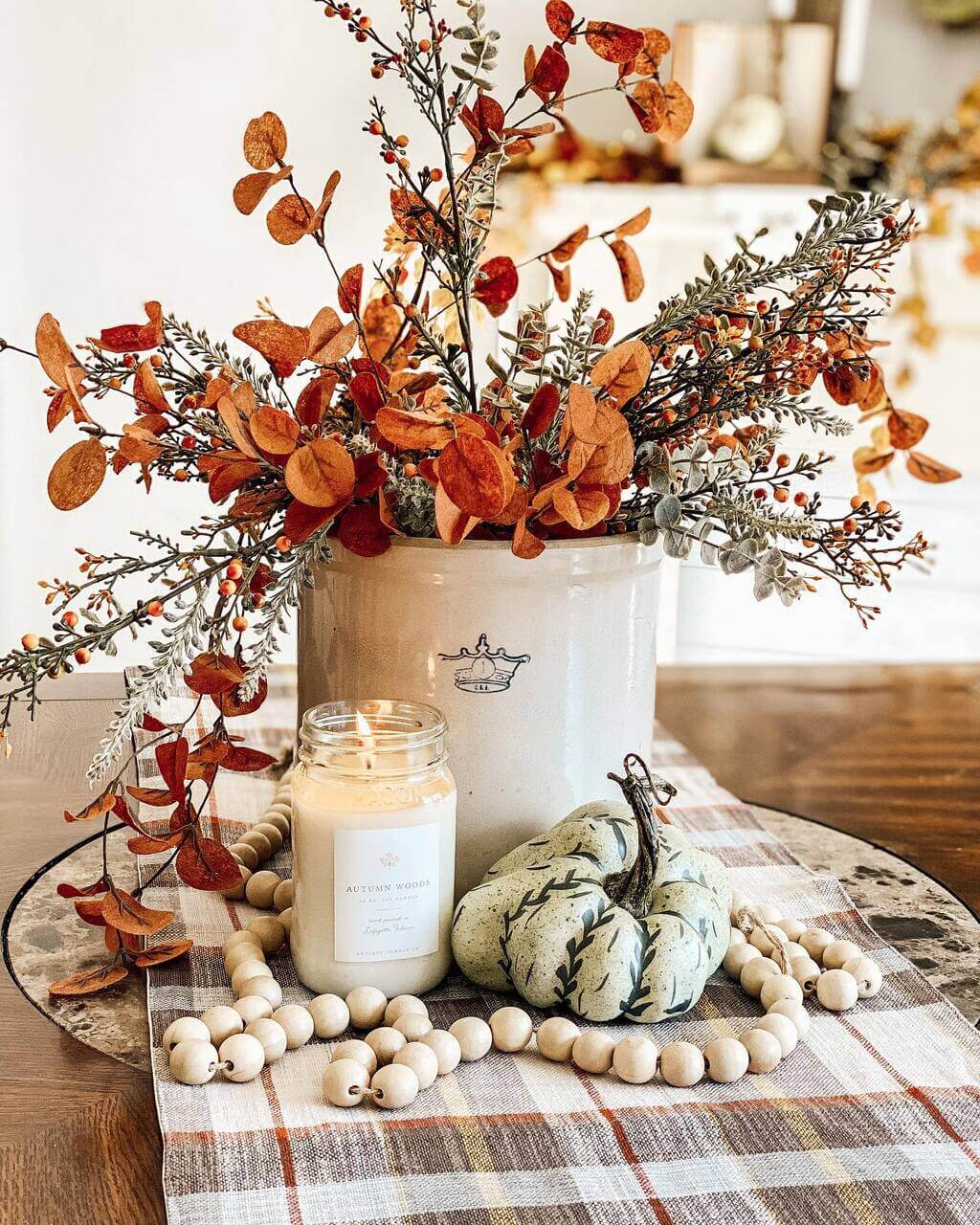 Source: trendey.com
Preparing the house for the fall season means that the house is going to smell like pumpkins and cinnamon. Well, why shouldn't dining table decor ideas be inspired by the same? Add on a rustic wooden plank to adorn a set of the brown and orange-themed decor of pumpkins, fall-dried leaves, and plants. This way it is easy to swap out for the next season.
14. Artistically Adorned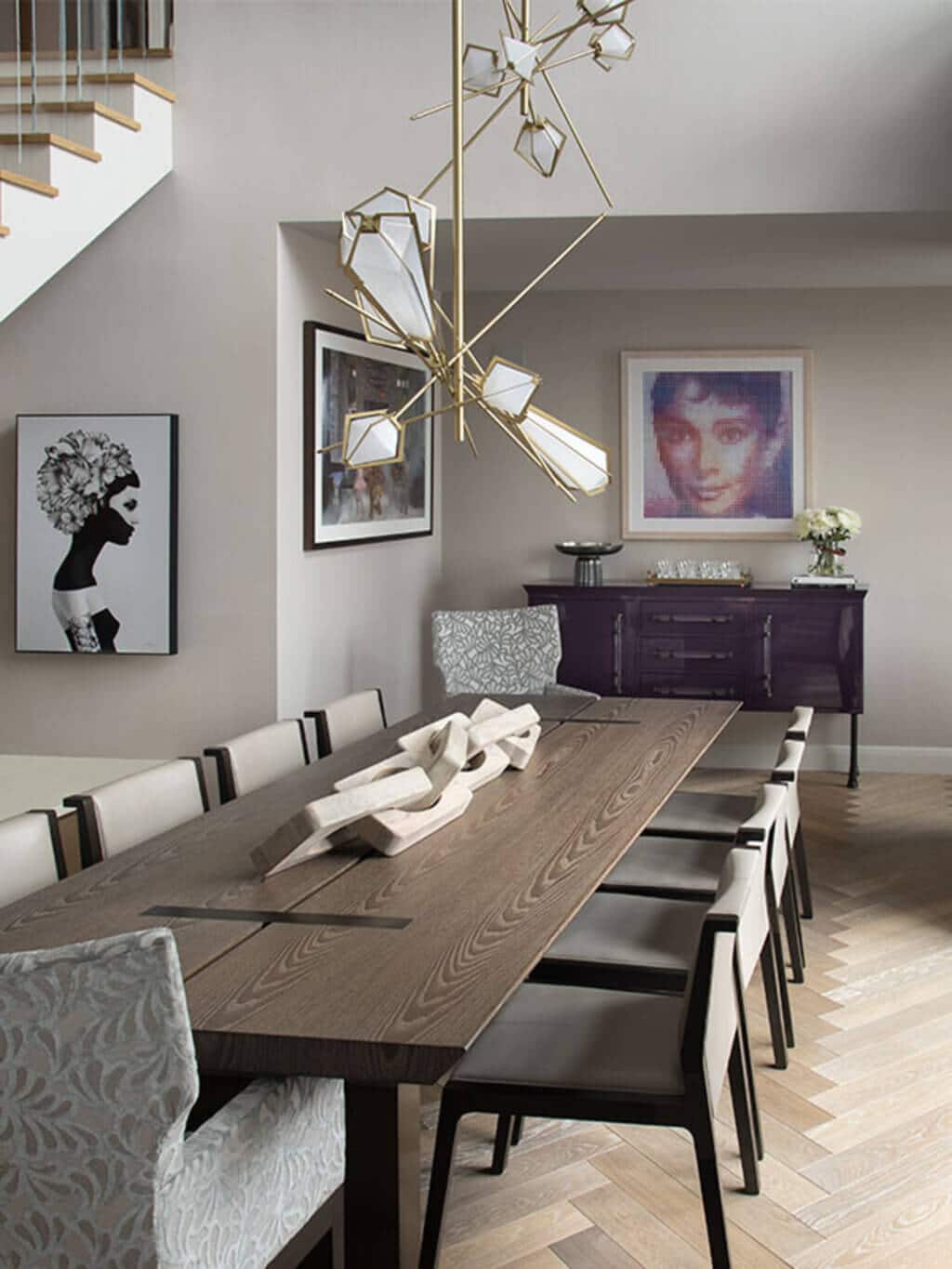 Source: kassatex.com
What is the dining table was the center stage of an art piece? Wouldnt that be a showstopper in itself? Dining table decor ideas that revolve around including one-of-a-kind structural art pieces can be a theme to be chosen to stand out. This keeps the space clutter-free to give the art the limelight.
15. Hold'em Up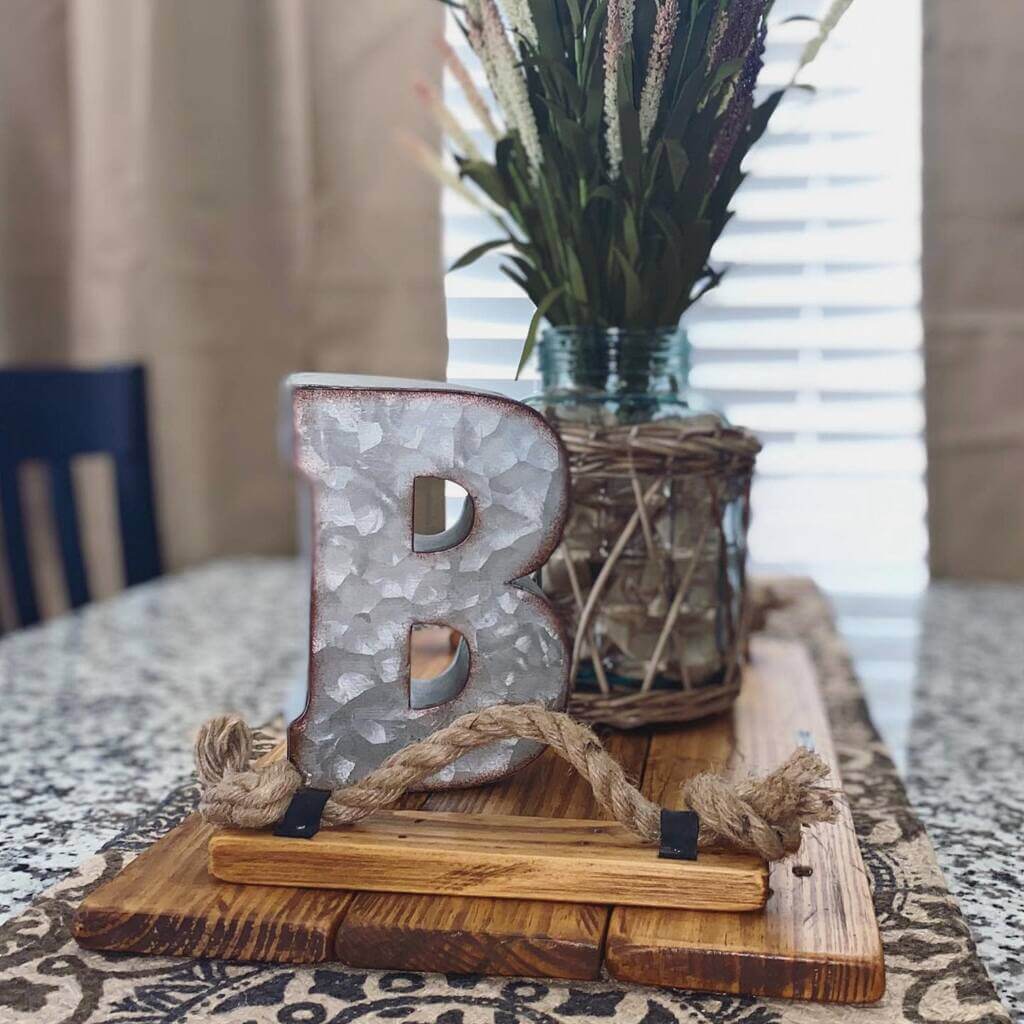 Source: trendey.com
Having your meals amid clutter is the last thing you'll want. Adding not only a functional aspect but also a homey vibe to the space, you can add wooden trays and bowls to hold various things. A fruits bowl, a tray to hold candles and plants, etc can be used.
16. Christmas Calls!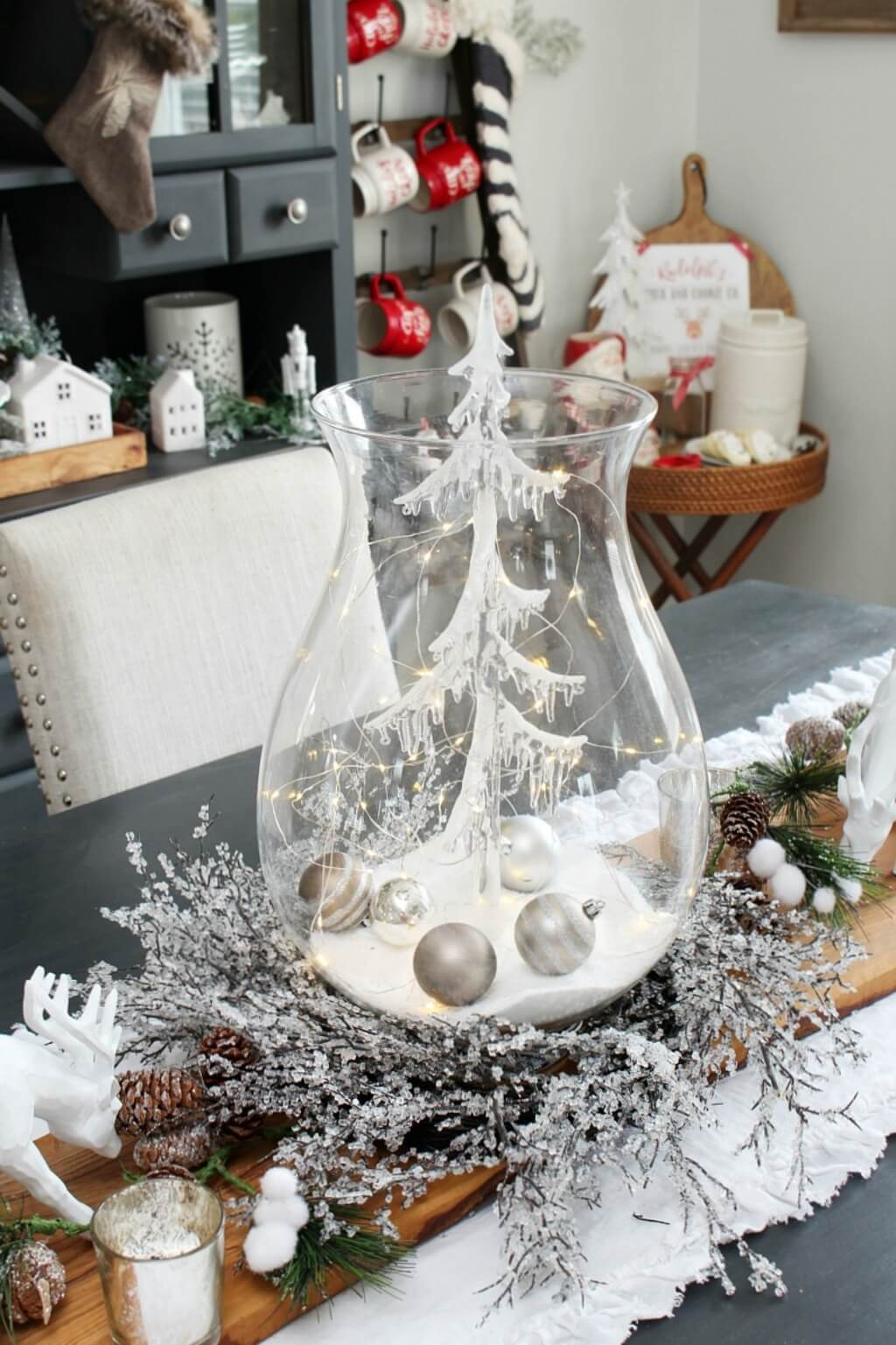 Source: cleanandscentsible.com
Christmas is a full-fledged holiday for the decorations to shine. Going with the same theme, you can choose pine leaf decorations and snowy treetops as a table runner. You can add globes of the colors of Christmas to add to the spirit.
17. Silver Accents that Shine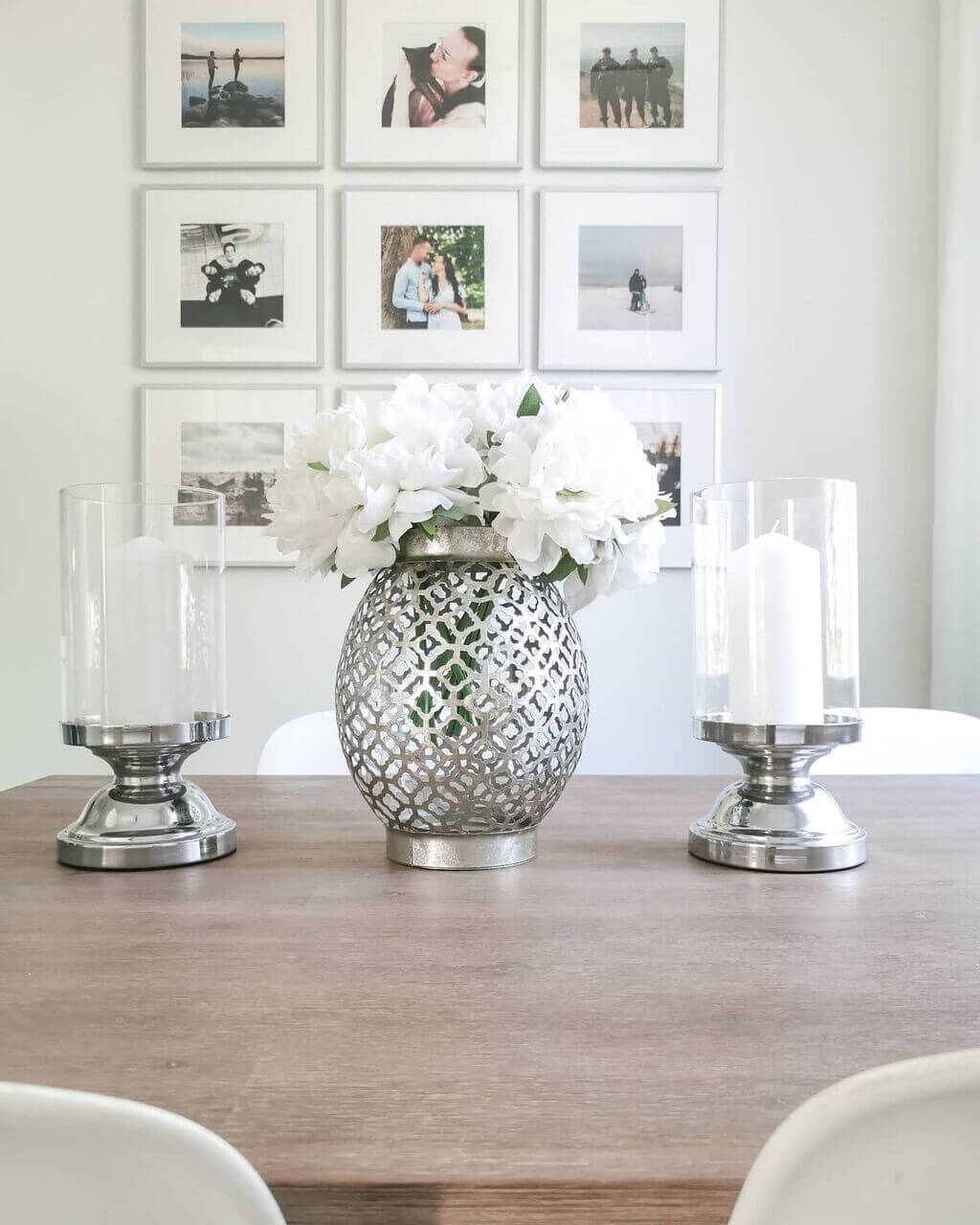 Source: pinimg.com
Silver is considered one of the most elegant materials and has the advantage of going with most themes. It can bring a mid-century aesthetics to the table that is opulent yet simple with only a few pieces that are required.
18. Mid-Century Charm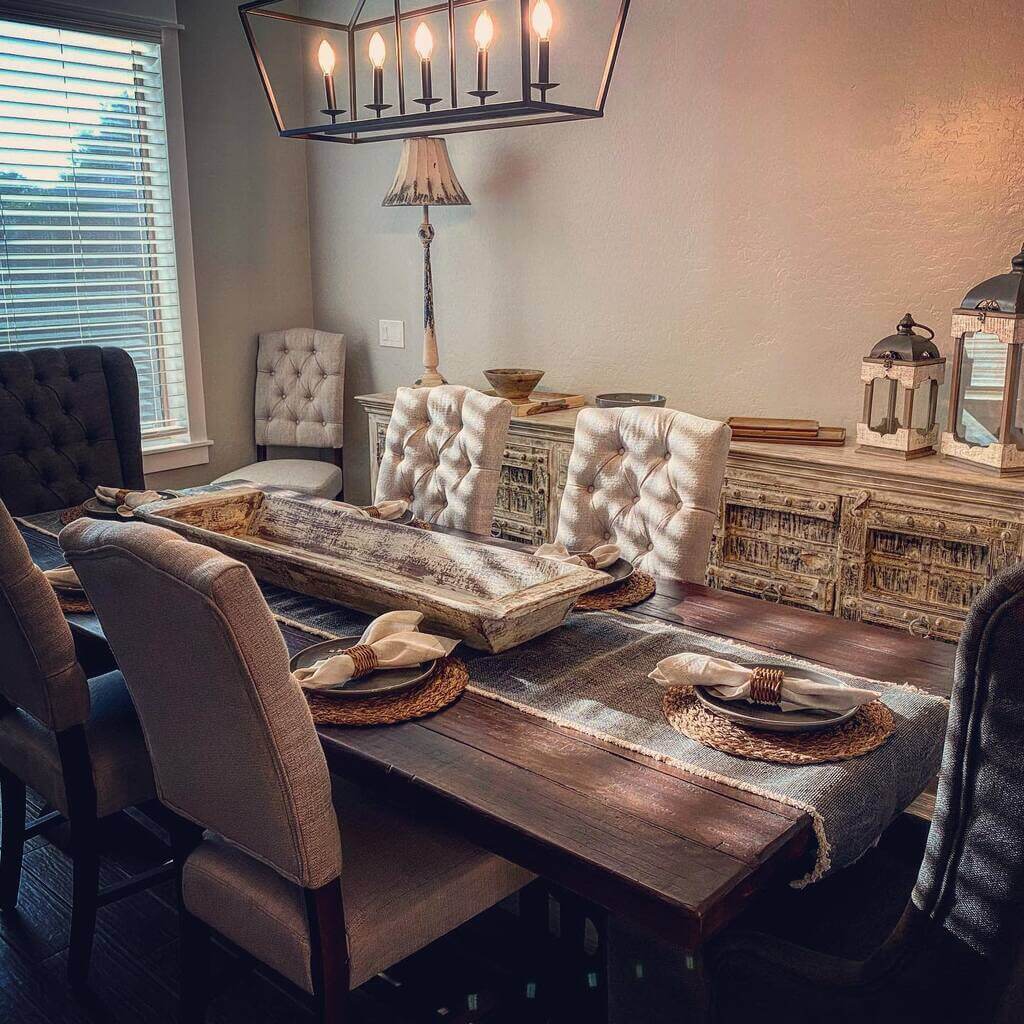 Source: trendey.com
Bringing in a big statement piece of a wooden tray to be displayed for a centerpiece along with the minimal decor can bring the castle set to the table. You can complement the table centerpieces by extending the decor theme onto the smaller aspects like the table runner, plates, and plate mats.
19. Oversized to Stand Out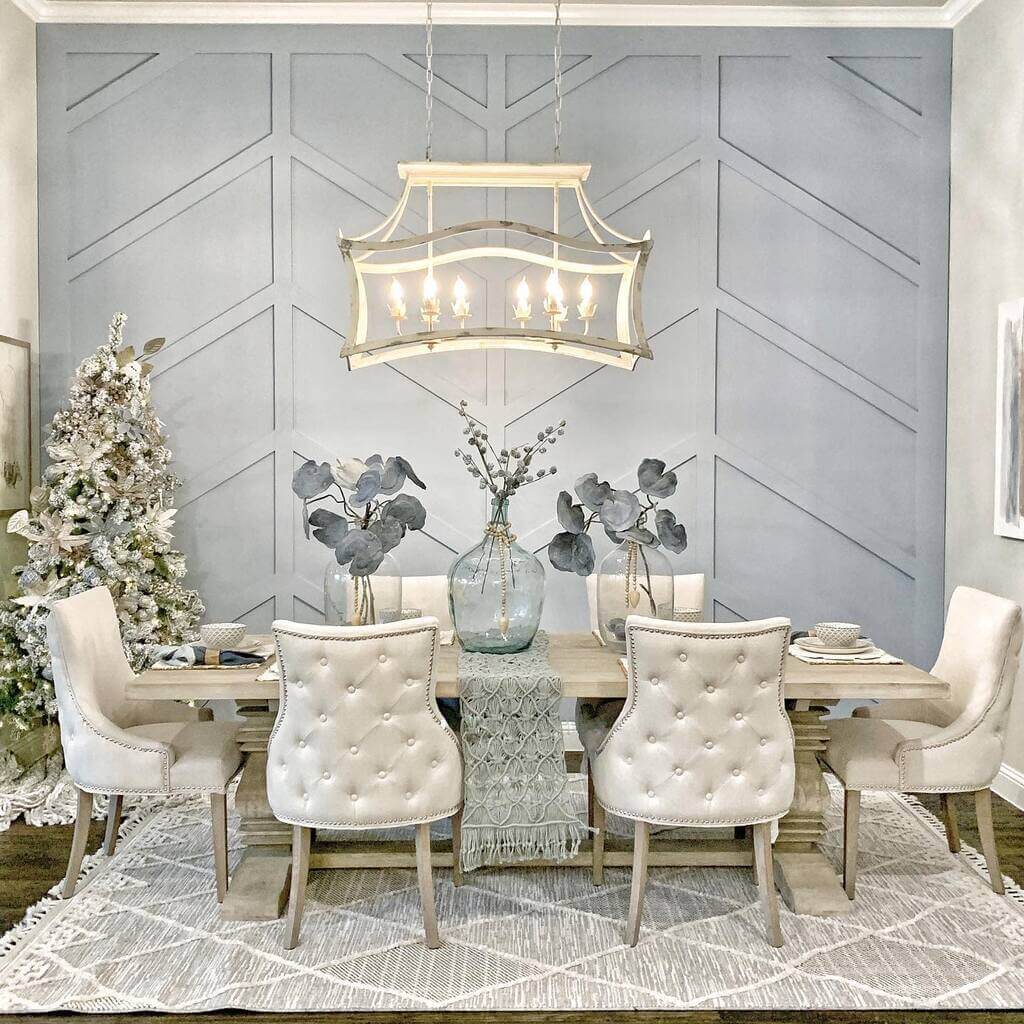 Source: trendey.com
Elevating the kitchen table decor ideas is by oversizing the materials and elements of the design. Vases and flowers in them can be chosen to be a big bunch of beauty that will stand out as a centerpiece for the table. 
20. Orchid Centerpiece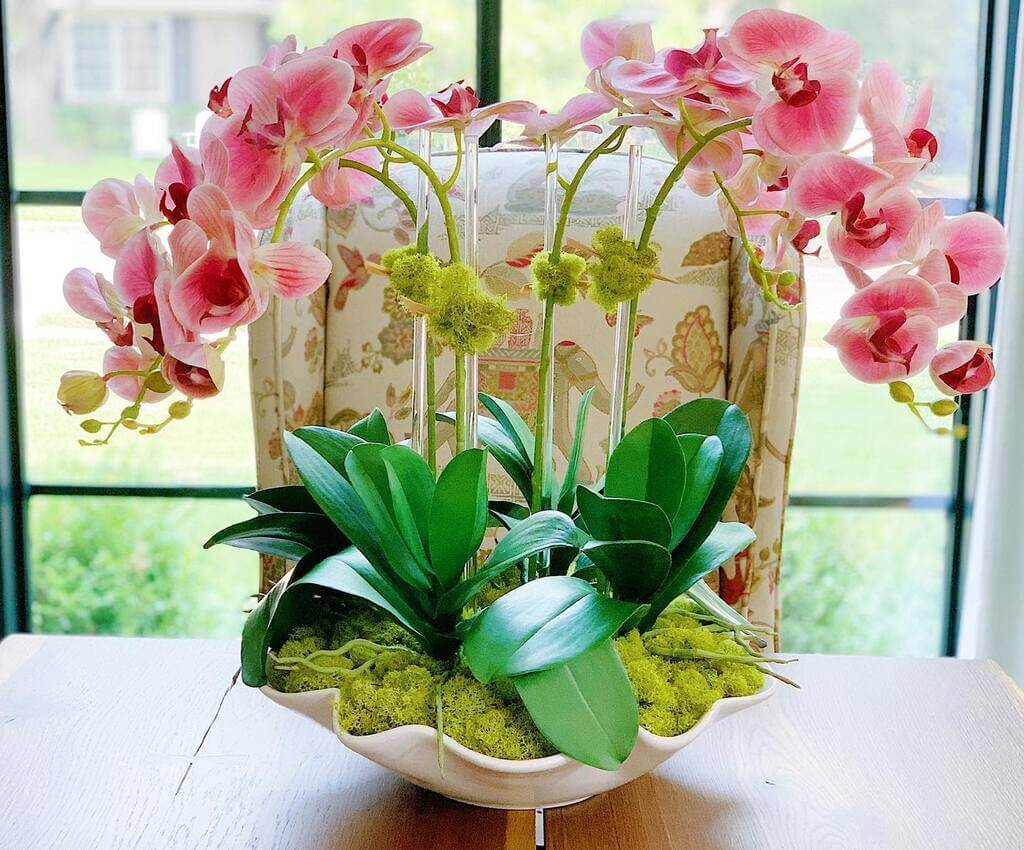 Source: trendey.com
Orchids are known to be of hanging and extending nature rather than bunch up and crowd the space. They would be a vibrant and space-efficient addition to the space with a few stems leaning all around. The soil can be covered with moss to add another layer of texture to the space.
Also Read: Difference Between Top Soil and Garden Soil
21. Distinctively Contemporary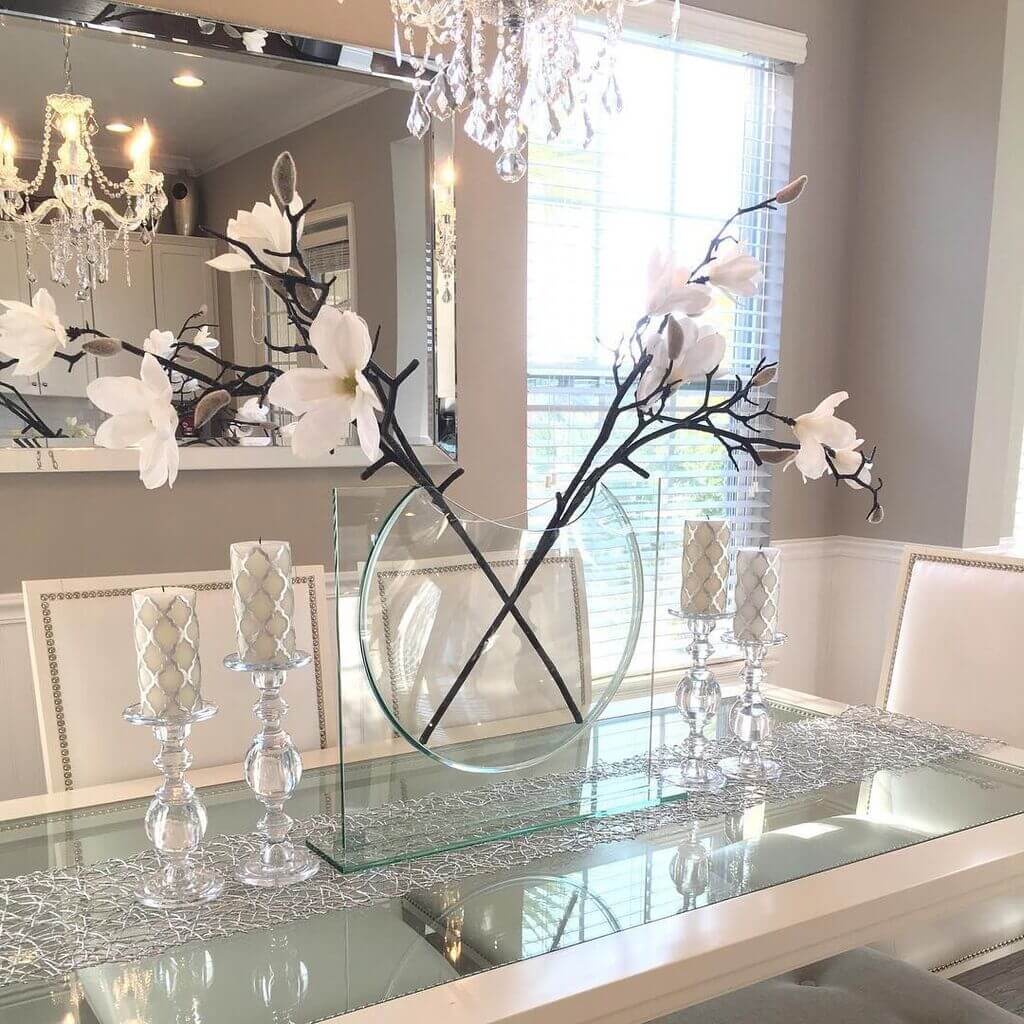 Source: pinimg.com
Centerpiece ideas where there are vases holding plants can be swapped out for test tubes that hold dried ones. Making it more structural and intricate, the tubes can be held up by a metal frame and can hold lean dried plants and herbs that give the space minimal looks and appeal.
22. A Collective Art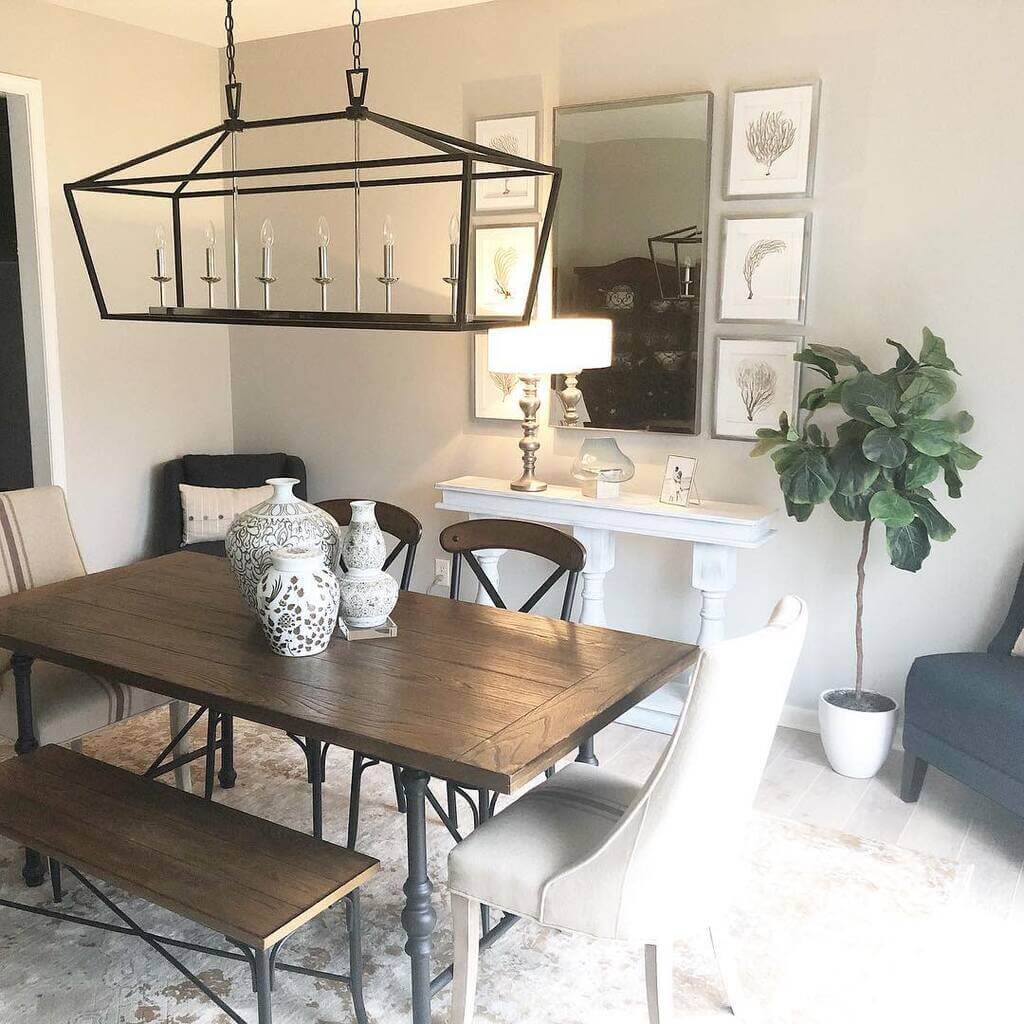 Source: pinimg.com
If you are one of those avid collectors of pottery and crafty items you can choose to display them in the center of the table. They will be the reflection of the aesthetic that appeals to you the most. This way, the difference in the design of the pots will be enhanced when placed with others.
23. A Bowl of Blue-White China
Source: pinimg.com
You might have hardly thought a ceramic decorated watering can of china be one of the dining table centerpiece ideas. But set it with a set of pleasant flowers and leaves and other decor beads on a wide platter, and there you have an eye-catchy composition. 
24. Fill in the Runner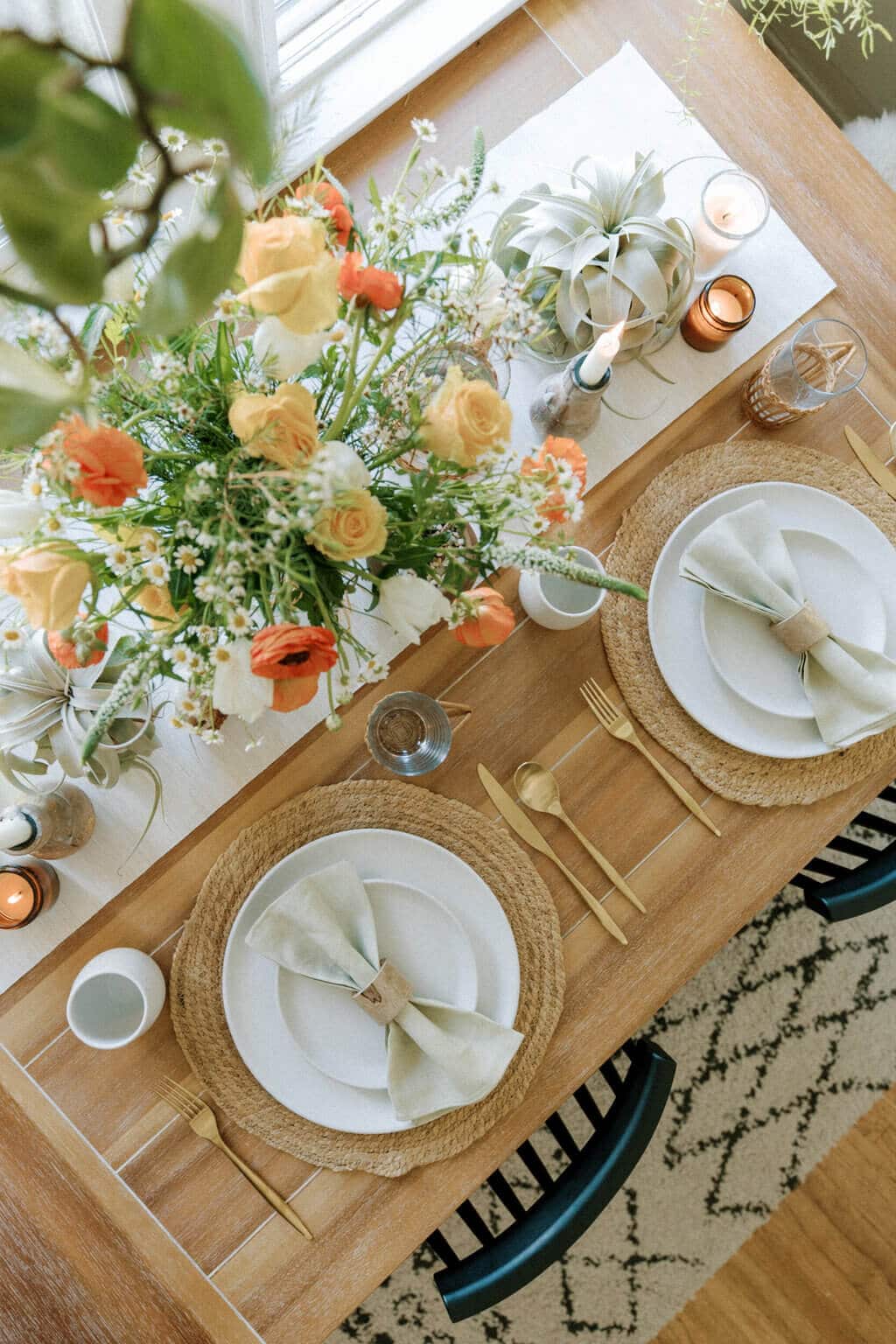 Source: squarespace-cdn.com
The runner can be your guide on how much to fill in on the center piece ideas.  Filling a part or parts of the runner can give you two different settings for a centerpiece. Use flowers, dried leaves, and fruits to adorn the whole runner or use dividing points with candle holders or vases placed down the runner. 
25. Level Up with Height Variations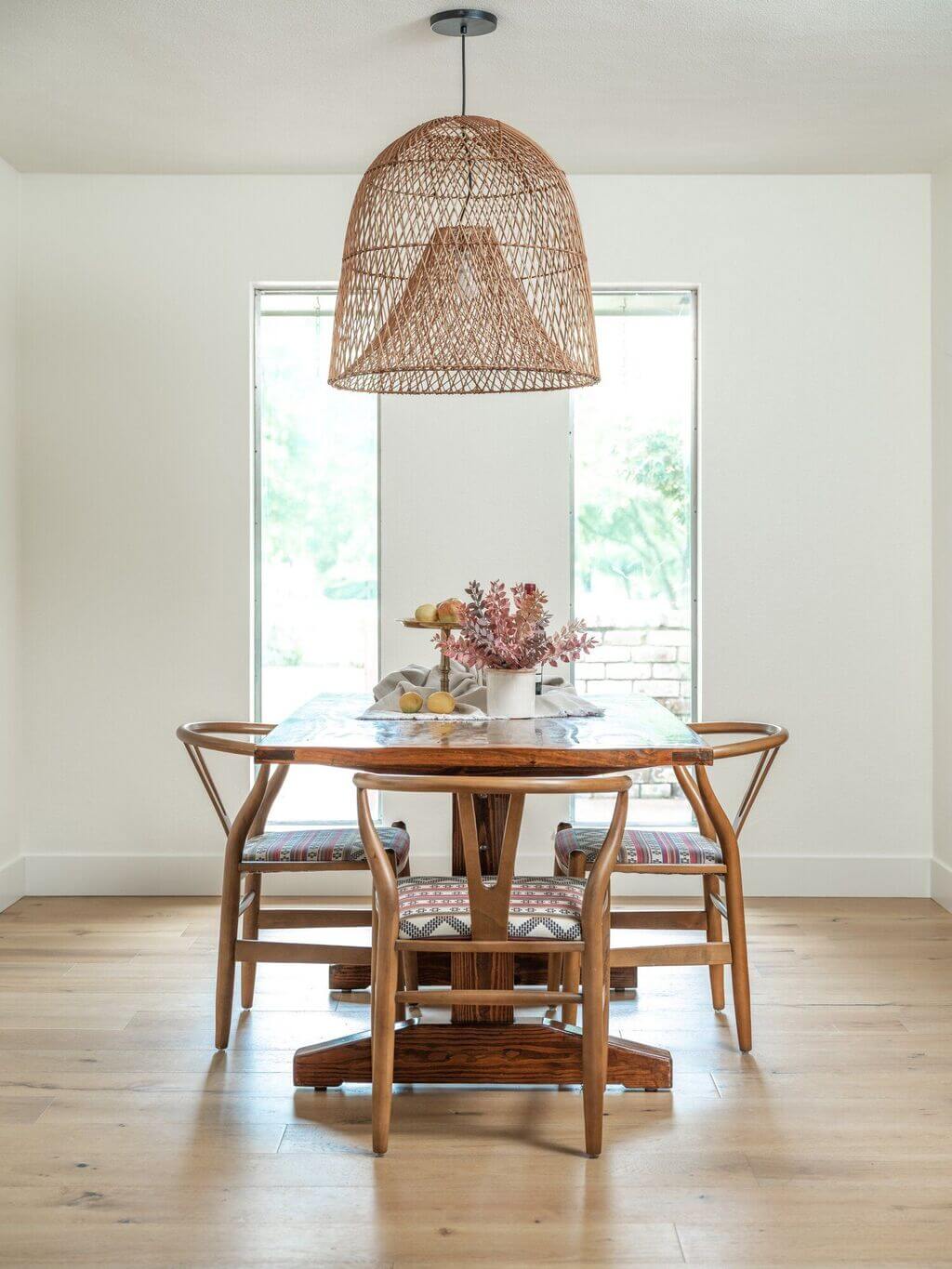 Source: pinimg.com
Placing multiple centerpiece elements on the same level as the table can be a bit monotonous after a while. Change up your kitchen table decor ideas by giving each of these a different height level. You can use wooden boxes or metal ones to hold them up on different levels, be it vases or grass, or candles. 
26. Pair of Showpieces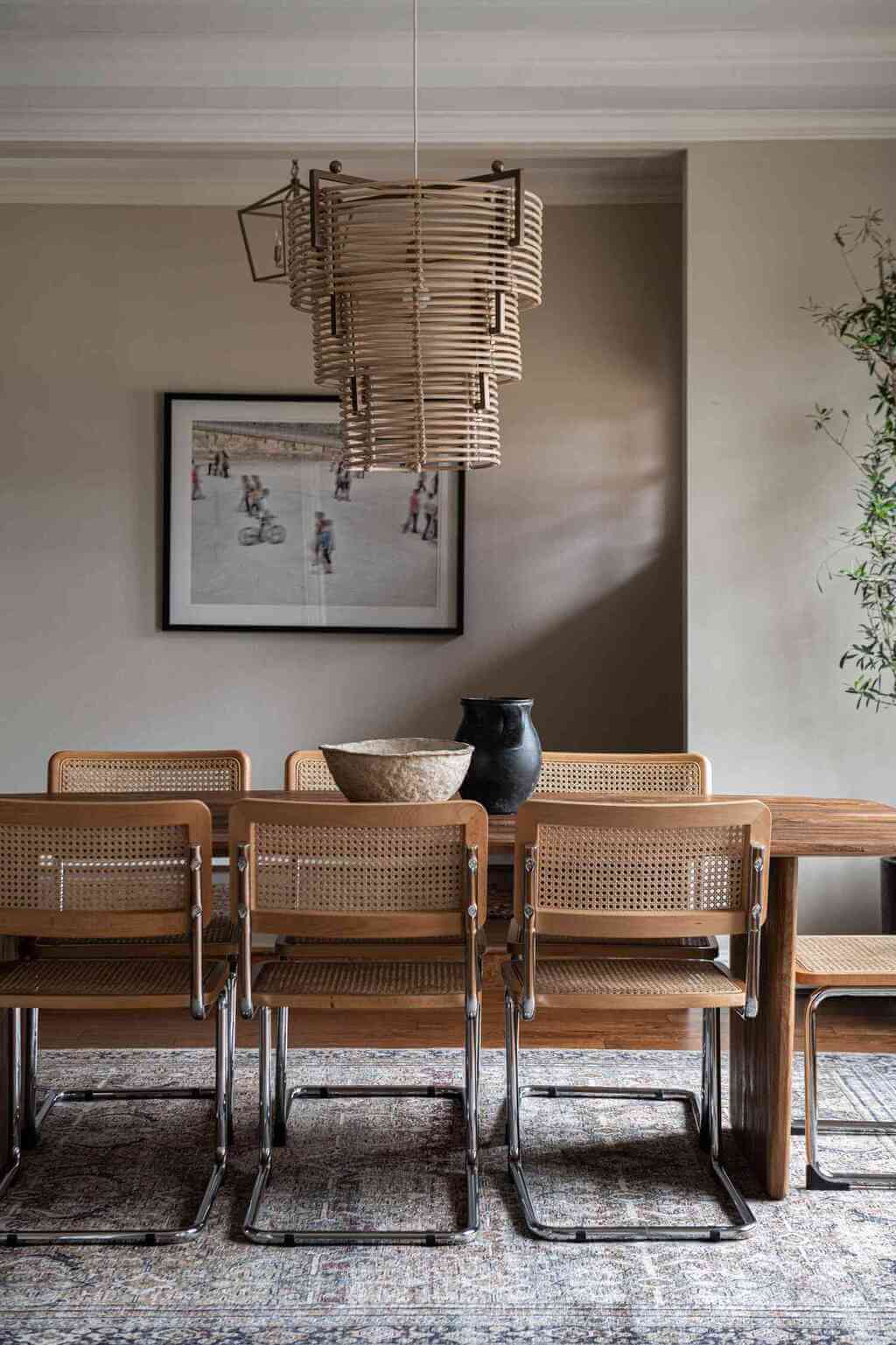 Source: mydomaine.com
Want a hack on making the space look sophisticated without trying? Pair up two different centerpieces like big vases and bowls without filling them up. These become an art composition on their own this way coming up on top of your dining table decor ideas.
27. Line Up Rather Than Crowd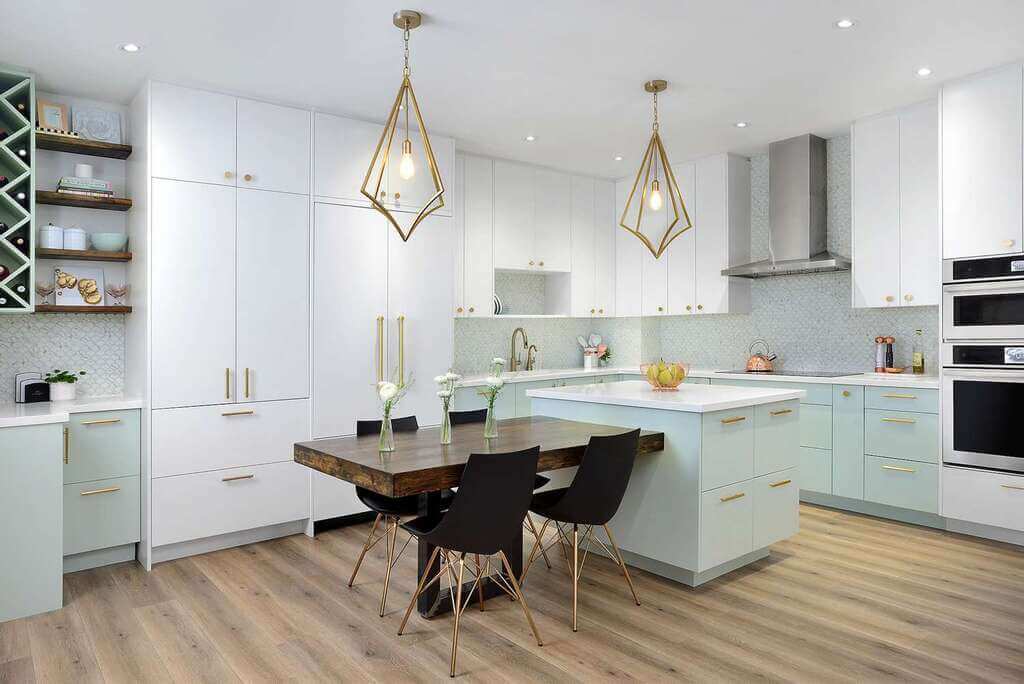 Source: mydomaine.com
By lining up centerpieces that are minimal to the eye in a line, you can break up the decor on the table to spread out, rather than keeping a big central piece. This will be evenly laid out to the viewer as well.
28. Maximize the Centerpiece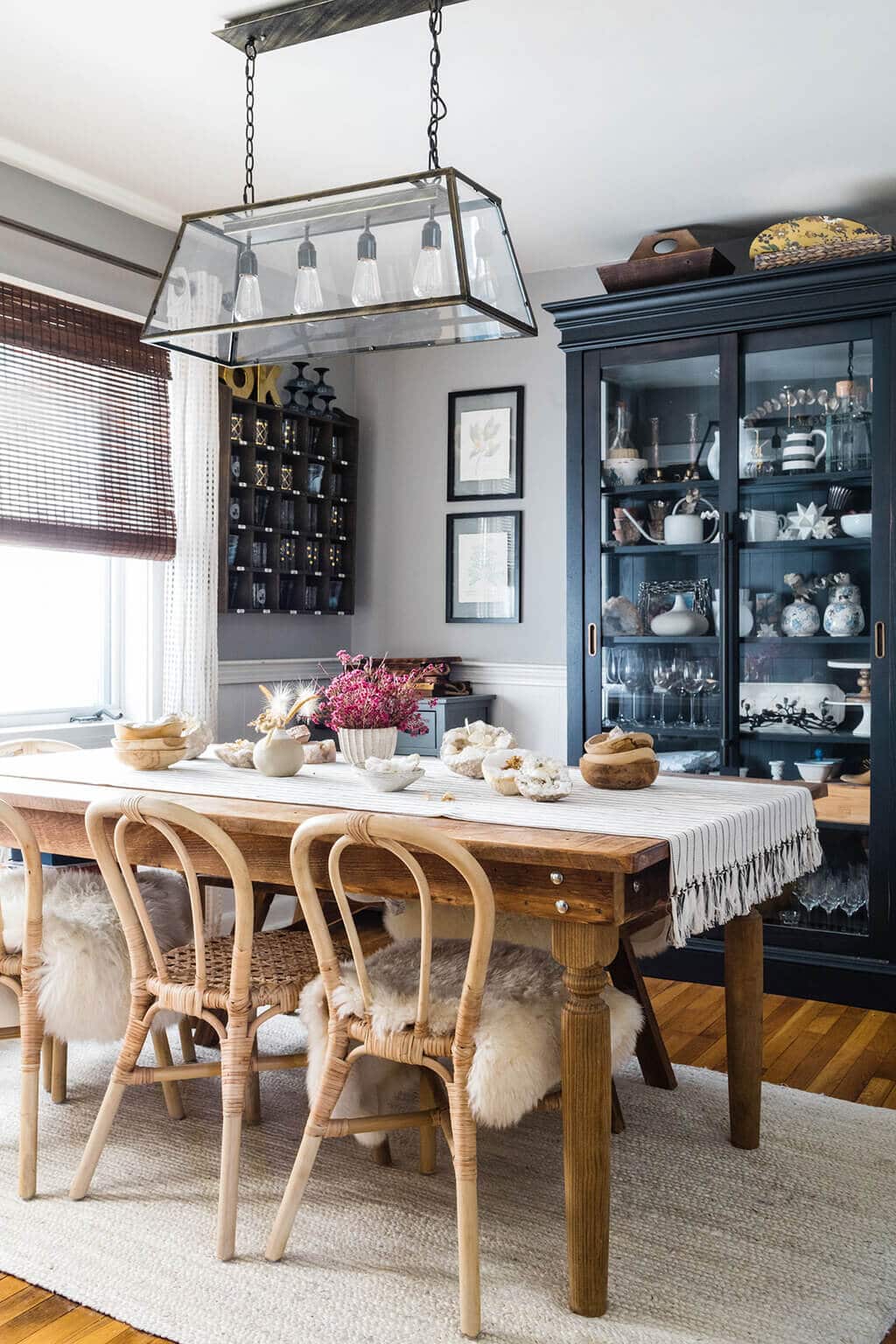 Source: squarespace-cdn.com
Dining room centerpiece ideas with fewer items on the table provide a minimalistic view of arrangement while going directly opposite to it is bringing in more elements. Instead of keeping a big pot in the center, you can break it down into smaller pots with smaller plants spread out in the center of the table. Other elements like candles and plants can be evenly spread out through the middle of the table similarly.
29. Eucalyptus Runner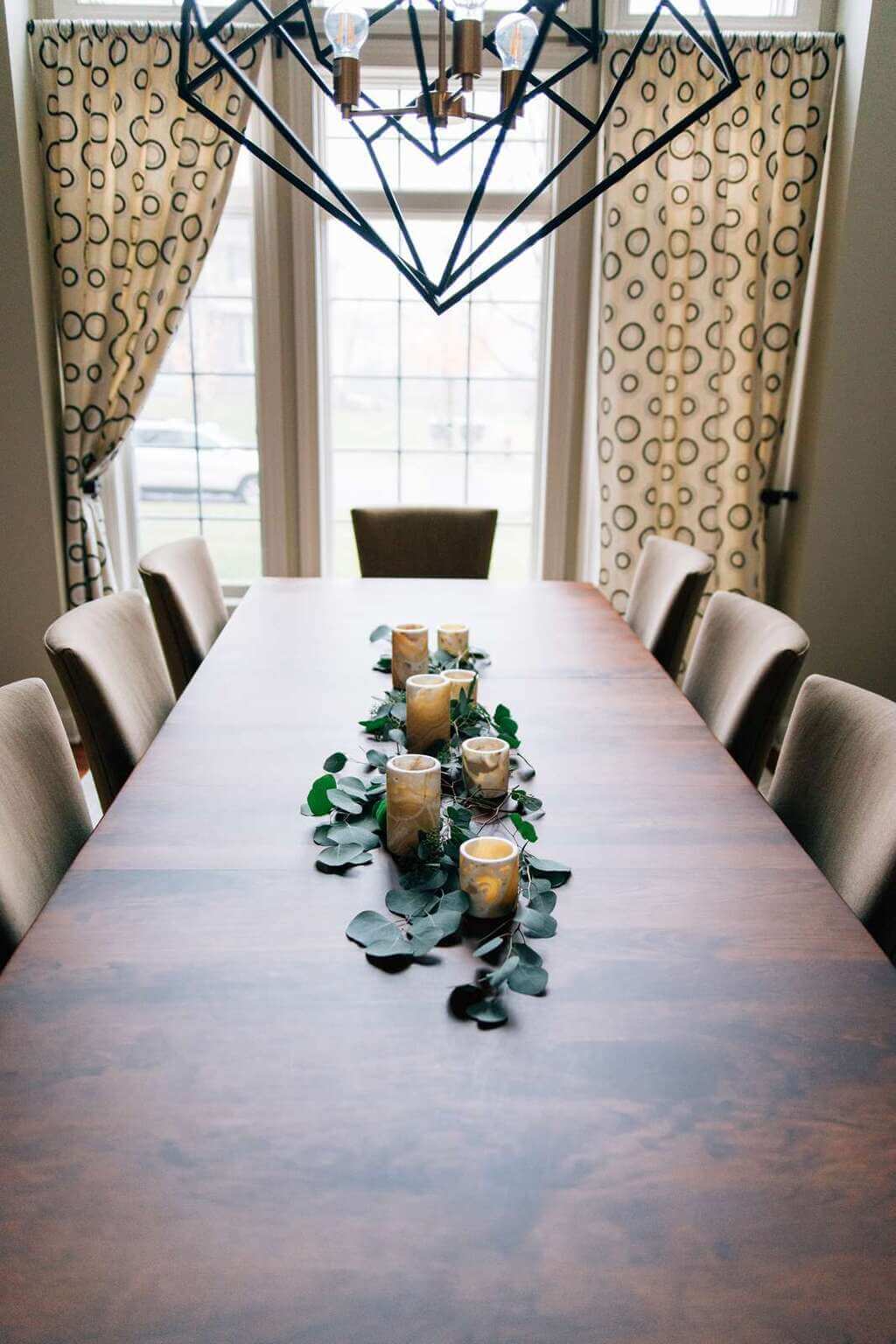 Source: mydomaine.com
Eucalyptus is a plant that we need in our household to imbibe it with its fresh scent. One way to do it is to lay it out in the center of the table instead of a table runner. You can treat it the same way and add in a bit of element like small wide candles along the length to give it some ambiance.
30. Texture on Texture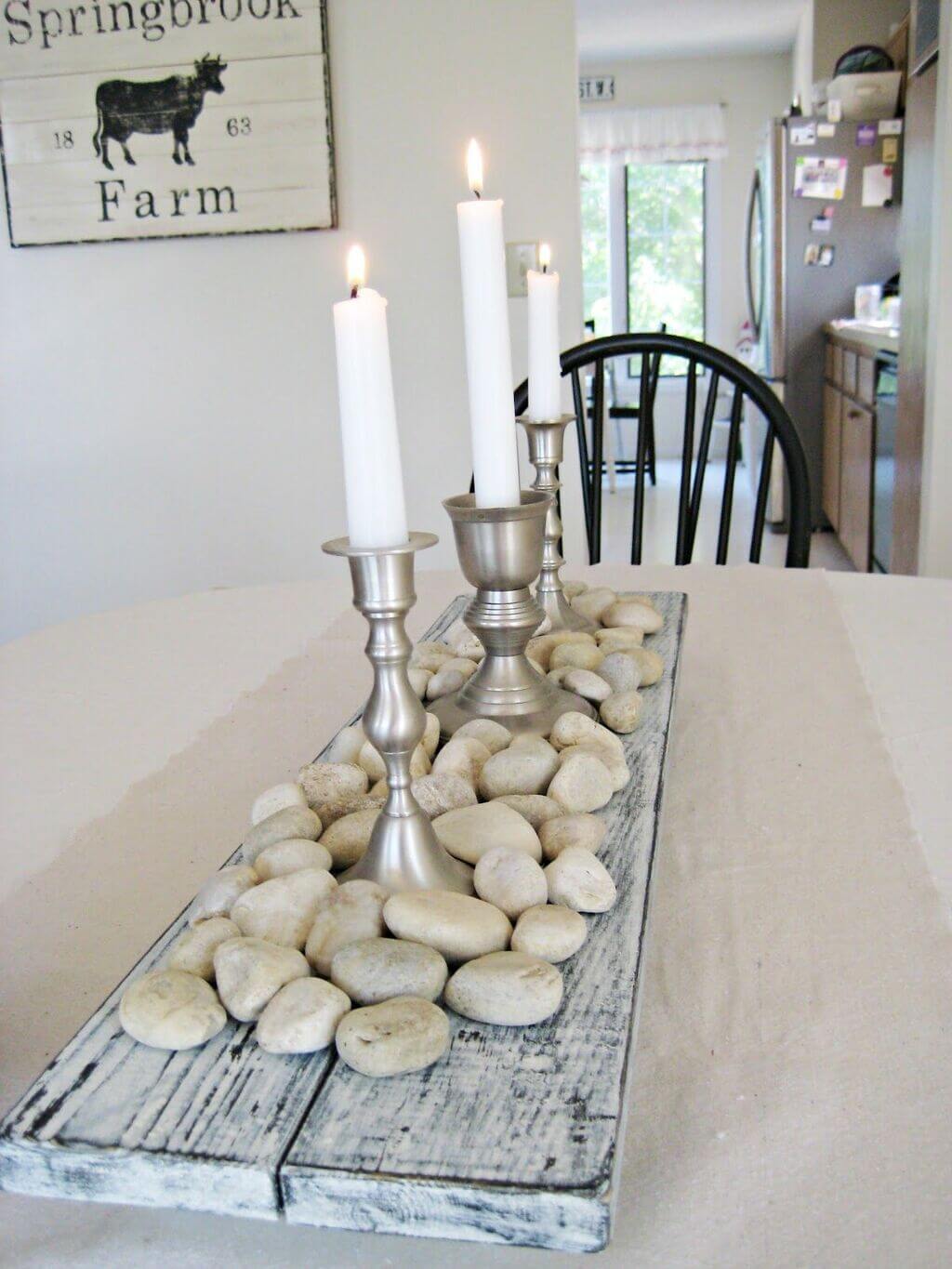 Source: pinimg.com
Mixing in textures is another way of amping up the centerpieces. Centerpiece ideas where you match up two textures like wood and rock with elements of decor such as candles can make up for an attractive centerpiece. Here, the element of wood can be brought in by a tray and the rocks can be in the form of pebbles that become the base for the tall standing candles on stands.
Also Read: Dining Room Trends 2023 – What to Expect?
A Nudge Forward with 5 Tips to Get Your Dream Centerpiece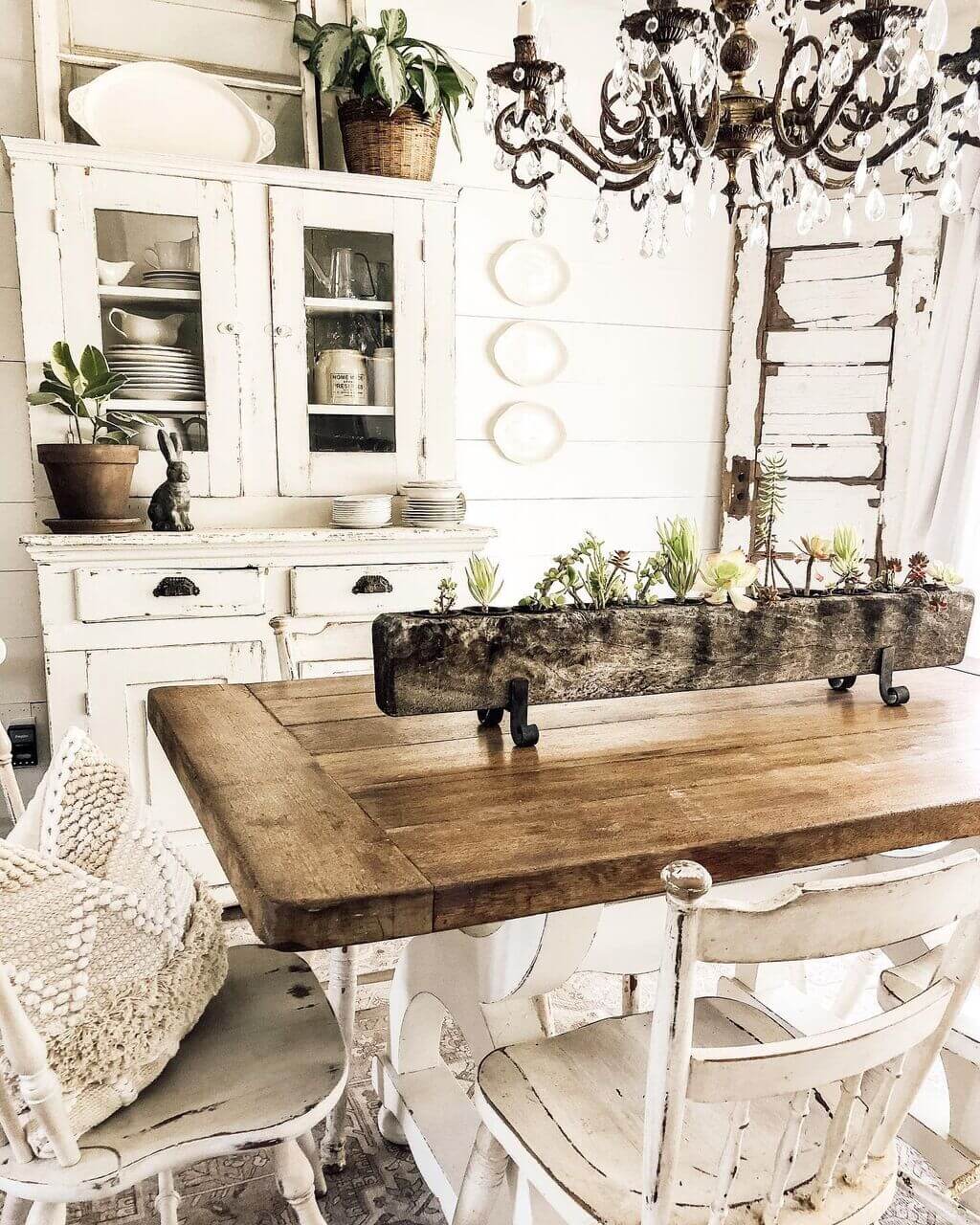 Source: pinimg.com
Composing the best attention-grabbing centerpiece for your dining or kitchen space is a task that needs calculated steps taken care of. Thus, we have arranged for an additional 5 points that share the same.
Know the theme and feel you want to create around this space. If it's the festivities then it would have a more celebratory and vibrant theme while everyday centerpieces needn't be as elaborate

Find ways in which you can incorporate your personal touch into the setting. The easiest way is to DIY the whole centerpiece with pieces in your house. 

Take opinions and inspiration as much as you need before deciding on going with the final one

Always see to it that you are leaving out enough space for the actual function of the table, even with a maximal design.

Use elements that used in multiple locations around the house, you can change up the setting of a space of the centerpiece itself from time to time. A vase or a candle stand that matches the general theme of the house can be a showpiece or a central piece for multiple spaces.
Going through the various inspirations and options available can seem overwhelming as there are so many options to choose from. The choices from themes to color to texture and shape, everything that makes a centerpiece needs to be well thought out. So it is best to take your time and experiment with your preferred options. By the end of it, you will have found 'The One' for your dining space.
FAQs
1. Why Are Dining Room Table Centerpiece Ideas Necessary?
These are necessary because they give the dining spaces a facelift rather than boring the space down with an empty table. It also brings out the accents of the decor as a whole expressing your taste in design as well.
2. How Can Fabrics Play a Role in Being a Centerpiece Element?
Fabrics can play a versatile role in creating the perfect centerpiece. They adorned as a runner and can be used as a base in bowls and table trays to hold the decor items. They also fashioned into forms that hold to keep as centerpieces on their own. 
3. Can Kitchen Islands Have Centerpieces? 
Kitchen islands, often double as dining spaces for many households. They are the center of any get-together that involves food. Thus, they also can and should have a decorative element to it with the addition of a centerpiece.
To know more about Home improvement ideas, Cleaning and decoration tips visit ArchitecturesIdeas.
For daily updates, follow us on our Instagram page @architectures_idea.