7 Living Room Ideas to Ace It as the Centerpiece of Your Home
A living room is far from being an ordinary place in your house. It is a happy place for social gatherings, home-time with family, and is used as a dining space by many. It is the first thing that guests notice when they walk through the door. The way you maintain it will leave an impression on the guests. So it is important that you make the living room the highlight of your house and we are here just for it. We are going to show you seven ideas that will make your living room a centerpiece of your home.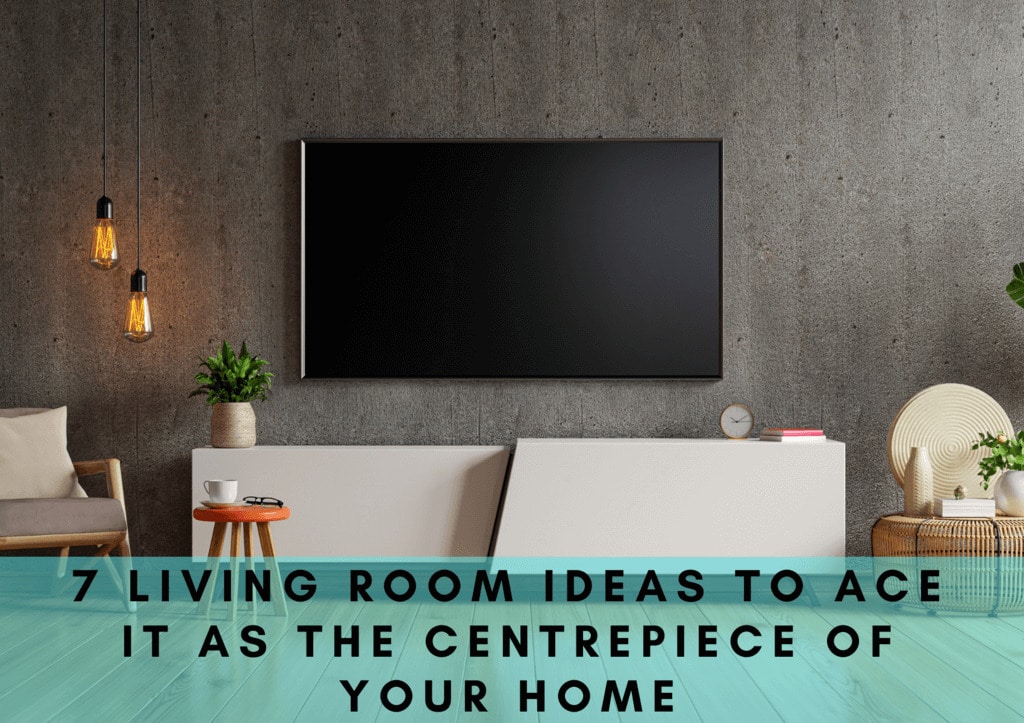 Source: googleusercontent.com
Take a look below.
1. Make the Living Room Aesthetic with a Custom Handmade Portrait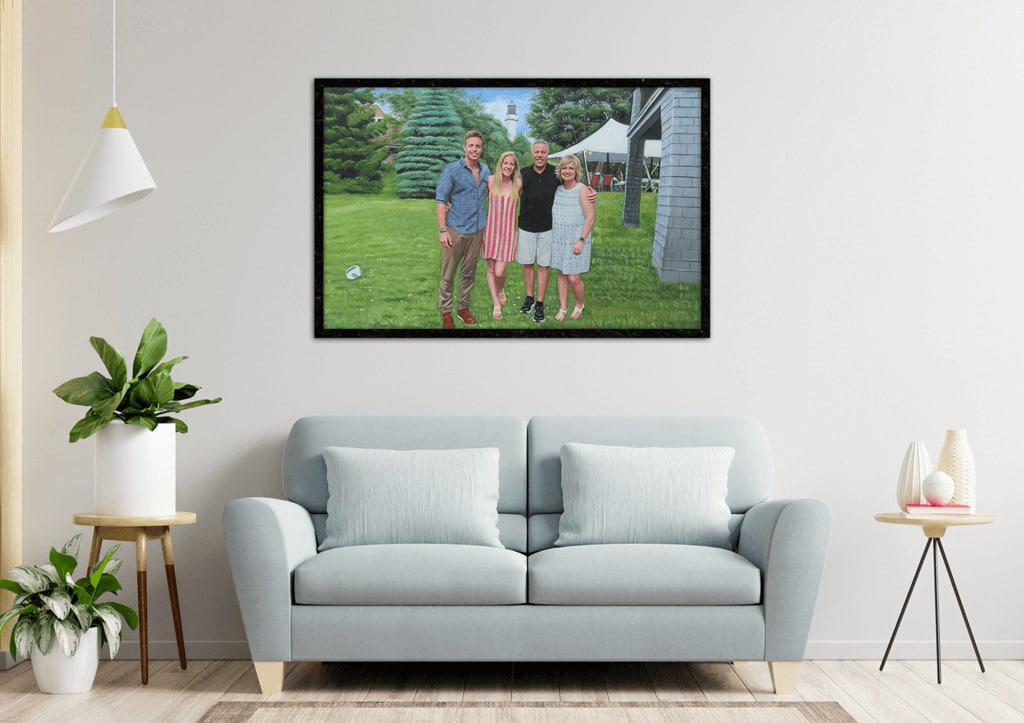 Source: googleusercontent.com
No matter how simple your living room is, there is one thing you can do that will instantly make your hall aesthetic: Hang a custom handmade portrait on the wall. 
Well, we are not talking about just any painting that you happen to see online, we are talking about a custom handmade painting that is made from your precious photos. 
These custom portraits will do more than just adding aesthetic beauty to your living room. 
A custom handmade painting will give the hall an enriched feel which will get enough compliments from the guests
If you choose to get a family portrait, it will deepen your connection with your family.
It may be hard to believe, but looking at the texture of the painting relieves stress and can ease anxiety and depression.
Since an early time, having a handmade painting in the house has been a sign of power and wealth. So make your presence known by hanging a custom painting on the wall
Once you add a custom handmade painting to your living room decor, it will become the center of attention.
Imagine how wonderful your living room will look with custom portraits made from your photos. 
You can consider getting the portrait even if you are on a low budget, as they are not that costly (when compared to other living room ideas).
2. Revise the Neutral Look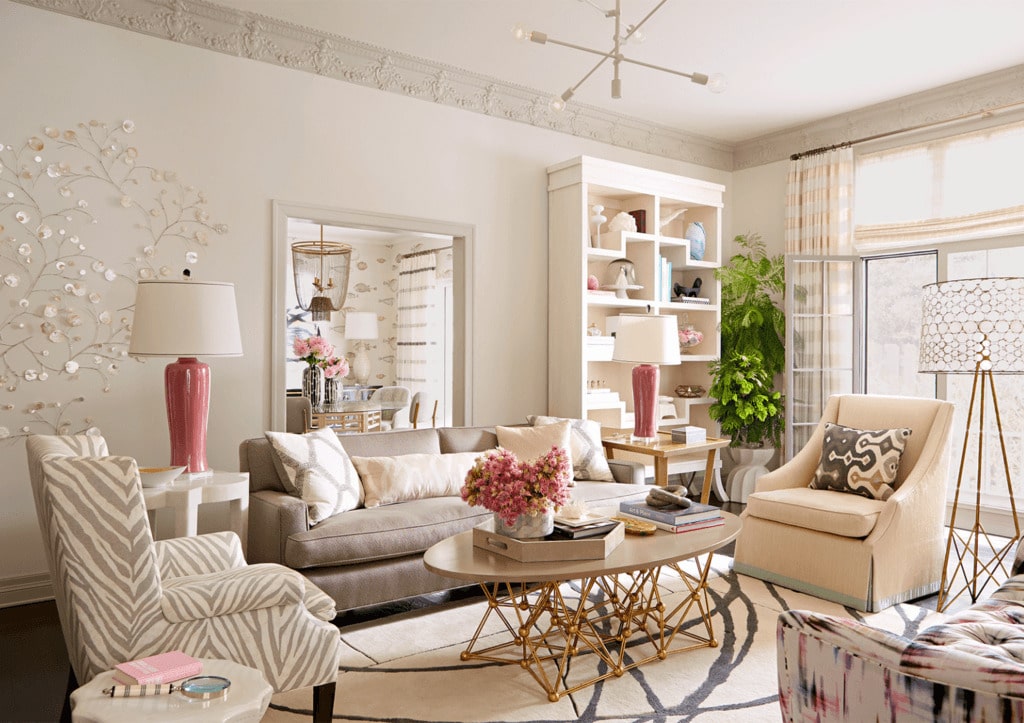 Source: bhg.com
Who says that neutral look is too lame for a living room? 
Although it follows a monotonous color scheme, it can be energetic, lively, and eye-catching when done properly.
Once you make your mind to do the neutral look, there are endless possibilities.
You have to choose a color and add only complementary tones to the decor.
For example, if you go with brown color, you have to go with complimentary brown shades to decorate your entire living room. 
If you choose white, you can add other shades of white like cream, ivory cream, vanilla, closet mix. 
The key rule is to add different shades of color that blend together.  
You can make the living room dynamic by adding rough and smooth tones, shiny and matte tones.
You can also choose to add contrast by placing small colorful decor stuff like lamps, pillows, or other items. This way you can redefine the neutral look. 
3. Paint It Black and White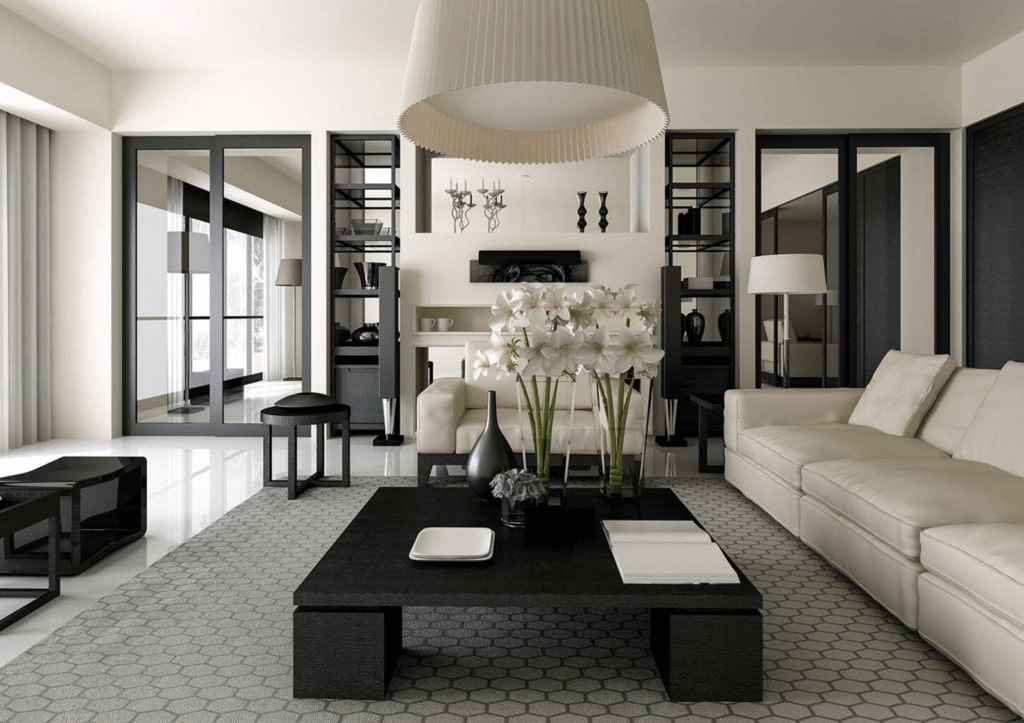 Source: decorilla.com
Black and white colors may seem boring, but if you use them wisely, they can give a charming and elegant look to your living room.
Black color becomes the center of attention when you add them to the home decor. So when you add black accessories like light fixtures, paint, furniture, sofa, throw pillows, they will instantly become eye-catching.
But the real fun is when you decorate your living room with the two highest contrasting colors: black and white. 
When you follow such a color-contrasting color scheme, every piece of your decor will stand out and speak to you.
This will give a sophisticated and fresh look to your living room. 
Black and white living room decor is unique as not many people prefer to have black and white shades. 
So show your unique sense of choice and go for Black and white living room decor. 
4. Make the Living Room Lively with Indoor Plants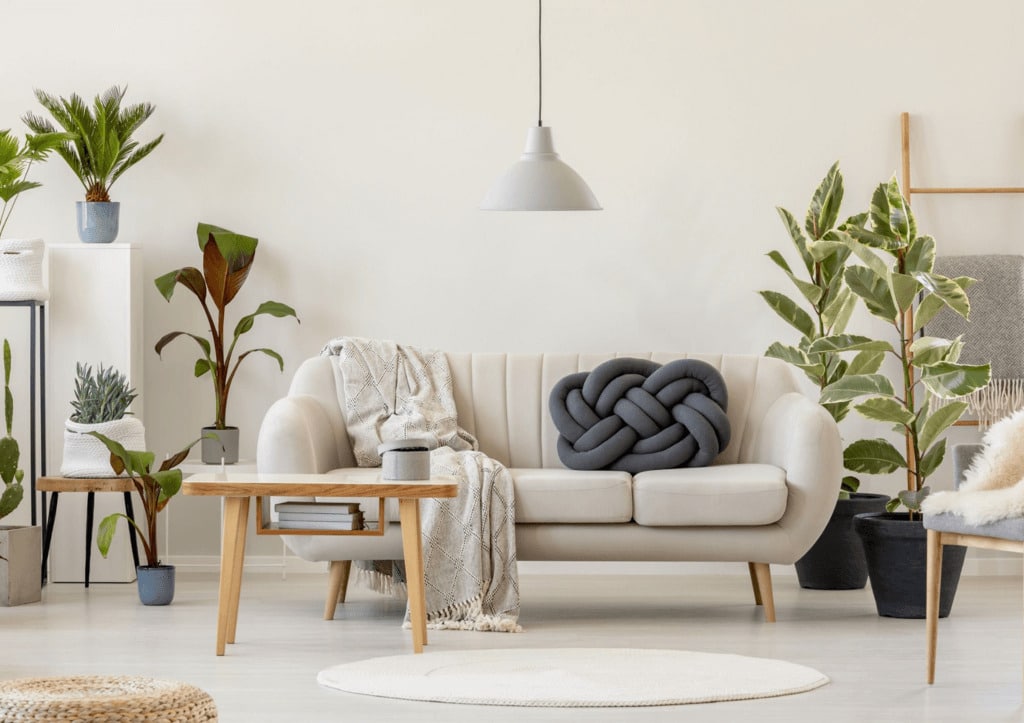 Source: goodhousekeeping.com
Decorating the living room with indoor plants will not just make the room beautiful, but will bring numerous health benefits to you and your family.
Indoor plants purify the air and increase oxygen levels. What's more, is that indoor plants help combat stress and anxiety, increase attention span, spark creativity and increase productivity. 
So when you add plants to your living room, you are doing a lot more than just decorating.
A living room with plants will look more alive and give a warm feeling. 
You can keep the plants in pots, on coffee tables, beside Tvs, hang them with hanging planters, make a terrarium, and whatnot! 
You can prefer succulents that can fit in small and tight places while adding greenery to the decor. 
5. Add Sophistication with Velvet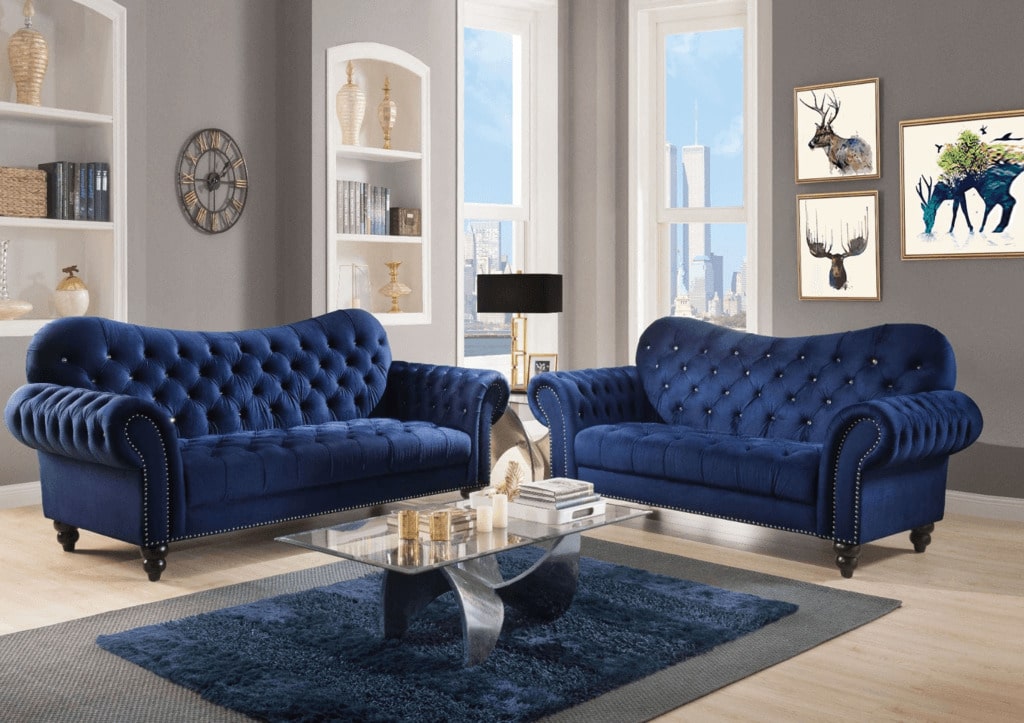 Source: 1stopbedrooms.com
If you're looking for a luxurious feel for your living room, you should definitely add velvet to it.
Velvet is a soft, luxurious material that adds a pinch of sophistication to anything. 
The most common living room decor that uses velvet is the sofa, stool, and chair.  
You can also paint your living room wall with velvet paint to complement the decor. Velvet paint has a rich texture and is slightly glossy. 
To make the room complete, you can add velvet cushions and throw pillows. 
When you go with this theme, your guests are going to assume that you're glamorous. 
6. Rugs to Make the Living Room Appealing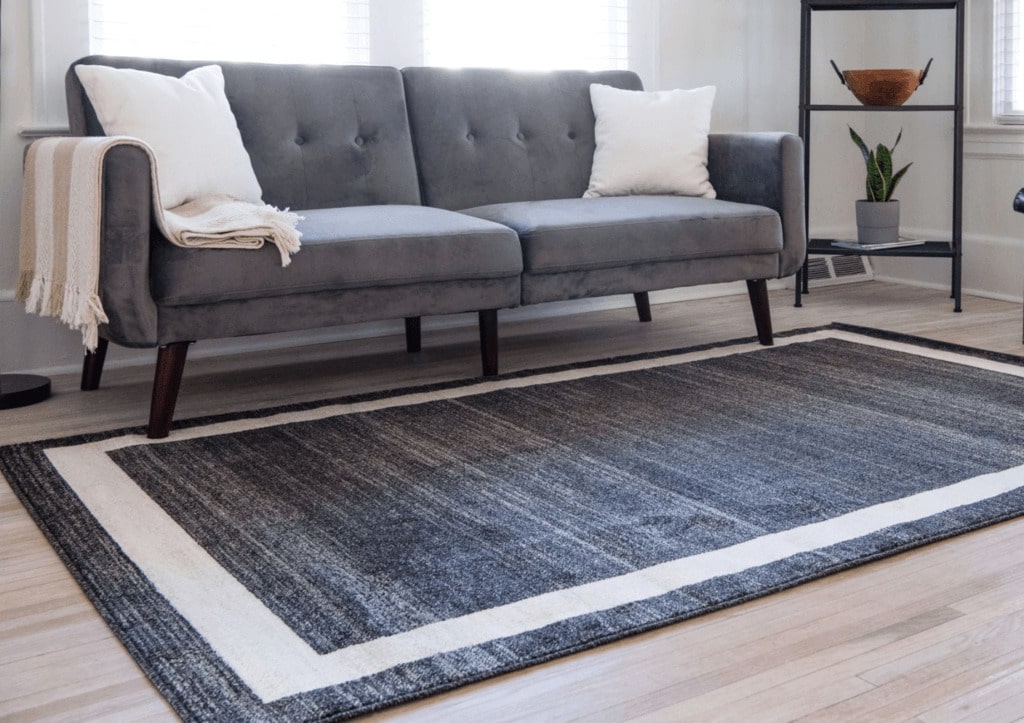 Source: rugs.com
How do you change the atmosphere of your living room without doing any major changes? 
By adding a rug to the decor! 
A rug can drastically make a living room more appealing. (Just make sure that the rug matches the color pallet of your living room.)
As it is soft, it will also keep the young children and pets in your house safe. Also, they are comfortable sitting on. 
Some of the softest rugs you can go with are made from cotton, wool, silk, animal skin, or synthetic material like olefin, polyester, polypropylene. 
So get a rug and instantly make your living room attractive. 
Also Read: 8 Tips & Tricks When Choosing Wall Art for Your Living Room
7. Show Your Creativity with Textured Wall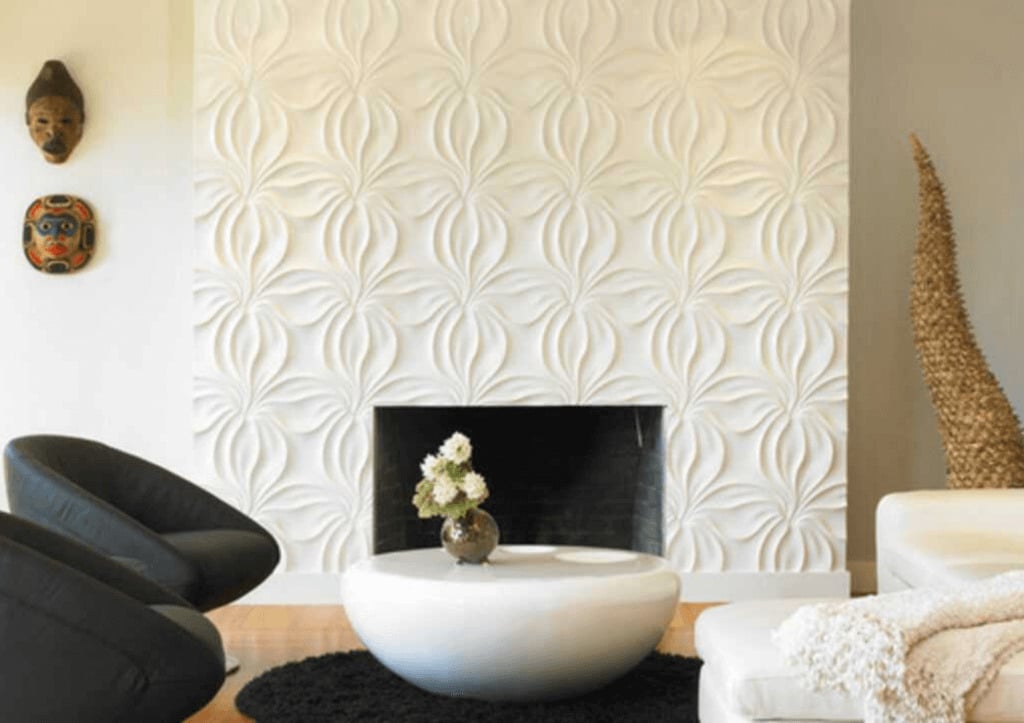 Source: stylemotivation.com
Say goodbye to plain walls forever, and raise the visual appearance of the living room by adding texture.
Textured wall transforms the plain surfaces into interesting patterns that are a treat for the eyes.
You can choose to add any kind of texture to the wall. Here are a few of them:
Orange Peel

Comb

Popcorn

Sand Swirl

Knockdown
One of the best things about textured walls is that you can do it yourself and create any kind of texture that you wish. 
A textured wall is a great way to hide flaws of the wall like cracks, nail holes, dents, or any other imperfections.
So, showcase your style and add texture to your living room.
These are our seven ideas to make your living room attractive. 
Some of these ideas involve giving a total makeover to the hall, while a few ideas suggest minor changes like adding a custom handmade portrait or a rug to the living room. 
Whatever you may choose, these ideas are sure to ace your living room as the centerpiece of your home!
Author's Bio
Ajinkya Balapure is a B.Sc. Biotechnology graduate and a writer. Although having a science background, he is inclined to follow his passion for writing. At present, he is working as a content writer at PortraitFlip and is completing his first novel. In his free time, he can be seen reading, listening to music, and playing video games.