Corkboards are bulletin boards made of a heat-insulating material made of compressed granulated Cork. Corkboards are the most adapted feature of DIY in workspaces and personal space and rooms. This hand-made or self-made traditional cork board can be made by framing a piece of Cork hanged on the wall.
There are tons of different ways where we can create a self-customized or a DIY corkboard. Usually, people get these bulletin boards made for their offices to stick or pin the important notices, tasks, or reminders.
But now-day, people also use these cork board ideas for their bedrooms and personal spaces to recreate the vibe of the room with memories and artifacts. DIY cork boards can be entertaining to be made and useful as well.
Why Should We Use Cork Board Ideas?
In today's world, we are so busy that, at times, we forget what we have scheduled for the rest of the day. So in such a hectic world of competition, we are so lost that we have no ideas of what is on the list next for us. Do you remember when did you last sat down and went through the albums of your memories? Or when was the last time you made a new musical note?
Or when did you last made a cartoon sketch? No right! So this cork board is also known as "The Cork Board wall" or "The Memory Wall." Cork Boards can help recreate and store the memories and all those things that are not just lines and curves created with ink, but they are the emotions you have designed with your heart.
How to Make Cork Boards? and Corkboard Walls?
We have the answer to your question. You must know how to apply the corkboard correctly. So before we guide you with the steps for using the cork boards, you are supposed to have some raw materials to create the corkboard or the corkboard wall:
A cork roll or a cork sheet.

Utility knife, plastic spatula to apply and spread the adhesive

Strong and long-lasting Adhesive

Plywood Sheet

Paper towels or sheets to clean and damp the adhesive.
Now let's start with the necessary steps of creating a traditional and straightforward Corkboard/Wall:
First of all, decide the size of your board or wall and mark them with pencils neatly in a precise manner.

Get the cork sheets, rolls, or the tiles.

Mount the plywood board according to the markings on the wall.

Apply the adhesive according to the thickness of the cork sheet to have a firm grip.

Apply and roll over the cork sheet.

Press and spread over the sheet to remove the air gaps beneath the sheet.

Trim and shape it according to the design you need, if necessary.

Load it up with your Tasks, memories, notes, quotes, reminders, or inspirations!
Different Ideas to Create Your Cork Boards and Wall!
Now it's time we explore some different and creative DIY ideas for your corkboard walls:
Spreading Out Some Paint
Source: pinimg.com
If you are a creative person and have a good hold on the brushes, you might try creating and adding some colors to make the board and the corkboard wall more attractive and bright.
You don't need to be a great artist. All you need is the fun within you should be seen in the paint. Just bring the joy out and create your attractive corkboard.
Stylish Cutouts
Source: theorganisedhousewife.com.au
Let's get a little more creative with some shapes and designs for your board plate. If you feel like applying the entire cork roll sheet or the board to the frame, you can cut them down to different shapes and then roll them over to the adhesive.
Fabrication to the Frame
Source: spirossoulis.com
Watching just a bare brown wall or board can be tedious. For creating a spark to the dullness, you drape a beautiful and mesmerizing fabric cut to the board. The fabric added to the board can bring liveliness to the bland vibe of the board.
This corkboard frame can be best for fashion stylists and designers; they can add the fabric cut-outs on the corkboard according to the projects they have been working on.
This idea can turn out to be beneficial plus attractive at the same time.
Use Colorful Board Pins and Sticky Notes
Source: stryber.com
The best part is the pins and the sticky notes; they can be used for both office and residential purposes. To create catchy eye boards, you can use maximum colorful pins and sticky notes to maintain the board's vibrant touch.
Pocket Storage Cork Boards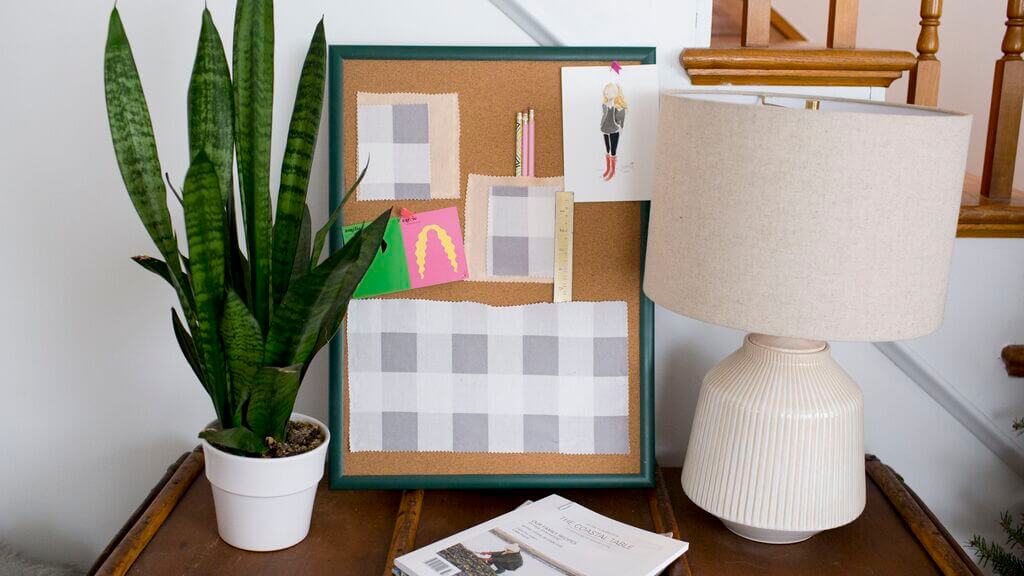 Source: thesprucecrafts.com
Smartness includes secrecy. And here, cork boards and walls can have fabric pockets that can maintain the privacy of your notes, reminders, and memories or secrets. Have you ever thought about how it would be to add a secret space to your corkboard? Think over! This idea can be the best solution.
Jewelry Hangings Cork
Source: twopurplecouches.com
To organize jewelry and accessories is the most challenging job for a lady. I hope all the ladies would agree to this. So here you have an exciting idea.
Make your jewelry organizer. Have cutouts according to the different types of jewelry and sort them out. You can add designs and doodling with white color to give it ethnic or an artistic touch.
Wine Cork DIY Idea
Source: pinimg.com
Wine corks are available easily in the market. You can collect wine corks, frame them together in any shape you want, and hang it on the wall. This can be the best cork board and the most beautiful idea one can use.
Kids Art Corkboard Wall
Source: pinimg.com
When we talk about kid's art, what are the everyday things they like to store as their memories are their drawings? They want to draw on many things where they quickly and openly express their feelings and emotions.
So creating a corkboard wall is the best option. Sticking their art and crafts on the wall, locking them as memories are happy moments for kids.
Round Cork Boards for Wall Organizers
Source: strongdaily.net
Have you seen an organizer on walls to store or note down important things? What if we create wall organizers with the help of cork boards? Make box storage out of cork boards to keep in light kinds of stuff, and we can use the exterior part of the box as noting down notes and reminders.
Also Read: Learn: How To Texture A Wall In A Budget-Friendly Way
Inspiration Word with Corkboard
Source: handfie.com
Cut out an inspirational word that can motivate and boost you daily, roll it over the cork sheet and trim it with the letters. And frame them on the wall and note down the dreams and goals with your inspirations.
How does this sound to you?
Fairy Lights to the Cork Board Wall
Source: pinimg.com
If you are a girl and like to decorate your memories, this can be the best idea. What you need is a fairy light. Add it to the memory cork board wall and light up your memories and keep them shining for a long run.
Though this idea sounds to be expected, the spark this can get is worth using repeatedly.
Fix Together for a Corkboard Wall Art
Source: pinimg.com
Do you find wall arts and wallpapers to be tedious now? Want to try something new? Get some cork boards together, cut them down into chained designs or a honeycomb.
Color it, spray it, glitter it and place it on a bare wall with a solid color, and here you are, with a beautiful and focusing wall. This wall art can be created quickly and will stand out the best artifacts you can own in your entire house.
According to the survey, a wall art full of love and fun works out to be the best piece of the houses.
Re-cycle the Corkboard
Source: pinimg.com
If done as a bulletin board or a memory wall, now use it as something useful. Like you can use it as a tea coaster, plant coaster, pen –stand, a DIY watch, and many more exciting ideas. These cork boards are beneficial in many ways and can be recreated in any form.
Summary
So with this, we conclude this blog, and I hope you must have collected different creative ideas for your cork boards. Corkboards and walls are the best way to note and store your memories. And not just for reporting down of things and plans. Corkboards can be helpful to create many organizers and storing materials.
Corkboards are easy to be self-made. You need to get the raw materials and be firm about what do you want to create. If a beginner, it is advisable to seek a professional's help to avoid any harm.
So how did you find this helpful? Please do let us know!
To know more about cleaning tips, home improvement tips visit Architecturesideas.