14 Flooring Trends 2022 the Perfect Floors for Your Home
With a variety of different choices available in the flooring materials, flooring trends 2022 are defined by the trendy options.
The interior design of a house demands great attention for the selection of flooring materials and their installation modes. Best flooring trends 2022 can impart unique aesthetics and harmony amongst the design of each space. 
Though flooring trends don't deviate majorly from the basic design every year, however, flooring trends 2022 can be seen slightly influenced by advanced technology. The key point for best flooring trends 2022 is the main focus on effortlessness and imparting coziness to spaces.
Today's lifestyle has become more of hustling than resting, thus comfort is given the first priority while designing any space. The same has been thrown light at for the flooring trends 2022 to serve users with spaces that offer tranquillity and demand very little maintenance.
A Guide to Choose The Best Flooring
Flooring trends 2022 have a wide range of materials and styles. Before getting into the depth of these designs, it's important to know how to choose the best from the rest.
Selecting the right flooring for a home can impact the space's visual appeal and add an interesting dramatic effect to the property. Here are 7 tips to guide you through the process of selecting the appropriate flooring for your abode.
Style
Selecting the style of flooring based on the existing decor is a key step while opting for one. The selected flooring style must blend with the surroundings and overall design of the space.
Though it's based on personal preferences, the selected flooring must merge with existing elements.
Space
One important thing to consider before selecting the type of flooring to be laid is the dimensions of the space. Shape and size play an important role to guide the right selection.
Where a light shade can make the room feel spacious, darker ones can bring in compactness and warmth. Before sprucing the space, make sure you assess the space and select the material that blends with the design and furnishings.
Practicality 
The key consideration while choosing to floor for your house is the space of installation and usage of the floor. These aspects may guide you towards floors that are durable and long-lasting for a particular space.
Type
Floors are available in an abundance of types that leaves buyers with mind-boggling options. There has to be clarity on the type of floor you want to install and after selecting this, shapes and textures can be selected.
Maintenance
An important consideration while choosing the flooring is the maintenance it demands. An easy-to-maintain floor can be kept sturdy with easy tasks like mopping. These floors remain in a good condition with minimal effort.
On the other hand, floors like wood demand high maintenance. It can add to the expense and can prove to be stressful.
Installation
Flooring can either be installed by a professional or you can opt for a pocket-friendly method by installing it yourself. For DIY flooring, laminate and engineered floors are considered to be the simplest to install.
By having certain tools handy, the floors can be installed and extra costs can be saved. Thus, the choice can be based on personal interests and budget.
Budget
Like most of the products in the market, floors can be either cheap or eye-watering expensive. Deciding on a budget before diving deep into the trends is important to have a clear direction of what to look for.
14 Best Flooring Trends 2022
Every year, different flooring trends come into the picture as technology is advanced and new taste is acquired. Where 2021 was the year of brown hues, mineral streaks, and driftwood, 2022 promises exciting and beautiful flooring trends.
Here are the 14 gorgeous flooring trends 2022 that can level up the aesthetics of your house with an easy installation.
Parquet Floors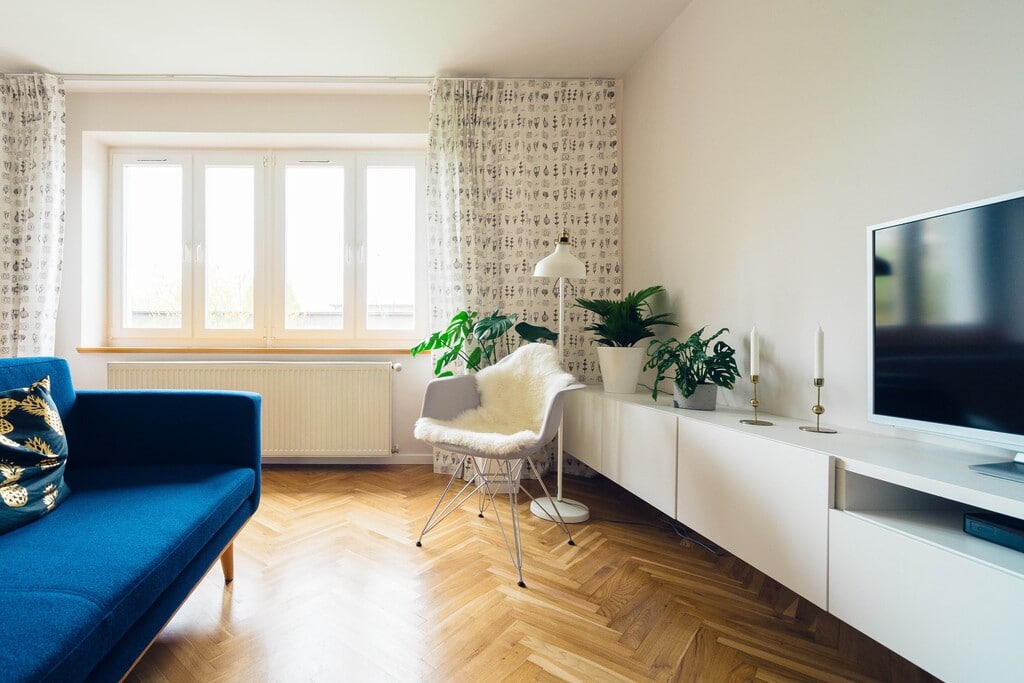 Source: Mydecortrends.com
Parquet flooring has always been considered the most durable and sturdy option. Flooring trends 2022 envisions a hike in this trend. Considered as a notable attribute for great interiors since the 16th-century, this is a classic flooring trend since then.
With 2022 trends, red and orange hues have been replaced by more cold and grey shades of the parquet. Another creative innovation in the color palette for 2022 is a color referred to as greige which is a duo of beige and grey.
The parquet floor is a functional and versatile option that easily fits well with the cold and warm shades and will stay trendy for the coming times. The modern flooring techniques use engineered planks rather than conventional pieces of planks.
These planks, if laid in a diagonal method, impart a more modern look to the space. Opting for panels with varying widths is the current trick for an eye-catchy pattern to beautify the space. 
Laminate Flooring Trends 2022
Laminate flooring is more pocket-friendly and easy to install for aesthetic floors. Semi-glossy laminates are gaining momentum as they are more convenient for use than highly glossy floors. 
The style statement can further be added with an aged plank effect, whitewashed, or patine floor. These jazz up the interiors of the space in a subtle way without catching all the attention towards themselves. 
Laminate flooring in diagonal or herringbone pattern visually makes the space look large and injects sophistication to the interiors. This flooring trend 2022 opens doors for new and better possibilities to create unique styles.
Porcelain Stoneware
Source: Mydecortrends.com
One of the greatest and presentable flooring trends 2022 is porcelain stoneware. It makes a space look luxurious and rich in style. With different colors and finishes, this flooring offers you a variety of hues for matte or glossy surfaces as per your personal choice.
Porcelain stoneware flooring is not a common choice as the material is cold which makes it uncomfortable to step on. This problem can be sorted with an underfloor heating system.
From the practicality perspective for the material, a matte surface is preferred as a glossy surface doesn't grind scuffs and scratches. 
Hexagons and Porcelain Tiles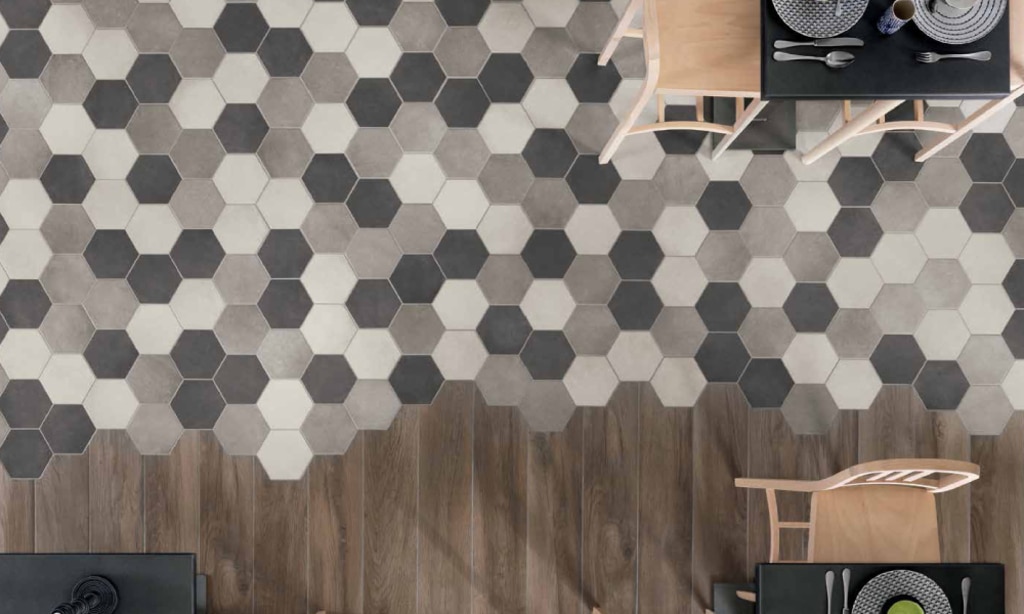 Source: Mydecortrends.com
Hexagon tiles have been in trend for a long time for interior design. Flooring trends 2022 is all about hexagonal tiles and other shapes to be added in the dining room, living area, kitchen, and other interior spaces.
These unconventional shapes can impart stunning aesthetics to any decor. With various sizes, textures, and colors that complement the decor, these flooring trends are slowly gaining popularity.
Wood Floors 2022: Bleached Wood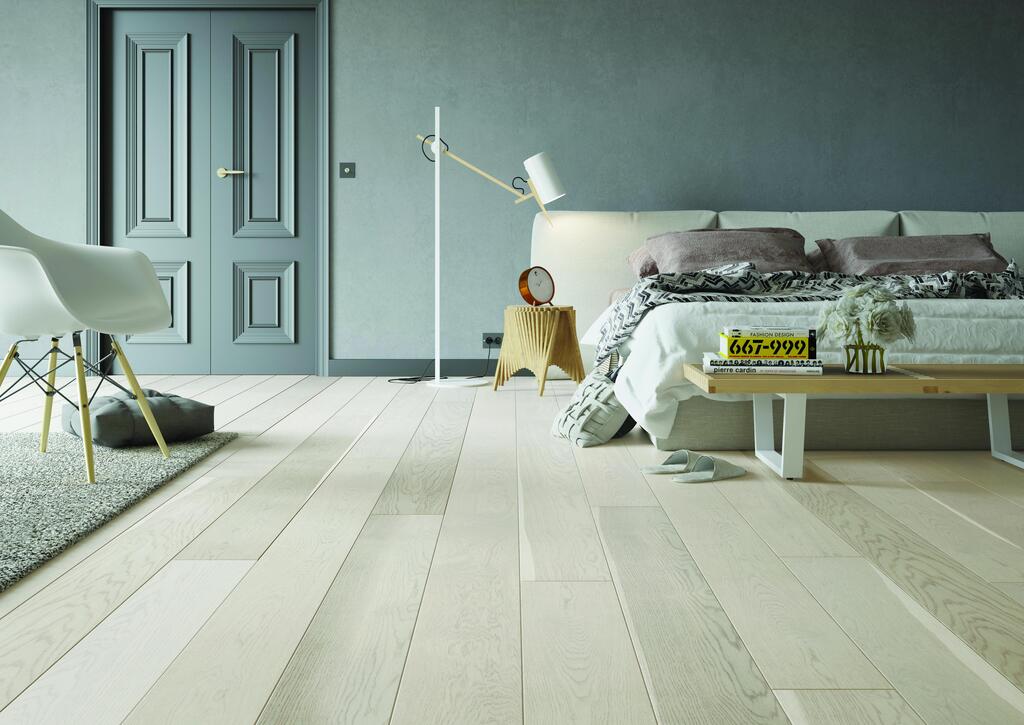 Source: Mydecortrends.com
Flooring trends 2022 have gone in the direction of bright brown spots on soft white shades of the floor. This floor style is achieved by installing bleached wood. To lighten the tone, a chemical is poured over the wooden surface.
These floors impart a classic look to the house with its subtle aesthetics.
Tile Flooring 2022: Timber and Concrete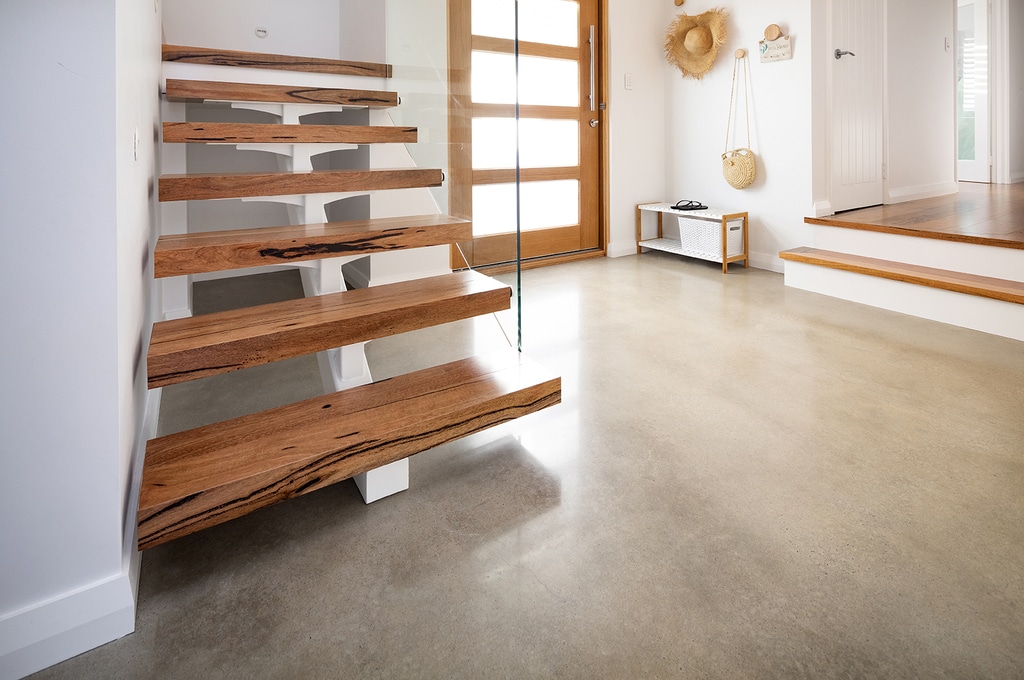 Source: Mydecortrends.com
The worn flooring style has been on the hit list for quite a while, but it has reached the peak of popularity in flooring trends 2022. The current decor direction is pointing towards incorporating vintage floors.
Tile flooring 2022 will be hiking the use of concrete tiles which suit the modern or loft styles well. Flooring like aged timber, concrete tiles with minimal shine can impart a raw look to the space and blend with any design language.
Patterned Wood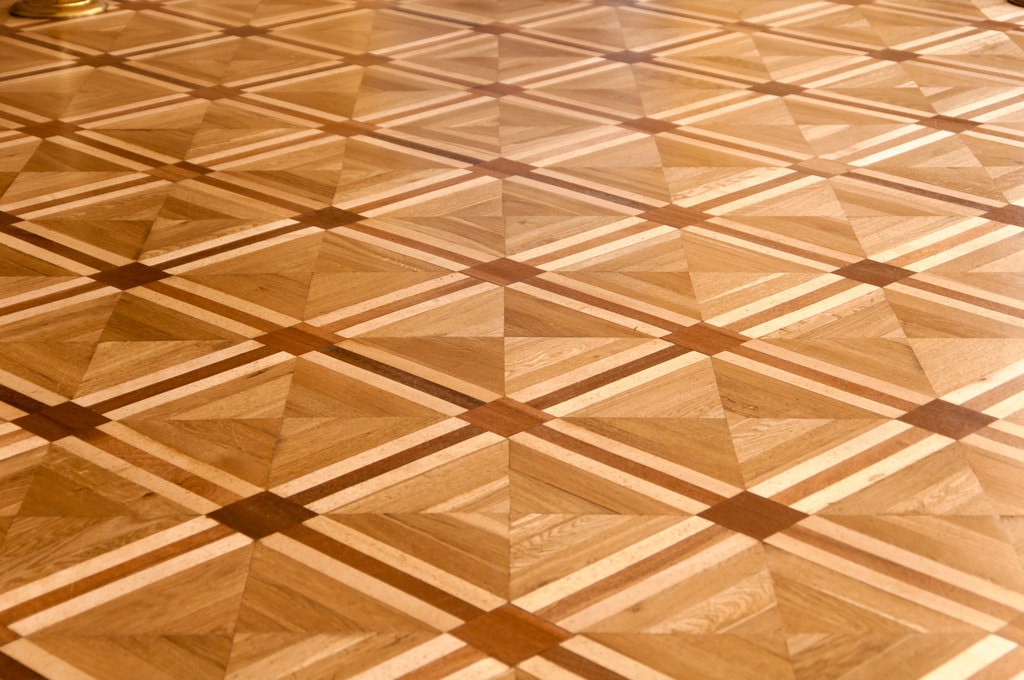 Source: Mydecortrends.com
One of the simplest ways to add unique character to a space is by incorporating patterned wooden flooring.
Wood floors 2022 focus more on herringbone patterns and their visual appearance can further be enhanced by opting for floors with prints.
Upcycled Barn Board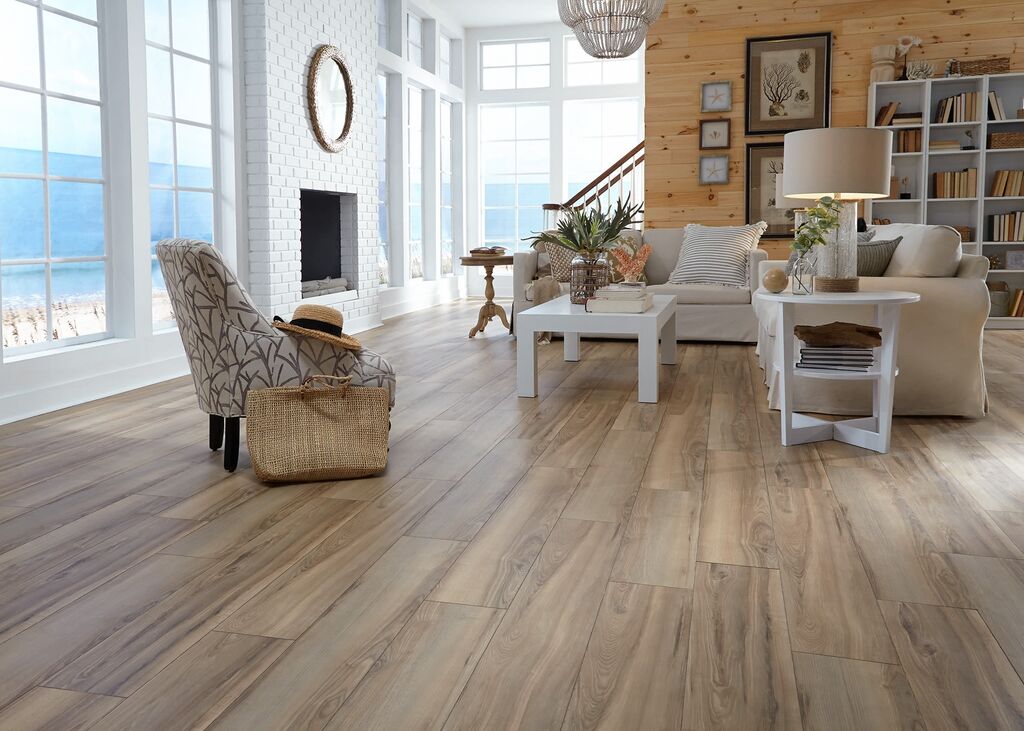 Source: Mydecortrends.com
2016 witnessed a popular trend of faux wood flooring. This style has been uplifted for flooring trends 2022 by using restored barn plank wood. It enables the natural wooden appearance in artificial tiles.
Owing to advanced technology, the original wooden essence is imparted to these types of floors. This style is also a step towards sustainability as it does not require the use of conventional natural wood to form a warm and welcoming ambiance.
Artificial tiles have the potential to bring in the aesthetics of the wood with practical advantages associated with it.
2-in-1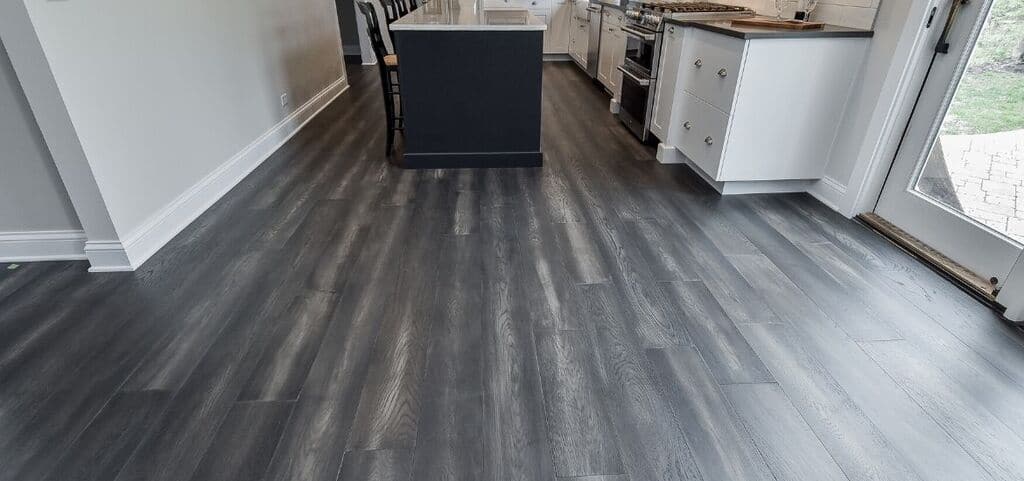 Source: Mydecortrends.com
With an upgrade in the material industry and technology, a trend of using multiple floors in the same space is now feasible. Multiple floor finishes in one room make the space look unique with each having a customized pattern.
It can be a combination of two complementing materials like wood and paint, tiles with wood, or other appealing combinations. This is the best creative solution for spaces with multiple functions.
This style can also be incorporated to highlight the important areas and add interest to the space.
Stone: Natural Flooring 2022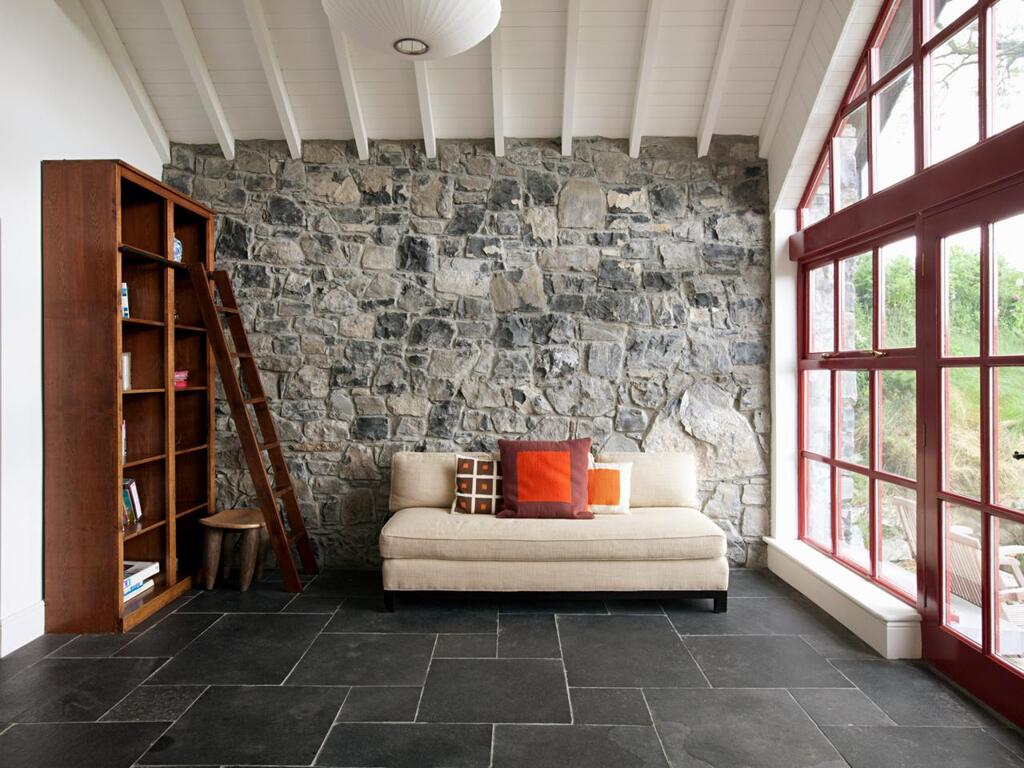 Source: Mydecortrends.com
The most popular natural flooring 2022 is stone with its gorgeous appearance. Stone flooring demands greater attention, maintenance, and can be expensive. The flexibility to cut out custom patterns or create unique decors from stone slabs makes up for it.
Stone flooring is quite versatile if considered from the design and visual appearance point of view.
Concrete Floor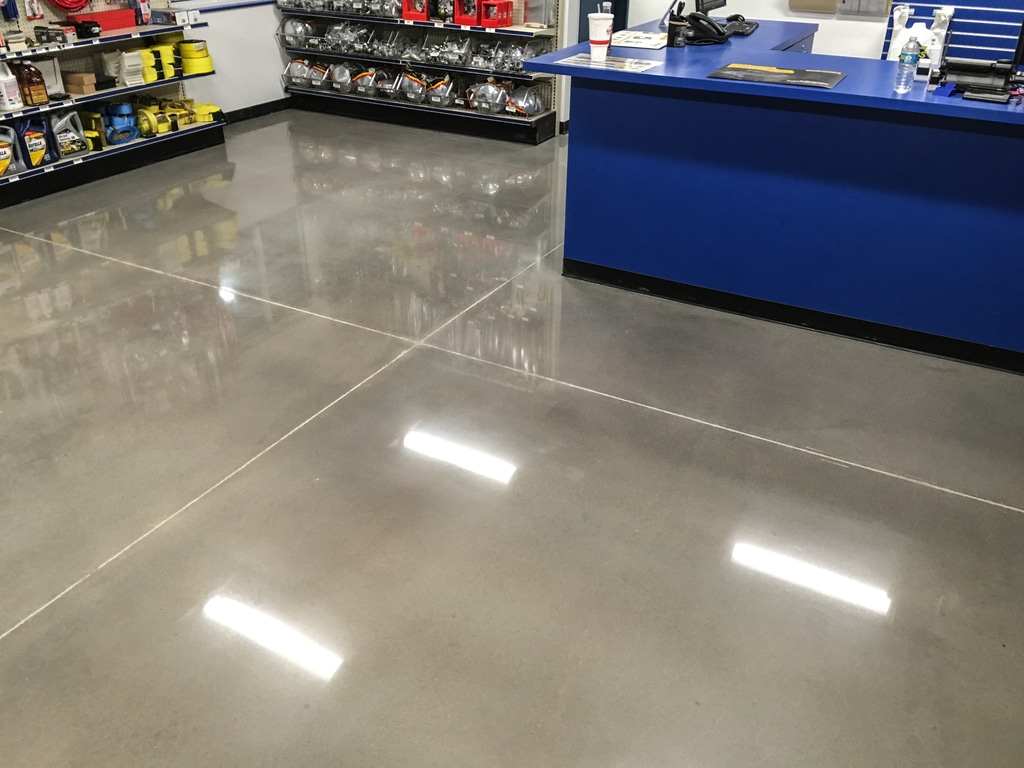 Source: Mydecortrends.com
Concrete flooring trends resonate with high-tech trends. These industrial-looking floorings can be incorporated along with brickwork on the walls to make a space look comforting.
Tiles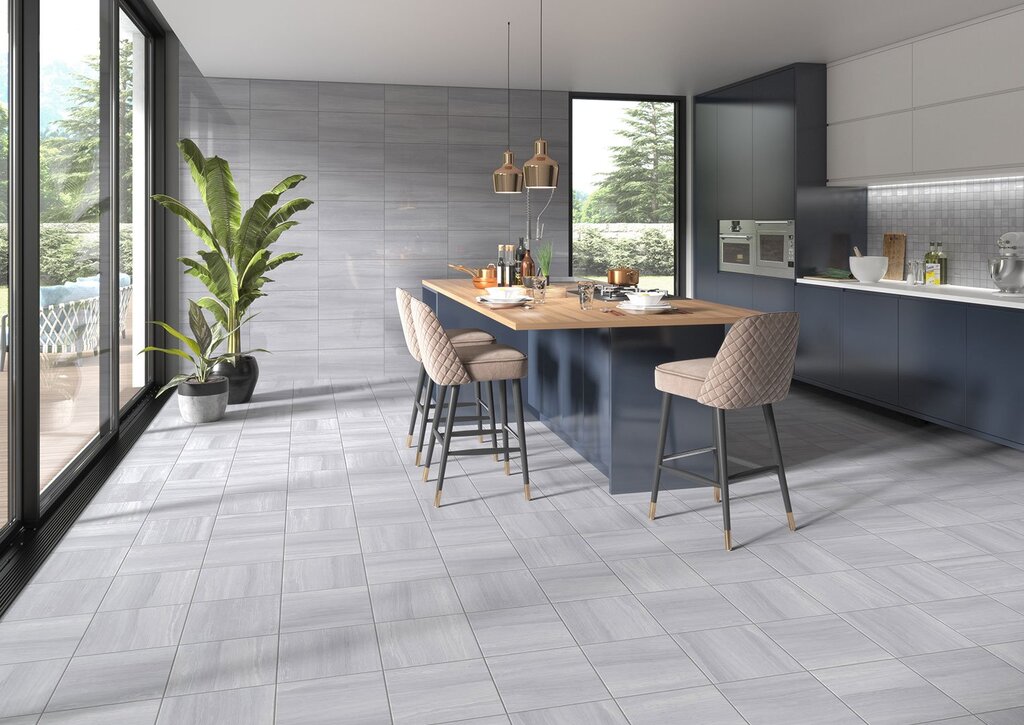 Source: Mydecortrends.com
Tile flooring 2022 offers experiments with many possibilities of choices. As eco-friendly designs are leading the board in the design industry, a tile imitating natural materials is the best choice for achieving that.
With so many options in tile colors, materials, and laying patterns, it forms a ground for experiment and installs a personalized flooring pattern.
Also Read: Five Popular Types of Commercial Floorings to Pick for Your Space
Terrazzo Flooring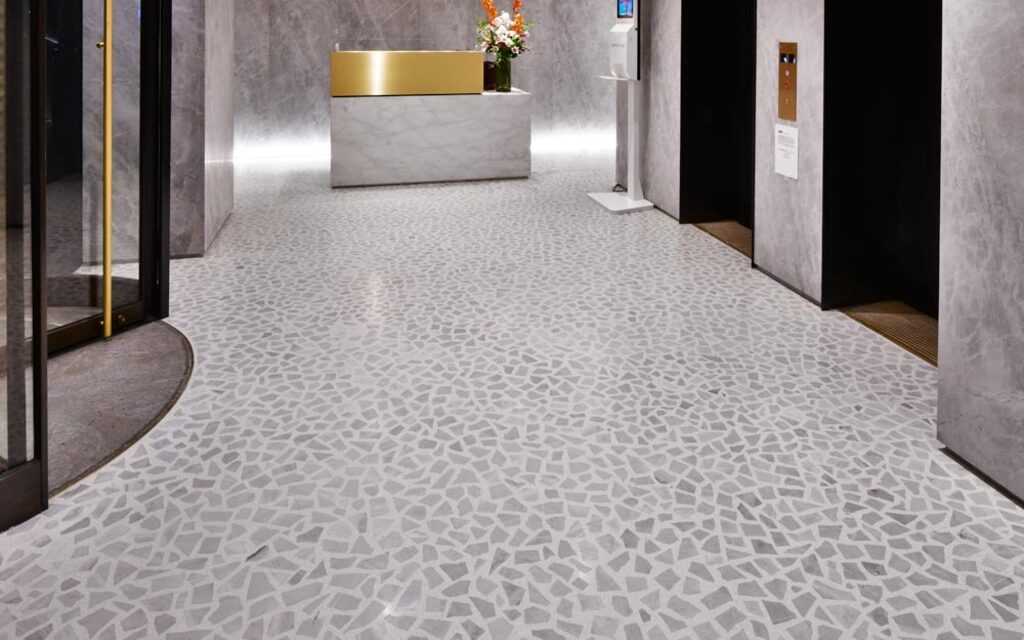 Source: Mydecortrends.com
Terrazzo offers the style of traditional Venice flooring. Originally, it was a cheap cement-based flooring with pieces of glass and natural stone. For flooring trends 2022, this look can be achieved with tiles.
The patterns and shades offered in a terrazzo floor are endless and this floor can add an accent to the interiors and make it look more appealing.
Carpet Floors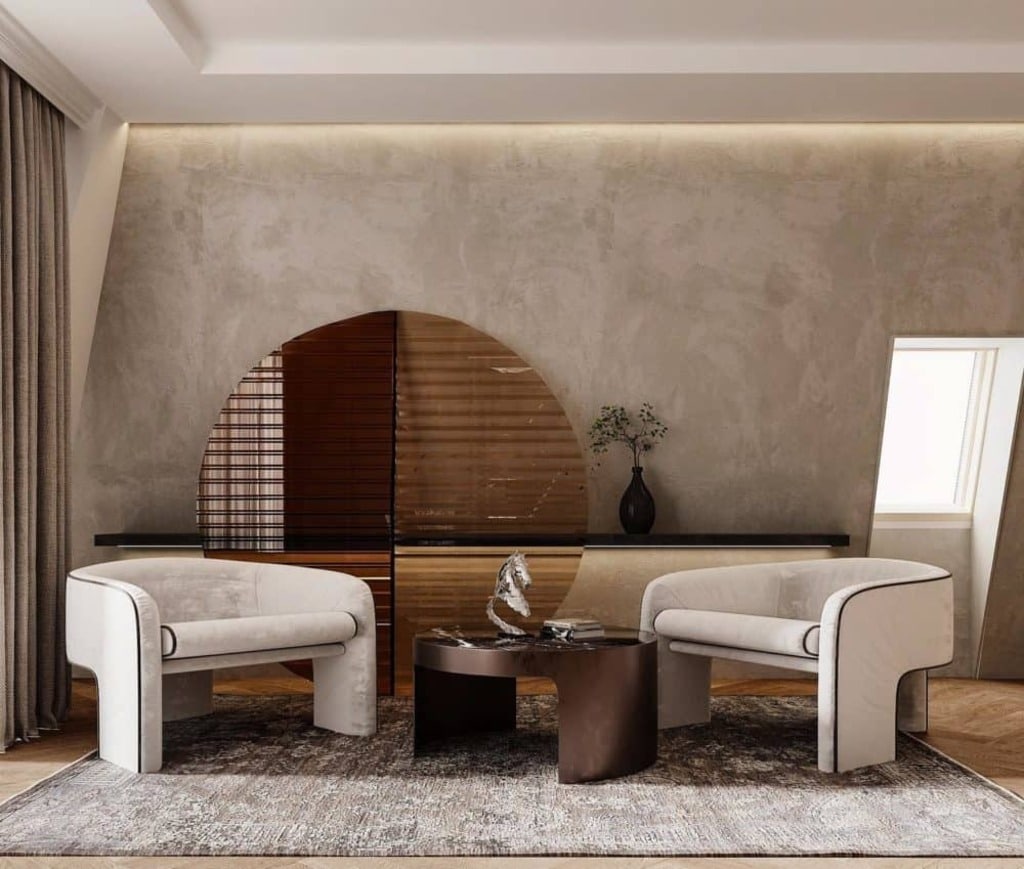 Source: Mydecortrends.com
Though luxury tiles and plank floors have made it to the trending styles, carpet flooring 2022 still sustains in the market. With the latest carpet models having qualities like water and stain-resistant, they still remain a convenient choice.
Flooring trends 2022 replace the typical single-colored carpets with multi-colored ones which are enhanced with patterns. These offer a balance between the budget and the high quality and durability of the floor.
The Right Floor for Clean Aesthetics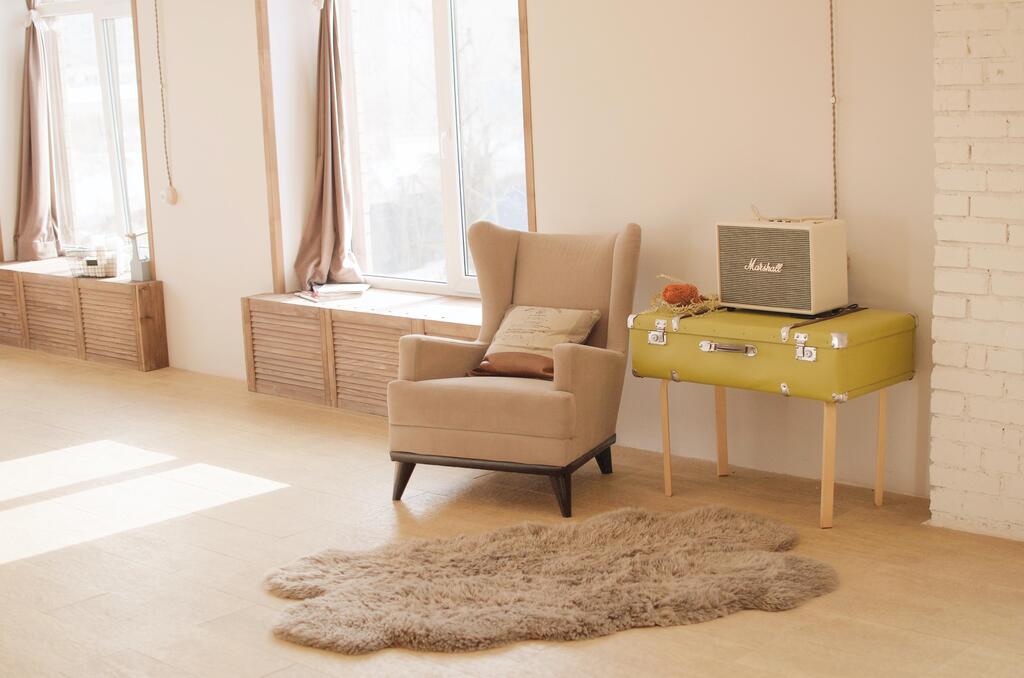 Source: Unsplash.com
Choosing the best from these flooring trends 2022 can prove to be challenging with so many options and varieties available in the market. The right floor can add a new life to your property and enhance the aesthetics of the space.
The general overview of flooring trends is that people seek more specially treated floors and the ones that align with the latest technology. The innovations and advancements in the material industry serve people with many unique and exciting trends.
Considering the space and one's personal choice, one or more flooring trends can be selected from the currently ruling floors to make the property look upgraded and welcoming with maximum comfort.
To know more about Home improvement ideas, Cleaning and decoration tips visit ArchitecturesIdeas
For daily updates, follow us on our Instagram page @architectures_idea.
Best Flooring trends 2022, Carpet Flooring 2022, Flooring trends, Laminate Flooring Trends 2022, Natural Flooring 2022, Tile Flooring 2022, Wood Floors 2022