When your focus is on producing the best luxury interior designs, marble is a material in high demand. Buyers with a luxury taste, always want the best in their homes and when it comes to materials, marble ranks very highly. Marble is now a material being used all throughout luxury homes including kitchens, bathrooms, dining rooms, hallways, and more. Understanding that marble is a metamorphic rock, containing recrystallized carbonate minerals that need to be sourced, extracted, and repurposed, this process makes marble extremely expensive and the buyers love it.
Looking at interior design trends across the decades the use of marble has increased significantly and not just any marble, but the highest-grade marble. Luxury interior designers find themselves sourcing marble from all over the world as different countries specialize in different types of marble.
There have been some outrageous, awesome designs using marble, hopefully, you won't be spoilt for choice!
Townhouses Deserve Islands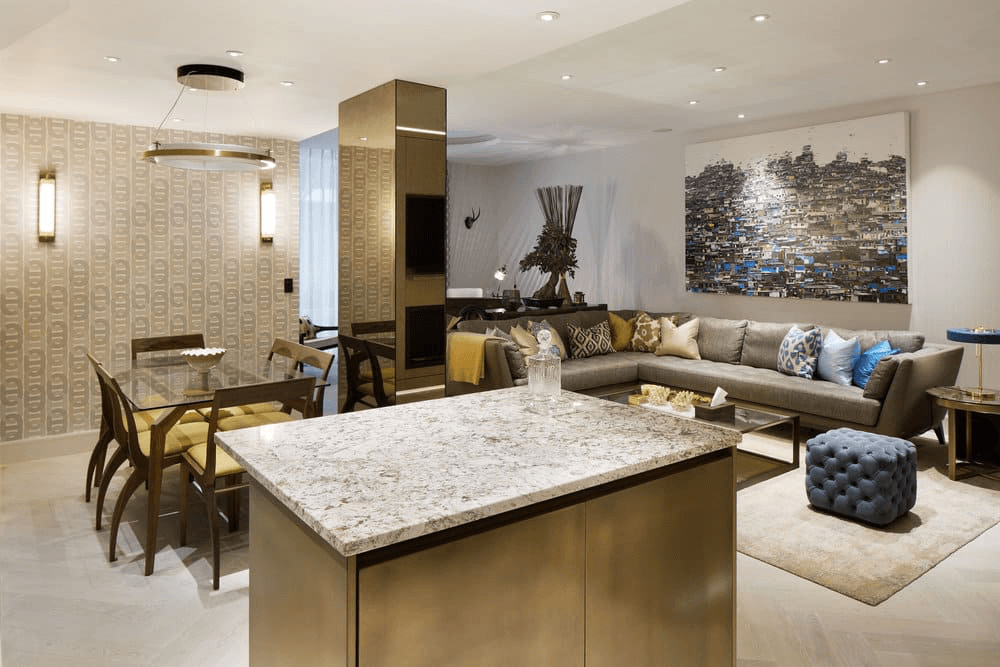 The small kitchen island was added to a lovely townhouse in the heart of Knightsbridge, London. The worktop comprises of a white and grey marble which blends into the room seamlessly. The island offers the perfect spot to host events whereby you need a surface to place the food and refreshments. This particular project was all about space and ensuring the townhouse was connected well and SP3 London, who specializes in the management of Luxury Interior Designers in London managed to deliver this well-planned and elegant design for a client across this particular project.
The Power of White in the Bathroom
This beautiful master bathroom has been fully designed with marble at the helm. An elegant large Carrara Marble, from Italy, was installed across the floors and up against the bath to create a soft, heavenly feel and space. There's also a large shower room which has been completely covered in exquisite white marble from head to toe. This is a great example of using marble sparingly and not in every inch of space. Topping off this design is the hidden lighting to give a subtle ambiance to the bathroom.
The Beautiful Turkish Lilac Bathroom
This bathroom has been completely fitted head to toe in beautiful Turkish lilac marble. White is a beautiful color for bathrooms however this marble delivers a decadent look to give that slightly darker look in the space and also gives off that luxury look. Quoted as "absolutely gorgeous" this bathroom will be loved to be many.
The Z-Shaped Island Kitchen
This custom-designed kitchen in London comprises of a Z-shaped island, topped with the most elegant grey-veined white marble, which has also been used under the cabinets along with one of the walls for an exquisite finish. This kitchen designed by TMItalia combines traditional and contemporary concepts. Included within this kitchen, they've got appliances integrated, such as a microwave, oven, and grill. Then the fridge, freezer, and dishwasher have been perfectly hidden away, leaving the kitchen with a minimal flawless look.
The Stand Out Titanium Granite
This stunning dark Titanium Granite table worktop was added to an island giving off an exceptional contrast in colors across the kitchen. This interior design concept truly made the island the heart of the kitchen and the kitchen itself the heart of the home.
Black Marble at Its Finest
This luxury space has been fully fitted with a black marble floor to add character and sleekness to this space. Black marble, which is called Nero Marquina can be found and sourced from Markina in Spain. It's a high-quality marble that gives this room luxury. In order to complement the color of the floor they've added variations of brown throughout the room, mimicking the black around the floor-to-ceiling patio door frames.
Marble Bathrooms Can Have Patios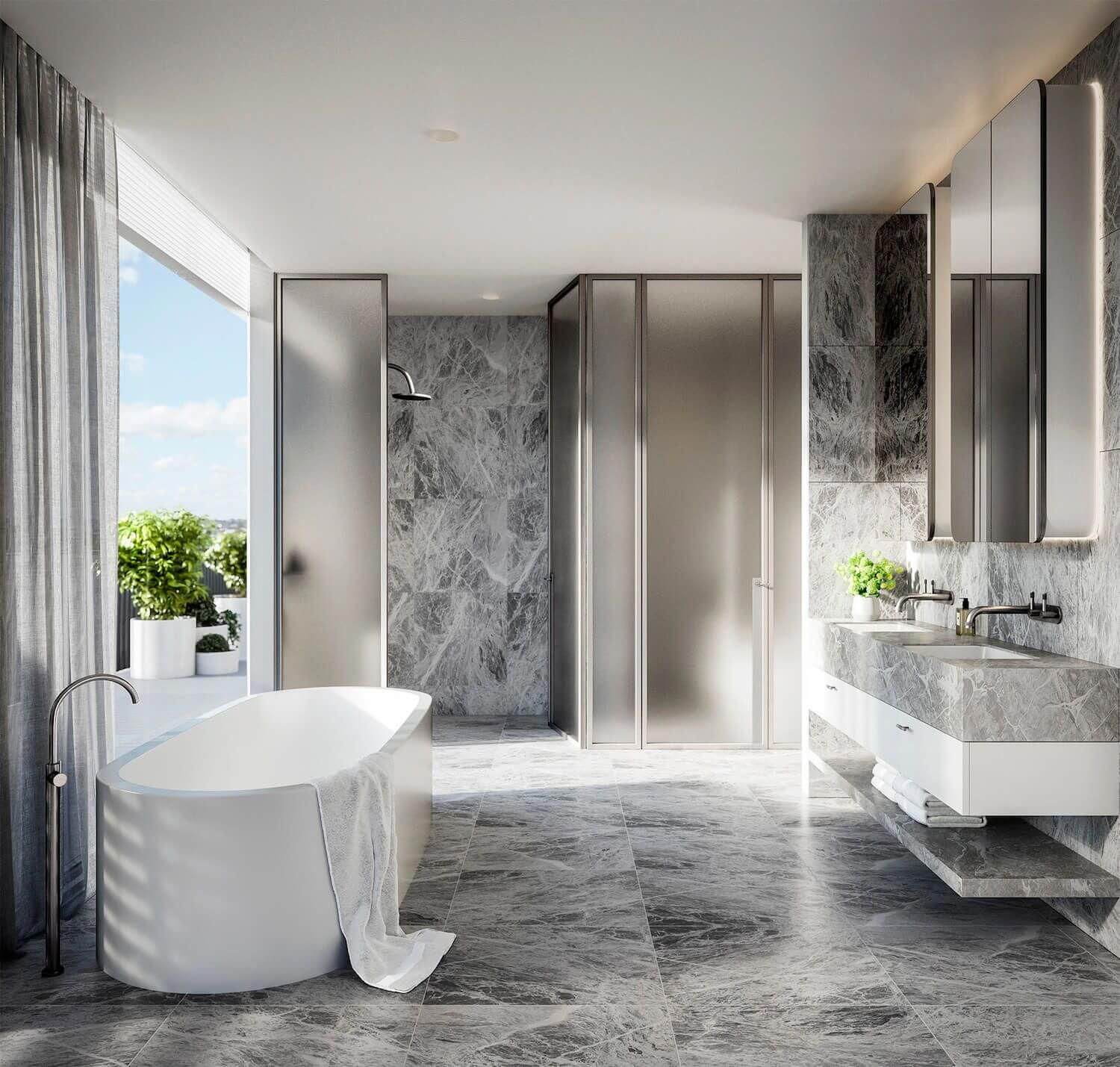 This is a luxury bathroom at its finest! This large space has been fitted with marble on the floors, and walls and placed elegantly amongst the washbasins. The bath sits to the left whereby you can continue to pull back the curtain separating you from the inside of the bathroom to a sensational patio. There's a shower, fitted with a square head to offer a waterfall-like shower. Then finally there's the steam room for you to enjoy within your own space. Overall, I'm not sure what's better the bathroom or the fact it has a patio.
Discover more: