Because here's the thing – we aren't looking for houses; we're looking for a home. A house can supply you with a place to sleep, to cook, to store your car. A home fits your soul. – Erica Bauermeister
Having a house that expresses one's personality and individuality well is great. Both exteriors and interiors play a significant role in keeping the overall appearance of a building. However, the exteriors are a bit more important as it's the first thing anyone notices about your property. This is why paying attention to the front elevation design is crucial!
So, what exactly is front elevation design?
Front elevation design is the architectural drawing of a building prepared by an architect. These drawings show the overall visuals of a property from various angles.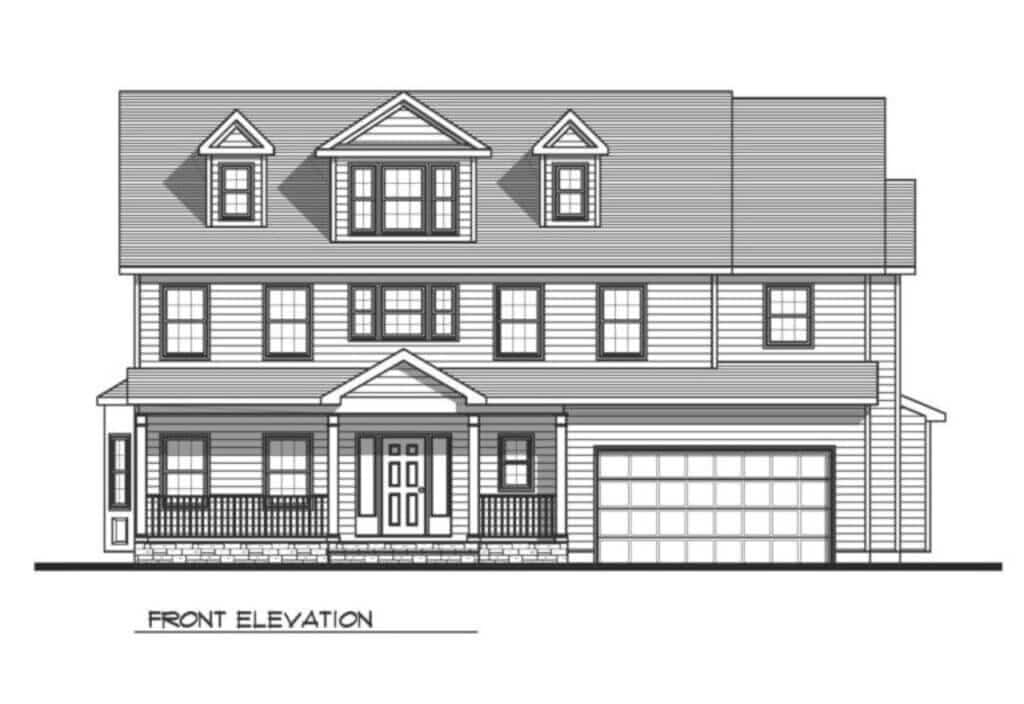 The house front elevation design is well-planned and well-designed. Various factors such as location, budget, climate, and requirements are considered while building an elevation design. If your home has a great front elevation design, this will immediately increase the curb appeal and commercial value of your building.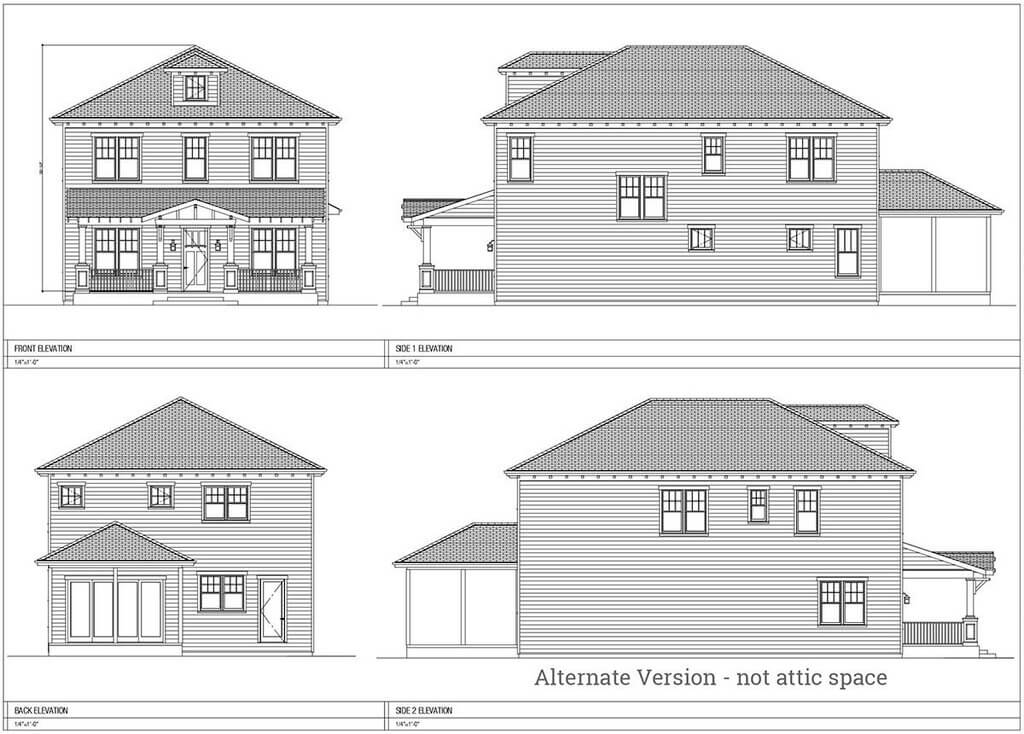 Today in this blog, we'll be covering the following topics:
Best materials for front elevation designs

Top front elevation designs in 2023

Elevation design types

Front elevation design styles

Variables that Affect the house designs

FAQs
So, if you're looking for front house elevation design ideas, keep reading till the end.
Let's start.
15 Stylish House Front Elevation Designs
1. Contemporary Home Elevation Design
Modern architecture embraces both practical and aesthetic. Today, most homeowners design their houses with a minimal yet sleek element palette. Contemporary front home elevation designs frequently have wide openings, dramatic geometry, and clever landscaping. You may use aluminum composite panels or metals such as steel for a powerful contemporary effect.
2. Rustic Elevation Design with Wood
Weathered (seasoned) wood that has been treated for termite resistance and carefully sealed before installation is recommended for long-term durability. Your home front elevation design can achieve this rustic aesthetic by using wood cladding. Many designers are working with a relatively new wood plastic composite technology (WPC) which is manufactured from recycled wood and plastic.
3. Indo-Western Fenestration Design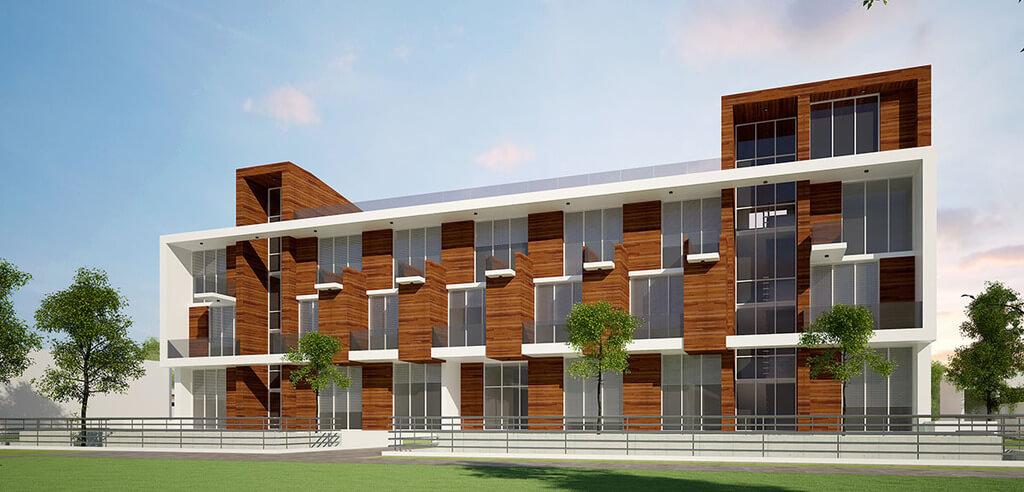 The warm and elegant charm of the exposed red brick building has never gone out of vogue. Architects such as Louis I. Kahn and Laurie Baker used brick efficiently to generate an Indo-western style. You may also build jalis in the facade using lattice metal. This adds drama to the exteriors by creating a mysterious feel. A solid-surface may also be used to make lattice screens since it is chemical resistant and produces a smooth finish.
4. Front Elevation Design for Apartments
The apartment lifestyle is rapidly spreading in both urban and rural areas due to the numerous benefits it provides. You may experiment with different massing and textures for your building to stand out. An aesthetically appealing architectural elevation uses rhythm by repetition and pattern of massing elements. You may keep the geometry consistent by utilizing rectangular-shaped units across the elevation while varying their colour or size.
5. Countryside Front Elevation Design
A typical countryside front elevation includes simple stone and concrete facades with iron fences. The sloped roof with roofing tiles is the most noticeable exterior component. The sophisticated exterior lighting with natural stone and grass walkway adds to the home's friendly and appealing appearance.
A farmhouse facade can be made of wood or a combination of tiles, stucco, and wood. It might be a combination of wood and stucco, or wood and plaster with appropriate lighting fixtures.
6. Prefabricated Front Elevation Design
Prefabricated dwellings have grown and advanced significantly. Initially, the concept was seen as a low-cost alternative with few options. However, prefabricated facades are now greatly desired due to their flexibility, aesthetics, and cutting-edge technology.
They are the preferred choice of many homeowners nowadays because of their numerous stylistic possibilities. They are certain to be a trusted addition to your house because of their wide range of tactics and size.
7. Minimalistic Front Elevation Design with Concrete
After the brutalist era, raw concrete was used to create building facades, which is still a prevalent practice today. Many designers use concrete in its many shapes to create fascinating highlights in their exterior aesthetics as well as interior embellishments. A heavyweight house elevation is more expensive since it is made of high-quality materials.
It is, nevertheless, a worthwhile purchase that will be appreciated for many years to come. For a heavyweight facade, excellent alternatives to take into consideration are raw plaster, stucco, and steel.
8. Floating Elements in Front Elevation Design
A home with a floating framework is a one-of-a-kind design that stands out for its creativity and elegance. The design's uniqueness makes a statement. You can achieve this floating element by employing a glass fenestration. Interior decoration can complement the exterior design. You can also use fins to achieve this aesthetic while providing solar protection.
9. Green House Elevation Ideas
A green exterior design is one step toward sustainability. Make yourself at home in the city by letting greenery adorn the front elevation. You can also employ creepers on the facade which can be held by metal railings. Plants demand stringent criteria in the installation of climbing support structures.
The specifications concern the structure's orientation, lattice size, profile cross-section, and wall length. Vertical gardening is increasingly gaining popularity. Building facades have been decorated for generations with climbing vines like wisteria and Carolina creeper.
10. Play with Colours
The colour palette you pick may completely change the appearance of a home. Whereas a splash of colour may add life to the facade, neutral tones can make it feel more welcome and pleasant. There should be some continuity in the design's tone, colour, and contrast, yet it isn't required to coordinate. Colour sensations can also be linked to an individual's own life experiences, personality, and preferences. So, let your house speak for itself!
11. Single-Story House Front Elevation Design
Single-story homes are great for small and nuclear families. The front designs for single-level houses are as exciting as any big house design. You can add many details like windows to attract attention to your home. These striking elements will help you to create an impressive facade.
Look at the above elevation design; it offers a great view of the property from the entryway and windows. Experiment with window styles and themes to create a splendid look.
12. Double-Story Front Elevation Designs
A double-story building has a similar structure to a single-story. The only difference is that it has an additional floor in the house. Take this as an opportunity and add decorating and other elements to use your space.
For the extra level, you can also add more windows and balconies. An additional parking spot will add more functionality to the space. You can also include a modern wall design or stylish tile patterns. These protruding features will elevate the front design of your property.
13. Front Elevation Design for a Bungalow
Today bungalow houses are getting popular across the globe. People like this house style because it offers a private space you don't have to share with anyone. A bungalow house, also known as an independent house, has a flat roof. Other key characteristics of this house front design are protruded chimney, dormer windows, and spacious but enclosed verandas.
Bungalow-style house front elevation designs can be done in several ways. From adding many balconies to having garden space in the front yard, there are many things to uplift the appeal of your building. You can also add a sloped roof, making your bungalow eye-catching and attractive.
14. 3D Elevation Home Front Design
Another trendy and latest front elevation design is the 3D front house elevation design. With the help of this elevation design, you can see the perfect connection between the structure and the elevation. This design is great for people who want to create a good elevation for line properties.
A 3D front elevation design for houses consists of entryways, a front door, a parking area, a porch, and a garden space. In this front elevation design, the preparation and planning are done before the construction of the house. So, you can always update or change the design to get the desired results.
15. Wooden House Front Elevation Idea
One material that has been used for many years and will be used in the future is wood! These days many two-story, flat-roofed properties have wooden details kike doors and other furnishings. This natural material adds a warm and inviting touch to any space. This is why wood has been used in many architectural styles, including traditional and modern.
A wooden front elevation is great for people who want a modern front design with a traditional touch. You can add elements like doors, windows, roofs, and balconies with wooden railings. Select the right shade, tone, and grain of wood depending on your choice, and enhance your house's front elevation design.
Primary Elevation Design Types
Many types of elevation designs can give you detailed information about a building from various angles and views. These front designs will help you understand your structure from several perspectives to fulfill your every need.
Here are the four types of elevation designs: 
1. Front Elevation: 
The front elevation design includes the main entrance door, windows, and front porch. In this type of elevation, only these parts of the exterior, which are visible from the outside, are constructed.
2. Side Elevation:
The walls located on the side of the building that can not be at the rear or front of the property are usually referees to the side elevation. This elevation design explains the various house's features and other details, such as the depth of the building.
3. Rear Elevation:
As its name suggests, this elevation design shows the areas and parts behind the building. It covers spots like gardens, a backyard, and parking spaces. It also gives a detailed view of the back wall, including the back door, windows, and balconies.
4. Split Elevation:
The split-elevation is for the properties divided into multiple levels. With the help of this elevation design, you can get the details of any property with diverse floors connected with staircases or short ramps.  
Here are some of the most popular styles of front elevation design:
1. Traditional:
The traditional Indian homes show the rich culture of India. Traditional houses have many great features, from wooden parts to clay roof tiles. These buildings are well-designed, practical, and connected with nature.
2. Contemporary:
You can easily recognize any contemporary building design from its asymmetry and geometry features. This style also focuses on the extensive use of steeply pitched roofs, garden, and large windows.
3. Modern:
Modern front elevation designs consist of the latest trendy styles, and these buildings are constructed with advanced technology. These spaces have a minimalist design and have key features like an open layout and large windows. Overall the modern front elevation design style is elegant and sophisticated.
4. European:
The European design style contains two different building materials, like bricks or stucco and siding. Here the structure is one-story or two-story that features huge doors, expansive windows, and arched entryways.
Even though there are several architectural styles, don't limit yourself. Yes, you can mix two or more elevation designs and create something personalized and unique house front elevation design. So, whether you are planning to construct a one or two-floor building, you can select any architectural style and roof design, such as sloped, flat, or terraced.
Factors that Affect House Front Elevation Designs
A front elevation design of a building depends on numerous circumstances. Below are some common variables that affect the overall design of a house's front elevation.
Land Size:
The land size or the available area for the construction of the building plays a significant role in the creation of the front elevation design. For example, the larger the space, the more space you'll get to design and add things. And with a small land area, this task can be a bit difficult. However, with a bit of creativity, you can do this!
The floor plan is one of the most crucial elements determining how your front design will seem. You can choose any window frame size if your front-facing floor plan includes open areas like a living room and lounges. But it's imperative to consider structural challenges and privacy considerations.
The floor plan for the front elevation design usually consists of an open layout with open living areas and lounges. You can experiment with the various window frame sizes and styles to see which works best with the design.
Location:
The geographic context is another important factor you should consider while designing the front elevation for any house. The surrounding and geographical context impact the front design.
For example, if you live in a cold region where it rains a lot, you have to go with a sloppy roof instead of a flat roof for proper drainage. On the other hand, different standards need to apply for earthquake- or flood-prone areas. According to this, you have to select the materials to construct the structure.
Are You Ready to Create an Expressive Front Elevation Design!
Architectural elevation design is similar to other types of design in that the same guidelines and principles of design apply. The elevation creates the first impression of your complete home and, to some extent, provides insight into the residents' tastes. Nowadays, homes are usually compact due to a shortage of space.
Fortunately, the size of the house is not an issue when you can modify and enhance its features with the correct front elevation.
5 Best Materials to Create Stunning Front Elevation Designs
The facade reflects the overall design philosophy of the house. Even if your interior areas are exquisitely designed with a variety of elements and materials, it is the home front elevation of your home that will make the first impression.
1. Wall Cladding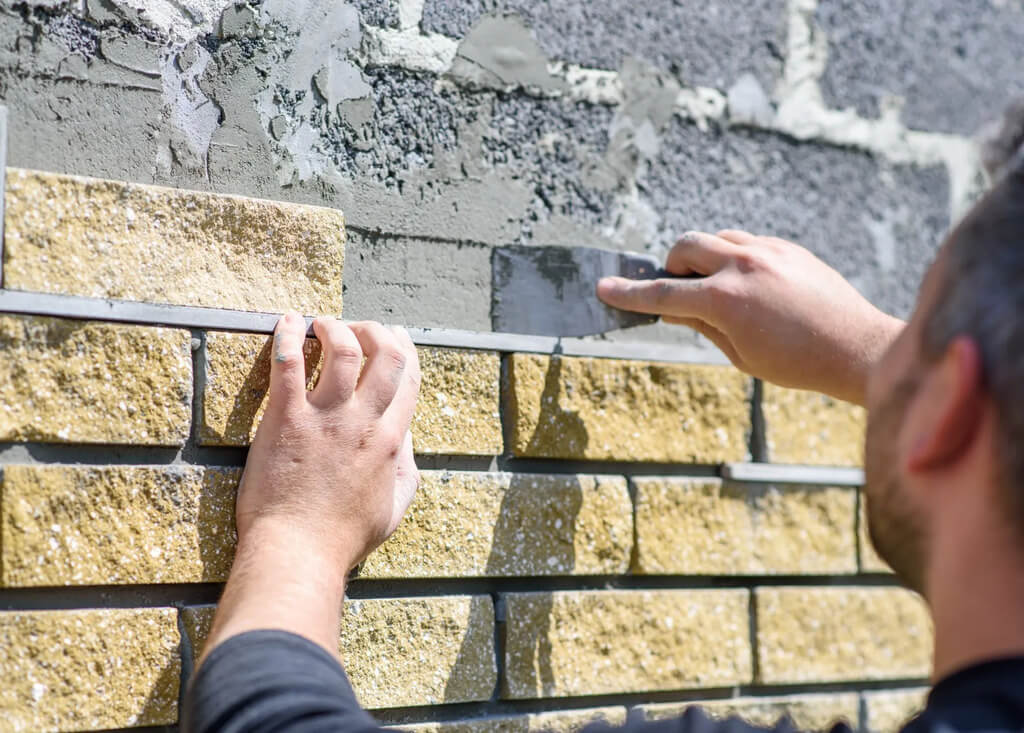 Wall cladding adds dimension to your house front elevation design. Cladding is the process of applying one material over another to form a skin that keeps weather elements from penetrating. A variety of materials are available for use as wall cladding. You may add a rustic flavor to your facade by using stone cladding. Brick is another popular cladding material that provides a vibrant yet raw finish to the exterior.
2. Wall Paint
One of the most popular, simple, and affordable methods to decorate the front elevation of homes is the application of acrylic emulsion paint. The advantage of choosing a painted surface is that there are several colour schemes available in the market. Walls should be effectively plastered and then painted with matte or satin finish paint.
3. Textures with Plaster
You may experiment with various finishes, such as sanding, spraying, troweling, and lattice. Some popular options of plaster are stucco, lime, and mud. Plaster texture gives an effortless organic essence to your front house elevation design.
4. Glass
Glass is the ideal choice to achieve a sleek and contemporary aesthetic in your front elevation design. Glass may be used innovatively to protect privacy while providing privacy. They have progressed from being used only for openings to being structural features in a house.
5. Metal
When used as a front elevation element, metal-based materials have a very strong aesthetic appeal. They are weather-resistant. Metals can be used in different forms like sheets or plates, beads, etc. The two popular choices for metal cladding for houses are aluminum and steel.
---
FAQs
1. What Characteristics Distinguish an Excellent Front Elevation Design?
A superb exterior design has the ability to attract and retain attention. Innovative facades allow their residents to show their personality and distinctive style while standing out from the neighboring buildings, providing a point of difference.
2. What Is Typically Included in a Front Elevation Drawing?
The external elevation depicts the building's outer sides, whereas the interior elevation depicts the features of walls that you may face front-on. The information acquired from the site, floor, and elevation plan drawings is used to create a fundamental plan.
3. What Are the Elements of Front Elevation Design?
The front elevation of a house design depicts elements such as the outline of the building, roof, entrance doors, openings, the front veranda, and any overhangs such as side patios or chimneys.
4. What Are the Design Considerations for Building a Good Front Elevation?
Some of the aspects to consider while creating the front elevation include structural consulting, natural light, weather resilience, eco-friendly features, and personal style.