Do you love the idea of owning a lovely garden but are haunted by the thought of maintenance? This has been a concern for all the gardening enthusiasts but we have something exciting with us- low maintenance front yard landscaping ideas!
Sounds unreal, right? But that's what is going to help you in building a lively yard filling your home with a lovely aroma and serving as eye candy for the spectators. With our current lifestyles keeping us swamped at work, there's very little time and energy left at the end of the day. That's where low maintenance landscaping ideas come into the picture.
The impact of a lovely yard on enhancing the home's curb appeal cannot be undermined. It makes it extremely important to build a yard filled with your favorite plants. Here's a little secret, owning a yard not only keeps you active but has proven to be highly beneficial for mental health as well. Let's jump right into the whimsical world of low maintenance front yard landscaping ideas.
21 Low Maintenance Front Yard Landscaping Ideas
Are you ready to walk on a lush green landscaped lawn? Are you thrilled to curate the design for your garden to make a statement in the entire neighborhood? Let's look at the 21 low cost low maintenance front yard landscaping ideas to set the first steps on this journey.
1. The Cheerful Windows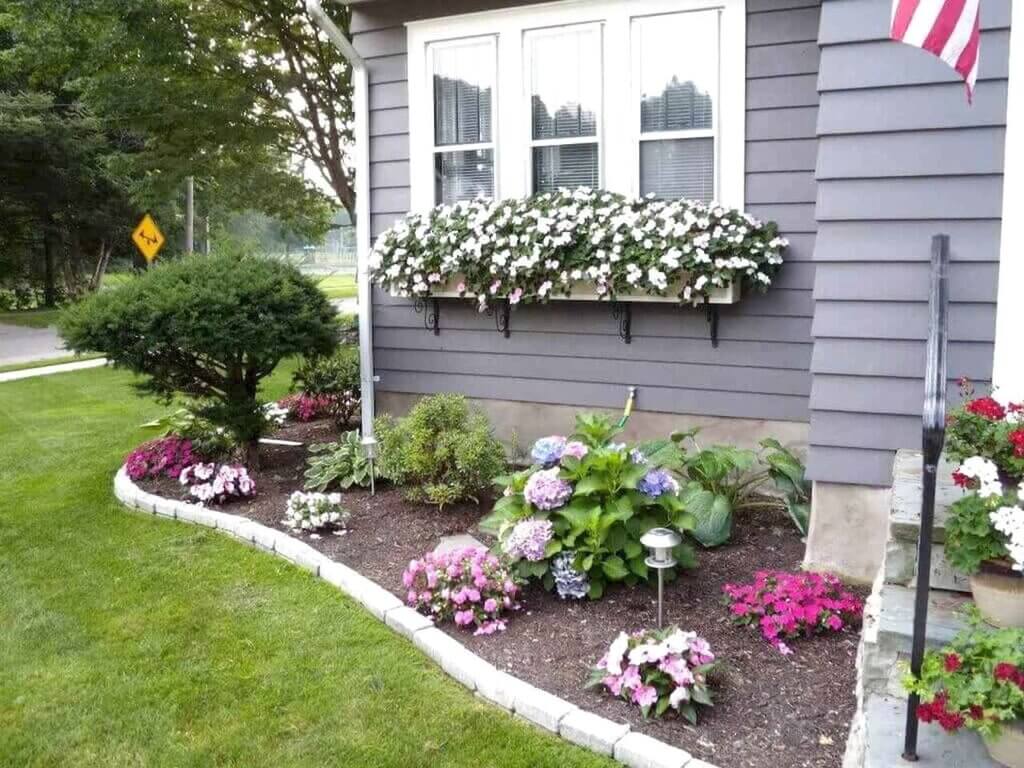 Planting a colorful edge of blooming plants to brighten the gateway is one of the simplest ways to add flair to the home's front porch. A combination of seasonal and everlasting flowers, such as hydrangeas and petunias, can be utilized for a splash of color in such low maintenance landscaping ideas, while a few evergreen shrubs provide year-round foliage.
The utilization of planter boxes on the windows is what renders this style an unmatched charm. They not only assist to decorate the entranceway, but also aid to capture people's attention to the property. This is a fantastic method to instantly add beauty with minimal need for maintenance.
2. Step up the Design!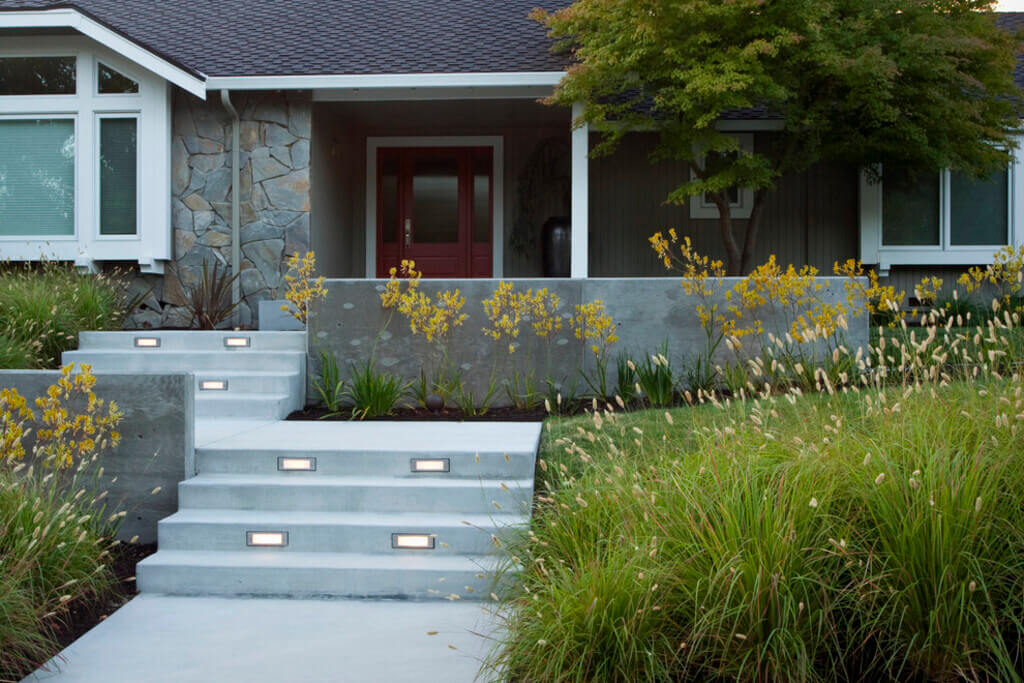 Exotic grasses are indeed a gardener's greatest friend when it comes to low maintenance front yard landscaping. They're simple to grow, appear dense and luscious even in the tiniest of places, and behold a modern, clean style that's about all the rage right now. For a subtle and modern effect, match them with taller species for a stepped design.
3. A Symmetrical Low Maintenance Front Yard Landscaping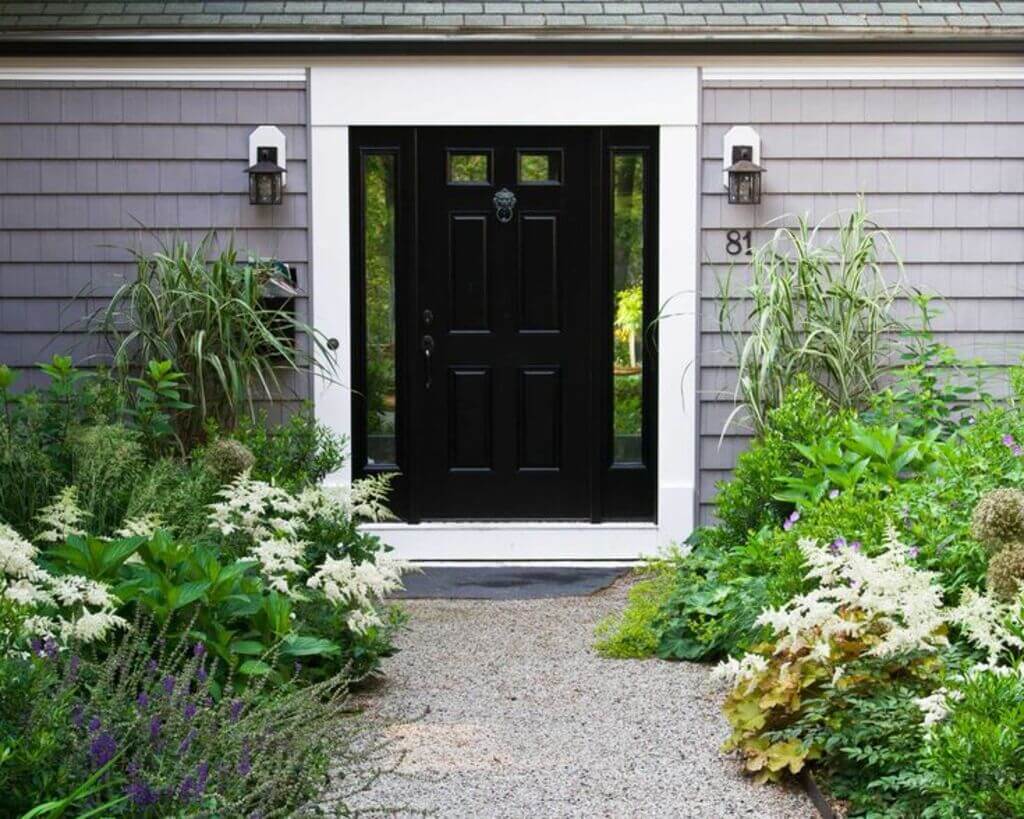 One thing that has never gone out of the trending list: Symmetry. Whether it's architecture, interior design, or landscaping, symmetric design always works. It is especially suited for tiny front lawns as it creates a vista, which optically increases the area.
A conventional symmetrical pattern can be blended with casual, textural plants and a gravel walk smartly. It's one among the extremely stylish front yard landscaping ideas low maintenance. Gardening in a simple color palette will help to create a balanced landscape. For a pristine, formal effect, choose all-white blooms.
4. Front Yard Landscaping Ideas Low Maintenance with Succulents
Are you aware of the extreme friendliness of succulents? It makes them ideal for low cost low maintenance front yard landscaping. The dramatic and impactful textures of these plants can spruce up the curb appeal of the house.
Succulents are low-maintenance plants that are ideal for tiny front yards. They have a lot of dramatic texture and look fantastic in a container or a front yard area. For a great impression, cluster succulents of different heights, forms, and colors outside the house. For a streamlined, modern design, place them in low concrete bowls exactly at the front access to your home.
5. An Eclectic Water Feature!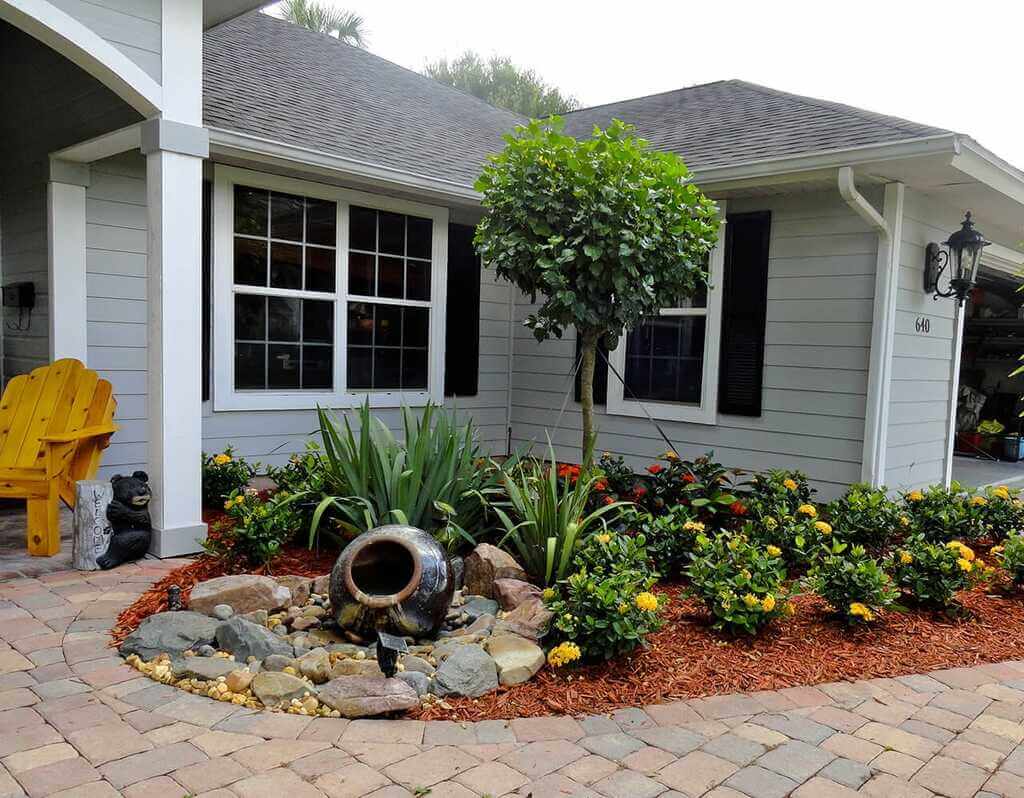 Running low on space but big on ideas? Believe it or not but a water feature can be placed even in a compact space to let your creativity come to life. The modest niche between the front entrance and the driveway can serve as a perfect spot for a pondless fountain. The water can be made to keep circulating by a little pump within the glazed vessel.
A tiny water feature is an excellent substitute for a rock garden if you have a shadowed location where seedlings fail to flourish. This is an ideal solution to listen to the music of water while not having to worry about its maintenance.
6. Fantastically Flowered Wheelbarrow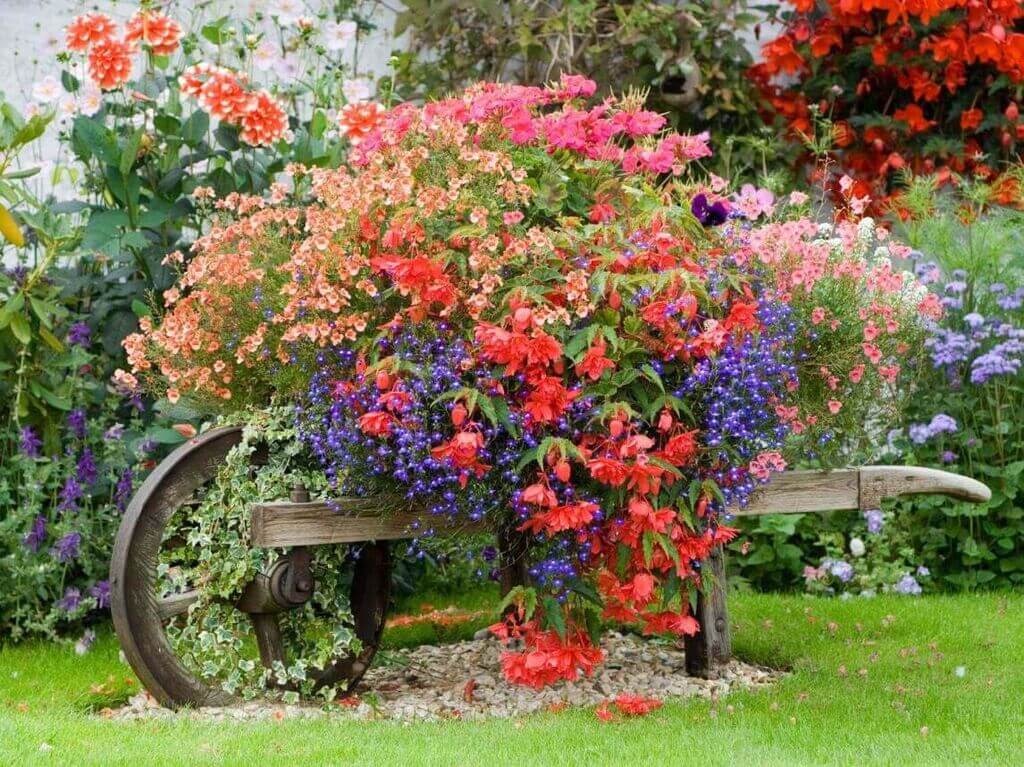 What could be more charming than a vintage wooden wheelbarrow brimming with blooms and vines? This charming low maintenance front yard landscaping design will work well on practically any property. While there are several species of flowers appropriate for this type of landscape presentation, petunias, fuschias, and other popular suspended basket florals look especially lovely while overflowing from the sides.
7. Of Annuals and Evergreens!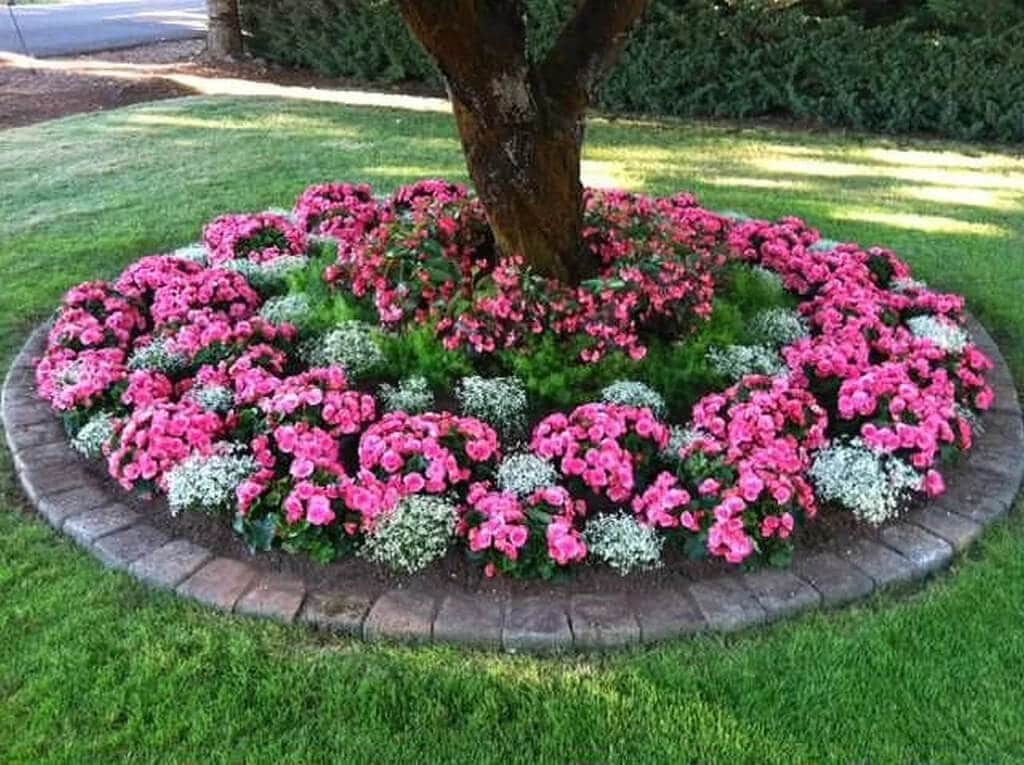 All it takes is a clever hack and you may maintain a consistent parade of colors across the year by blending flower species that blossom during particular periods. To design a luxuriant cottage yard with low maintenance demands, evergreen shrubs can be alternated with springtime blooms as well as seasonal greens.
The explosion of pastels, reds, and green does not come together to complement a house's appearance, but it also makes it look more welcoming. The window pots can be loaded with the same perennial species as the yard's edge, which not only catches viewers' attention but also unifies the overall landscaping's visual appeal.
8. A Rustic Affair!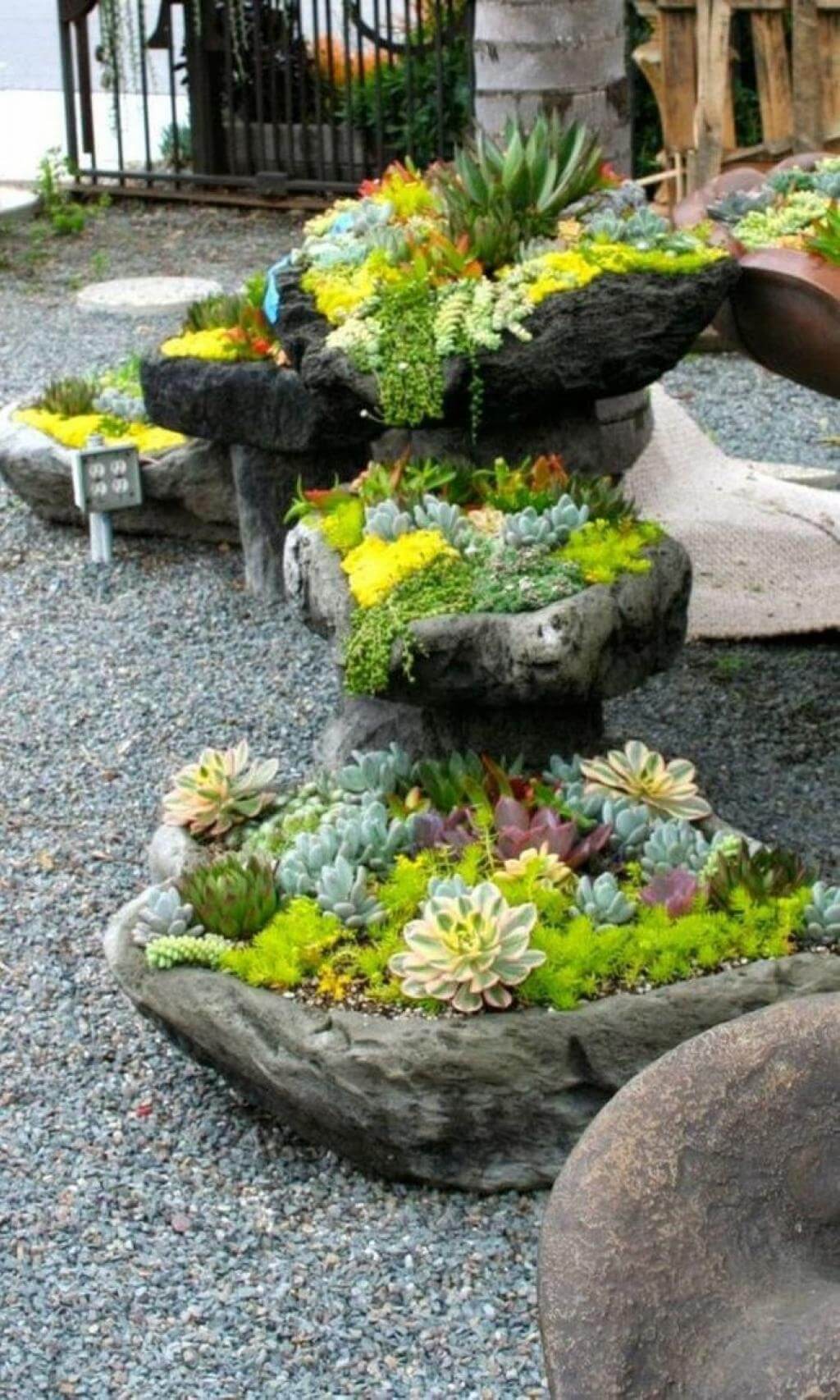 Striking but easy, contemporary but rustic, this low maintenance landscaping features a succulent-featured lawn. Available in a wide range of colors and demanding minimal attention, this is an ideal solution for all those having a green thumb.
For the greatest effects, utilize a variety of textures and sizes, such as miniature Yuccas or Aloe Vera for height and crawling succulents to fill in the voids.
Pro-tip: Place the succulents in tiny planters and bring them home if the weather conditions are too harsh in the winters.
9. Low Maintenance Landscaping with Stones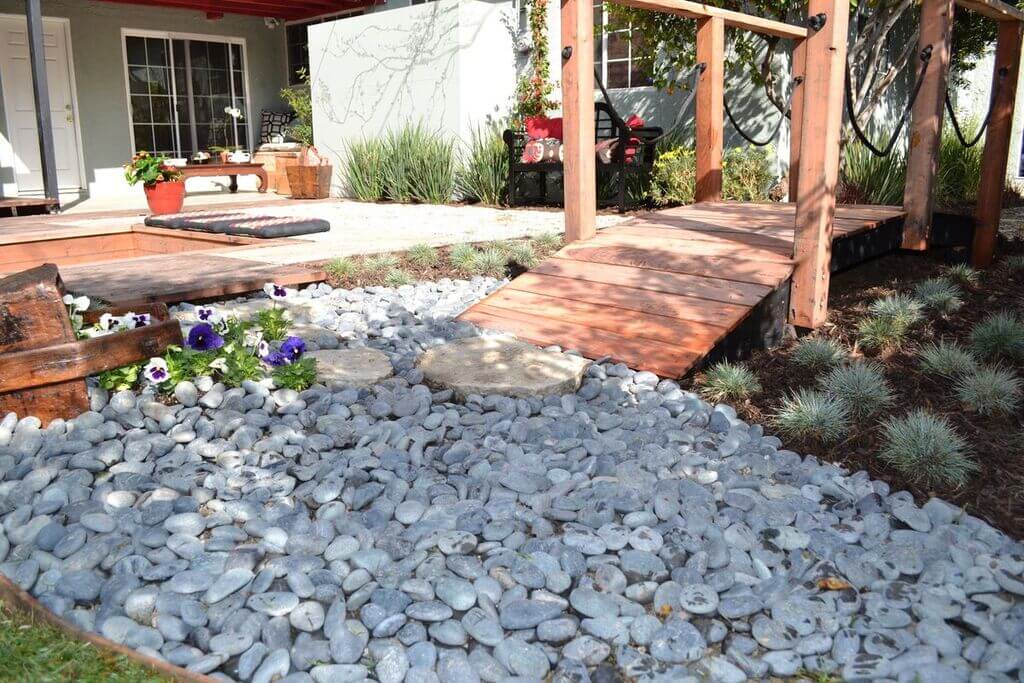 Complement the greenery with a locally-available stone and see how the lawn is brightened up. Adjust and opt for the material that requires minimal upkeep and your low cost low maintenance front yard landscaping is ready to please your eyes.
10. A Native Yard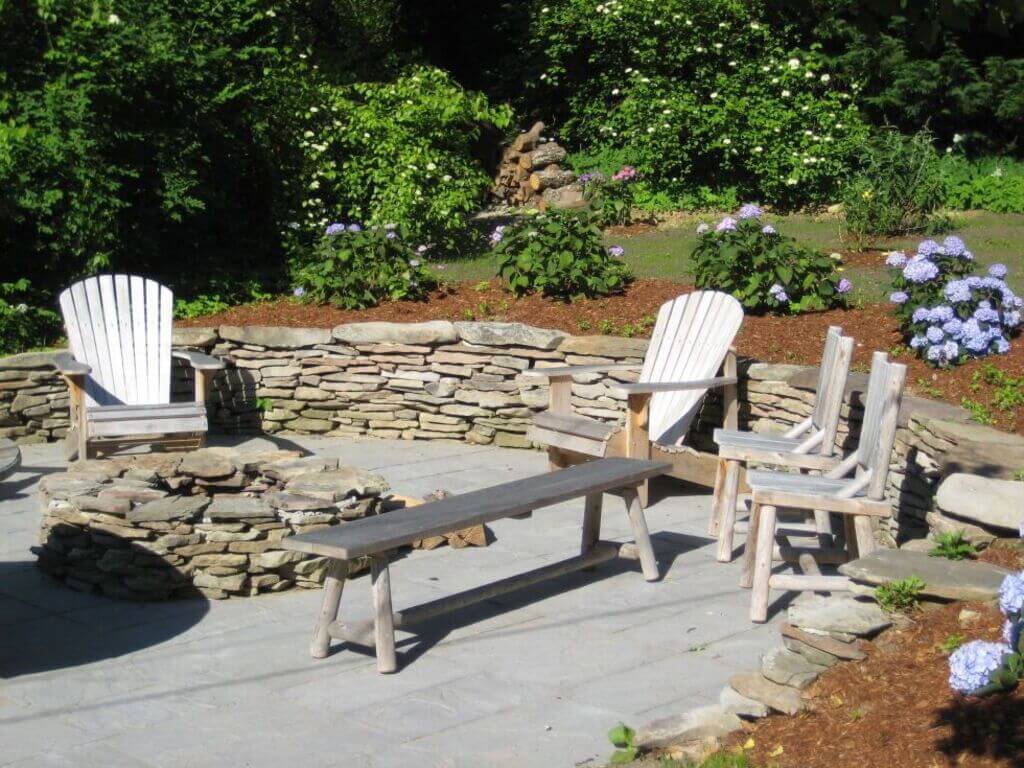 Pick local plants for minimal care, much like you must grow grasses that are local to your area. A native low maintenance front yard landscaping will promise you savings on money and effort.
11. The Talking Tones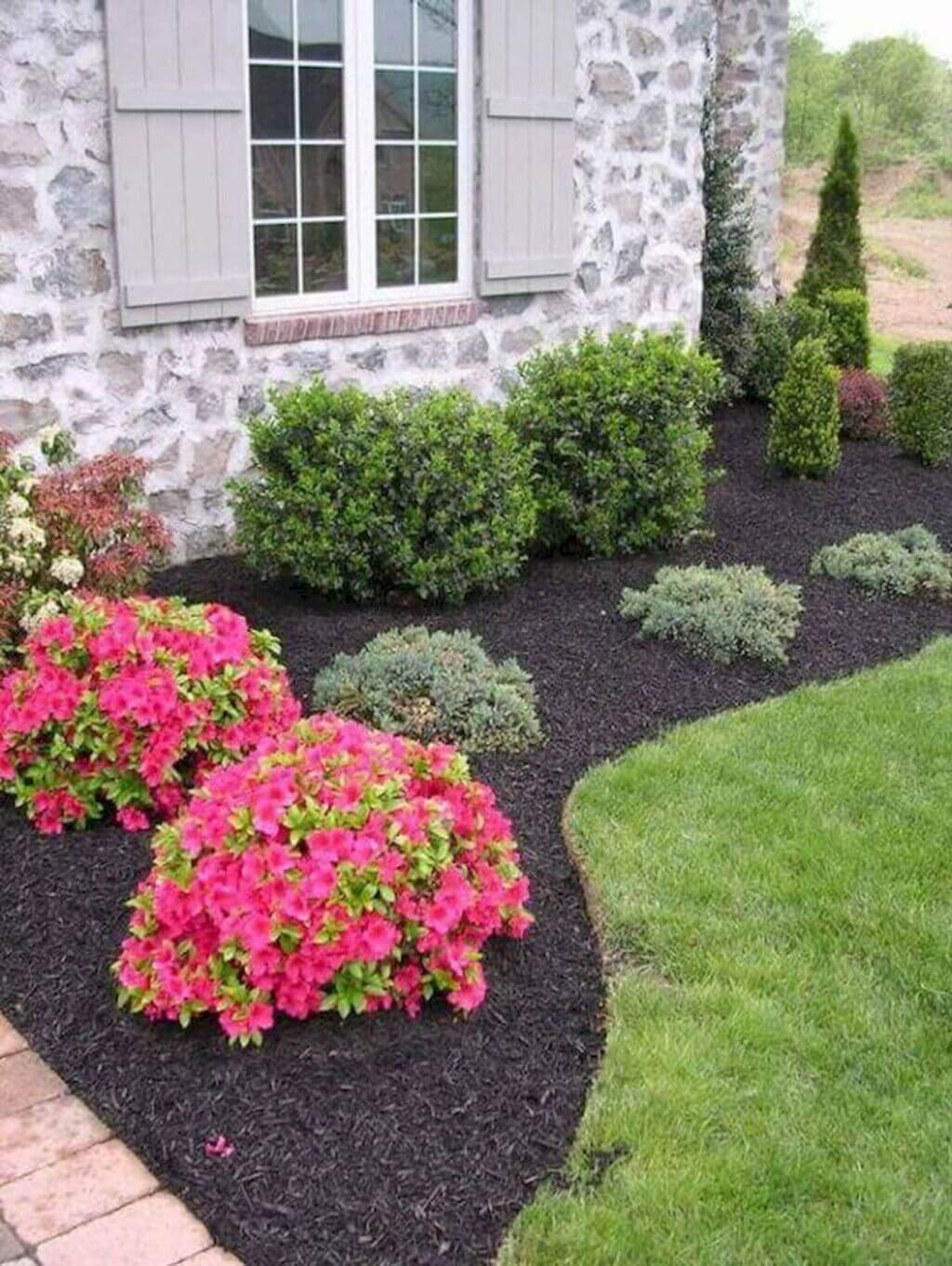 What's low maintenance front yard landscaping without a splash of color? While the evergreens are there to prevent the lawn from seeming bleak, add vibrant flowers that speak for the beauty of nature.
Ranging in their tones, textures, and sizes, create a smart mix of the species that are easy to maintain and thrive in the local weather conditions. Mismatch the blooming beauties with non-blooming plants for eye-catchy but low cost low maintenance front yard landscaping.
12. Let them Climb up the Walls!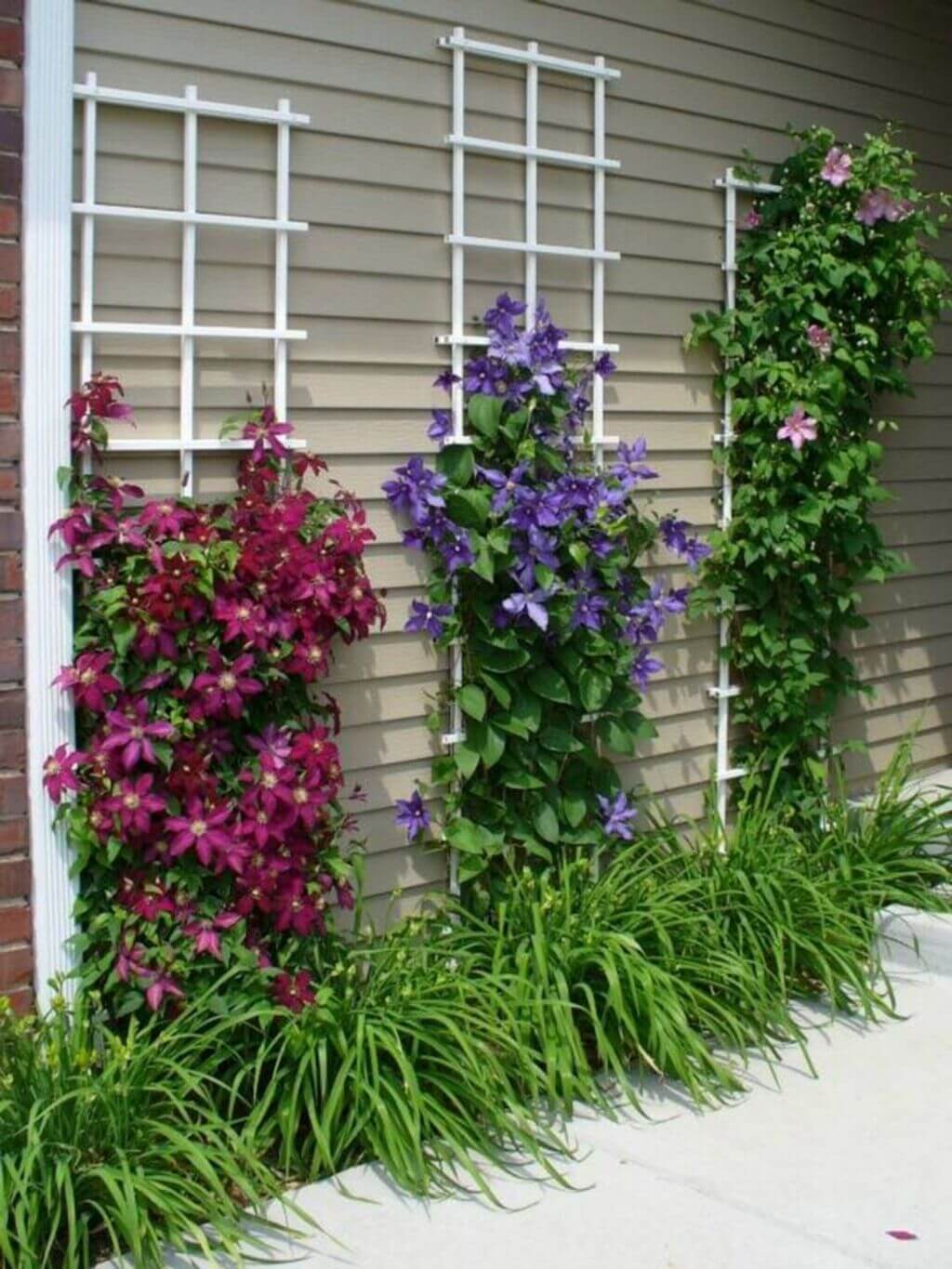 Are you seeking a way to conceal an unappealing fence, wall, or postbox? How about letting your favorite climbers do that for you? There are numerous climber species with gorgeous flowers reaching up the walls. Keep in mind to choose the one that is suitable for the weather conditions of your locality.
For the greatest results, nurture them in cold, wet soil and give it lots of suns and you'll be treated with a profusion of colorful blooms every summertime. While pinkish and lavender are the most prevalent colors, flowers come in a variety of colors and forms, ranging from white to brilliant red or yellow.
13. A Whimsy Upcycling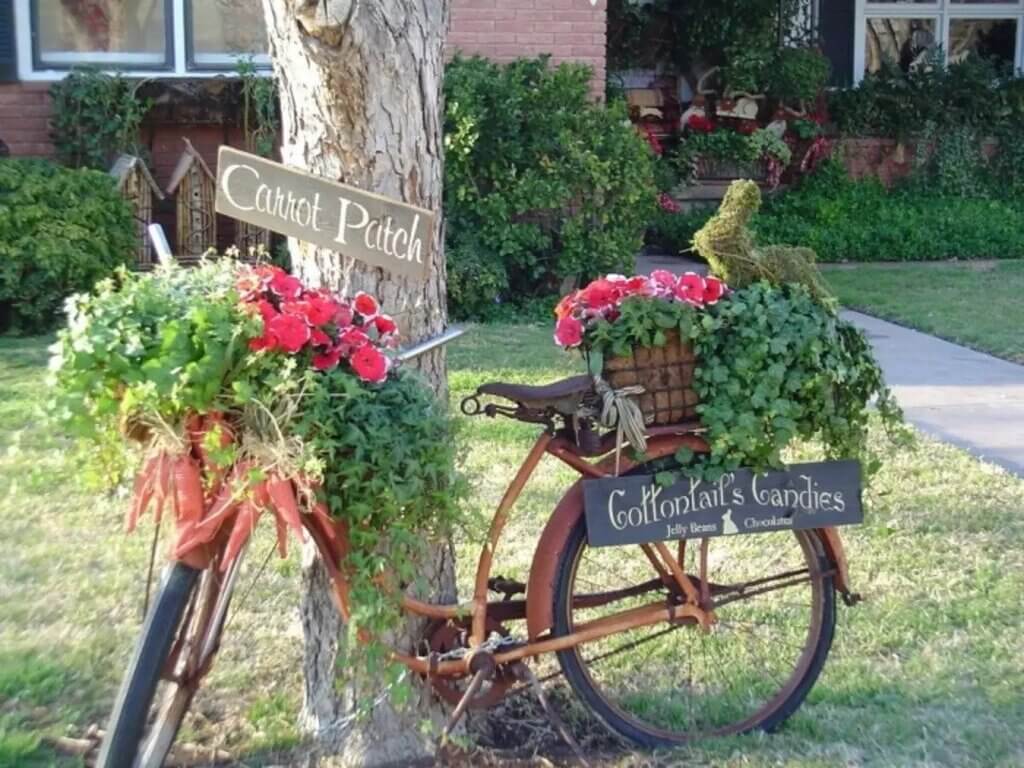 Cycle around the vintage landscape with a planter composed of an antique bicycle. This low cost low maintenance front yard landscaping will add a bit of quirkiness to the yard. You may create a whimsical upcycled decor by changing the bicycle's front carrier and back seat into swinging baskets.
Use colorful plantings and lean them against a solid contrasting surface. Rustic features can be used to develop more touch of elegance. Consider using a high-quality potting mix that is easy to drain yet retains moisture to keep the blossoms cheerful throughout the seasons.
14. Modernly Staggered!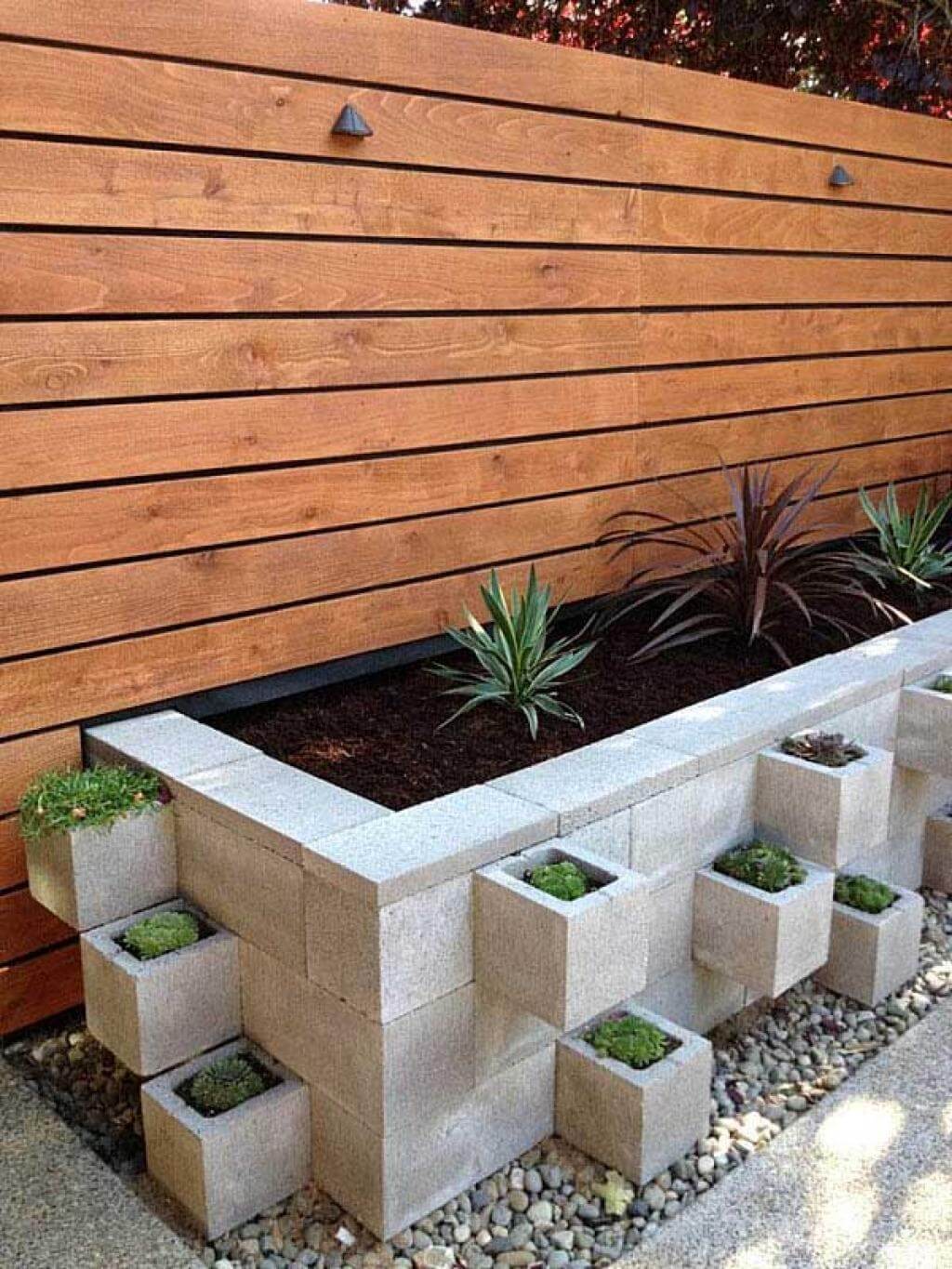 Does a planter always have to be typically boxy? Not anymore! Creativity and innovation have taken over the conventional with a modern twist. Consider low maintenance front yard landscaping ideas with modified planter boxes.
Stagger the typical look of the planter and create small but multiple bases for succulents around the border. This modern design in the planter wall has a basic and clean appearance that goes well with the landscaping. You can go for the species that are particularly well suited to your environment instead of foreign plants.
15. Small yet Bold
Do big plants belong to a little front yard? Why not! Instead, a large number of tiny, low-growing species will make the small front yard appear considerably smaller. Many tiny pots are also a high-maintenance alternative, requiring constant watering.
So, even for the tiniest of the front lawn, go bold. The tall, prickly palm trees contrast beautifully with the well-kept grass and make a statement within the limited space.
16. The Fun Zoning!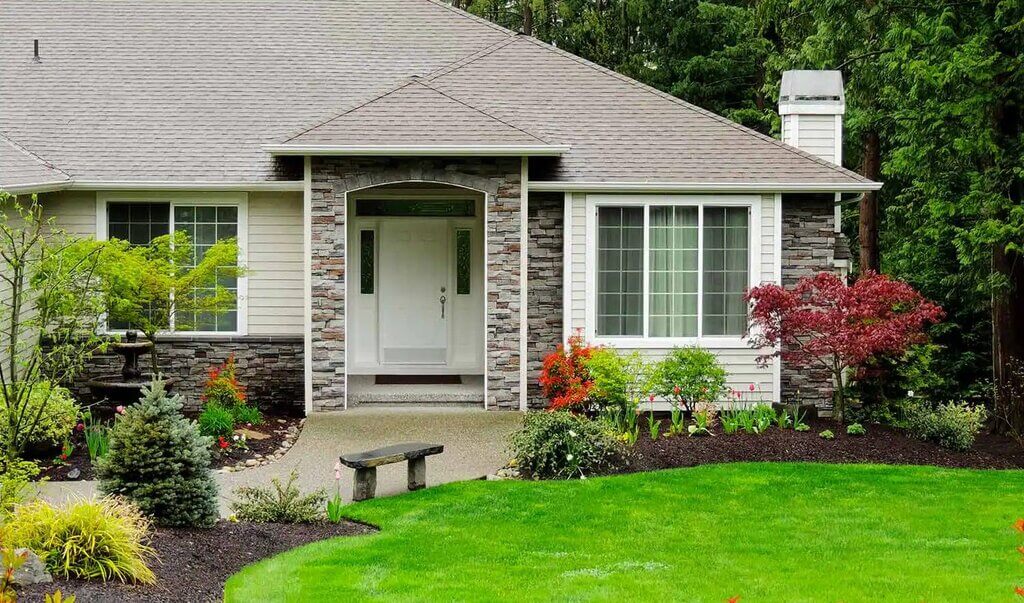 Have fun and create different zones for multiple activities on your front lawn. Dedicate a flower bed with edging. The edging will aid in easy maintenance and offer a lovely form for the plants to grow.
17. Japanese Zen!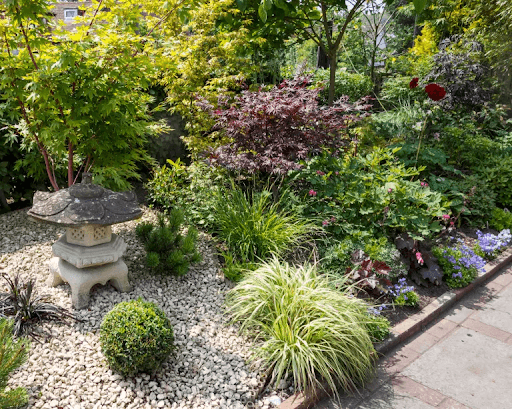 Japanese-inspired zen concepts are ideal low maintenance front yard landscaping ideas with a soothing effect on your mind. The mix of pebbles, slow-growing trees, grass, and moss is low-maintenance and extremely beautiful. These designs don't take up much area and can be added to even the smallest lawn. Japanese plants require little to no trimming, which means reduced effort for you.
18. The Statement-making Tree!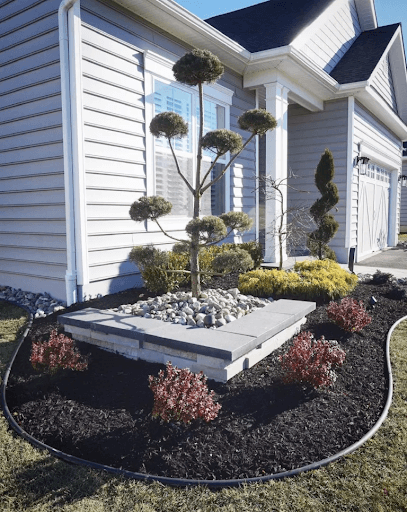 There's no rule stating that the incorporation of multiple species will make the landscaping look enticing. The job can be done with equal charm with a well-placed tree. Go for a unique but native species of such a tree that has a one-of-its-kind appearance that makes it stand out from the rest.
Whether you have a tiny lawn or a huge garden, one such tree is enough to create a lovely manicured effect. This is a smart low maintenance front yard landscaping idea that is functional and equally beautiful.
19. The Petunias Porch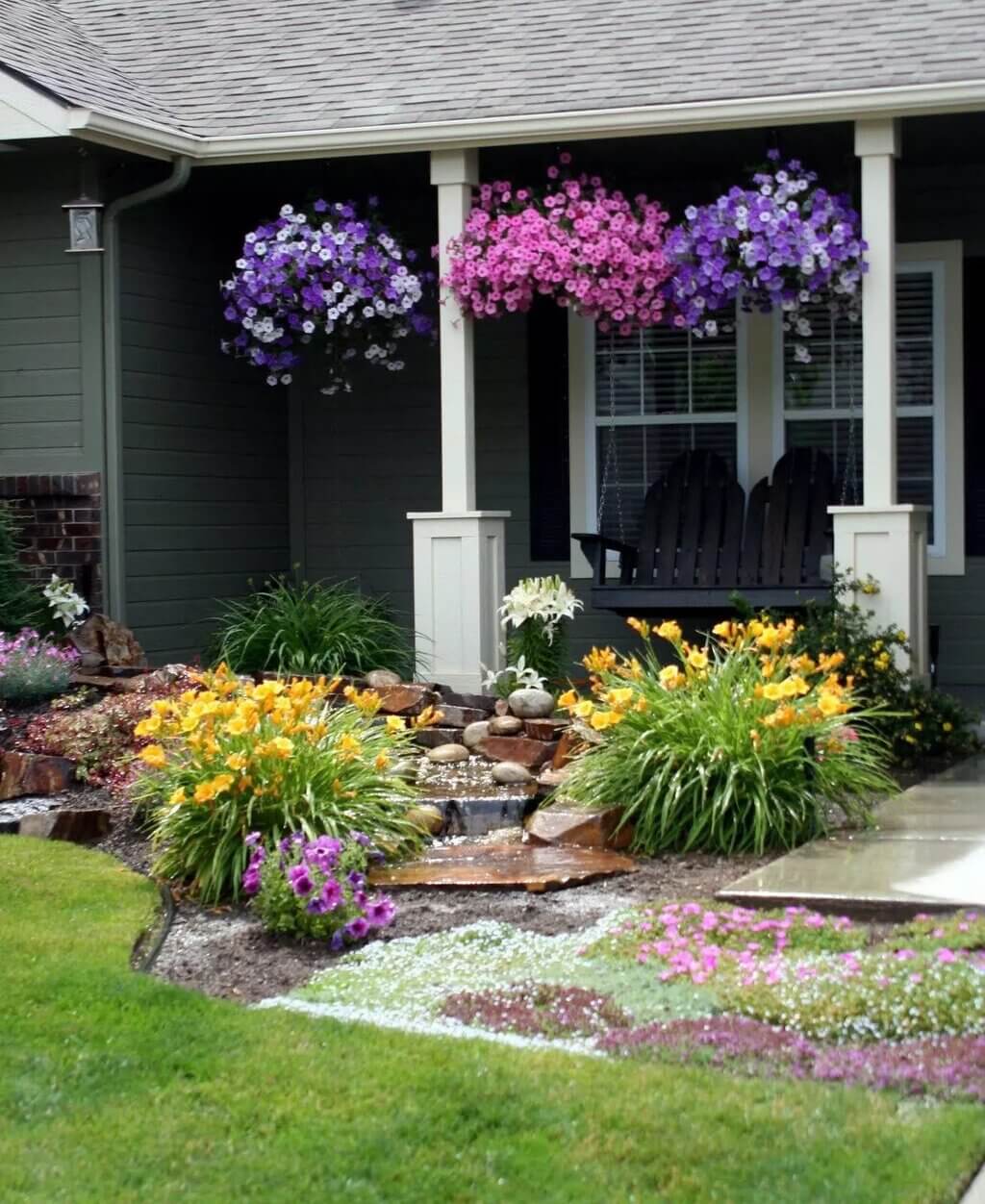 Can you think of anything better than the lovely petunias sprawling across your porch? Probably not! Front yard landscaping ideas low maintenance can offer a colorful delight to your garden. Whether you lay a flower bed or hang them in baskets, these are sure to catch attention and enhance the overall visual appeal of your house.
With optimum tolerance to dry soil and long-term blossoming, these are an ideal choice for your garden. This front yard idea apart from being highly utilitarian also aids in stylistically binding the property and lawn together.
20. Say No to Fuss!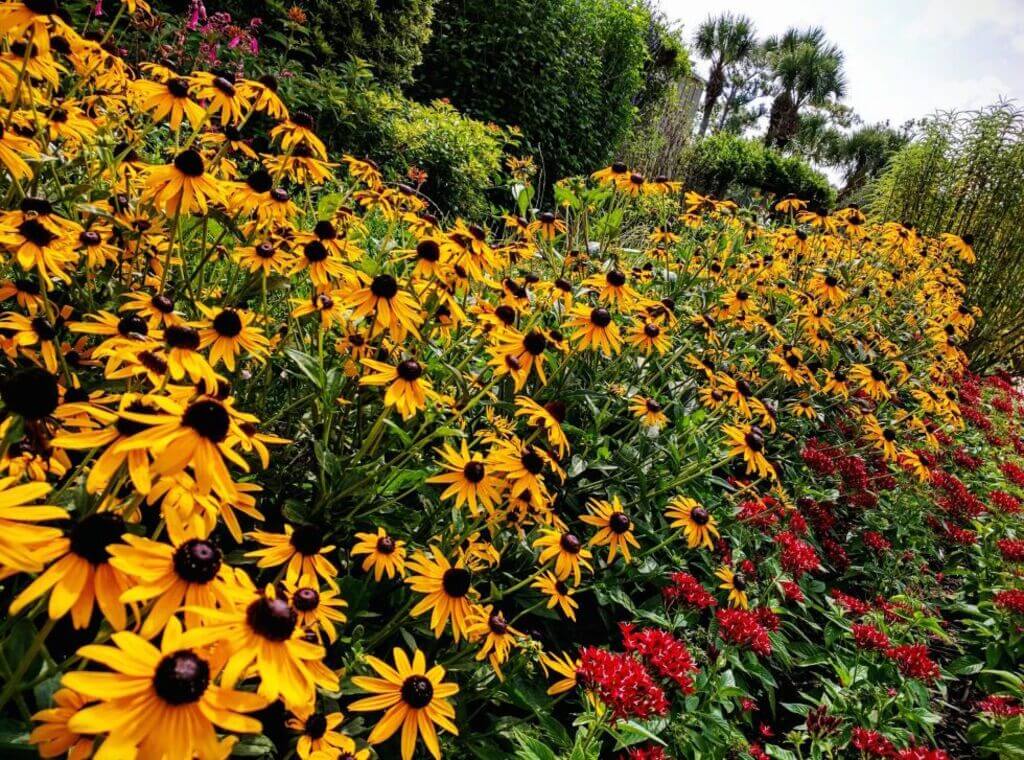 Add a burst of color to the landscape without breaking a sweat. Go for the non-fussy species that bloom throughout the year to add extra life to the yard.
21. A Potted Low Maintenance Front Yard Landscaping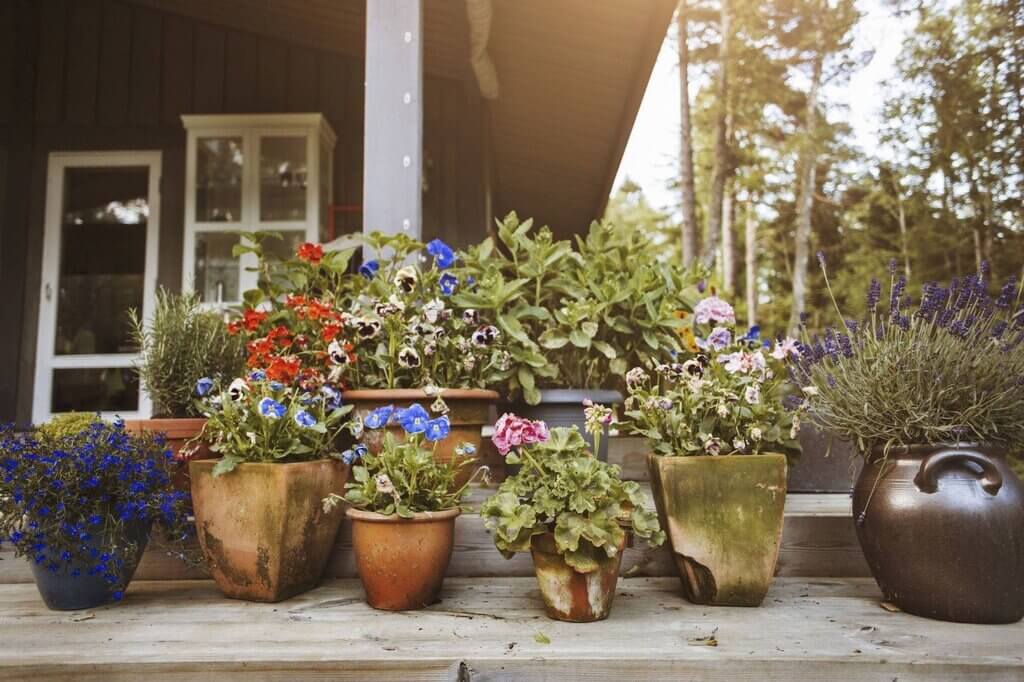 Pots are the ultimate solution for low maintenance front yard landscaping. They can prove to be multi-functional by integrating into the landscape. These are very simple to move about allowing you to relocate them to the patio if you're throwing a party there. Sync the flowers with the seasons for an endless pop of color on your lawn.
4 Tips for Low Maintenance Landscaping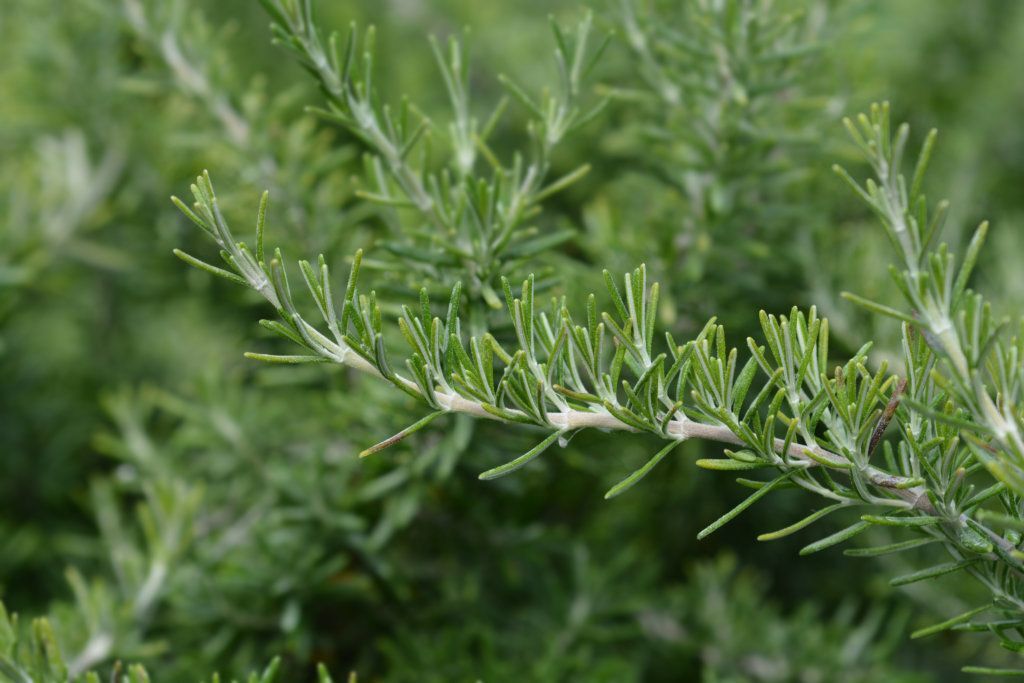 Low cost and low maintenance gardens can be made possible with these simple 5 tips. Follow them and see your dream come true!
1. Skip a Large Lawn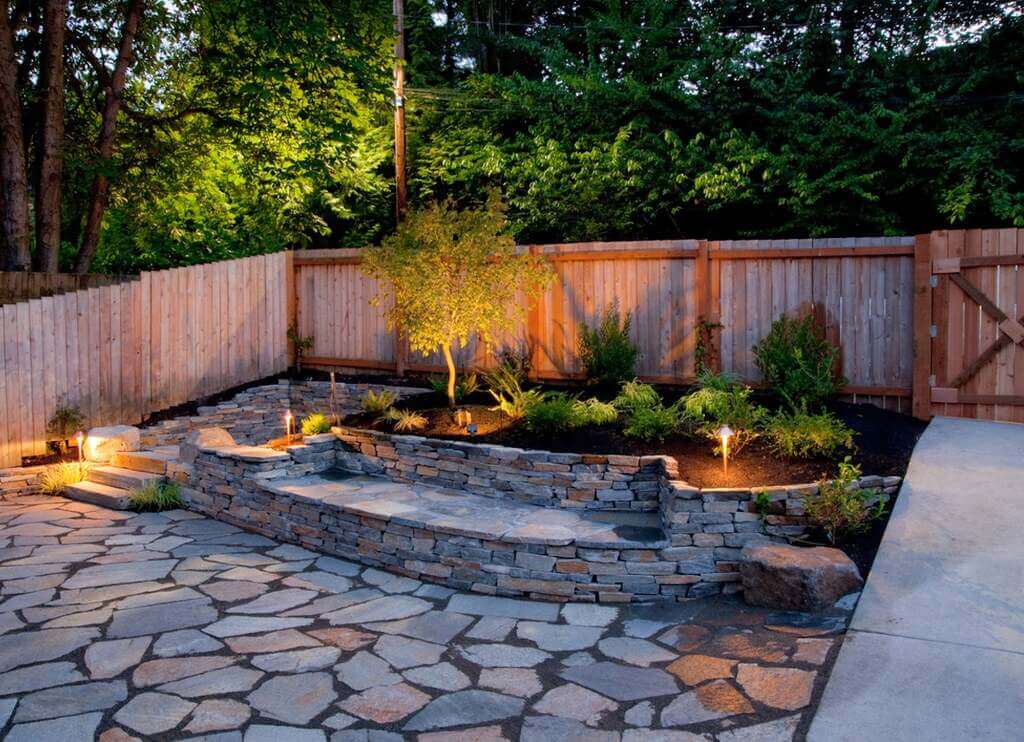 It's the lawn area that demands timely maintenance. How about keeping its size low and investing in plants or other fun outdoor spaces? A clever hack to offer you the luxury of a lawn with a provision to host multiple activities.
2. Mulch the Plants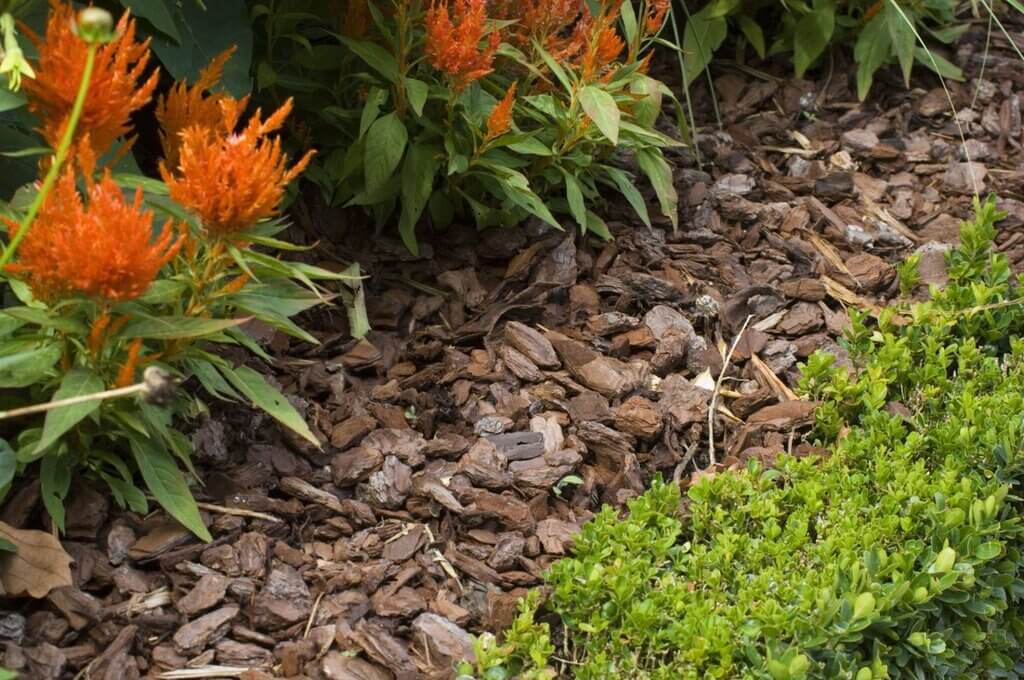 Want to get rid of weeds? Keep mulching the plants. Not only will it eliminate weeds from the lawn, but also make your plants less thirsty.
3. The Trick to Pick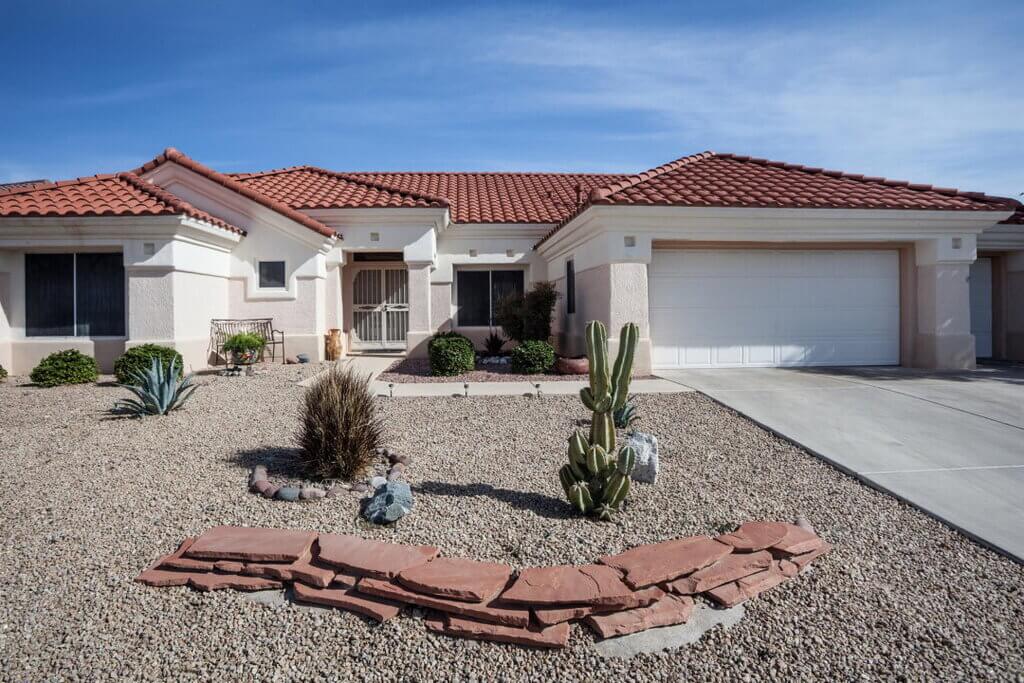 An easy hack for low maintenance front yard landscaping is to choose plant species that demand no maintenance. Once planted , these must grow on their own without you having to keep a daily check on them. Native species can serve you with the luxury of little or zero maintenance.
4. The Slow Watering!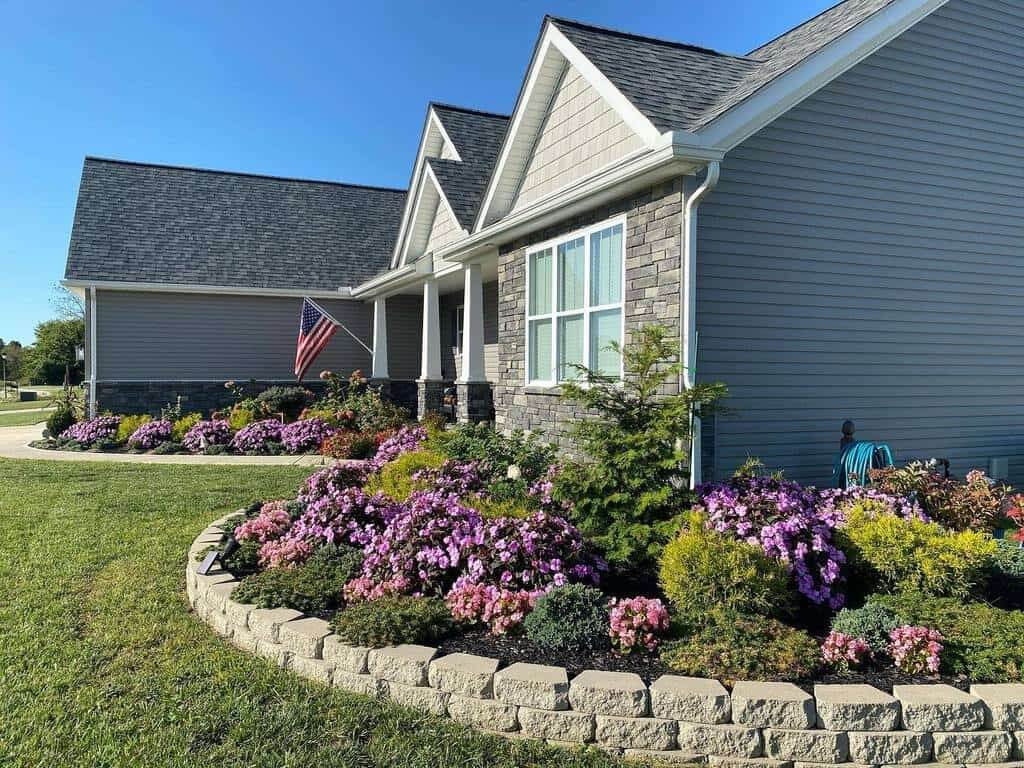 The daily need for plants to be irrigated can be a task with busy lives. Pick the ones that demand minimal water or opt for drip irrigation to keep your plants happy and blooming.
Paint the Picture of Tailored Landscaping!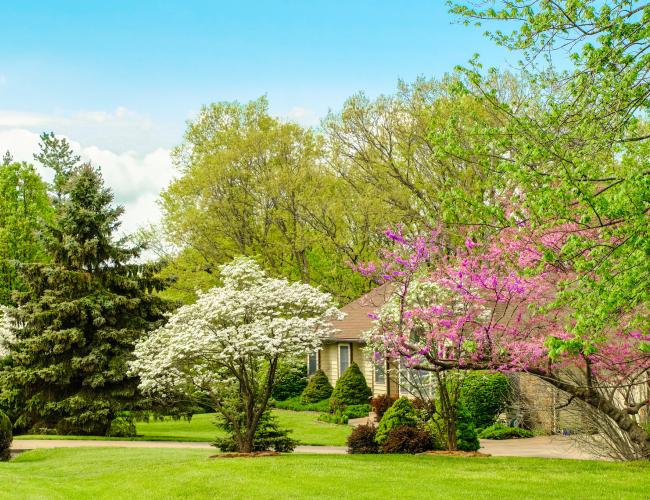 Low maintenance front yard landscaping doesn't limit your creativity. Rather it's an expanse of innovation with smart work. With these inspiring ideas, invest a few minutes to set up the lawn and sit back to enjoy the magnificent views it'll offer in return. And the best part? Everything runs on low cost and maintenance! You can also read farmhouse front door ideas.
FAQs
Which Plant Species Are the Easiest to Maintain?
Undoubtedly succulents! All you need to do is place them in a suitable location and they'll grow without creating any hassle for you.
How to Select the Plants for Low Maintenance Landscaping?
The easiest way is to go local. As local species are adapted to the environment, you don't have to worry about them getting dried up. It also follows the path of sustainability.
Can I Own a Large Lawn Without Having to Maintain It Daily?
Yes. If you're a grass lover, opt for laying artificial grass and there's nothing to worry about for decades to come.
Discover More: