7 Tips For Organizing Your Greenhouse In a Stylish Way
As spring approaches, the one thing that's sure to be on every greenhouse owner's mind is the variety of flowers and plants that's unique to the spring season. However, most of you may have little to no extra space in your greenhouse. 
If this sounds familiar, consider following the thumb rule; organizing your greenhouse well can help you re-create a beautiful, refreshing greenhouse ready for the spring season.  
In this article, we'll discuss 7 tips for organizing your greenhouse in a stylish way.  
Separate Your Greenhouse Into Zones  
The first step toward organizing your greenhouse is to plan which plants do you want to grow? While planning the plants you want in your greenhouse, you may ask yourself questions like what variety of flowers and plants you want to grow, what are the ideal plants that fit your temperature zone, and how much space do your plants need.  
Then organize your greenhouse into zones. Doing this will help you use the space more efficiently. You may separate the place into zones like potting area, area for edible plants, area for non-edible plants, and storage area.  
While zoning your greenhouse, make sure to place the plant you often use in an easily accessible area. Also, consider putting the plants you often use together so that you don't waste time looking for them.  
Some of the common zones you may create are zones for flowers, zones for cutting, and areas for planting.  
Consider Staging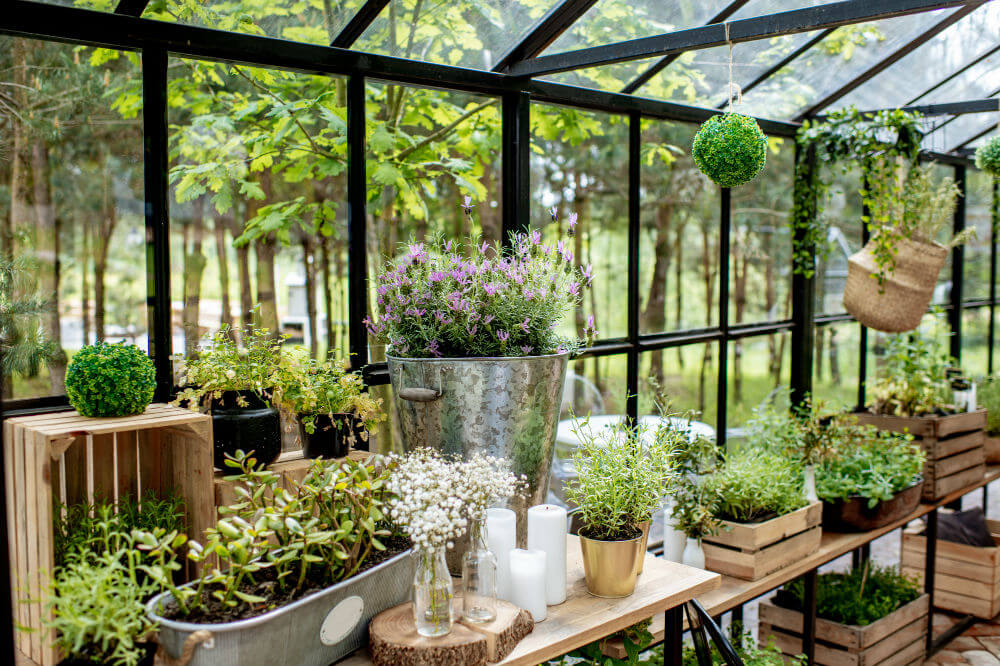 Source: greeneryguide.com
Staging is a popular way to organize your greenhouse as it provides ample sunlight to plants, plenty of storage area, and enough space for planting. You may consider a built-in staging option with toughened glass. Consider adding skylights to your structure to create a stylish and elegant greenhouse.  
Staging also provides a strong construction and is ideal for a small greenhouse. The vertical plant stacks not only make the greenhouse look beautiful from the outside, especially if you have a glass greenhouse, but also provide plenty of free surface area.  
Utilize Your Vertical Space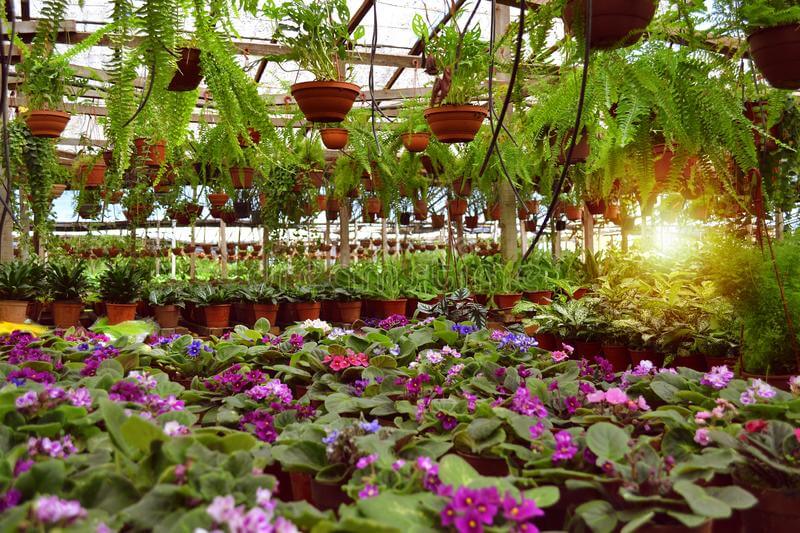 Source: greeneryguide.com
The most efficient way to use the vertical space in your greenhouse is to hang potted plants that can instantly transform a small area into a green haven. To create a beautiful space, you may hang flowering pots, small plants, and even watering cans and herbs to give your greenhouse a look alive and refreshing.  
To hang plants, you may use the space underneath the roof or fix some hooks on the walls of the greenhouse.  
Also Read: Types of Garden Sheds You Can Choose for Your Outdoor Space
Create A Seating Area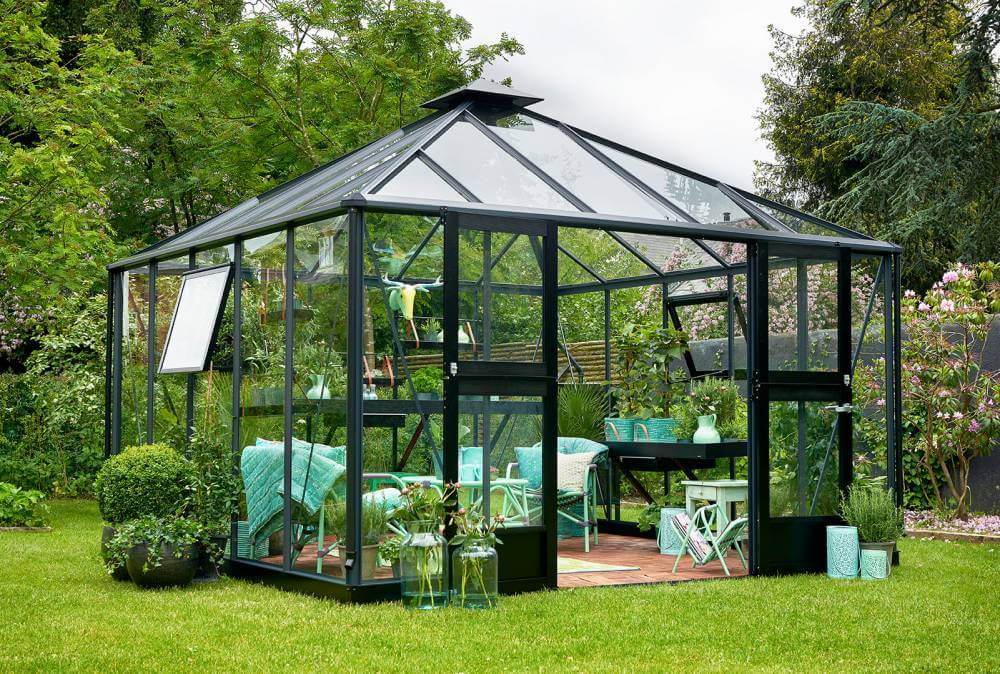 Source: plantes-shopping.fr
To make your greenhouse look stylish, consider adding a few chairs and cushions that blend perfectly with the plants. Adding a pendant light or a small side table to the area will help define the space and help you create a corner where you may want to spend time.  
If you visit your greenhouse in the evenings or at night, consider hanging some string lights to give the space a soft, romantic vibe. By setting up a private little corner for yourself, your greenhouse can turn into a stylish hideout.  
Make Use Of The Storage Space  
To maximize the utilization of space, consider using shelves, staging, and benches to store things more efficiently. You may keep flexible plastic tubs and label them for gardening tools, seeds, and other materials so that the gardening materials are easily accessible.  
Consider storing pots, potting soil, and compost bags under the shelves to utilize the space well.  
Design The Workstation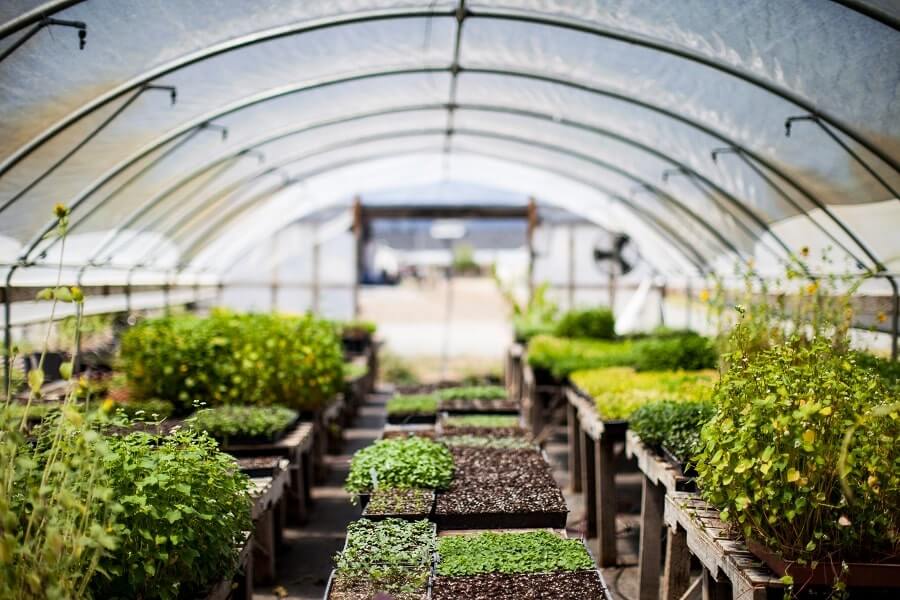 Source: gardensnursery.com
While designing your workspace, make sure that it's large enough for potting, seeding, and planting. Make sure that there's enough space to keep your gardening tools nearby. For a plush workstation, consider decorating it with elegant gardening accessories.  
Organize Your Greenhouse According To The Season  
To organize your greenhouse in style, consider focusing on how you can arrange the seasonal plants. You may plan and place plants so that they get maximum sunlight during winter or arrange flowering pots according to their color palette. Arranging the plants according to your personal style can give your greenhouse a personal touch.  
Conclusion 
Planning your greenhouse is a great way to get it ready for the spring season. Using simple methods like separating the greenhouse into different zones, or utilizing the vertical space, can considerably upgrade the look of your greenhouse.  
To add an element of style to your greenhouse, consider using skylights, or add an elegant seating area. You may arrange the seasonal plants and flowers to give your greenhouse a fresh appeal.