How to Build a Smokehouse in 11 Easy Steps!
Whether it be Thanksgiving or Christmas, or any other festival won't get completed without smoked dishes and delicious recipes. Enjoying dinner with our family and friends and having delicious recipes like smoked turkey, chicken, and ham is one of the best memorable moments in our lives. Let's see how to build a smokehouse.
No food or over or grill in the world can replace the rich flavor of smoked food. The secret behind this mouthlicious flavor is to leave the meat to cook in the smokehouse for hours. 
In this blog, we're going to tell you how to build a smokehouse. We've explained everything in an easy step-by-step procedure. So you can easily create your own smokehouse in a single day. 
Even many famous barbecue restaurants also smoke their meats and the reason behind their amazing barbecue recipes. Yes, you can always order your favorite barbecue platters via delivery or take-out. 
However, those homeowners who have a smokehouse at their place can freely eat dishes at home. they don't have to bother and don't need to go to restaurants. They can enjoy the smoky barbecue goodness at their home. 
Although smoking meat in a smokehouse is a time-consuming task yet, it is rewarding. Because after this, your meat will be well preserved, and therefore you can use it for a long time.  
So if you don't have a smokehouse in your home, it's time to build one. Follow this step-by-step guide and build yourself your own cute little smokehouse. You don't have to spend a lot of money, and this smokehouse will hold a ton of meat. There will be multiple racks for smoking as well as a place to hang sausages (if you want, you can even hang a whole deer in it).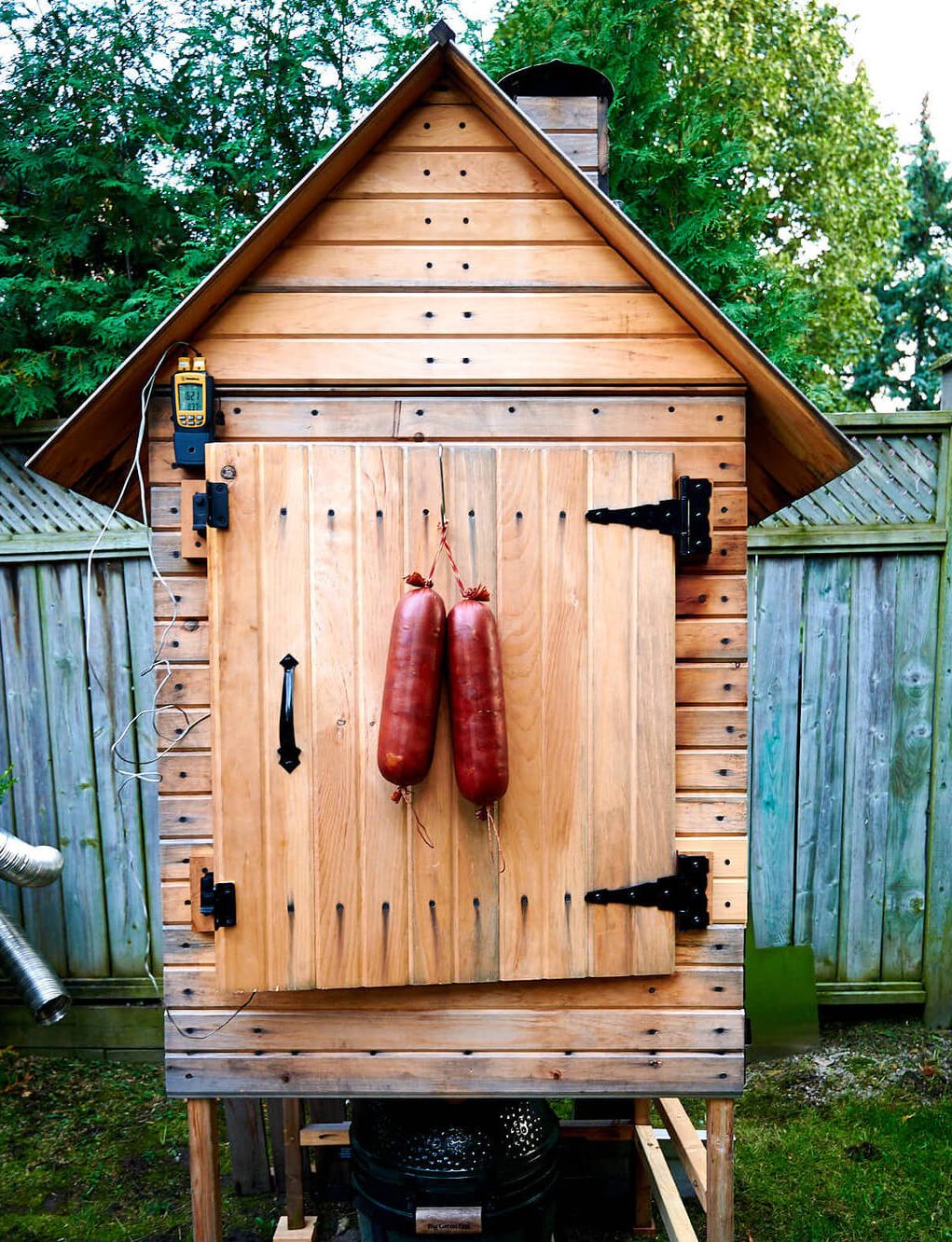 Source: tasteofartisan.com
So are you excited to build a smokehouse in your backyard? Here's the list of all the tools and materials that you'll require to build this smokehouse. 
Tools
Chalk line

Level (2-foot or 4-foot)

Tape measure

Square

Trowel

Corner plastic line blocks

Wheelbarrow/mortarboard

Hammer/nail gun

Circular saw

Drill

Speed square
Materials
Gate set

4 bags of concrete

5 bags (94 pounds each) Portland cement

Hydrated lime

1-ton sand

1-ton gravel

11-2×3's

2-8 ft. 2×6's

1 ½ sheet of 8-foot metal

4 sheets of 2-foot-wide metal

8 cinder blocks

8 rough cut 1×6's

1- 12ft 2×4

1- 2ft piece of flashing

2- 10ft pieces of flashing

3/4" sheet metal screws

2 hinges

1 handle

6 sheets metal roofing (3-feet-by-55-inches)

9-foot metal ridge cap

Metal screws, Tapcons, and nails
How to Build a Smokehouse: A Complete Tutorial!
So there are generally two types of smokehouses that you can build: entirely with cement blocks or wood smokehouses. Here in this tutorial, we're going to tell you how to build a wooden smokehouse.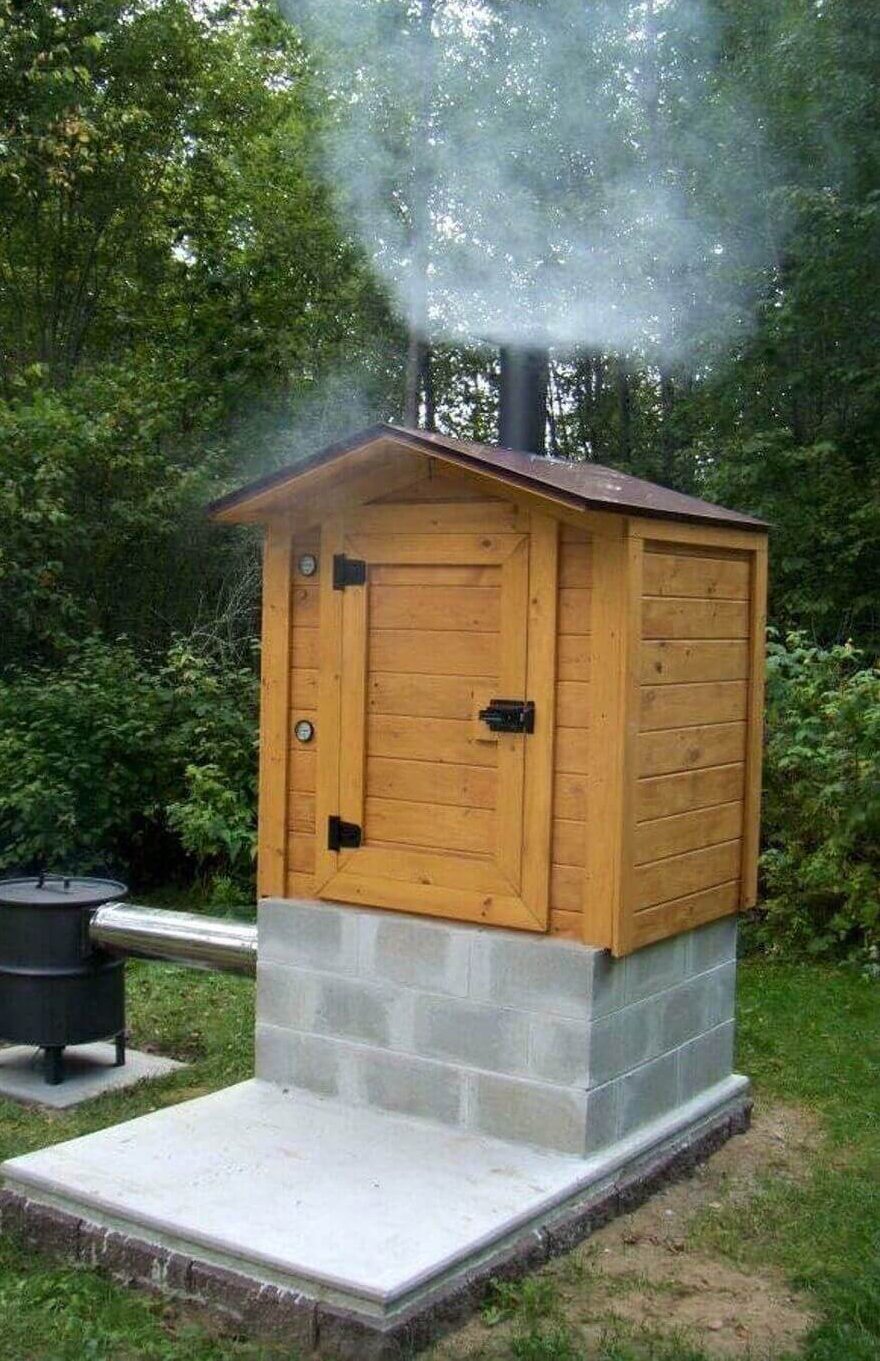 Source: pinimg.com
So, are you ready to build a 4ft by 2ft smokehouse and smoke all your favorite meat pieces? You can serve these meats at your next backyard barbecue party. So let's start with the procedure. 
Step 1: Find the Perfect Location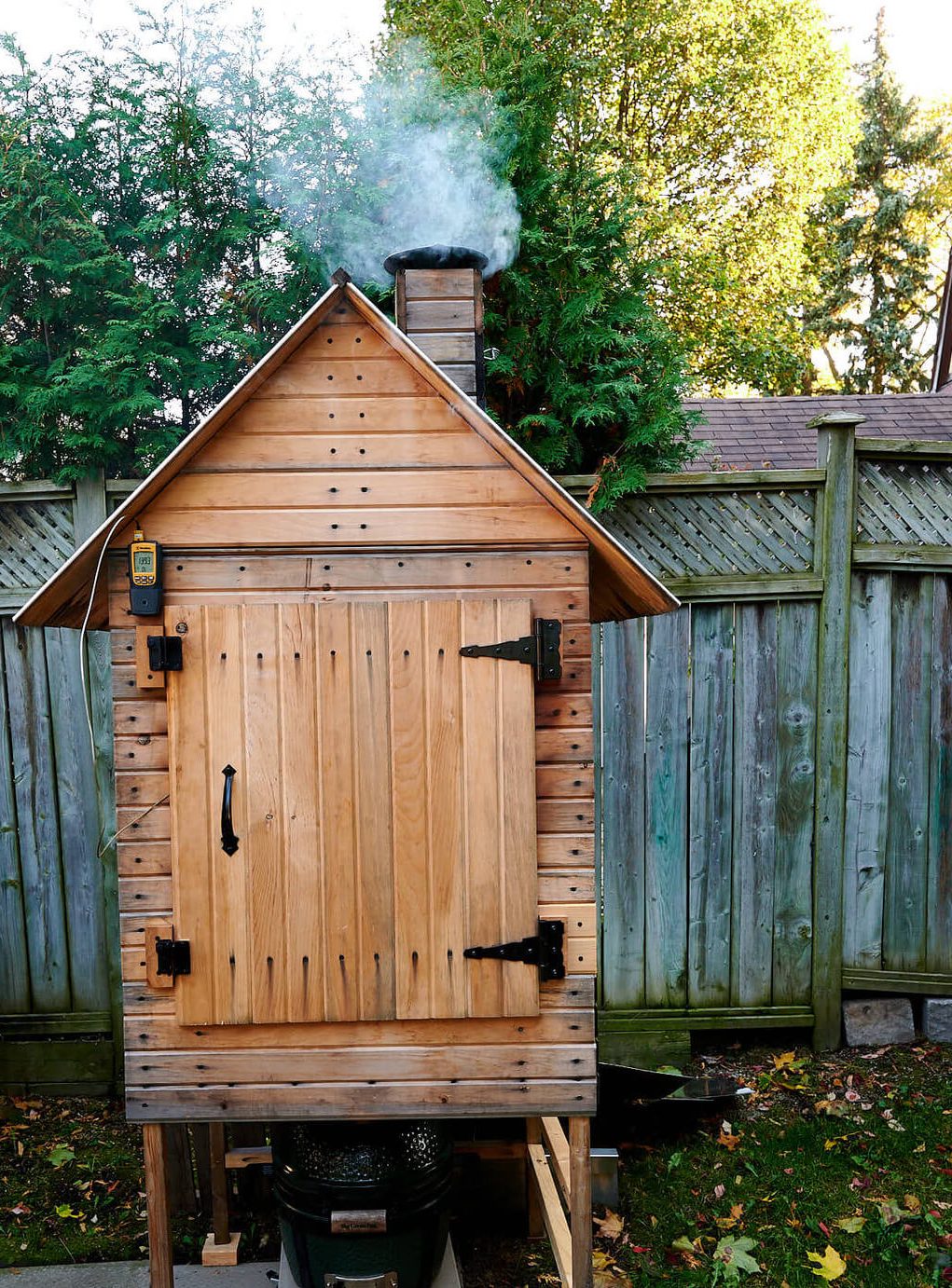 Source: tasteofartisan.com
The first thing you have to do is to find a perfect location. Choose an area in your backyard which has shade. The reason behind this shady area is that when you put your meat in the smokehouse, the temperature will fluctuate (due to the sun). This may cause your meat to ruin.
So it's better to choose a spot where there will be some protection from the sun, such as under a tree or shade with proper ventilation. 
Step 2: Lay the Cement Blocks or Cinder Blocks                                 
Source: pinimg.com
To build a sturdy smokehouse, you'll need to create a foundation and an enclosed house. You can start by laying out cinder blocks or cement blocks.
With the help of a chalk line, tape measure, and squares, determine where the bottom layer of blocks should be laid. After you laid the blocks, measure the length of each wall you will be building.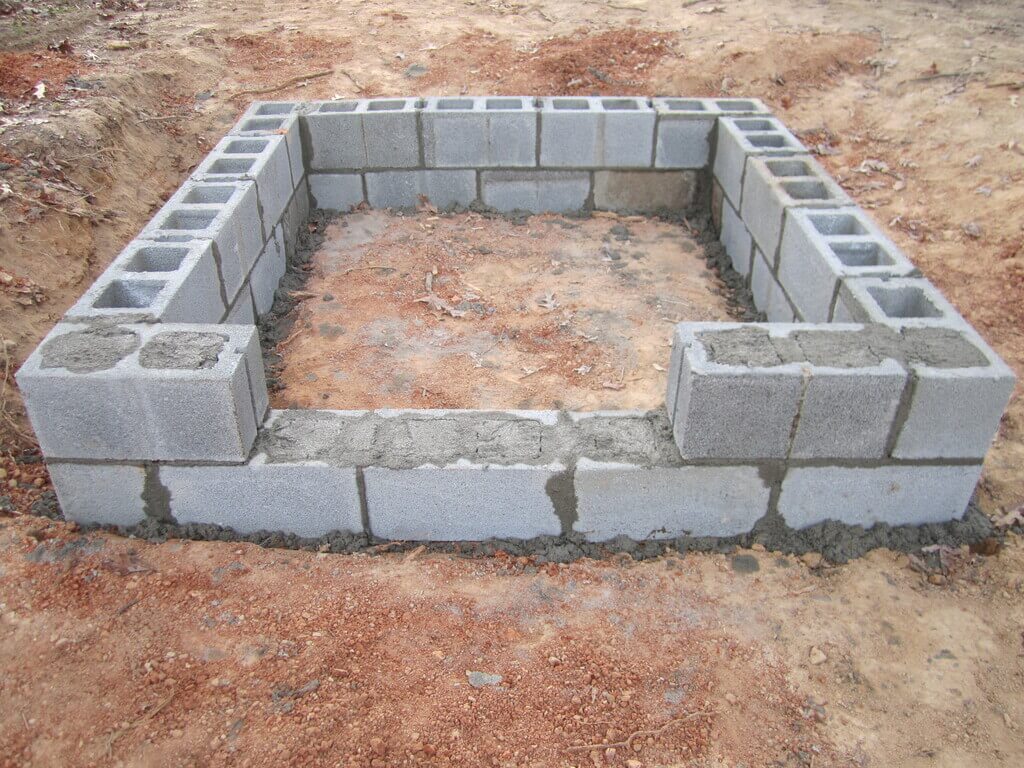 Source: wordpress.com
To join the blocks, use mortar cement on the footer. To make this mixture, all you need to do is take 2 parts of sand, 1 part Portland cement, and 1/2 part hydrated lime and mix them well. The consistency should be medium, just like mashed potatoes. 
Note:
Taking accurate measurements is extremely important, or you'll end up having unbalanced walls or structures. 
Step 3: Frame the Base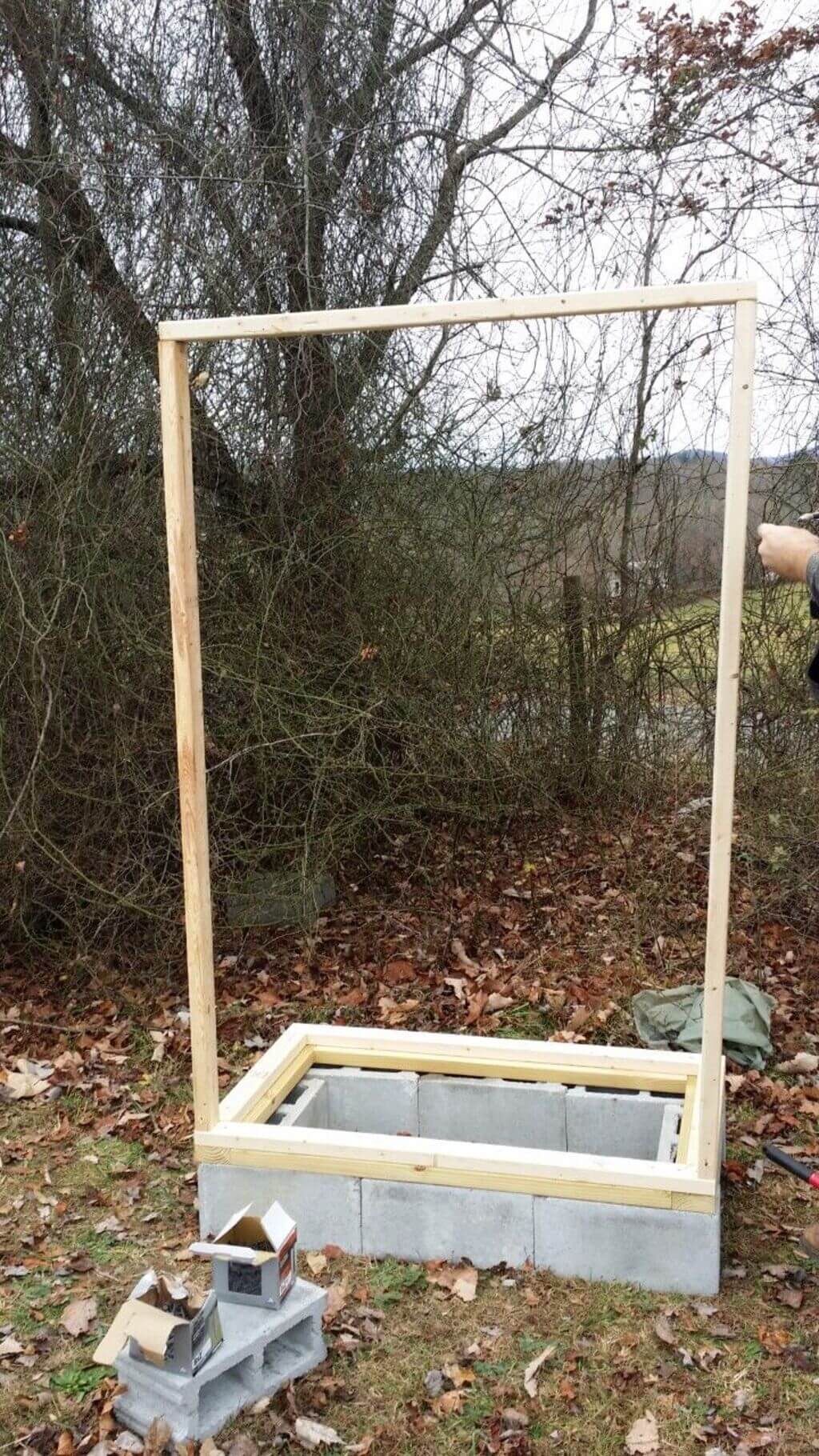 Source: pinimg.com
The next step is to frame the base with wood. It's advised to use non-pressure treated wood because, as compared to normal wood, they won't release any chemicals into your food.   
Step 4: Start Building Structure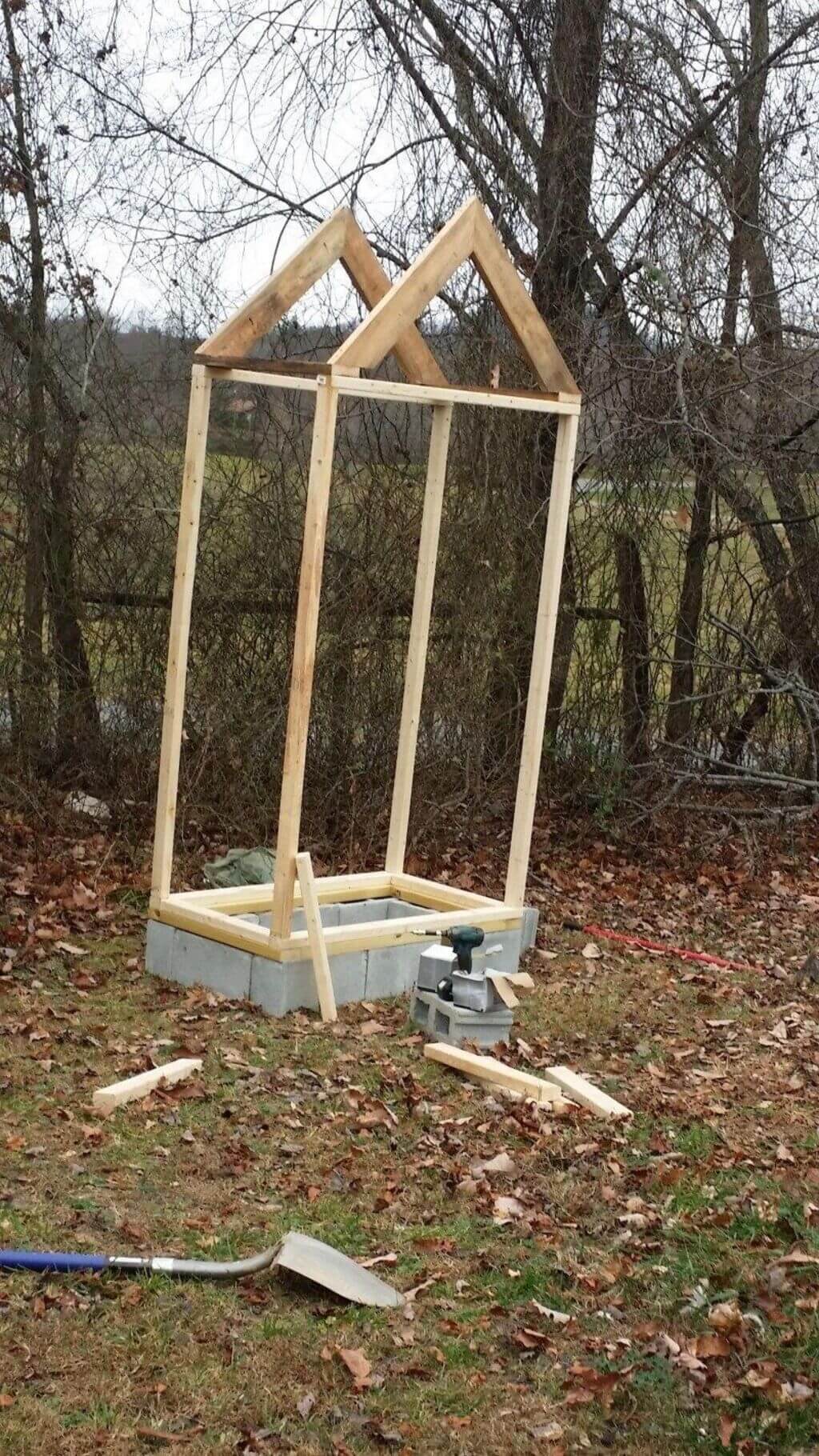 Source: pinimg.com
When you're done building the base part, you can now move forward to the upper section. Yes, it's time to frame the building. Use the 2×3's and start building the frame. You have to place vertical pieces at the front corners of both sides and a horizontal piece connecting the two.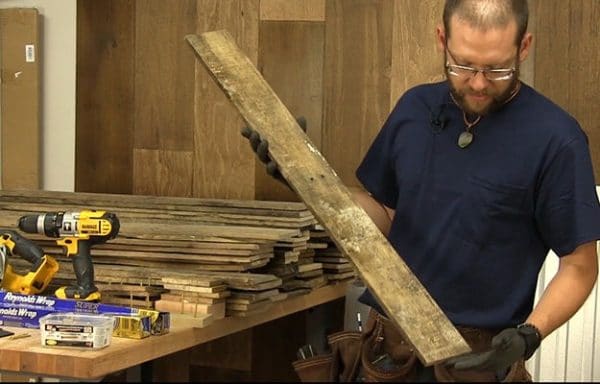 Source: diyready.com
Repeat the same thing on the backside of the building as well. Take two more 2×3's wood pieces and connect the front and back section of the building. And that's it.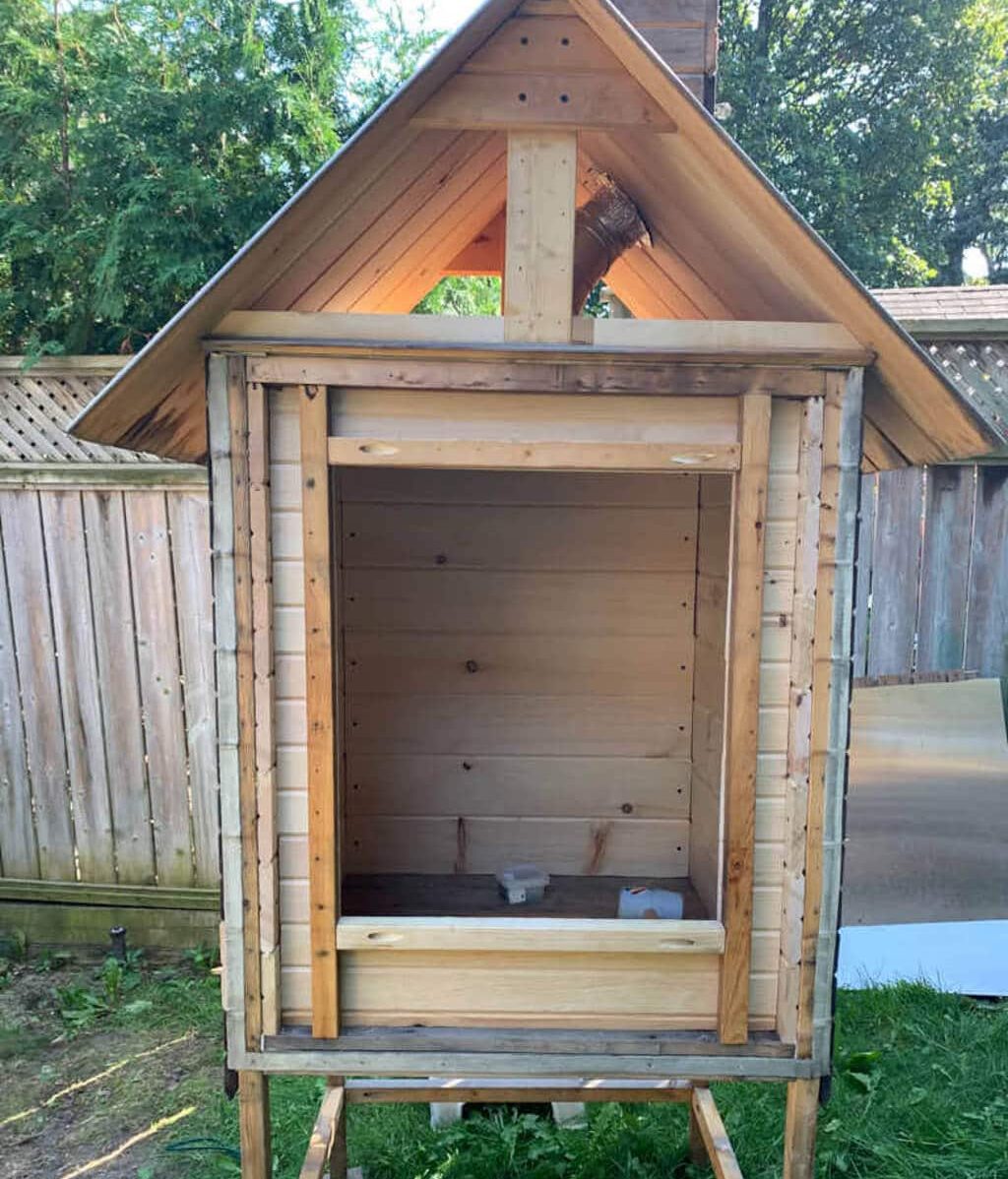 Source: tasteofartisan.com
Step 5: Setup the Back of the Roof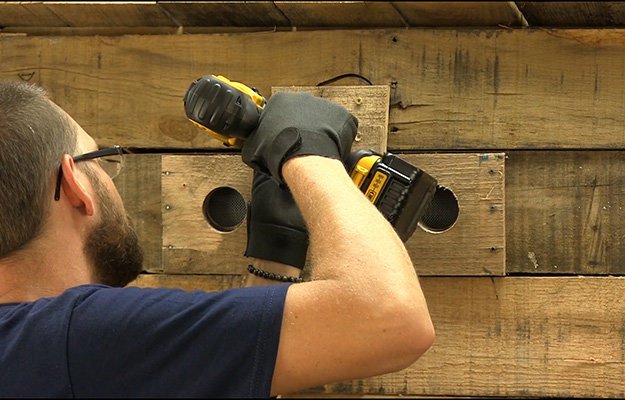 Source: woodplanstoday.com
Finally, it's time to build the roof. For that, you have to cut the 2×6's into sections. Here we're telling the simple roof type. However, you can select whatever type of peak for your roof. Make sure that the front and backside of the roof are identical.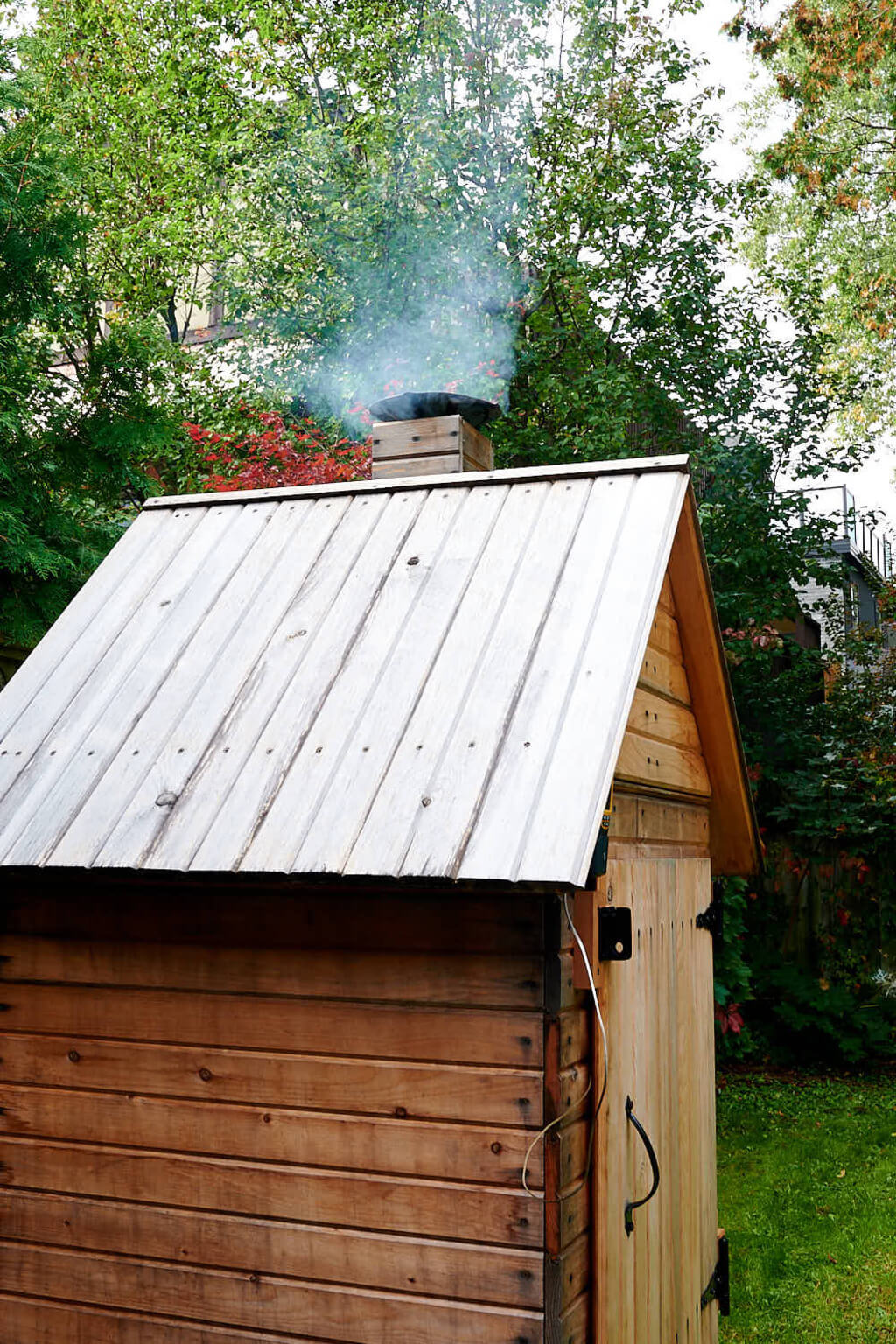 Source: tasteofartisan.com                                                       
After this, you're left with some of the 2×3's Pieces or scraps. You can use them to make bracing for your roof. Use metal screws and evenly place these pieces all across the roof to support the metal.                                                                                                     
Step 6: Brace the Structure     

                                                          Source: pinimg.com                                                                  
The next step is to cover the side of the smokehouse with 2 different cuts of the metals. To make the back part of the roof, first, take some 2x6s and cut them to size. Put these on each side of the smokehouse. Look at the above picture for reference. 
Don't forget to screw them into the place tightly. Once they're correctly placed, your structure will feel less wobbly. 
Step 7: Put the Metal Sheets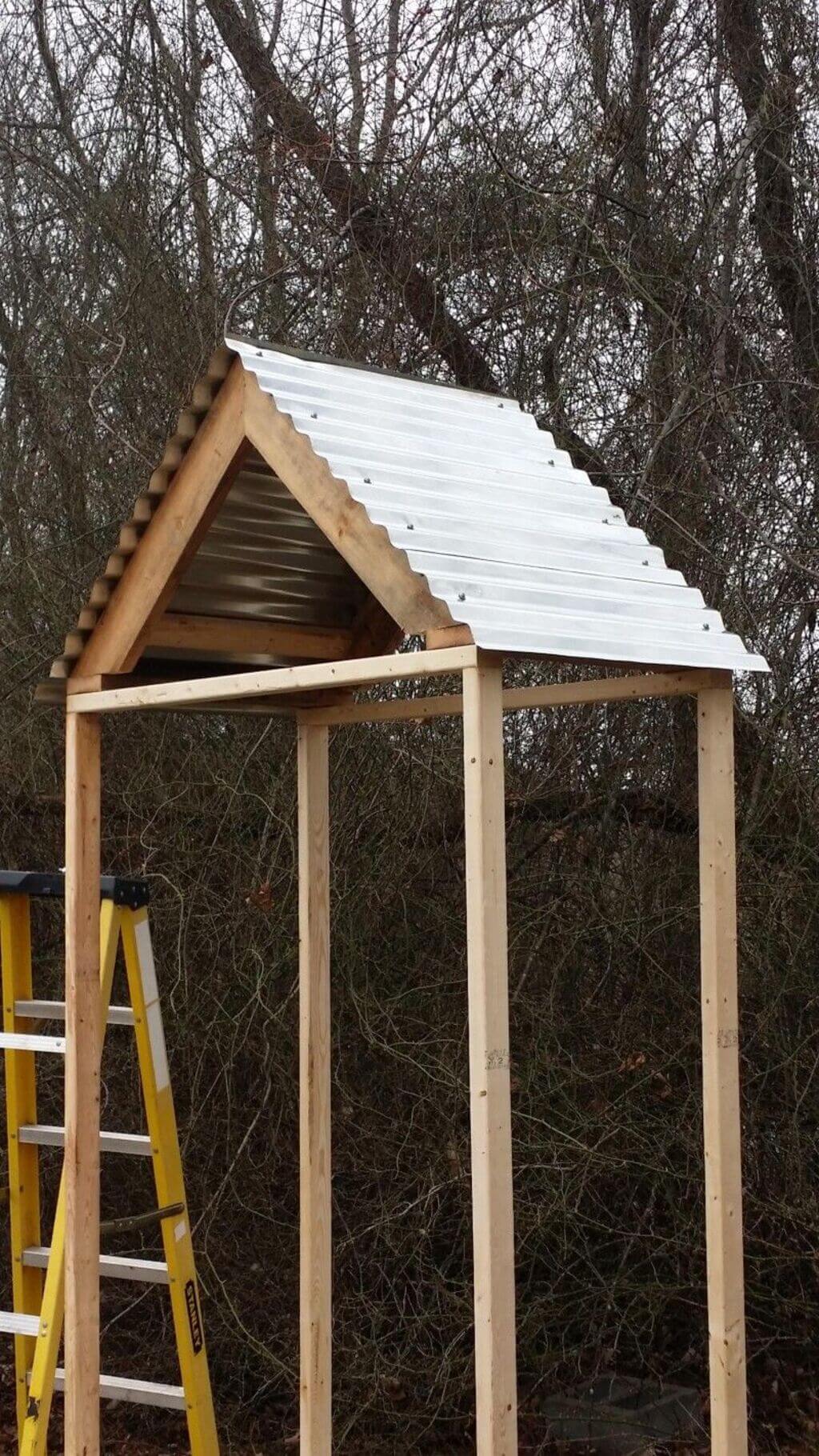 Source: pinimg.com
Now you can finally apply the sheets of 8-foot metal. Cut them into sections and then put them on the wooden frame. Lastly, secure the flaps of metals with some screws. 
Note:
Don't forget to cut a section in a roof for a vent. You can add a pipe or piece of flashing across the top of the roof. This will help the roof to vent the smoke easily.  
Step 8: Build the Door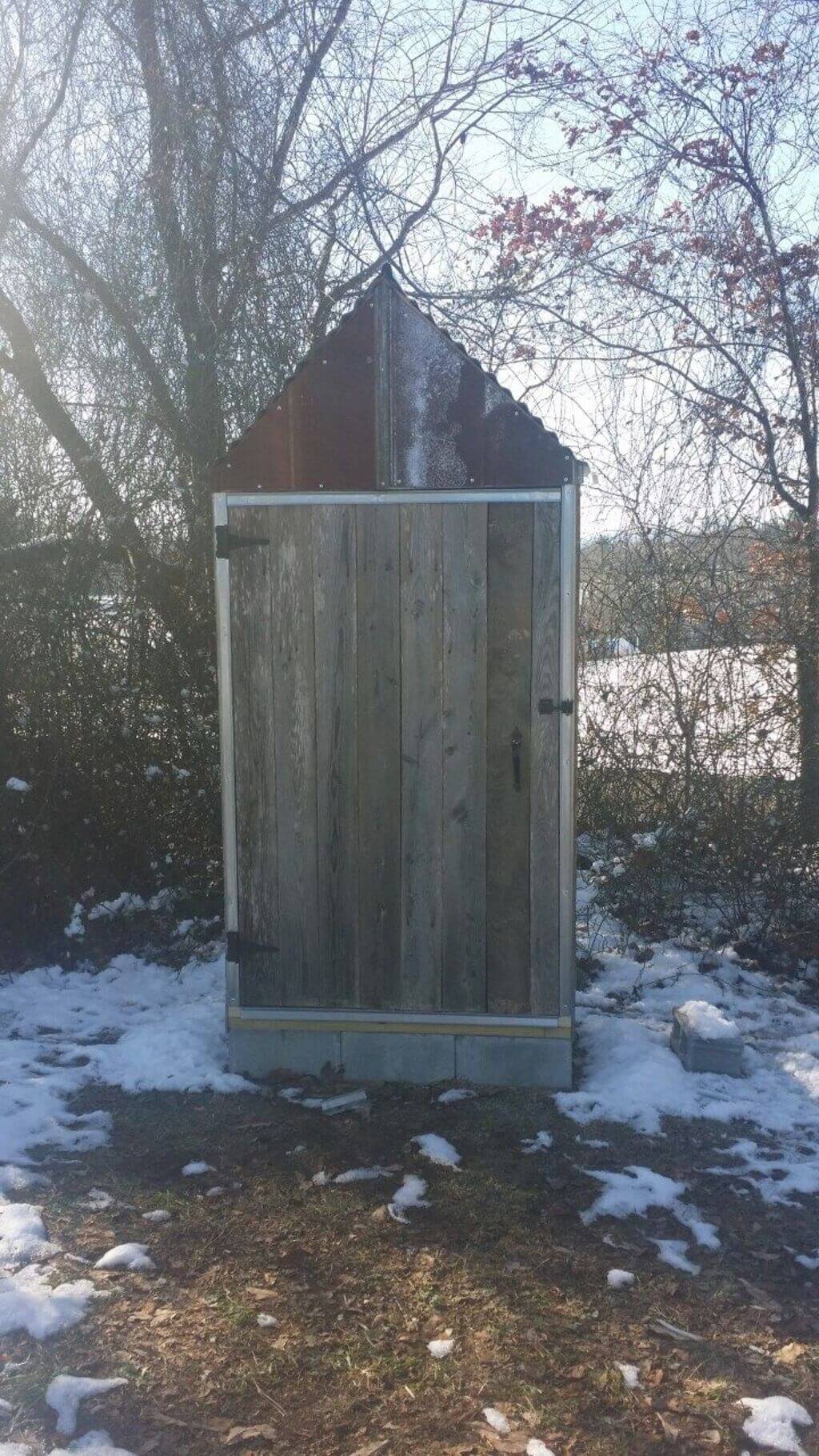 Source: pinimg.com
Some people prefer the door in their smokehouse, and some don't. But we advise you to build a door. Just measure the wood and then cut it in the appropriate size. You can also use several small wood pieces to make a door instead of one single wood piece.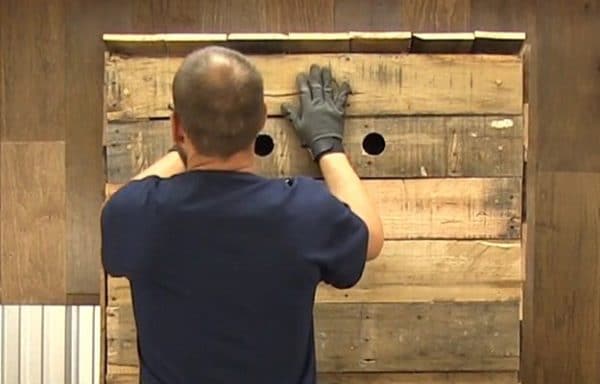 Source: diyready.com
If you use small pieces, make sure to screw them securely together to form an actual door. To protect your door from water, you can also use flashing. Lastly, hung the door on hinges using the gate set.      
Step 9: Build the Concrete Floor
Now come to the easiest and exciting part: floorings! Pick some bags of quick-drying concrete and mix them with water until it is the desired consistency. Carefully pour the concrete into the smokehouse. 
Ensure that around the edge between the cinderblocks and the wooden base of the smokehouse should be filled with concrete properly. This will give you a strong foundation. 
Once all these steps are done, you can finally move to the finishing touches.     
Also Read: Healdsburg House: A Modern Villa on Hillside in California!
Step 10: Paint and Shelving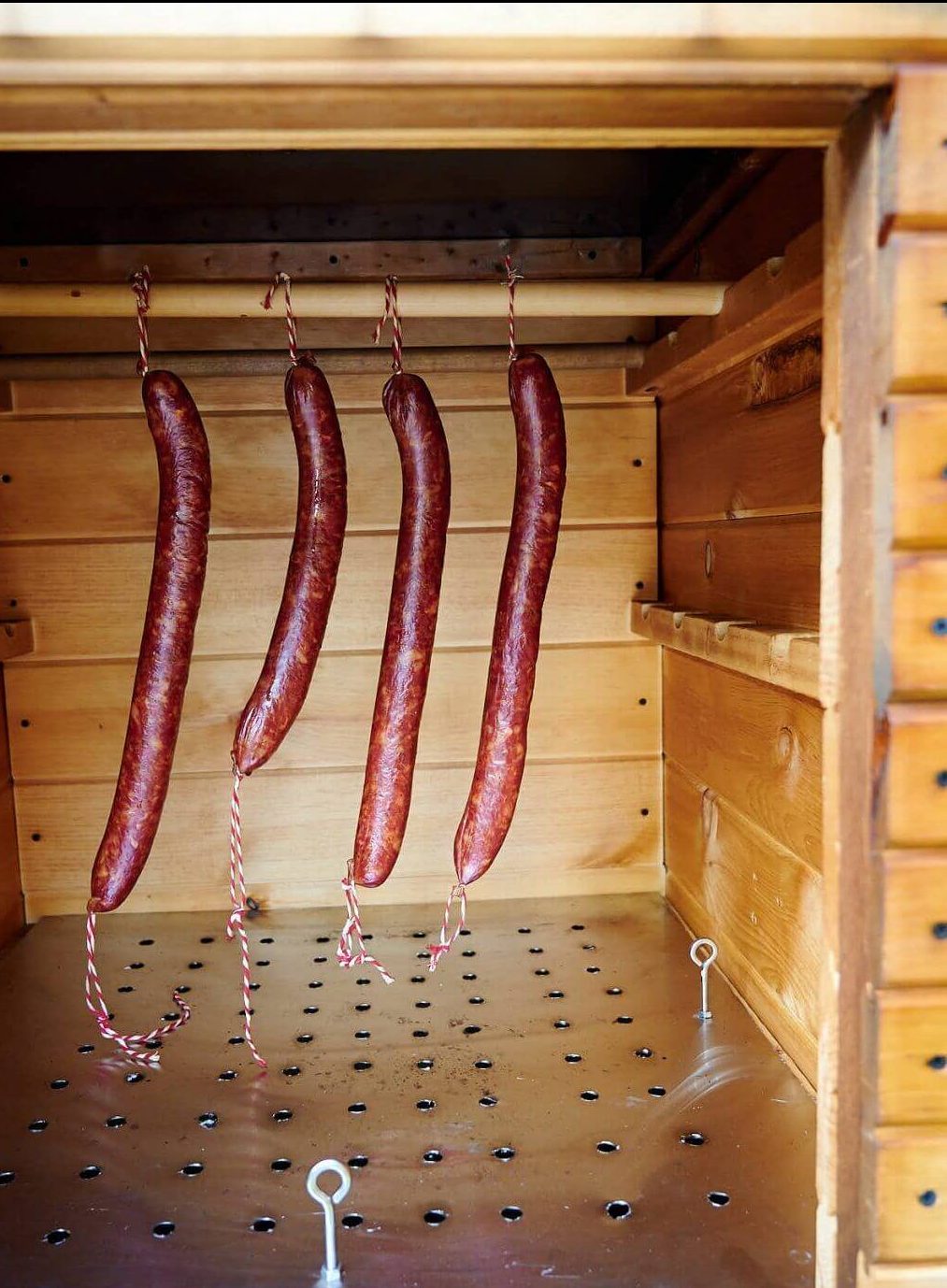 Source: pinimg.com
Now to make your smokehouse look appealing and attractive, you have to paint it. First, prime the wood and then apply any wood staining or paint of your choice. 
Paint will help protect the metal from being destroyed. If you see any rust on the metal sheet, take a wire brush and knock all of the rust off from it.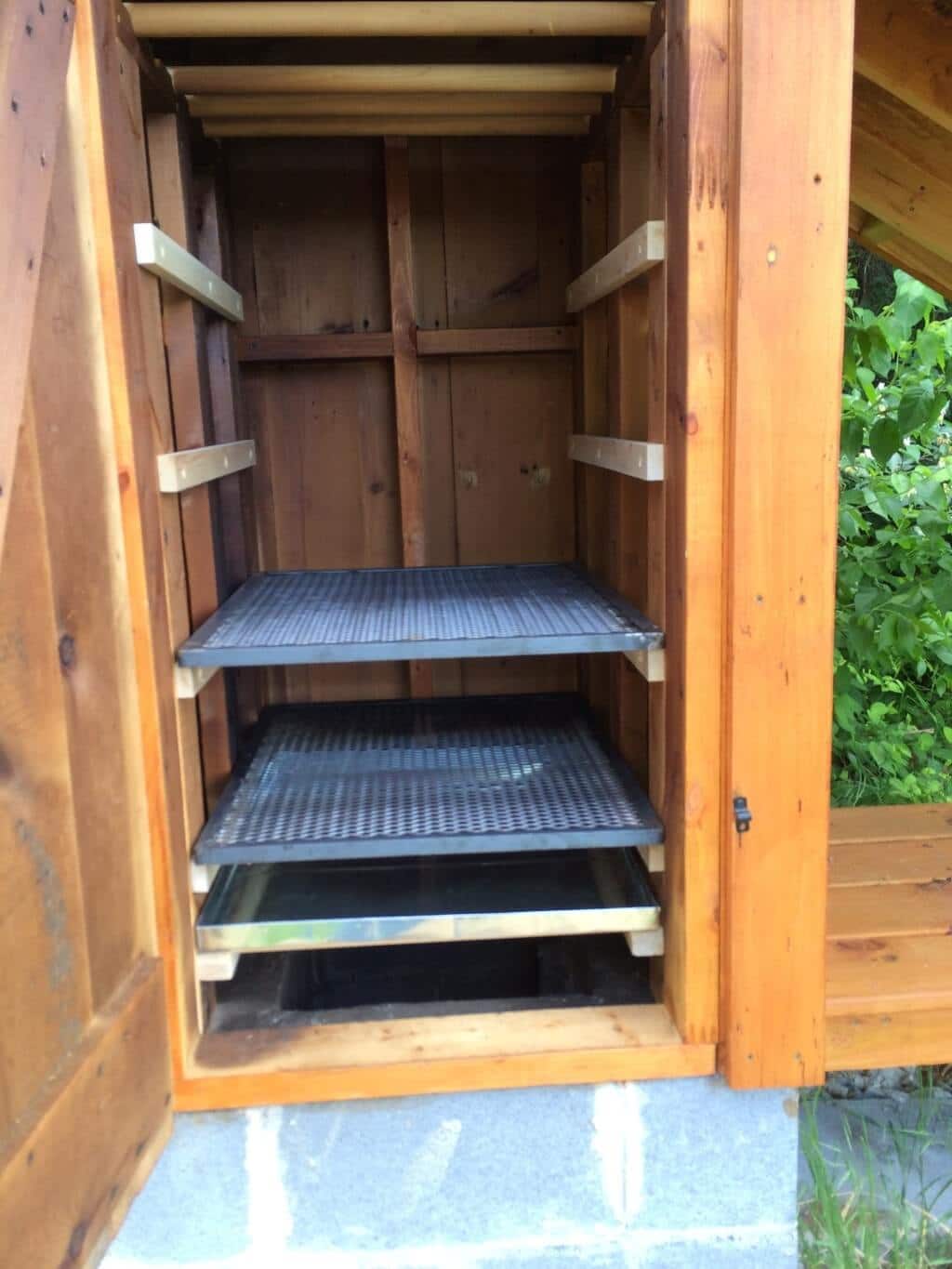 Source: wordpress.com
Also, if you want to have some extra space, you can add some shelves or hooks to hang meat in your smokehouse. 
Finally, building the smokehouse is now complete. Now it is completely ready to function.
Step 11: Apply Your Heat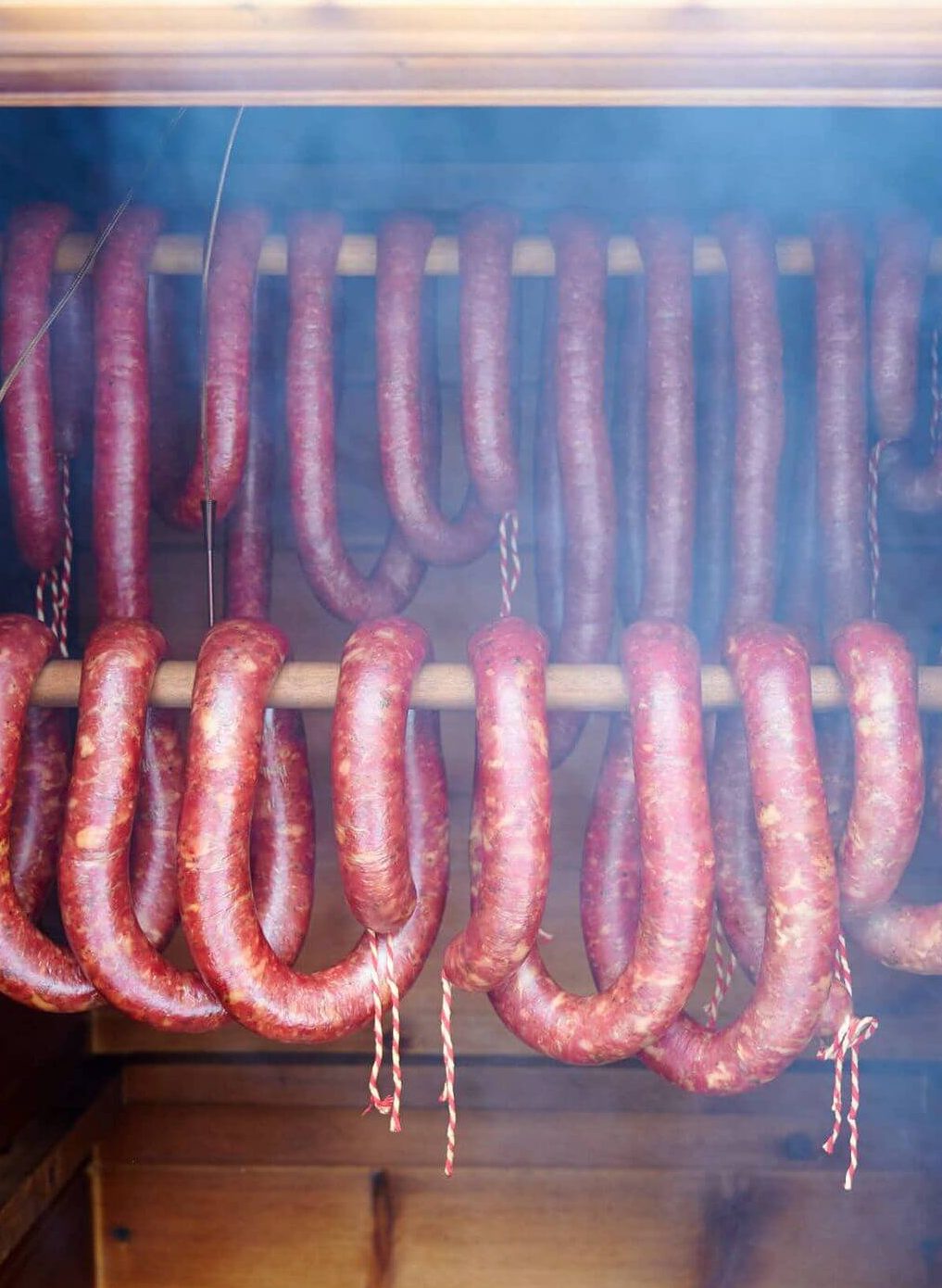 Source: pinimg.com
What will be a smokehouse without smoke? Nothing, right! So it's time to put heat in there. There are many ways to do it. You can either use a wood stove and attach it to the smokehouse through a vent or use propane.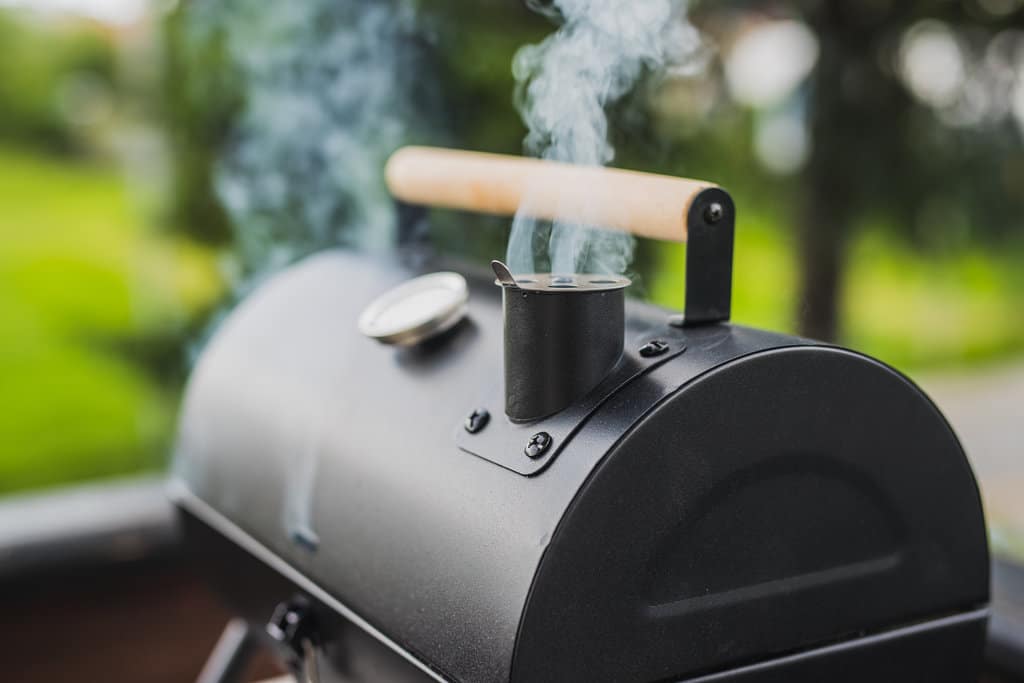 Source: wixstatic.com
So, put raw meats on the shelves or hang them on the hangers and add the heat. After a few hours, your meat is ready to eat and serve. You can also preserve the meat for further use in the future.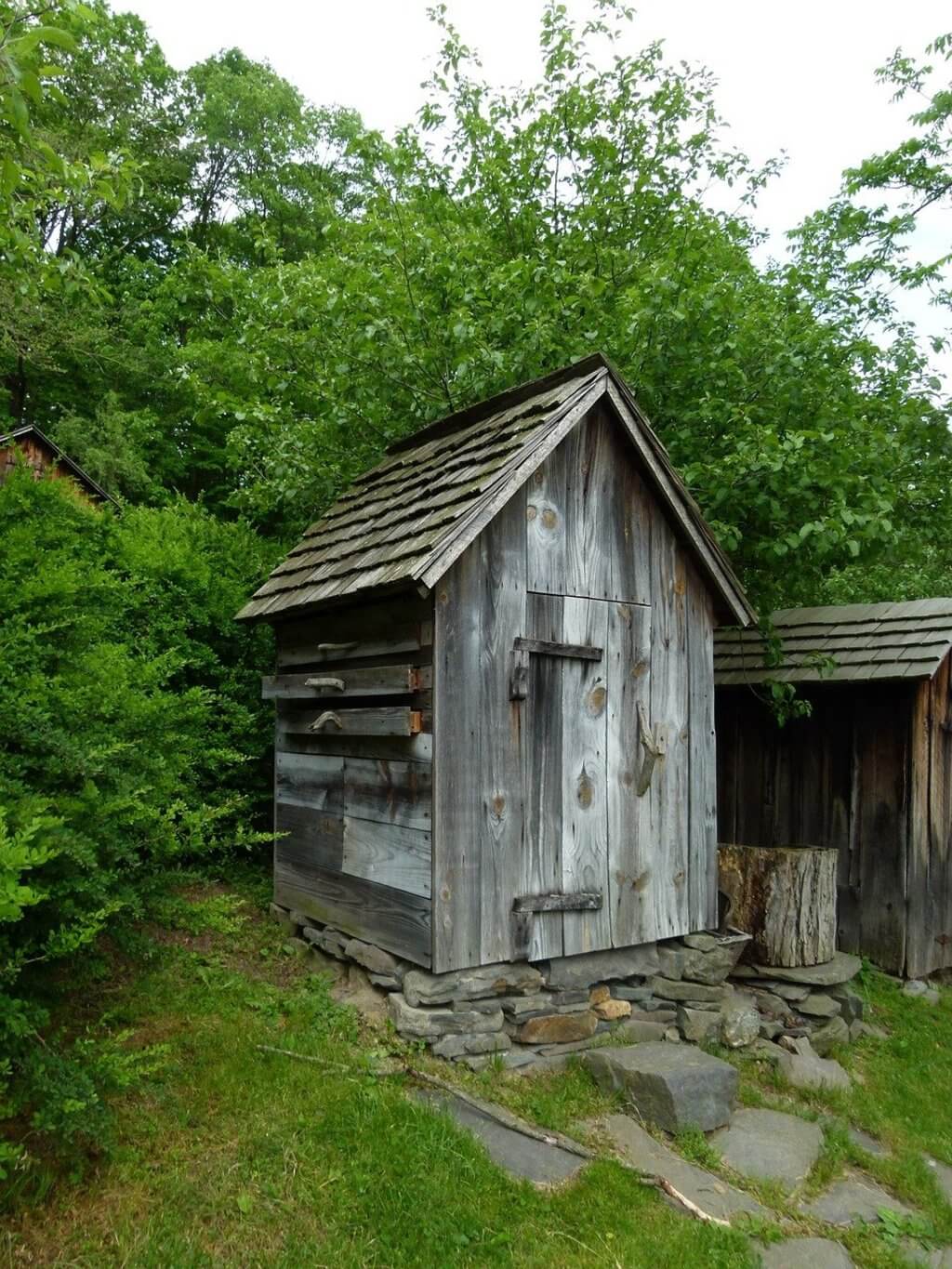 Source: netdna-ssl.com
The Bottom Line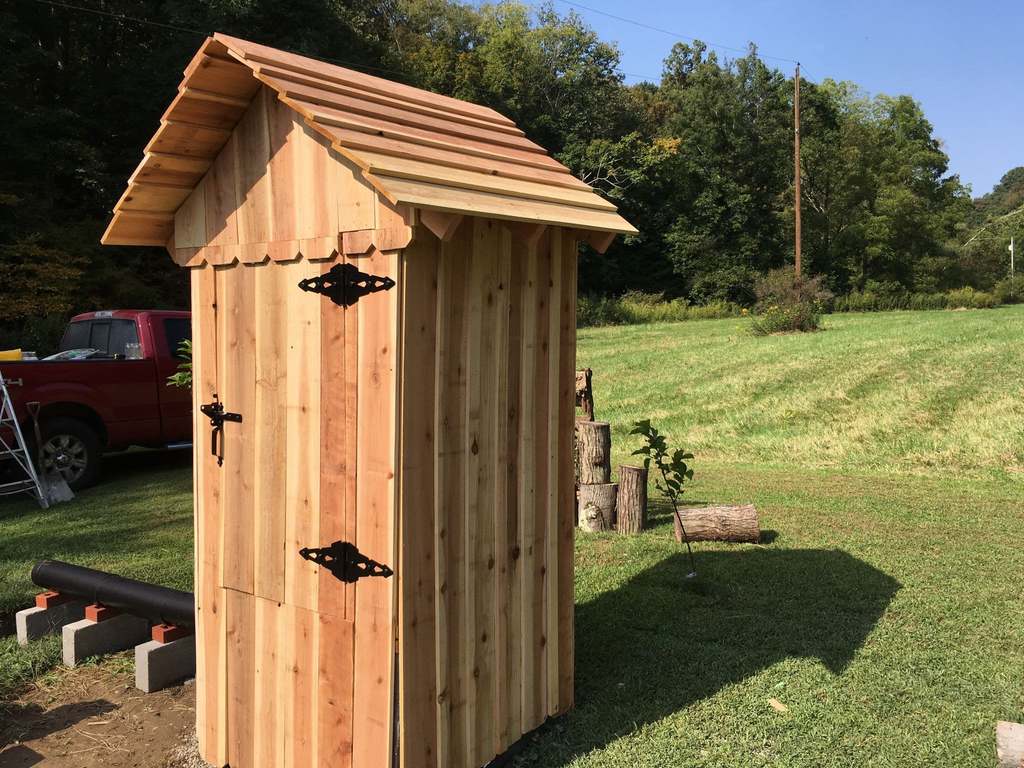 Source: redd.it
So now you have all the guidelines and instructions on how you can build a smokehouse. You can build it either with cheap materials or materials that you already have in your home. 
I hope you like this step-by-step tutorial on how to build a smokehouse. Please share it with your family and friends so that they can also enjoy the wonderful smoked meat dishes.  
For more information about the latest architecture worldwide and home improvement ideas, keep coming to Architecturesideas. For daily updates about new architectures, don't forget to follow us on our Instagram page, @architectures_idea.