A Man Cave is a private space built for the man of the house to enjoy and relish in his leisure time. This space or sanctuary, if you will, is designed and decorated in a way for you to feel comfortable and have a part of the house all to yourself.
If you want to achieve that perfect ambiance, though, you must have the proper lighting for it.
How to Choose the Right Lighting for Your Man Cave?
Let's focus on what exactly the proper lighting is. Your man cave is going to be the place you will be crashing at times when you are tired and overworked. De-stressing is one of the reasons why guys want to have a man cave. There will also be times when you're happy, in a good mood, and ready to pump up the party. The lighting in your man cave needs to be aligned exactly to your mood.
A party mood would mean you want popping lights, some color, or perhaps disco lights are your thing. When it comes to relaxation, you would like a warm ambiance, a little bit of dim lighting will go a long way to make you relaxed and just unwind after a long day.
So basically, you need some options to get some fantastic man cave lighting ideas, and we are here to help. Digging through the many layers of the internet, we have found the most incredible lighting ideas for your man cave.
Neon Signs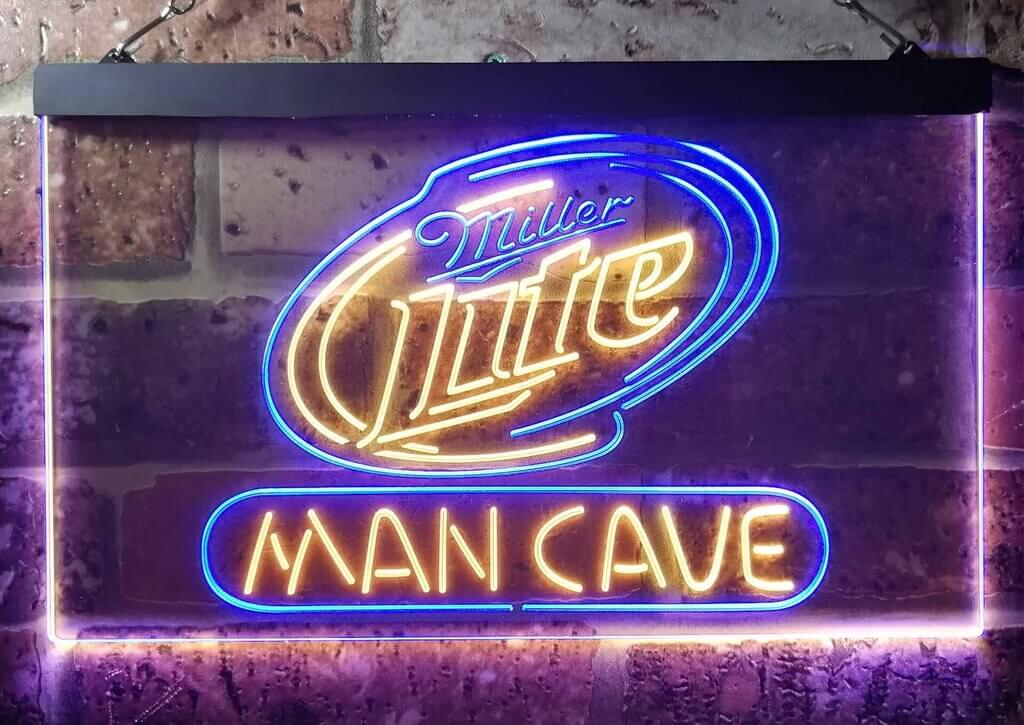 Neon signs are all the rage these days. They are in trend because they are bold, electrifying, and eye-catching. That makes them an excellent match for a man cave, but what would make them perfect? Have them customized! A personalized neon sign for your space will truly make it yours. It can be a statement piece and shine in all its glory, or you can make it a side piece, and it will still stand out.
RGB LED Lights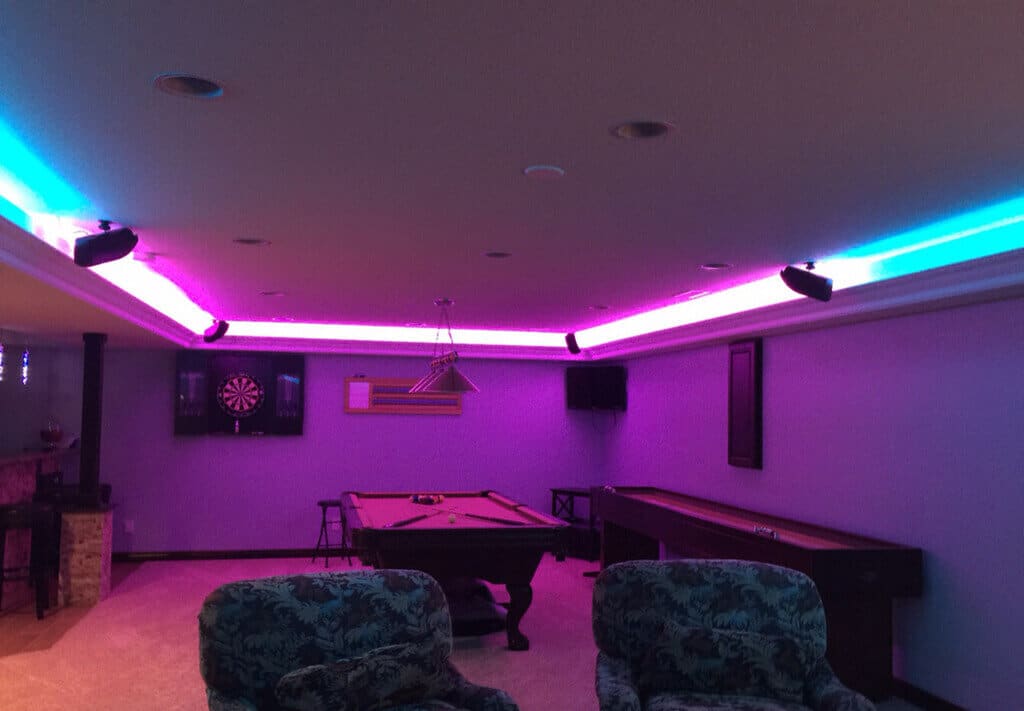 Give your man cave a modern look by adding RGB LED Lights. These lights look mesmerizing and will surely give your man cave a striking look. You can experiment and put them under the couch to provide the room with an alluring feel. You can even place an RGB LED strip light around the ceiling.
Take a look at your interior and how the place is set up. Determine where you want to put the lights so they can spice up the room and bring about that tone you want to set. The best part about RGB LED Lights is that you can change the colors according to how you want to set the mood.
Themed Lights
A man cave is a space you have all to yourself or share with your guy friends, so, naturally, you would want it to match your personality. You can even design your man cave yourself according to a theme that best suits you. Themed lights are explicitly designed to match the theme of your space. 
Say you have created your man cave like a bat cave inspired by BATMAN; you can find a wall light with the official logo to mount up on your wall. Is your theme is sports-centric? An Athletic Table Lamp by Ashley Store will complete the room and work amazingly with your theme.
DIY Glass Bottle Chandeliers
Glass bottle lamps look beautiful, but why not take them a step further and turn them into a majestic chandelier. DIY projects are a great way to make the place yours. Having something in your man cave that you have built will only make your space more personalized. You can save up or collect glass bottles from friends and neighbors to build a chandelier by yourself. Make it a centerpiece of your man cave and show it off with pride.
Dimmable Lights
You may think you don't need these, but dimmable lights can change the game when setting the mood. What better way to have the lighting exactly as you desire than changing between warm lights to cool lights and even setting the tone from high-power lighting to dim lighting? Put these on your ceilings and dial-up or down as per your need.
Final Thoughts
Lighting makes up the whole ambiance of any space. This makes it an essential element when designing and decorating any room. Your man cave is your ultimate exclusive space, and you deserve to shape it in the way you want. We hope that you have found some man cave lighting ideas here that you like. Try these or brainstorm by yourself to make your man cave perfect.