Reasons to Consider Microcement Floors for Your Next Project
Microcement is surface finishing material used in construction made from a mixture of cement and polymer-based special resins. It is durable and rugged and is thus used widely in commercial settings for floors, walls, and work surfaces. It can also be purposed for more luxurious applications in residential use. This article will show how microcement floors are made, and their benefits.
How Is Microcement Used?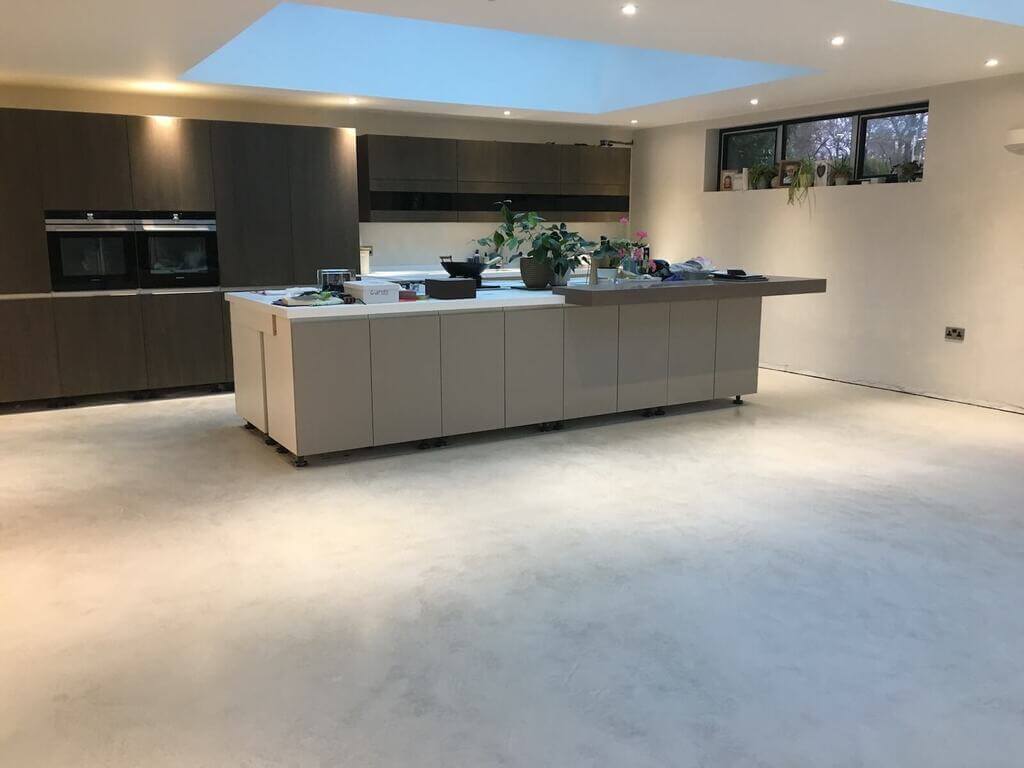 Source: abstractflooringco.com
Microcement is a highly regarded material for floor finishing for many reasons, but perhaps its most important and useful characteristic is that it can be applied to any substrate without any remodeling required.
When microcement is used to replace existing flooring in a project, there is no need to begin pulling up whatever flooring is already there. Be it wood, concrete, tiles, or anything else, microciment can simply be laid over the previous substrate with no effect on its performance and usability.
It is applied in extremely thin layers of as little as 0.1 to 0.2 cm thick, before being covered with a sealer in the required finish. Microcement is similar to polished concrete in the way the finished product looks when it has been applied, but microcement has a more even texture, is more versatile, and is stronger than polished concrete.
The process of installing microcement floors is quick and easy and requires no heavy machinery, hazardous chemicals, or a long time. A microcement floor can take as little as four days to apply, depending on the size of the project.
The process to apply microciment involves the following steps:
-Cleaning the intended surface of all dirt and making sure it is as so as possible

-Applying primer to increase the adhesiveness of the surface

-Applying the base coat of microcement, and then the second coat of required texture and color.

-Finishing coats of microciment may be applied to enhance the texture and color before a sealer is finally applied to protect the flooring.
Types of Microcement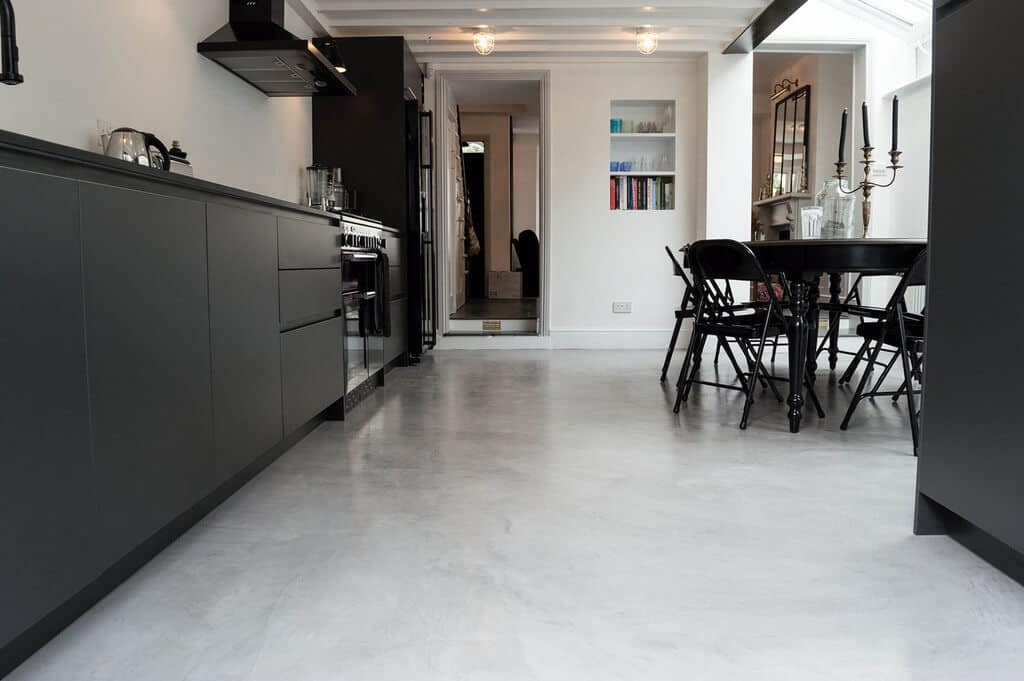 Source: blog-publisher.com
There is a type of microcement that will adapt to various renovations due to its texture, thickness, and size.
Microfine Microcement
Also called traditional microcement. Its texture is similar to stucco and it is used to cover walls and floors with little traffic. Offers a smooth finish.
Micro Concrete
For the coating of medium and high traffic floors, the so-called micro-concrete is the most suitable. It offers a light and highly resistant texture, which is why it is preferred for use in commercial premises and busy areas.
Microstone
With non-slip characteristics and an appearance similar to rustic floors, microstone is suitable for exteriors. It is suitable for covering porches, terraces, patios, pathways, among other external areas.
Aquaciment
For surfaces with water, such as swimming pools, aquaciment is the ideal microcement. It is resistant to chlorine and salts, so in addition to being used in swimming pools, it is used to line fountains and ponds.
Colors and Textures
The colors of microcement can be as varied as you wish since it can be easily pigmented, which allows you to play with color combinations and facilitates the use of metallic, rusty, or simply white tones.
As for its textures, very natural matte finishes can be achieved that balance the tonality of the microcement; gloss, for a brighter look that accentuates the original colors, or satin, which offers the perfect balance for different surfaces and is preferred by most users.
What Are the Advantages of Microcement?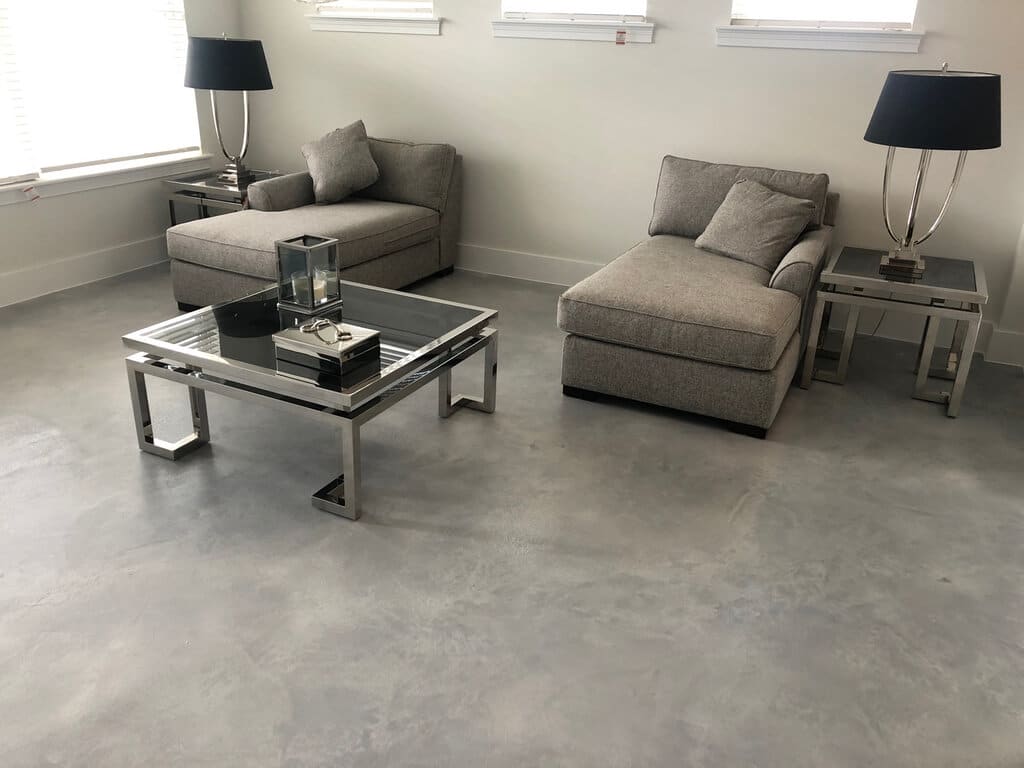 Source: wsimg.com
The use of microcement in renovations is common, but many people are not familiar with this versatile material. Microcement is a coating, made up of a combination of cement, liquid resins, polymers, small grain aggregates, and various mineral pigments, which is used on floors, ceilings, walls, and other surfaces.
The variety of microcement is wide. It can be purchased in different textures and various thicknesses and finishes, which is why it is a widely used material in renovations, and it is also a decorative element of great aesthetic value.
Microcement has many advantages that make it desirable for flooring purposes, especially in an industrial or commercial application. Here are a few of them:
Microcement Is Durable
Despite the ultra-thin layers in which it is applied, microciment is extremely strong and tough. It is long-lasting, and it is water-resistant, heat-resistant, chemical corrosion-resistant, UV radiation resistant, and yet is not brittle and does not wear out even under heavy traffic.
Also Read: 14 Flooring Trends 2022 the Perfect Floors for Your Home
Microcement Is Versatile
It can be finished in a variety of colors, textures and can be adapted to possess specific qualities unique to any application. It can be made though and slip-resistant for industrial settings, or sleek and glossy got business buildings. It is a continuous, single-piece flooring without joints or sectioning.
Microcement Is Cost-Effective
It is cost-effective both in the short and long term, because microcement is cheap to apply, and it is so long-lasting and easy to maintain that running costs over a long period of time are also very low.
Microcement flooring is a viable choice for just about any project, be it commercial, industrial, or residential. It is a unique flooring material that can be adapted to any sort of application.