Designing an Office That Inspires Both Creativity & Productivity
Our environment impacts our productivity, our emotions and it embodies a company's culture. In the past, many business owners will have built or rented office buildings that maximize space in terms of how many bodies & computers they can fit into a given area. Get amazing office design for your office.  
This makes sense financially. Office space is not cheap and many companies are looking to fit as many people as possible into the smallest office possible. Despite the reduction of overheads, these 'cubicle farms' do not produce happy workers. Being unable to see around us, makes us more anxious, and not being able to easily interact with people is bad for team cohesion and morale. Thanks largely to pioneering tech companies such as Google, office design has entered a new era; one which focuses on employee wellbeing but also creativity & productivity. There's no point squeezing in more employees into an office if they are all unproductive, unhappy, and uncreative. 
Why It Makes Sense to Invest in Office Design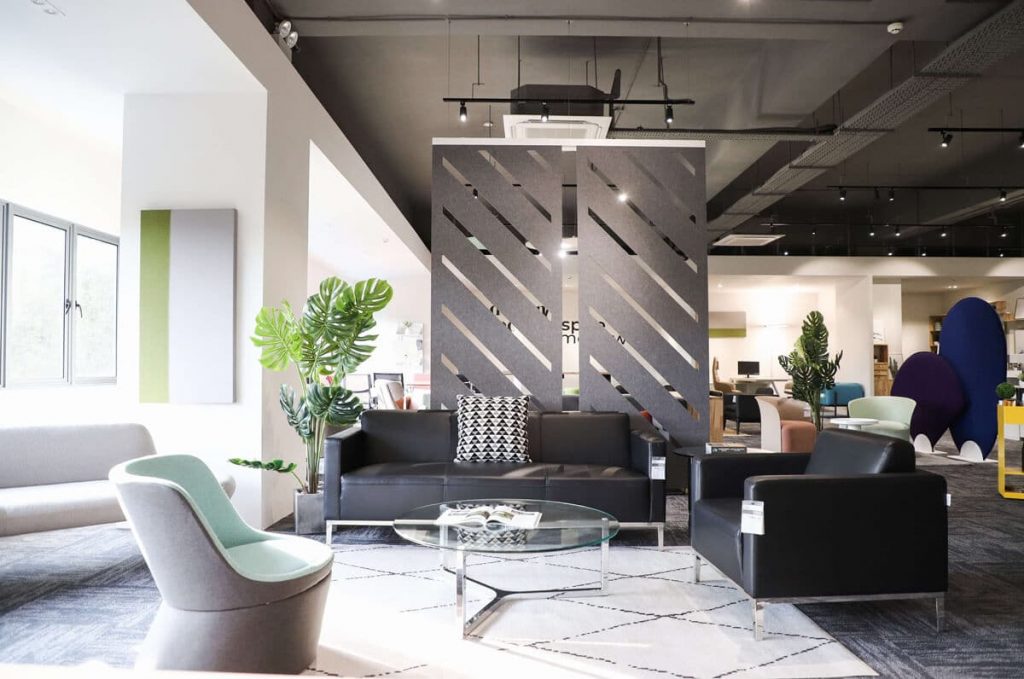 source: comfortfurniture.com.sg
Recruitment is time-consuming and costly. People spend a lot of time at work and the office can be a selling point when it comes to attracting the best employees and keeping them. As mentioned above, it also makes sense to invest time & money into an office design because it can increase productivity & creativity.
Pioneering telephone answering company – Moneypenny, invested in building their own office in the UK. They actually asked the employees what the wanted in the new office and the building was created to accommodate all their needs. 
Bring Nature Inside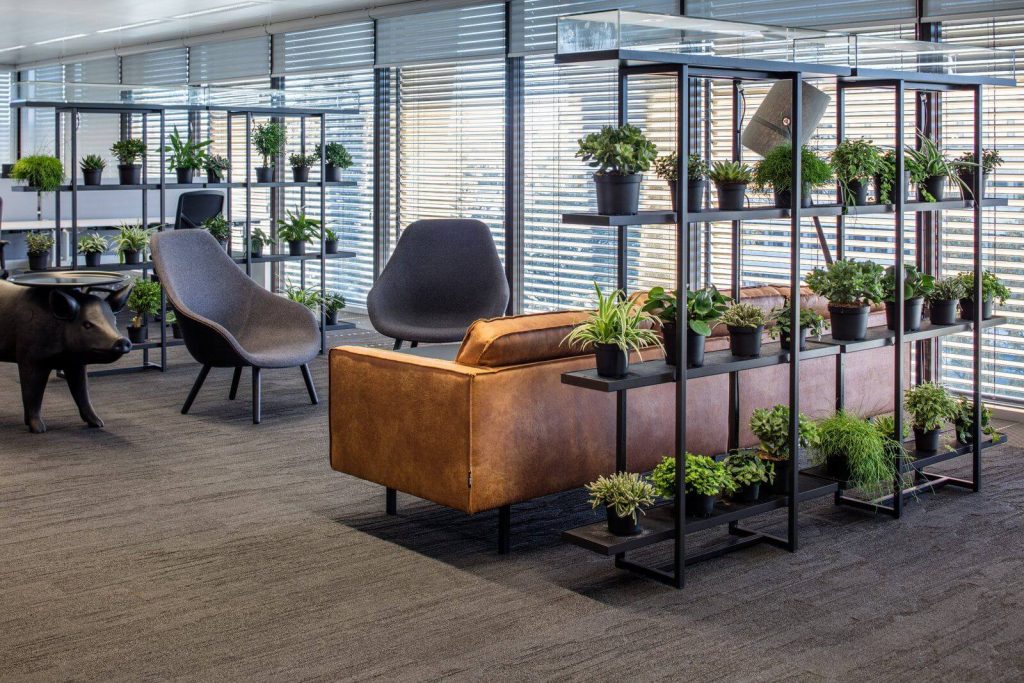 source: pinterest.com
Being indoors for hours at a time is strange, in that, it's very unnatural. Sitting is unnatural, not moving is unnatural, breathing filtered air and using artificial light – all these things are bad for us and can make employees unhappy and reduce their productivity.
Natural light is a mood elevator and being happy makes people more energetic and productive. Utilizing large windows is an obvious way to capitalize on this, however – remember to fit blinds as the sunlight can make it very difficult to see computer screens! In the winter months, if not all year round, consider installing SAD lamps or boxes. Typically used for 30 minutes in the mornings, SAD lamps can dramatically elevate mood in those predisposed to Seasonal Affective Disorder.
Plants can also improve the air quality of an office and the mood & productivity of employees. A study carried out by Washington State University, showed that adding plants to a windowless office, increased productivity significantly (the study can be found here).
In Seattle Amazon has recently created three biodomes full of over 40,000 plants, that allow employees to work in 'nature'. 
"Studies suggest that spaces that embrace biophilic design can inspire creativity and even improve brain function," 
Some of us are more social than others, for that reason offices should include quiet, secluded places.
Embrace Color & Happy Faces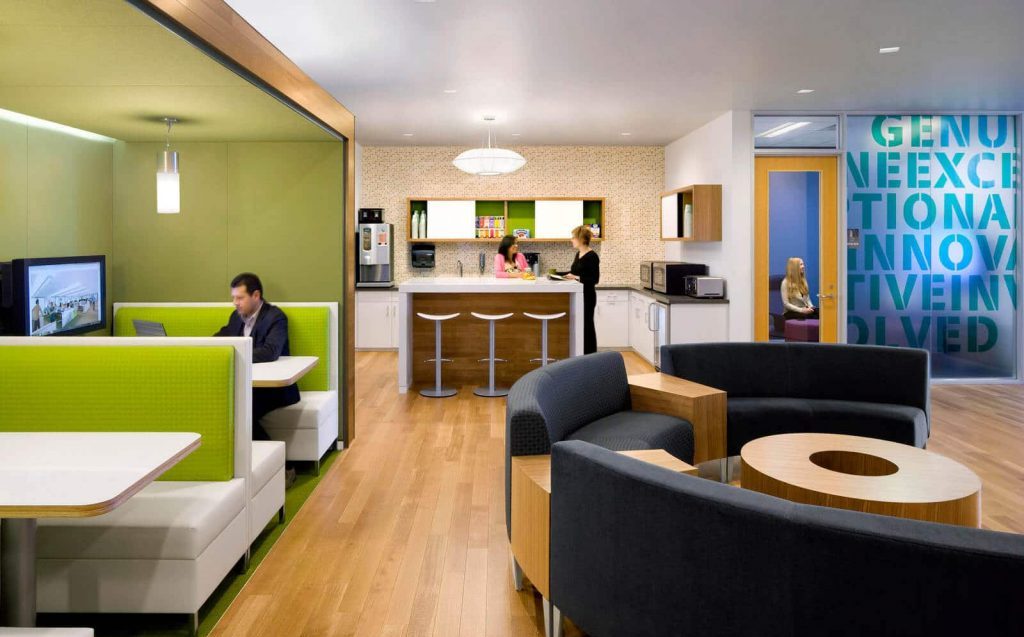 source: webneel.com
The impact of color is quite amazing. Police forces in some states have used 'pink rooms' to place people after they have been 'booked-in' to the station. The pink rooms had a dramatic impact on the mood of those who had been arrested.
This is one example of how the color of a room can impact mood. For creativity, yellow is arguably the best color. Yellow is an emotional color that represents optimism and friendliness. Blue is a great color when it comes to a more quantitative task that requires focus and mental-strain.
A scientific paper published in the "Brain Sciences" journal concluded that:
"…happy faces have a strong motivational power"
With this in mind, happy faces of employees could be used to decorate the walls of an office and/or employees could be encouraged to add photos of loved ones (looking happy) to their desks.
Also Read: How to Create Office Lobby Signs That Will Impress
Dimensions Count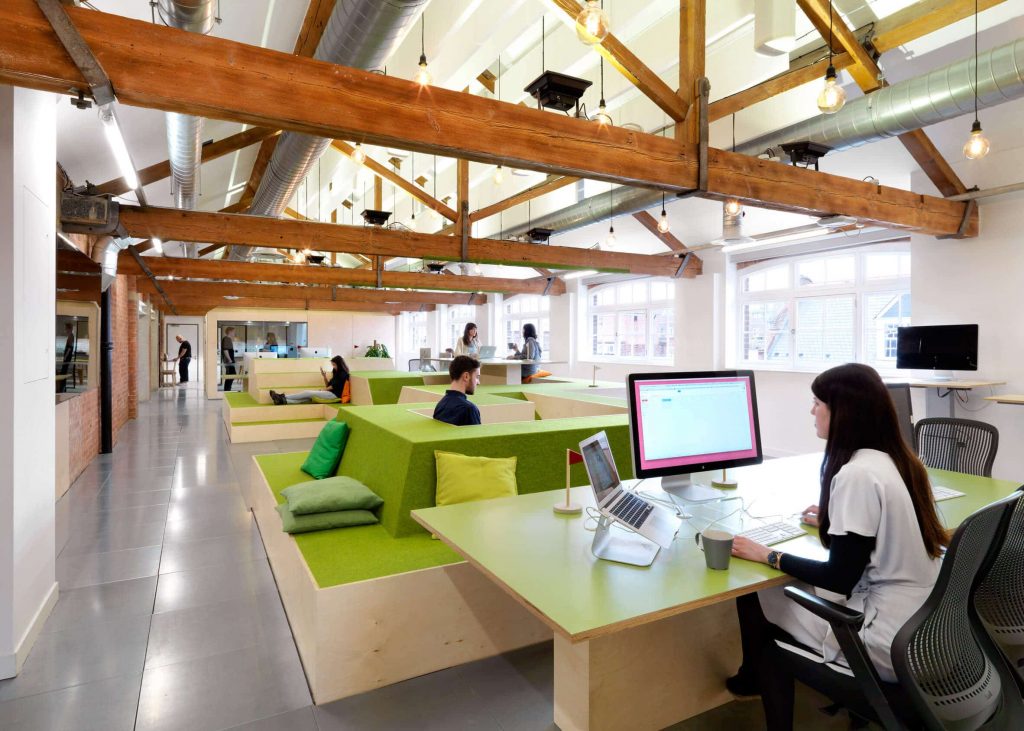 source: dezeen.com
Meyers-Levy, assistant professor of marketing at the Sauder School of Business, University of British Columbia and a Carlson doctoral alum found that:
"When a person is in a space with a 10-foot ceiling, they will tend to think more freely, more abstractly,"
This supports the theory that large open spaces with high ceilings are better for creative work
More confined spaces with defined boundaries are better for data and maths-related projects and work. With this in mind, most office buildings should incorporate areas that are open & spacious, and others that are more confined.