11 Pampas Grass Decor Ideas: Simple yet Elegant
Pampus is also known as Cortaderia selloana. It is a type of ornamental grass and has its origin in the Pampas region in southern South America. Once dried it is used as a decorative element. It is an attractive home decor element be it for a bathroom or living room. Thus pampas grass decor is very popular and considered an alluring element in interiors of any space.
The pampas grass has white feathery flowers acting as an eye-catching element. It also has tall and green leaves that look elegant and beautiful while swaying even in the slightest breeze. This tall grass species grows very fast, from five to fifteen feet in height.
"The best thing about pampas is that it lasts for years!" says Tiffany Jones, owner, and creator of Pampas Trove. "The investment is well worth it," she adds, noting that it makes a great holiday or birthday gift, and it works well for decor at the baby and bridal showers. The possibilities are endless!
They are used for various purposes like bouquet arrangements, centerpieces as well as home decor. However, it has been widely and successfully used in house decor as compared to other purposes.
Pampas Grass Decor for Homes
Although standard houseplants will always be among the trends, dried pampas grass has started to steal the limelight. Designers, as well as homeowners, love this ornamental grass not just because of its fluffy cloud-like stalks but also because of its unique texture and features. It has very cool benefits which have been mentioned below:
Low maintenance – The pampas grass is usually in a dried state, hence it requires lower maintenance. But, you might require a high-hold hairspray to reduce shedding so that you can enjoy these beautiful plumes for a longer span of time.

Provides textural quality to a room – Pampas grass decor brings a sculptural element to your space and also adds a touch of relaxed drama. Other than this, most importantly, it offers liveliness to your living spaces and adds a unique tactile experience.

Bringing the outdoors in – Pampas grass helps to bring a captivating outdoor vibe inside your homes.

Neutral colours – There are endless design possibilities that can be carried out using pampas grass, because of its neutral colours that work great with any decor. It creates an amazing neutral palette with lots of textural blends with any home decor style.
Pampas grass can transform any basic home decor into something special. Whether you opt for boho, glam, contemporary, or rustic, adding a touch of pampas grass can work great with any home decor style.
The durability and versatility of the pampas grass offer limitless design possibilities. Thus you will never run out of decor options no matter which style or look you want to attain. You can even repurpose it when you feel it changing up your decor as it is a flexible design element and will blend flawlessly.
Following is a list of 11 inspiring ideas for you on how you can decorate your space. with pampas grass.
11 Pampas Grass Decor Ideas
1. Design Your Own Holiday Pampas Grass Wreath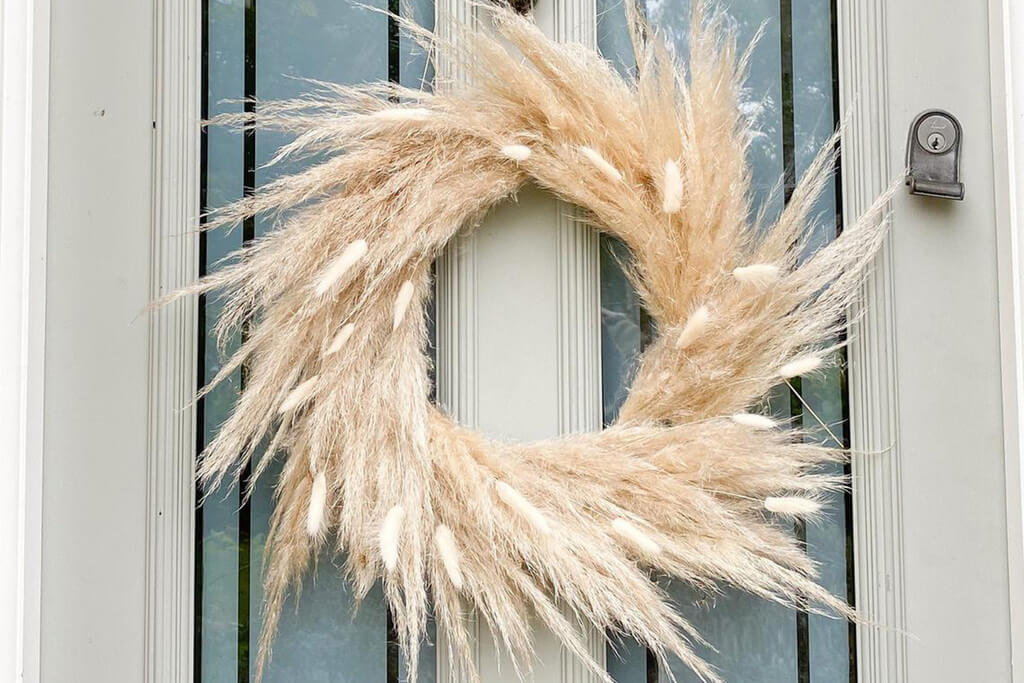 Source: amazon.com
Wreaths are not just for Christmas days. You can make a pampas grass wreath for yourself anytime. You can place it on your doors or also use it as a wall hanging. It's a great way to celebrate the start of fall and the end of summer.
You can also use a pampas grass wreath as a personalized gift for someone special. You can get creative while you make your pampas grass wreath. Moreover, a DIY pampas grass wreath will help add a touch of elegance to any entryway or interior space.
2. Add Pops of Colour to a Child's Room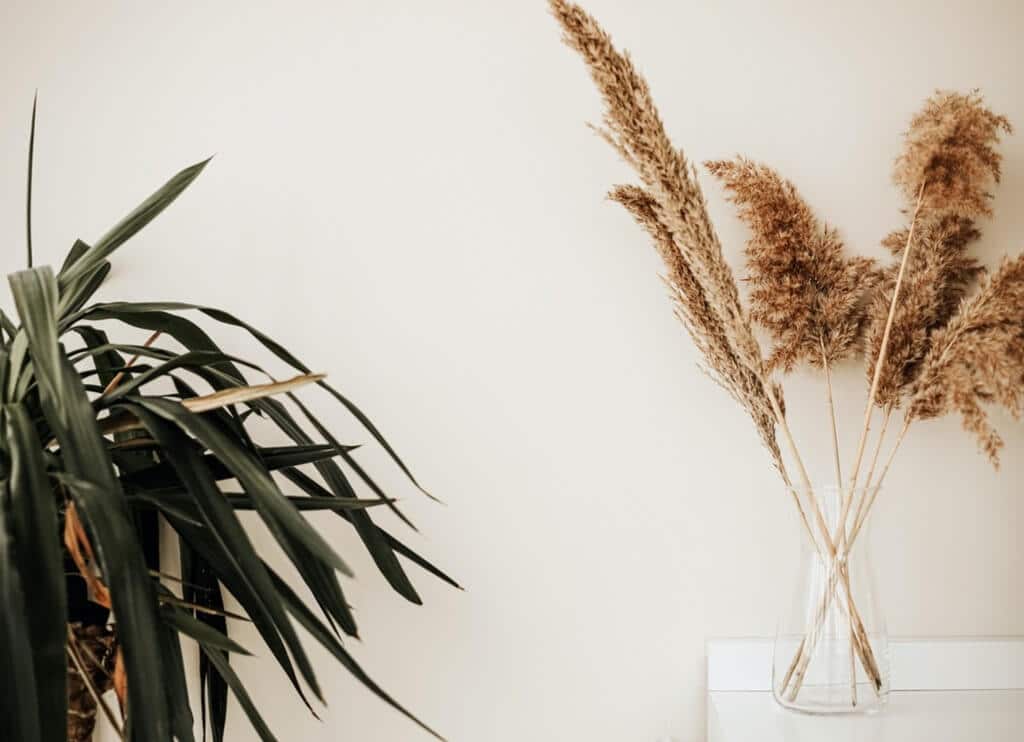 Source: bobvila.com
Pink is an all-time favorite theme for a child's room. It can bring elegance and liveliness to any space. You can decorate your kid's room with super fun and cool pink pampas. 
Pampas grass can be found in a huge variety of eye-catchy colours. When mixed with neutral hues, this feathery grass will help add a playful vibe to an otherwise dull corner in the room.
Also Read: Feather Lighting Ideas To Brighten Your Room Decor
3. Enhance Neutral Colour Palettes With White Pampas Grass Decor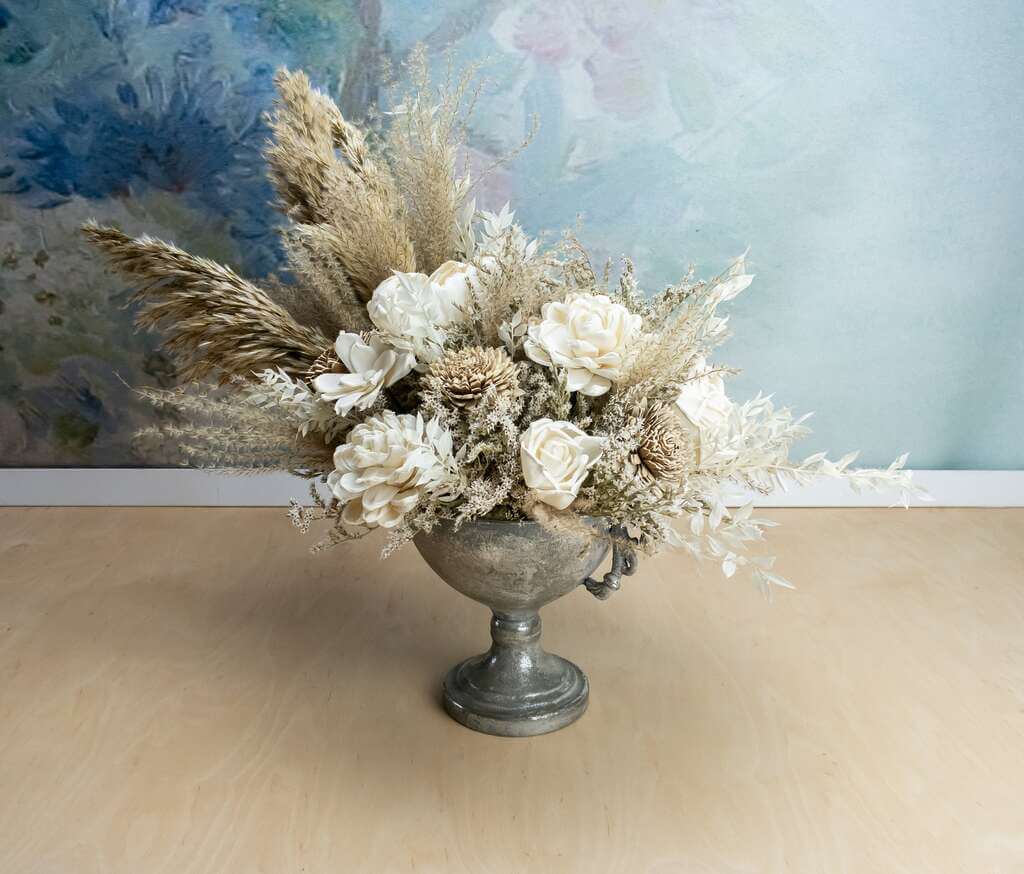 Source: etsystatic.com
Pampas grass pairs perfectly with a neutral colour palette. It helps offer modern elegance to your space. A blend of dry grass and an interior having soft neutral tones look so amazing. So just add a few grassy stalks in a light brown or white vase to attain a gentle tactile experience to your space.
4. Tall Pampas Grass Decor Ideas: DIY Pampas Grass Christmas Tree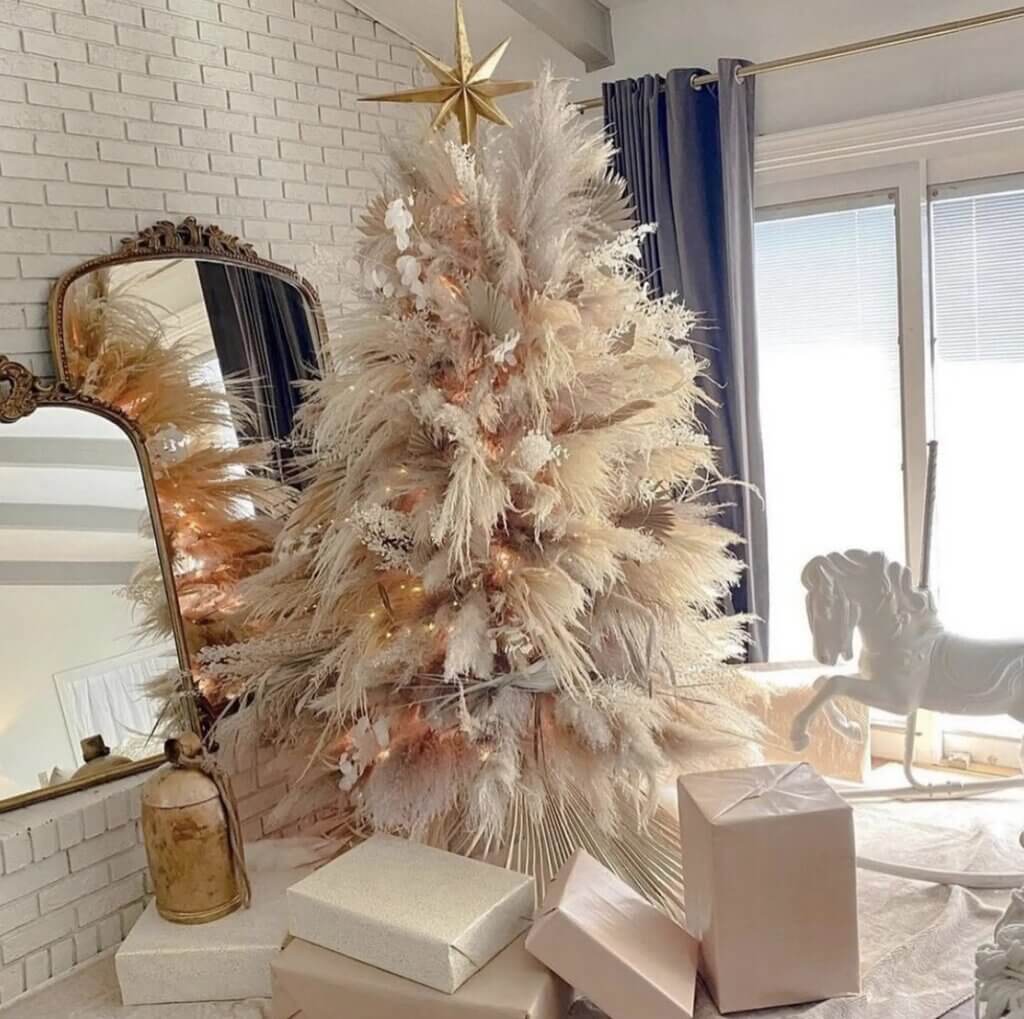 Source: totallythebomb.com
You can even make a stunning tall Christmas tree out of dried pampas grass. It would be the perfect home decor for your home during Christmas.
You can achieve both tabletop Christmas trees as well as the huge ones depending on the availability of material and of course your will to put extra effort.
5. Pampas Decor: Botanical Art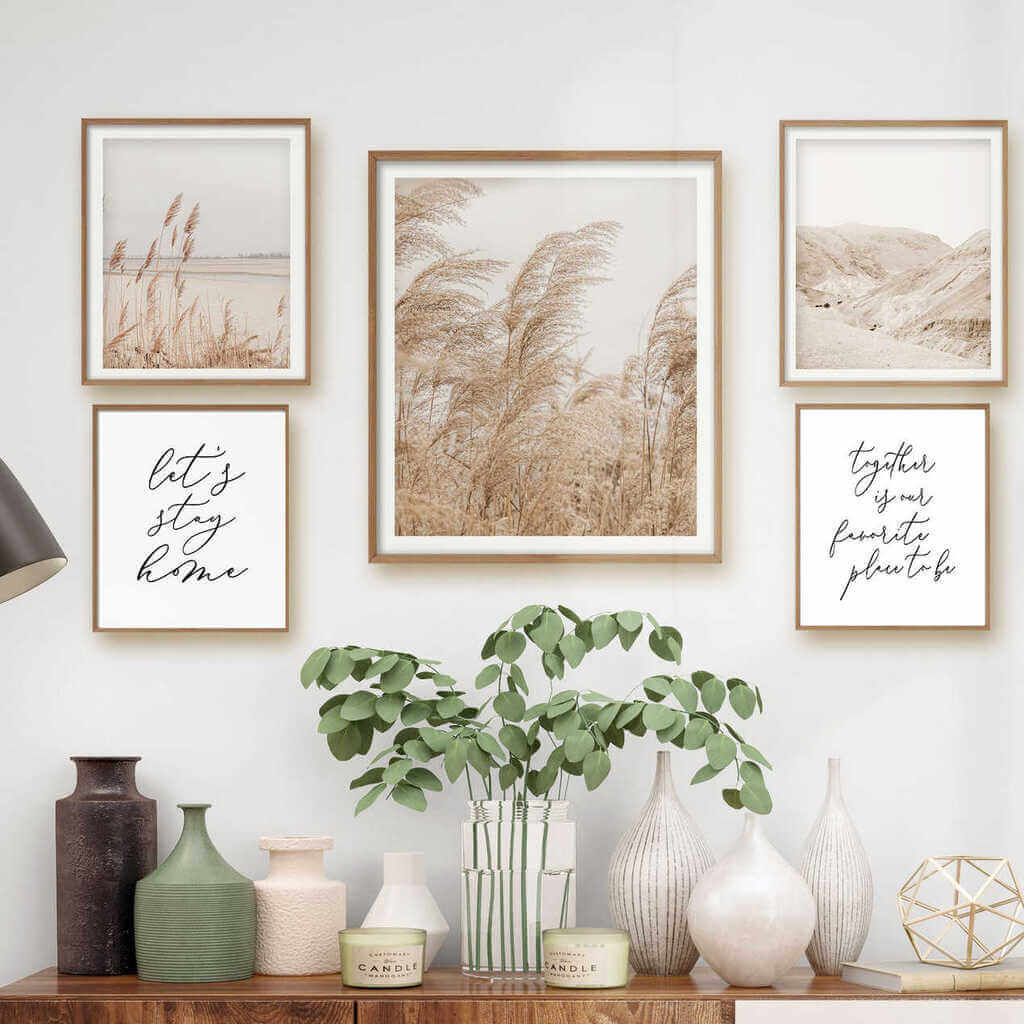 Source: alicdn.com
You can also create some botanical art with this pampas grass. It would be an apt activity for you if you are one of those who is fond of creative artworks. Press a few dried pampas and florals between glass and frame it. You can hang these frames on the wall that will help create a minimalist look and would add warm vibes using nature's bounty. You can also place these frames on the entryway buffet, adding life to the plain wall behind it that would otherwise go unnoticed.
6. Large Pampas Grass Decor Ideas: Hanging Pampas Cloud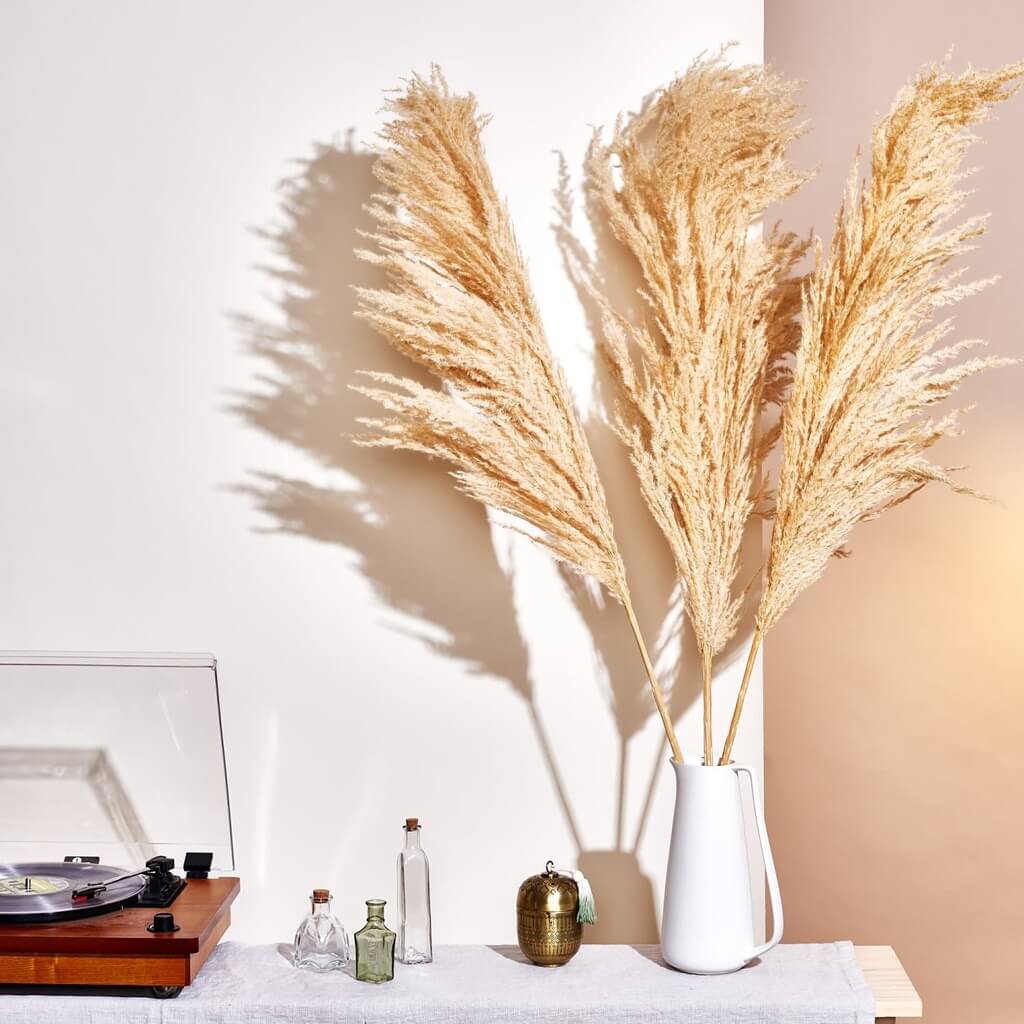 Source: apartmenttherapy.info
If you like the pampas grass Christmas tree idea but are more into hanging trees, then a hanging pampas grass cloud would be perfect for you. 
You can have a taupe or other dark coloured pampas cloud highlighting against the neutral-toned dining space. Not only will they amaze your guests, but they will also stay safe from kids and pets as they float above the floor level.
7. Fill a Statement Vase With Dried Pampas Grass Decor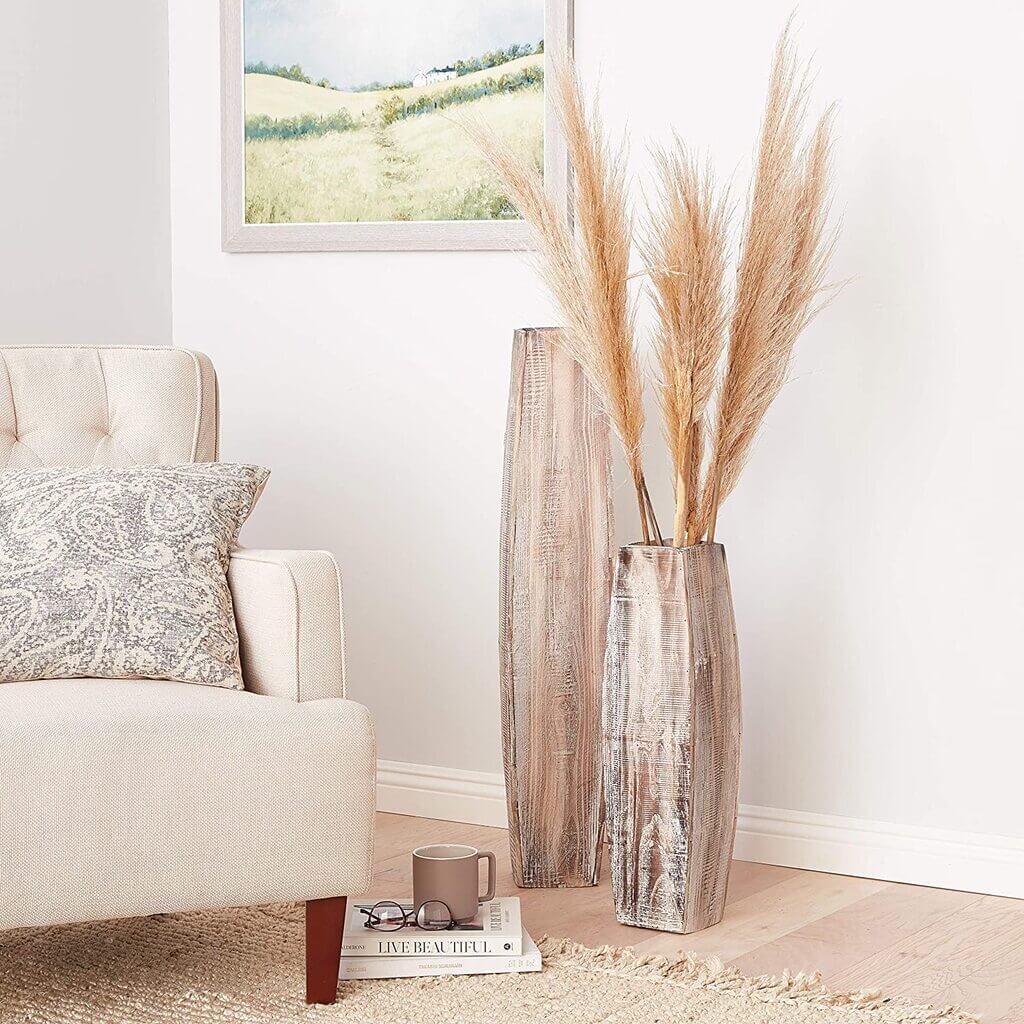 Source: home-designing.com
You can achieve a statement look in your house using pampas grass decor. A vase full of pampas grass can help add a finishing touch to your living spaces or a never-ending appealing flair to your dining table. It will create a dramatic element and a cosy-chic vibe for a soothing vibe.
Also Read: Rustic Design Trends to Enhance Any Decor
8. Pampas Grass Wall Decor with Shiny Millennial Pink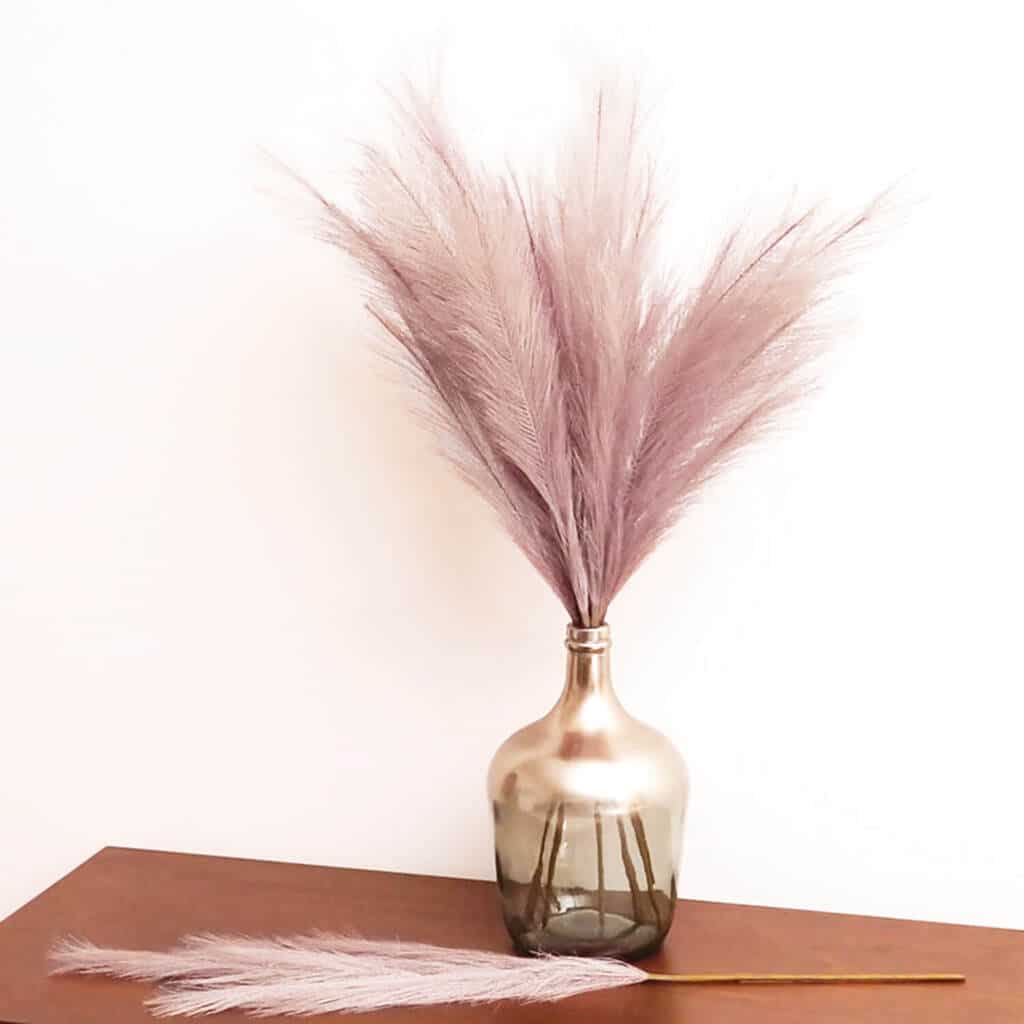 Source: eventdecordirect.com
Blush pink is a gorgeous and perfect shade for a relaxing space. It is an apt backdrop for an intimate space. Blend it with fluffy pillows and cosy seats. Adding pampas grass against the wall will help add a natural texture, thus completing the overall ambience of the room.
9. Pampas Grass Home Decor: Bedroom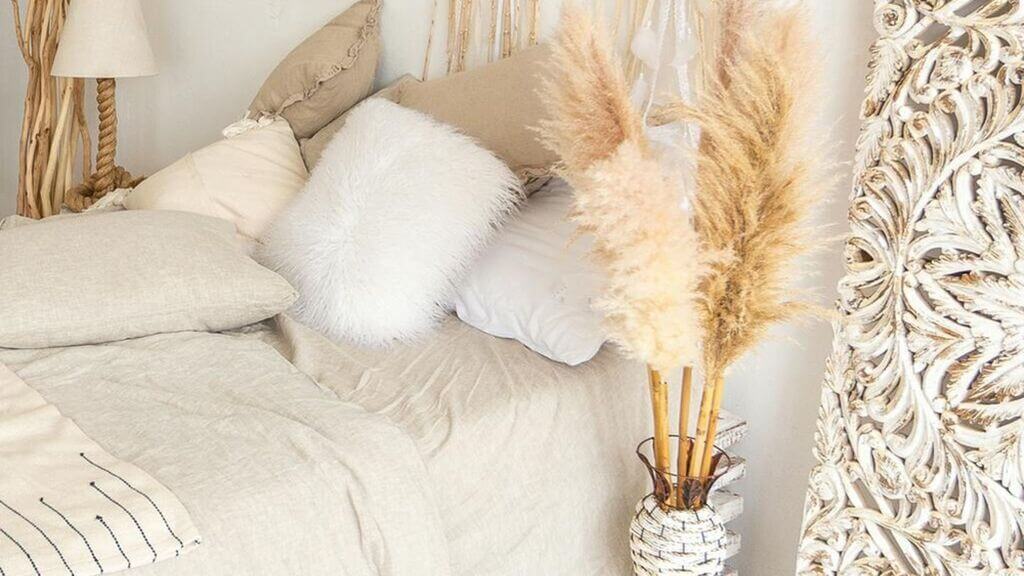 Source: gettotext.com
A bedroom is a space where one relaxes and rejoices. It should be a place that reflects your personal identity. Thus all elements should be chosen thoughtfully, even every accent and colour tone.
A bedroom should have a peaceful and calming vibe. This could be easily and beautifully achieved through pampas grass. Placing these cloud-like stalks along your bedside will bring a bright smile to your face every morning you get up. You can also keep them near your mirror so that you feel as if you are getting dressed amidst a fluffy field. 
If you are looking for a minimalistic look, warm up the bedroom by adding large vases with tall pampas. It will evoke a cosy-chic look and a calming vibe. During the mornings, this dramatic feature will soak beautifully in the sunlight.
10. Pampas Decor Set Against a Dark Background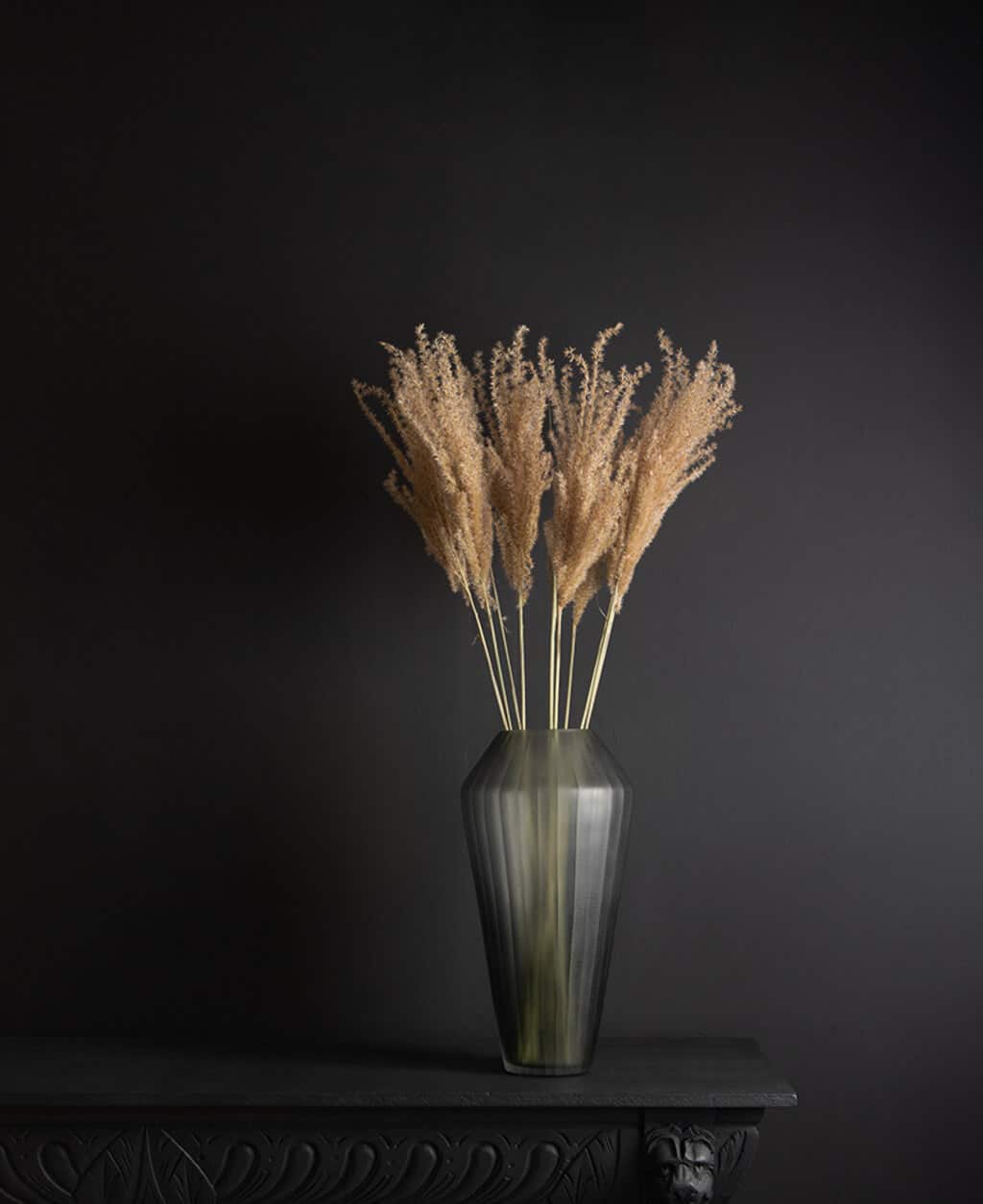 Source: dowsingandreynolds.com
Although you will generally find pampas flashing against bright and neutral rooms with light coloured walls, this lovely plume also pairs well with dark shades.
Showcasing pampas grass against a dark backdrop adds a touch of dramatic character to your space. Dark walls are popular trends nowadays, so when you pair them with this light and feathery plant, it will help form a super moody ambience.
11. Faux Pampas Grass Decor: A Centerpiece Solution All Year Round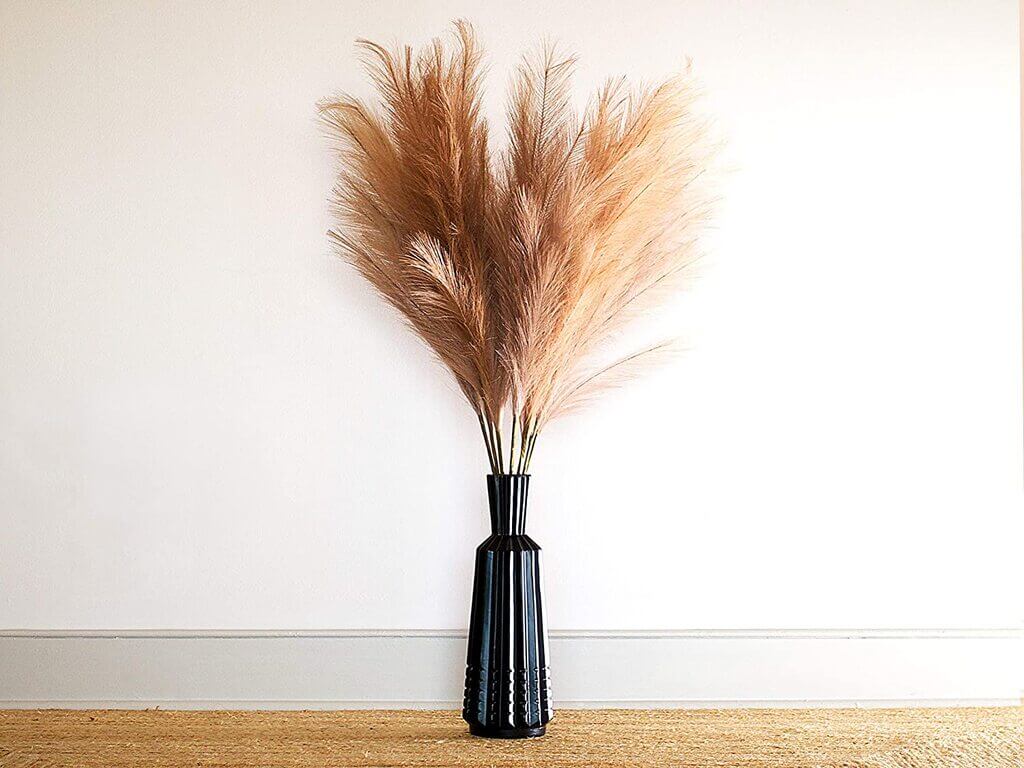 Source: amazon.com
No doubt fresh flowers are always a soothing centerpiece for any space. However, the problem that arises with these fresh and bright flowers is that they wither and die quickly, especially during fall or winter. Thus you will need to keep changing these flowers frequently. If you are tired of this routine, you can always go with pampas grass instead.
Pampas grass will help bring warmth and texture into any room, which is a vital feature of any centerpiece. Even a pair of stalks of this grass can beautify the overall look of your space. You can even opt for artificial pampas grass decor.
All Set for Your Beautiful Pampas Grass Decor?
Till now you might be aware of the ornamental grass that is the pampas grass decor, about its appearance, benefits, and most importantly its home decor ideas. You can go crazy and revamp your spaces with these pampas grass as you have immense design possibilities.
Hopefully, these 11 mind-blowing pampas grass decor ideas inspired you to take this beautiful step and decorate your spaces.
To know more about Home improvement ideas, Cleaning and decoration tips visit ArchitecturesIdeas.
For daily updates, follow us on our Instagram page @architectures_idea.